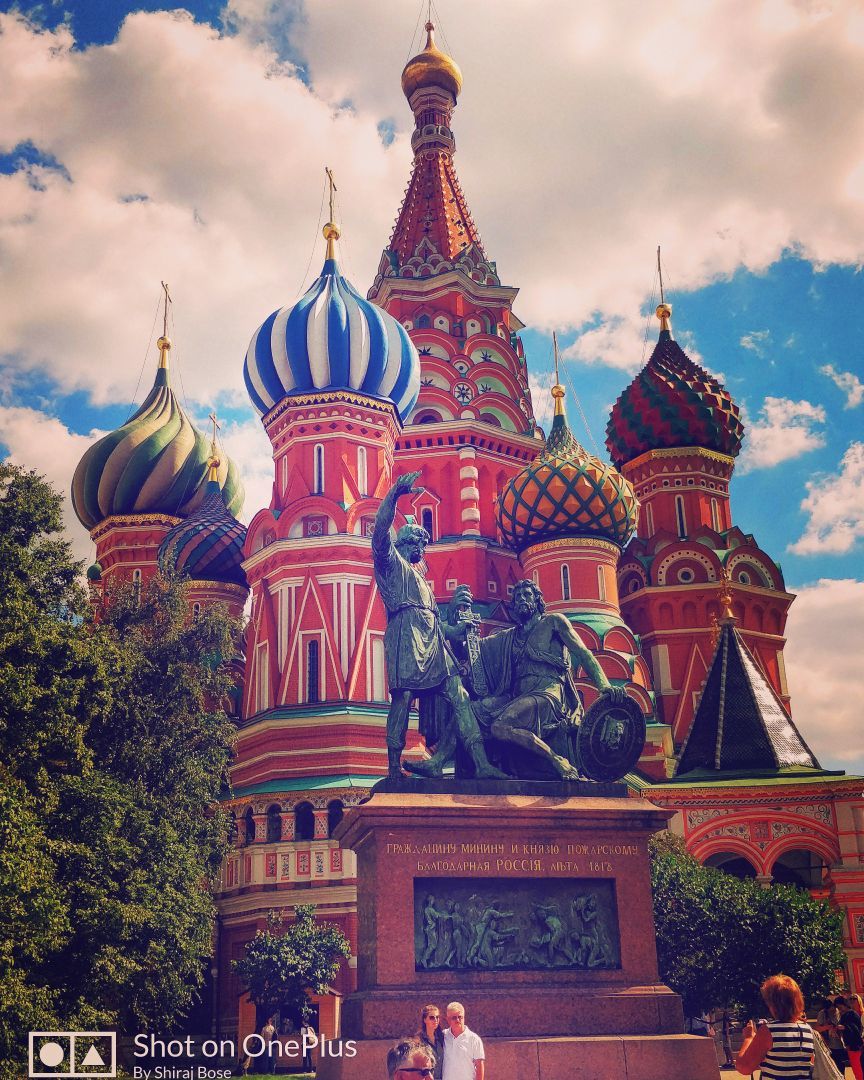 There can be 100s of reasons for travelling for a person who claims to be a travel- lover which ranges from just a break from monotony or to explore a new place or to see natural stunning vistas or to boast about it in their social circle. For me travelling is divine. If I want to see all those geographical wonders I also want to see normal cities, people's lifestyle and their culture. I want to listen to the local music and taste the local food. For me seeing rivers, mountains, valleys is equally important like sitting in local cafe and staring at the people passing by. I want to soak in the culture as well as drop my jaw seeing some geographical wonder. Keeping in mind the free-spirited traveller that I am, Russia had always attracted me, lured me and was always on my bucket-list. As Indians, we are considered to be very travel-loving people who love to explore their own country as well global places; but Russia somehow has always been out of the radar for most of us. I realized that this actually was a blessing in disguise, when I visited this beautiful country in August 2017. In my one week trip to this amazing country I didn't come across a single Indian touristy tourist, making it more enigmatic and interesting.
Russia is a cultural melting pot of Europe and Asia. It's a country which so neck deep in history yet so modern and classy. My trip started with capital city Moscow. Standing in front of the St. Basil's cathedral in Moscow was one of the bucket list tick for me. The architectural marvel looks straight out of the books of our childhood story books. Moscow has had a dynamic and tumultuous history but it stands tall today giving an ideal mix of art, culture and history blended with modernism. Home to maximum number of billionaires in the world, Moscow is a superlative city.
Among the most iconic landmarks of Russia's political and financial capital, are the well-kept victory park, stunning Red Square, the red-brick Kremlin, beautiful churches, impressive museums, and its stunningly designed metro stations. I took metro trips for the entire one day hoping from one station to another just to capture it in my lens and experience its artistic beauty.
Nightlife, shopping, and dining are all first-class in Moscow, the city boasting an impressive variety of bars, clubs, restaurants, and fashion stores.
My next stop was the most beautiful and most European-looking, St. Petersburg. It is a dream destination for people who love heritage, history and culture like me. It houses plethora of art galleries, museums, theatres, heritage buildings. Its a bustling city with street music, beautiful parks, bohemian cafes and vibrant vibes all around.
And not to miss, the grand and the breath-taking Hermitage museum. Standing in the middle of palace square and having the full view of this architectural marvel is one in a lifetime experience. Equally enthralling were St. Issac's cathedral and Church of savior on spilled blood. Truly kaleidoscopic monuments. A boat cruise on Neva river gives you the full view of the city and is a must-do.
A one hour drive from Petersburg lands you to the beautiful Peterhof palace. Overlooking the Gulf of Finland, this looks like fairy-tale castle. The Peterhof Palace is a series of palaces and gardens located in Petergof, Saint Petersburg, Russia, laid out on the orders of Peter the Great. Painted in beautiful white and gold, this palace truly stands for Russia's past royalty.
Other worthy-a-visit-places in the city are the Peter and Paul Fortress, Trinity cathedral which boasts of stunning blue cupolas emblazoned with golden stars.
The best time to visit St. Petersburg is from July to September, when the city is experiencing its famous White Nights – a time of glorious midnight sun, and numerous night-time festivals. We could not go to Pushkin palace as the tickets were sold out and we had not booked it in advance. This was blunder from our end. One should always pre-book this palace well in advance to avoid any last minute hassles.
One important point to note here is that language is big problem in Russia for people like us as people dont understand or speak English. We literally had to draw and show it around for locating certain things.
Food and vodka was one of the highlights of the trip and we ended up buying many bottles of beluga vodka on our way back. It is said that Russians drink more vodka than water. Pretty amazing isn't it.
My trip to Russia ended here due to paucity of leaves (working in a corporate Media house doesn't give you much scope for long leaves). But before leaving this country I made a promise to myself that I will come back again and take my love to the next level. My next trip to Russia will include places like Irkutsk, Lake Baikal, Kazan, Sochi, Kizhi Islands. If god continues to be kind with me, I will definitely take up the trans-Siberian train journey someday.
Russia is the largest country in the world by area, which boasts of 11 time zones, yes you heard it correct.It is one of the most intriguing and fascinating place for 'real' travellers. In Russia you don't get a choice, you just fall in love with the place. Till we meet next time, take care of yourself, my love Russia. I will be back soon, very soon......