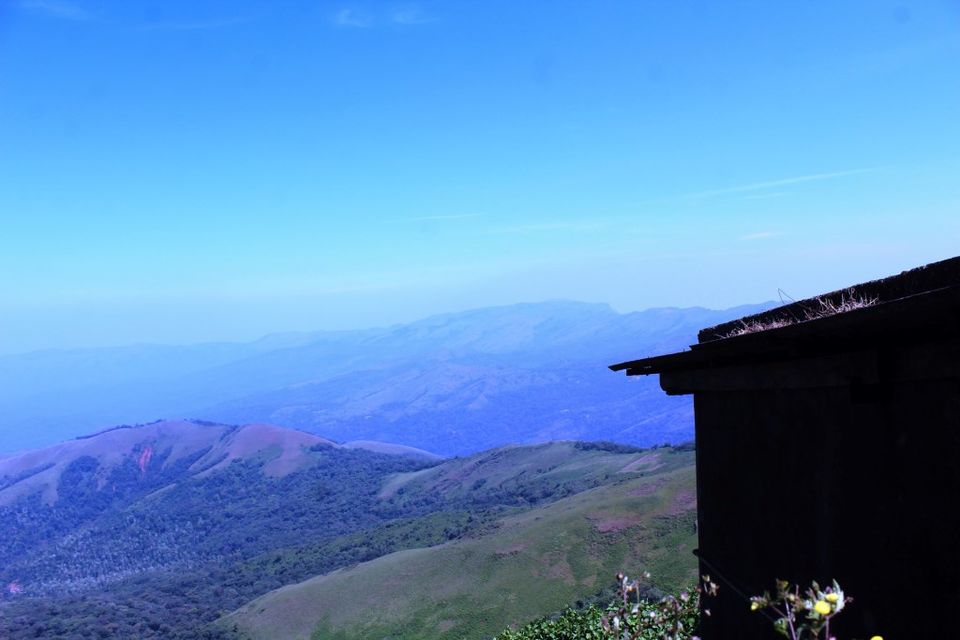 For anyone staying in Karnataka or Bengaluru, and an avid trekker Mullayanagiri is like a household name; at an imposing altitude of 6300 ft. Mullayanagiri peak is the highest peak in Karnataka, followed closely by the peak of Baba Budangiri which is adjacent to Mullayanagiri.
Mullayanagiri lies in the Chikmagalur taluka of Karnataka, which makes it an ideal weekend trek for workaholic peeps in Bengaluru (and Mysuru in my case). Gaurav from Bangalore Trekking Club sent a mailer to all the members of a 1-Day Fast Trek to this hillock. I registered myself for this no sooner, and in came Friday. The peak gets its name which is dedicated to a sage "Mulappa swamy", said to have meditated in the caves just below the summit.
Fast forward and we all are here waiting at Shantala Silks, Majestic to start our journey by 11 pm. Pavan and Gaurav are spearheading the group; a pumped up 20 of us.
Of course, BTC members have a unique way of introducing themselves to their new hike-mates. We introduced our name, our workplace by doing a dumb charade. Funny as it was it was quite a way to know (and remember) each others name.
Houston, We Have a Problem!
To be honest I didn't have the most satisfying of sleep last night. We reached Chikmagalur right on time. However, to our dismay the homestay owner was not attending to Gaurav's early morning call. Our plan was to reach the homestay, freshen up, breakfast and then hike up to Mullayanagiri. Well, that's not going to happen as even after umpteen attempts Gaurav was not able to contact the homestay.
But that in no way dampen anyone's spirit (inspite of Gaurav repeatedly apologizing to all), and instead the men went to the Public Toilet in the KSRTC bus depot and the ladies managed in the loo of the restaurant where we eventually had a sumptuous breakfast as well.In about 2 hours we all were ready for the trek, boarded the bus, and headed out to our start point.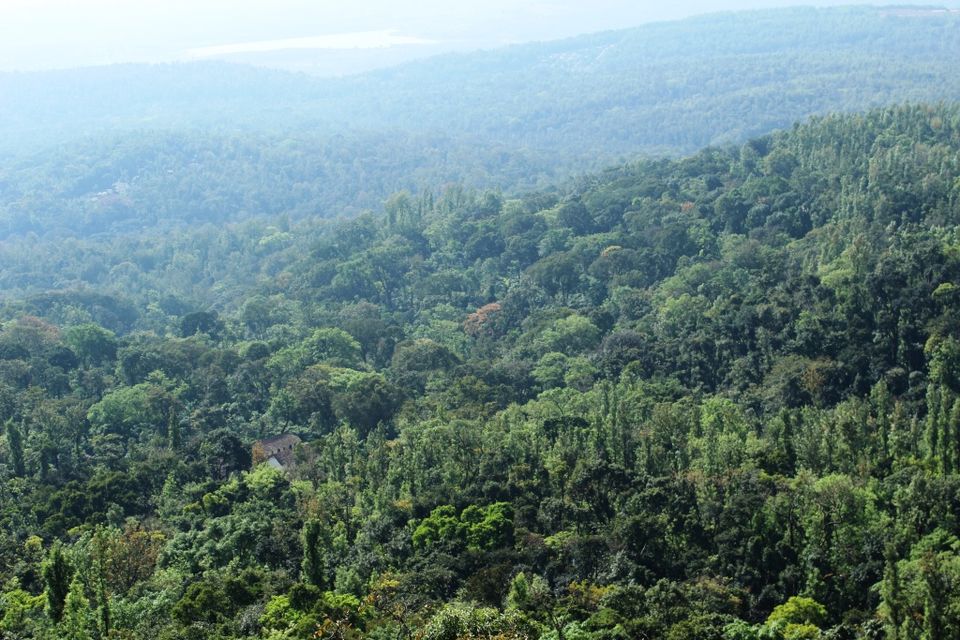 Out of the Chikmagalur town, and in almost 30 mins of ride we reached our start point. The starting was through some thorny and dense plants and crawlers. We were led by Chetan, our local guide. Quickly realized wearing shorts may have not been the best idea!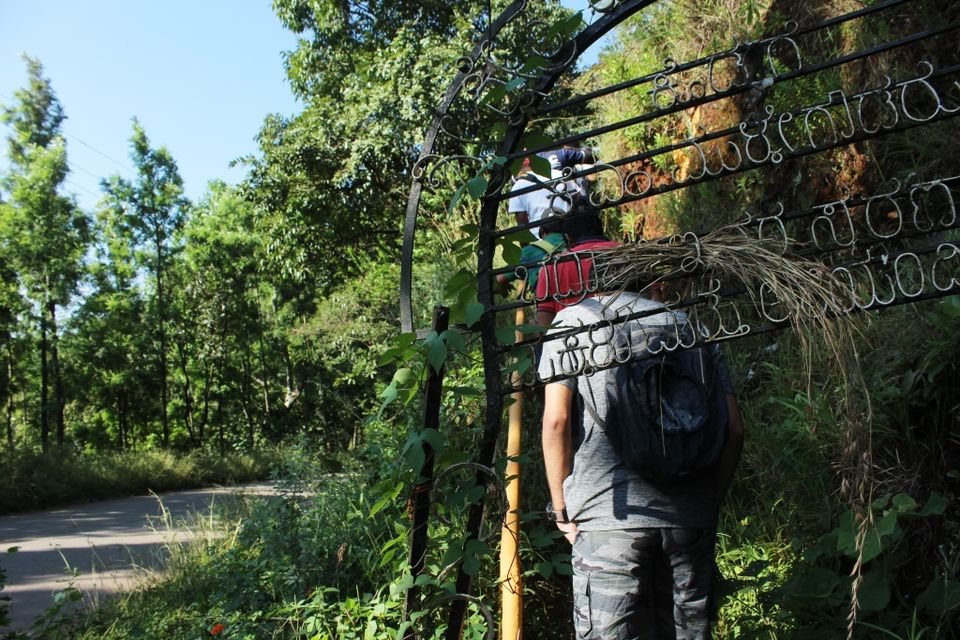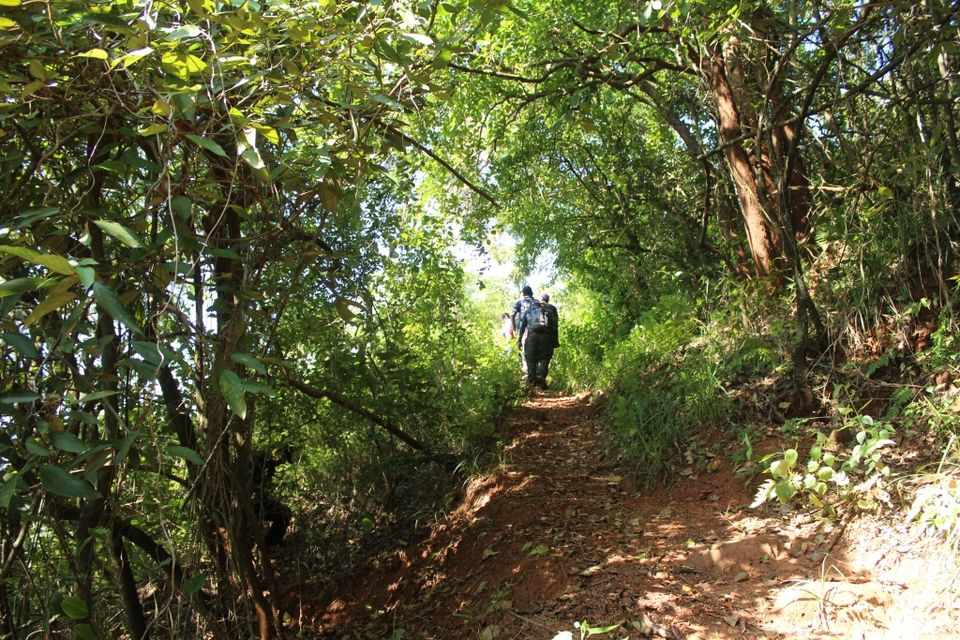 Quickly out in the open and it was soon realized by all its going to be a hot and sticky day. Its October and to expect rainfall now will be a bit harsh. The initial section was a little steep, and the scorching sun behind was not helping. But the view of the Western Ghats was enough to make us feel better.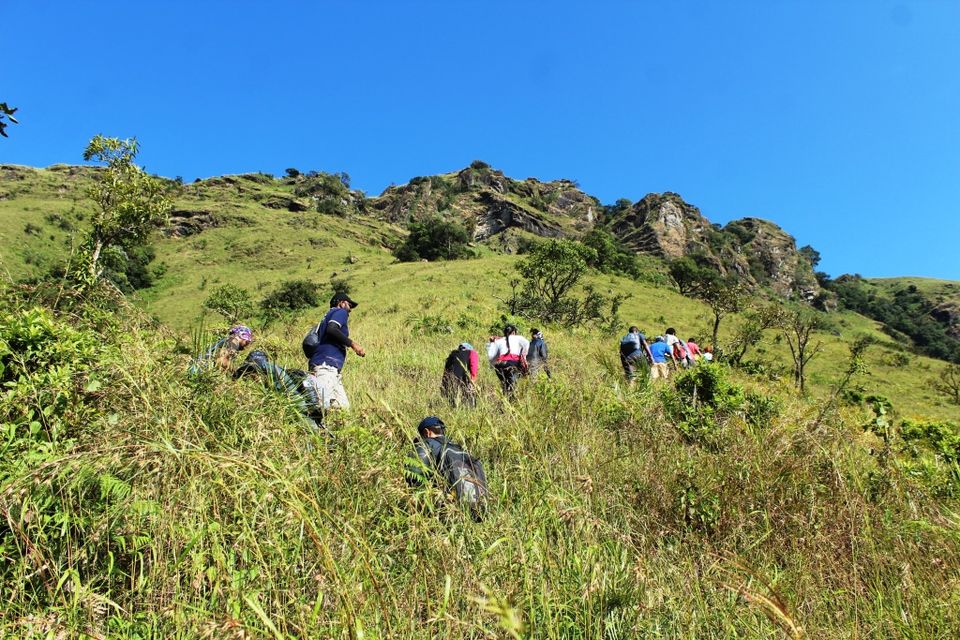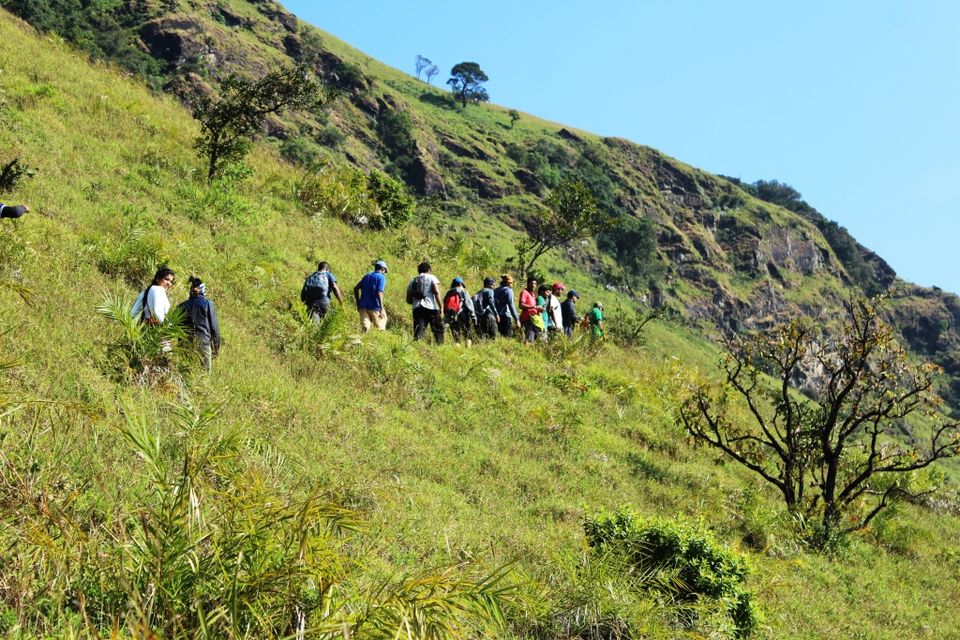 Few of us did feel the heat and slowed down to let their body acclimatize to the weather and the altitude. Its quite normal to be frank to feel a bit of breathlessness when trekking or doing any physical activity after a while. But we also ensured we all go as a team, together. So the ones racing ahead will pause when someone in the back is taking a quick break.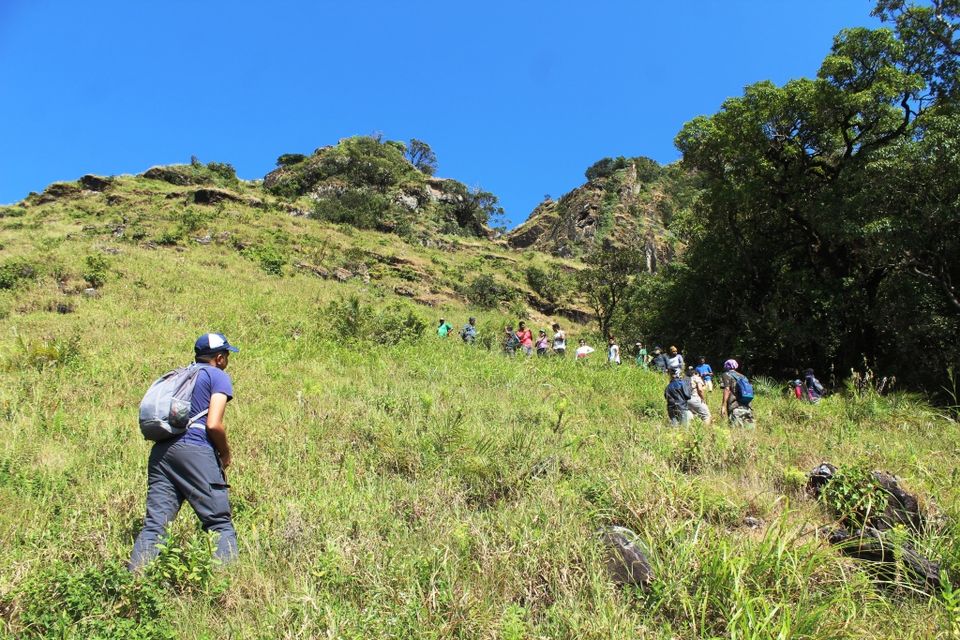 We soon reached our first pitstop, wherein we paused for some water, chocobars, fruits, and of course some breathing.Windows XP wallpaper?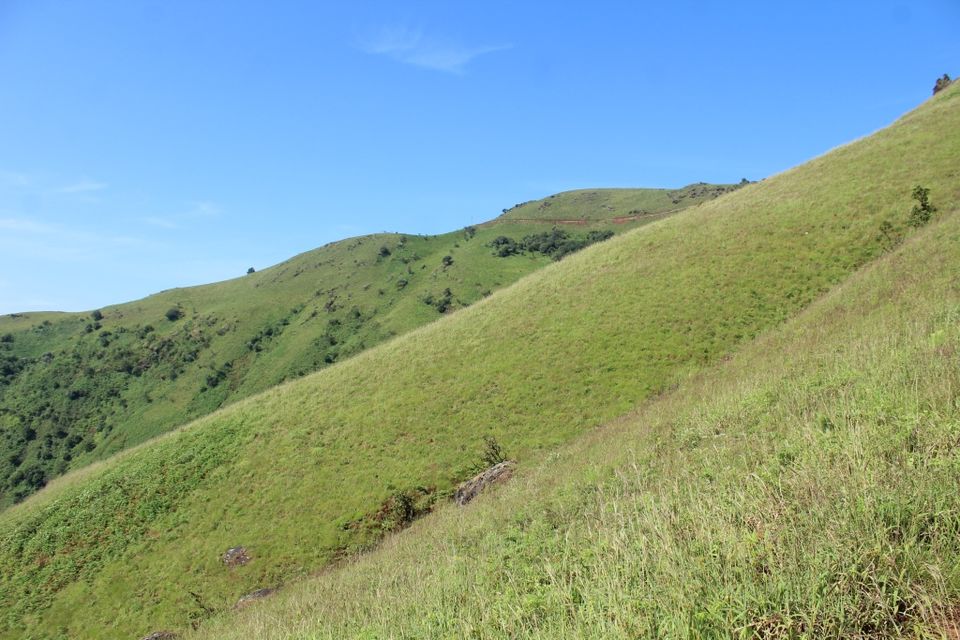 Resuming on with our onward (and upward) journey most of us were now more comfortable after that much needed break. We marched on, one step at a time. The peak was visible now, and I soon realized we are going to reach the peak pretty soon.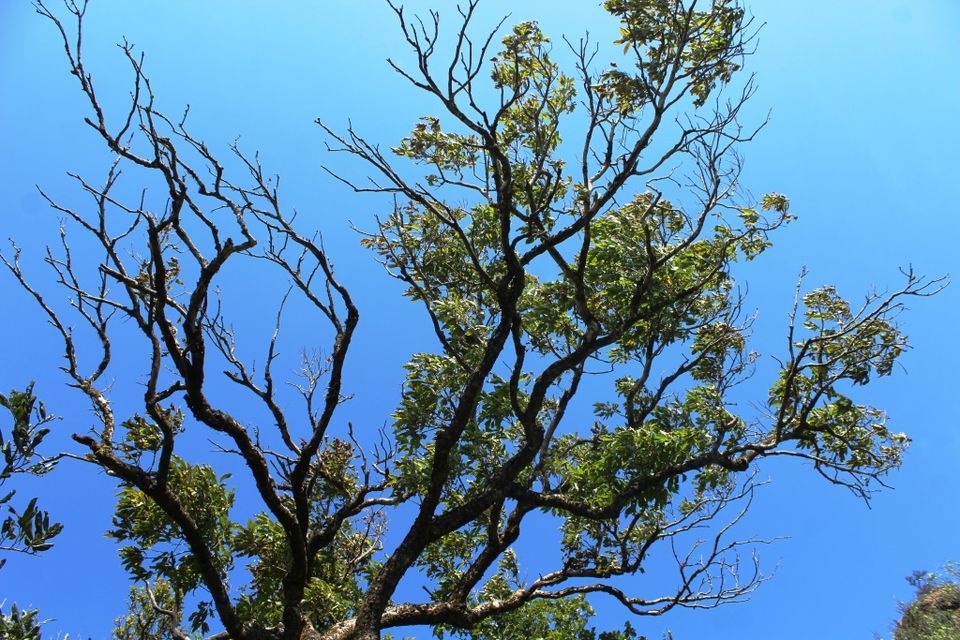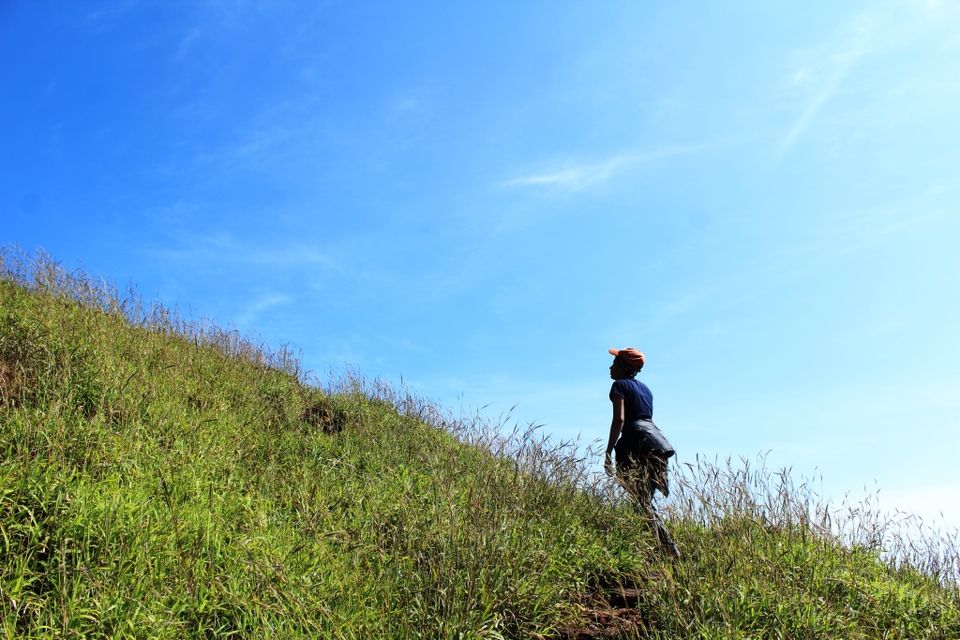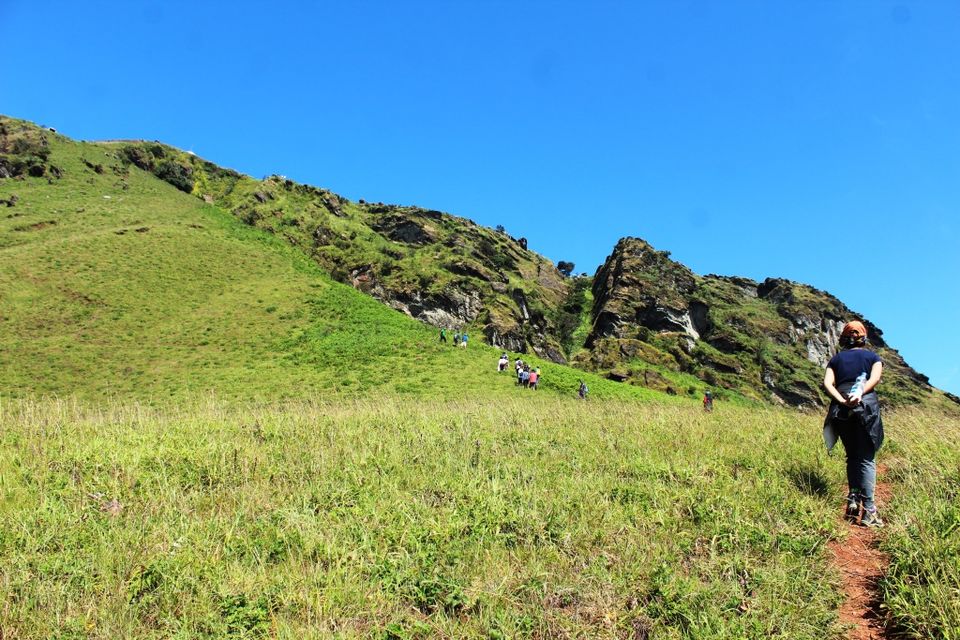 Soon enough and we reached our pitstop 2, shade under a big (banyan?) tree. All bags down and everyone just lazed around as if this is the top! We were almost just below the summit, so everyone took their own sweet time.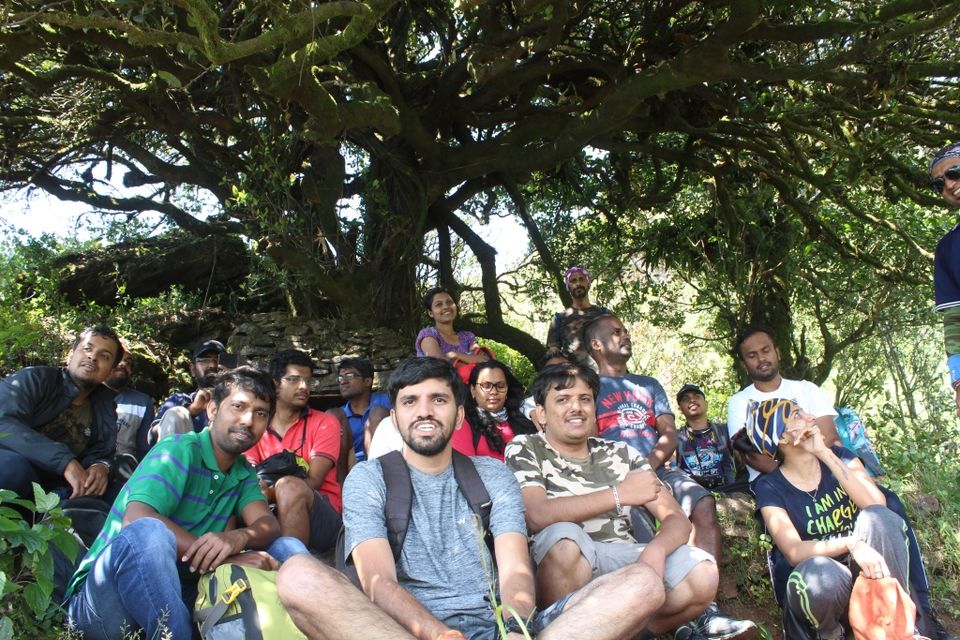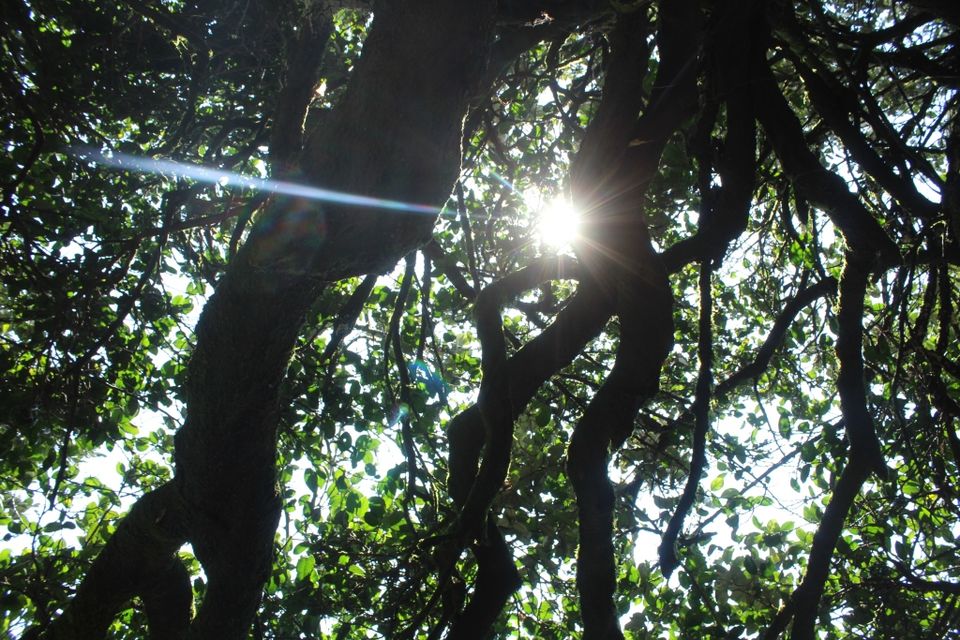 Quickly out in the sun again, and we make our final push to the top. Just when we were about to reach the summit, just right below we came across a cave. A CAVE! The guide was telling there were couple of caves more; one that opens up at the shrine of Baba Budangiri, and the other at Mysore Betta (what!). Of course it is not accessible to public.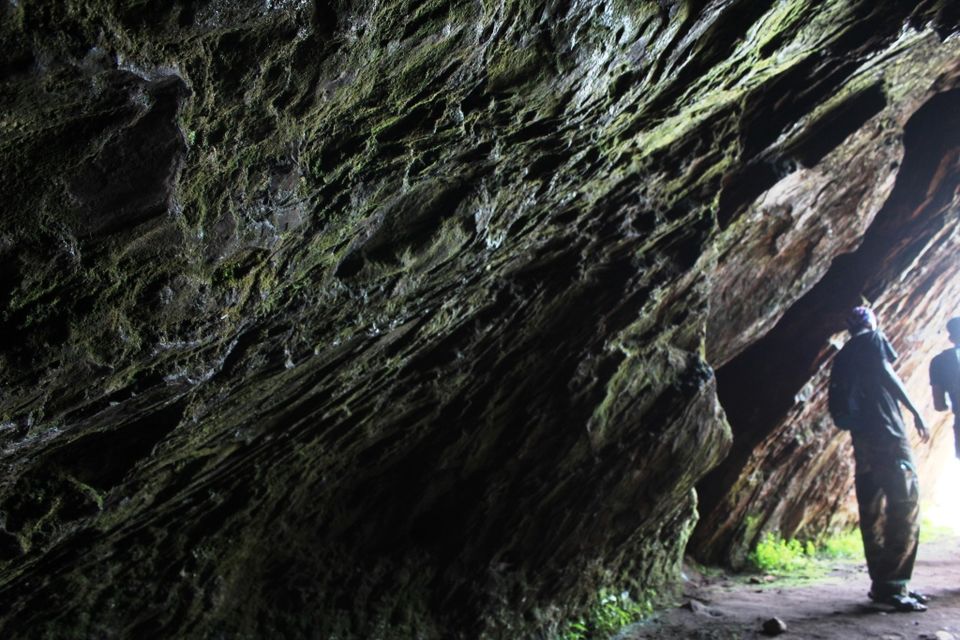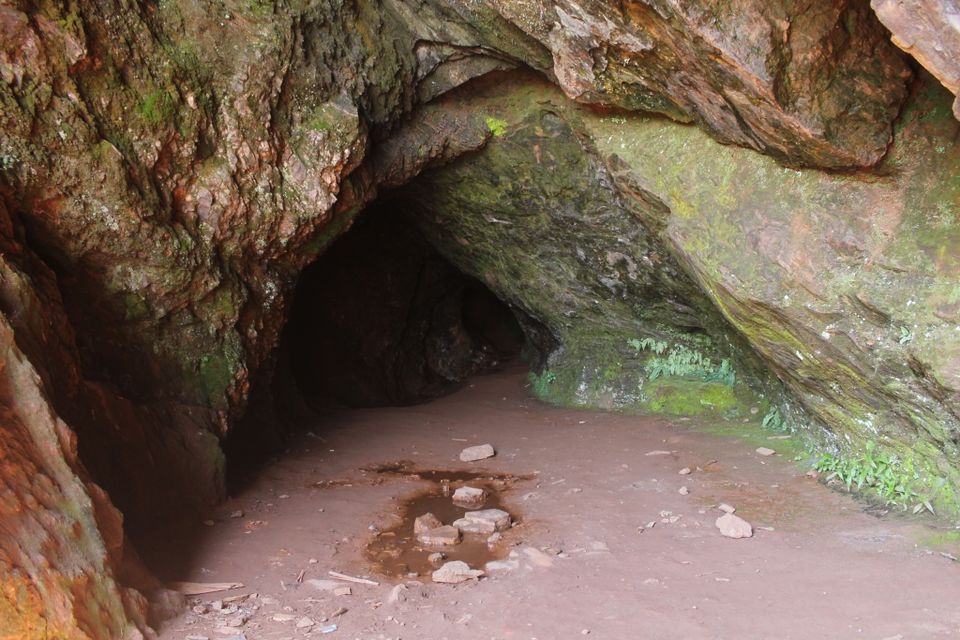 Quickly out of the cave, around 10 steps more, and here we are standing on the tallest peak in Karnataka. We have reached the summit of Mullayanagiri! Of course, not technically, because this peak is dedicated to a temple and no one is supposed to be standing on the top of a temple. The gush of wind going through our body made the victory more sweeter.Holy Cow! What a view from the top!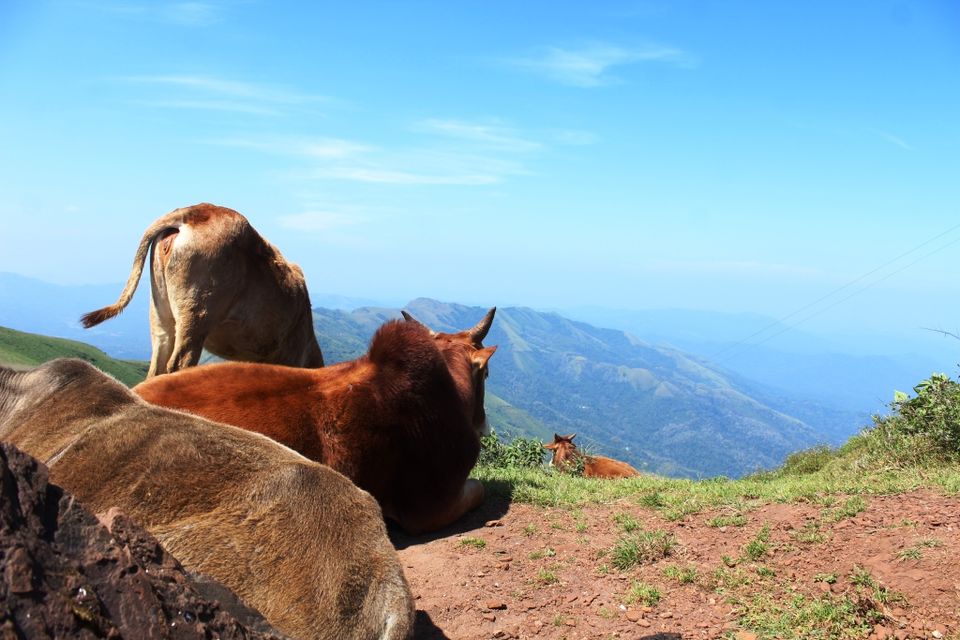 Everyone dispersed within the temple premises to have a look around. It was very peaceful, and the cold fresh water coming out of the temple tap got us rejuvenated. Just look at the view below: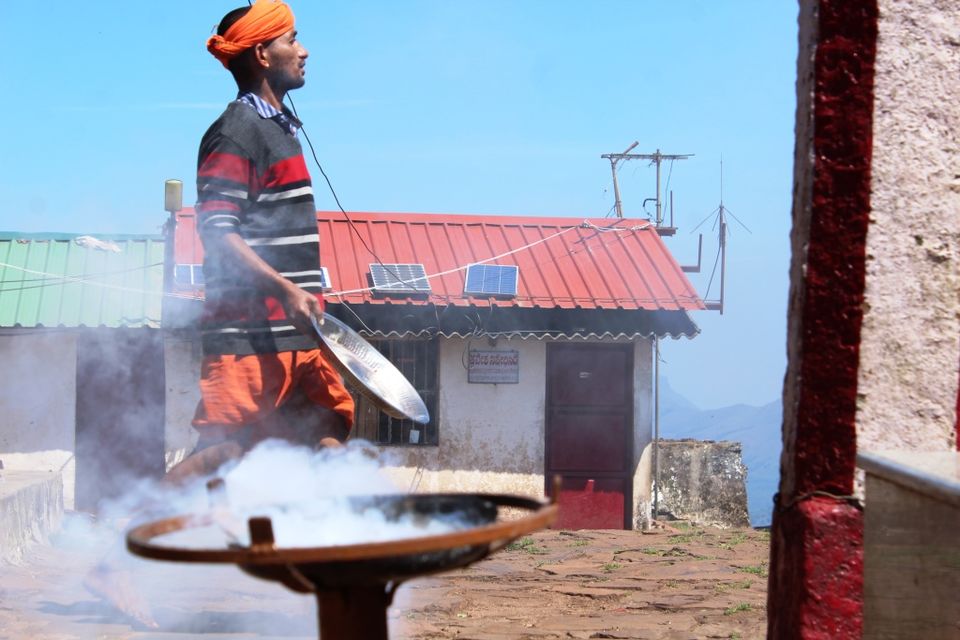 There were a lot of people coming to the temple today. Turns out there's a motorable road as well which gets you right on the footsteps of the temple! We took some group clicks and headed out to be at the place where our bus was parked. Next stop its the Baba Budangiri shrine.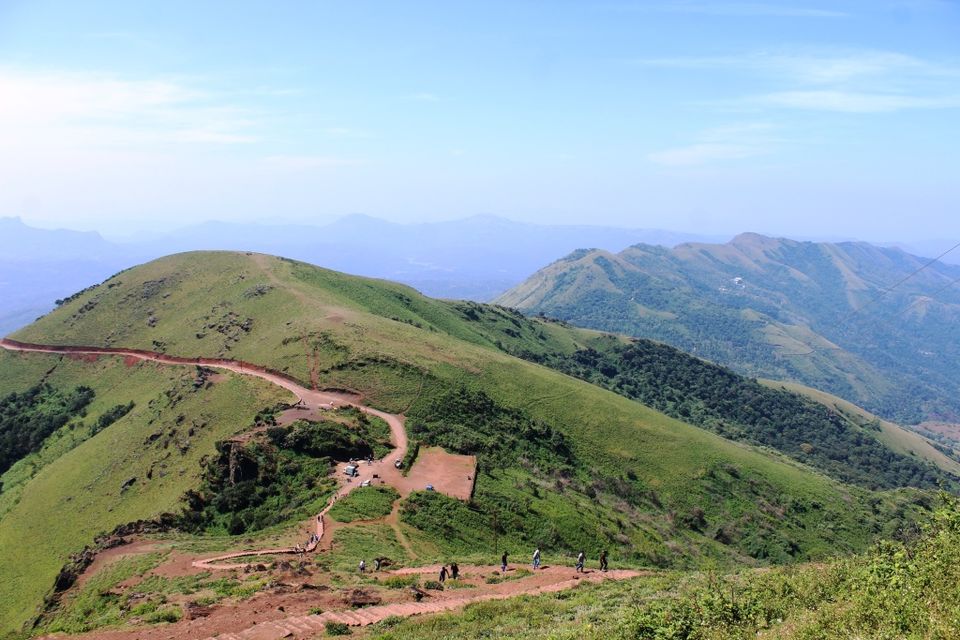 We quenched ourselves with some nice, cool buttermilk. Our next destination is Baba Budangiri. But we came to know the trek from Mullayanagiri to BabaBudangiri has been temporarily suspended as forest officials had spotted Tiger cubs in the adjacent forest. WOW!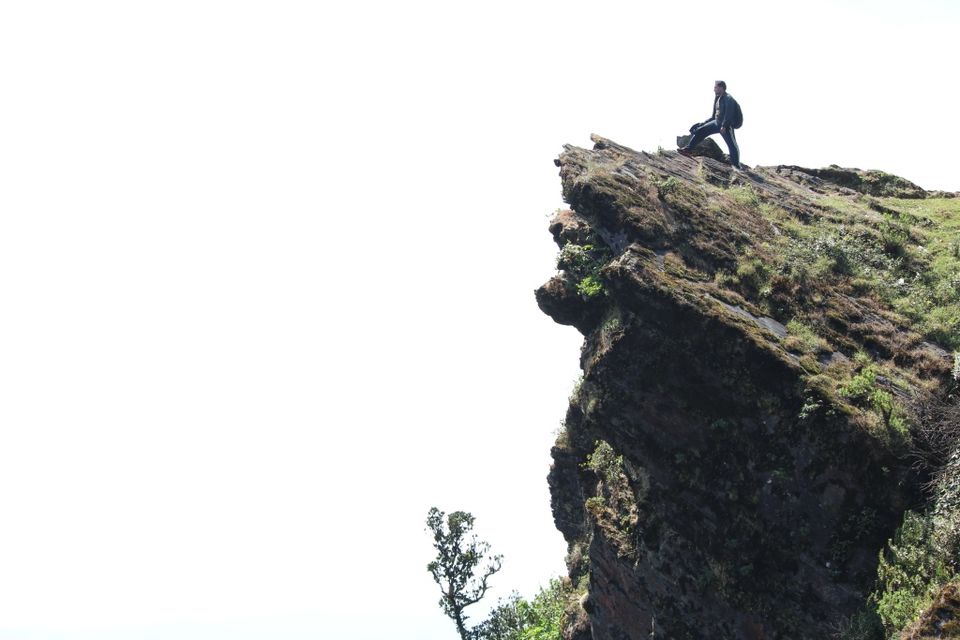 Without any other way out we decided to walk through the adjacent peaks and jungles to reach the point where our bus was parked. We along only to find so much of plastic bottles, shattered beer bottles, chocolate wrappers and so strewn around. It is often said do not tell about a beautiful place to the humans, keep it a secret. Human tends to ruin it. It really irks and annoys for nature lovers like us to see so much of filth and irresponsible behavior from people who know they shouldn't litter, yet they don't care. Educated fools. Gaurav was already fuming, and so much so that he pulled up one guy for throwing away a plastic bottle and another for smoking!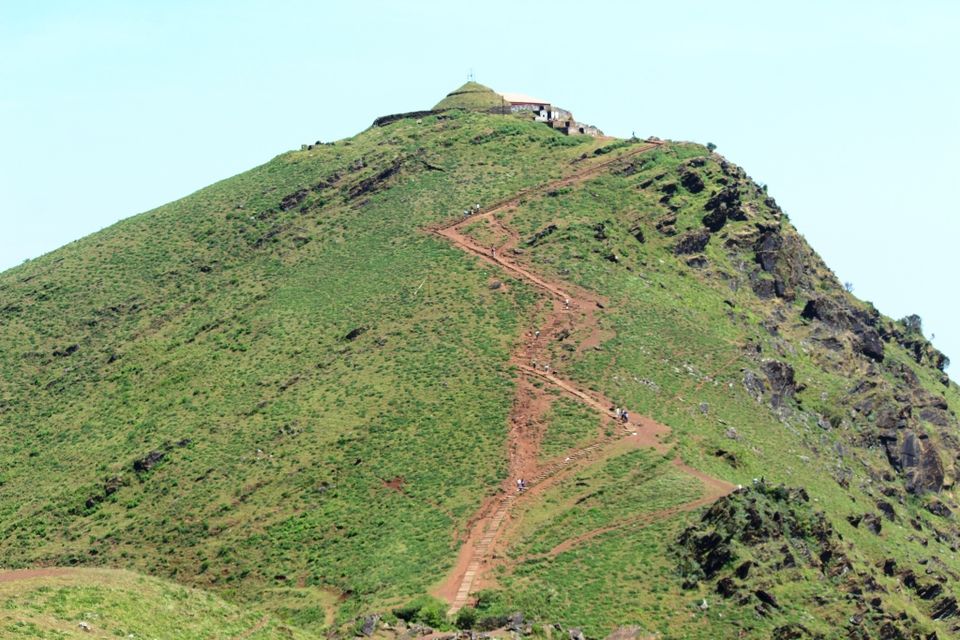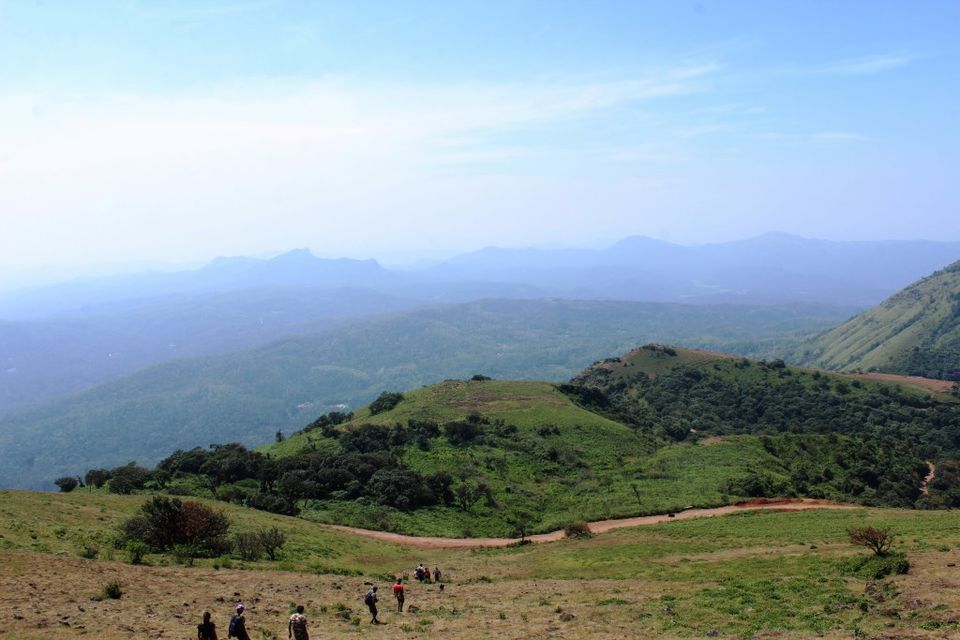 Bathed in sunrays, we soon reached the temple where in front our bus was parked. Most of us went for a darshan inside the temple, rest just sat under the cool shade.
We quickly hopped on to our bus, and on our way to Baba Budangiri. I'm not sure how much time it took us to reach the Baba Budangiri top (maybe 60-90 mins?) as we all snored off.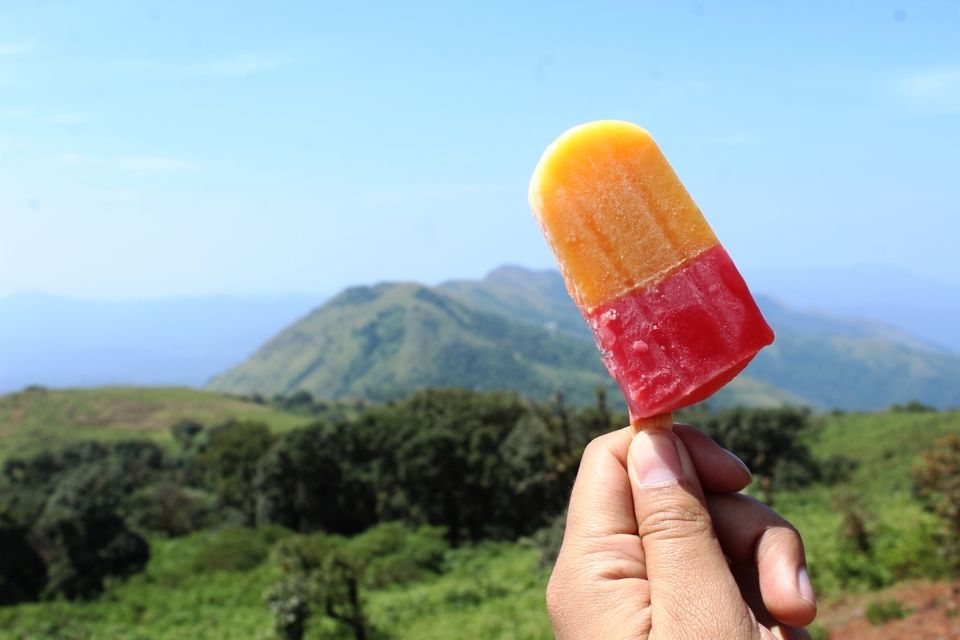 The Baba Budangiri mountain is the 2nd highest mountain peak in Karnataka. It is dedicated to the shrine of Sufi saint Hazrat Dada Hayat Khalandar, and a major pilgrimage point for the Muslims. The shrine is inside a cave and one has to bend and walk inside the cave as it is very narrow and low in height.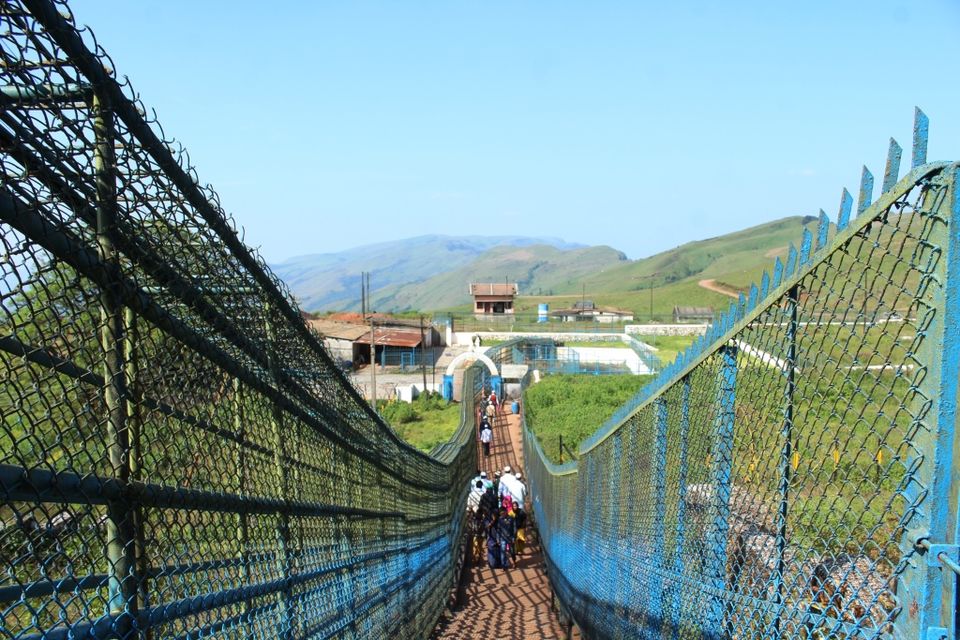 We spent around 1 hour at the hillock before making our way back to Chikmagalur. We were running behind schedule by around 30 mins now. Quickly checked into a local restaurant for some much needed lunch. Had a good meal of mutton biryani and some kebabs.
We left Chikmagalur by around 4:30 pm for Bengaluru. On the way dropped Chetan and thanked him for his wonderful and friendly nature as well as for showing us around.
We reached Bengaluru at around 10:45 pm. While everyone went to their respective homes in Bengaluru I had to make one more struggle to go back to Mysuru. And I did so by going on a overcrowded Passenger train to Mysuru, that takes 4 hours to reach, 1 hour delayed, hardly any scope to sleep, and reaching Mysuru no sooner than 5:30 am. Yep, it was an adventure all written over it!
So how would I rate the trek? Well, I had lot of expectations to be honest. Especially after my trek to Kudremukh in Sept. But Mullayanagiri turned out to be a simple affair (unless the trek from Mullayanagiri to Baba Budangiri is something of a savior). But then again standing on the highest mountain of Karnataka does give you your bragging rights.
Where to next then? Doing Kedarkantha in Dec last week. Maybe Kodachadri after that?