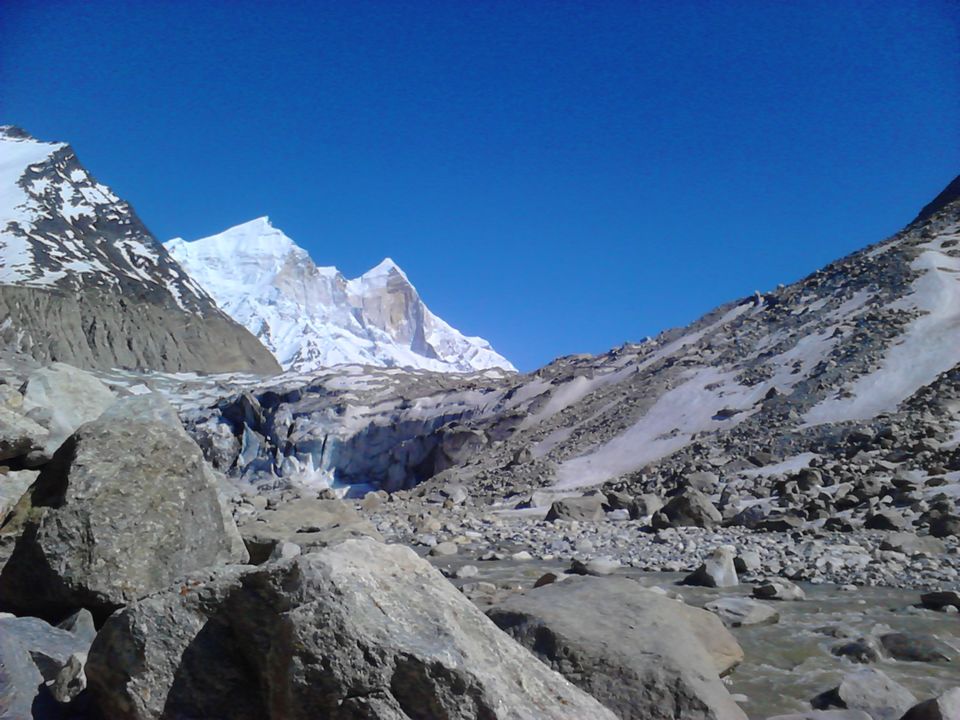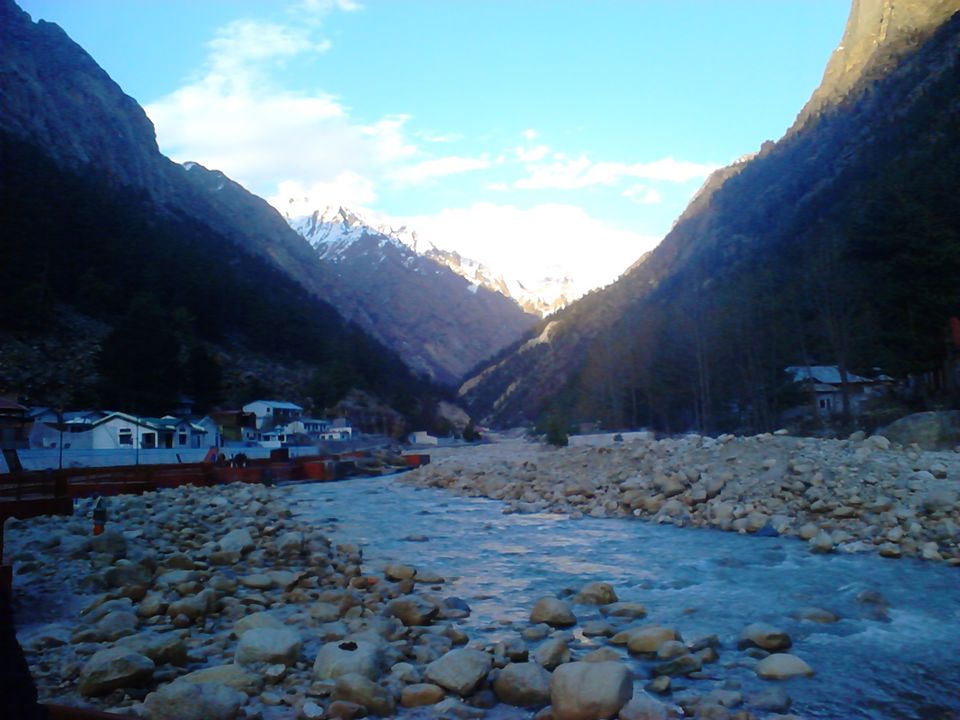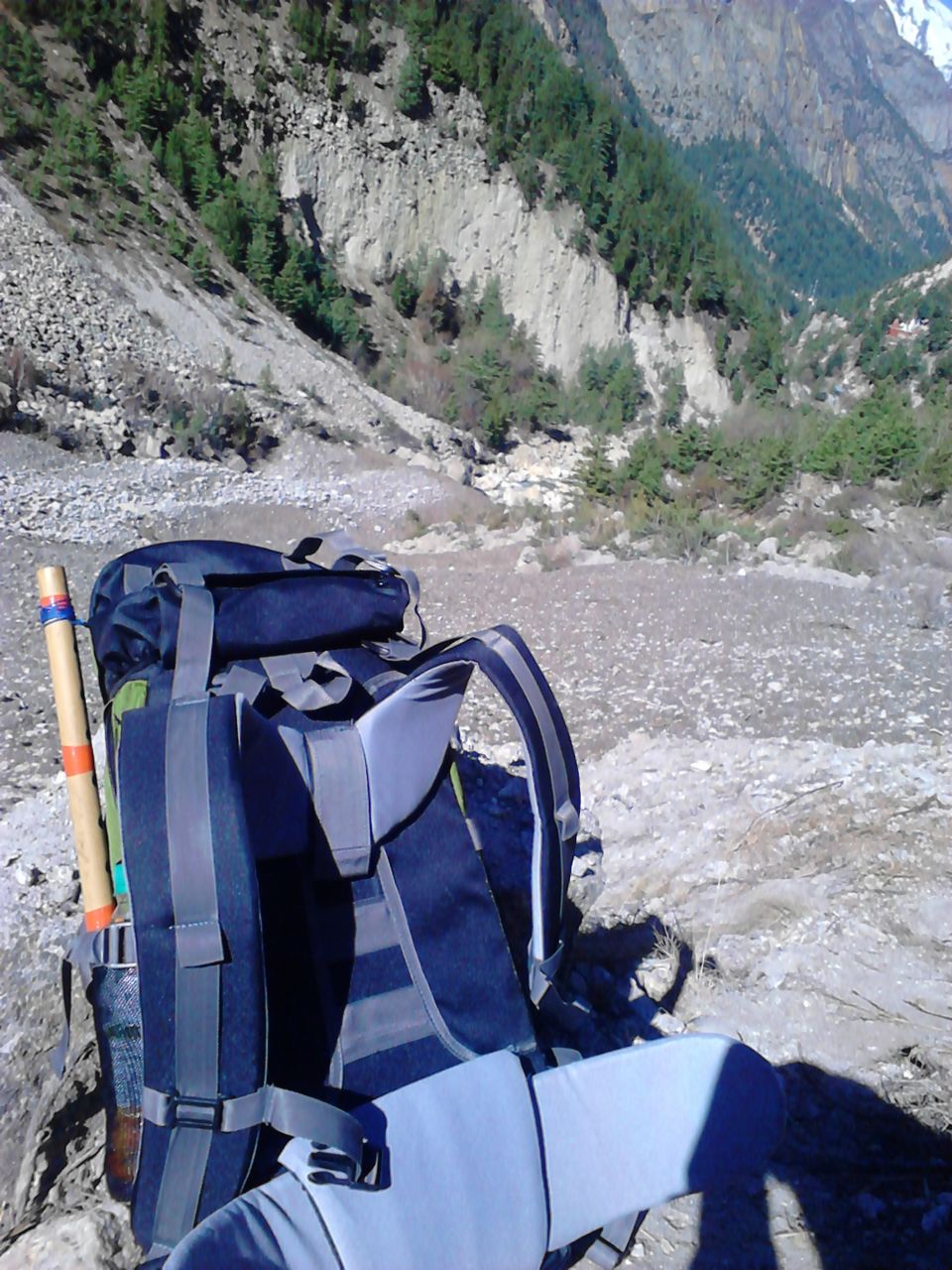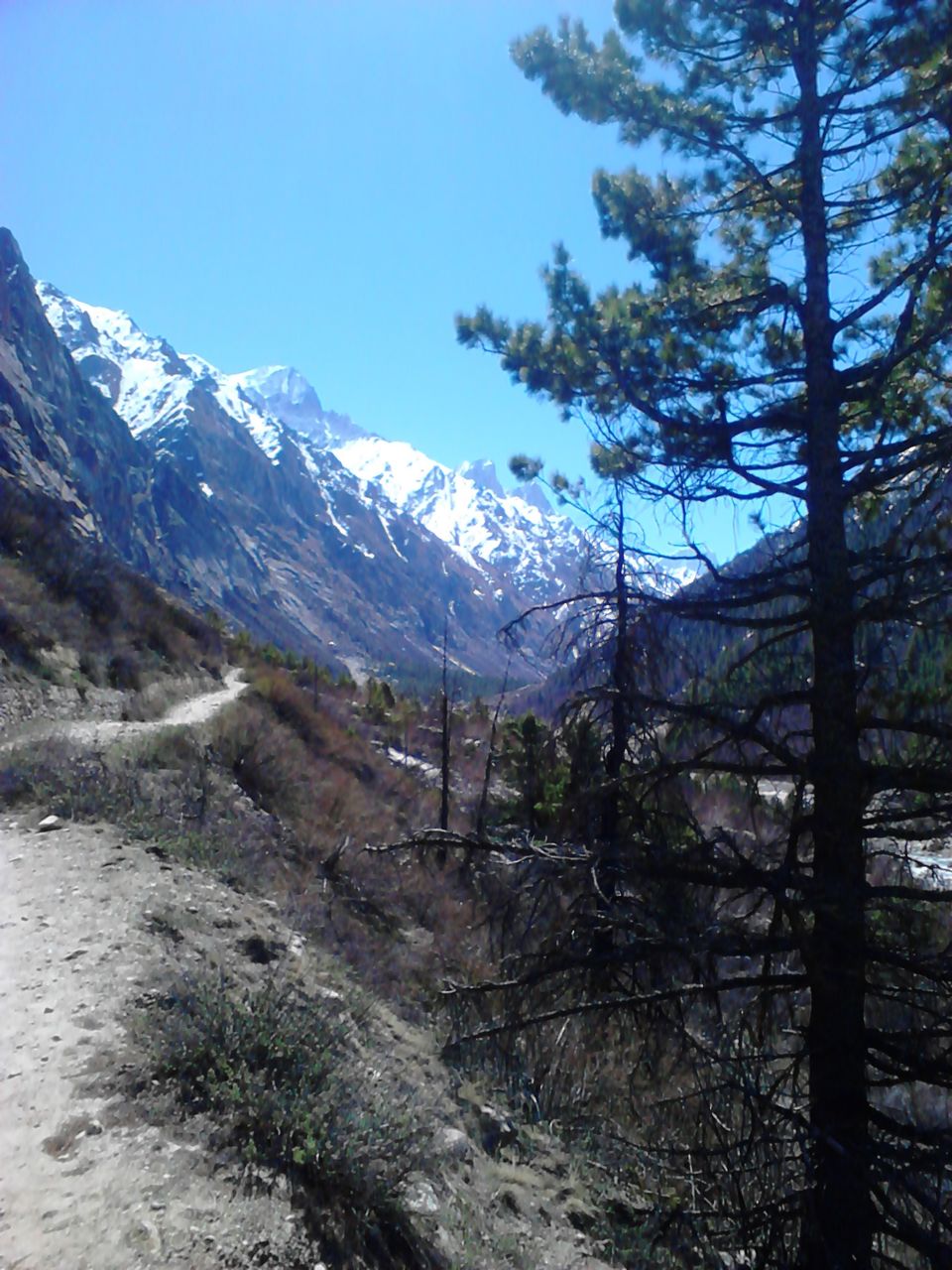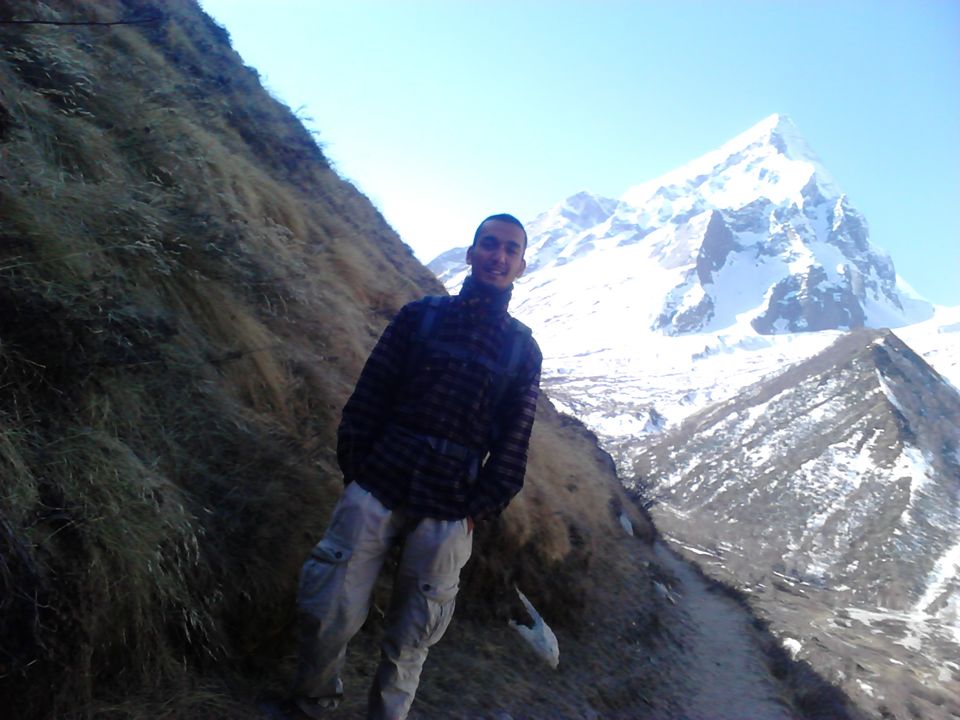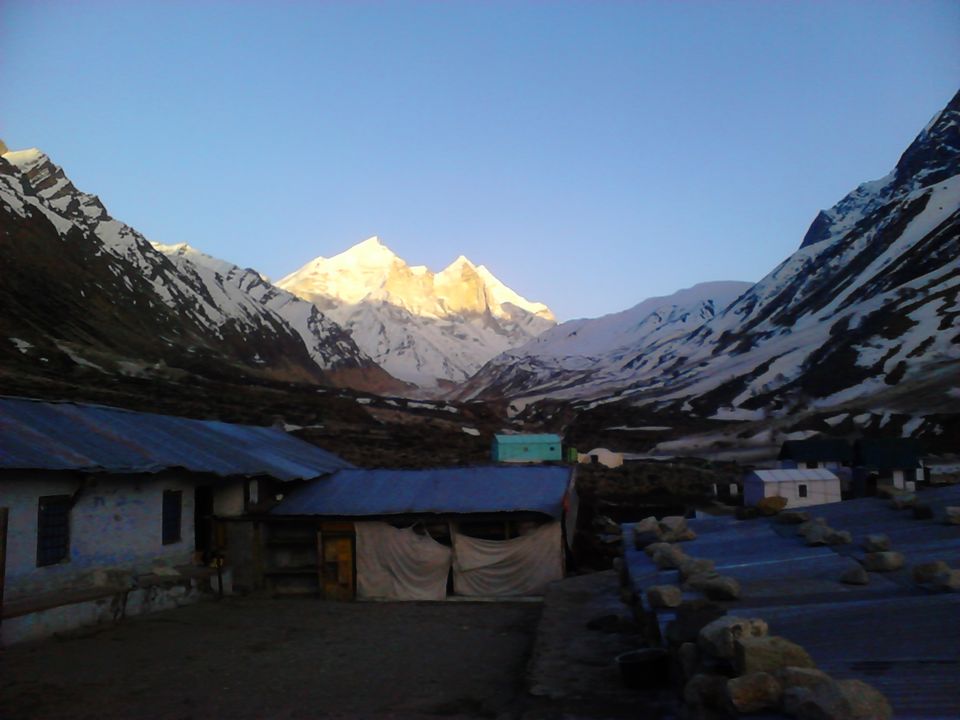 Beauty is thrilling!
Head  to Uttarkashi by departing early morning and take the last bus to Gangotri from which leaves around 1 pm so be on time leave early,yes buses are available from dehradoon at 5 am... the journey is long and strenuous and its cold.
SINCE MOST OF MY TRAVEL ARE AROUND THE OFF SEASON TO AVOID THE CROWDED HUSTLE..
So this time it was gangotri to gaumukh in the beginning of MAY, the season does not start there from july and less crowd means more peace...
Accommodation is very affordable there plus i got the river side room and amazing it was with windows of three sides the moonlight and the river sang together.. the arti in the temple of the goddess is also beautiful.
Day 2
THE TREK TO GAUMUKH IS LONG AND ON OFF SEASON THERE ARE NO SHOPS TILL BHOJAWASA WHICH IS 14 KM.
I did  not know that a pass is necessary to enter,so waited again till 7:30 ,ok they asked me to sign and undertaking since i was alone and hired no guide plus the trekking route was damaged as a precaution the forest officer told me to head back if i find the route difficult. Ok the trek begins, 30 min into it i found my self in-front of glacier  it was damn long and hollow heading downwards covering the river  anyhow i crossed it,in my partywear shoes(but woodland lived upto its reputation) so i kept walking among the wilderness alone,sometimes finding tired pilgrims and foreigners, some pug marks spooked me  to the core so did what naturally came to me started walking faster, reached CHEERBASA THE MID POINT the place was supposed to have shops since i had no breakfast i was utterly disappointed to find none, but the natural beauty filled me up, so crossing cheerbasa  makes one feel as their journey is to an end but the real deal was next, suddenly there were landslided mountains glacier which were damn slippery only then i realized the warning, but i had come to far to headback, since i had made friends with some pilgrims who were supposedly from  the family of the brahmins who worship goddess ganga at the temple.. with them i somehow i crossed and one thought was stuck how the hell am i going to cross back. You will see a lot of wild life blue mountain goats and it seems as if you were documenting for discovery channel, so i arrived at bhojwas at 2 pm, and decided to go till gaumukh another 4 kms 
ONE WORD FOR THE PLACE NOTHING LIKE IT TOTAL HEAVEN
Came back to bhojwasa till 6 pm met a beautiful Swedish couple and they were amazing! Now at bhojwasa you can stay at any ashram but LAL BABA ASHRAM IS THE BEST, 300 PER DAY INCLUDING FOOD, ACCOMMODATION, AND UNLIMITED TEA had a heavy dinner, the nights are cold and when you sleep near the door and some goes to pee and leaves the door open only then you realize true anger, tried to sleep but the mouse were too playful all the night got up was welcomed with a hot cup of tea, now the day had arrived to headback and the goosebumps,heading back i left early and when you cross a stream on a laid down wooden log which has a layer of snow  you fall in the stream and i did, the morning always comes with everything frozen on the way , but my nightmare came alive at some points, and trek was being repaired, came back and was applauded by the forest officials (ladka akeley sahi salamat agya shabaaash)felt nice sat with some really nice babas who gave me a nice cup of tea!
Came back to uttarkashi but not alone with some friends and a memories of the mother that quenches the thirst of many Indians!
(14+4+14=32km)
IT WAS A BEAR GRYLLS TYPE EXPERIENCE FOR ME, WALKING THROUGH WATER,SNOW,LANDSLIDES ,ROCKS ,AND WALKING ON LOGS!! 
P.S-NEVER HOPED TO COME BACK ALIVE! 
NOW ITS ALL 'LIFE IS EITHER A DARING ADVENTURE OR NOTHING AT ALL'