You Delhi-ites must be tired of reading the news about how Delhi is getting warmer and polluted every day. The heat gets annoying and you don't want to leave your house. The air conditioner is your only way to escape the heat and get some peaceful calm. You must be too scared to get a tan by leaving your house and you may not want to leave the cool room of your home. A city which has so much do and so much to see feels so isolated because of the climate. The aura changes and it feels like there is nothing worth seeing in the city because it is too hot to go out.
Your only escapades could be to mountains or to hill-stations which offer you a peaceful solace by changing the climate. But how often can you take those peaceful escapades and move out? What if I told you that you could enjoy really cold temperatures within Delhi? It sounds like a peaceful dream but it isn't. It sounds like wonderland where everything is how you want it to be but it is the truth. It is the truth that it under-marketed. There are various Ice-themed things for you to do in Delhi and to get rid of the really warm climate. You can enjoy these places and get over the heat.
Being a Mumbai person, I am not really used to the intense heat of the city. Mumbai gets warm too but it is just the right kind of warm which soothes your skin and makes you want to sunbathe. Since, it is close to the Arabian Sea, the city is never at its extreme and people always have the calm which a good climate has to offer to you. Before you even know it, the clouds burst pouring rain over the parched roads and fill them up. Marine Drive gets filled with people waiting to enjoy the filled waves of the water. The entire city is at peace because of the climate. When I shifted to Delhi a year ago, I did not expect such drastic changes in the climate and it suddenly hit me. The heat was too much to bear and I could not think of anything that could change this. Staying in the sun for two minutes made me crave my room with the air-conditioner. I left the AC in my dorm room on even when I was out so that the room could be cold [Not that I want my readers to do this and waste electricity but this is what Delhi does to you. The heat is like a monster coming at you and you'd want to do anything to escape it. My survival instincts are on when I have to stay in the heat for too long].
I then started looking at places to see in Delhi. I didn't expect to find a lot of ice-themed places but then I finally did. These places were my getaway from the heat into wonderland. Here's how to escape the Heat monster in Delhi.
1) Ice lounge, Saket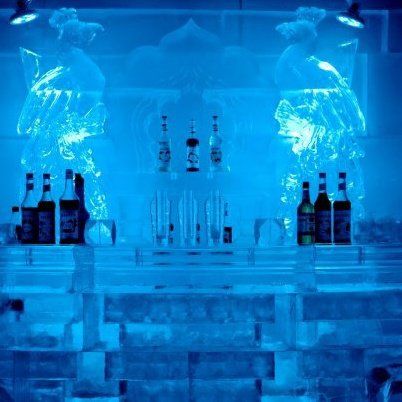 The ice lounge is your entrance into wonderland. It is a restaurant which is ice themed and has everything from ice-chairs and tables to an ice bar. The best way to enter this sub-zero temperature is by wearing a pair of boots and carrying gloves. It is your movement and transition from one extreme to the other extreme in climate. The lounge also has glasses and plates made of ice. Everything that you can think of is made of ice here including the dance floor. If you're bored at home in the super-hot temperatures, the ice lounge is the best place to go. They also serve alcoholic drinks for all you party freaks have statues and decorations made of ice. If you need a change in the atmosphere, just go to the lounge instead of planning a weekend getaway every weekend. It may not be possible for you to move out of your home every weekend, the ice-lounge is a good place to relax and get loose. It has a romantic ambience and serves all cuisines. It is operational till 12:30 at night. It gets really busy on the weekends sometimes.
2) Ski India, Noida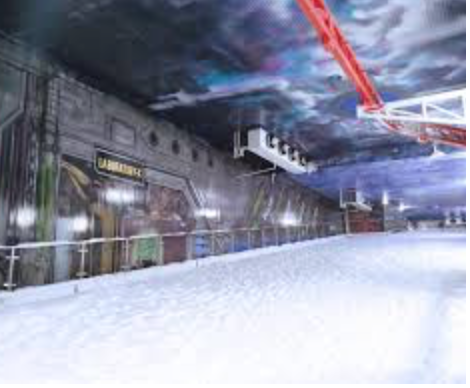 Escape to the polar region with Ski-India. This is not very far from Delhi and is located in Noida. You actually feel like you have moved to some other region which is outside Delhi in this artificial snow park. Snow and ice can have very different experiences. Ice has a more elitist experience where you do something romantic with your partner or just party. Snow is not only romantic but it also has the element of fun where you could just throw snow over your friends. This place is also a popular family place as it does not serve alcohol and is children friendly. If you are a family person with young kids, this is a better option than the ice-lounge in Saket. The time will never be enough for the vast number of activities in this park. You can ski in the park or simply chill on the snow ledge. The snow park also has an ice skating park where you can learn to ice-skate. There is an ice luge, a snow coaster and a snow runner. You can have a romantic moment in the ice igloo or enjoy artificial snow fall. There is also a snow mobile and a snow scooter. These activities are too much to complete within the time frame given. You will definitely want to come here again and again.
3) ISkate , Ambience Mall Gurgaon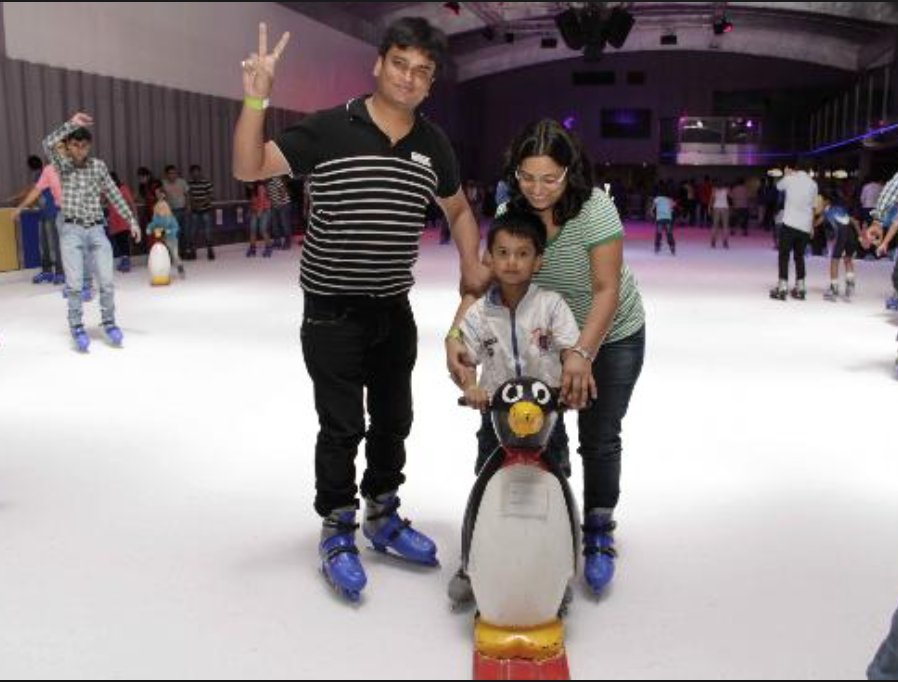 This is your chance to learn ice-skating. Normal skating isn't too cliché either but when it comes to Delhi, ice skating is the thing. The climate is not suitable to host a session of normal skating outdoors. This ice skating rink also has an ice bar and a disco floor. There are disco light projections on the skating rink which increase its magnificence by changing color of the ice floor. There is also a restaurant which has an amazing variety of cuisines. The place is very interesting and happening to be at. It has also received recognition and visits from celebrities. If you don't know to skate, there were be instructors and dolphins to help you out. If you do know to skate, then the rink is all yours to enjoy. If you're going with your friends, Ski India is a better place to be at because of the diversity of activities. But you can beat the heat by skating here.
How can we ignore places which serve the best beverages when we speak about how to beat the heat? Beverages are a great way to re-energize and add that extra touch of energy which will help you face the heat monster. Just like you need something to keep you up, you need these places to rejuvenate. These beverages contain tones of ice and are super cold. They are your short escapade into the land of the other extreme.
1) Hot mess- This restaurant is designed to be aphrodisiac and increase your sexual urges. It may be too hot outside but this gets the party all straight and pumped up. It's food and ambience are designed to be sexual and increase desire. It is the only restaurant in India which is of this kind. It makes this very special and it is always filled with people on the weekends. It also has live sports screenings and live music. Instead of sitting at the stadium in the sun watching a cricket match, you could enjoy a drink here in the hospitable atmosphere and have the time of your life. It is located in Cannaught place in New Delhi and it also tends to be quite pocket friendly. The best beverages here are Aphrodisiac and Red Velvet.
2) Ssky Bar and lounge- This is a semi-pub with the partying ambience. I would suggest you to go to Hot Mess if you are going with a romantic partner. It would increase the sexual element in the date and notch it up. If you want a chilled party night, then Ssky Bar is the place to be at. It is one of the best lounges in Delhi which is at the rooftop. It also has a dance floor, outdoor seating and nightlife. It would be fun to notch up the fun by partying and getting those crazy moves right. Though this place is a little expensive, it is worth the experience. It is also known for its city skyline view. It consists of a wide variety of alcohol. The most special drinks here are Margarita and Daiquiri.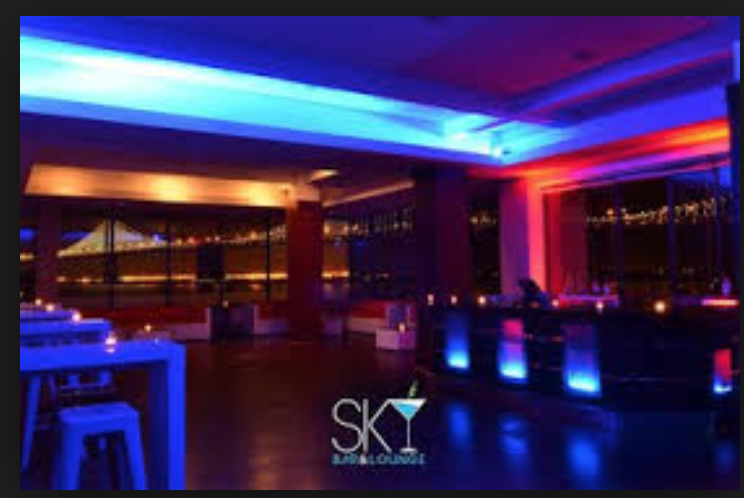 These are the two most special restaurants where you should be irrespective of the heat. It's a great idea to beat the heat with these restaurants and party. What is a better way to enjoy the other extreme if not a cool summer drink? These drinks will get you loose and will also get your mood right by killing the summer vibe. Summer makes you irritated? It does that to me. Get over it with a shot of alcohol or just party it away.
You can also beat the heat with water parks. Too hot outside, don't worry! The Park water will be really cold and it is great fun. This is my personal favorite after the Snow Parks. There are various water parks in Delhi including Worlds of Wonder which is in Noida. It has various water rides. It also has an amusement park and a go-karting area. These would be suitable and fun for the winters but the water park is mainly operational in summer. It claims to be the best water park in Delhi.
Now I'm sure that this list has given you enough places to see and things to do in summer to beat the heat. So you don't need to get bored at home and beat the heat only in the AC. Delhi is a huge metropolitan which has numerous activities to do. You only have to look it all up to find it. There was a time when I, being a Mumbaikar got very annoyed with the Delhi heat and thought that there would be four months where I'd just be in my room. But then I found all this out. Go, get some of these on your bucket list and complete it. Checklist it.