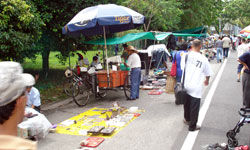 The land where the shoppers dwell. Or at least that is what Singapore's unofficial tag line says. The place has something for everyone—from those who only luxury retail goods to those who don't mind haggling for a steal of a bargain. There are several places, in fact, that are quite light on the pocket. That's where you must head when in Singapore shopping.
Travel Suggestion: Each of shopping places are well linked with buses, so check bus schedules at by visiting www.redbus.sg and get your shopping desires fulfilled. In this portal you may choose your preferred seat and bus, once done confirm online bus tickets well in advance. This will let you catch more than a glimpse of the city as you look to arrive at your destination. Booking buses via online surely helps to save your time and energy too.
Mustafa Centre: Everyone gets to choose at Mustafa Centre as you can purchase almost anything here. It is the only centre that is actually open for 24 hours in a day, for up to a year.
Lucky Plaza: Walk into this shopper's paradise and you may never want to leave the place. Exquisite jewellery and accessories for within $10… you know where you need to buy your trinkets from.
Anchorpoint: One of the first malls in Singapore to house a cluster of outlets, visit this place for the deals in place. Sunglasses at $1! Have you heard such a statement before?
Sungei Road's Thieves Market: Named so since thieves would often put up here to sell and hawk their goods, today it is one of the most sought-after locations here. This place beckons throngs of visitors even after all these years and despite being surrounded with more glamourous competition, is home to numerous retail outlets selling everything from food to apparels, with first-rated floor dedicated to fashion for the youth crowd.