When it comes to hiking, New Jersey has it all. Waterfront views, short strolls, lengthy trails and so much more make the Garden State a great destination for hiking and camping. While everyone has their favorite hike, some trails in New Jersey are worth taking at least once. You know where they'll lead you, but can never know what to expect or find. These locations are pretty remote so be sure when your hiking in, be sure to bring a lightweight backpacking tent and a warm sleeping bag.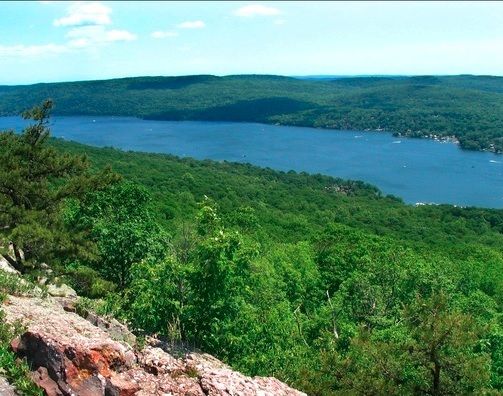 Sunfish Pond and Mount Mohican
A popular hiking spot in New Jersey, and that's with good reason. The shores of the crystal clear glacial lake are nothing short of postcard perfect. An ideal for families and solo hikers. Get an early start or go in winter or a weekday to avoid the crowds and improve chances of seeing the plenty, but shy local wildlife. Before you embark on your hike, stop at Kittatinny Point to get information about the area's history, flora and fauna, and geology, which will enrich your adventure. Just behind the Information Center is a breathtaking view of the Delaware Water Gap. Watch the river meander gracefully as it disappears towards Mount Minsi in Pennsylvania.
Mount Tammany
Rising above the Delaware Water Gap, and forming a spectacular gorge, Mount Tammany is among the most acclaimed natural treasures in New Jersey. This area has attracted hikers, fresh-air lovers, campers, hikers and painters dating back to the 1800s. While the former resorts are gone, the area still remains popular and protected. The hike is too good to do in a day, and it's best recommended you camp for a couple of nights to explore the different local residents and abundant fish.
Apple Pie Hill Fire Tower
While there are not much natural vistas from where you view the cast oak and pine wildlands that overlay the Cohansey aquifer, but the Apple Pie Hill with its tower offers some of the most amazing man-made views of this extensive primitive tract along the Atlantic seaboard. The hike is quite long, going for about 8 miles and offering views of the cedar swamp as well as the upland oak and pine forest. The hike isn't difficult and can be undertaking by even the most novice of hikers.
Beaver Brook Trail
A rugged 3-mile hike that goes into a beaver colony. Although they are nocturnal animals, daytime hikers will be pleased to see some of the beavers' engineering exploits. The hike also ascends into a highland environment which features sweeping vistas, rocky crags and plenty of signs of wildlife residents, including coyote and bear.
Buttermilk Falls
While there's no need to hike in order to view the falls, it offers a good starting point for other trips in the area. Begin at the falls, and off to Hemlock Pond before making your way back in just less than 5 miles. The best time to see the falls is soon after recent rains; during dry conditions there can just a bit more than a trickle.