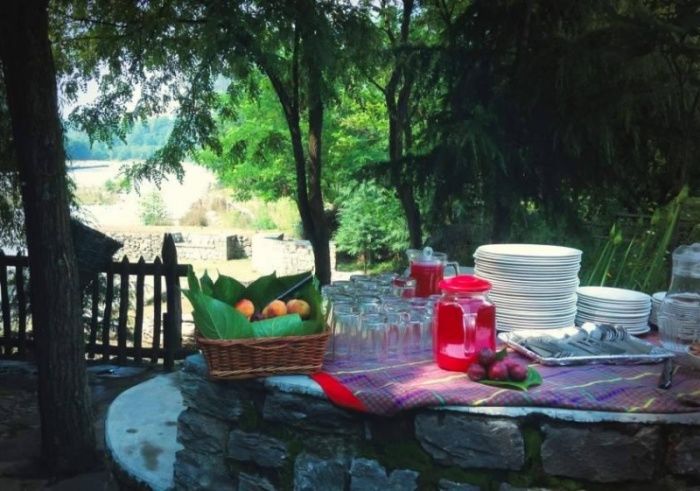 There are different ways of spending your Valentine's Day with your loved one. If spending a quiet moment with your partner away from the hustle and bustle of the city is your idea of a perfect date, then you are at the right place. TDE brings to you top five dining experiences that you must treat your partner to, in this Valentine's Day (and if not Valentine 's Day, then any other day too. After all, you don't want to bind your love to a single day, do you?)
Treetop dining at Kurumba Village Resort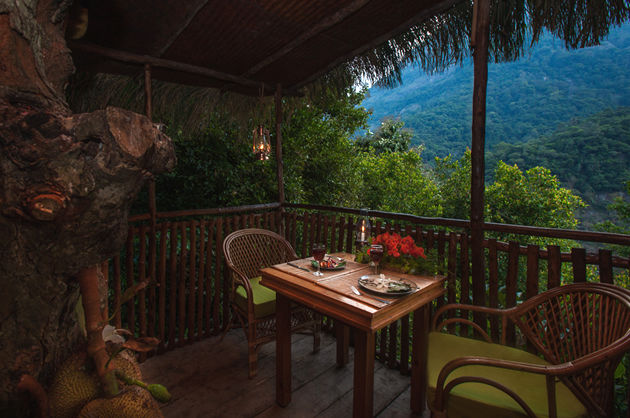 Named after the Kurumba tribes, the Kurumba village resort at Coonoor is an ideal place to unwind with your loved one. The highlight of this resort is the tree top dining where you can enjoy a lavish spread of 7-course meal made with homegrown, organic spices. Enjoy the meal even as you get mesmerised by the beauty of Nilgiri mountains. You can walk down the green aisle with your loved one after a sumptuous meal and inhale the unadulterated aroma of nutmeg, pepper, and cloves. Your tormented city nose will thank you too. How to reach? The closest airport is the Coimbatore airport. Get down at Coimbatore airport and hire a vehicle to reach the destination. It is just a two-hour drive from the airport.
Breakfast by the river at Neeralaya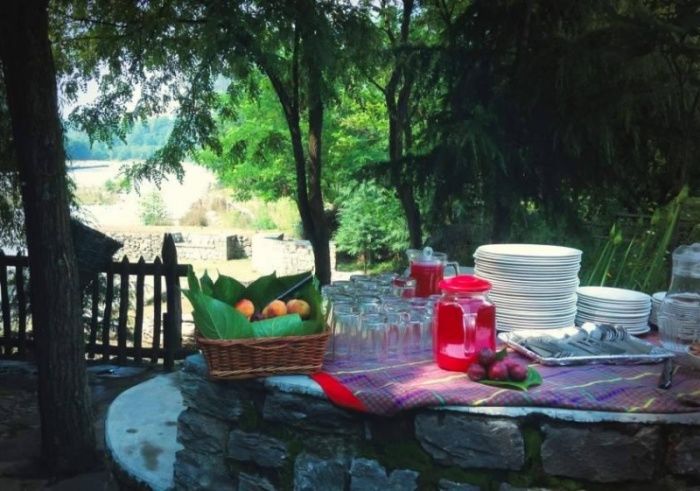 Picture this - the sound of river, the breath-taking view of the valley, a land preserved with love and care to retain its beauty. Sounds tempting, isn't it? If it does, then let us give you some good news. You don't have to go far-off to experience this beauty. All you need to do is head over to Neeralaya, which is right at your backyard at Kullu valley and on the banks of river Beas. Take your partner on a surprise date at Neeralaya and let them experience 'life, as it should be'. While you are Neeralaya, enjoy the morning cup of tea with a lavish spread of break listening to the gurgling sound of the river. Say hello to the birds that visit you and catch some live action of river rafting from your table. This serene place could serve as a rejuvenating pit stop for you before you go on an adventurous trip to Rohtang Pass or Leh Ladakh. How to reach? The closest airport is Bhuntar, which is 23 Kms away from the resort. If a road trip is on your mind, then you can rent a car from Chandigarh to reach Neeralaya.
Dine by the sea at The Lalit Golf and Spa Resort Goa

If you and your partner are beach babies, then Goa is the place for you. Yes, we know, you want to be away from the pandemonium in the beach. That is why we are recommending the exotic and luxurious resort of Lalit. The resort is near the calm Rajbagh beach - just 4 Kms away from Palolem beach in South Goa. You can enjoy a sumptuous Goan dinner by the Arabian Sea and get some much-needed rejuvenating massage at their spa. While you are there, try your hand in playing golf at the Golf course or just laze around at the beach or the outdoor pool with your partner. How to reach? The closest airport is the Goa International Airport. However, if you are on an adventurous mood and game for a long drive, then you can also drive down to Goa from Mumbai or Bengaluru.
Rooftop dining at Alila Fort Bishangarh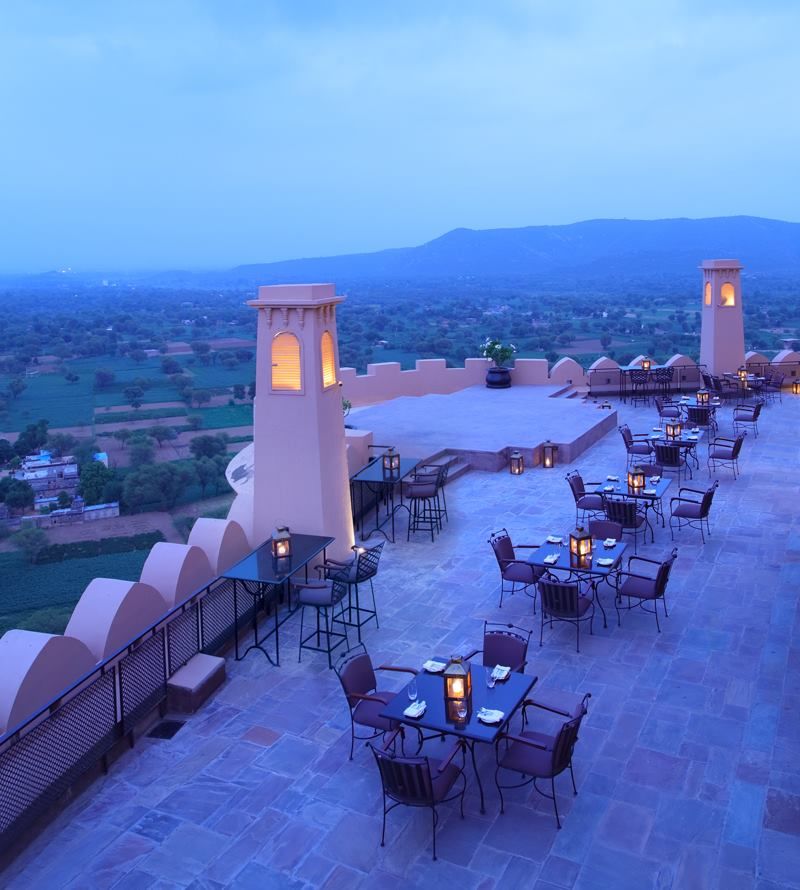 If you want to make your partner feel like a king or a queen, this is the right time to make them experience it. The Alila Fort Bishangarh is perched on a granite hill and offers a 360-degree view of the Rajasthani landscape. It's believed that the most romantic place to dine is on the rooftop. So, take your partner to the rooftop restaurant and indulge them with exotic Rajput cuisine specially cooked in sand pits and over open flames, even as the panoramic view of the Jaipur city leaves you awestruck with its royalty. You can spend few more days and explore Bishangarh with a personal tour guide. How to reach? Alila Fort is 28 miles away from Jaipur. So, you can get down at Jaipur airport or railway station and rent a car to the fort.
Dining in the middle of Thar Desert at Suryagarh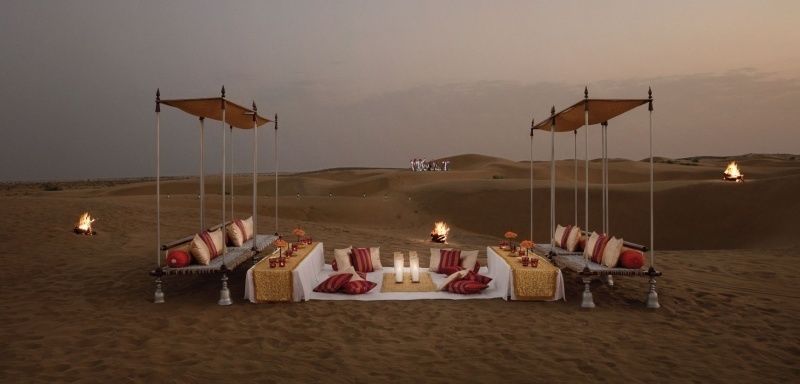 There are mountains, there is sea, and then there is a desert. Have you ever imagined dining with your partner in the never-ending expanse of Thar Desert? Well, if you haven't, you might as well consider it for this Valentine's day. Suryagarh offers you the option to dine right in the middle of the Thar desert. Raise a toast to your relationship with a glass of champagne and some royal Rajasthani cuisine and local performance. If you or your partner is a canine lover - here is some good news for you. As you roam in Suryagarh, chances are you might end up meeting some friendly beings on the path. Show them your squishy love; they will be delighted to play with you. You can also share your table with sparrows and peacocks that roam freely in the resort. How to reach? Suryagarh is closest to Jaisalmer airport and railway station. So, you can drive down from there to Suryagarh. These are just five dining experiences that we could remember immediately. There are many more. If you remember any such dining experiences, please share it with our readers and us. We will love to know from you! To book a rejuvenating experience in any of these resorts, please contact your travel buddy at 9930924788 or drop an e-mail to us at fun.tde@gmail.com. You can also go through our website to know more about our services - http://www.traveldostietc.com/advisory/ We wish you and your loved ones a Happy Valentine's Day. Spread love, be loved!