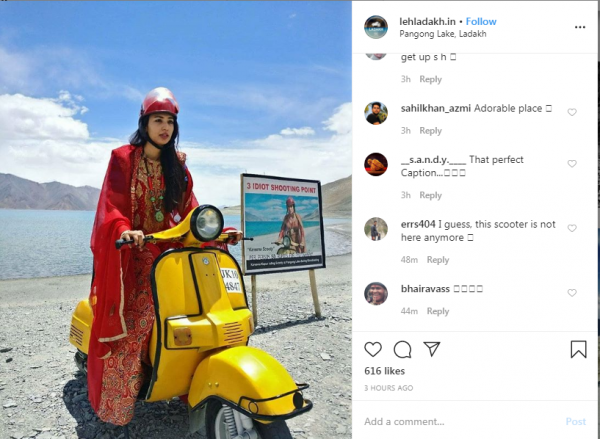 Instagram has very soon become an amazing source of inspiration when it comes to traveling especially. People putting pictures of their travels on Instagram makes us want to leave everything and catch a flight to our dream destination. If you're planning for a trip, Instagram is the first app that inspires us to visit that destination.
Of course, everybody wants their Instagram feed to look absolutely fun and filled with beautiful memories. If you also feel like you should do some travel blogging, we have a list of some of the top Instagram-able spots of India.
Ladakh should definitely be on your travel bucket list. One of the most breathtakingly beautiful places in India is Ladakh. Some call the Pangong Lake, the crown of Ladakh. Pangong Lake is the largest brackish water lake in Asia. This lake becomes frozen during the winter season. The blue waters, the brown terrain and a blue sky make it one of the best spots for the perfect travel photos. The best time to visit Pangong Lake is during the months of May to September.
You can spend some time star-gazing in the clear night sky and check out the rare endemic species of squirrels. These squirrels are known as Marmot. While you're there, you can stay in Private Tents by the GuestHouser or the Pangong Lake View Cottages.
Valley of Flowers National Park
This national park has been dedicated primarily to colorful flowers. Everywhere you look around, you will find flowers here. The Valley of flowers has more than 600 species of flora. This park, along with the Nanda Devi National Park, is a part of the World Network of Biosphere Reserves under the UNESCO. The best time to visit the Valley is during the month of June every year. You can visit Hemkund Sahib lake or take a dip in Gaurikund. While you're there, you can stay in a tent at the Valley Of Flowers Camp in Satti. Other accommodations are available at Joshimath. CONTINUE