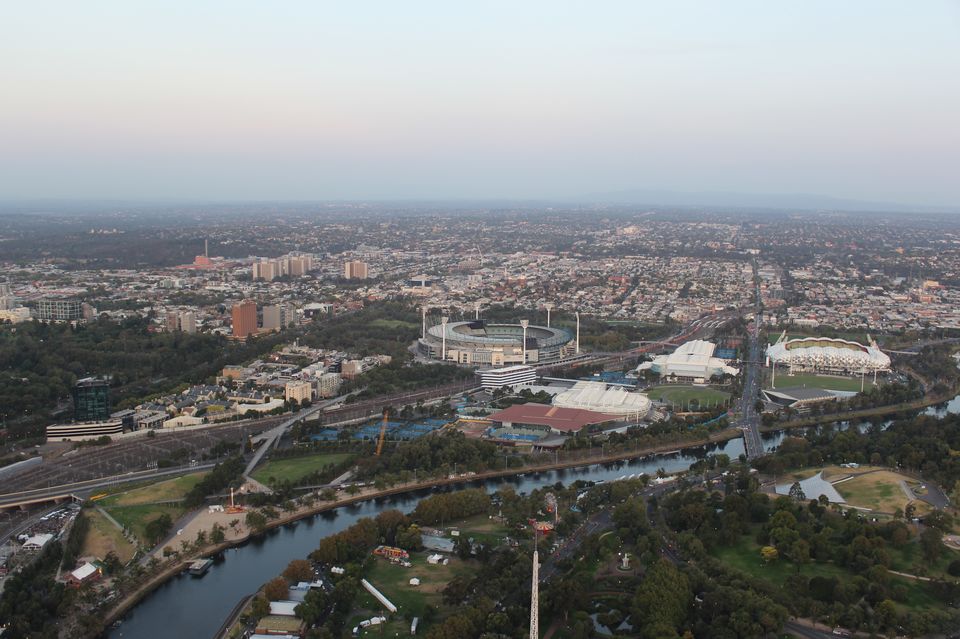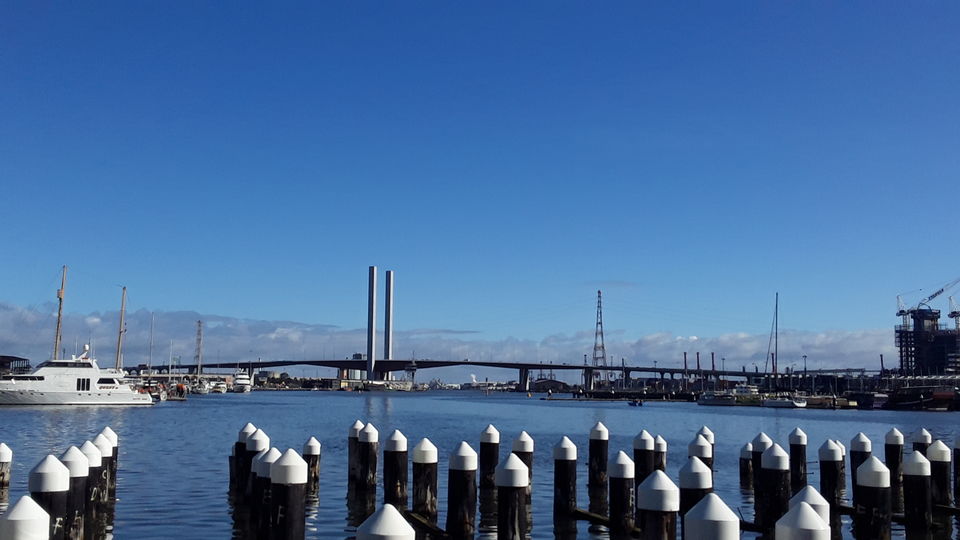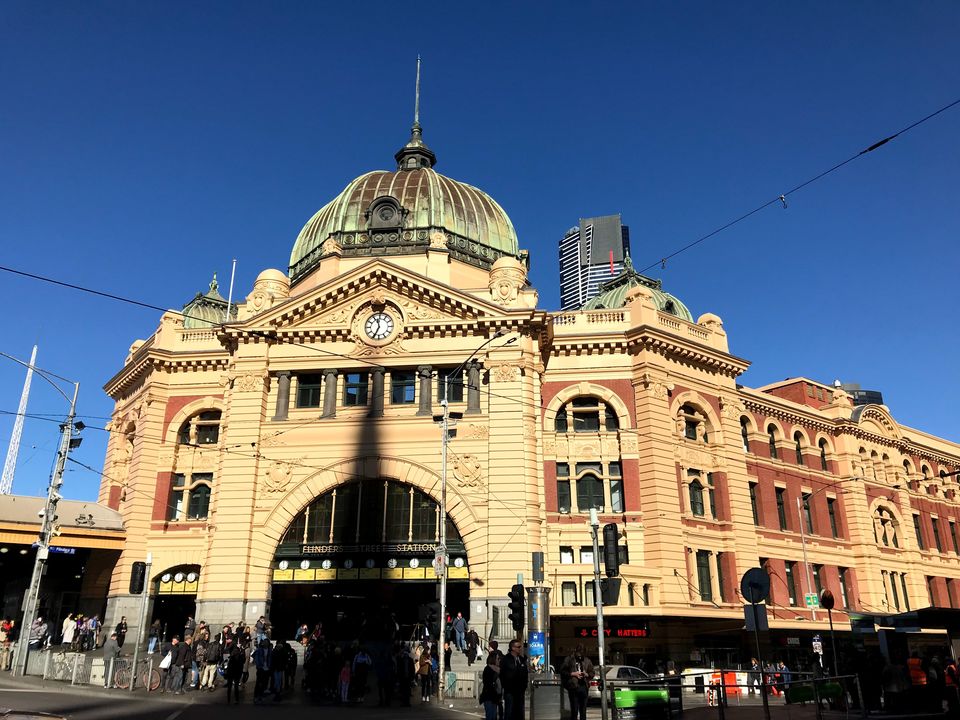 From strolling on the bank of river Yarra to spotting your passport in the immigration museum, from grabbing a pint of beer from the breweries to witnessing the vast 360 degree panoramic view of the city from the sky deck tower; Melbourne city offers you tons of things to do around and here are my top 10 things to do when you are in Melbourne city centre.
Since this blog has the detailed description, so I am breaking it into two parts. The following list (Part-1) comprises of 5 attractions and the part 2 will have the remains. You can pick few things from the list or do all the things which will mark your Melbourne city attractions bucket list ticked.
1. Stroll along the Yarra in Docklands
Docklands is the closest suburb to Melbourne city centre but many people mistake it to be part of the city which is not the case. Wandering on the bank of the Yarra and seeing the majestic Bolte bridge was my absolute favourite thing when I lived in Melbourne for 3 years. As the name goes Docklands, you will find many boats docked here and if you are interested in hiring a boat and cruise across the river, then there are couple of agencies available for enquiry. In summer, you will see many people will be rowing and boating, kayaking, paddle boating in the river. It is also one of the favourite places for fishing, so in the evening you will come across people with fishing rods.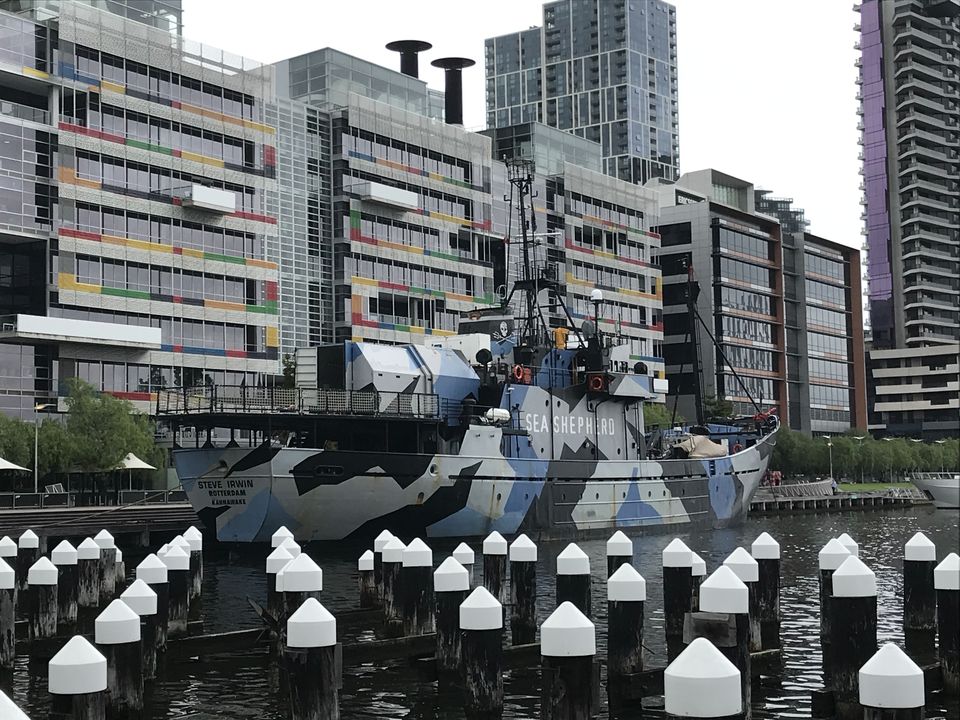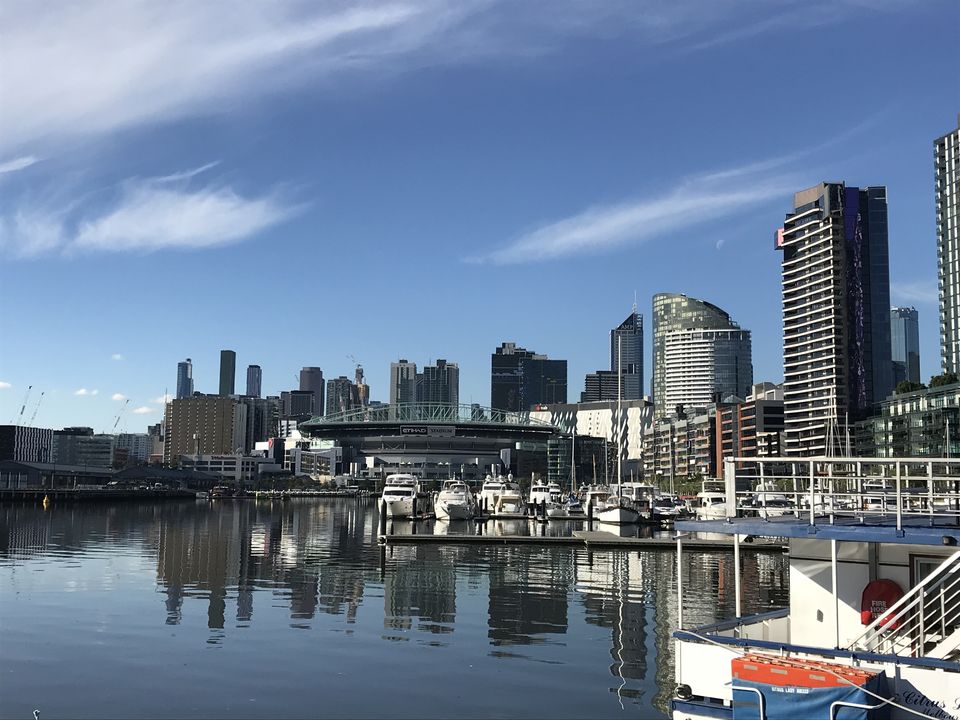 On the both side of the river, you will find many restaurants, cafes and bars along with some party boats. On weekends local markets are also held during morning to get into the vibe of a typical Melbournian market. Apart from checking out these markets, you also have a great option of visiting the District docklands (earlier known as Harbour town) shopping centre to shop and eat.
How to reach: - If you are staying in the city, get into the either city circle tram on Latrobe Street or 86 On Bourke Street or 11/48 on Collins street or 70 on Flinders street will take you to Docklands. By walk you can also come from Southern cross station.
The details of tram timings can be seen in the PTV website.
https://www.ptv.vic.gov.au/journey/
Tip: - Melbourne Trams are free in the city centre, so if you are getting into any of the above trams mentioned at any place in city centre, you do not need to tap your Myki(travel card).
Time to spend: - 1-2 Hours
Entry fees: - Free
2. Watch a footy match in Marvel stadium
Well, those who are not aware of what Footy is? In simple terms, it is the Australian version of Football which is basically played in oval ground. It is apparently the most popular sport among Aussies. Earlier the Marvel stadium was known as Etihad stadium but in year 2018, it was bought by Marvel and they renamed it to Marvel stadium. This stadium is famous for organising footy matches and musical concerts. If you want to witness how a typical Footy match is in Australia, you can spend time watching a Footy match here. There are couple of restaurants, cafes and bars around the stadium offering multiple options to eat as well.
Match details can be found in AFL website
https://www.afl.com.au/tickets
How to reach here: The same tram can be used to get to Docklands. From Southern cross station the stadium is just 5 minutes away by walk.
Entry fees: 15-30 AUD (depends on match and time of booking)
Time to spend: - 27 to 33 minutes (varies sometimes based on match)
3. Enthralling one-hour ride on Melbourne Star
If you wish enjoy the 360 degree panoramic view of Melbourne and the surroundings by sitting inside a gondola of a giant wheel ,then you need to try the Melbourne star observatory wheel .It takes approximately 30 minutes to complete one cycle ,which is enough to endure the aerial beauty of Melbourne and capture in camera. You can book the tickets online to enjoy the ride.
How to reach here: The same tram can be used to get to Docklands.
Entry fees: check their website
https://www.melbournestar.com/
Time to spend: - 1 hour
Tip: sometimes the hotels where you are staying have some free pamphlets near the reception area which have some discount on Melbourne star tickets or check the groupon website for Melbourne if any discount can be availed.
4. Charming and deluxe site of South Bank and Crown
South bank is another nearest suburb to city centre which has a lot to offer in terms food and drinks; from the fancy dine in restaurants to a range of river facing breweries and cafes. The most uptown hotels like Hilton and Crown are also situated in this suburb. Southwraf DFO is one of the popular shopping centres in this area for shopping.
The boarding point for the Yarra river cruise is also situated in the south bank which is a popular activity in summer months to see the beautiful city from water. If you are interested in then check their website for details.
https://www.melbcruises.com.au/sightseeing-cruises.html
There are several bridges running across the Yarra river such as the webb bridge , Seafarers bridge and Evan walker bridge which are pedestrian friendly and so distinctive in terms of the architecture to stroll around.
While wandering around the Southbank, you will come across many street artists performing such as painters and musician.
In Crown casino you have option to grab a drink, enjoy the party vibe during evening and gamble if you wish to. Village cinema is also present inside crown to enjoy a movie. After the sun goes down, from Friday to Sunday ,every hour (8:00 pm – midnight) the flames (computer controlled fire balls) lit up from the 8 towers for 2-3 minutes which is still my absolute favourite thing to watch and never gets old.
Even if you do not want to eat or drink, just sitting near the river and enjoying the view of city itself is a pleasant experience at any time of day or night.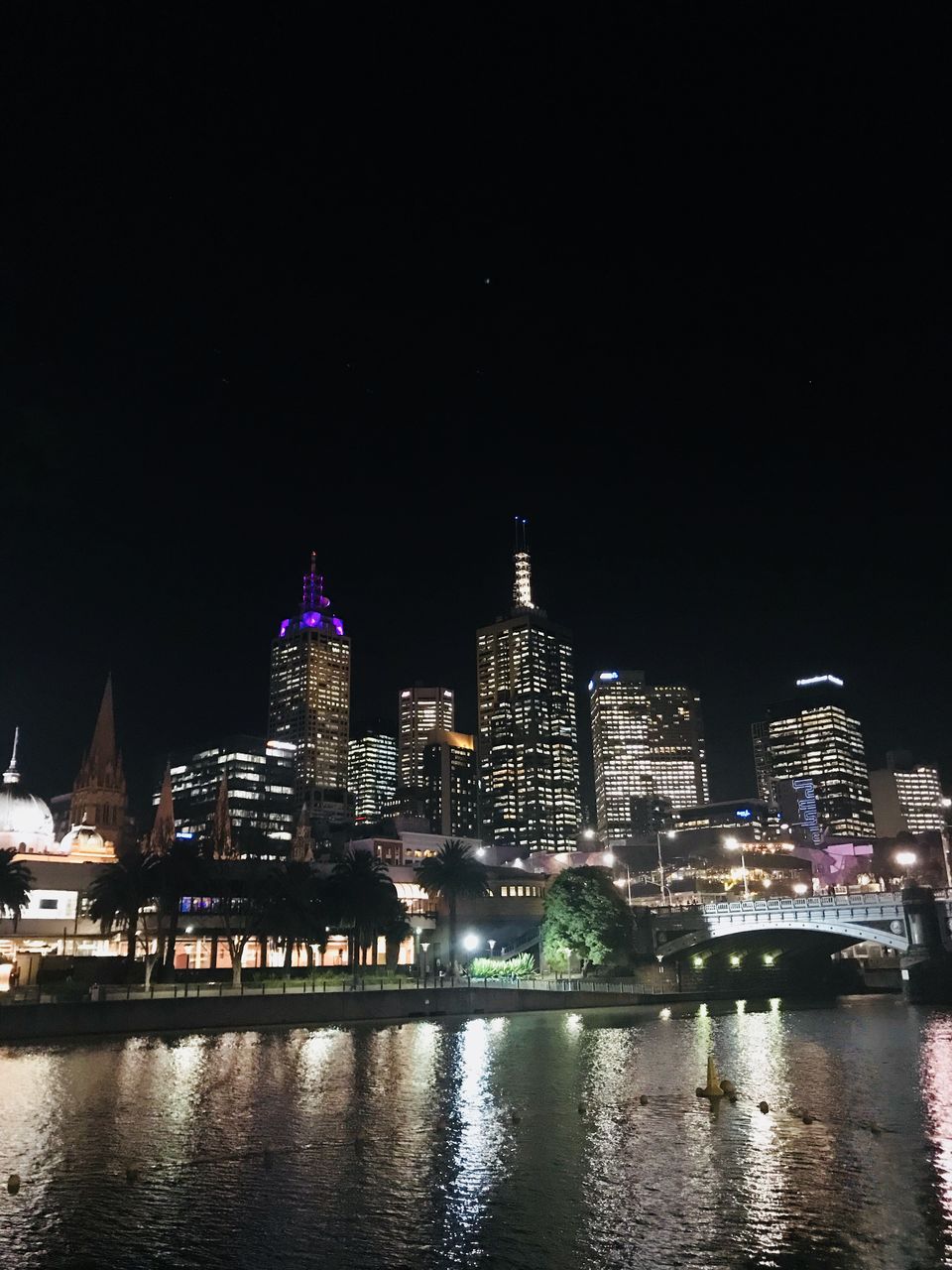 How to reach here: catch the tram 96 (towards St Kilda) on Bourke street. Walk from Docklands to arrive near crown tower on the wooden trails .
Entry fees: free
Time to spend: - 1-2 hours
Tip: If you are coming by tram ,crown stop does not fall under free tram zone, so don't forget to tap on and off when you get into and down the tram.
5. Astounding 360-degree view from 88th floor
If you want to spend a whole day sitting on the 88th floor of a tower and record as many time lapse of Melbourne city and the surrounding neighbourhood stretched up to the ocean, then Eureka Sky-deck is your destination. Eureka Sky-deck is one of the tallest towers in the southern hemisphere, which is 297 meters tall. The viewing desk is situated at the 88th floor and the view is mesmerising.
I personally prefer Sky-deck over the Melbourne Star observatory wheel as it is comparatively inexpensive and you can spend as long as you want.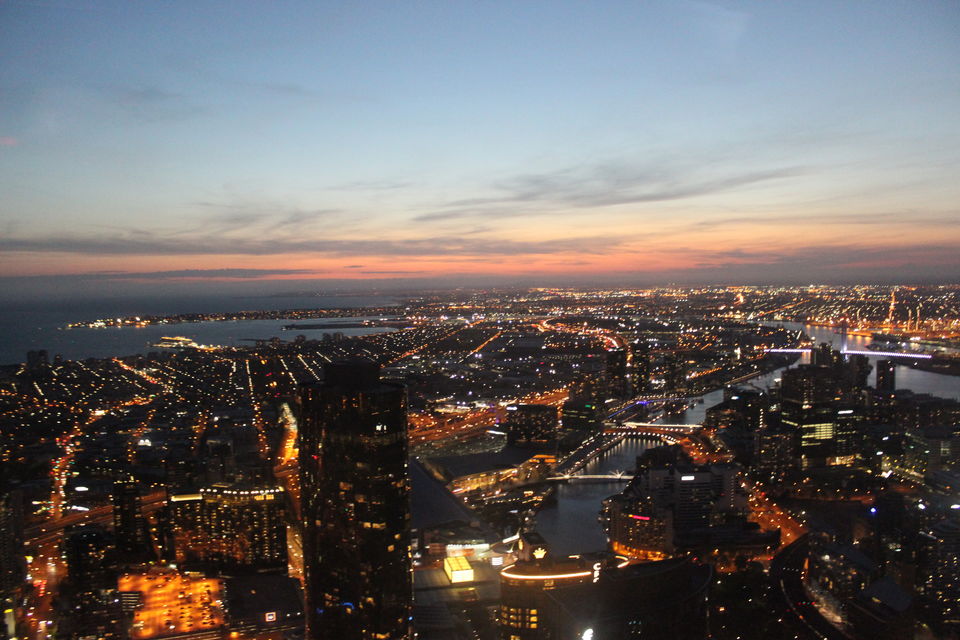 The best time to visit Sky-deck is to arrive just before sun set as you can witness the both day and night view of the city and surroundings which is stunning.
Apart from viewing through the large glass windows, there is an option to spot the iconic landmarks such as the MCG (Melbourne Cricket Ground), Bolte Bridge, Carlton garden, Art centre tower and many more through the iron fence from one corner (there is a limitation on the number of people at that spot, so at times you can expect a queue near this place). Apart from this, there is another activity called as the "edge experience". By paying additional fees, you have an option to walk on the glass floor overlooking the ground from 297 meters height.
You can book tickets online from their website.
https://skydeck.tickets-melbourne.com/#select-tickets
How to reach here: It is situated in the south bank and You can walk from Flinders street station to reach here.
Entry fees: 18 AUD general admission fees
Time to spend: - 1-2 hours
Tip: sometimes the hotels where you are staying have some free pamphlets near the reception area which have some discount on Skydeck tickets or check the groupon website for Melbourne if any discount can be availed.