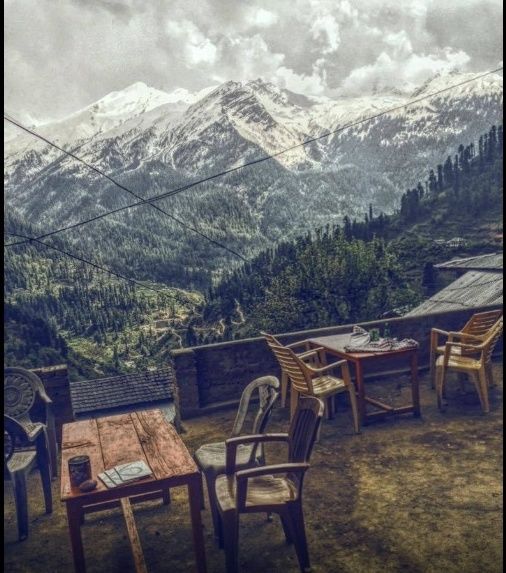 Away from your office cubicle, lies a village on the top of a hill guarded by the mountains. A village that may lack big shops and restaurants but definitely not missing the feeling of warmth. At far end of Parvati valley, this village has a peculiar hash-like smell. A 90 minutes walk from Barshaini and you can finally reach TOSH.
We had reached Tosh and checked into the Pink Floyd café, which has a rooftop sitting area. We were tired after a 5km long trek and decided to order some food while rolling a Joint. The view was so mesmerizing, it felt we almost touched the whitest peak of the Himalayas.
We were the only Indians in the café, others were mostly Israeli, speaking Hebrew and smoking Chillums.
The café owner was Indian but was fluent in English and Hebrew. He was very friendly and jovial, he openly proclaimed 'Are you guys not stoned enough? I could give you some good stuff ', a sort of advertisement for selling some hashish that he had.
"Do you think I could deal with the Indians when I'm sahit [not stoned]?"shouted a girl in her mid 20's, and everyone laughed. We looked at her , she is sitting with a guy who had no reaction to what her girl said and kept scribbling something on a piece of paper. To my surprise Tanya stood up and asked her, 'What is so good about Indians that you need to get stoned to deal with them? ' .Her tone was tempered.
To break the ice, I took a step forward and asked 'HELLO WE ARE INDIANS, Could we help you with anything ?'. Now the guy sitting beside her clarified, 'Sorry! She just had a fight with a cab driver on our way back , she dint mean it to you. I am Omer and she is Aya, you both can join us. '
Meeting new people is always invigorating. I took a seat, Tanya hesitated, the irritating expression on her beautiful face still prominent. She asked rudely, 'What attracts all Israelis in India? You get cheap drugs? That's all?''
'Most Israeli youth come to India right after finishing their compulsory army service, which gives them a reasonable amount of money. And, Parvati Valley is their favoured haunt because of great weather, cheap hotels and above all, the good quality hashish grown in the region.' ,Omer said. ' After serving 3 years in the army, we go through a lot of unpleasant sensation , So we travel around the world for a complete peace of mind and sometimes in search of love', and hugged Aya.
Tanya has a certain smile on her face. She looked at Aya who is lighting the Chillum, she passed it to me and finally spoke , 'I came to India with my brother and his girlfriend , I found Omer at a café in Rishikesh last year, I was attracted by his charm and his songs, we travelled together to Hampi , Goa and Gokarna and finally settled here in Tosh. We love this place'. We had already started eating the food that we ordered .Every cafe in parvati valley serves pizza and sandwiches and all kinds of Israeli food. Aya and Omer kept on telling us about the life of other Israeli travelers, how they help each other , how they form communities in every places they travel. They visit Chabad house (Jews Religious house) for weekly meetings. These meetings are open strictly for Israelis only. Even they can't visit these houses which are decorated with religious pictures, pamphlets, literature and other items of worship on other days.
We told them how our life is so different from there's, how frustrating our universities and offices are sometimes. We discussed about Hinduism and Judaism, about yoga and spirituality.
I asked Omer if I could play his guitar, we had a good jamming session , they loved Hindi songs , could even sing some of them.
'Most of the days we wake up at afternoon, eat a leisurely breakfast, browse the net, smoke a chillum or two and half of the day is gone. And then we wait for dinner', Aya said.
We got a bit jealous, we always admired the 'free spirit life' that these young couple leads. They don't have any boundation. Life is so beautiful. No one asks them if they have completed their job or maybe what they will do tommorow or the day after . They told us after some years they will go back to their country and join universities and start a new life.
We decided to leave because there were many more things to explore in Tosh and unlike them we had limited time. Walking around Tosh will refresh your visual senses, it is an amazing destination with adventurous pin roads and scenic beauties all around. It is not an ideal place for a family stay. But one night stay is worth it if you love adventure. I remember we had to find a different hotel for hot water and bathroom use because Tanya did not like the bathroom of the room we stayed in. You will get buckets of wood for Rs 250 which could be used in a tandoor(which most of the rooms have) for getting warmth in the room.People are very friendly and they know each other very well. And everything is damn cheap. Food is quite edible. What else do you expect 7874 feet above sea-level?
How to Reach Tosh :
Road map: Delhi-Bhuntar-Kasol-Manikaran-Barshaini-Tosh
- From Delhi ISBT take a bus for Bhuntar (809 km, 13 hrs, fare around Rs 1000) ; the buses going to Manali stops at Bhuntar.
- From Bhuntar you will find many HRTC rickety buses to Barshaini.The buses take a halt at Manikaran and then proceed for Barshaini.
- From Barshaini , Tosh is 5 km uphill you can either trek the way or take a cab which will cost around Rs.200 or 100. We trekked our way up.You enter the village through a wooden bridge.
Places to Stay :
Pink Floyd Café ,Ashwin Café , Pinky Didi's Guest House. The villagers also rent small houses if you are planning to stay longer.
This is more of a story of the session we had with the Israeli couple more than a travelogue.
For More you can check : Cream and The Cafes : A kasol experience
Or you can add me on Facebook or instagram :
https://www.facebook.com/ritabrata.ghosh.7
https://www.instagram.com/guitarmad1314/
And please do Comment on the below section. It always encourages me to write more.