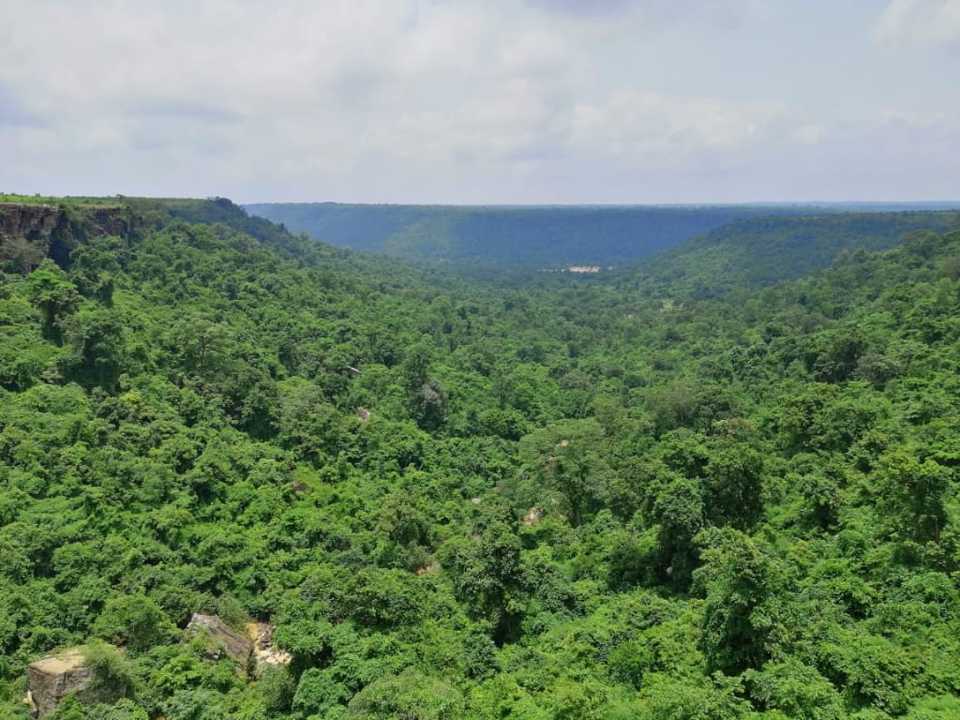 Tourist Attractions in Chhattisgarh: Places to Go
Chhattisgarh offers its tourists and honeymooners a range of sightseeing attractions with natural to archaeological significance. As the state is blessed with the Satpura Mountain Range, Chota Nagpur Plateau and several rivers crisscrossing the entire stretch, it is a beautiful place to enjoy nature's creations. Travel to Chhattisgarh to see some of the most famous waterfalls like Chitrakote Falls, Chitradhara Falls, Gavar Ghat Falls and the Tiratgarh Falls. You can visit caves that not only have remarkable shapes of stalagmites and stalactites, but also have historical significance, like the Kotusmar Caves, Kailash Caves and the Singhanpur Cave. Other natural sites include wildlife sanctuaries, national parks, springs and river valleys. Archaeology enthusiasts can visit sites at Malhar, Barsoor, Sirpur, Surguja, Ratanpur and Thinthini Patthar. You can also visit temples in Chhattisgarh known for their architectural style and history.
Heritage Buildings in Chhattisgarh
Bhoramdeo Temple - Situated about 18 km from the town of Kawardha and 116 km from Raipur, this temple, dedicated to Lord Shiva, was built in the 7th to 11th century. This stone carved temple displays the Nagar style of architecture and is known for its exquisite carvings that have made it famous as the "Khajuraho of Chhattisgarh".
Danteshwari Temple - Built in the 14th century in Dantewada, Danteshwari Temple is one of the revered 52 Shakti Peeths in India. This stone temple is noted for its ornate carvings, the black stone idol of Goddess Danteshwari and its South Indian style of architecture. There is another temple of the same name in Jagdalpur, which is well known for the festival Bastar Dusshehra.
Bastar Palace - Built in the early 20th century this palace in Jagdalpur housed the royal family. It is well known for its wooden engravings.
Buddha Vihar - This Buddhist site in Sirpur is a popular sightseeing attraction among tourists on a Chhattisgarh tour. There are a number of monasteries, temples and prayer halls here worth a visit. You can see several Buddhist artifacts here including ancient manuscripts, paintings, and engravings on stone. The Buddha statue in the vihar attracts tourists from far and wide.
Museums in Chhattisgarh
Anthropological Museum - Noted for its unique exhibits representing the heritage and culture of the Bastar tribes of the state, this museum is a must visit on your travel to Chhattisgarh. Located in the Anthropological Survey of India office in Jagdalpur, it has collections of everything related to the tribesmen, from things they used in their daily life like footwear, weapons and ornaments, to their hobbies and interests like paintings, wooden handicrafts and musical instruments. The museum also has some rare artifacts that are of artistic, historical, ethical as well as scientific value.
Wildlife and Bird Sanctuaries in Chhattisgarh
Kanger Valley National Park - This is among the few national parks that does not have a buffer zone and comprises only the core area. Situated about 27 km from Jagdalpur city, its 200 sq km area is a great place to see chital, mouse deer, barking deer and tiger.
Achanakmar Wildlife Sanctuary - About 55 km from Bilaspur, there is a wildlife sanctuary famous for the endangered species of Bison. You can also see leopards, tigers, barking deer and wild boar here.
Indravati National Park - Spread across about 2800 sq km, this national park near Jagdalpur, 296 km away, is a haven for a variety of wildlife including the barking deer, spotted deer, gaur, sloth bear, chinkara, blue bull and black buck. Perched on the banks of the Indravati River, this national park is one of the major tiger reserves in the country.
Fairs and Festivals in Chhattisgarh
Bastar Dusshehra - This Hindu festival is different from the Dusshehra celebrated in other parts of the country. This 13 day festival is dedicated to Goddess Dantewadi, the deity worshipped by the different tribes of Bastar. The tribesmen come together to celebrate it with a lot of enthusiasm and centuries old rituals in the Danteshwari Temple in Jagdalpur. Travel to Chhattisgarh during this festival to experience the fascinating rituals and customs of the Bastar tribals.
Goncha Festival - This is another festival in Jagdalpur that boosts Chhattisgarh tourism in the month of July. This festival stands out for its lively and unique celebration customs, one of which includes striking each other with a bamboo made pistol and fruit bullets. The fruit used is called Goncha in the local language, thus giving the festival its name.
History of Chhattisgarh
According to the Ramayana and Mahabharata epics, the region of Chhattisgarh was called Dakshin Kosala. Several areas of the Bastar district is said to have been the place where Lord Rama stayed during his 14 years of exile. Between the 10th century and 18th century, Kalchuris had control over the area. It was in 1741 when Chhattisgarh came under the rule of the Bhonsales of Nagpur, who were later overthrown by the British in 1845. Through the years, several kings contributed to the region by building temples and palaces. Excavated sites in Sirpur show a major Buddhist influence in the area when major parts were controlled by Hindu rulers. After India gained independence, the region formed the eastern part of Madhya Pradesh. This led to struggles with the central government who gave in and announced the formation of the state of Chhattisgarh in the year 2000.