Snow-carpeted mountain ranges, shimmering lakes and enchanting natural vistas are some of the things that make this place heaven on Earth. Yes! We are talking about the summer capital of Jammu & Kashmir, Srinagar. Bestowed with surreal beauty, this white paradise is the perfect getaway destination for those who wish to witness the glorious artwork of Mother Nature. If you are looking for a place to unwind and weave some golden memories, head straight to Srinagar without delays.
The enthralling beauty of Srinagar will lock your heart in chains and you will not feel like ending your holidays. Encapsulated by the majestic Himalayan Ranges, Srinagar is a breathtaking place whose beauty cannot be expressed by mere words! On your trip to this charming city, do explore these amazing places of interest.
1. Dal Lake:
Better known as the "Jewel of Sri Nagar", the Dal Lake is one of the most visited places in Srinagar. Garlanded by the majestic Pir Panjal ranges, the lake offers panoramic views of nature in all her glorious form. You can skiff around the lake by hiring a boat or just laze around in any of the houseboats that come with all comforts to make your trip an unforgettable one.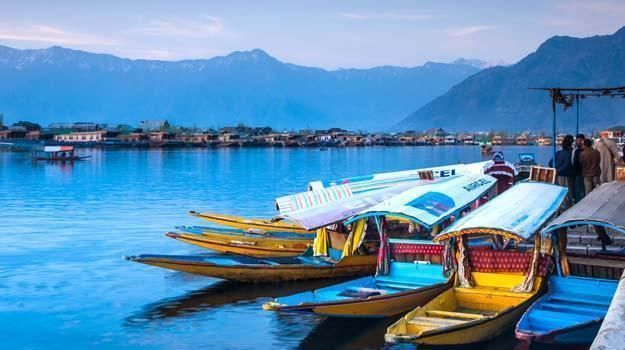 2. Mughal Gardens:
If you are looking for a place to unwind, just head to the Mughal Gardens in Srinagar. Spread across acres of foliage, this garden showcases the exotic beauty of the Persian architecture. From canals to fountains, pools to colorful flowers, there are many things to explore and enjoy at this place.
3. Betaab Valley:
Carpeted green valleys, jaw-dropping natural views and dancing streams make Betaab Valley a must-see tourist spot in every couple's bucket list! The sight of the rumbling streams cutting through gorgeous green blanketed valleys is a divine sight for sore eyes! To best experience the beauty of the valley, it is a must to stay at any of the hotels or cottages near the mountain ranges.
4. Aru Valley:
The perfect destination for adventure buffs can be none other than Aru Valley. Decorated with pines and Alpine trees, the valley serves as the best spot for indulging in nature walks. Some of the other activities that you can try include hiking, horse riding, trekking, etc.
Delhi to Srinagar Flight Booking: Just a Click is all That it Takes!
Delhi and Srinagar are two wonderful holiday hotspots in India that is frequently thronged by tourists. To get the best deals on Srinagar flights, you need to make reservations in advance. Booking of tickets should never be a problem as everything can be done with the help of the internet. Major air carriers such as SpiceJet, Vistara Airlines, IndiGo, etc. provide frequent flights to Srinagar. You can choose from any of the 166 flights that operate in these routes.
Booking tickets 30-45 days prior to your journey is advisable to avoid last-minute rush. Book Delhi to Srinagar flight now and avail a host of discounts and special offers. Most of the airlines provide lucrative deals and discounts for family groups and frequent travelers. So why wait? Pack your bags and head to Srinagar today for a memorable vacation in the arms of nature!