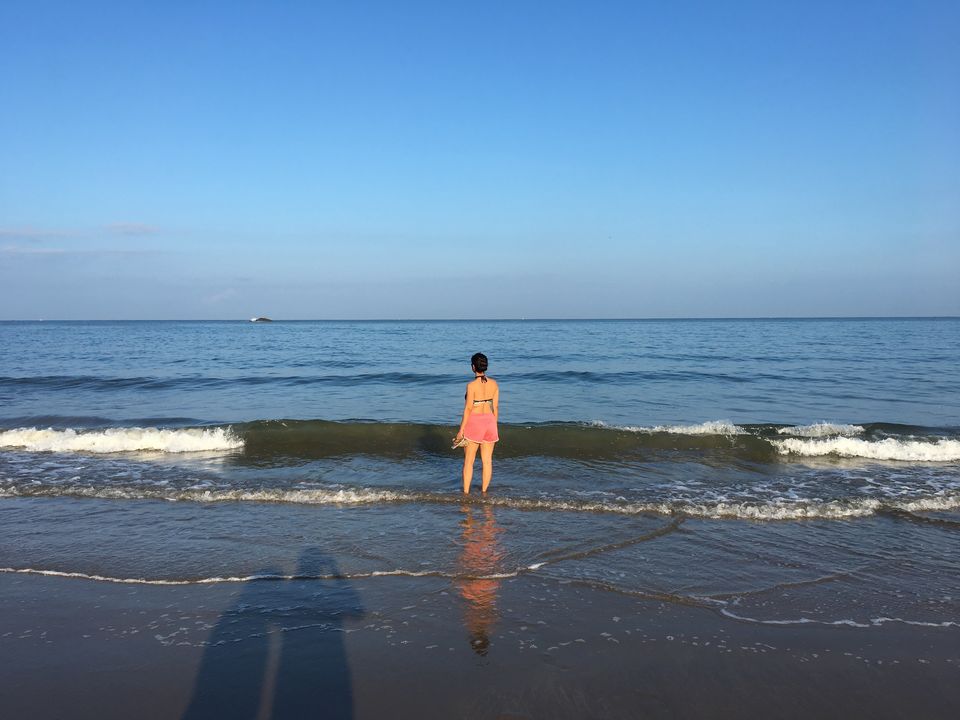 A long pending beach vacation to Gokarna finally happened on 16th March after repeated cancellations for 2 months… must say a piece of heaven for those obsessed with sun, sand and sea…and yes magnet for low budget travelers, as you can find accommodation for as low as 300 bucks.
I started my journey at 4.30pm from Mumbai and was dropped at Gokarna bus stop at 7 am next morning and within few minutes I was in my hotel (Kudle beach view resort and spa) at Kudle. I choose lower sleeper berth in my bus journey as the road is hilly.
My first sight as I entered the hotel was Kudle beach (hotel is on the hill top and you can spot beach from every corner) and believe me, it is the most beautiful stretch of beach I have seen in the entire country. I was so excited that I dropped my backpack at hotel and went to the beach just 5-7 mins walk from the hotel. I sat on a rock at the corner of the beach for atleast an hour to witness the beauty of sun and sea shore while sipping on cinnamon tea. And what caught my attention was an Israeli, performing mudras by the beach on Bharatanatyam music playing on his Bluetooth speaker. Must say his combination of music, expressions and rhythm was worth a clap. There were few other tourists doing yoga, running and playing by the beach.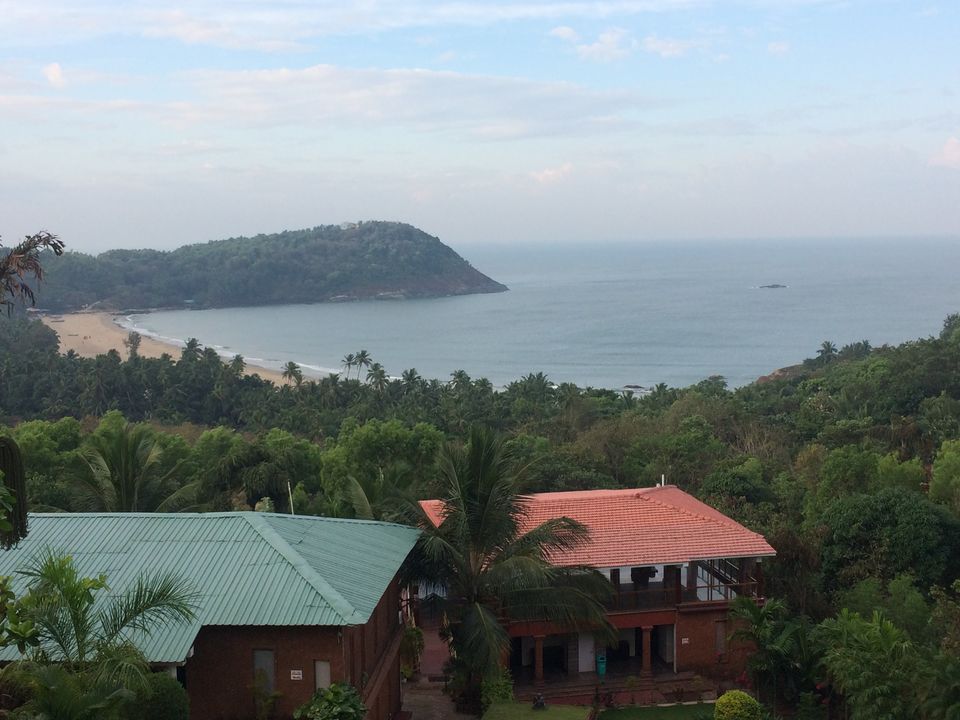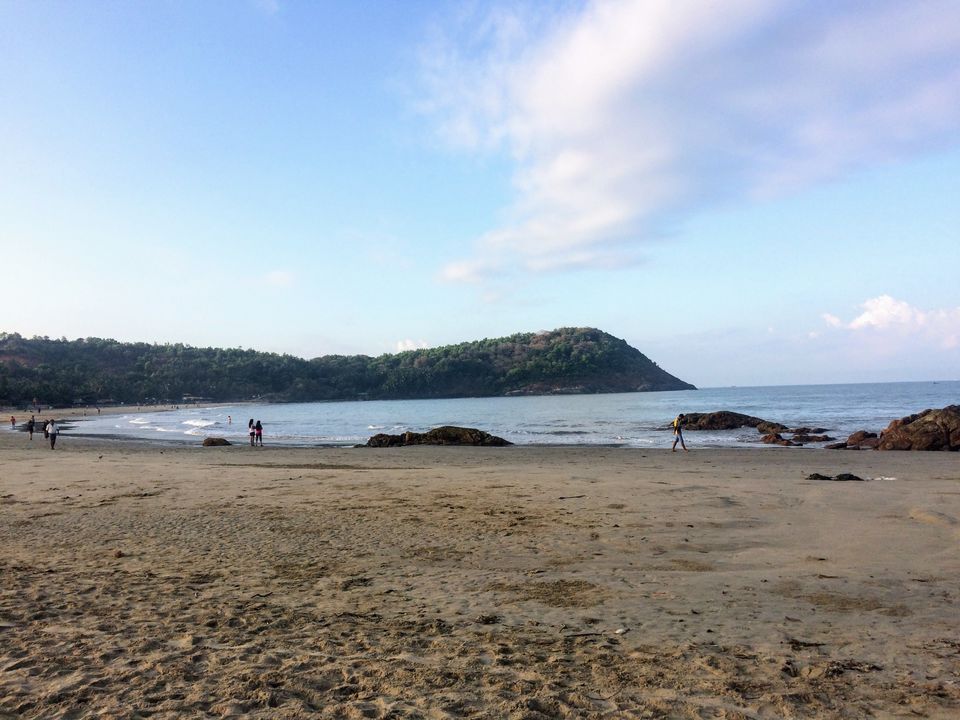 By this time (waiting for my friends arriving from Bangalore…their bus was late) I was quite hungry and hopped on to an Israeli café on the corner of the beach and treated myself with a Spanish omelette and fresh lime soda. There are quite a few cafes at Kudle to eat serving multiple cuisines-Israeli, Mediterranean, Indian.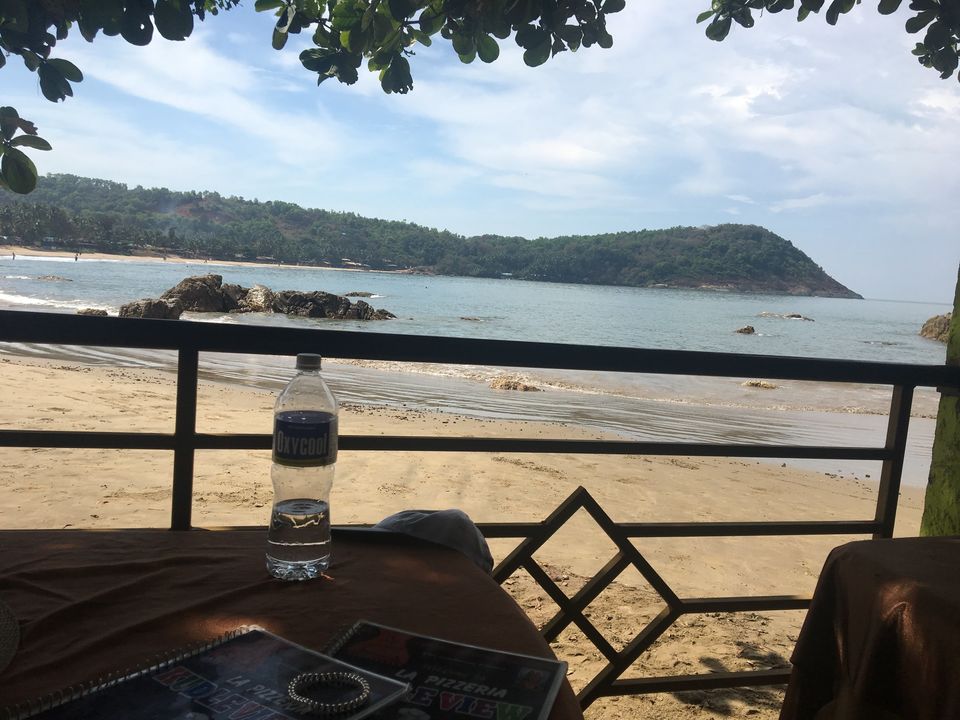 Finally, my friends reached and we took a dip in the sea, lazed on the shore for a while and then went back to the hotel for some rest.
After a short nap, we left for Om beach…which is a small trek from the end of the Kudle beach. From there, we followed a narrow path leading to the hill top to get a 180-degree view of Om beach…Ohhh…. what a mesmerizing sight it was, shinning blue waters as far as you can see. Om Beach gets its name from the "Om" shape the shore takes.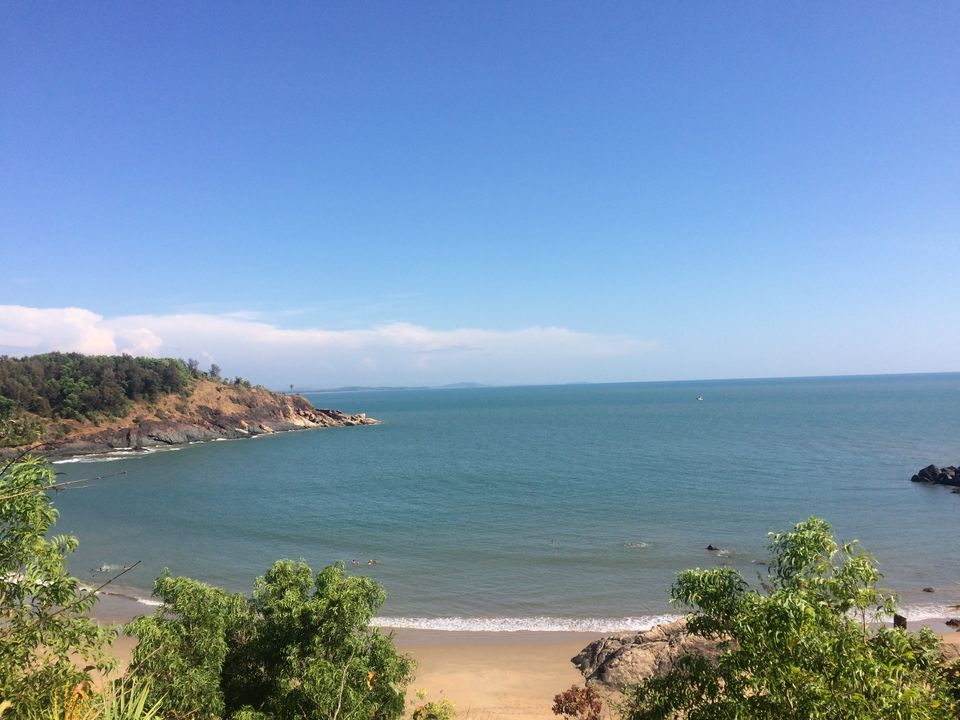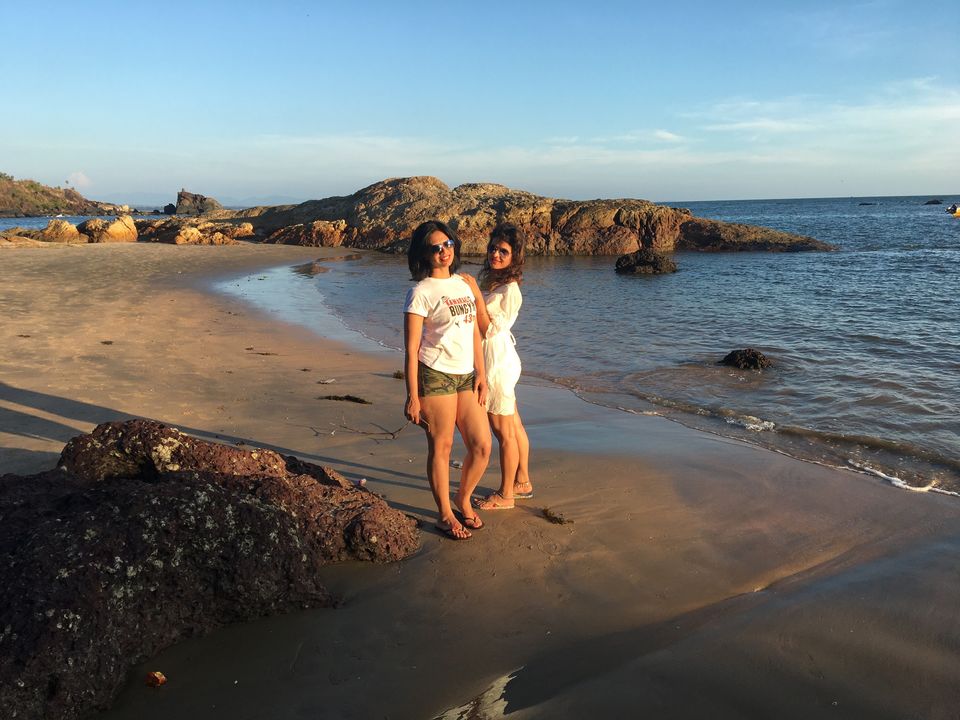 One can also take an auto from Kudle to Om which will cost you 100-150 bucks one-way.
We had our lunch at Namaste café at Om beach - squid chili, butter garlic prawns, king fish curry and rice. The food and view both were amazing from the first floor of the café while you guzzle down some chilled beer. And guys..be warned!! The only alcohol you get in Gokarna is beer and that too kingfisher and Budweiser, so you have limited options.
After a large meal, we went for a stroll on the beach and witnessed extraordinary colors of blue-yellow-orange in the sky, while the sun was setting for moon to rise with its glamour shimmering on the sea until the dawn. Yeah, I am crazy about sun set and sun rise.
While we were returning back to Kudle in an auto we stopped on the way (on a hill top) to watch the dazzling hues of twilight. Although sunsets and rises everywhere, but there was something different, sky was all grey and blue with orange and red lines underneath. Woow and this made my entire day 1 all the more awesome.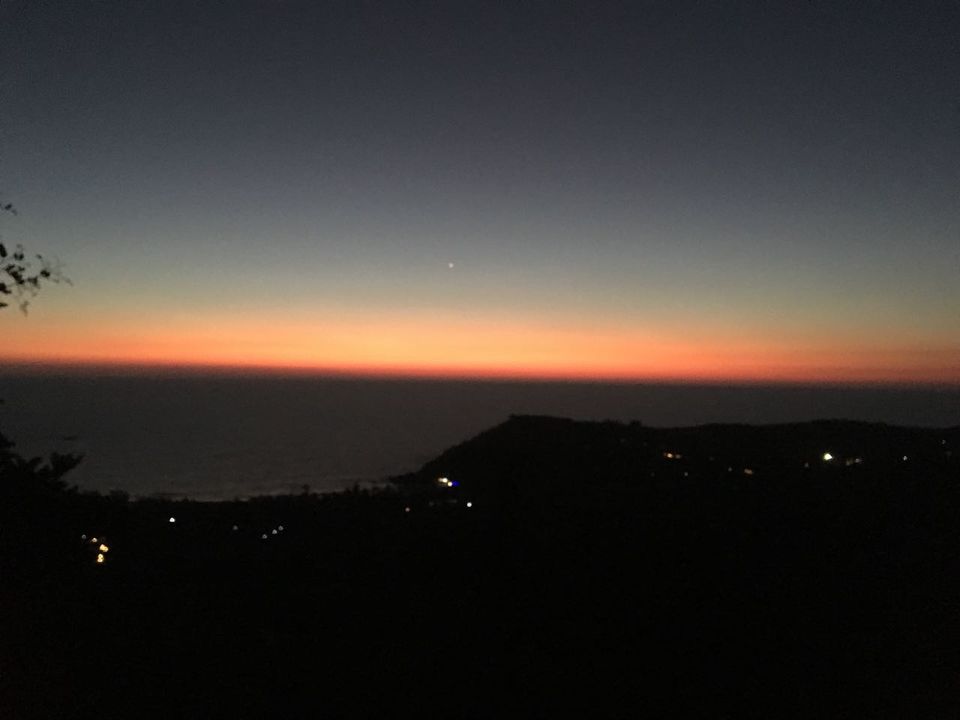 We ended our day with some beers and music by the pool gazing at a sky full of stars.
I woke up early to watch sunrise again and yes I was inspired by Israeli, to perform some mudras on the beach so I started with yoga. Dream come true "yoga on the beach at sunrise".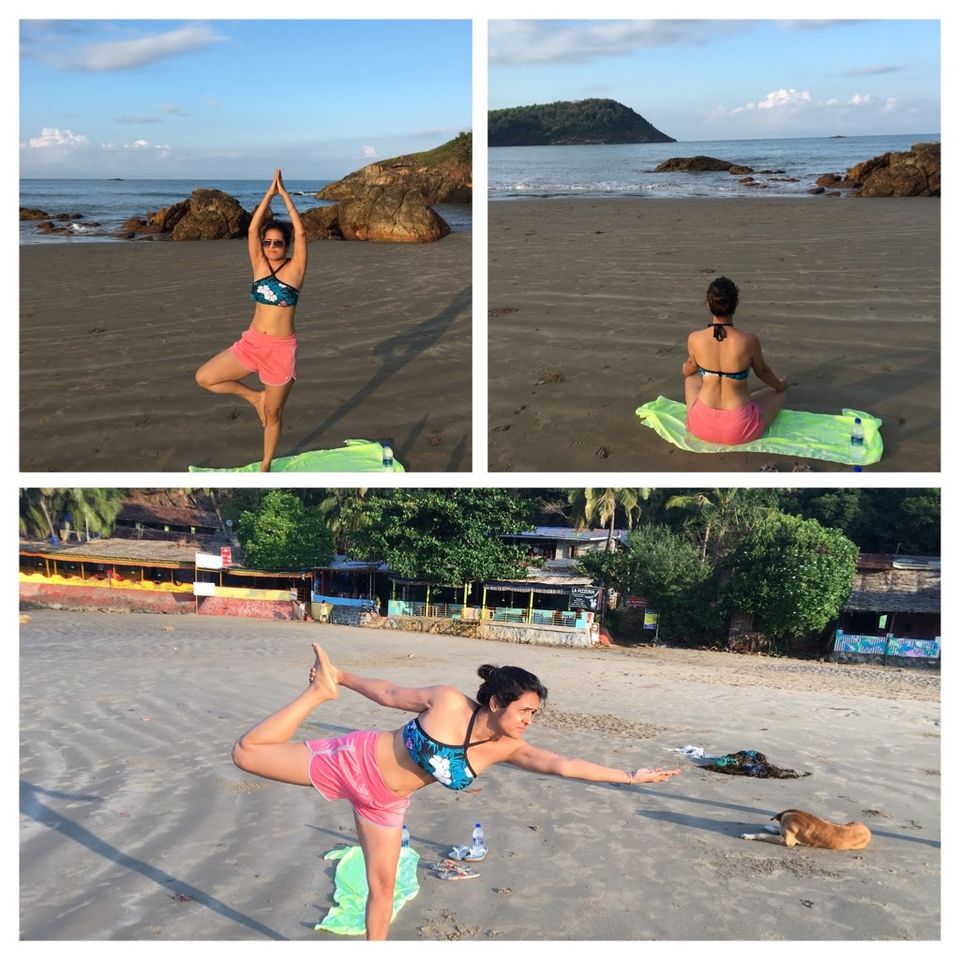 After a short walk and breakfast, we headed to half-moon and paradise beach.The Half-moon beach is around 1km from Om beach and is a small hike which takes not more than 30-40 mins, but we took ferry as it was quite hot. It is a very small beach but the views are stunning. A quite beach with almost no one around, just sea waves gushing into my ears..gave me a feeling of "Nirvana".
After spending close to half an hour, we took another boat that gave us just a glimpse of paradise and nirvana beach (white sand beach).
I swam in clear water of the sea for my dose of Vitamin SEA and played Frisbee with friends after we were back at Om beach.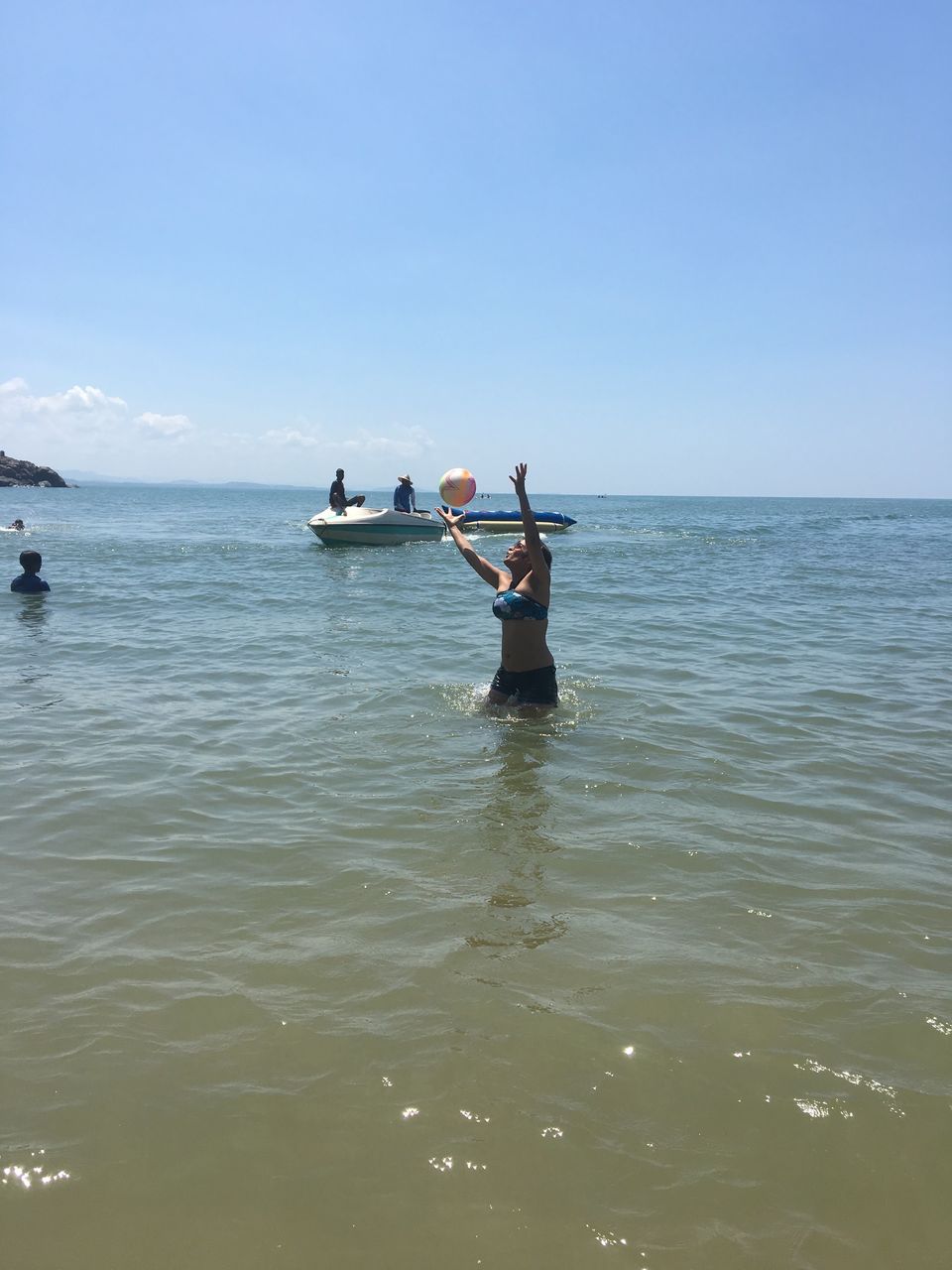 After beaching the entire morning, we returned back to Kudle for lunch at Namaste Sanjeevani café. It's a veg place with no alcohol, but the vibes are really cool. As a memory in case you come back which in my case will be for sure…you can paint on their walls…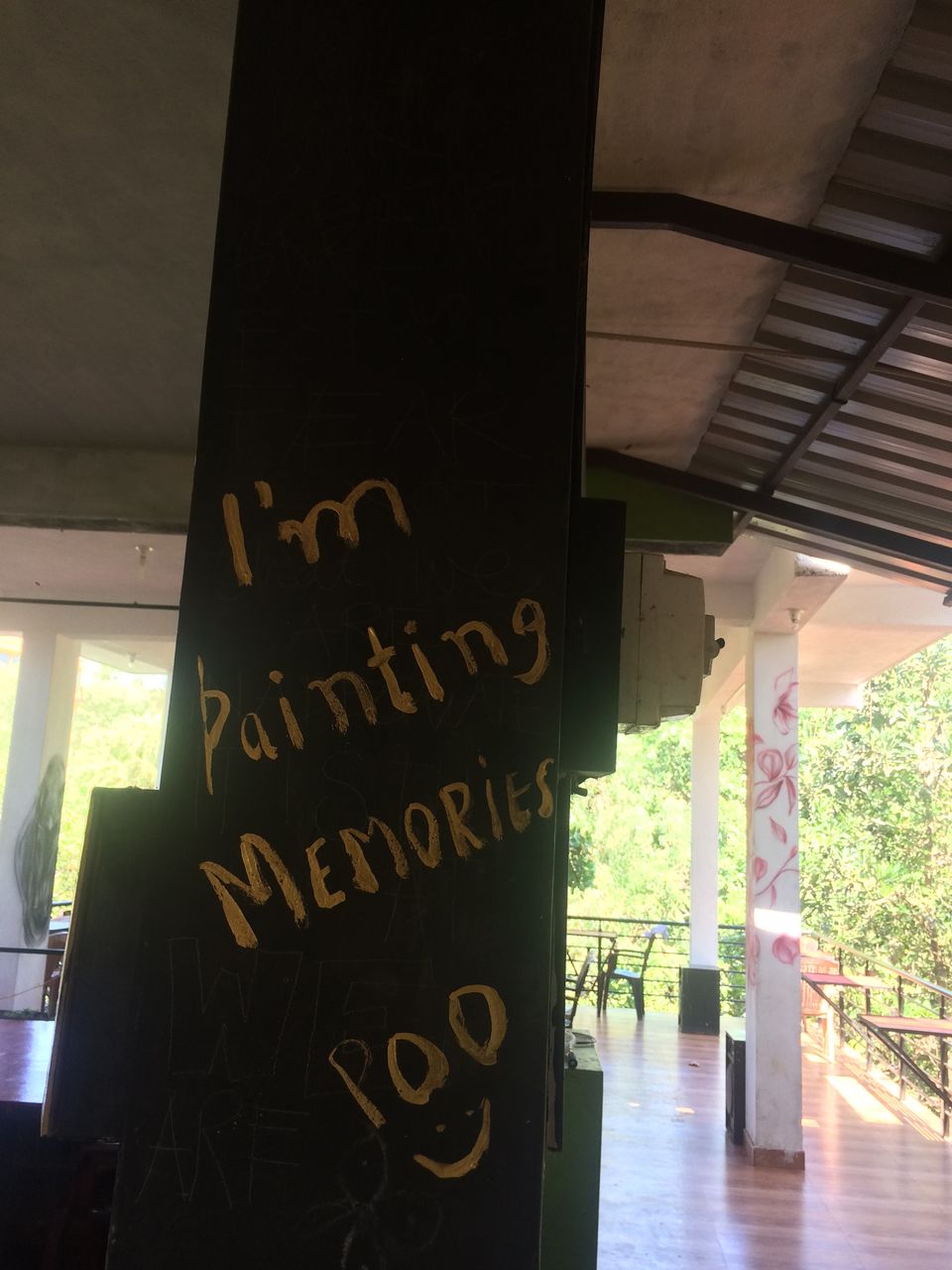 After lazing there for a few hours, we left for Gokarna railway station with everlasting and beautiful beach memories.
Lastly a question, Why Gokarna and not Goa???
"A quaint sleepy town for that quiet and peaceful vacation when you just want to get away from the maddening city life and over-crowded goa----definitely GOKARNA"
Best time: Oct to march. Avoid extreme summers and rains
Suggestion: Book your accommodation in advance
Recommended for solo travelers, friends and couples
Other places of interest- Kumta, Karwar, Murudeshwar