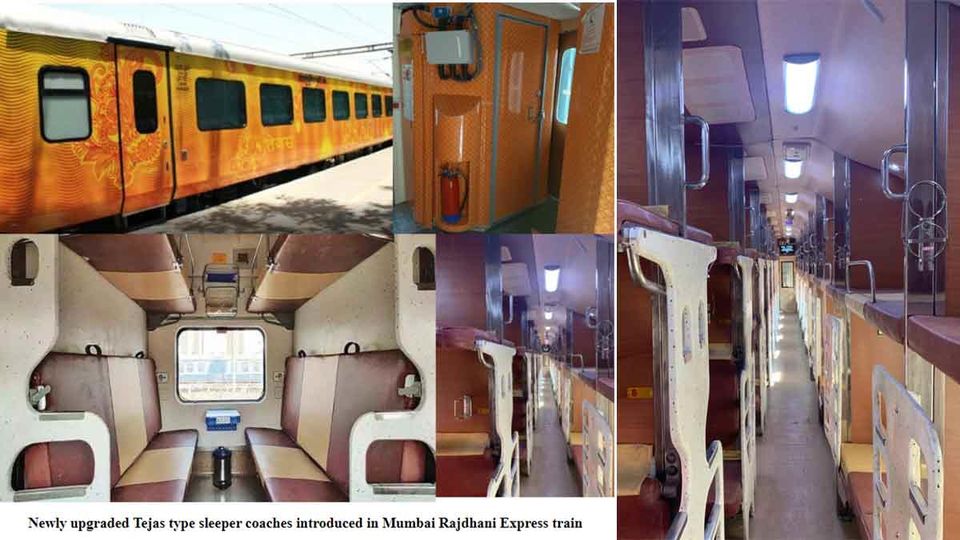 We all have different experiences of travelling in trains. Don't we? I love travelling in trains and my most favorite train journey is the one that I make every year during the Durga Puja from Delhi to Kolkata on Sealdah-Rajdhani. For all the train travel lovers like me, I have an exciting news to share-Did you know that our train travel is going to get a modern makeover?
What is the news?
As per media reports, Indian railways has announced on July 19 that Mumbai-Delhi Rajdhani express shall be upgraded with Tejas smart coaches with enhanced features.
In addition to this, media reports also suggest that the Indian Railways is planning to start 10 new semi high speed Vande Bharat trains by August 2022.These trains would be connecting around 40 cities by that time. Also, the Government is planning to increase the number of Vande Bharat trains on tracks to about 100 by August 2024.
What are 'Tejas Smart Coaches'?
Tejas Smart Coaches are coaches with better interiors and enhanced features. These coaches shall have automatic doors with safety features. The train would not move unless the all the doors are closed. These coaches shall also be equipped with bio-toilets using less water and automatic foul smell detectors to alert the cleaning staff. Well, this feature comes as a relief as, most people would agree, visiting washroom during a train journey is the most uncomfortable part. In addition to this, these smart coaches shall also be equipped with LCD screens, Fire and smoke detectors and CCTV cameras!!! The LCD screens in each coach shall display the journey related information. Did I tell you that there shall also be free wifi? Isn't this really exciting?
What are 'Vande Bharat' trains?
Vande Bharat trains are semi high speed trains which would take shorter time of travel compared to Rajdhani and Satabdi. Currently, there are two such trains in operations- one runs on the route of Delhi to Varanasi via Kanpur and Prayagraj and the other one connects Delhi and Katra. These trains are not only high speed trains but these also match the international standards!
I am really excited by these new developments in the Indian Railways. What do you think about this modern makeover of our railways? Do let me know in the comments.
Ready to travel for free? Earn credits and redeem them on Tripoto's weekend getaways, hotel stays and vacation packages!

Watch travel stories come to life with Tripoto on Youtube!