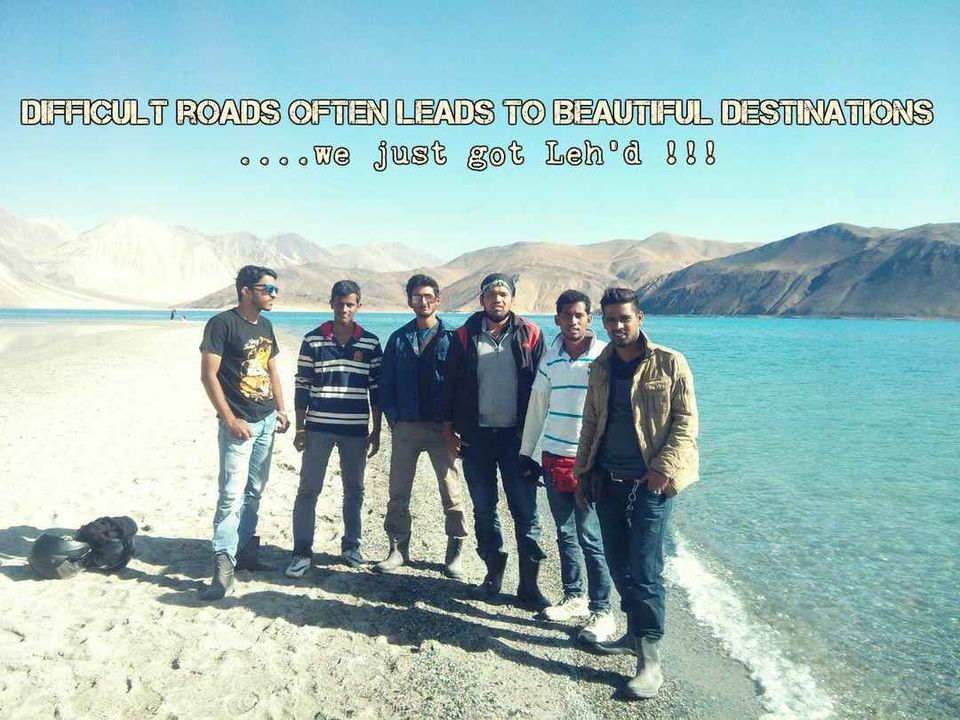 It's better to be Late than never... An good old saying but it's these lines that made me write my rather (our) experiences here where it all started!
This trip has been in my drafts for 6 years now and this year we had planned a similar sort of trip but was scrapped due to this ongoing pandemic. This made us clear that such roadtrips are meant to be happen at their particular pre-defined time! So not the trip let's finish this blog about our very first mega ride.

Before starting off I would just like to brief a bit interesting facts about my gang (8 boys)who made this what we felt a Roadtrip an unforgettable experience which we all will cherish through our lifetime and each one I'm sure will Proudly tell their kids that " your Dad has done all that" many years from now.
The Beginning: It all started with a friend of mine named Sushant Panda we were working in an MNC in Mumbai. People fall for his surname but he's a Bengali born n brought up in Faridabad. He was ready with his plan to hit the road all alone and make it to Ladakh but we were destined to be there with him.
He asked me if i was ready to take a leave for 14 days and make it as a pillion rider with him for this trip. The moment i heard his plan i just said "YES" i'm in. I didn't knew how i was going to manage all the expenses, the leaves, permission from my mom dad for such a long trip that too on a bike as my parents were very reluctant for a bike ride for even the smallest of the route and here we were going to do a mega drive of our lifetime.
I clearly remember that day when i came home i was positive from the moment that i have to make this happen and to my surprise my Mom also gave it a green signal without any further questioning. That moment i realized this trip was written for me. I was very happy that evening and as usual went down to meet my building friends after dinner as i do everyday. I discussed this plan with one of my childhood friend (Sanil) with whom i had already did a few roadtrips within Maharashtra. He was ready the moment he heard this with no plans of how and what we were going to manage all the stuff.
The dates as decided by Sushant were 17th July to 3rd August and we were on the 30th of June when we decided that we will join him. The next two days we got 4 more friends (Dinar, Gundu, Nishant, Gunjan) of mine ready for this trip and one friend (Abhishek) was dicey as he was having his important classes.
8 days to Go for the trip and Abhi was like..... "Is there any chances that I can join this trip?" and that made us 8 in all who were about to go on a trip of their lifetime with a "ZERO" past experience of having a longgggg road trip like this.
The Pre-Trip Arrangements: We were transporting 2 Royal Enfield's from Mumbai to Delhi via Train and 1 we were going to Hire from Karol Bagh (Delhi) and 1 Bullet of Sushan't friend which was already at Sushant's Faridabad home.
So in all 4 bikes (2 from mumbai, 1 on Rent from Delhi, 1 from Sushant's friend). The Train transport of the two bikes were managed by us from Bandra terminus via an agent who sent our 2 bikes well in advance so that we can reach there and collect them from the delhi ( Hazrat Nizzamuddin Railway Station) Yard. It costs us around Rs 3,500 per bike to transport from mumbai to Delhi (this is in 2014, Prices may vary now).
Finally the day came 17th July, we had a train from Bandra Terminus in afternoon to Hazrat Nizzamuddin.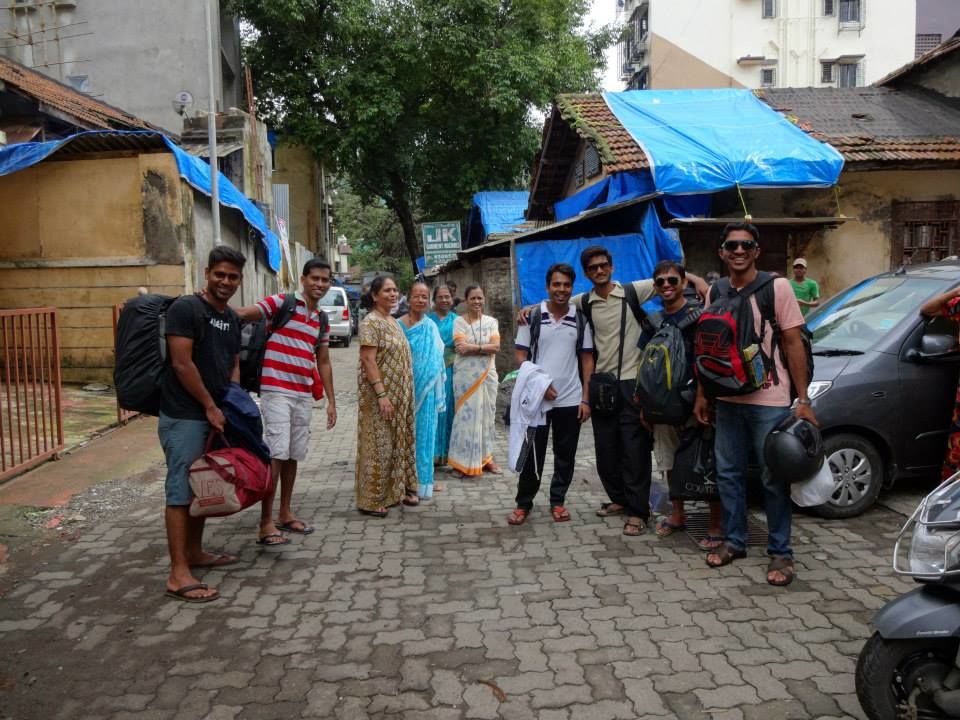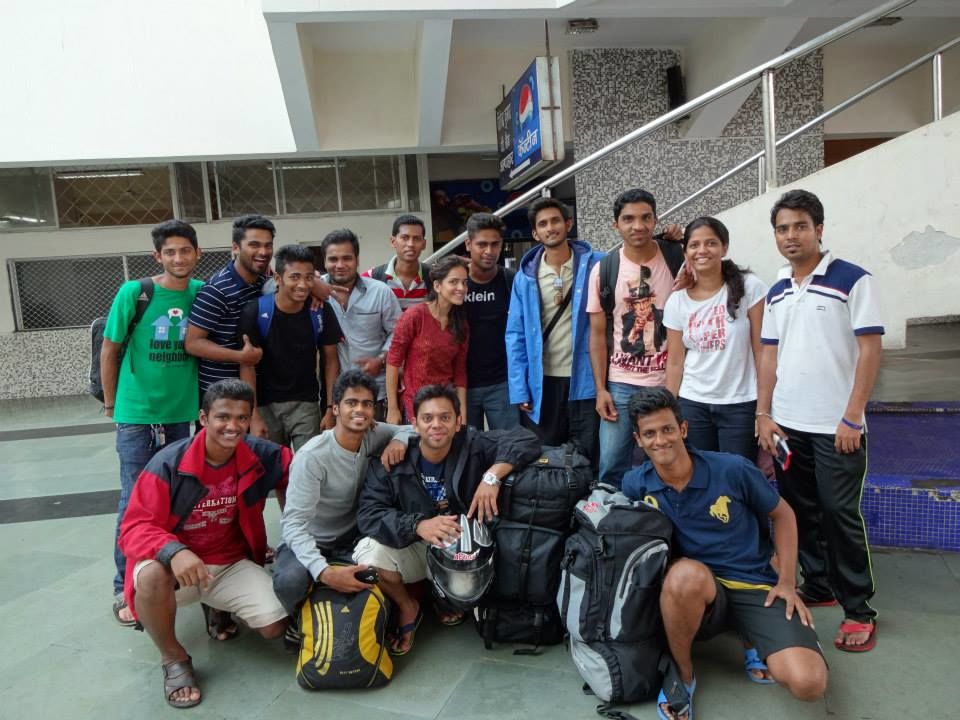 Day 2: Delhi - Faridabad | 19th July
Faridabad Rest at Sushant's Home. We reached Delhi station by afternoon andcollected our 2 bikes which were already deported from mumbai 2 days prior. The procedure was simple and quick. We just have to show w receipt and there you go...
While my other 4 friends left for Sushant's house at Faridabad , Me & Susant went to Karol Bagh to rent a Bike for 14 days. We got a Royal Enfield 350 Classic for Rs 750 per day and 20k Deposit. We were all set for next day to start the journey.
Sushant helped me explored a few famous places around delhi and some classic eateries that day. We came back to Sushant's House by evening and knew that this night was the most exciting night as we were already on our bike in our sleep and just can't wait to kick-off the journey.
Day 4: Sunder Nagar - Manali | 130 Kms
We left our Hotel from Sunder Nagar filled our tanks at Mandi Petrol Pump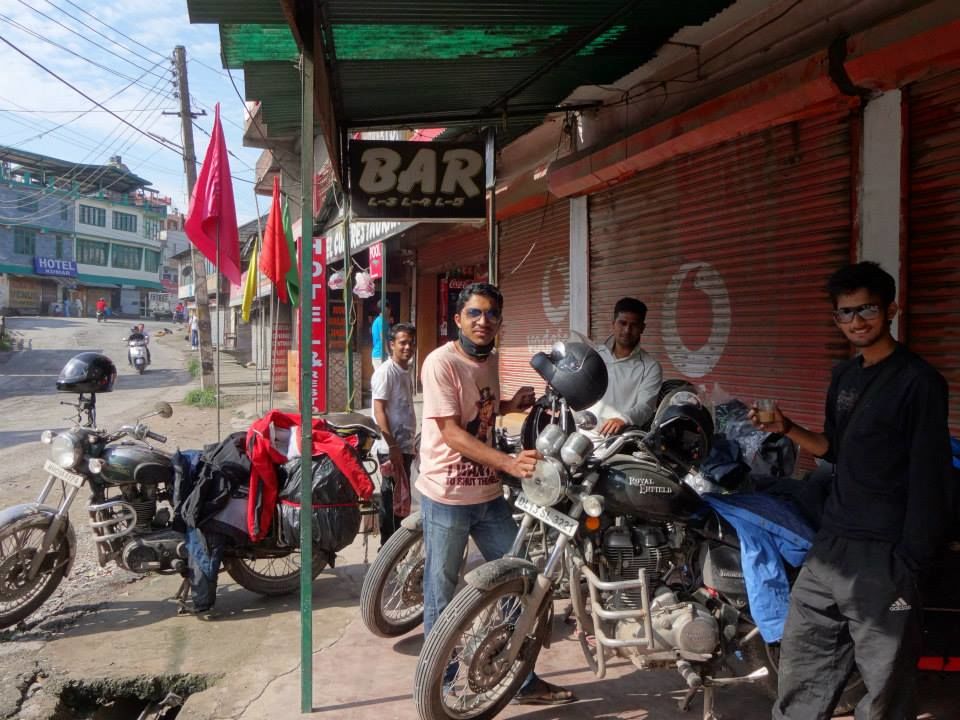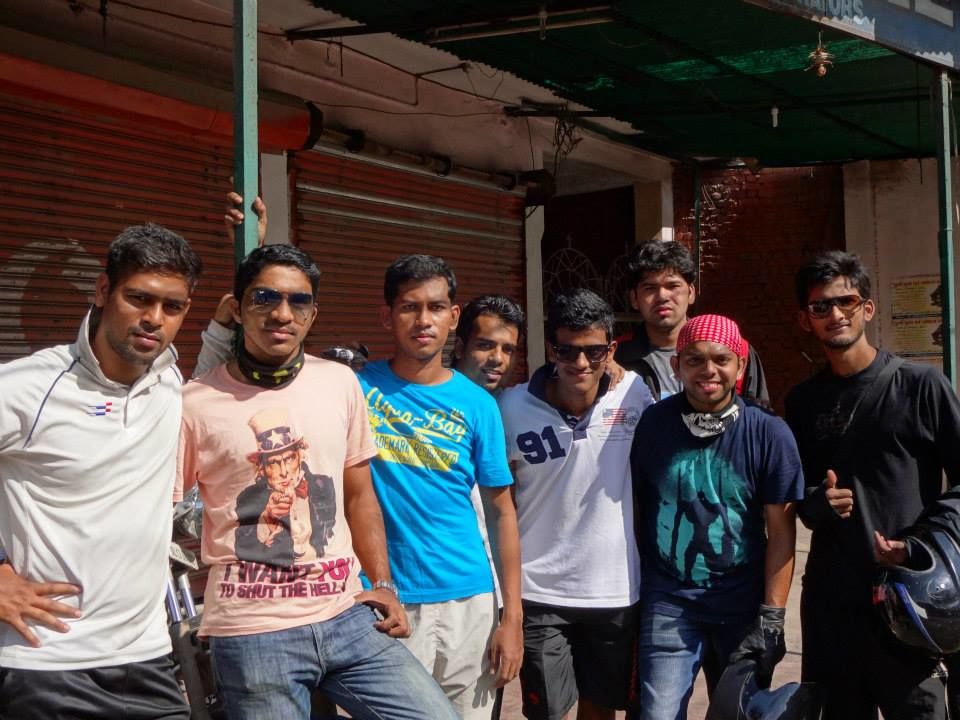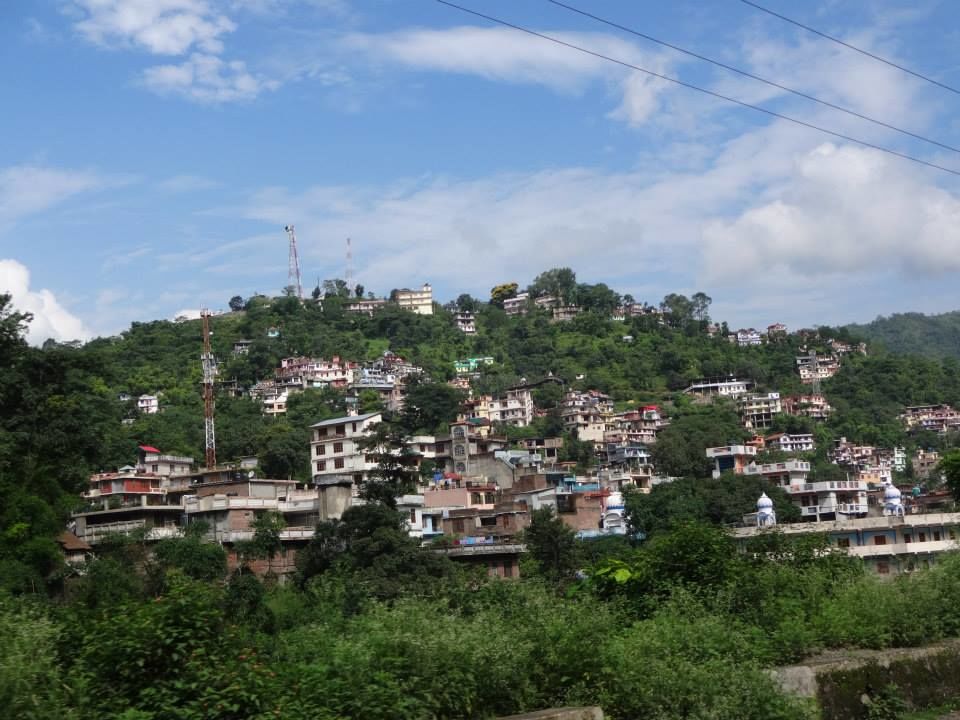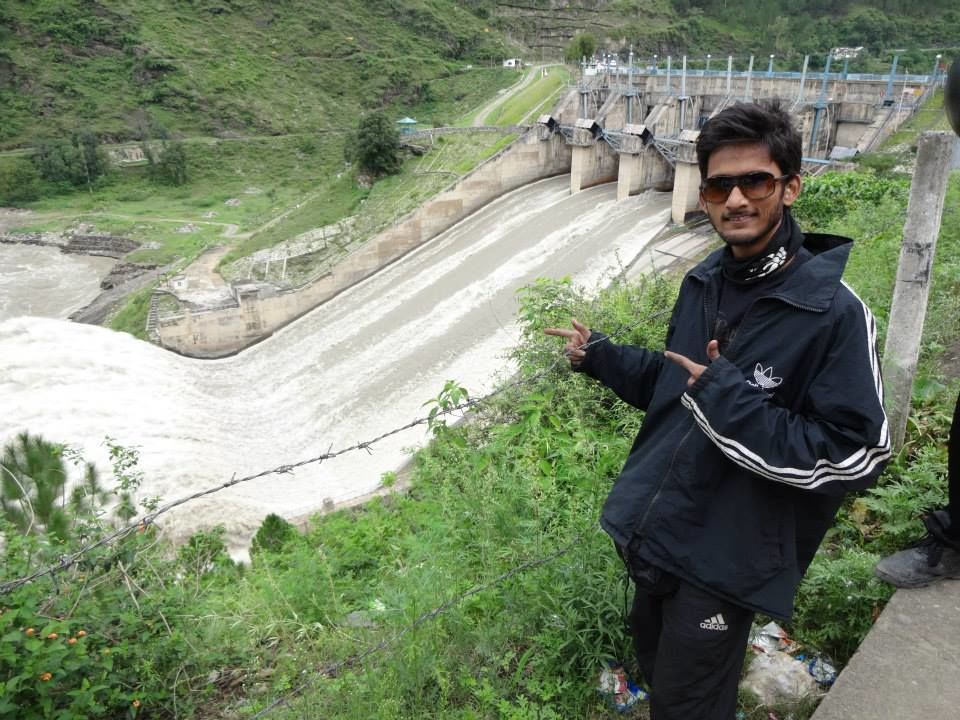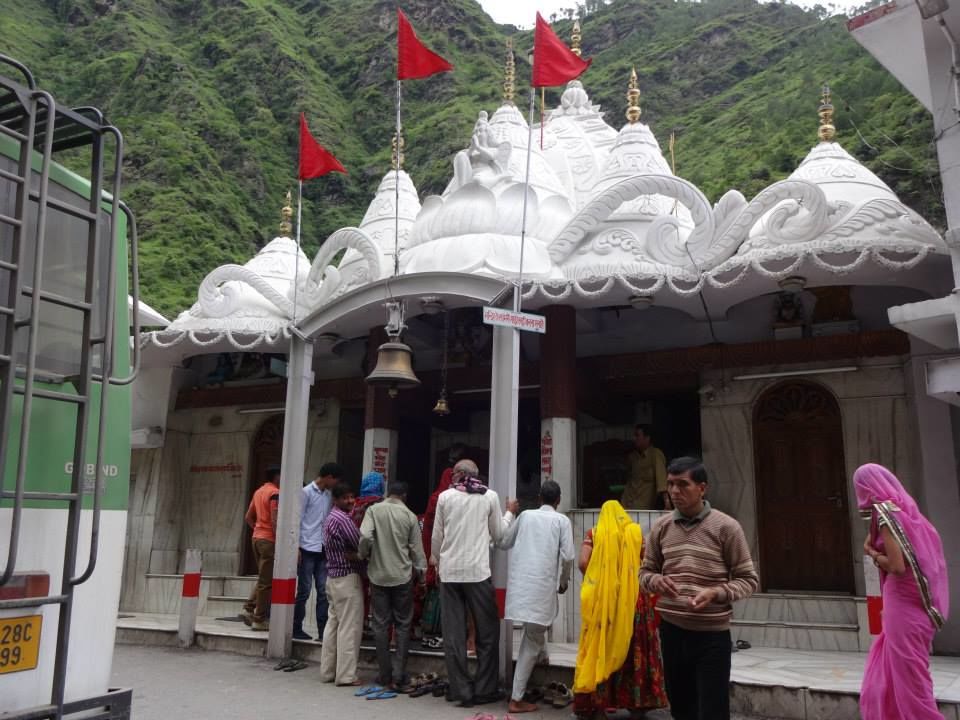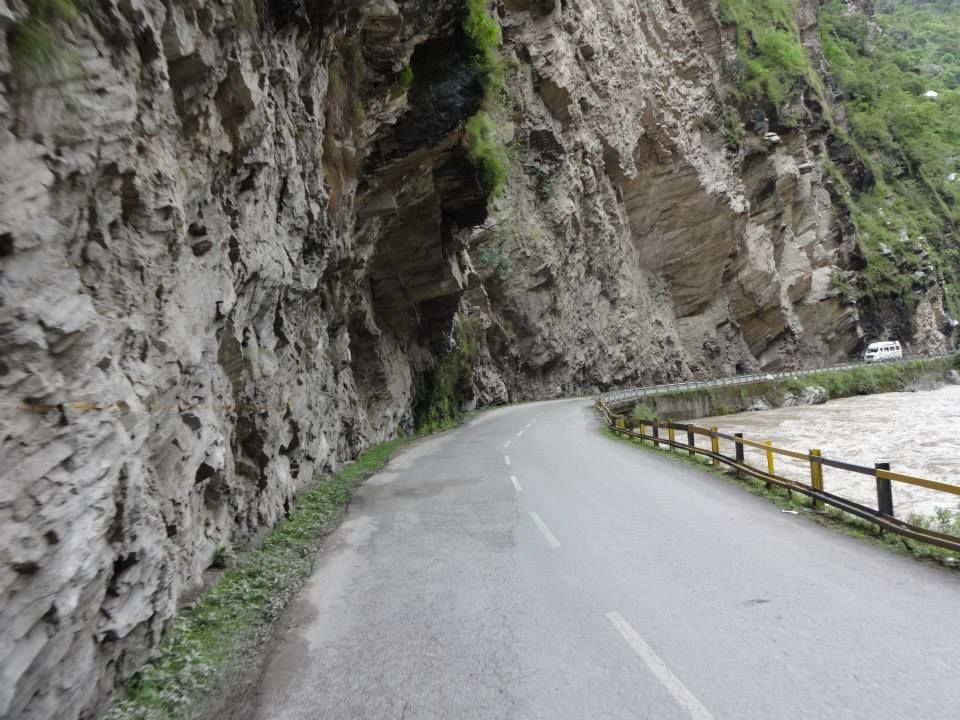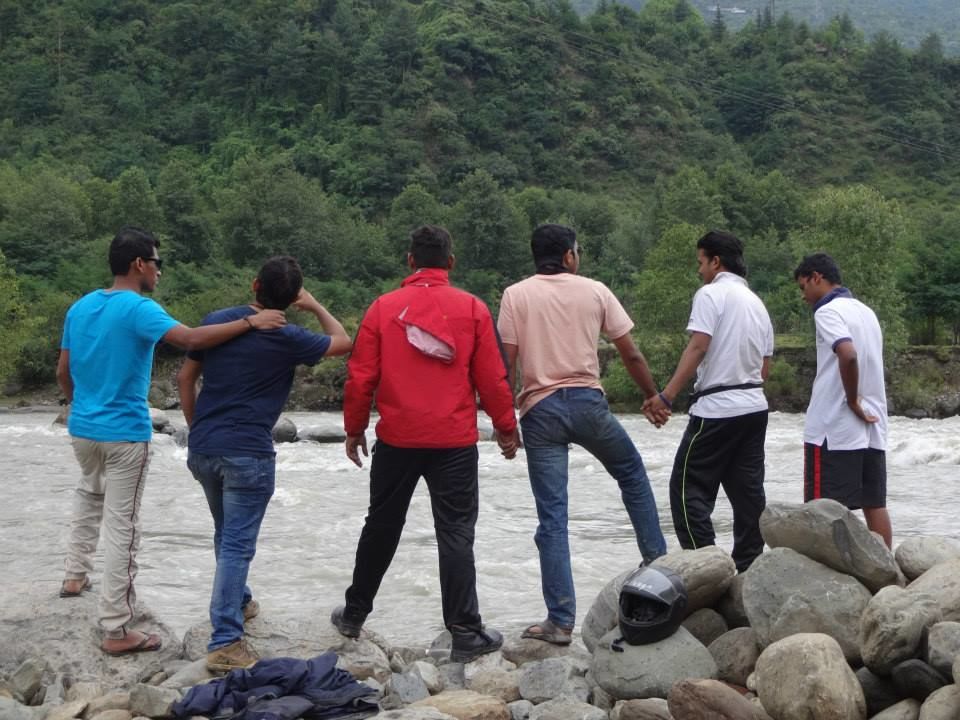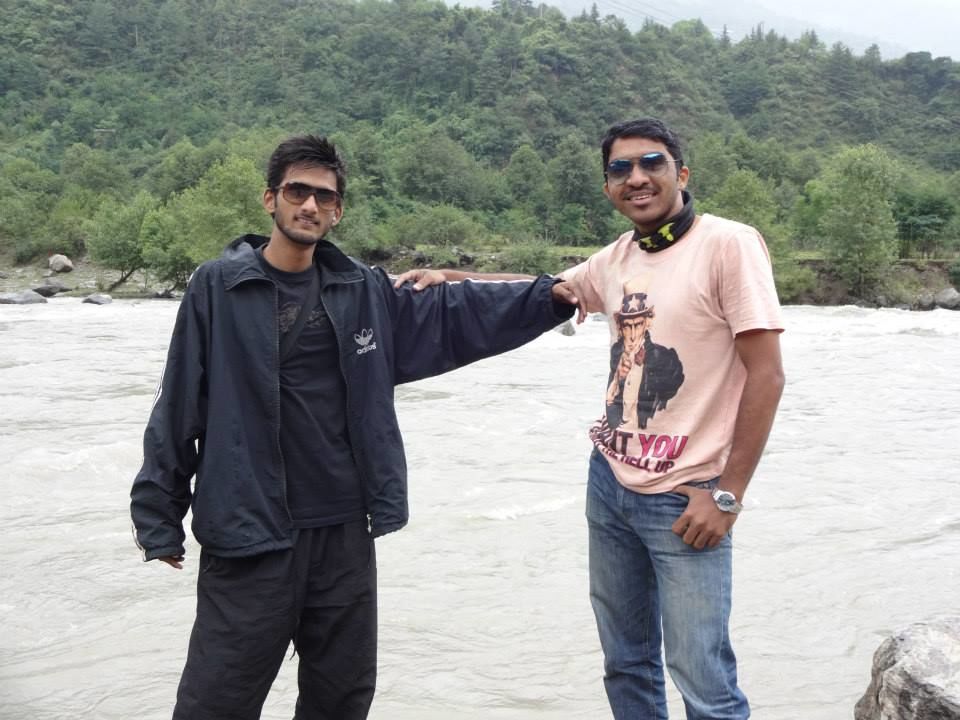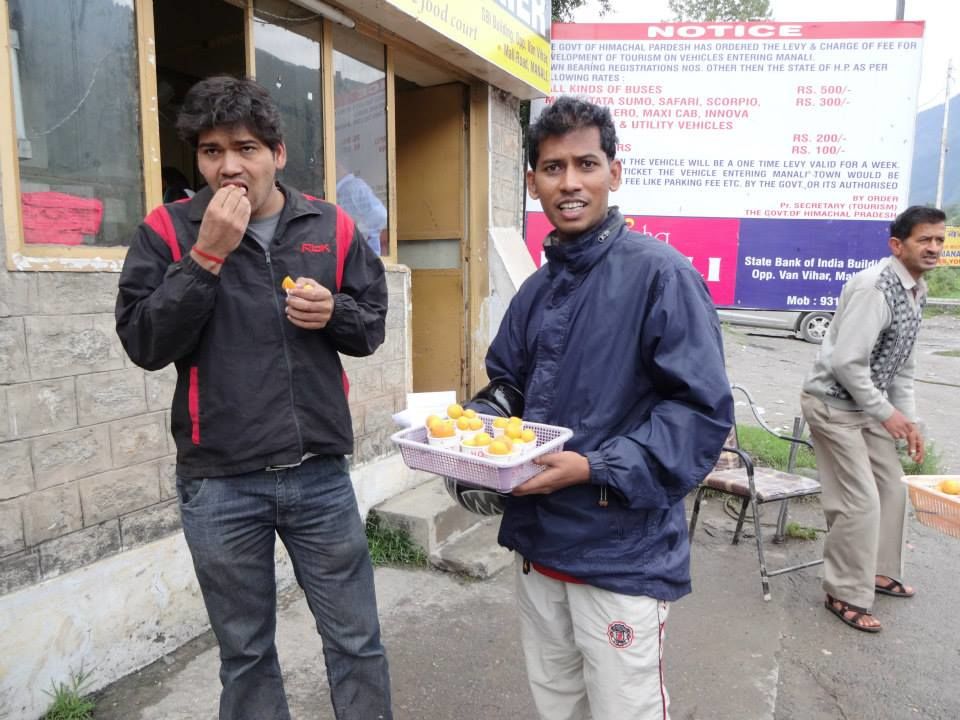 Day 3 : Faridabad - Sundar Nagar (HP) | 450 Kms | 12 Hrs
We left around 6 AM in the morning from Sushant's place with all charged up for our lifetime experience. On the way we had some amazing road side food at the dhaba's as we left the city early we were on track. Actually we had planned for Faridabad to Mandi but later we realized that we can't make it till Mandi by night and so we made a Hard stop at Sundar Nagar around 8:30 PM at night.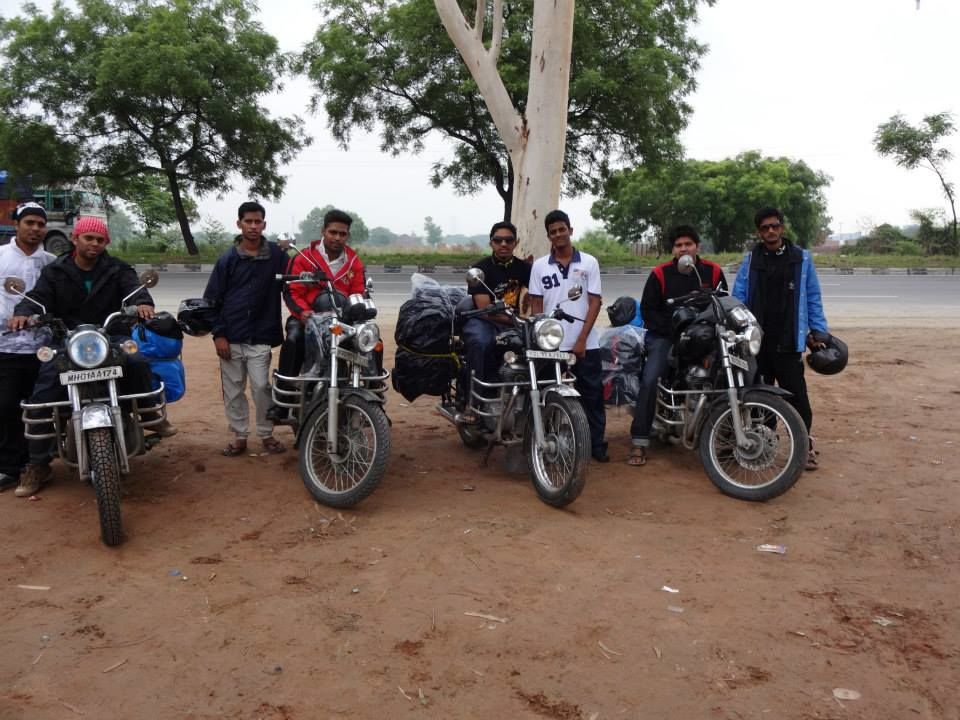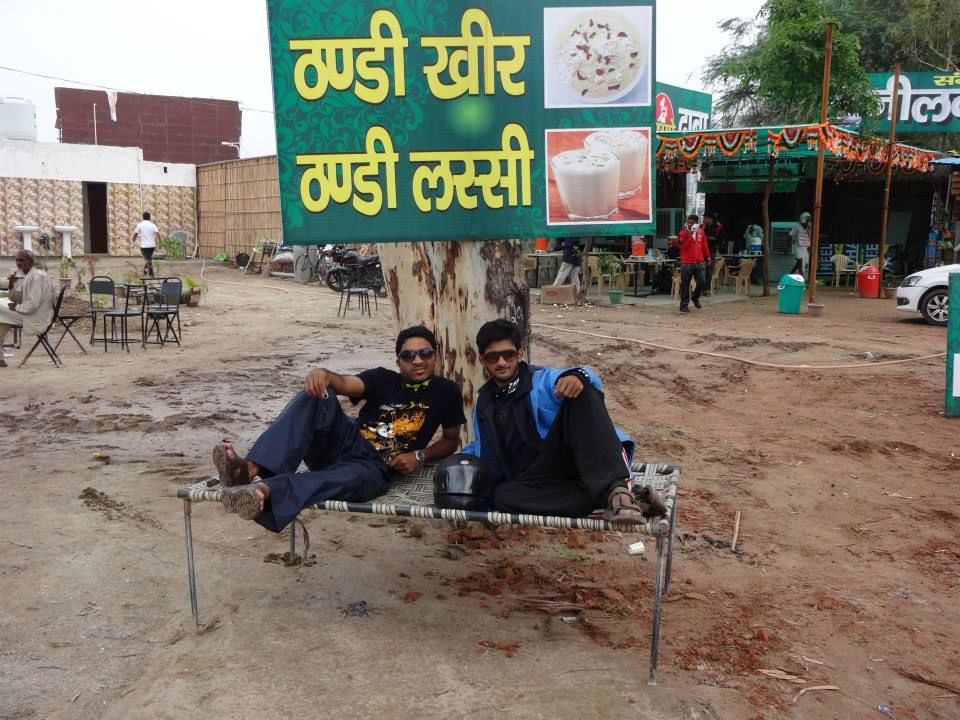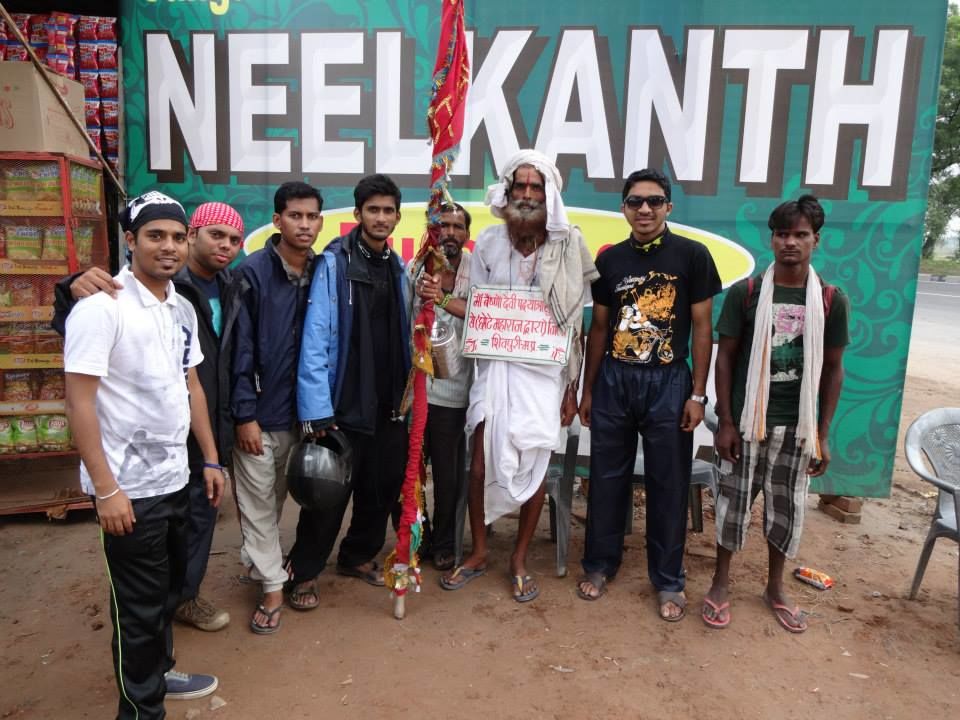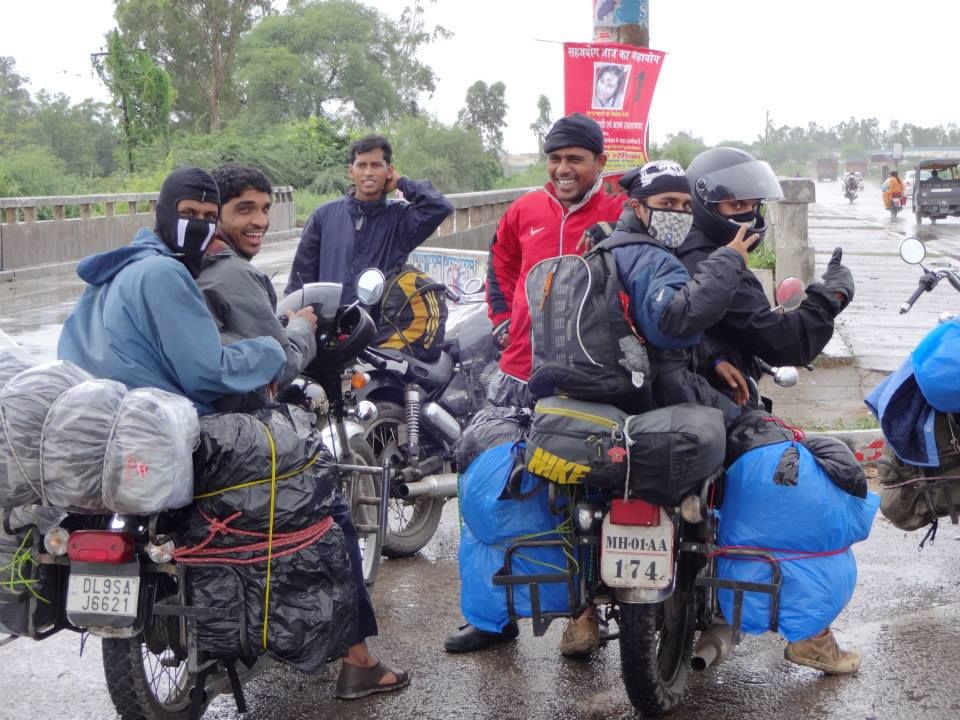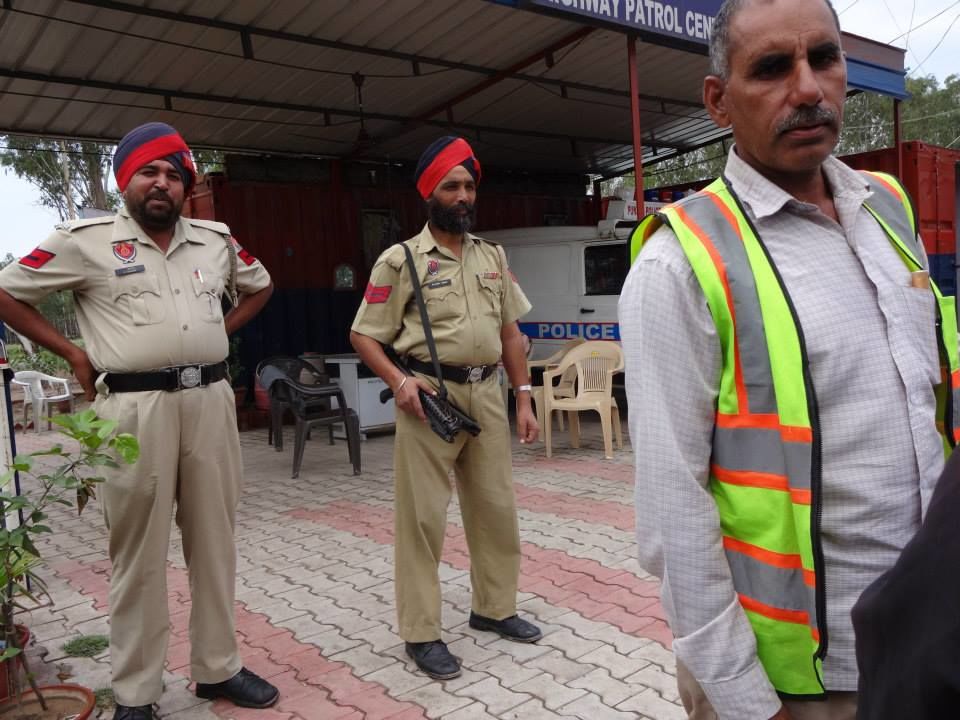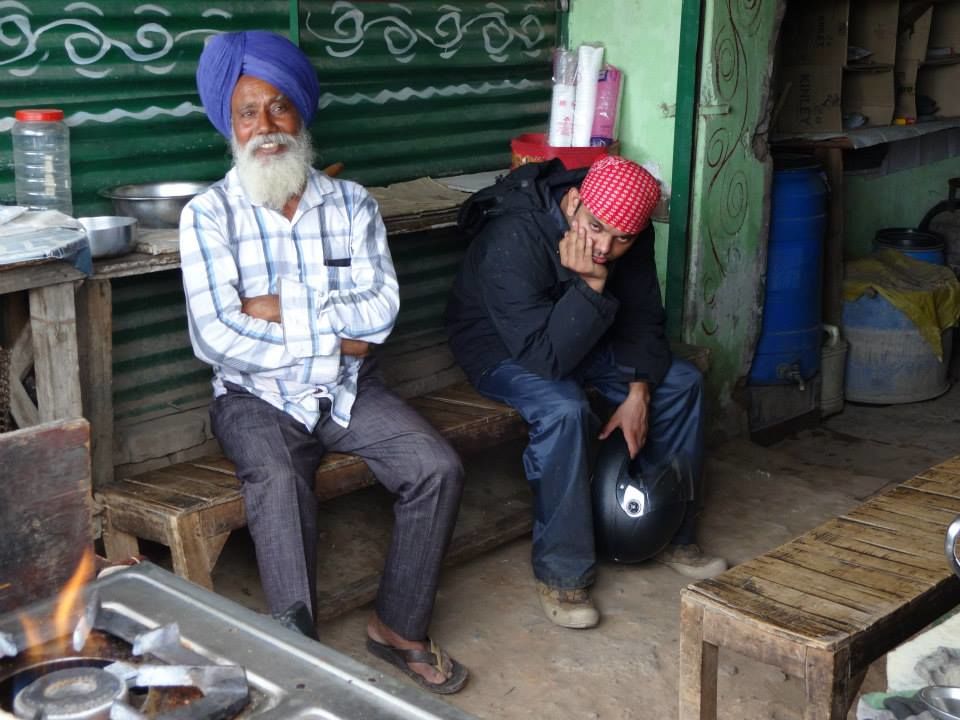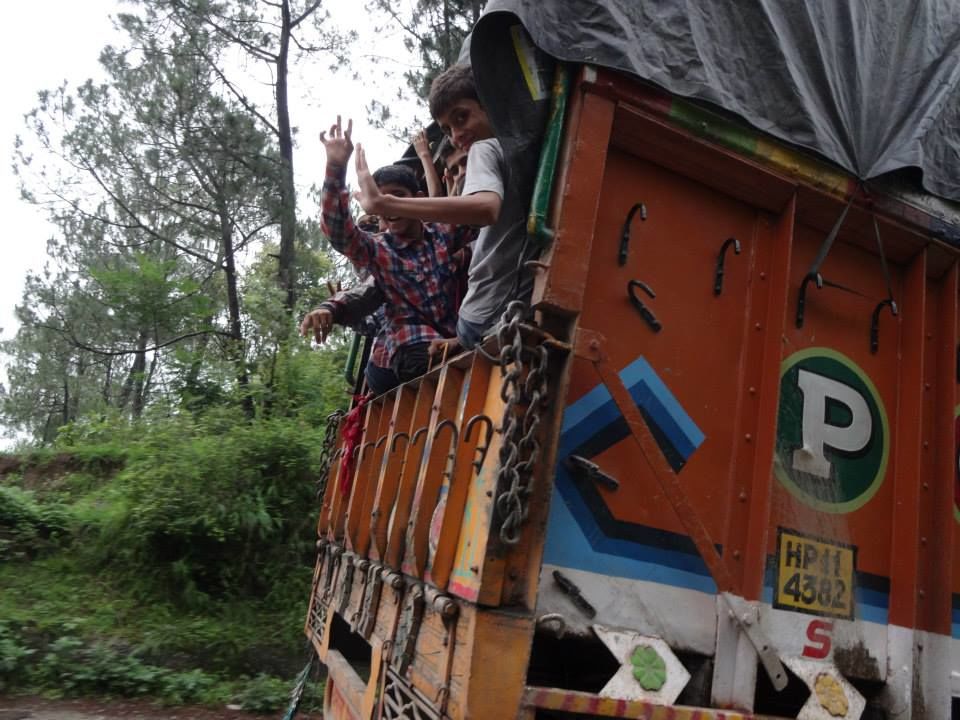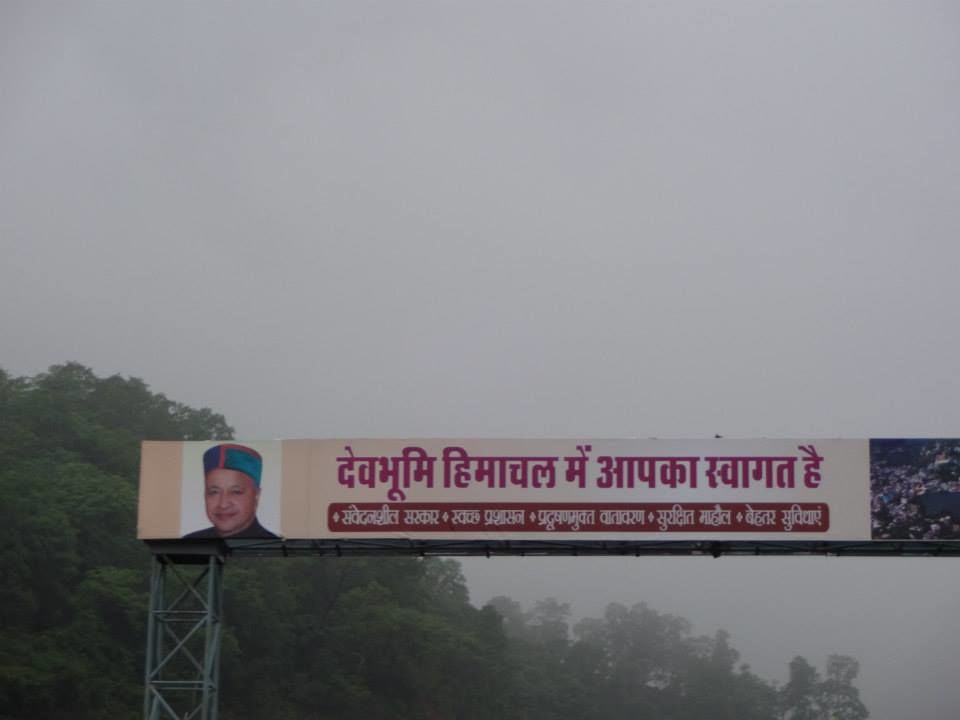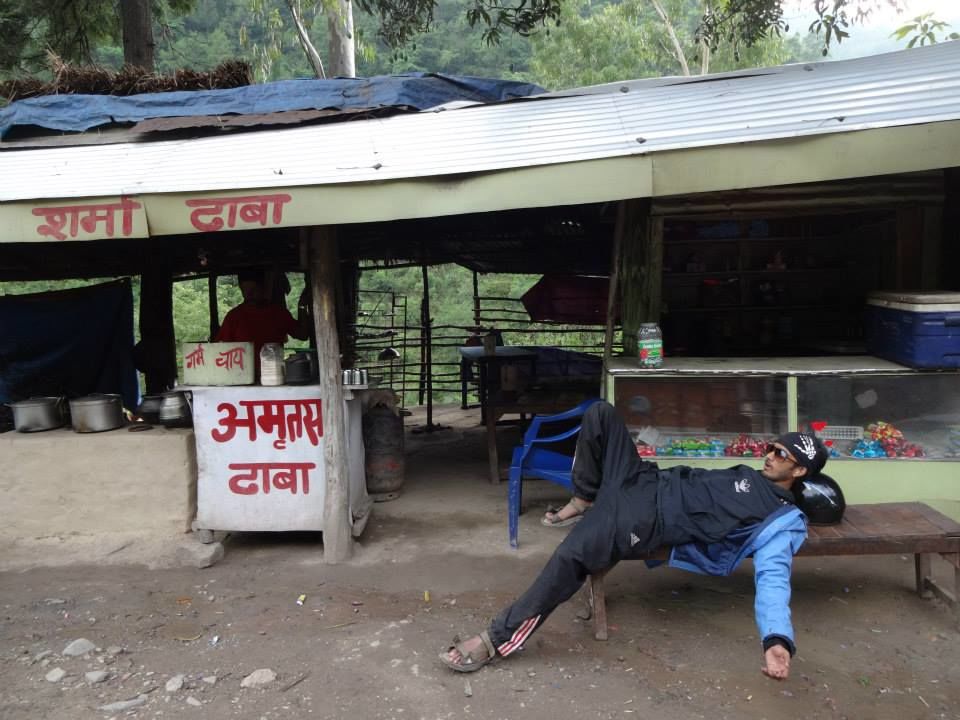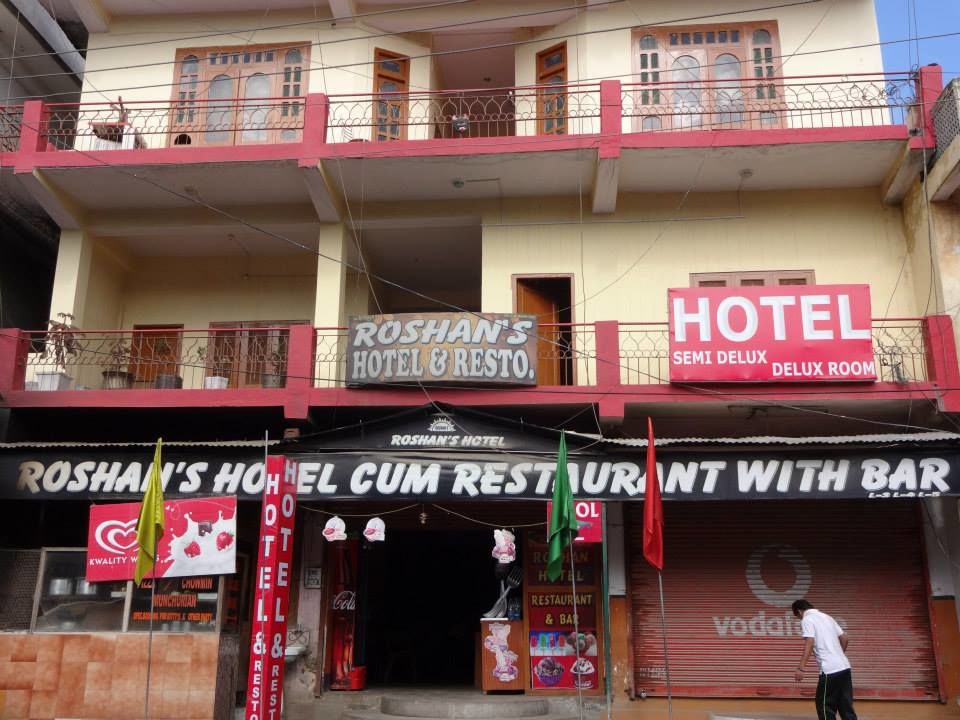 Day 5 : Manali 2 night stay | Sight Seeing
Must visit Hidimba Temple, Waterfall, Garden, Old Manali for chill and offcourse the 'Mall Road'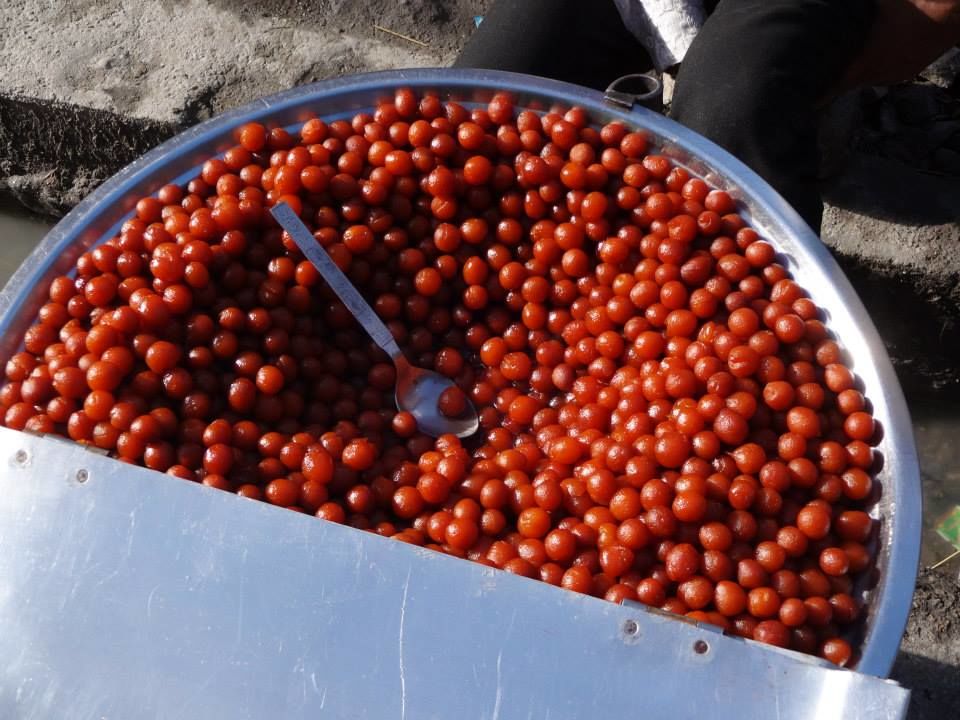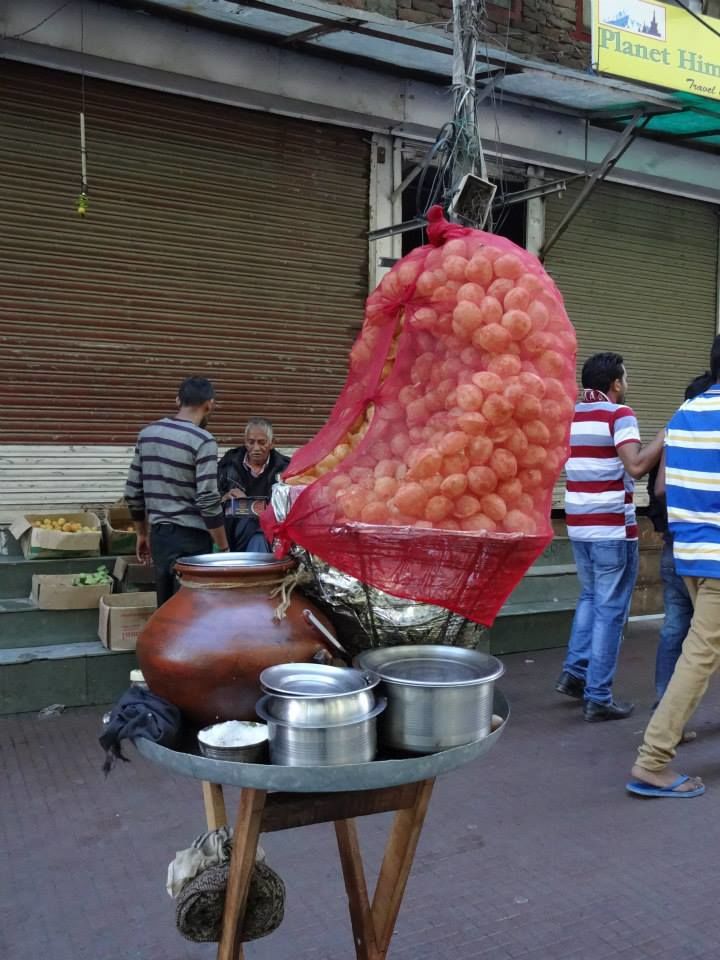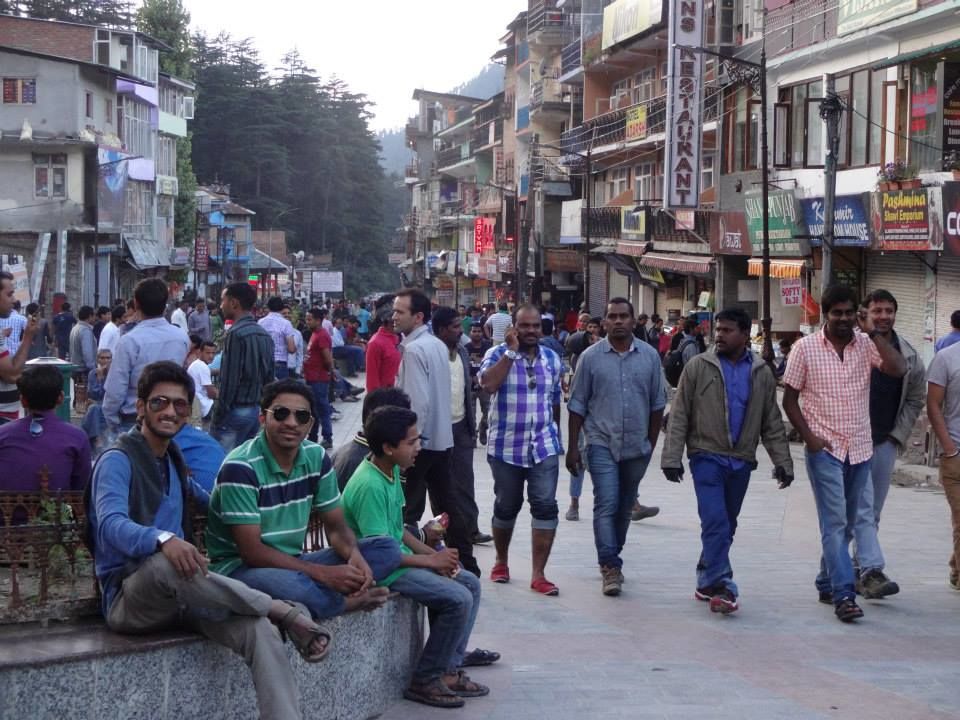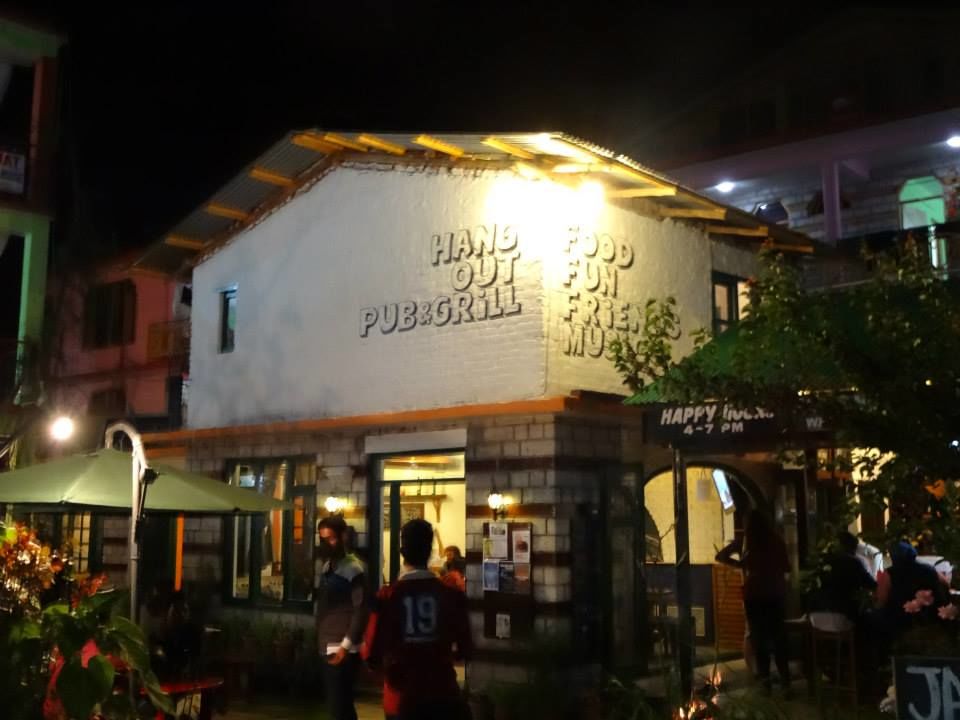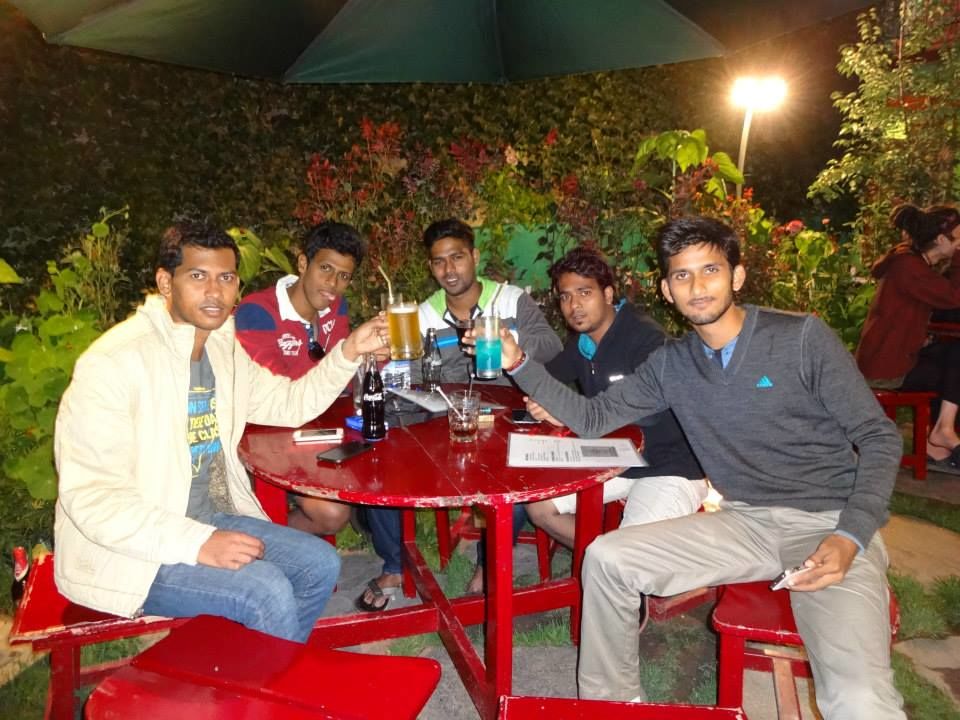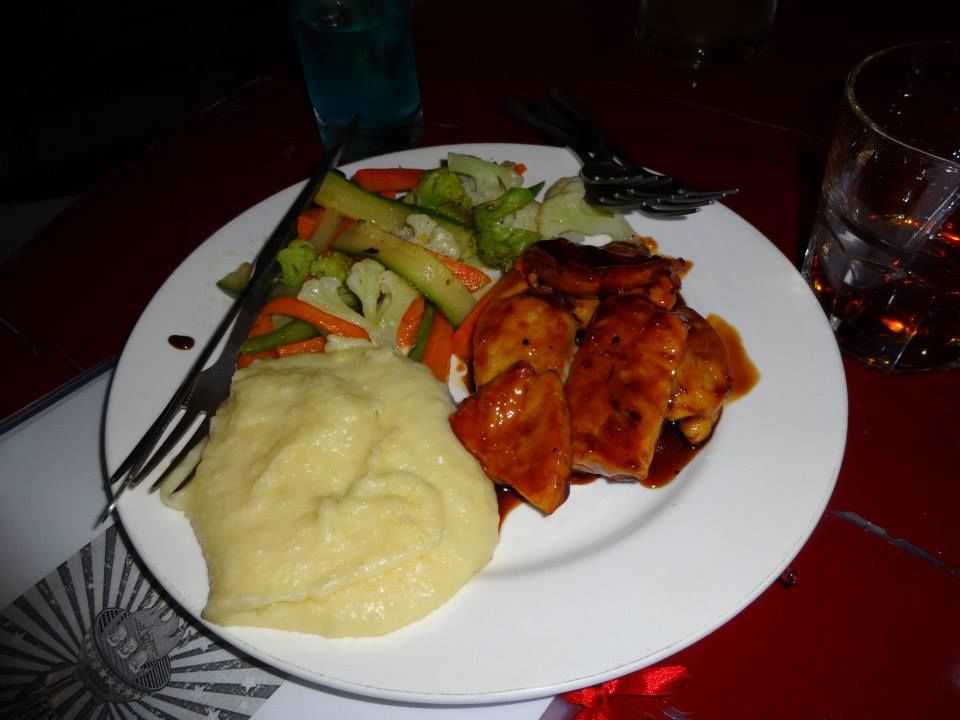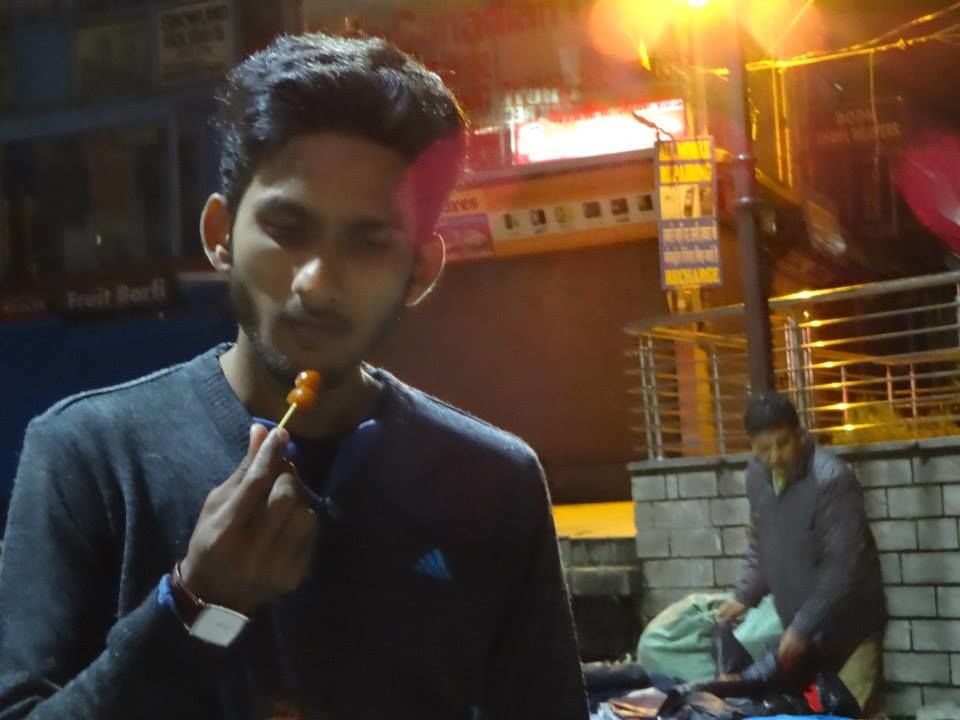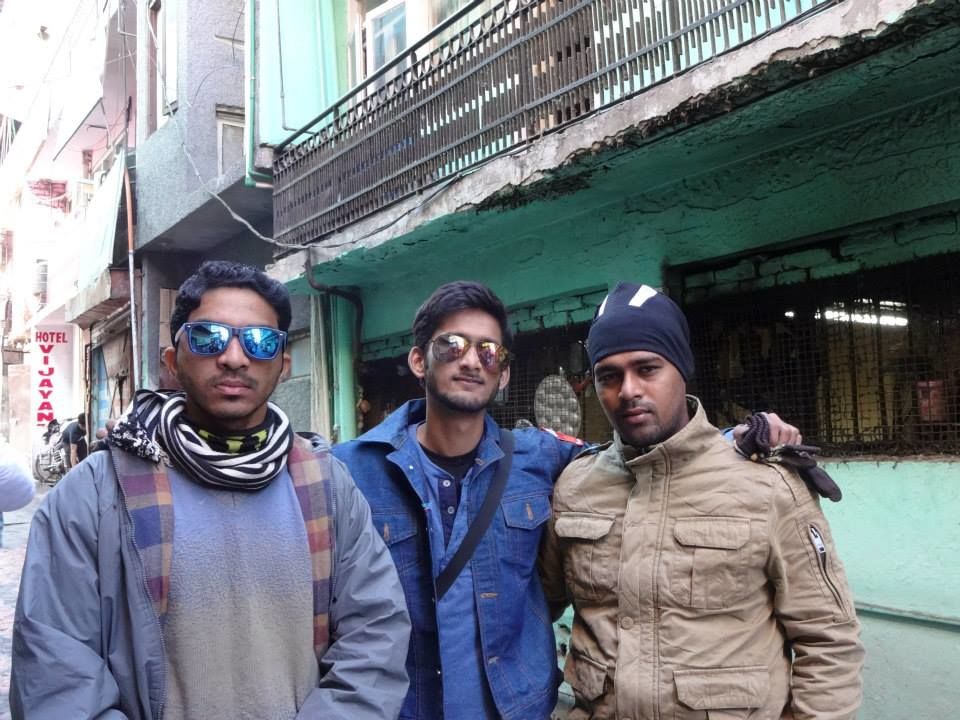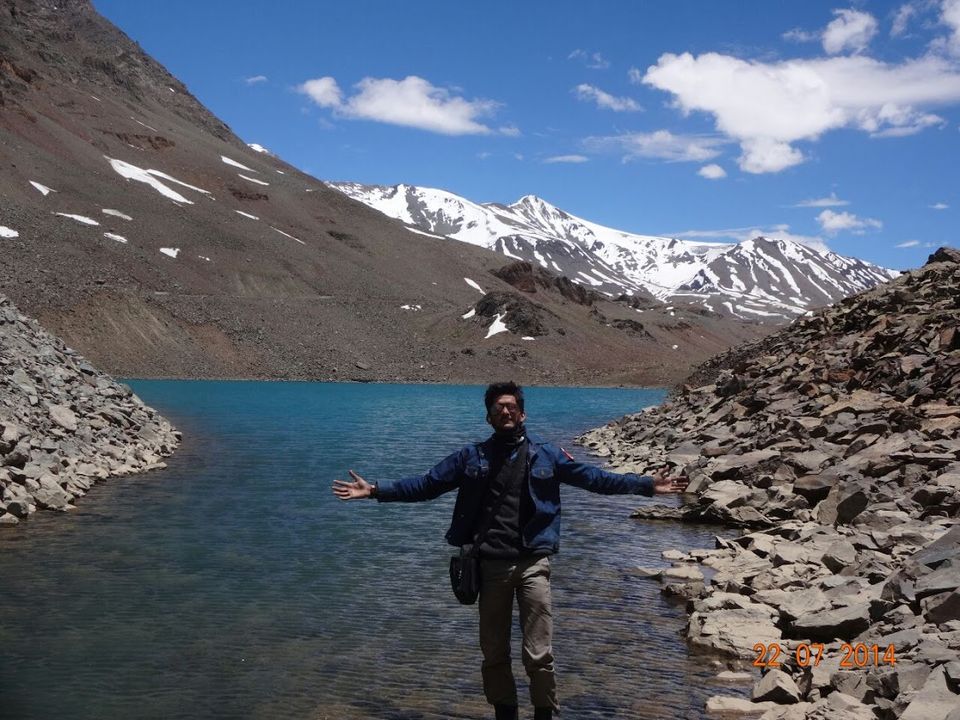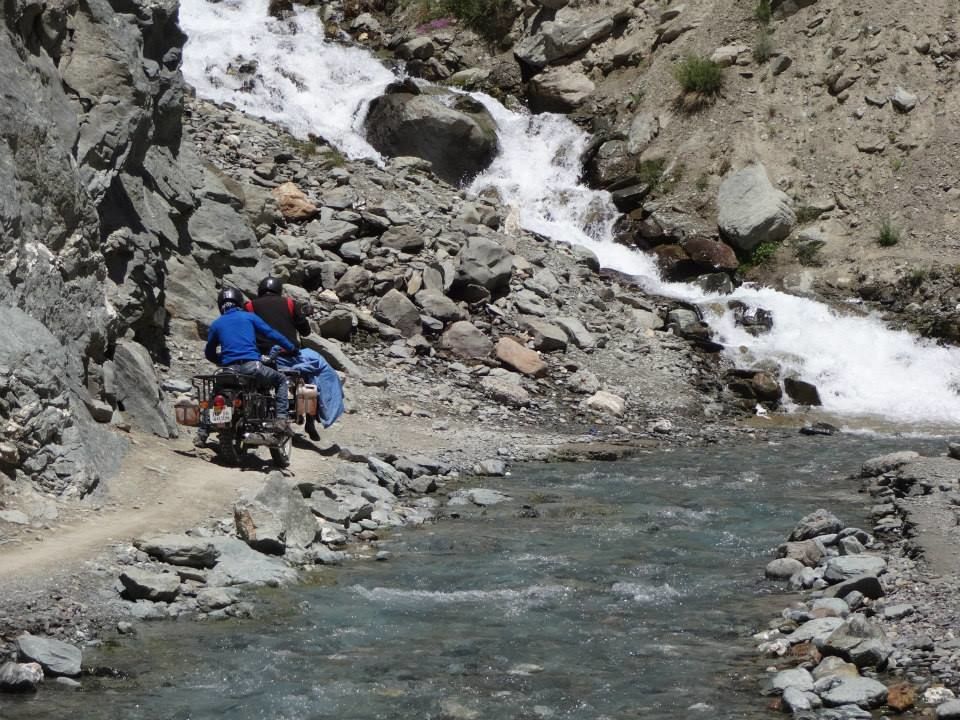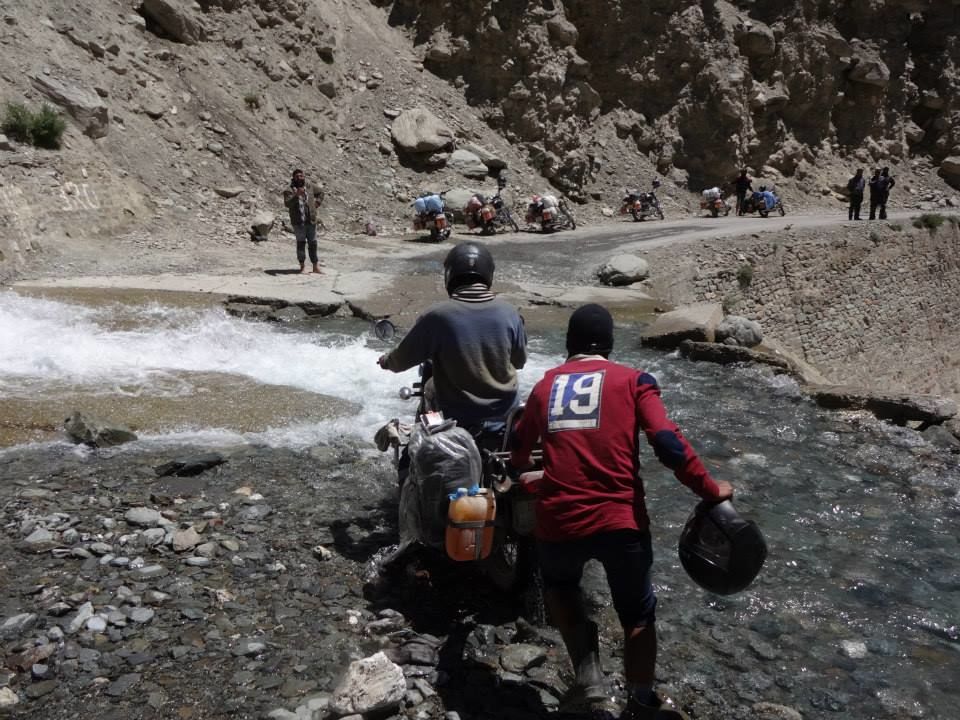 Day 7: Manali - Keylong via Rohtang Pass | 116 Kms | 4 Hrs
We left manali by 8:45AM and took a break on the way to Rohtang pass the views started to give us the feel that we had reached somewhere out of the world. As we were moving above the sea level the views and the winds were just getting bigger and bigger on us. But we were loving the feel.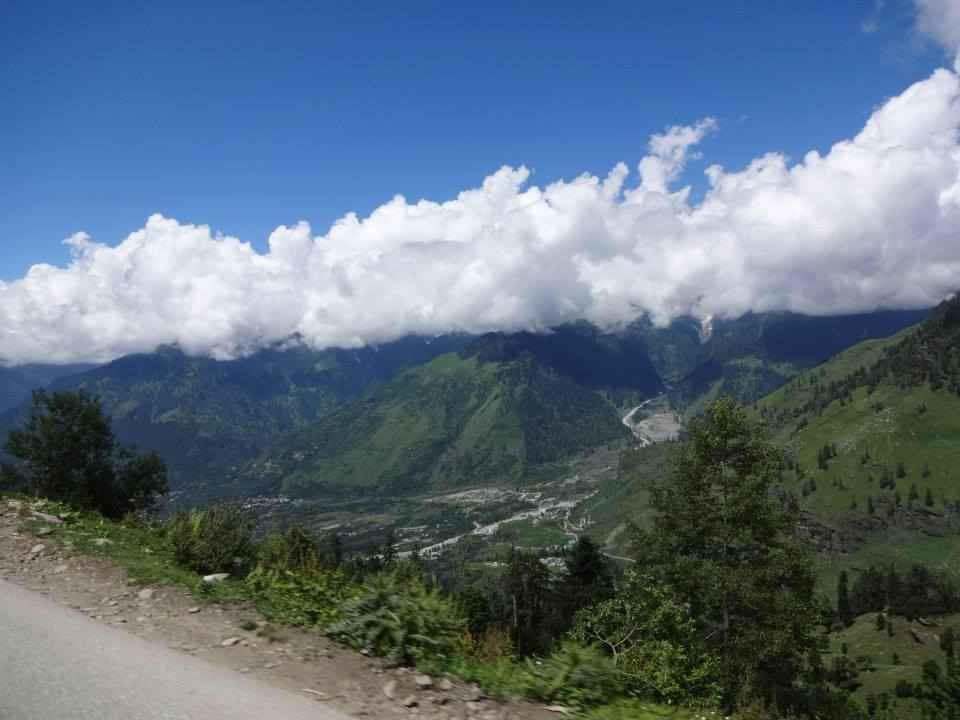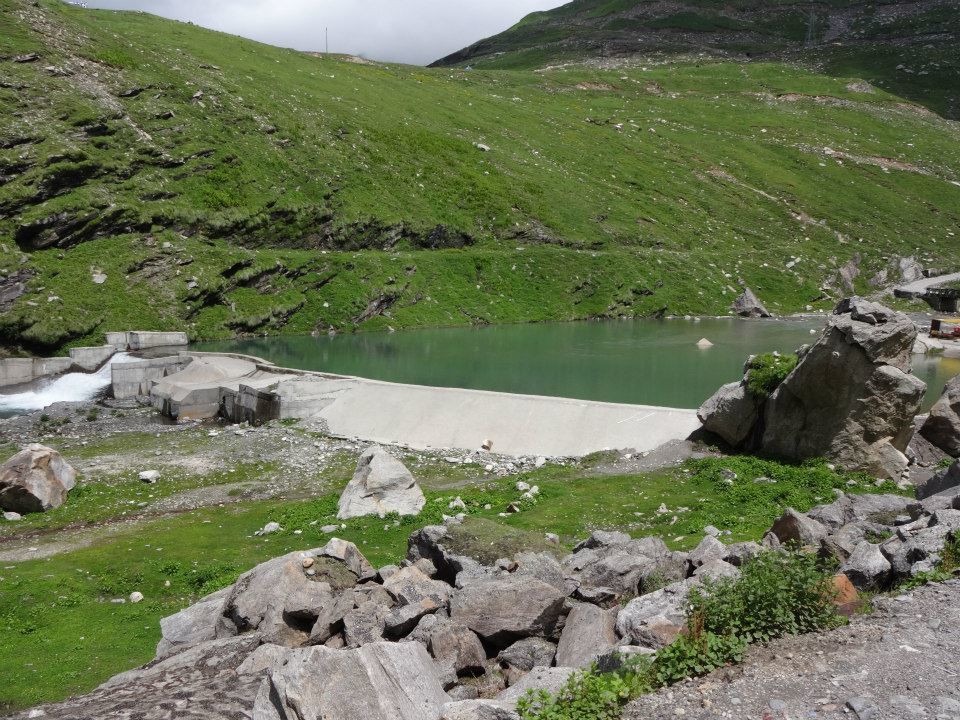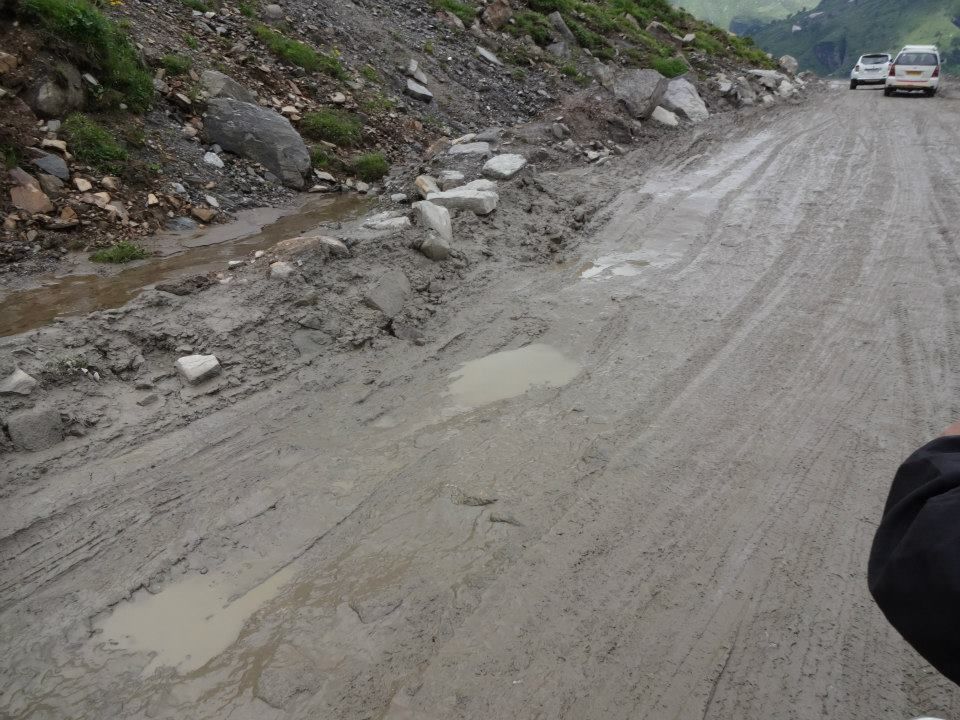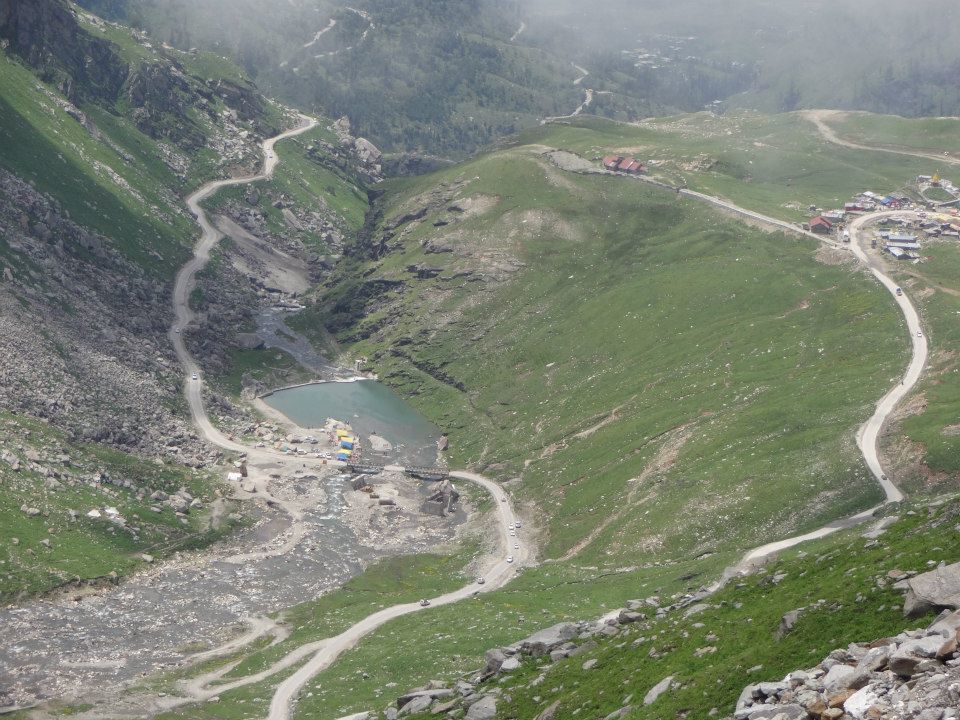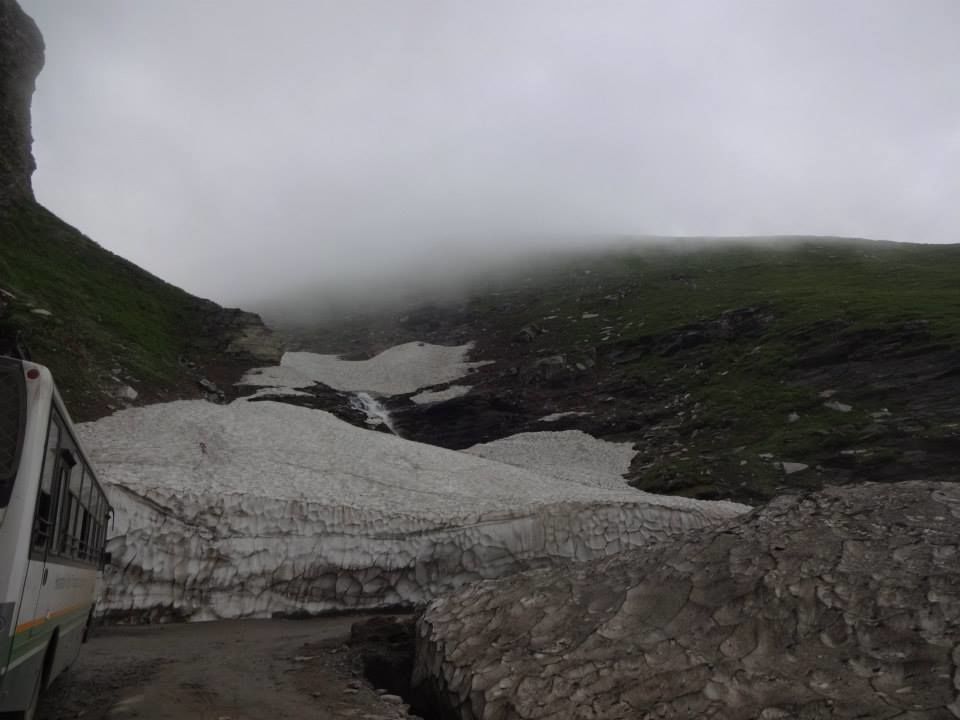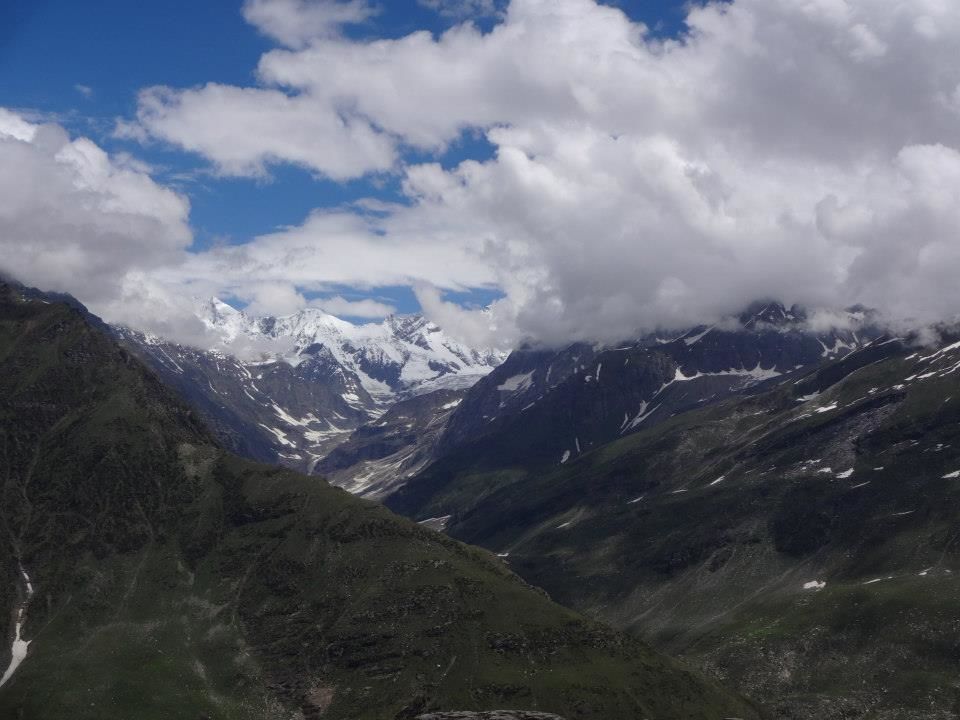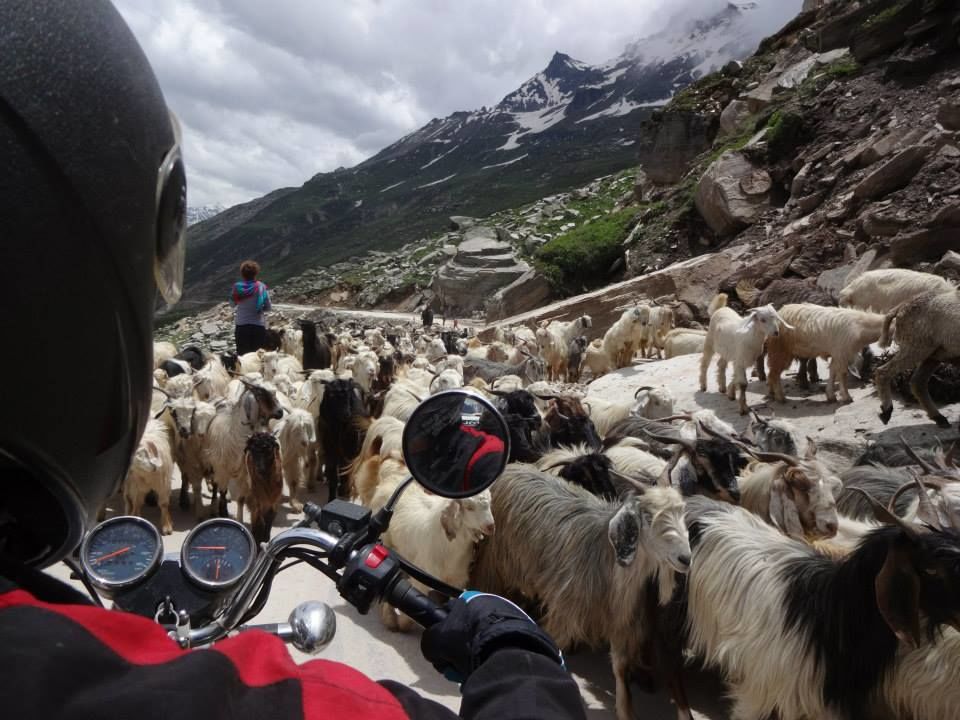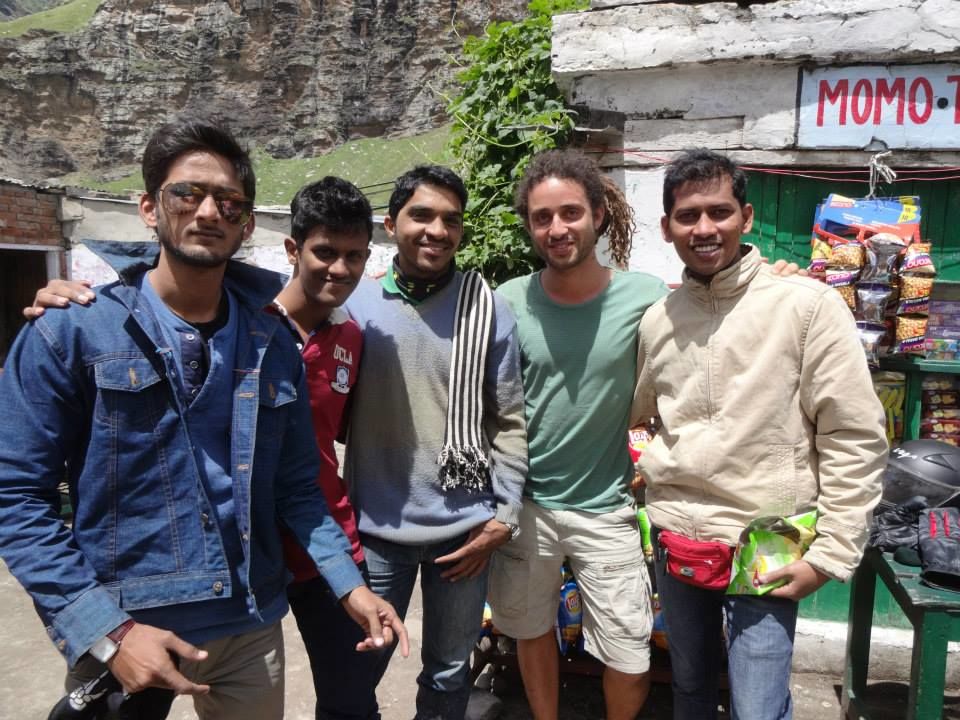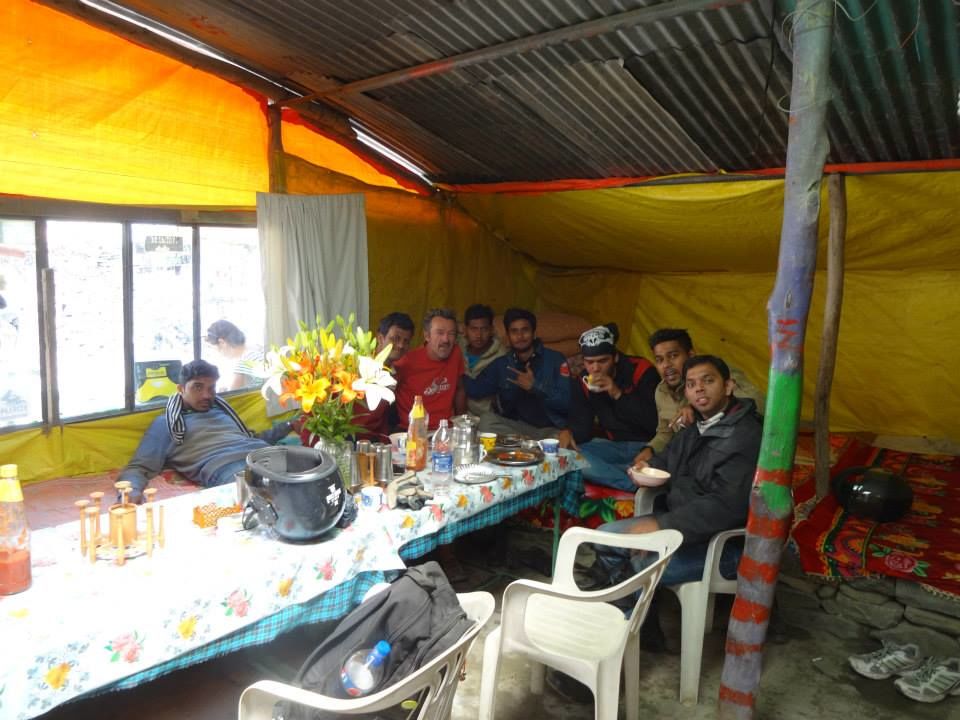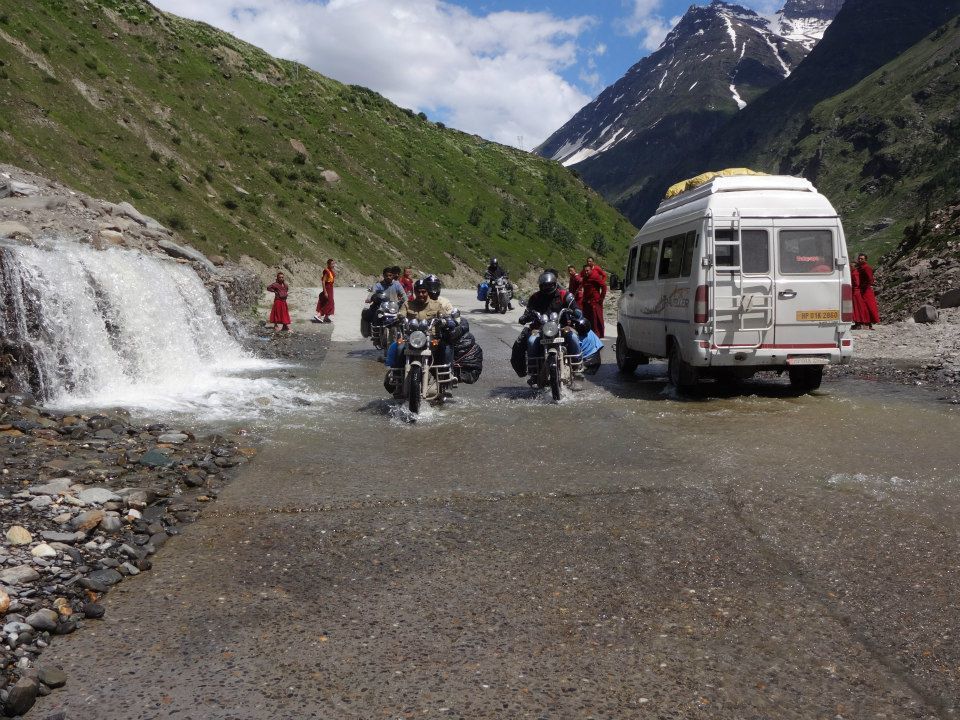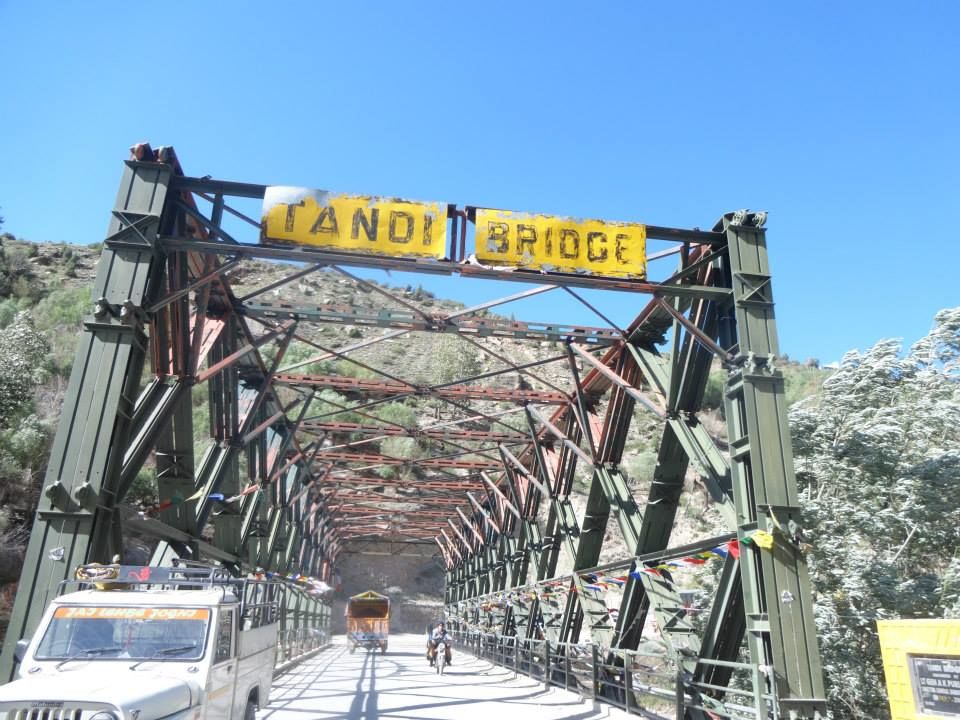 Day 8: Keylong - Pang via Jispa, Zingzing Bar, Sarchu, Gata Loops | 6 Hrs with Break for lunch
We had planned a halt at Sarchu after Keylong but we reached sarchu in the first half so thought to go some extra miles before we could get our next halt by the end of the day. Fortunately or Unfortunately we were wrong , we had a quick snacks break at Jispa Check post as one of the bike with Sanil and Omkar were missing and not to be seen and we were sure that they were trailing us so no chance of they going ahead of us.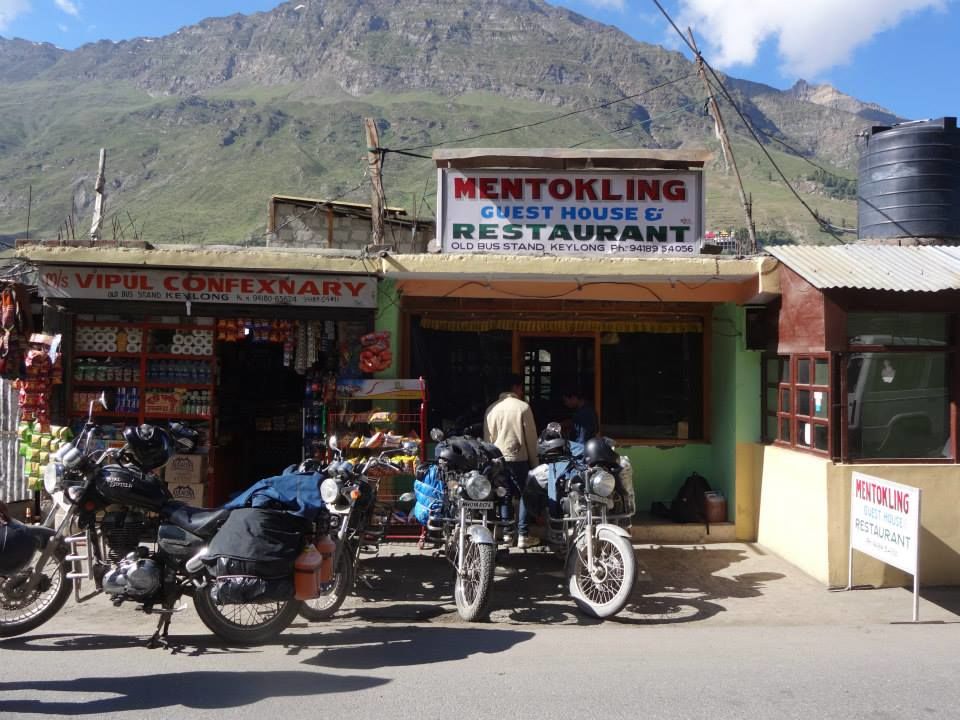 we decided to wait and eat while keep a watch if they cross as everyone has to stop here for entry by the forces. After almost a maggi and two cups of tea, there they were coming towards the check post. we later came to know that they had took the long route when they were descending. Now that we all were together we headed towards Sarchu.
We reached Sarchu well ahead in time and decided to go ahead till we find our next halt till its dark. We crossed the "GATA LOOPS" and it was already starting to get darker so we made up our mins the next place we find to stay is our hard stop for the day.
We came across a Tent Restaurant and the owner said he has some make-shift arrangements of tents which can accommodate 8 of us. Trust me we had little idea that this place was going to be remembered for the rest of our lifetime. As the night started to progress we witness some stunning change in the surrounding and literally we were in heaven. It was galaxy of stars we had seen by naked eyes. But every good things come with its con's. We started to feel the chill and suddenly we were feeling a bit restless. Somehow we passed on the night only to wake up with AMS symptoms. We were puking all over and we took an early leave from the tent in Pang, Two of our pillions had decided to go with the truck driver who was with us last night till leh junction. We managed to take some First-Aid at the Pang Military camp. After a rigorous start of the day we were back to normal post the second half as we almost entered Leh.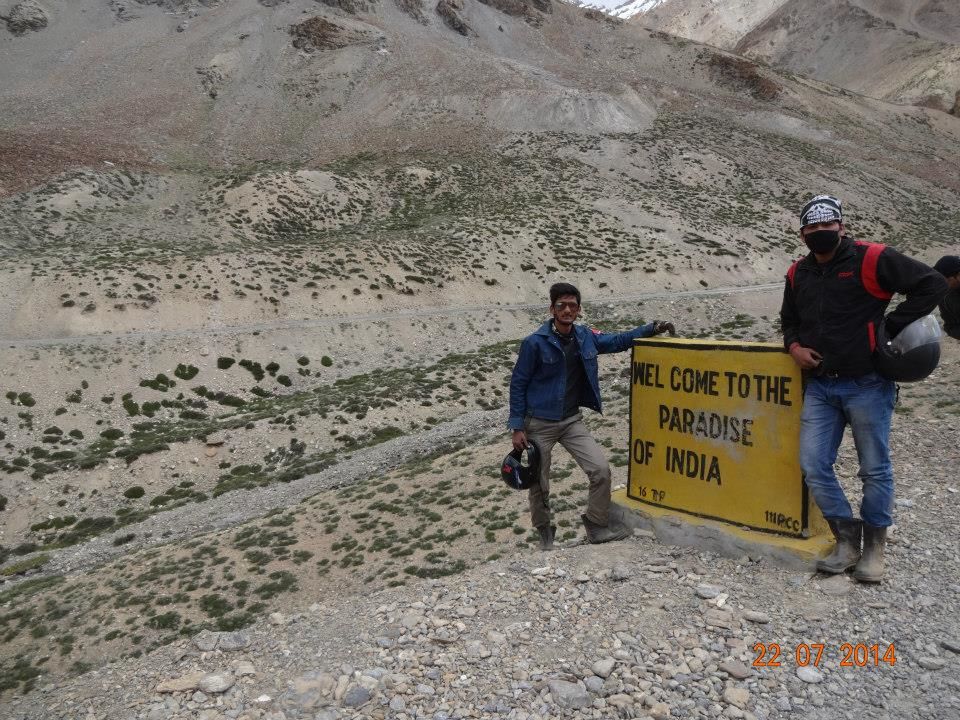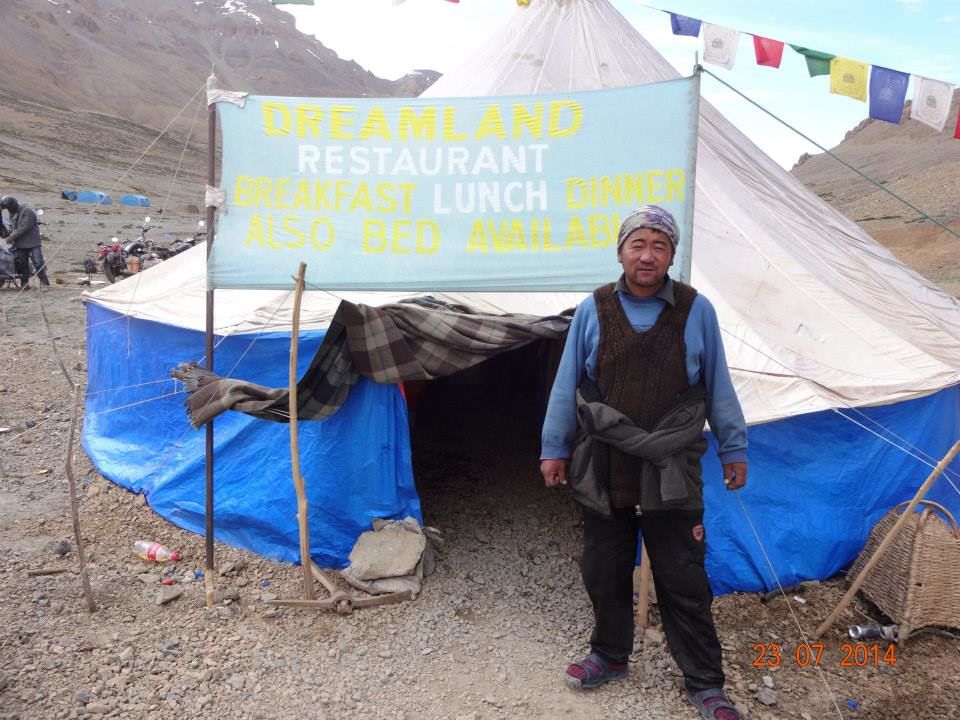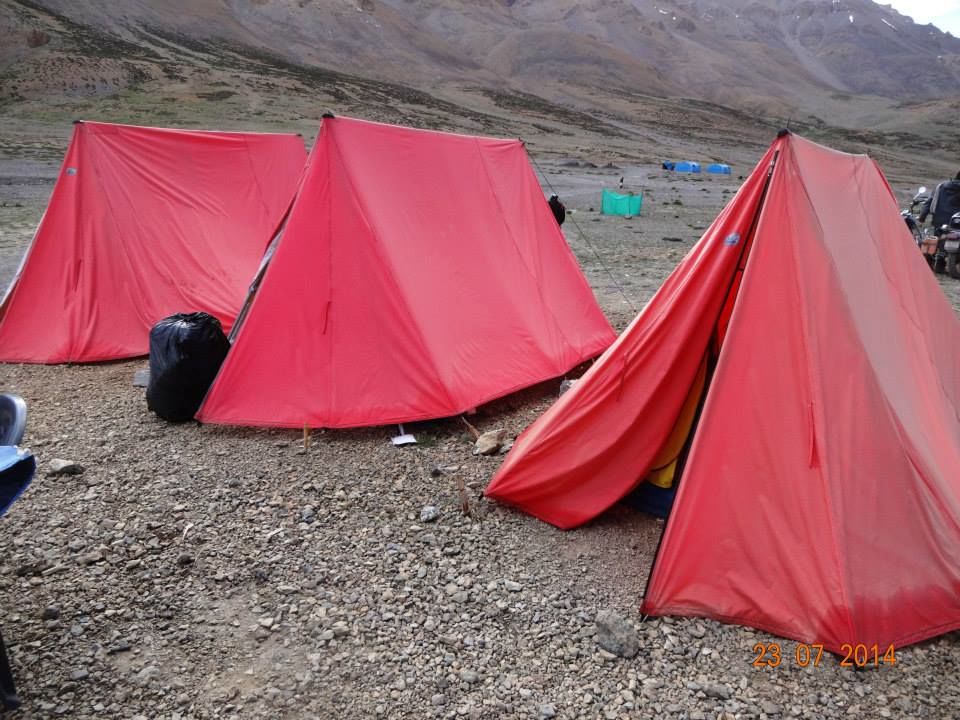 After an 'actual' breathtaking ride we had reached the place for which this all had started "LEH" it was...
Day 10 : Leh Sight Seeing & Khardung La visit and return Back to Leh
Old Leh Market is the best place for Street Shopping and local site seeing with a number of Monasteries nearby.
We decided to plan a one day return trip to the "World's Highest Motorable Road - Khardung La" before leaving for Pangong lake. So one day full was utilized for Khardung la and on return we visited the Thiksey monastery and tried some local ladakhi food.
Do not forget to give lift to student who will surely ask lift from you if you are visiting in their school time. We were grateful to help a few ;) The happiness on their faces when they get a lift from a tourist on a bike is just worth every pain you took to reach there!
Day 11: Leh - Pangong Lake | 223 Kms Approx. 6 Hrs via Chang La
It was the much awaited destination for all of us so we were all excited and charged up for this drive. Last night at the hotel we had some good food with music and had an early sleep so we can wake up fresh early morning. We started around 9:30 am with all the bike checks done and taking 1 days clothes and essentials with us as we were going to return to Leh.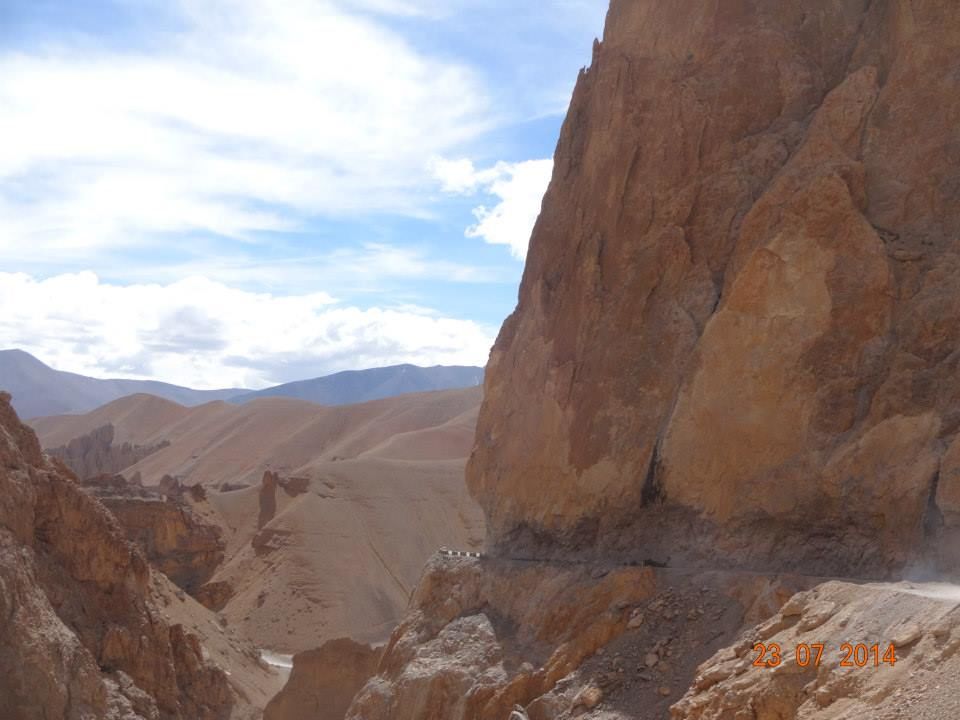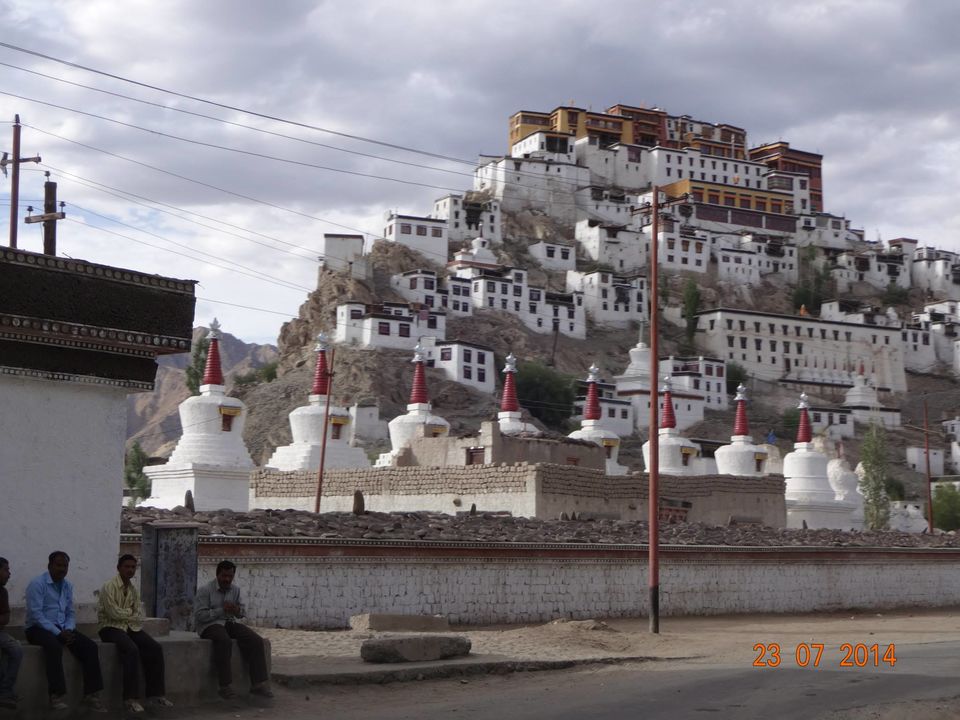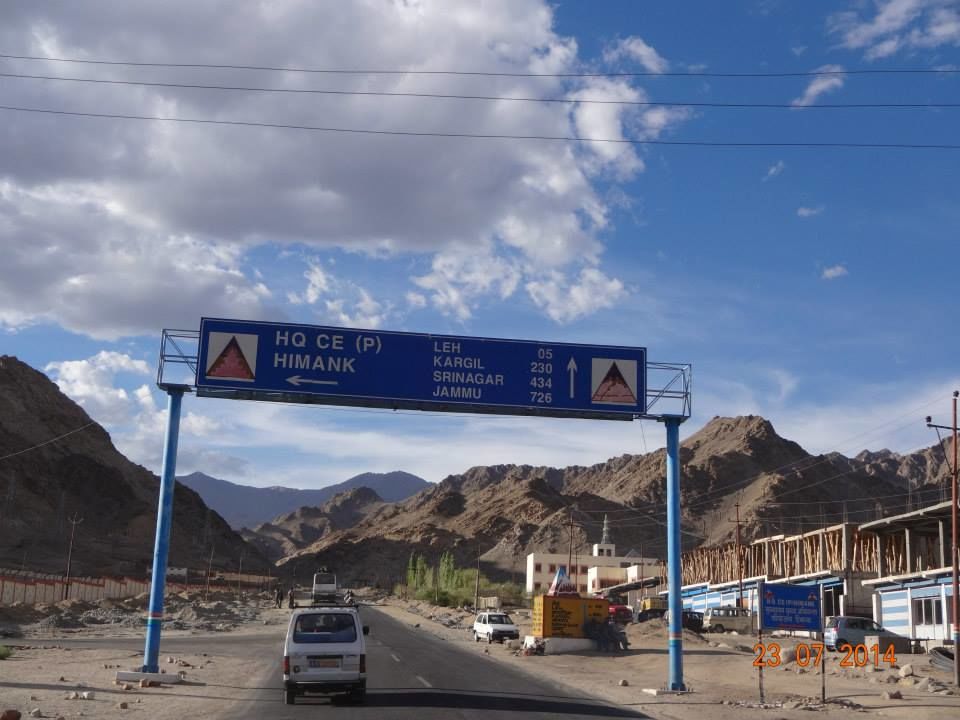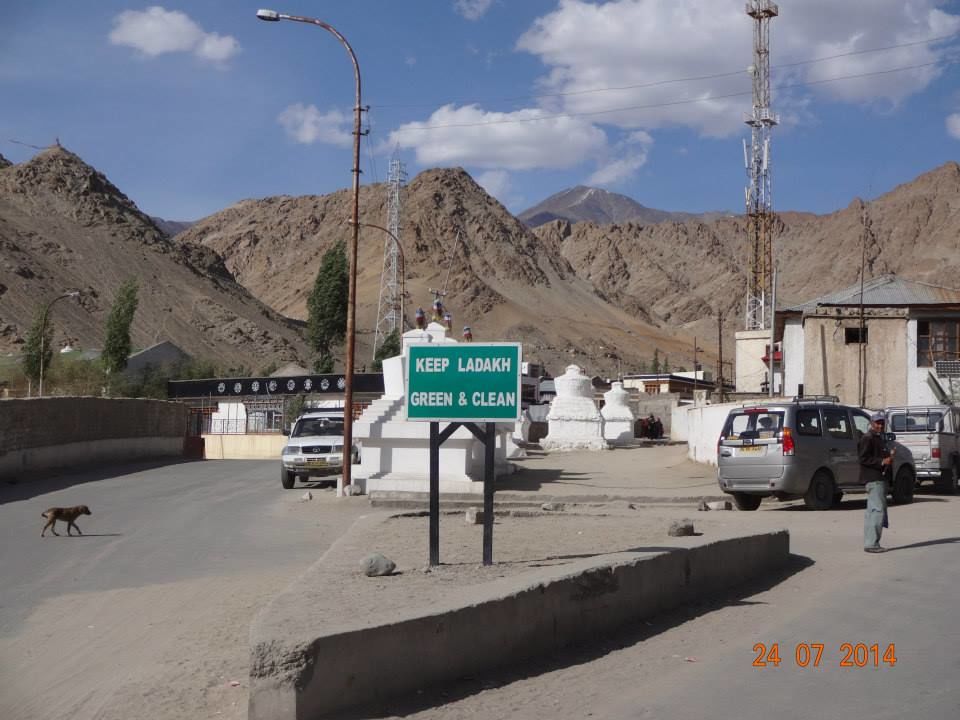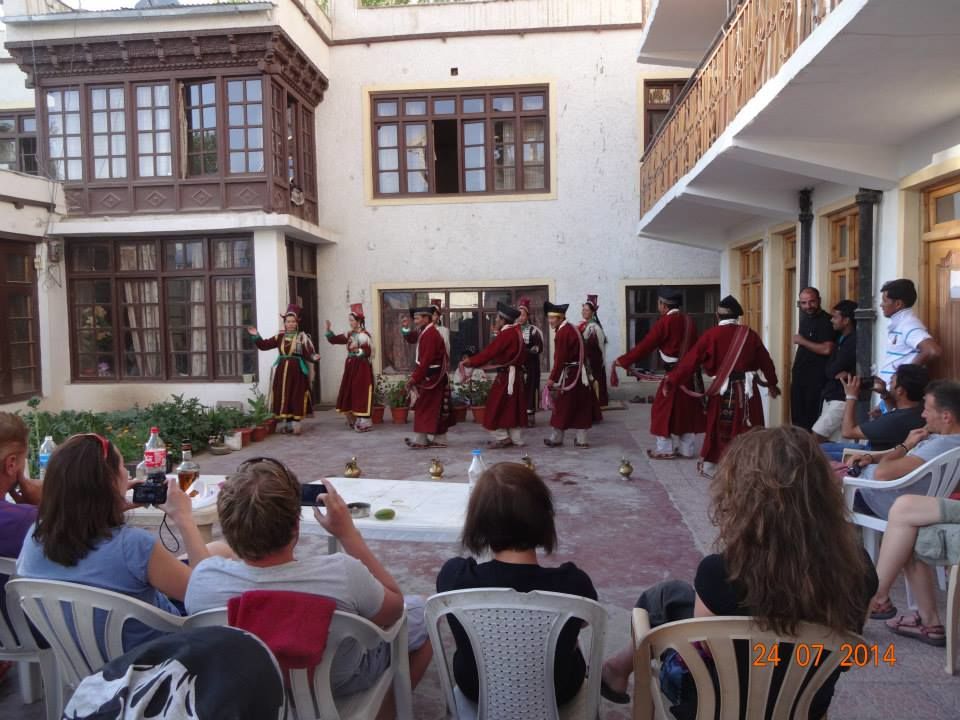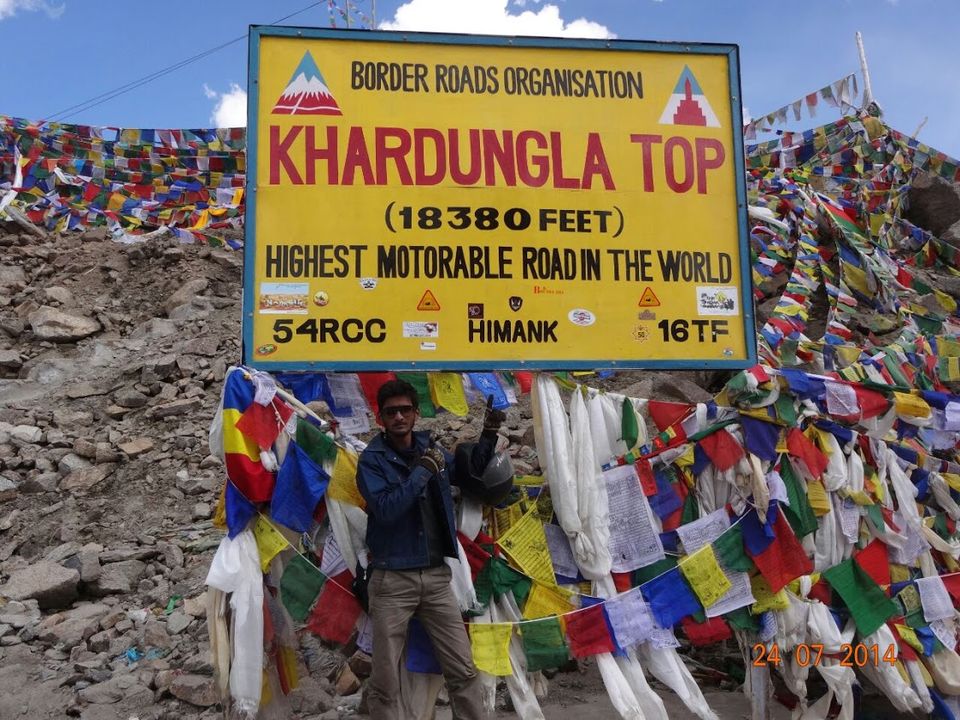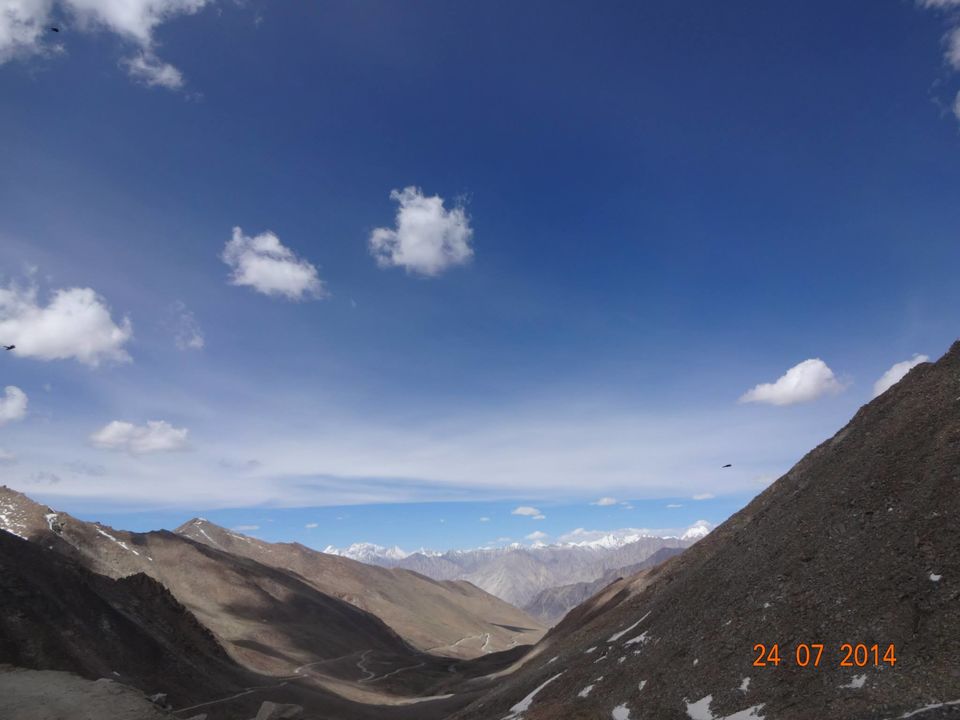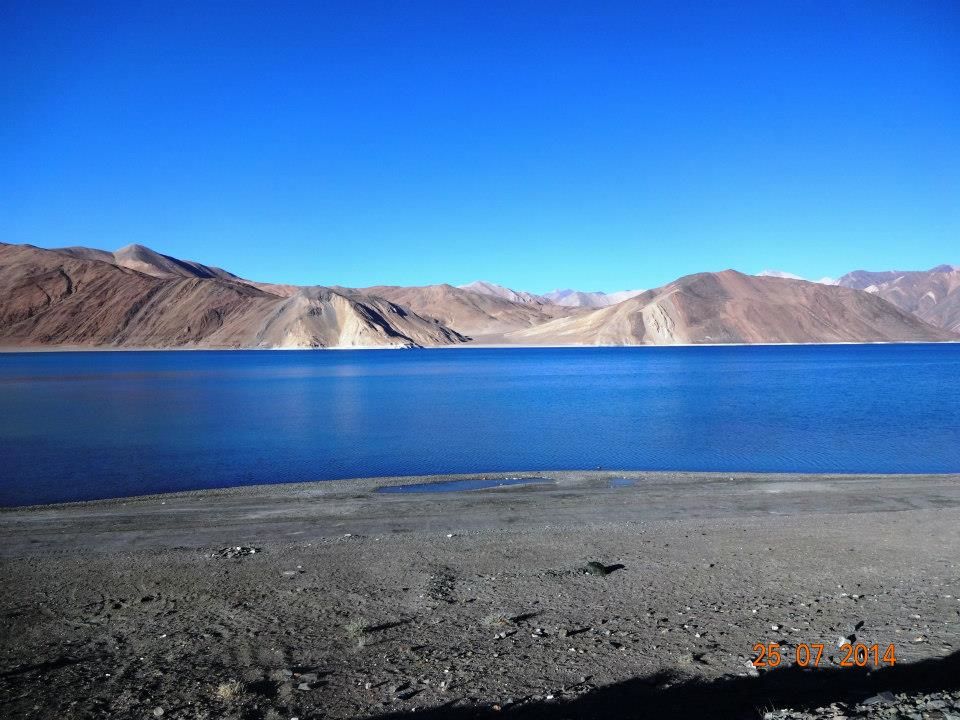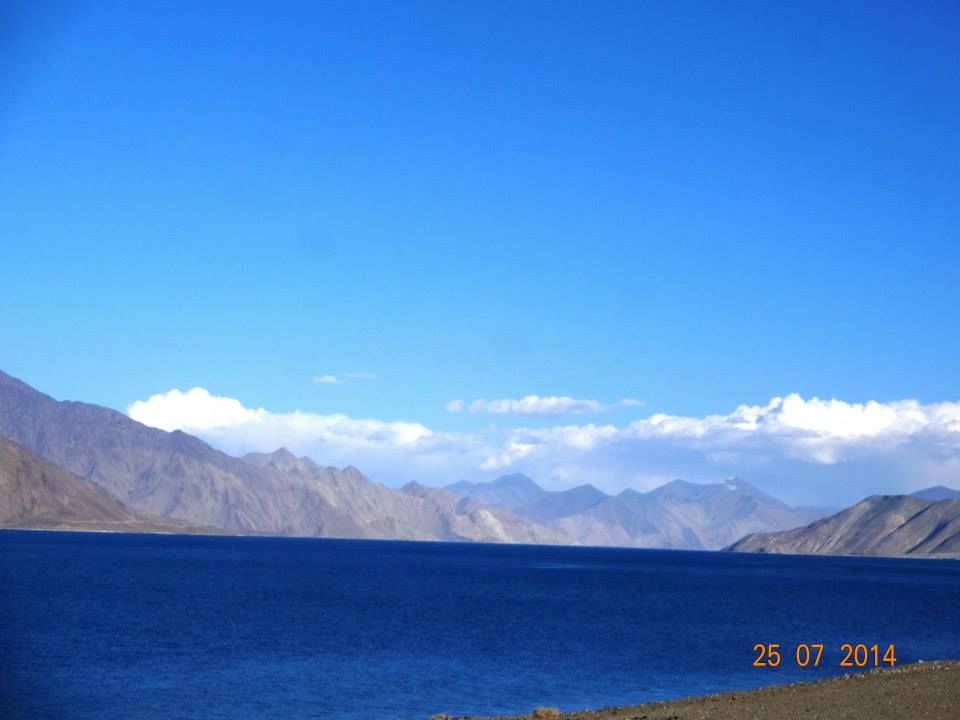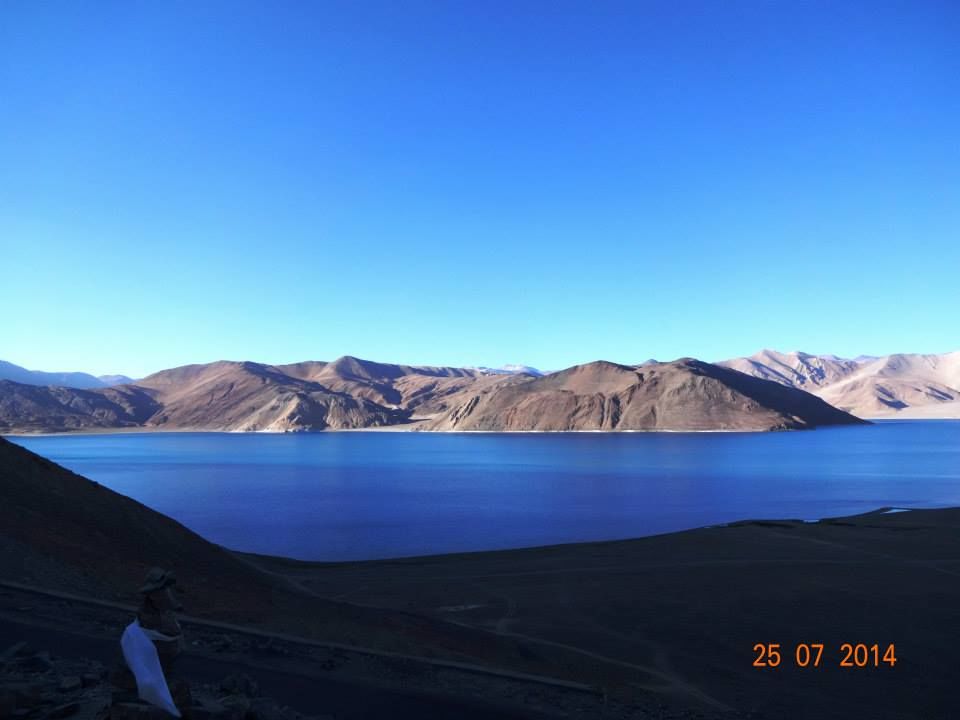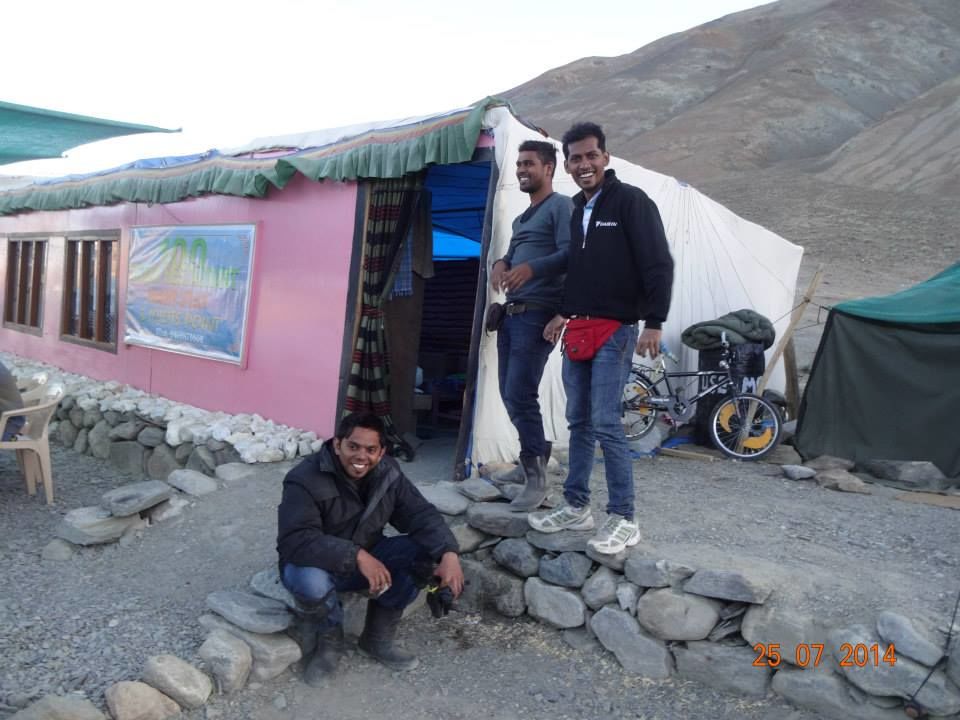 Day 12: Pangong Lake - Leh (return)
We woke up early in the morning to witness the changing colours. The beauty was the lake would take the colour of the sun and the shadows of the mountains accordingly. An surreal experience!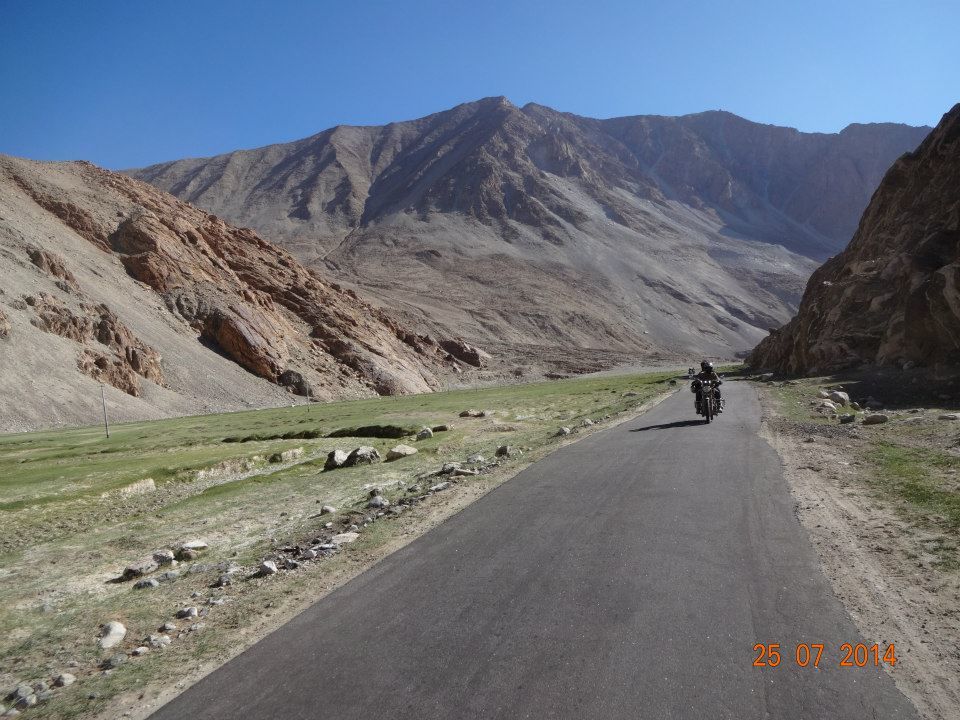 We returned with a bundle of memories from Pangong Lake to our Hotel in Leh. Here the First Half of the Journey was ended!!!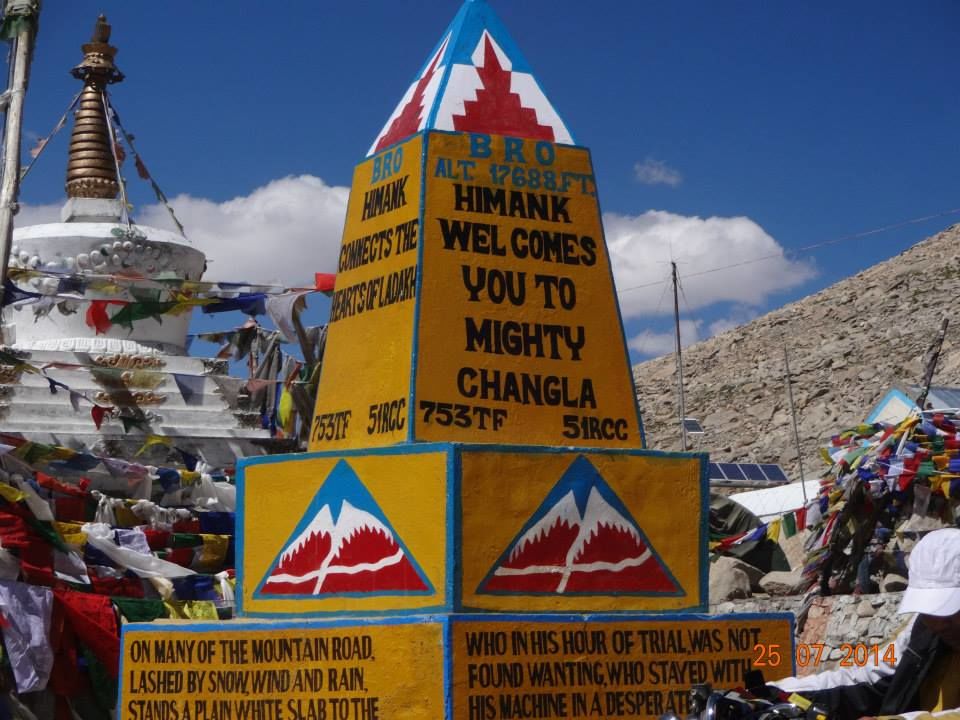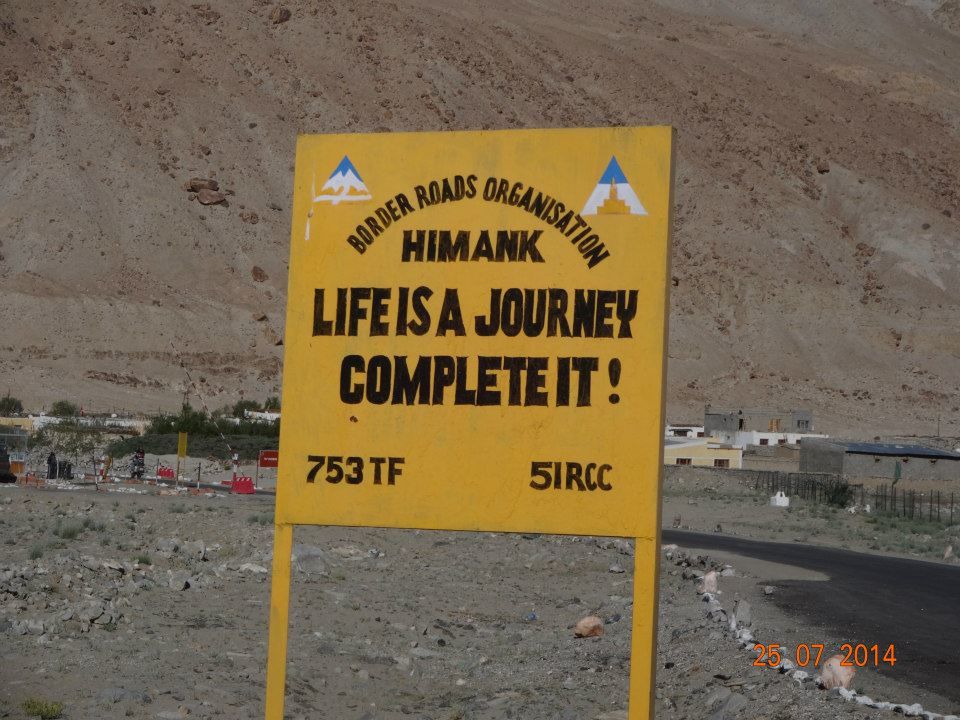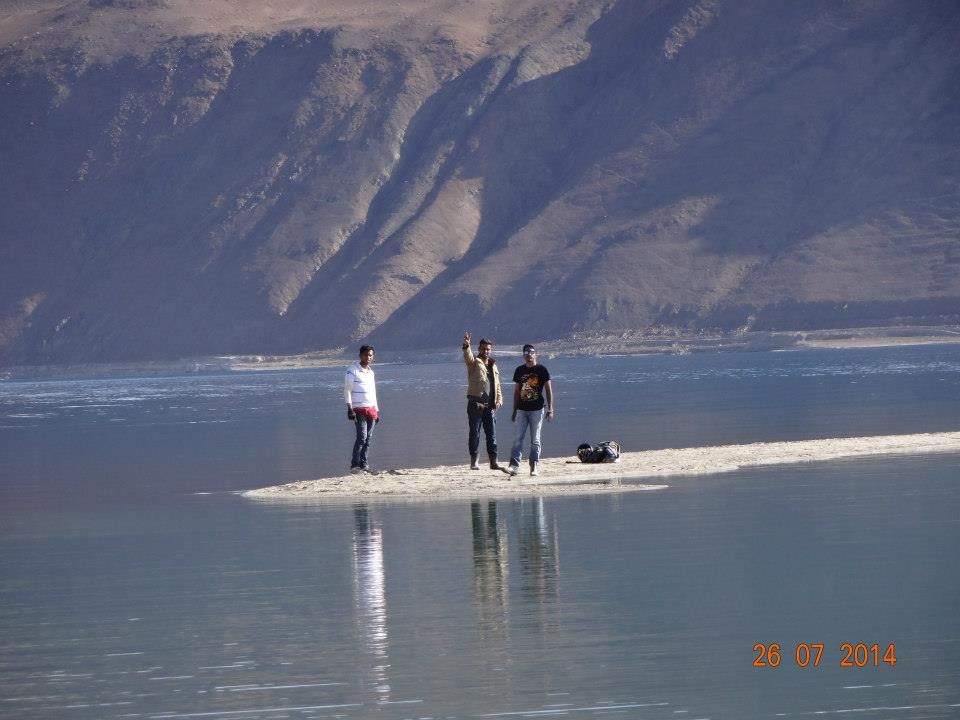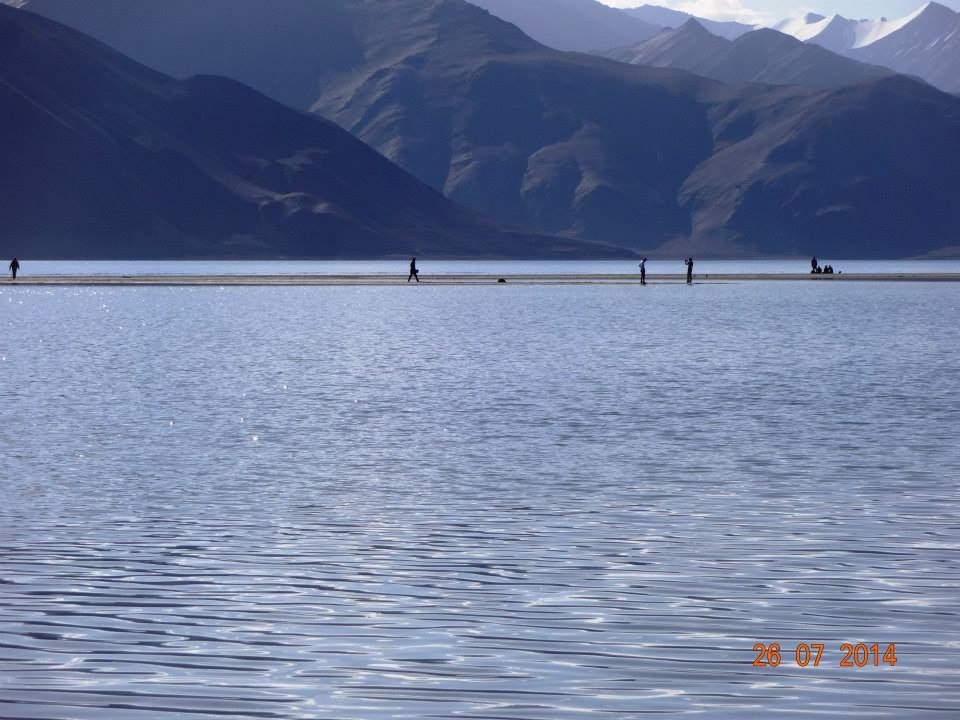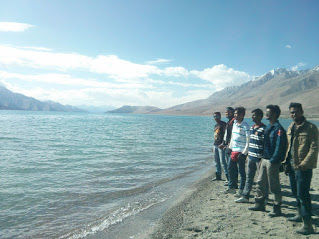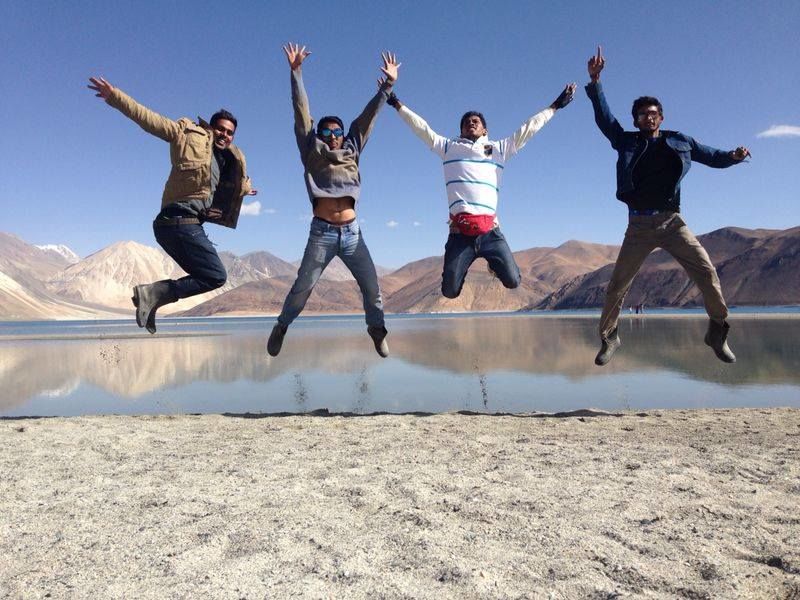 The Second Half | Day 13 : Leh - Sonmarg | 340 Kms Approx 12 Hrs with halts
We started for the return journey from Leh and our next halt was Srinagar but on the way we have to visit the Kargil War memorial so we knew it would be a tough day for ride and any changes would lead to the delay of itinerary. We visited the Magnetic Hill, Gurudwara Pathar Sahib and Kargil war memorial all on the way.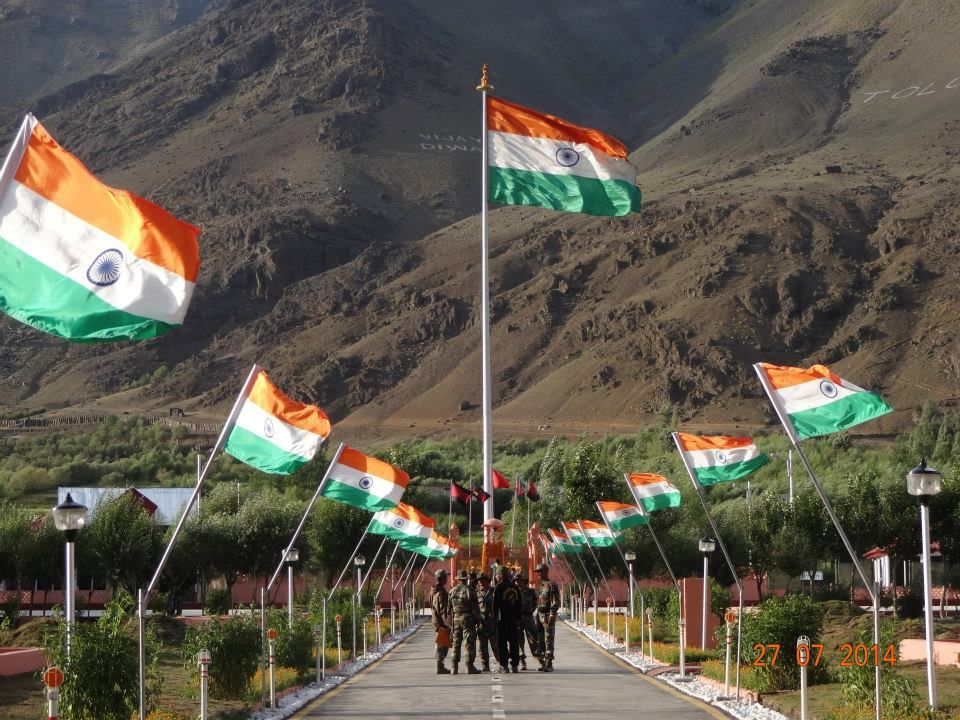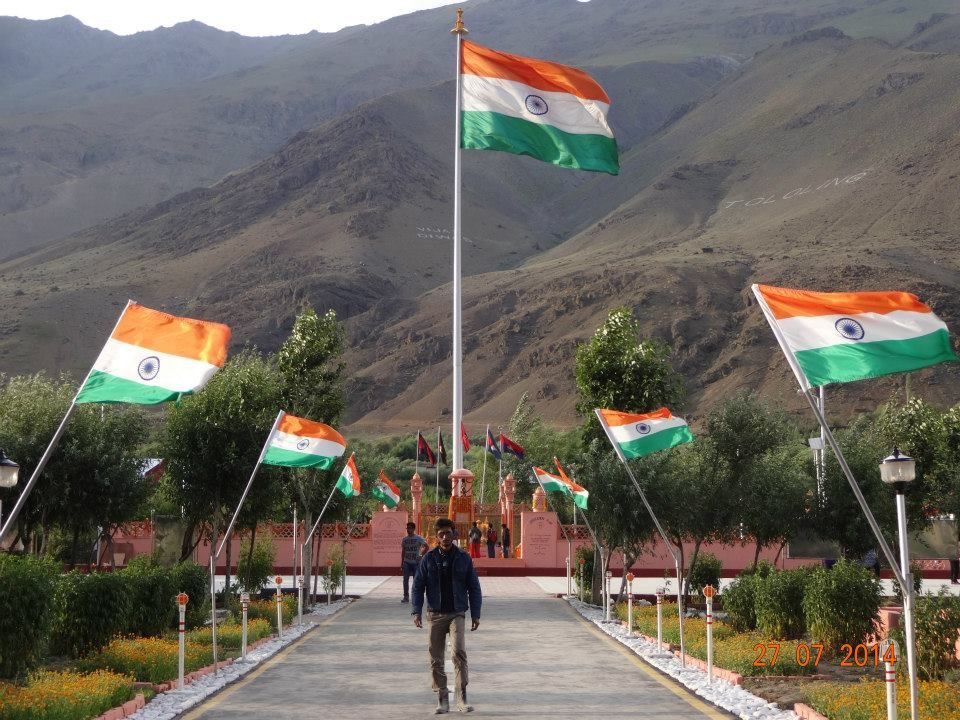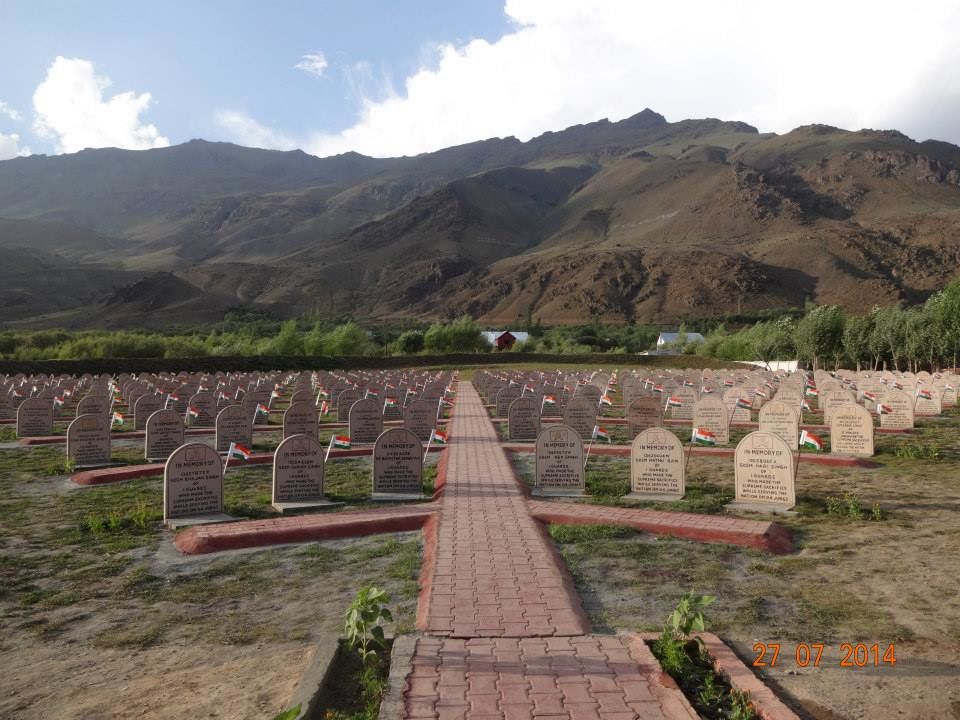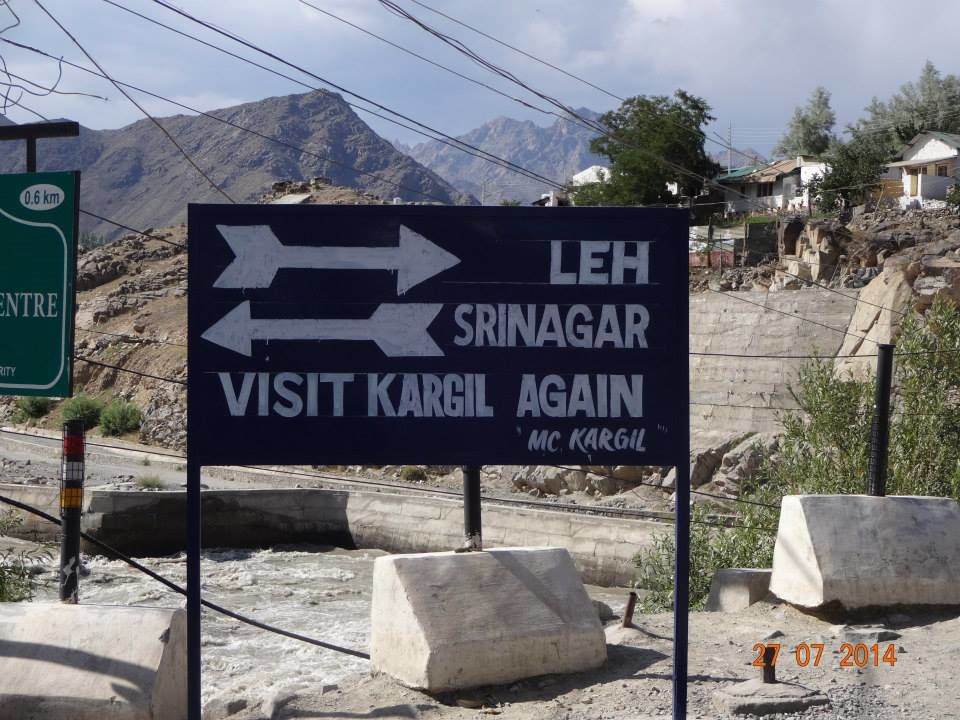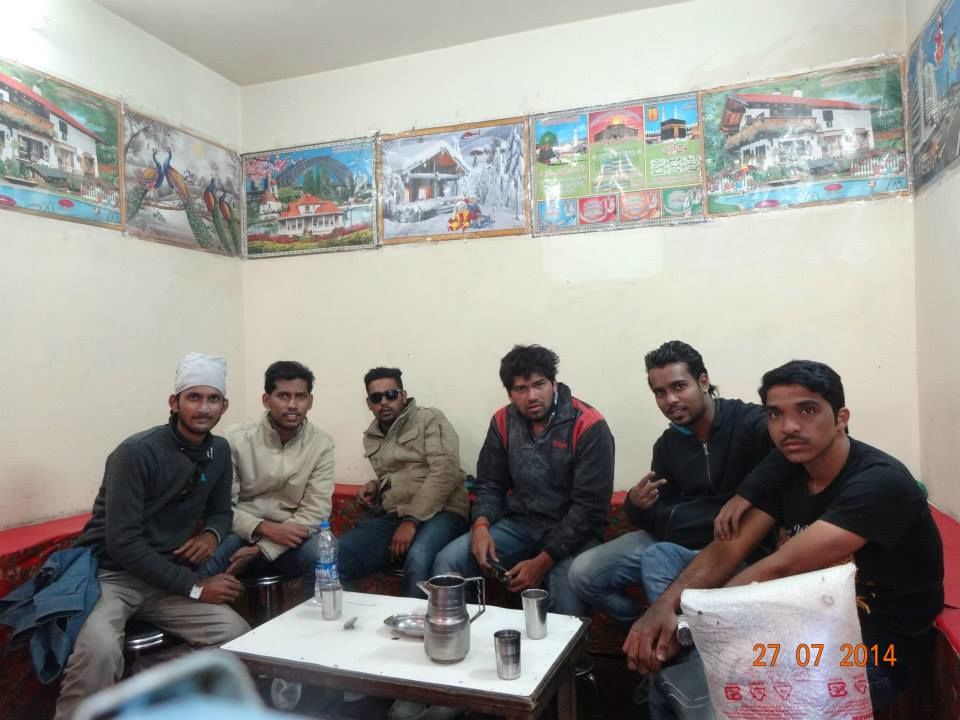 We watched the war short film which is free of cost inside the war memorial. Details of the war and the specifics are very well maintained and explained. Really a must visit for every Indian! #Respect.
We Left Kargil around 3 pm and knew we are already late on our schedule and have to search for a place to stay after reaching Sonmarg. We came across a beautiful valley around the dusk of the day later we came to know from a truck driver that it was one of the deadliest pass to drive and we had covered it in the dusk when it was getting dark. The pass was called a "Zozila Pass". Once again unknowingly we had checked on one more best things to do as a rider from our list. We reached Sonmarg late night and were wandering for a place for that night. Me and Sushant had went ahead to look out for a place while the others were hunting around the main market area in Sonmarg. We were unable to search for a hotel for 8 at that time and when returning to the spot where we left apart from the others we found that others were no where to be seen. With no battery and network and pitch dark we were really feeling helpless and lost. After a moment, an uncle with his old Maruti car came and asked us if we were looking for our friends who are from mumbai to which we said 'Yes'. He asked us to follow his car and we entered into a premises where the gushing sound of the river was just overriding the every voice. We parked in the area and were happy to see our friends just feeling overly excited by the overall place. It was really dark and after a long tiring day we just needed a good sleep with some basic food but too our surprise the Uncle who later claimed that he was the owner of this beautiful hotel also had made the cook to wake up from his sleep and cook a sumptuous meal for 8 of us. I still can't forget the feel that gave us that moment. We retired to bed after that. The next day when we really saw this place it turned out to be one of the beautiful places i've ever stayed (Offcourse) when you are back from Pangong and Leh it's really hard to match that level) but still this gave a touch cometition. They had their personal river side with a Camping tent right besides the river.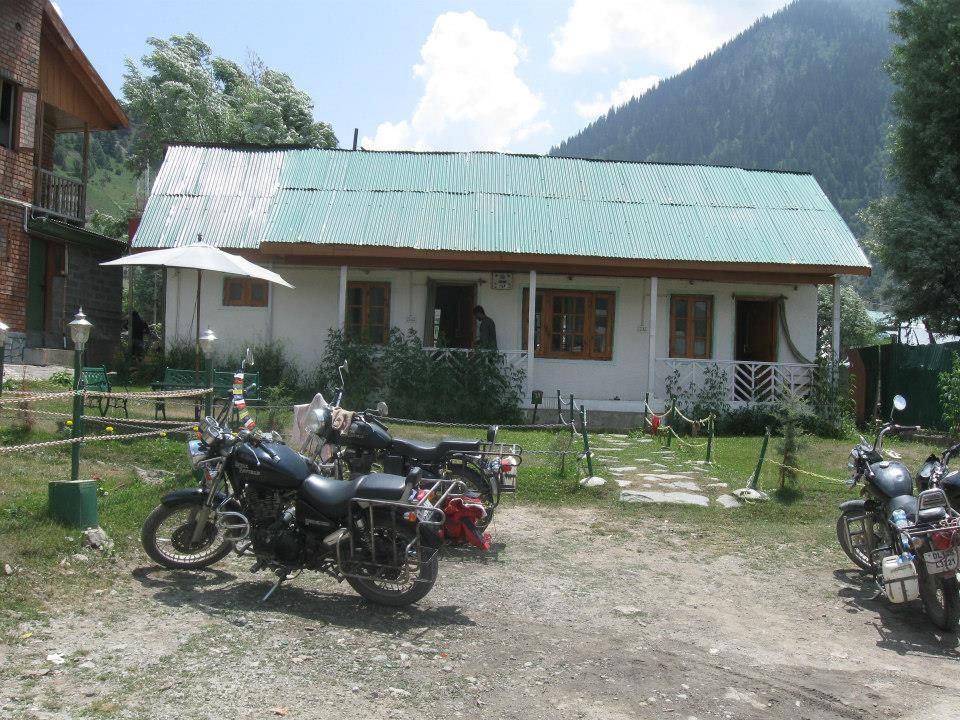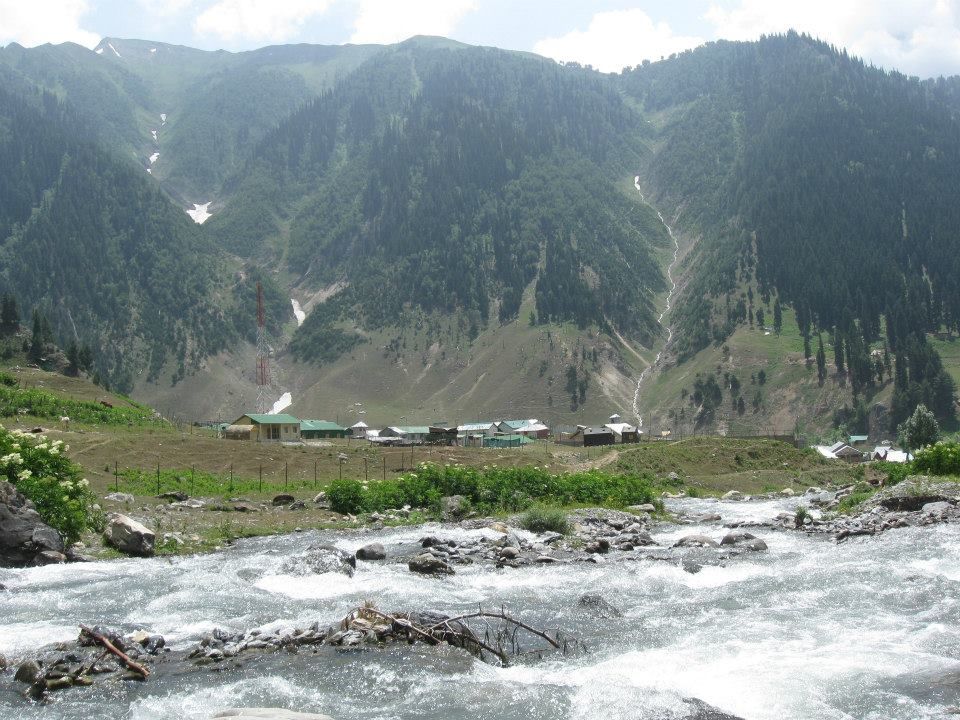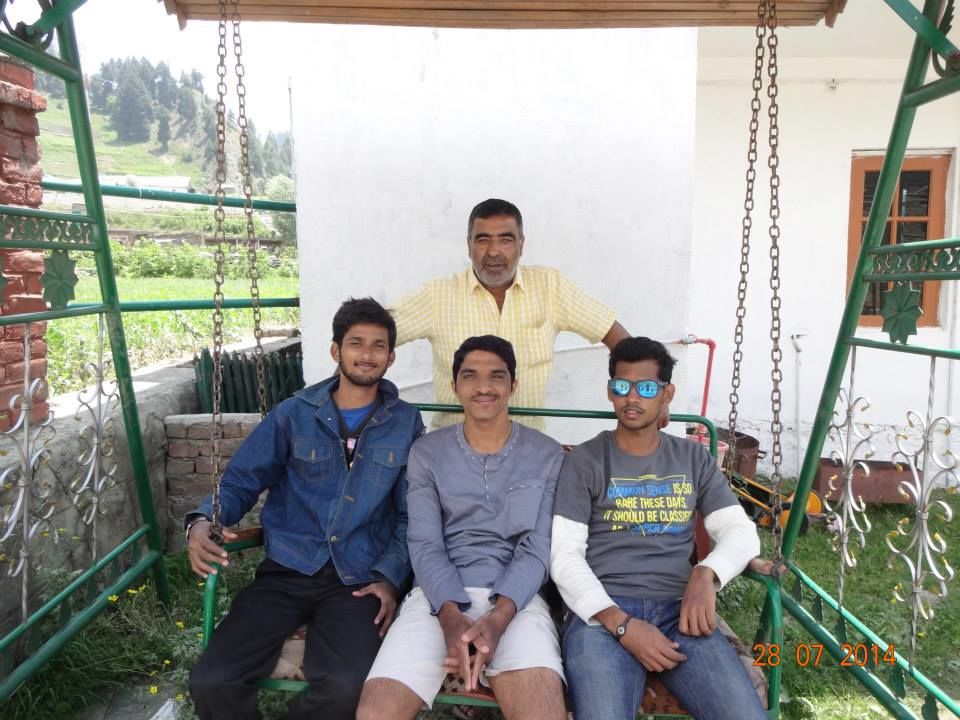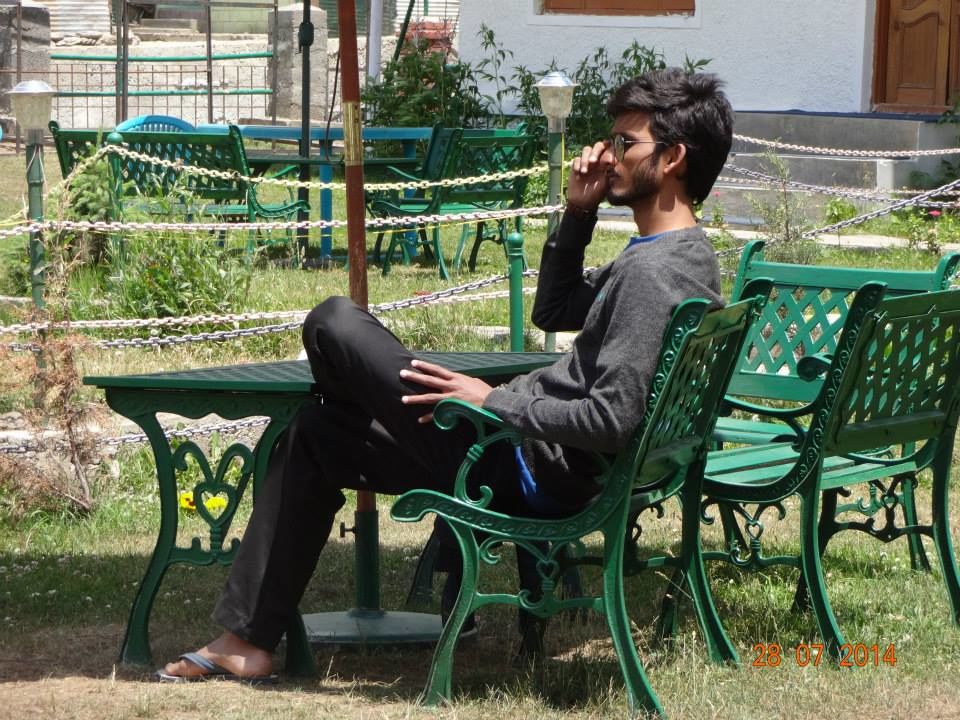 Day 14: Sonmarg - Srinagar (Dal Lake) | 80 Kms | 3 Hrs
We went for a small trek besides the hotel up the hill and adjacent to the flowing river in the morning. We knew the next stop was Srinagar (Dal Lake) and the distance was not that much as compared to what we were completing for the past 10 days. The roads were just smooth as butter (NH-1). We left Sonmarg post lunch as we were a fan of the kitchen of this place. We reached Srinagar by 5pm and it started to rain heavily. This was the first time we were witnessing such heavy rains on our journey. We took shelter under a bridge near the Dal lake. A small kid approached Dinar and Gunjan and asked if we are looking for a Shikara (Houseboat) to stay for that night. We were already drenched and just went ahead with where the kid was taking us. He took us to a small lanes eventually ending up to the place parked with boats and many other boats with all the facilities inside it. We were amused to see all this for the first time. The Kid was one the boat owners son and usually hunt for tourist for accommodation (now that's some direct marketing lessons learned.) Finally the rain had slowed his pace and we entered our houseboat for that night and by the time we changes and freshen-up'd the rain had completely gone. We planned to take a quick stroll at night to explore the local cuisines around and came back. At night we had a good playful sessions of cards, singing with the kid. Next day morning the view was scintillating. We had planned to visit the Floating market, Floating Garden Nehru Park, Try the Kulfi and some more shopping.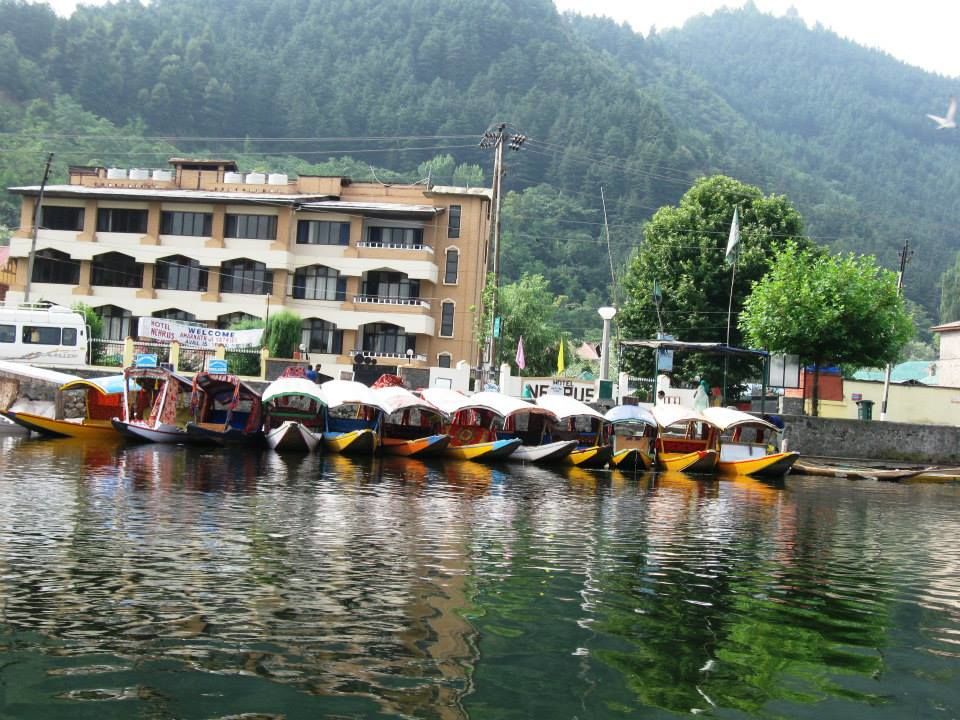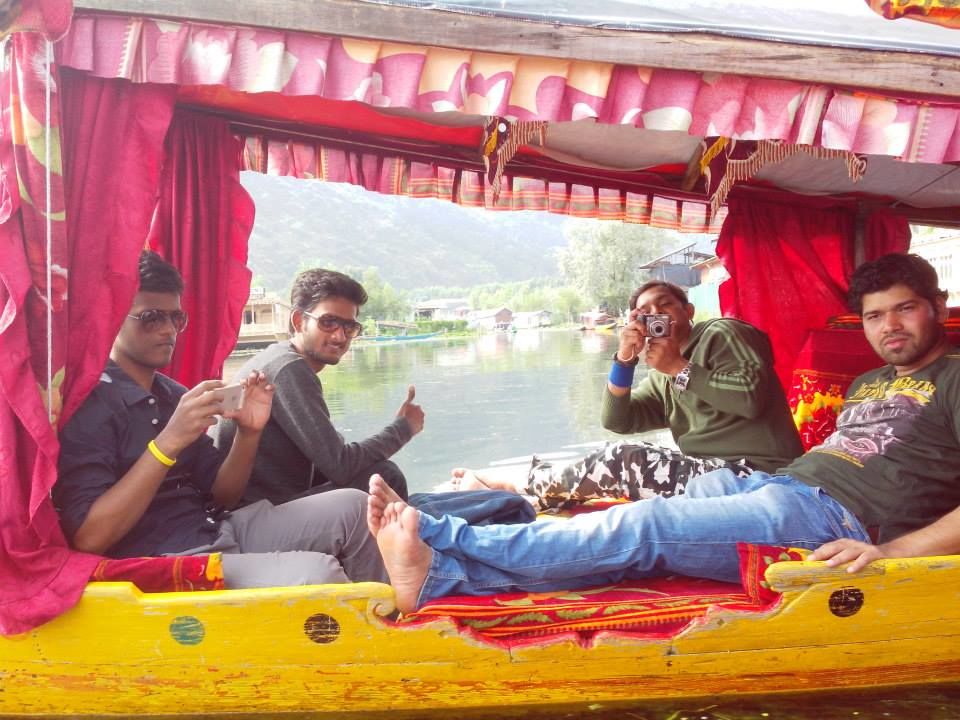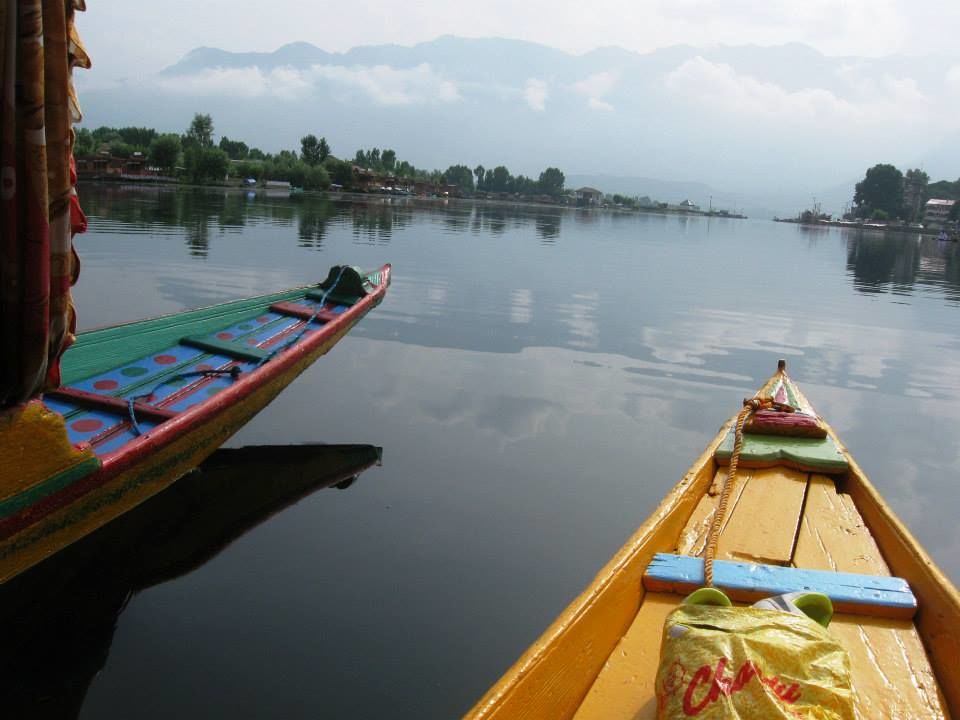 Day 15 : Srinagar - Anantnag (Hard Stop due to Break down of one Bike) | 61 Kms | 13 Hrs
We left Srinagar and had planned a halt at Jammu by late evening as per our planned itinerary. Hardly 30-35 Kms from Srinagar and Abhi's bike started to throw away from the path. At first sight we felt is was a normal puncture or some kind of wheel defectlater turned out to be the worst nightmare for us. The Wheel's centre socket was out and all the shops were closed due to Eid. 1 bike with Sanil and Omkar were ahead and had no clue with what had happened with Abhi's bike. Luckily Abhi, Dinar; Gundu, Gunjan; & Sushant and Me were together. We made it clear till the time Abhi's bike is not fixed we were not leaving from the spot. We tried every place where the local told us for a mechanic or spare parts dealer but No luck whatsoever. After going ahead with a tortoise slow speed looking for some help we came across a group of Sardarji's seating in front of a half-closed shutter shop. They asked us whats the scene and we explained all the things is details. We also told them we have to be in Deli by 3rd of August as we have our trains booked and also have to transport these bikes back to mumbai on time. They felt our pain and one of the guy just stood and asked us to park the bikes in front of the shop and to our surprise it turned out to be a mechanic's workshop. God in Disguise!!! We felt 1% of Hope and as soon as the Sardarji started working on the wheel we cam to know that the part is really exclusive that time and were not easily available. He explained Abhi where exactly he can find that spare part and asked hime to go and check for the same. Abhi and Dinar went and brought the part and all this took around 6-7 hours of our ride time. Meanwhile, Sanil and Omkar were already ahead and due to network issues they just had a hint that there's something wrong with us and they took a call to look out a hotel in Anantnag as they had reached there and were waiting for us. Sardarji helped us like GOD. We left from Awantipora by evening and decided to take a hard stop where sanil and Nishant were already waiting for us at Anantnag. After a long day just 62 odd Kms and around 12+ hrs to reach this day was our toughest day of the journey.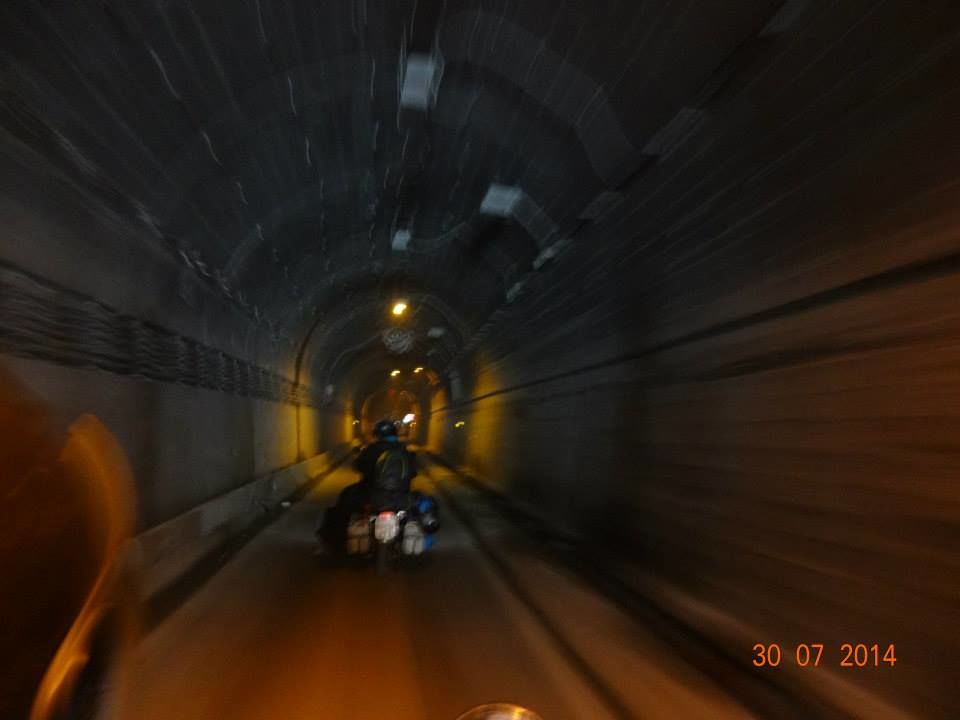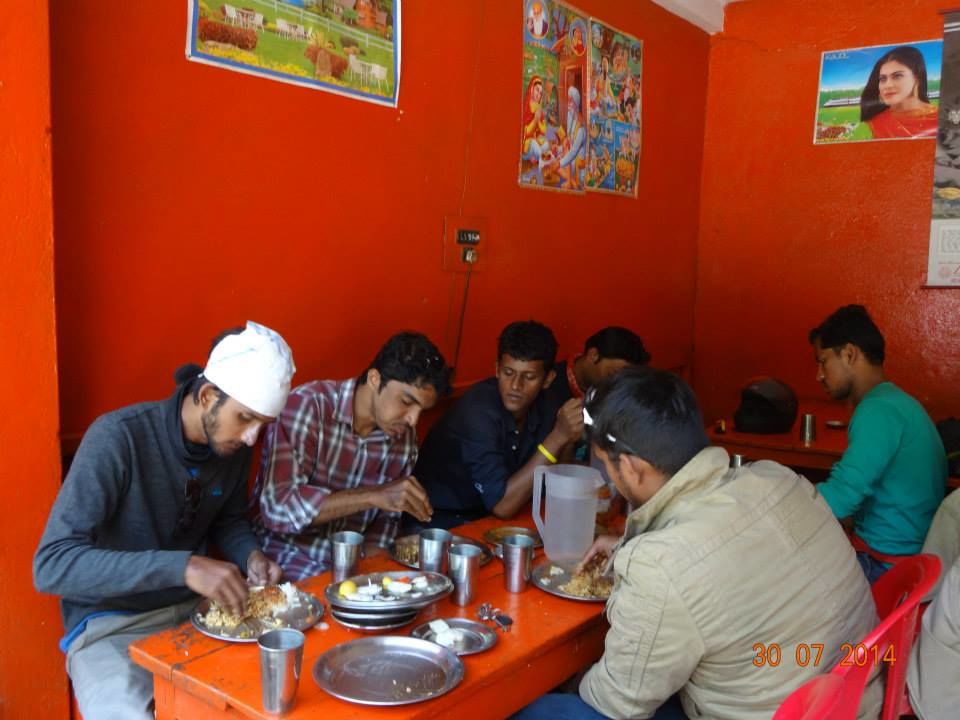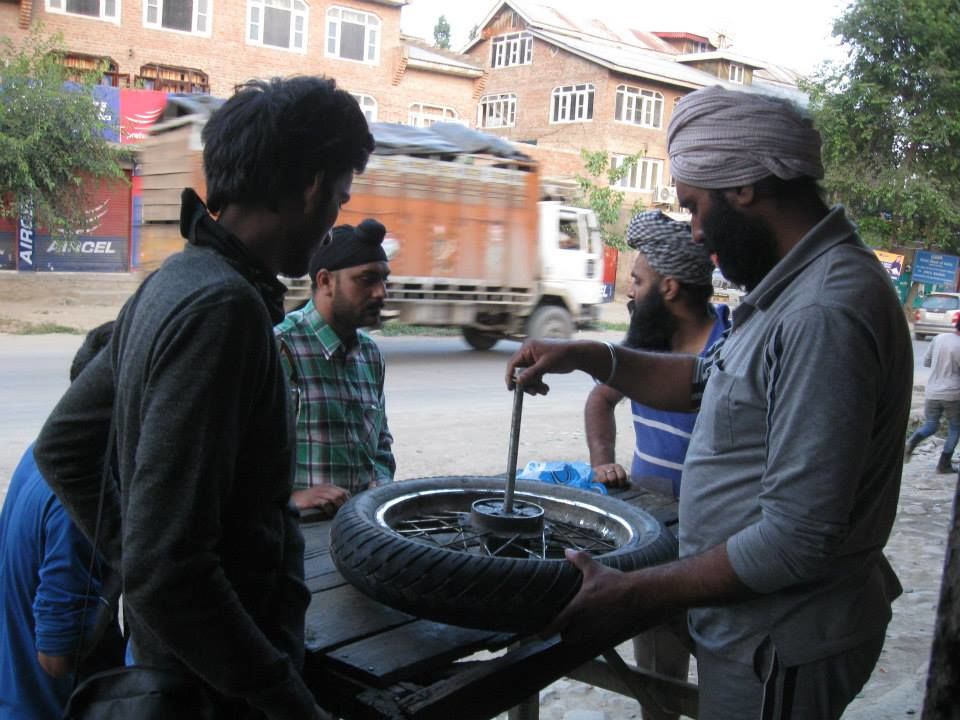 Day 16 : Anantnag - Jammu | 206 Kms | 7-8 Hrs
We left around 9 AM and made sure all the bike checks are in place.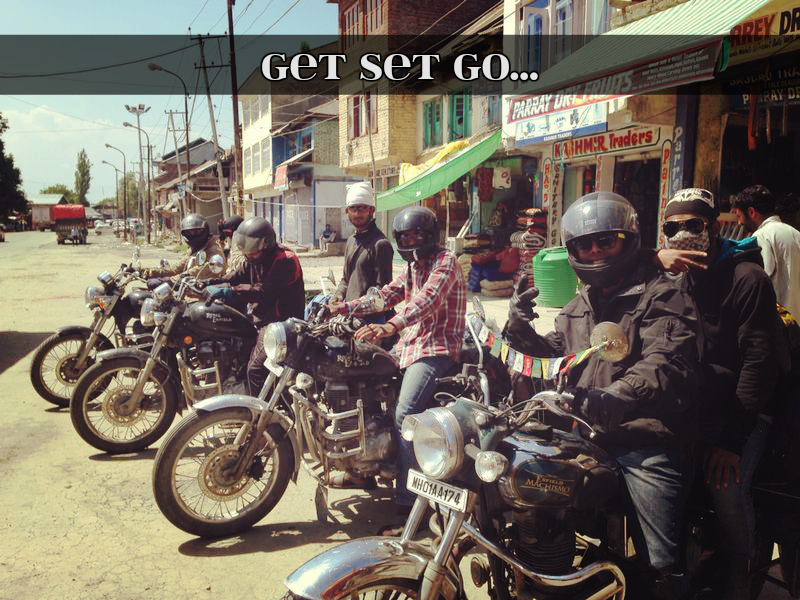 We reached Jammu late night and found a place to stay for that night woke up played cards, had breakfast did the routine bike checks in Jammu and left ahead for Chandigarh.
Day 17: Jammu - Chandigarh (Somewhere in the Hostel) | 350 Kms | 7 Hrs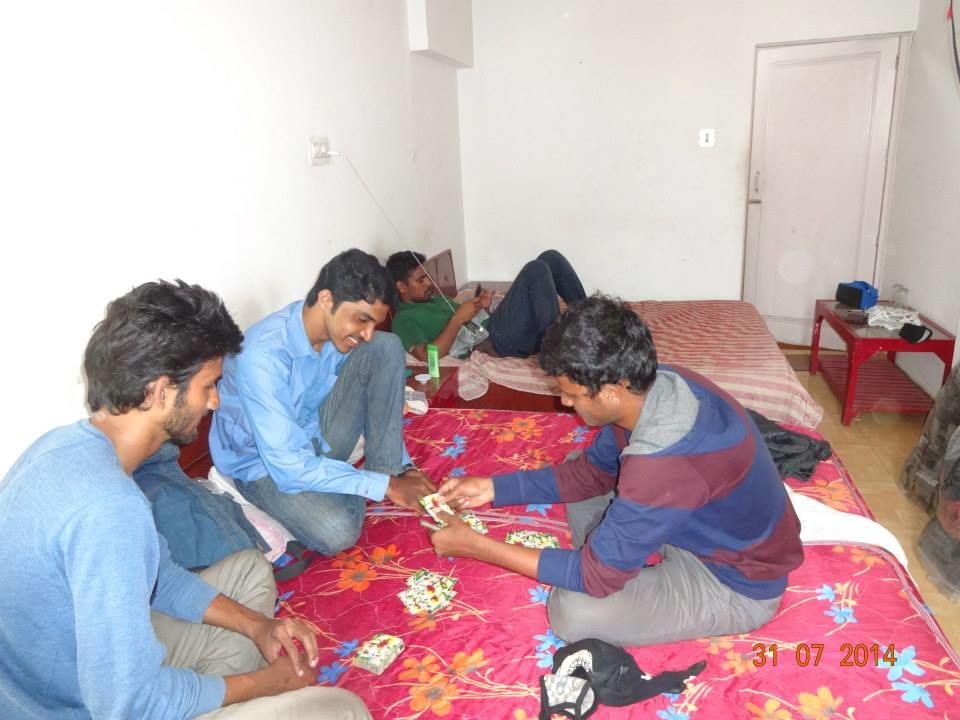 Day 18: Chandigarh - Sarai Rohila (Delhi) | 246 Kms | 5 Hrs
We knew it was our last leg of an epic journey with lots of dreams and more bike rides in our eyes and mind. We started to enter the metro cities and feeling the heat. Our Train was booked from Sarai Rohila Railway Station (Delhi) and return to Mumbai. We managed to find an agent who delivered our 2 bikes to mumbai (Bombay Central Terminus) next day after we left from Delhi (We have no other choice than trusting him blindly, which he stood by his words thanks Taariq bhai.)
I know this is a very blog to read, sorry for the same. This trip had changed my life from then. We went to this trip with pair of slippers, floaters and not even professional riding gears. We were lucky to complete this "Lifetime of a Journey" fully safe, sound and within budget, but we surely suggest everyone to be extra careful and street smart while taking certain decisions during such roadtrips. We learnt a lot of things from this trip.
Wherever you are, Please do not litter and try to keep the surrounding clean and green. Keep Travelling !!!