Back in 2013, after trekking to the Mandakini Glacier and Thungnath in Uttarakhand's Gharwal region, my sister Viji and I were so mesmerized by the snow clad peaks/green mountain/forest and its huge Rhododendron trees, we wanted to revisit this beautiful Chopta-Thungnath area during Rhododendron bloom time.
Somehow missed the Rhododendron bloom last couple of years, whenever I called Uttarakhand tourism office between March and April, answer was either no bloom yet or it is over early. Oh! how I wish they start providing accurate dates and information. This year, I was able to catch the tail end of the bloom time and I was recommended to visit before April 10th. Based on the popular Rhodedendrum bloom trek itinerary, we planned to go from Rishikesh to Sari village by road - trek to Devriatal - trek via alpine forest to Chopta - trek to Thungnath-Chandrashila - trek to Pothibasa and back to Rishikesh; total of 4 days of trek and later 2 days in Rishikesh.
Checked with Uttarakhand tourism and couple of adventure tours and decided on a custom package instead of fixed departure group tours for two reasons, one, our previous camping/tent - trek combination was some 8 yrs ago during Gangothri glacier/Gomukh & Tapovan trek. Two, we wanted to take it easy during trek and enjoy the nature and have the flexibility to stop at few temples on the way and change schedule if required. Checking out price with couple of organizers, we decided to go with Adventure trips, India. Cost was rupees 40K for 2 from Rishikesh to Rishikesh for 4 days with all meals, jeep, tents, sleeping bags, guide, cook, porter and helper. Price is half if you go with their fixed departure groups. Started looking for airline ticket and booked for April 2 nd from Bangalore to Dehra Dun (14,500 Rs/person roundtrip). Based on Organizer's recommendation booked The Green Hills Cottage (budget hotel with breakfast) in Rishikesh Rs. 2,600/- for overnight stay and The Great Ganga (Intermediate hotel with breakfast) for 4,000 Rs/night on the way back. Usually we prepare before any trips which involves lot of walking ... this time no such thing called "preparing" we had only 5 days & were busy.
Off to Dehra Dun from Bangalore by 8:10 a.m. Indigo flight. Our journey started with a beautiful view of sunrise on our way to airport and thank God! both the flights were on time! Took a prepaid taxi (1000 Rs for AC car) at airport to Rishikesh Green Hills Cottage. A neat place for a budget hotel; only thing is our trekking sort of started as we had to climb up 3 floors to our room (no elevator). We rested for a while; tour organizer (Ramesh) and guide (Hari) came to meet us in the evening and discussed the plan for next 4 days. They also wanted to make sure we have the recommended items from their checklist (like rain jacket, thermal & etc., usual trekking needs in the Himalayas). We planned on an early start next day at 7:00AM so that we can reach Sari by late afternoon to trek up to Devriatal. After they left, we decided to go to Laxman jula/hanging bridge on the Ganga which is 1km from this hotel. The walk was not pleasant due to narrow roads with no sidewalks and traffic plus dust. Had some light dinner and off to bed.
Rishikesh to Sari at 6554Ft (7Hrs road trip) - Devriatal/Deoriatal - 7800ft (Trek uphill 1hr -2.3km)
As usual we were ready early and checked around to see if we can get some coffee...no such luck as everything opens at 8:00 AM :-( by then our jeep fully packed for next 4 days along with Hari (guide), Sunil (cook) and driver arrived. By 7:15 AM we were on the road with magnificent views of layered mountains & listening to the roaring Ganga. Despite having done this route few times earlier you still feel the same excitement as if it's first time!. Stopped at Shiva Ganga hotel for a typical breakfast of parata, curd and pickle! Remembered to order Tea and not coffee (we all know how coffee tastes in North India ☺). Back on the jeep and time to enjoy the views again, started to see snow clad peaks.
I observed some positive changes since 2013 disaster - Abuse to River Ganga with too many rafting operators/centers with their camps right on the beaches of Ganga is mostly gone. These camps are now moved to backwater area. Power plant and dam constructions are reduced drastically since last visit. Main construction activities were road repairs, getting ready for the Chardham yatra tourists (piligrim to Badrinath, Kedarnath, Gangothri and Yamunothri) which opens May first week. We noticed in Devprayag and later in Rudhraprayag, the confluence of rivers Alakananda - Bhagirathi & Alakananda - Mandakini, the force of these rivers that you normally see after June was not there, as snow melting from mountains and rainfall yet to happen. Although these surroundings are in the beginning of the spring with many bald trees, it is still a feast for the eyes. Something magical about this route! Stopped for lunch at a roadside shack in Agastha Muni town 25km before Gupta kashi - What a nice name for a town! Tasty food! But the condition of the shack is something you need to ignore ☺ for your own good. This is the reason pit stop in woods is always preferred (in-line with Swachh Bharath!!? ☺). Here onward we started seeing residue of 2013 disaster. Lots of boulders of all sizes & shapes were in the path & on either side of Mandakini River; some of the old roads and bridges in shamble & new ones under construction with high retention walls. Saw many landslides in these areas as well.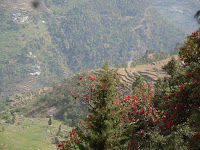 We reached Sari village at 2:00 PM. While luggage was being unloaded from the jeep, we filled registration/permit form from the organizer. A pony and a young helper (Ravinder) joined us for trek. As we got ready to walk with our backpack, pole etc., first thing that came to my mind was, wouldn't it be nice if first 10-15 min is all level walk with no uphill especially after sitting on our butt for 7 hrs. Like they say, If only wishes were horses... It is a short trek of 2.5km but uphill all the way! an elevation of 1000ft increase in 2Km span - Well at least this is my justification for huffing and puffing after hardly 5-10 min into the trek and oh! Not to forget another excuse of afternoon sun directly on us!!! ☺.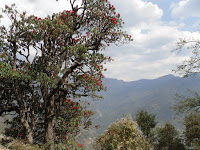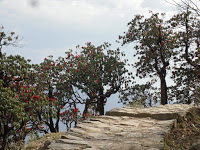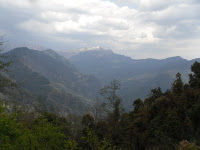 Beautiful views of the mountains and Rhododendron red & pink blooms definitely helped getting acclimatized to this ascend walk & brought smiles to our face. There is a cute Shiva temple with structure resembling Thungnath temple on the way and even a couple of chai stalls.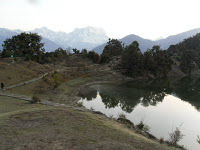 This fresh water lake is surrounded by Rhododendron and other trees and well known for its panoramic view of the Himalayan peaks Chaukamba (23,419 ft), Kedar (22,769 ft) , Neelakanth (21,640 ft), Kirti Stambh and many unnamed peaks all around. On a sunny day (usually after May), you can see clear reflection of Chaukamba peak like a mirror in this lake. Devriatal has its reference in many Hindu scripts "As per the Hindu legend Devas bathed here and hence the name, in our puranas it is referred as "Indra Sarovar". In Mahabharatha, this place is where the Pandavas while in their exile were asked the famous queries by Yaksha/Yama (Yaksha Prashne)." Our tent was pitched in front of this lake at an elevated area with beautiful view of Choukamba. After some hot tea and snacks, we went for a walk around the lake. Luckily it was a perfect time as the birds were going/coming to their homes. Got some good sighting of colorful birds! Walking amidst the flowers and birds around the lake overlooking snow clad peaks was visual poetry! We noticed quite a number of tents popping up - there was a 21 member Indiahike's group trek to the same places as us. Forgot to mention, the toilet tent that was setup for us was usual but big change from past experience is now they have foldable commode so no squatting exercise ☺. Area where this was pitched we could also see signs of quite a number of such tents pitched in the past. The good, the bad and the ugly side of introduction of toilet paper in India and sheer volume of trekkers to this area all year round was evident as everything else that happens there is biodegradable. Although I did not see plastic garbage...definitely lot of toilet papers. This time we experienced corroboration of trekking being popular in these regions by locals/Indians in the recent years. 10+ yrs ago, you would hardly see people, with booming economy, accessibility, marketing by many adventure tourism companies have aided this new wave of tourism.
Had good dinner (roti, rice, dhal, veggies and a desert) - decided with our guide to leave by 8:00AM next morning for a long trek of 15 km to Chopta. Headed back to our tent and called it a day! Since it was not that cold...we decided to sleep on our sleeping bag and not inside. Late at night realized how we had underestimated the chill and the wind and royally paid the price for not wearing all the winter stuff from the bag. I guess we slept on and off...
Devriatal/Deoriatal -7800ft to Chopta at 9840ft- 15km 6-7hrs trek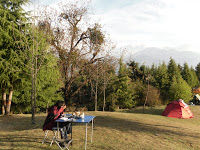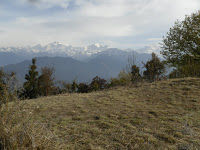 Got up early to a lovely view of snow clad mountain peaks from our tent. Had decent hot coffee (yes!! Coffee....not bad uh!?), and took a walk around the lake. This is a lovely place to relax with its greenery & views. Due to clouds unfortunately, the reflection of Chaukamba peak in the lake was faint. Had some breakfast, got ready (whatever it is ☺ when you camp) and left by 8:00 AM as planned.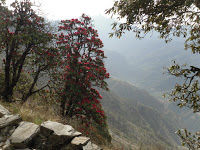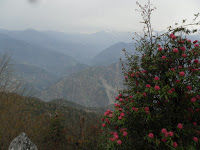 Today's route is an ascending trail on the ridge connecting to meadows of Chopta with other meadows towards Madhmaeshwar (one of the panch Kedhar). We pass through semi alpine dense forest of Rhododendron, oak and pine to reach Chopta. We were informed that the first few kms would be steady uphill till Sari peak and later would be a combination of uphill/downhill/meadows and again steady ascend for last couple of kms to reach Chopta campsite.
Started our ascend climb and hardly we had walked one kilometer, we encountered a huge wild boar that ran across from me in full speed. Ahh! The sight of Lord Varaha! Great sign to start the trek! Suddenly we also heard lot of chatting... local Sari village ladies off to the woods to fetch animal feed, they just zoomed past us on the ridge in their flip flops with knifes and ropes. They too were sort of short of breath while climbing ☺. As usual initial walk felt harder, but then you get used to the pace. This 2km walk to Sari peak has awesome view of the valley and the mountain with some flowering trees on the edge. After resting for few minutes on the top, we continued our journey thro' the alpine forest.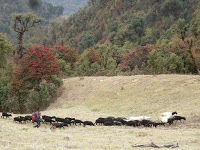 Spectacular bright red and shades of pretty pink fully bloomed Rhododendron flowers along with oak and pine trees with the enchanting mountain created a stunning landscape. Path was never the same; just when we felt at last some flat area/meadows, there comes the uphill and downhill paths.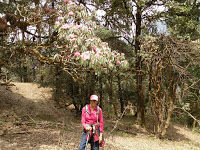 No matter how tired we were, these flowering trees and the flower carpet on the path would bring a smile. We also heard birds but saw none. By now it was afternoon, took a break for lunch (sandwich, dry fruits and juice) and started walking again.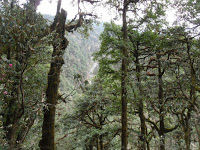 One particular area was totally covered with pink Rhododendron - so spectacular! We felt like camping right there. After 11km we encountered first water body! A water fall and a steep kilometer downhill, a stream... we saw entire Indiahike trekkers there finishing their break near the stream (they had left 30 min before us from Devriatal. After a few minutes break, we proceeded to an uphill climb from here on.
Felt good to have overtaken young trekkers, some were really struggling. A couple with 2 teenage kids in that group stopped us as they heard us speak in Kannada; they were from Mysore and on their first trek ever. Chatted and walked at the same time ☺ with them. This long 15km walk reminded me of someone's words on life journey "It is not the long stride but the incremental steps that matter" in its literal sense ☺ . Hurrah! We reached the campsite & crash landed on foldable stool at the dining table. We had taken 7:00hrs (lots of people do it in 6hrs). Piping hot masala tea and veggie pakodas were served in no time. Yummy! Thoroughly enjoyed these snacks while watching the majestic peaks. Some young trekkers who looked exhausted saw us comfortably sitting & looking relaxed by now...told us they just trekked 15km...others in their group who had seen us told them we also have come the same path ☺ and that we have reached campsite before them. We rested for some time and hoped to watch a good sunset. Well! No such luck as cloud started to appear! We asked Hari for early dinner as we had planned another long tougher 8 Km trek to Thungnath & Chandrashila next day. Other trekkers were happy they had a rest day next day.
Here too we saw many tents popping up by late evening. For the night, we decided we will gear up ourselves with all the winter clothing we had brought and to sleep inside the sleeping bag as we were at higher altitude. We turned in around 8:00PM and voila! The rain! Despite the rain, we slept well as we were fully prepared for chilly, wet and windy night. It must have been around 3 degrees that night.
Chopta camp 9840ft- Thungnath 12,073 ft-Chandrashila peak 13,000 ft - back to chopta camp 9Km trek - Rained out
Woke up to the sound of rain! Luckily there was a break in the rain around 6:00 AM when we were able to finish our morning duties and get ready. Plan was to start the trek by 8:00 AM but nature had other plans! It started to pour by 7:00 again with increased intensity. It was totally grey by now with minimal visibility. We were served hot paratas for breakfast in our tent... we tried to kill time by listening to music and exhausted our mobile batteries. By 10:00 AM, I started to feel agitated as you have to sit cross legged or lie down in the tent & opening meshed window area would bring in rain. We made plan B - told Hari to take us to Chopta town to any shack/hotel that is open. If rain stops by 1:00 PM then we still go on trek if not, accept the fact it is not meant to be! When you are in the midst of prakruthi/nature, she dictates and you bow to her!
Walked down to a motorable road and got into our jeep that was waiting there to some dabba/shack type road side hotel. Since driver knew them, they made some fire for us as it was wet and cold. A group of ladies came all wet and hungry. They were from a trekking group who tried to go up to Thungnath in this weather and hardly a km into it they turned back due to slippery condition and snow at higher elevation. Most of them were from Bangalore (looks like lots of Bangaloreans have taken to trekking). We told them our main interest is to see the bloom and with no visibility, no point in going there in pouring rain. When asked, they could not even tell us if there was bloom up there :-) guess no visibility!
Although hotel accommodation was all shut and reopens only in May, owner said they can provide a room if required and showed us the room. There were some 3 rooms at a level below the street under their dabba/shack. It was very basic and bed/sheets everything sort of damp due to the weather. There was no electricity till 7 PM, later they have minimal solar power (1 light and 1 plug point). We went back to the tent for lunch (as our cook had already prepared). When the helper boy kept all used plates, cups, pot and pan outside to wash, we were in for a surprise with appearance of organic cleaners - A Sheep & a horse came from nowhere and attacked utensils and plates and cleaned it all up : -) ! What an entertainment! After they were gone, we spent some more time in the kitchen tent as it was warm with the burning stove. With no sign of rain & thunder slowing down and with new member joining the nature's wild party - smart move isnt'it?). All night we heard howling wind and rain and at one point it was plain scary, it was as if something hard hitting against the room wall. blowing wind, we decided to stay at that hotel that night and went again in the rain to that shack. Ensured to carry our sleeping bags from tent (to put on the bed :-)
Chopta to Pothibasa 6km then to Rishikesh by jeep - Changed to Thungnath & Rishikesh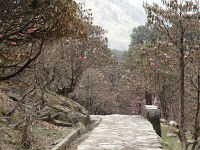 When we got up, shocked to see the plastic patio tables from hotel had flown and broken to pieces. I guess these were what were hitting against room wall. Rain had stopped around 7:00 AM but still very cloudy. Got ready & went up a level for breakfast, saw many items that were in the open area was scattered everywhere. Hari told they had a nasty night holding on to tent from midnight till morning due to sheer power of the wind. Later, when we met Indiahike trekkers, they too said nobody slept as they were too busy holding on to tents and during day, was standing elbow to elbow all day in their dining tent. Wise decision by us to move to a hotel - perk of the customize package. Another key advantage: flexibility - We changed our original plan of trekking to Pothibasa and jeep from there to Rishikesh. Instead, we asked if we can trek up to Thungnath if not all the way to Chandrashila ( the trek we missed from previous day), as we had so much imagination and expectation of bloom in this trail and did not want to miss it.Hari said we have to be back by noon for the 7 Hr drive to Rishikesh to accommodate couple of temple visits that we had requested earlier. So, off three of us went towards Thungnath. By now the cloud seemed to have disappeared. We just carried a stick and a bottle of water; feels light without backpack. We were familiar with the path and ready for ascend climb as we have done this route earlier in 2013. There were Rhododendron blooms at the beginning of the trek and that's about it. Since the elevation increase of 2,000+ ft within 3 km distance, climb is quite steep and within a km of trek you can see the valley below. Noticed that the mountain was in stark contrast to what we had seen in 2013, back then it was summer and mountain and trees were lush green. Now, totally different! A bare look! The flower boom at this higher altitude looked like occurred around mid March, the Rhododendron huge bushes & trees leaves were all brown, post its bloom. Sort of disappointing! Started to get very cloudy and could hear thunders... oh no! We did not even bring rain jacket! But then, we did not care as we were leaving for Rishikesh anyway! After about 1.5km, started to see signs of snow from last night/early morning. When we were little short of Thungnath, we saw German trekker who had walked past us earlier returning. I asked her up and down so fast? She said, no they decided to turn back as it was all snow and if it rains now (which it looked like) , it will be slippery going down as it is steady downhill to the base and they felt it was not worth it. We discussed and decided to head back as there was no bloom and no good view of peaks either due to clouds. Felt good though that we came up till here - at least we saw that bloom was over/finished here, had we not done this, we would only be imagining what we might have missed.
We got into the waiting jeep and on our way to Ukhimath - Situated at an elevation of 1317mts, offers panaromic view of Kedarnath peak, Chaukhamba & other green beautiful valley. Omkareshwar Peeta/temple is one of the oldest in the country and houses the dieties of Kedarnath and Madmaheswar during the winter months when the temple at Kedarnath and Madhmaheshwar remains closed. These dieties are taken back in a procession to their original temples in mid May. It is believed that the wedding of Usha (Daughter of Vanasur) and Anirudh (Grandson of Lord Krishna) was solemnized here. This place was named as Ushamath after Usha and is now known as Ukhimath. It houses several artistic ancient temples dedicated to Usha, Lord Shiva, Goddess Parvati, Aniruddha and Mandhata.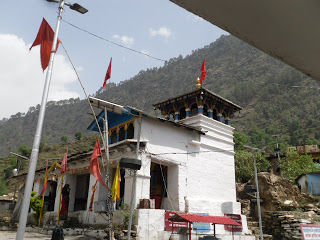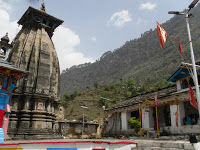 Temple complex has a beautiful colorful structure. It was a great time/season to visit this place as there is no crowd/rush of char dham pilgrim crowd or should I say just three of us were there! Priest opened the garba gudi/inner sanctum for us and showed the deities and told us known stories of how panch kedar came into existence & Anirudh/Usha wedding. Since Priest is from Karnataka, he seemed happy to explain to us in Kannada. (This came as surprise to us as even acknowledging a fellow kannadiga in kannada is eighth wonder nowadays ???? )
cloud burst in Kedar and the disaster that followed , there was many theories/coincidences/unanswered questions that we all saw & heard, two most fascinating things that stayed in my mind are - " From here we traveled to Rudraprayag with a view of Alakanandna and Mandakini confluence and had a good lunch! Stopped by Dhari Devi temple on the banks of Alakananda in Srinagar. This is another place we had specially requested to stop-by. Back in 2013 after the How a big boulder from Mandakini glacier that had came rolling down stopped exactly few feet from the temple and how this in turn saved the temple complex from any destruction by channeling away gushing water & debris coming down from Mandakini glacier's Gandhi sarovar and another one is moving a very ancient Dhari Devi idol from its original location hours before the cloud burst occurred to make room for a dam. Apparently a similar attempt to shift idol in 1882 also caused similar effect -Read this link for some interesting theory " http://paropakaara.blogspot.in/2013/06/dhari-devis-wrath-cause-of-kedarnath.html wanted to see this temple. It is one of the 108 Shakthi peetas! It was almost like a trek, some distance from the main road with afternoon sun directly on us! Interestingly the outer entrance from street is like a south Indian temple structure (later we found the artisans working are from south), saw lot of Nagas on this long path before we crossed a hanging bridge on Alakananda river to reach the temple. Once you enter the bridge, it is full of brass bells of all sizes tied by devotees. Original place of idol was on a large rock in water and structure built around it. The temporary higher floor structure is the location where idol was cut & placed from its original lower level area which now is under water. A very nice and calm face of Devi! Govt is building a new temple right next to this place. Hmm...Govt. is planning to move the idol again! Time will tell when they move... what might happens if anything at all??!!.
We proceeded towards Devprayag. This is a confluence of two distinct color Rivers, Alaknanda and Bhagirathi forming the mighty "Ganga". What a magnificent view and sound of roaring Ganga! From here we head straight to Rishikesh. By 6:00 PM, reached Hotel Great Ganga. Hotel is in great location with a view of Ganga across from Parmarth Ashram & very close to Ram jula/bridge and Triveni Ghat. Access to the hotel by foot is a totally different thing- it is a real climb up with no proper stairs (I guess trekking continues). Felt it is overpriced@ 4,000 Rs/night. But then again we got cheated by booking.com price display, which shows price as 3000/night (they don't include tax...missed the fine print). Hotel receptionist told us, not to book using these sites and to call directly for better deal. One should use these sites to know the price in India but book directly. After checking-in we ordered some hot masala tea and pakodas... first time in 4 days - saw myself in the mirror!!That's right! We had not taken even a small mirror... I thought to myself - No difference with or without any makeup (a reality check, shall we say ☺ ). Nice to take shower after 4 days! We heard prayers of Ganga arathi and watched it from Balcony. It was at Parmarth Ashram Ghat across the river. Called it a day!
: Got up early for a walk on the Ghat. When we came back - there was a visitor waiting on balcony. We fed him with energy bars. After quality time with him, had breakfast and time for another stroll around the town and some shopping. Oh my! vacation is coming to an end :-(. Time to head to airport for our late afternoon flight to Bengaluru!
Talk about coincidence, the same family from Mysore who crossed our path during trekking was not only in the same flight but right next to our seats. Chatted with them all the way till we reached Bengaluru.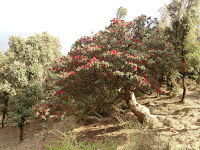 What a fantastic short and sweet trekking trip! Uttarakhand is so beautiful with its Himalayan range, flora and fauna everywhere! Feel so lucky to get this travel opportunity as a gift from Viji! What more can I ask for? Also this trip was a feel good factor for both of us as we felt yes! We still can do such camping treks after years and with the same stamina and energy! All credit to the Himalayan power with its visual treat and fresh air which makes everything possible and pulls you back to her like a magnet! No wonder they say Himalayan range is filled with satvic/pure energy. For a total cost of 43,000 Rs/person for a week it was worth it! If you plan early for flight and do group trek - you can save 10-12K/person. Try this wonderful trek, you will not regret!