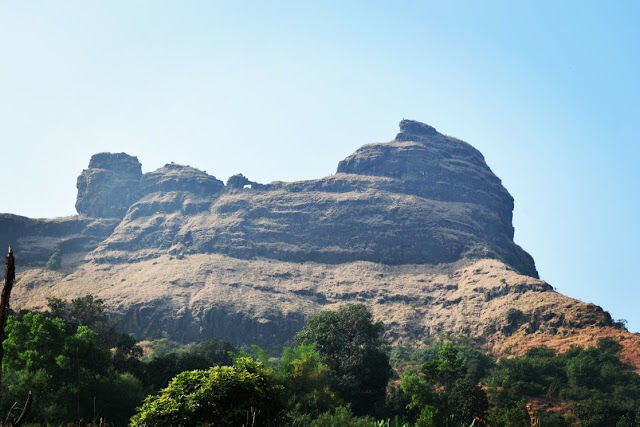 (Irish Pereira, Kaustubh Meher, Ashok Maurya, Priyanka Polekar, Vidnyan Pednekar, Umnesh Chavan, Alka Patil, Navanath Parte, Amol Gurav, Amit Mahindkar, Kasturi, Laxmi Mahindkar, Daniel Pandian, Vaishali, Swapnil Chavan)
Irshalgad was since very long on my trek list since I had first used Mumbai Pune expressway. This double pronged pinnacle is on left hand side while going to Pune. However almost all groups plan trek upto nedhe of Irshalgad and not top. Nedhe is a natural arch formed in the rock or mountain. It is almost the near to top but is not top of Irshalgad. Becoz it is biggest pleasure to reach top and enjoy panoramic view it provides. To reach top one has to climb one 20 feet rock patch, navigate through scree routes and exposed traverse patch. To do this one needs rock climbing equipment's such as ropes, harness, carabiners, safety helmets etc. Only few trekking groups arrange for this type of complete trek cum rock climbing missions. So I was looking for one of such complete missions of Irshalgad.
So I enrolled myself with one of few groups whom i trust with for such rock climbing treks but due to my logistics problem could not make for it on time at Panvel. And hence missed that trek.
Another of my trusted groups came up with Irshalgad top trek plans. This time around my buddy Kaustubh was also interested to accompany me and try his hand on rock climbing. So as per schedule we were to reach Karjat at 12:00 Am. So after boarding appropriate trains from Virar to Dadar and Dadar to Karjat along with slight delay in train we reached Karjat around 12:20 Am. There our entire group was waiting for us, actually everyone has taken the same train. We were group of 22 including trek leads.
There were 3 vehicles i.e. 2 Maruti EECO and 1 tumtum rickshaw waiting for us to us for our journey towards Chowk. Now Chowk is the base village for this trek. It is also on the Indian Railway network with Chowk station but has very scarce train frequency. So after half an hour journey on Panvel - Karjat highway NH4 we reached Karja village near chowk at around 1 Am.
There our trek leads sorted out all the rock climbing equipment's and handed one set to each one of us. The set included a harness, tape sling, carabiner, descender and helmet. We were to carry it with us and hand it over next day after trek. So after equipment break our trek started around 1:40 am. So after brisk 10 mins walk, we encountered steep climb on well-defined route made up of scree and small loose rocks. Here we got first glimpse of Morbe dam which was placed on our right hand side. There was cool breeze blowing from dam which was a pleasing for our bodies. At around half an hour of trek we took a short break on the plain area on the route. The cool breeze here was very refreshing. From here we could see pronged pinnacle in the moonlight. So we reached Irshalwadi at around 2:45 Am. This was our resting place for the night.
Irshalwadi is a small village at base of Irshalgad pinnacle with most houses were mud thatched with cow dung plastered outer verrandahs. We were hosted at a young lad named Ganpat pardhi's house. So here in his veranda we stay put for the night. Those with sleeping bags slept in it and others slept in their blankets and shawls.
We had good nap and were waked up around 5:30 am. After wrapping up our sleeping gears and finishing our morning chores, we had our breakfast of hot poha and tea.
Here after brief introductions of our fellow trekkers we started our trek around 7 am. We were surprised to see our youngest trek mate named Kasturi Amit Mahindkar who is aged just 7 years. Actually her parents Amit and both being trek enthusiast could not keep her back home alone, so she accompanies them on their treks. Please note to our surprise she made it to the Irshalgad top.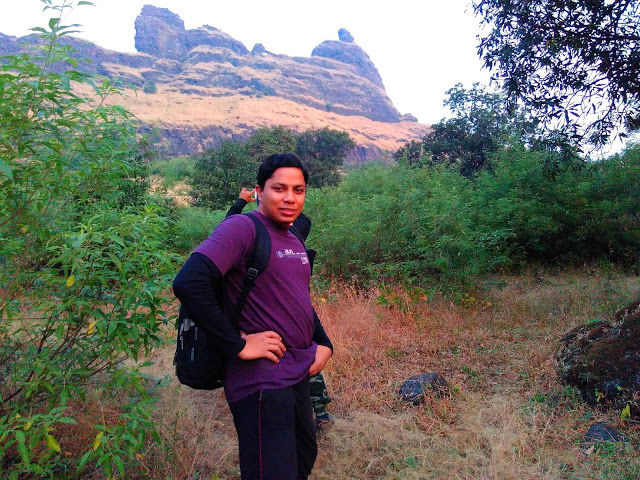 But so after a short walk we all waited to see beautiful sunrise.
After few minutes of steep climb we encountered few big rocks on the way and missed the route. The correct path was towards the left side of the rocks which leads to the top. Here we wasted our 15-10 mins due to wrong route. But still it provided kaustubh with hands on trianing for rock climbing. Everything happens for a purpose though.
After negotiating a steep rock patch with a small wooden ladder we reached the Nedhe at around 8 Am. There is also small water tank at base of nedhe. This Nedhe or 'needle's eye' is so huge and prominent that can be seen from even express highway.
Passing from nedhe towards south is the rock patch towards top.
Here our trek leads namely Sudhir and Kalpesh had already completed the climbing set up. So with guidance of other trek leads our team started to climb the patch. Ashok my fellow trekker also being experienced trekker himself did it with ease. As I have done hard-core climbing treks earlier, this rock patch seemed rather a cakewalk to me and I requested Ananda to allow me to climb the patch without rope support. But he concerned for my safety refused plainly. He was like if you are confident enough to climb on your own then consider the rope as just formality. Here I respected his concern as that what Vrangers stand out for "Safety comes first". So I climbed the patch with much ease. So after me my buddy Kaustubh also followed with much guidance as it was his first time around with rock climbing. Following him were Daniel, Amol, Navnath, Alka, Manisha etc. See my rock video below.
After rock patch, we still had hooded top rock still to be climbed. But we were given to know that it was not to be climbed, but can be reached by a traverse patch from left side.
So here the traverse is very steep and tricky. One need to be very careful at this traverse as one wrong step and you are down in the deep valley. With trek leads guidance and tape sling anchoring the anchor ropes we reached top at around 9:30 am.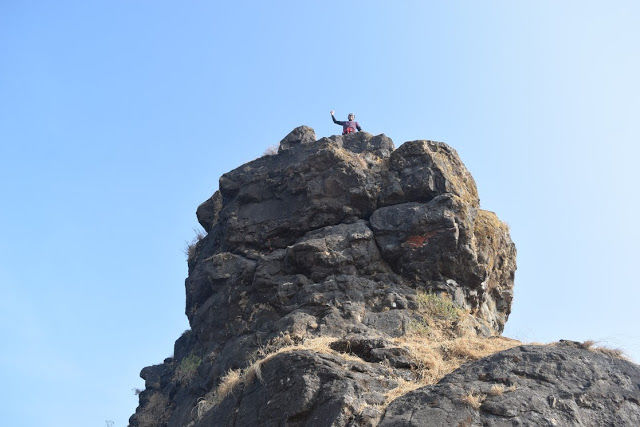 What a wonderful feeling it was. With full view of Morbe dam to the east and surrounding areas was awesome. We can see Prabalgad, Matheran from the top. There was lots of breeze blowing at the top.
After some clicks we began our downwards journey as other of our subgroups was to climb the top. Group was divided into sub groups so as to avoid crowding at top. As there is very little place at top of Irshalgad.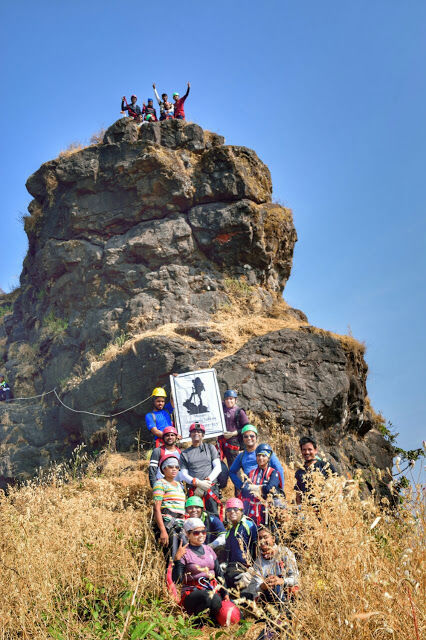 Again after walking down the traverse patch, we had a group photo here. After that we awaited our turn to rappel down the first big rock patch. There was another group waiting for us to rappel down so that they can climb the rock patch.
Then after reaching the nedhe again by 11:30 am, we took a short half hour recharge break. Here we had snacks, cucumbers, khakras, dates etc.
After break we started again at 12:00 pm on our return trek and decided to reach Irshawadi as early as possible so that we can have lunch and get some rest till other of our group mates return to the place. On the way we found huge cave like structure and decided to pose like Baba's in the cave. Trekkers are awesome people to be with ...I must say. We 5 of us reached Irshalwadi at 12:45 PM.
At our host ganpat's house, we refreshed ourselves and had a hearty veg lunch. We were very hungry and literally gulped down the hot lunch. After lunch we lay spread ourselves till our other trek mates returned. Our entire group returned at around 2:00 pm.
Again after lunch entire group rested till 3:00 pm as the trek leads took stock of the equipments. Then at 3:20 pm we left Irshalwadi for chowk. The route is quite simple and well defined. The route is very steep at some points, but we had not noticed it in our night trek.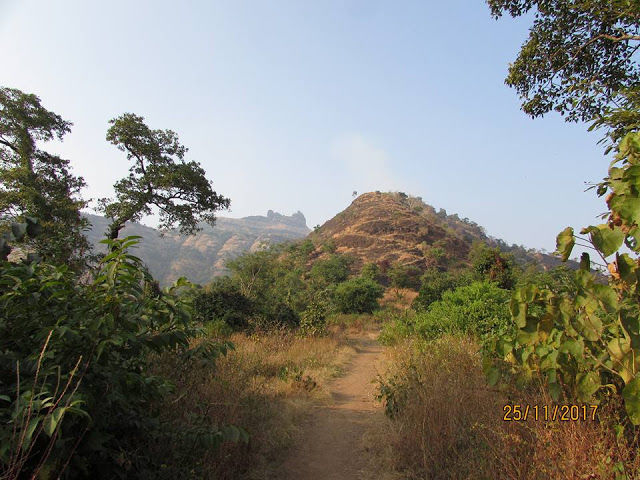 We were mesmerised to see Morbe dam and had a desire for swimming; but timings didn't permit us for the same. So we reached the pickup point at Chouk at 4:00 PM. Here in 15 mins our transporter arrived to take us to Karjat. After we left Mr. Navnath Parte tried some of his photography concepts with cheerful trekkers while they were waiting for their transporter.
We while returning to karjat insisted the naive driver to rush for us to catch 4:54 pm train from karjat to Mumbai. As the succeeding train was 45 mins after this train.
However Bhau didn't obliged to us, so he kept on driving leisurely. But to our good fortune we reached Karjat station at around 5:55 pm and boarded the said train; all thanks to always late central railway and reached Dadar Mumbai by 7: 40 pm. From there we took train to Virar.
To sum up, this trek to Irshalgad was a wonderful experience in itself. Beginning with night trek, then sleeping under open skies, then rock climbing to top with such a wonderful, cheerful group was experience to cherish with. Also it was well arranged by Vrangers who keep safety of each trekker to forefront and complete the treks as per schedule.
Founded in February 2009, Vrangers is one of the fastest growing trekking community with adventure passionate members. Geared with experienced mentors, they arrange for various forms of adventure sports.
By public transport, you need to reach at Chowk town between Panvel and Karjat.
Chowk is 19 kilometres from Panvel and 12 kilometres from Karjat on National Highway NH4. Buses and auto rickshaws plying between Panvel and Karjat stop at Chowk.
Ganpat pardhi provides with stay and food facility in Irshalwadi.
- Rs. 150 (unlimited - rice dal bhaji chapatti)
Happy Trekking, Keep Exploring!!!!
For more trek and travel you can check my blog. https://irishpereiraonthego.blogspot.in/