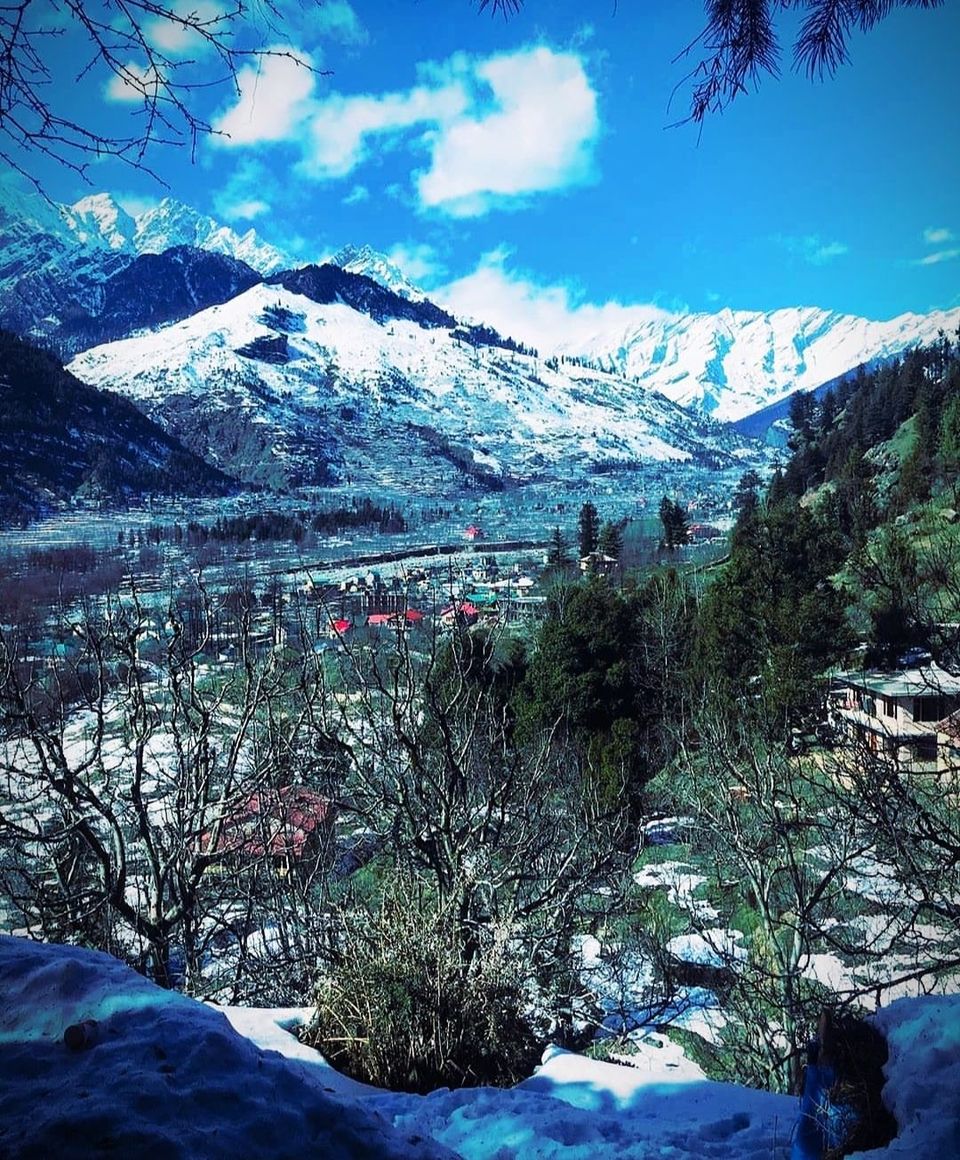 Life is a long road we travel, from experiencing the beauty of path filled with flowers to continue the journey with hard rocks beneath our legs. Many a times there is an uncertainty in our way which has either sweet or bitter taste.
Well, in my case the roads turned out to be thrilling one, there was a great gush of my adrenaline with every moment my chartered bus traveled along its way to Manali. There was a mixed feeling of excitement and guilt as the dream of going on a lone journey was finally coming true with the fact that my family still supposed that I was doing my internship in Delhi.
The bus continued along its way taking sharp turns every other minute and I saw a beautiful yet scary face of nature which was welcoming me and at the same time challenging with narrow roads and deep valleys. The long boredom of my internship had finally been broken and I felt wondered at how the 'untouched' songs from the playlist of my cell phone were making me feel amazed as if revealing their beauty to which I finally surrendered to sleep."Cherry lenge bhaiya, Himachal ki special h" broke my sleep as I saw a group of mature women standing beside my seat in the bus who were as energetic as the chilling morning winds and their face as red and welcoming as the cherries they were selling. It was 7 AM in the morning and I was 80 kilometers away from Manali, 40 Km from the Kullu Valley. After the minute hand of my wrist watch completed its two rounds, I reached Manali.
A serene town located amidst the 'aanchal' of the Himalayas. Manali had everything it takes to describe 'someone' beautiful. In this case the indefinite pronoun was a city where my shoes had just stepped in. I checked-in at a Backpacker hostel 'The Lost Tribe'. After a refreshing breakfast, I started my journey. On my expedition to explore Himalayas, I turned my way towards a 2 Km long trek which led its way towards the Hidimba temple. The ancient temple which was named after Hidimba Devi, the wife of brave Pandava 'Bhima' and the mother of 'Ghatotkach'. A three storeyed building built with rocks and wood, it stood proudly with skeletons of many animals on its wall. Thoughts of YJHD were being recollected in my mind as I made the way to 'Clubhouse'. Like any other clubhouse, it had video games, disc and indoor sports. The only thing I liked was boating as excluding that, all things there seemed mundane.
The hostel indeed was the best in quality. After the dinner, we sat around a bonfire sharing stories with each other. The guy next to me was a Canadian who explained the beauty of India experienced by him in his two months long journey. There were stories from a Hyderabadi Guy who was on a mission to finish visiting all the states of India before turning thirty to a young Irish couple who were expressing their love in a unique way, by traveling. Stories continued from a group of 'Royal Enfield' travelers who returned from their Ladakh trip to my story of coming alone after leaving my internship in between.
The night grew darker and the beats of the songs with headphones on my ears was even louder. Indeed a mesmerizing view was there in front of me looking like a perfect scenery with light of the huts flickering in the dark backgrounds of the mountains. It looked like a perfect bouquet of lights like showing many colors of life, some vibrant, some dull but in the end, a very beautiful picture soothing my eyes. The songs of 'Coldplay' and 'The Beatles' echoed in silence. While probably other people in Manali were making out love that night, I made peace with the nature.
Second day started with a soul full of energy as I made my way towards the Beas River. Sitting by the riverside and contemplating the mountains was the best feeling I ever had. The cold water kept flowing as if telling to never stop, but to move on. The sun rose from the mountains and the quote 'Rise and Shine' never felt that real earlier. The great Himalayas stood high resembling the might and power it held within, yet very gentle and humble giving shelter to a prolific wildlife. The precious stones along the riverside were shining brightly on my behalf for giving this precious gift from God, 'Life'.I continued exploring Manali and went to Solang valley for paragliding. It's amazing how we felt in childhood when birds could fly and we wondered if we had wings. It came true for me as I jumped from a breathtaking height. Those few moments in the sky were moments of thrill and adventure in my life. As if the time had stopped and high I stood, up above the world. It was incredible looking down from such a height, seeing myself float above the Earth, suspended by nothing but a canopy and a harness.Finally the evening embarked my visit to the beautiful Buddhist monasteries. The Gadhan Tekchoking Gompaa is situated on Mall road. If you still were not connected to the nature, this is the place to find your soul. The beautiful idol of Lord Buddha with aromatic fragrance of the Tibetan incense laid an enchanting charm on me that made me lure to visit the place again. The next day was probably the brightest of all. As I said, people here have something different,something beautiful within them. How could luck so favor me, that I met a girl Gautami. A girl in her mid-twenties whose eyes sparkled like a diamond as if celebrating every moment of being alive, talking non-stop . An accident meeting at first place, she made me to visit old Manali. An enthralling village that has beautiful cafes with sophisticated names and local shops lined on both sides of the road. Many foreigners gravitates towards the beauty of Old Manali.
A tranquil place located amidst snow capped mountains with apple orchards and traditional houses made with mud and woods. Sloshing river adds more to the feeling of solace. She made me visit many cafes, ambiance of all of those was unique in their own way. It's amazing when you meet a girl who exactly resembles with the one whom you loved so much. In every way from her gentle yet captivating smile to her 'non stop talking' way in which she defined the beauty of Manali to me. That day made me nostalgic and it was one of the best days of my life. We still talk, though on WhatsApp.
Finally it was the time for me to bid adieu to the wonderful place that will dominate my mind for a long time.I came from Manali but probably left a little piece of mine there. New learnings, some cool friends was all that Manali gifted to me. You travel to let your soul free, finding the real peace. Probably, a travel bug had bitten me, whose poison still brings a smile on my face.