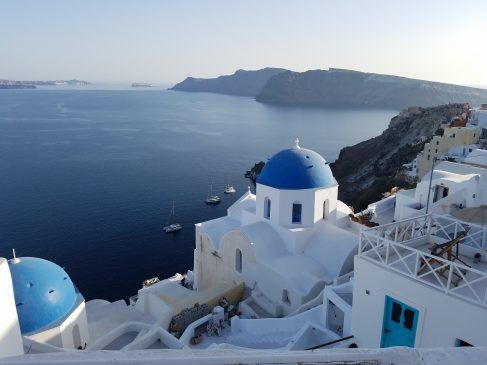 Contents
Oia, Santorini at a glance
Santorini is one of the most recognizable islands of Greece. It's panoramic views of blue domed white washed buildings makes it a favorite destination of many! You'll even see a few shops and restaurants bragging that they were a favorite of some celebrities such as Oprah herself. Sadly they didn't want to hang a picture of me on the wall :/
While the island is somewhat large and has numerous destinations to visit, we spent the majority of our short time exploring Oia (where those pretty blue domes are). It was a dream to be there and while it may be crowded from noon to evening, it is a must for a bucket list, just bring some comfy shoes because you won't want to stop walking around.
Below is a nice overview of Santorini and all that the island contains. It may look like a small simple island, but I promise you'll need something motorized to get around, unless you love hiking just that much. Thankfully there are plenty of options for transportation and ways to move about the island.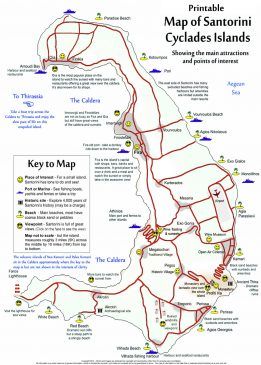 Santorini Itinerary
Getting to Santorini!
We expected the usual jet liner to take us to Santorini when we were preparing to get onto the plane, well we were mistaken. We walk through the gate to our plane and notice giant propellers! I had never been on a plane that looked like it was out of an Indiana Jones movie, so my first and only thought was "sweet!".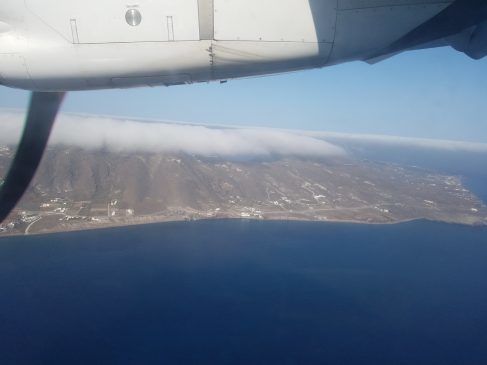 We get on and take off, roaring like thor... as a child. Thankfully the trip was only a little bumpy but was definitely interesting to say the least.
There are options to also get there via boat/ferry that may be a little cheaper and more information can be found here if you're interested.
Getting to our lodging
We booked an that was beyond beautiful and very accommodating! We wanted to find a place near Oia so that we wouldn't have to pay for extra transportation, and we could just hike to the town in the morning, which in itself was an adventure!
If you decide to go through Airbnb, don't be intimidated by the price, it will be costly. But also be aware that all accommodations will be more expensive the closer you get into Oia. If you're looking for other lodging options, you can check out booking for affordable offers!
Below are some of the Airbnb pics we got of our awesome room!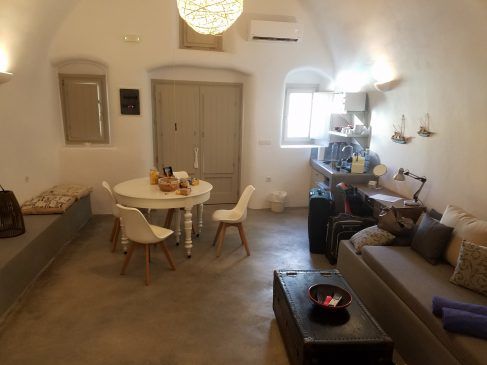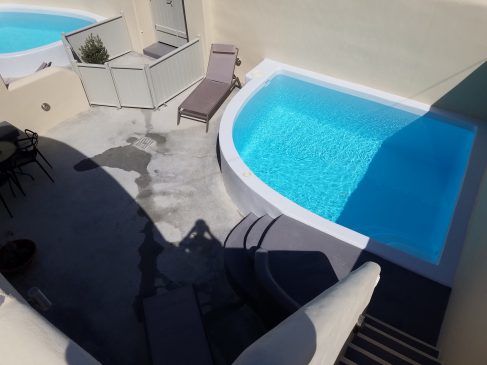 The adventure begins
It was still early in the day and we only planned to be there for the weekend so we immediately took of to explore Oia! At first we struggled and got a little lost, we weren't in Oia yet so none of it looked familiar to the pictures we had drooled over. But, knowing Oia was on the top of the island, we simply focused on going UP! We figured as long as we kept on an incline, we'd get there eventually?
Arriving to Oia
Thankfully we saw a collection of buildings that somewhat resembled the white wash we were expecting, but still no beautiful blue domes? We being trekking through the town's narrow walkways to emerge with a view of the other side of the island!
You could see the beauty of the ocean crashing into the crescent shaped island, numerous boats were moving about below the cliffs. We glance to our right, BLUE DOMES! The town of Oia, forming a tiered structure on the cliff side, slowing rising up the island and reflecting the sun and being blindingly beautiful. It was definitely a surprise and sight for tired eyes.
I strongly recommend finding a place near or in Oia, as transportation can get costly and it's so much nicer having freedom to roam.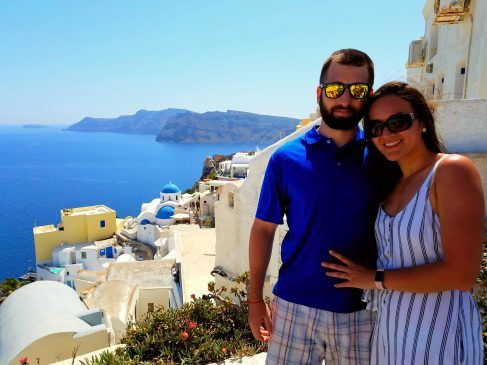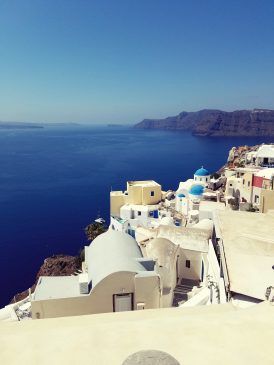 More adventure!
After seeing them we decided that we should probably get a closer look, and by closer look, I mean walk down every street getting distracted before we finally make it to what we were looking at. We tend to get lost in shops and interesting sights before finally making it to our final destination.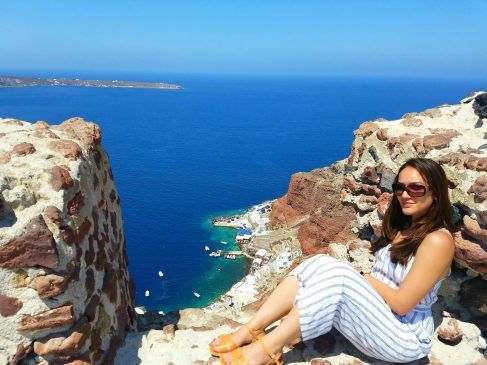 Eventually, we made our way to the tip of the island. Looking down, we saw so many nice villas and interesting things to explore. Starting from the top down, we went to what looked like an old church and then made our way down the hill, after an espresso break of course.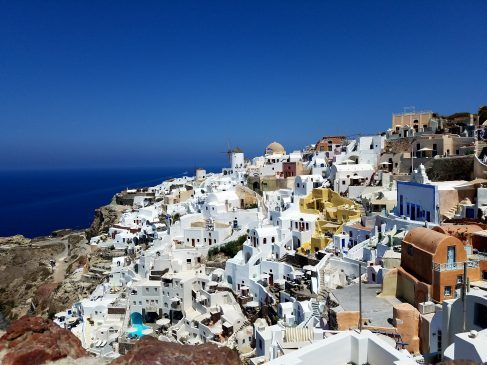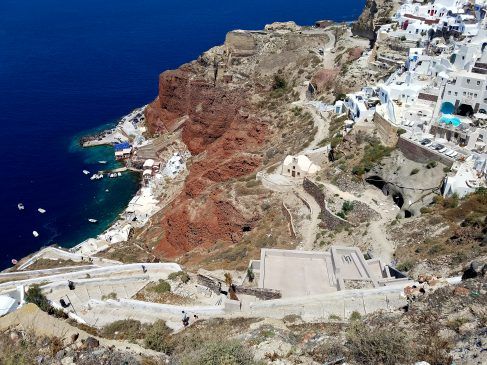 NOTE: They do have donkey rides up and down for those who don't want to make the trek, it was pretty tiring.
By the time we made it down, we were greeted by a cool ocean breeze, crashing waves on the docks, and donkey shit. Yup, all those donkey's that were used for riding were kept right in the walkway and just dropped their previous meal whenever they felt the need. Thankfully it didn't smell any other place than at the bottom of the trail.
After walking a little and finding a place to eat, we saw a trail circling back around the island, but now we were at the base of the cliffs. So we walk our way around and find a group of people diving off a stone area and swimming around. It was a nice secluded spot that very few people seemed to know about. Sadly we didn't have our bathing suits at the time...
Ending the day with a Santorini sunset
By the time we finished waltzing around and went back up to the top of the town, we decided to relax with a nice dinner and heard that an Oia sunset is something that can't be missed. So of course we venture to a spot and realize that the word has spread around and there are a plethora of other people watching the sunset with us.
The next day was fairly similar, more exploration of old spots and finding trinkets to bring home to family and friends. If you're making a trip to Santorini, Oia is a place that can't be missed.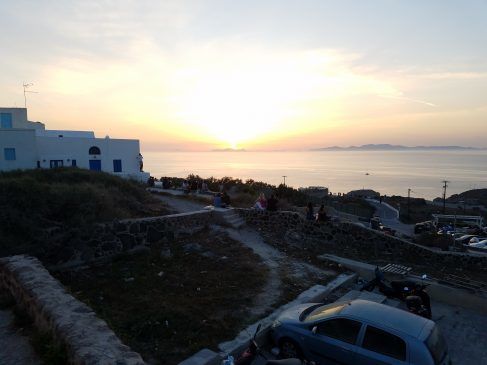 Want to share this post? Feel free to use the images below!