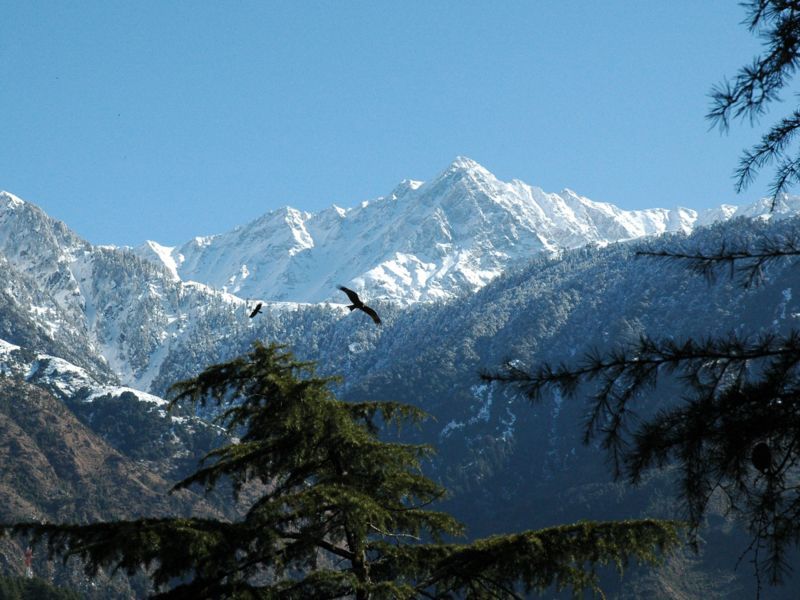 If I had to choose a word to summarize these days would be happiness. Happiness is the absence of fear. I still have some fear, at the Google Earth zoom for example, but we are so happy that even other people tell us. How we got here was a cluster of casualties. Instead of taking a night bus that took us from Rishikesh to Dharamsala in a 14-hour road trip, we took a night train to visit Amritsar first.
We were going to spend two days in Amritsar, where the golden temple of the Sikhs is located. We wanted to sleep there one night and learn more about this religion. I already mentioned that the social work carried out by this religious group is really admirable and even more so in its most important temple.
Thousands of people eat daily, including foreigners all thanks to the volunteers who scrub pots, cut vegetables, prepare food or clean the floor. It has dormitories to welcome all who want to spend the night there. Finally we did not eat or sleep there, but it did not matter.
To get to Dharamsala, also called Little Tibet, we had to take a 7 hour bus and reach the destination at night. It was still a heavy trip and arriving at night to look for a room did not appeal to us at all. We decided that we would take an afternoon train and sleep in Pathankot, for the next day to take a 1 hour bus to Dharamsala. It was the second change of plans.
I was very sensitive, very emotional and more spiritual. Not only that, some convulsive times awaited me emotionally speaking because when I am traveling, Christmas and the change to a new year make me reflective and even melancholic. I had to decide well the itinerary of my next weeks, to safeguard myself from the most chaotic Indian facet and to give myself space to digest those intense days of introspection.
Day 1 - Dharamsala
At 8 o'clock our car arrives. We arrange all the luggage and we start a nice trip along the highway where we see the real India. I hardly speak. We stopped for breakfast in a restaurant and sat at a table outside to sunbathe. The breakfast lasts two hours. But it could have been two more. We chat quietly, talking about our lives, and the great decision to travel.
We decided to resume the trip, without hurry. During the journey, as we ascended, the landscape changed and the temperature became more pleasant, which we appreciated after so many days of suffocating heat. We enter the state of Himachal Pradesh, with a landscape very different from the one we had left. It is very mountainous and beautiful, full of valleys, torrents, forests and snowy peaks.
And we arrived at McLeod Ganj at Dharamsala, 10 km away. It is about 2000m high, surrounded by mountains and beautiful landscapes. We thought we would find Tibetan houses and a typical mountain place, but the surprise on arrival is that we ran into congestion of cars that did not stop beeping.
There are restaurants next to each other and the main square looked more Fifth Avenue in New York, for its illuminated signs and the movement of people. It is not a pretty town and has lots of kiosks that sold chocolates, shops, bars, hotels, travel agencies, and exchange houses. There is too much tourism that when concentrated in such a small place take away some of the magic.
We even did a mini-trekking of 2 kms to the town of Bhagsu to see if the New York environment changed but it was not so. However, as I always say, you have to find the positive side of things. We had come here with the idea of feeling the Tibetan atmosphere. We see the women with their typical striped aprons preparing momos in the street. We have delicious fried momos to gather strength.
It is true that we cross the street with monks and Tibetan people, which already gives the place a physiognomy different to any city in India. Here the Dalai Lama resides and the majority of the population are exiled Tibetans. We love the atmosphere.
We reach the hotel. The receptionist gives us the best room they have. The town has a special charm. The locals set up their stalls in the street with fresh fruit, and it is full of cafes and restaurants of different types of food. We tried a Japanese restaurant that the Himachal Pradesh travel guide recommended. The food is delicious and very cheap. I delight in an okonomiyaki, a blessing for the palate.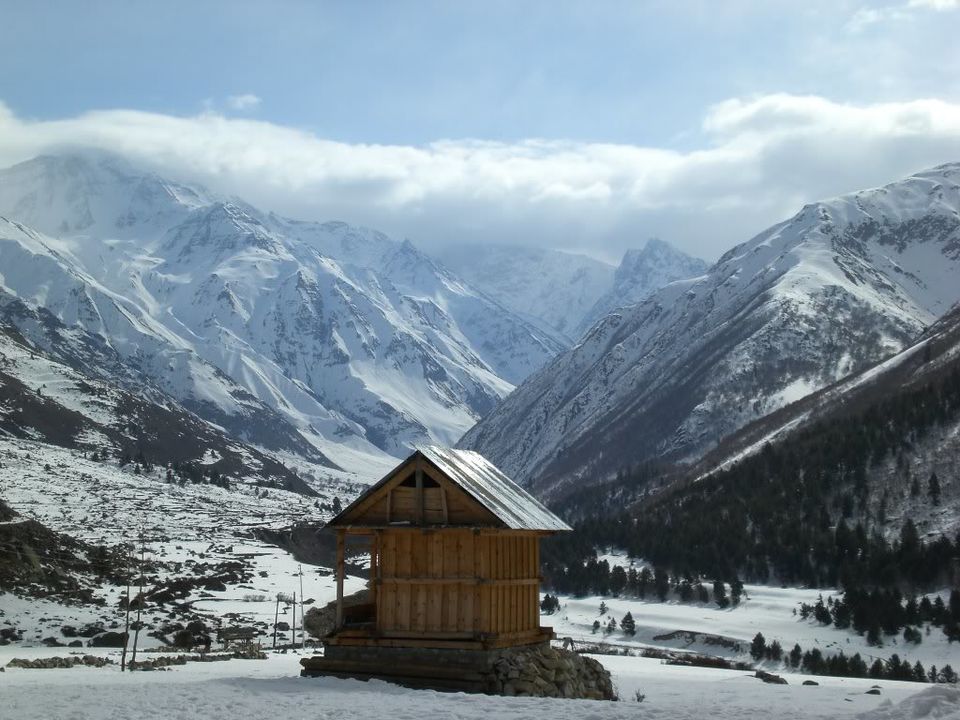 Day 2 - Bhagsu
We got awake at about 5 in the evening and it was bitterly cold. The city, at the foot of the Dhauladar mountains, was half asleep, except for some monks who had started with their Tibetan prayers and to repeat the mantra Om Mani Padme Hum that reached my ears like a murmur filled with silence.
I walked a few meters to the main square that surprised me. There was a small group of tourist hunters who waited to seduce them with their hotel offer. I decided to approach the only open place where they sold chai to warm my hands and body.
Time goes by slowly when I wait and it's cold. So between one chai and another I started to chat with the men who came for their morning dose of spicy infusion. One of them told me that he owned a hotel and that he gave me the best price in the whole area. As I had time and had already drunk 2 chais, I decided to go with him to see his hotel.
It was almost at the end of one of the main streets, down the slope about 300 steps. The room was not bad. It had private bathroom with hot water and from the balcony there were some incredible views. The price also seemed unbeatable and he promised to give me a breakfast at those inhospitable times. So I changed from my earlier hotel.
I spent many moments on the balcony of my hotel, looking around the snowy peaks. We had an espresso coffee with which we almost get the tears of how good it is. As soon as the city woke up, I went out to meet her. I was hoping to continue my spiritual journey on the roof of the world.
On the street we meet a Buddhist nun. She has beautiful green eyes and a voice so sweet that talking to her is relaxing. Her hair is shaved and makes her look stand out more. She takes my icy hand and holds it for a while to warm it. She utters Tashi delek, the Tibetan greeting to wish someone similar to Namaste.
We go to Tsuglagkhang Complex, which houses the residence of the Dalai Lama, the Namgyal Monastery, where the future Tibetan monks are prepared. There is also the Tsuglagkhang Monastery, a simple pavilion painted yellow, with a stage and three Buddhist images. From here the Dalai Lama delivers his speeches, when he is in town.
We also enter a Tibetan museum. In the thangkas, the paintings framed in silk Buddhist deities are represented. They are a traditional art form. In one of the rooms, Tibetan men and women dressed in their reddish-hued tunics pray. They repeatedly prostrate themselves before the Buddhas while reciting the verses of the sutras, which are the writings of Buddhism.
Upon leaving the room are the Prayer Wheel. They are a characteristic element of Buddhism, with the mantra Om Mani Padme Hum written on them. The study of Buddhism includes modern studies of Tibetan and English language, study of texts of Sutra and Tantra, and Buddhist philosophy.
Children also learn manufacture of butter sculptures, torma (presentation of offerings), sand mandalas, games of various ritual musical instruments, ritual songs and dances. It is a serene environment, despite the imposing Buddha figures.
On the altar of the Tibetan monastery we see, in addition to the deities, several ritual bowls, lamps and intricate butter sculptures, a prayer bell and a scepter that is used during prayers and official rites. There are also among the offerings, boxes of cookies, honey, and candies. In a corner a monk recites prayers or mantras and tells us where to walk.
At the center of the McLeodganj, we visit a Buddhist temple that differs in some ways from the Tibetan temple, although both have the same basis and promote the teachings of the Buddha. On a road, 3 km north of Mcleodganj, we reached Dharamkot, from where we can enjoy a great panoramic view of the Kangra valley. In the same direction but downhill is Baghsu falls.
I realized that if I wanted to continue my process of introspection I had to get closer to nature and less to the besieged streets of stores and vendors. The excursion to the falls is not very long, but we go at our pace. We arrived at an area where there is a bar and we lay down on some mats to rest. We continue higher, where no one climbs. The path between the stones in a little complicated. And in a certain place, we stop.
Our guide bathe in the river in the frozen water and says it's good for the skin. In the end I encourage myself and I give myself a baptismal bath. After we bathe quickly we dry in the sun lying on the rocks, just enjoying the place. I recite an Om. It's like being in another dimension. We are in the midst of oak forests, cedars and pines. There is a beautiful landscape and a fresh and rural environment.
I went back to the hostel to have lunch. In the afternoon, we meet a couple of Koreans in our hotel. They have been traveling for a year and a half. At first it was only going to be a year for their honeymoon but they are lucky to continue traveling. They tell us their route, advice, and how they live.
We tell them about our trip, our jobs, our customs. They are very nice. They work together making computer animations and teach us their work. We love. They are full of creativity. We are surrounded by artists! We dined with them in a Korean restaurant with sushi and spicy tofu with rice.
After we had tea in a cafe we got out together. I do not stop talking and I'm so happy and so confused chatting that I almost fell twice. We took the opportunity to go for a hot chocolate and dinner. Here people have dinner early. We ordered some chicken momos.
We decided to move and go to settle in Bhagsu, small village next door. The atmosphere is really nice, and above all, much more international. We arrived with barely enough time to install the tent as the clouds came to cover the sky, and a few drops fell, followed by some hailstones, under a burst of quite impressive lightning.
We froze all night, even by squeezing against each other. The winds from the Himalayas cooled our bones. Later in the night, the clouds have given way to the millions of stars that have surrounded the sky with their splendors. In the darkness of the village we can see all the stars. Our guide says that sometimes one can see shooting stars.
If I saw one at that time I could not ask for a wish. I feel so happy that I would only miss the family's embrace to complete that happiness. I will never forget this moment! We met a band of Tibetans who were boozing to keep themselves warm. The goats were strolling, and the chai, a drink faithful to the people, was like the icing on the cake!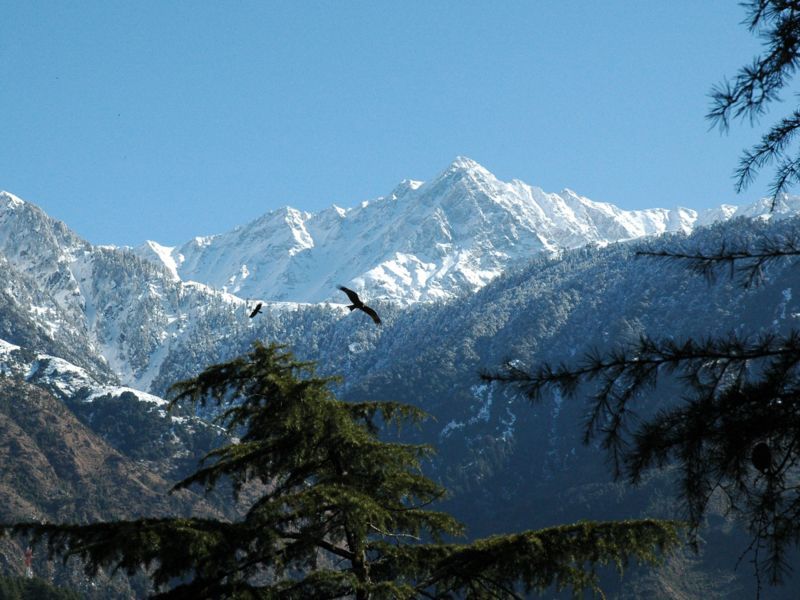 Day 3 - Kasol
I put the flip flops because the cold on sharp pebbles tears the skin! We had some omelettes and went for a walk along a path that led from the city and would take us to Pong Dam Lake, about four kilometers away. We did not have much time since at eleven o'clock we had to be back to go to Kasol.
The road extended towards the north of the city and was meandering along the slope of the hill. Some crows gathered to eat in one of the corners and monkeys walked everywhere. We walked quietly taking advantage of the fact that the day was beautiful and the panoramic views of the city of Mcleodgang were unique.
After seeing Dam Lake we returned walking quietly. I leave to take my bus to Kasol, a small village of Parvati valley, 300 kilometers from Bhagsu. We stop at Mandi and take the opportunity to visit the Shiva temple on the banks of the Beas River. We take the road to Kasol, hoping that we will go faster.
The road is still in poorer condition. Fortunately, the ordeal will not last too long and we arrive at the heart of the Parvati valley, tired and dusty but under a radiant sun and the snowy mountains. Verdant like a Swiss valley, the Parvati Valley with its paths lined with a green as well as fragrant grass is an invitation to walk and dream in front of sumptuous landscapes.
We arrive around 5:30 in Kasol where 90% of the tourists are Israeli. After we arrived, we landed in a guesthouse. They welcomed us very well!
Around 6, we decided to go for a walk. A man in his fifties advises us on the villages to go around. All restaurants offer Israeli dishes and some shop windows and menus are translated into Hebrew. It is a holiday resort town where the consumption of charas is totally unbridled, under the nose and beard of the authorities who do not see or do not want to see. Moreover, it is not uncommon to see it grow on the side of the road.
We still find, in all this mishmash, a guide who seems to be able to show us the secrets of Parvati valley. We eat at a restaurnat. The welcome is nice and the atmosphere very cool. The room is lit by the candle. In addition, our dishes were delicious! We do a little window shopping in small shops. We go back to the hotel.