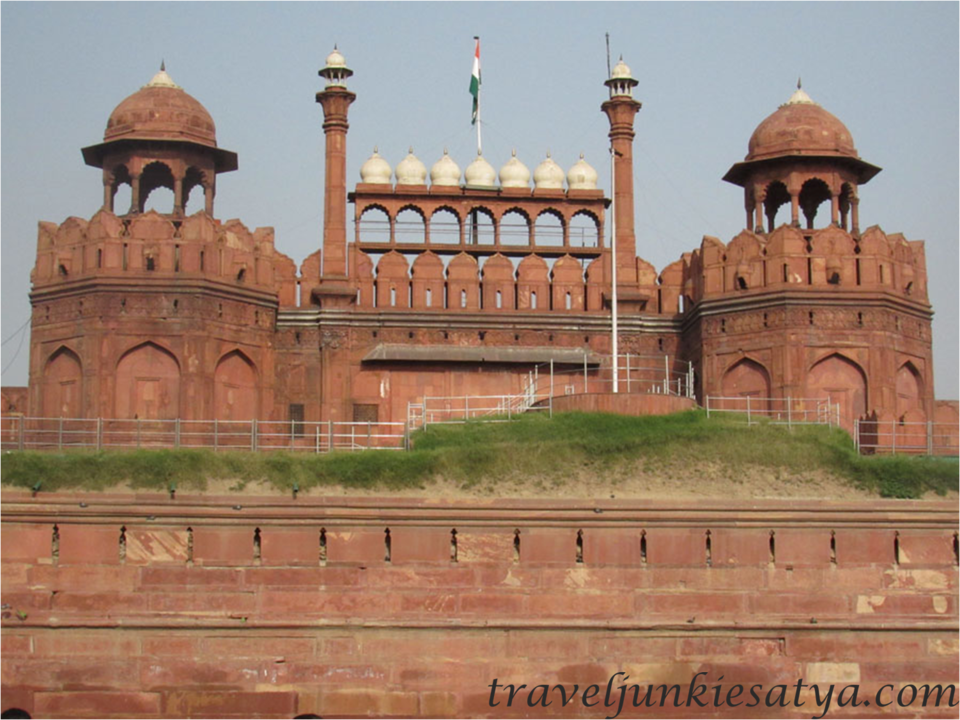 Now at the Red Fort! The aroma of Old Delhi is emanating everywhere. The busy streets and narrow alleyways mostly occupied by cyclists, motorists, rickshaw-walas and an array of shops and stores, from saree shops to lehenga markets, decorating both sides of the road speak loudly that the scene is certainly procured from Chandni Chowk. And it is correct. I am at the Red Fort, once served the residence of the Mughal family for over two hundred years.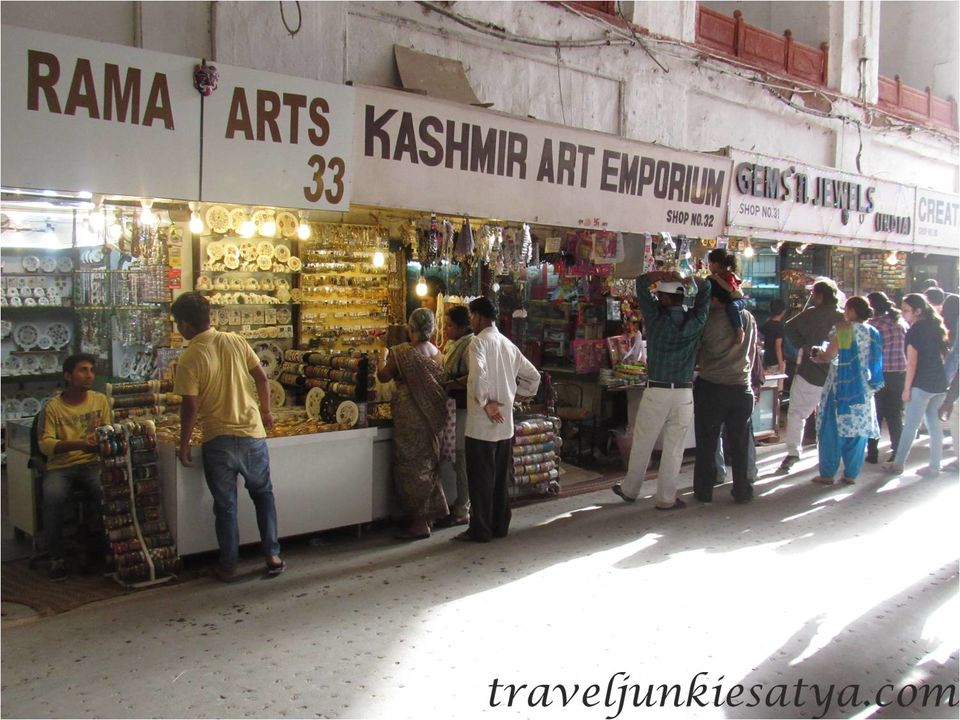 Red Fort at a Glance: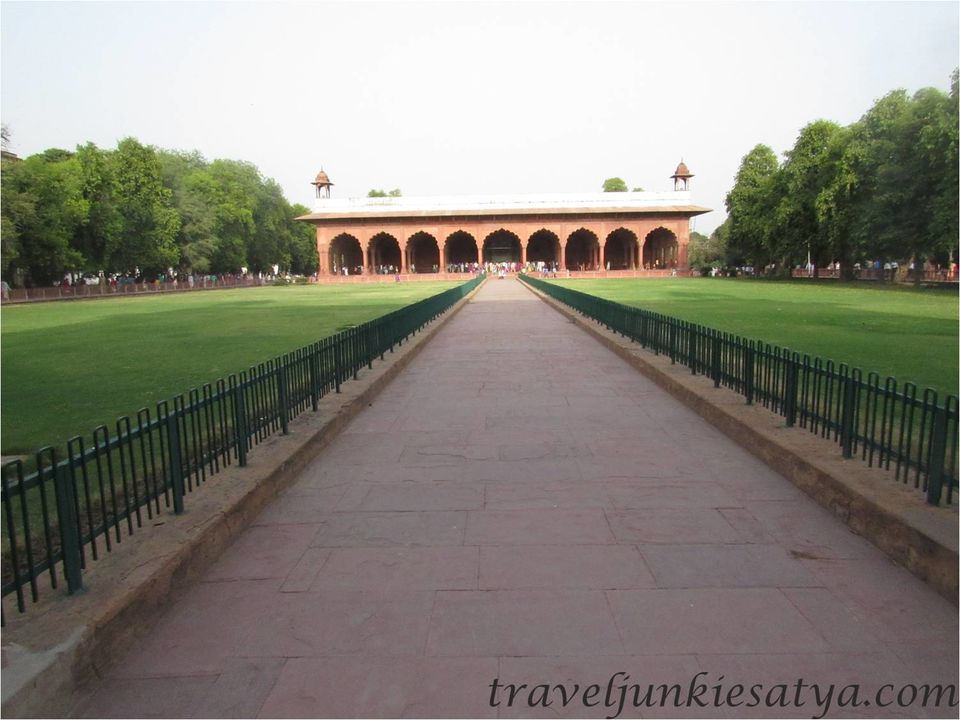 With a history close to four hundred years, the Red Fort or Lal Quila built by Shah Jahan in 1648 stands still partially and has withstood all odds over several centuries. Perched over a massive area of two hundred and fifty acres fenced by thick, strong walls, the imposing fort showcases extraordinary Mughal artwork and architecture, which combine Indian, European and Persian art. Apart from holding historical importance, the largest monument in Delhi also plays a pivotal role on Independence Day when the Prime of Minister of India hoists the Tricolor National Flag and delivers a patriotic speech, ultimately motivating and inculcating patriotism in the minds and souls of Indians.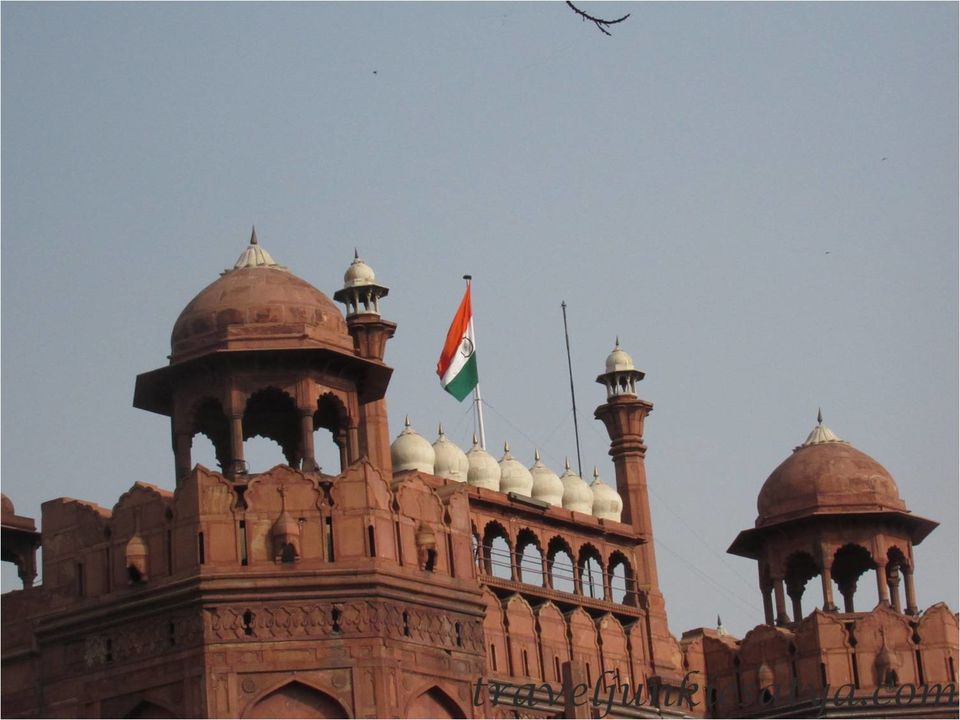 I just returned from a complete sightseeing of the Tughlaqabad Fort, which was sparsely sprinkled with visitors. At the Red Fort, the scenery is totally different. It is pretty hot out here. That hardly makes any difference to the ever-increasing enthusiasm and zeal of the visitors, both locals and foreigners alike. Families, friends, couples and individuals are busy taking that perfect shot that would certainly ornament their Facebook page. A long queue is waiting for me, probably testing my patience (but I am unperturbed. I'm not worried. I'm fully equipped to tackle the scorching heat).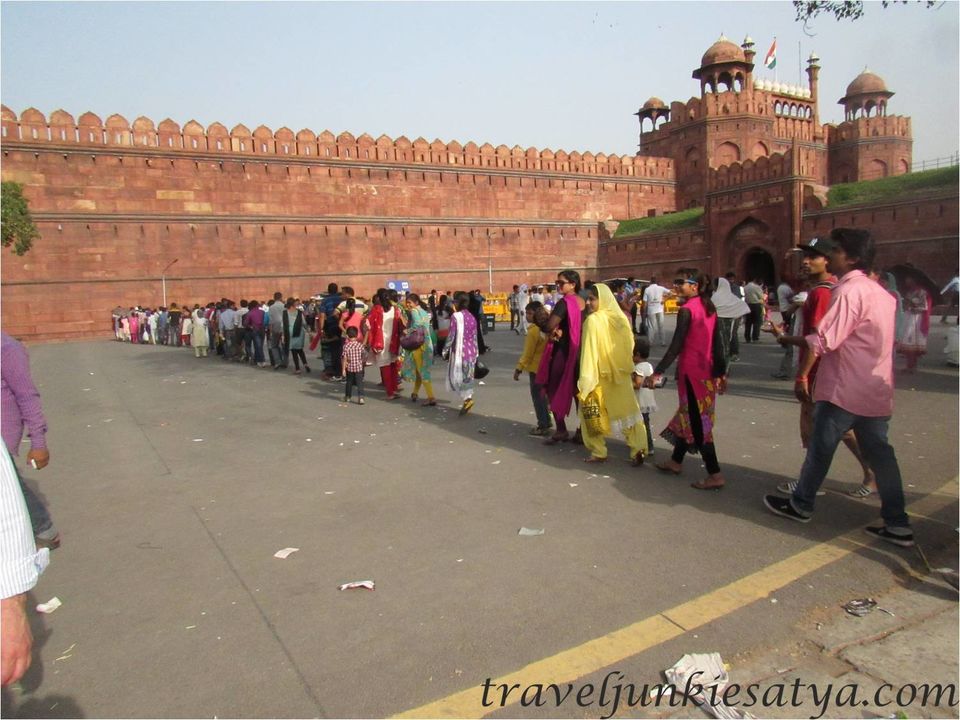 A head-to-toe security check is performed by the security personnel and entrance is then allowed. What catches the attention at once is the vast collection of art and craft shops selling all kinds of stuff, including glittering jewelry, beautiful hand bags, etc. at pocket-friendly rates. Walk pass the art and craft shops, visitors are welcome by a great complex of buildings, intricately crafted and impressively designed.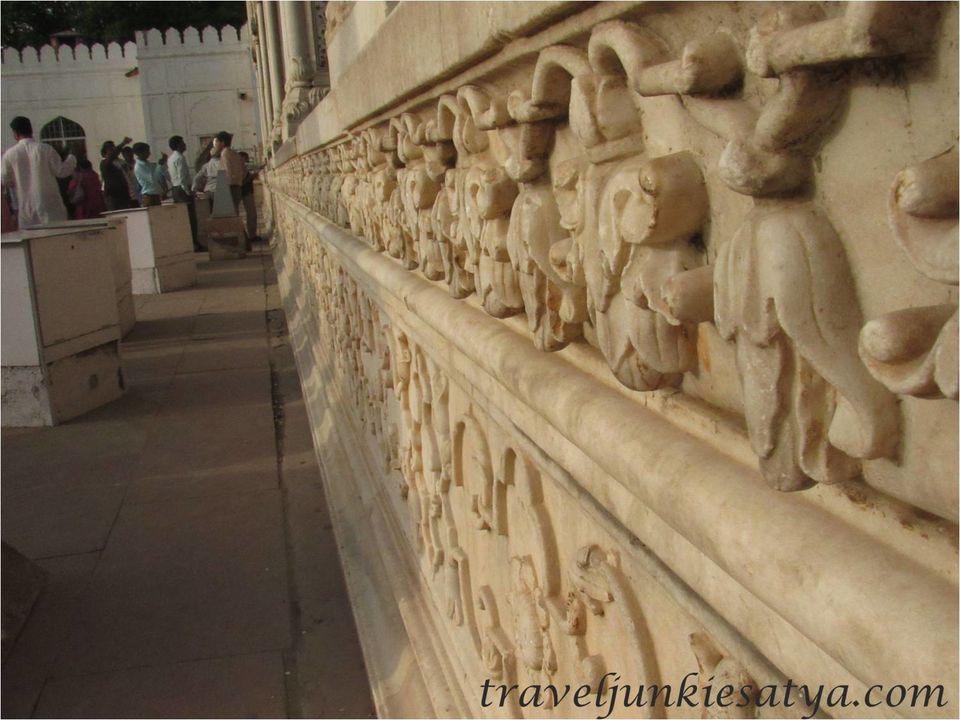 Inside the fortification are constructed outstanding building complexes, such as Divan-i-Khas, the Rang Mahal, Moti Masjid, Mumtaz Mahal and the hammam. The manicured green meadows adorned by birds and humans and surrounded by imposing mahals and masjids offer a perfect visual treat to the eyes.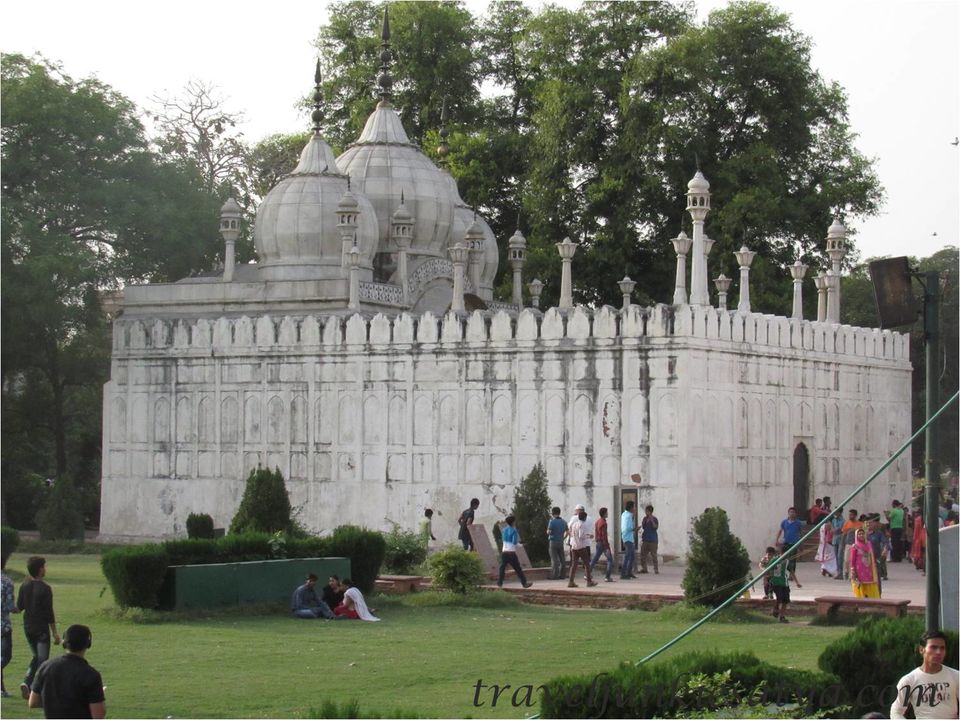 The Delhi Red Fort is octagonal and appealing interiors with notable marble structures. The robust walls that stretch up to approximately two and half kilometers are draped with turrets and bastions.
Sound & Light Show: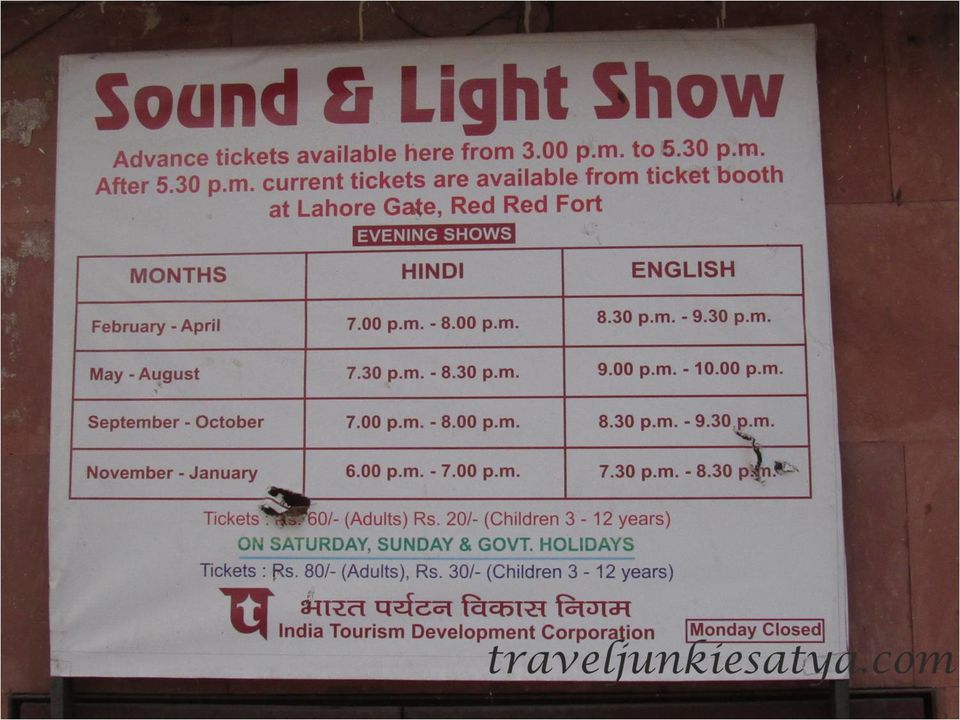 One of the highlights of the Delhi Red Fort is its Sound and Light Show.
Important Information:
Delhi Red Fort Tickets: Rs 10/- for Indian adults, Rs 150/- for foreigners
Nearby Attractions: Chandni Chowk Market, Jama Masjid and Gurudwara Sis Ganj Sahib.
Nearest Metro: Chandni Chowk Metro Station