I am always exhilarated when it comes to exploring a new place. Would I enjoy while traveling solo? What would I do? How would I manage things alone? These were all the questions which kept on hovering over my head unless I took a leap and set my foot out. Alone. To Hampi.
As I entered the soul of the city, I saw that the rocks had something peculiar about them. Unlike other mountains which are formed by tectonic plates movement, these were a lot broken and arranged one over the other. It seemed as if someone deliberately kept them that way.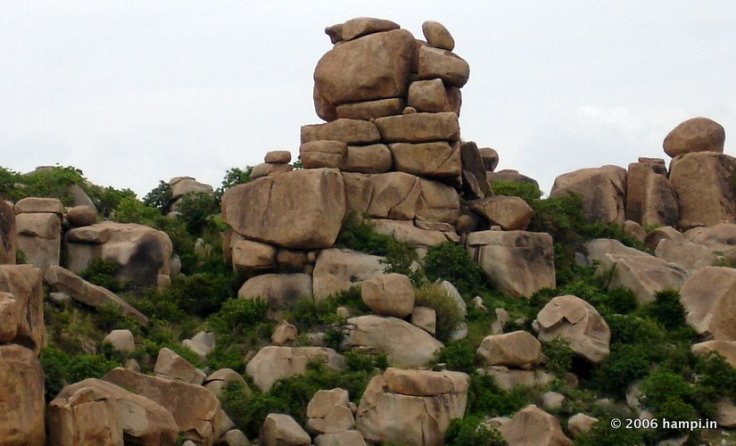 I was never a person who takes a guide as they approach me to flood their knowledge. But that instinct was powerful. I took one. I can say it turned out to be pretty cheap after bargaining.
He started by showing me the market. How the Chinese and Portuguese traders purchased gold for Horses made me curious to know more. I could sense the traders sitting inside the four-pillared shops, drenched in sweat and selling for their living. The drape holes on walls clearly indicated how privacy mattered to the king. The Stone Chariot, inspired by Dravidian style of architecture, was made by the king when he was fascinated with the Sun Temple's Chariot in Konark.
Other than this, the Kamasutra Positions, Krishna playing and dancing, pictures from ancient epic Ramayana, 7 animals carved into a single animal, musical pillars, carvings of sale and purchase during that period, showing that the king must be a strong believer of culture, art, and life.
While walking through the aisle of the mighty kingdom, cut elephant's heads, broken legs of horses, burnt walls clearly indicated how the empire cried till death. But at the positive side, who would have recognized Hampi for the way it is today, the place of the ruins had it not happened.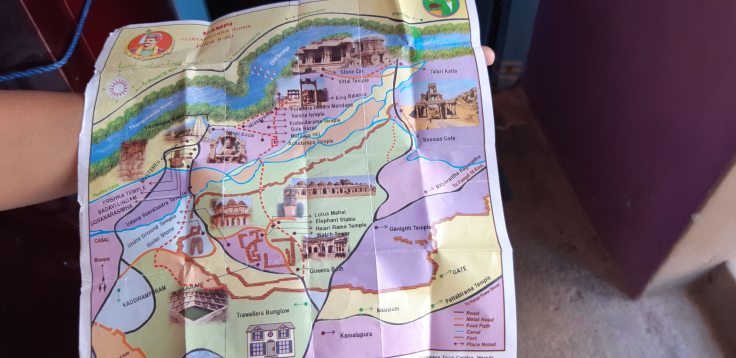 Drenched in history and appreciating art all along my way, I returned back to my room, had some food and went to the temple which was only left to be covered. Ganesh Chaturthi is a festival widely celebrated in Maharastra. Its essence thankfully diffused to northern Karnataka as well. The temple was beautifully decorated. People sitting on chairs, the stage decorated, bustling crowd and the giant statue of Lord Ganesha was giving it a feel of a real Indian festival. The Kannada songs barely understood had the ability to swing anyone was a cherry on top.
And so there I go dancing like a drunkard, knowing nothing, feeling everything. Foreigners smiled and joined us as we grooved to the beats of the beauties.
For the second day, I took a scooty on the other side of the Tungabhadra River. Had I taken an auto, he would have charged me a handsome amount of money. To all the shops I went to, I tried my Indian mind which is so good at bargaining. Thanks to my culture. Purchased somethings, left somethings for next time for I know I will come back.
Till 2:00 pm, I unfolded all the layers of Hampi and rested for other 2 hours in a resort. The route in the water back to the main city closes at 5:00 pm. And so I left early.
During the whole tryst, I spent some extra cents to ensure that I was safe and comfortable everywhere. Booking AC Bus, eating in restaurants, purchasing a book, booking an auto for a whole day while I could have rented a bike instead, purchasing a lot of souvenirs for friends.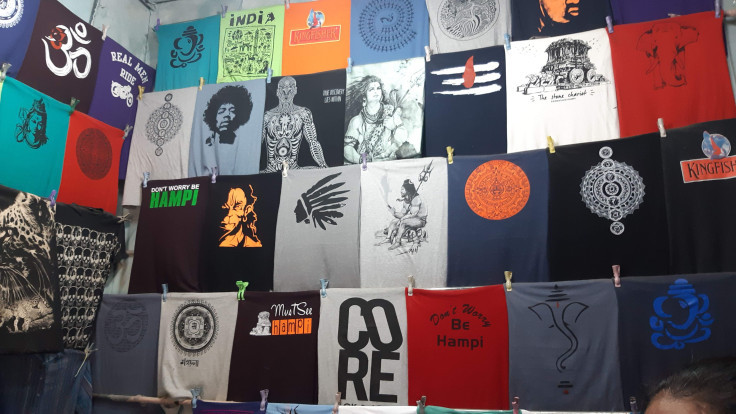 I later learned that the mountains of Hampi are not a result of tectonic plates movement but it has some other interesting history.
From the Geological angle, tens of millions of years of erosion made the surface of the monoliths crack, split and eventually metamorphosed into its present forms.
From the mythological angle, the villagers told me that Hampi was the monkey kingdom. And there was a bitter power struggle going on between the princely brothers, Sugreeva and Vali. In a pitched battle, Vali defeats Sugreeva. The frightened Sugreeva took refuge at the Matanga hill as Vali can't climb because of a curse on him. Rama, the king of Ayodhya, reaches Kishkinda in search for his abducted wife, Sita. Sugreeva offers help of his monkey army to attack Lanka and free Sita. In return, Rama helps him to kill Vali and regain the throne of the monkey kingdom. That may be a reason that Hampi is a place with so many temples.
While checking out, the lady of the guest House gave me her little baby to click some beautiful pictures. This is the thing about small places. Love comes back in many forms.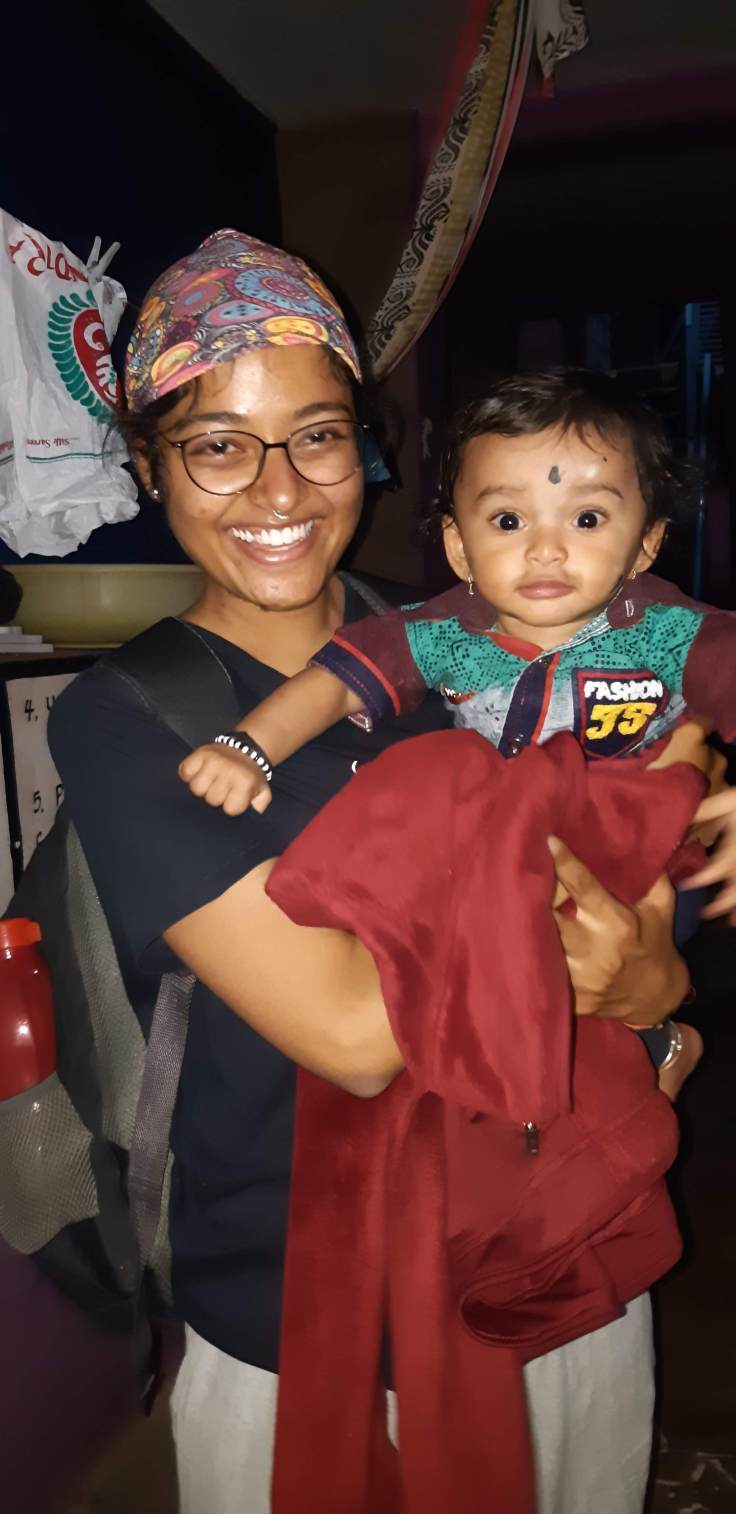 I was lucky that I found a group of generous people on my whole trip making it extra memorable. I was lucky in other ways too as there are people who were constantly keeping in touch remotely. I was regularly sending them updates and my live google location was always keeping me near my people.

Hampi is currently a UNESCO preserved World Heritage Site. A lot of architecture is preserved and built again. I would say, taking the guide turned out to be one of my best instincts so far. From my experience, Hampi is more than its notorious image of people smoking weed and lying on corners. I wanted to pack that starry night, baby's laughter, that historical smell of architecture, those cries of ruins and all other feelings that I got from this place which cannot be penned down.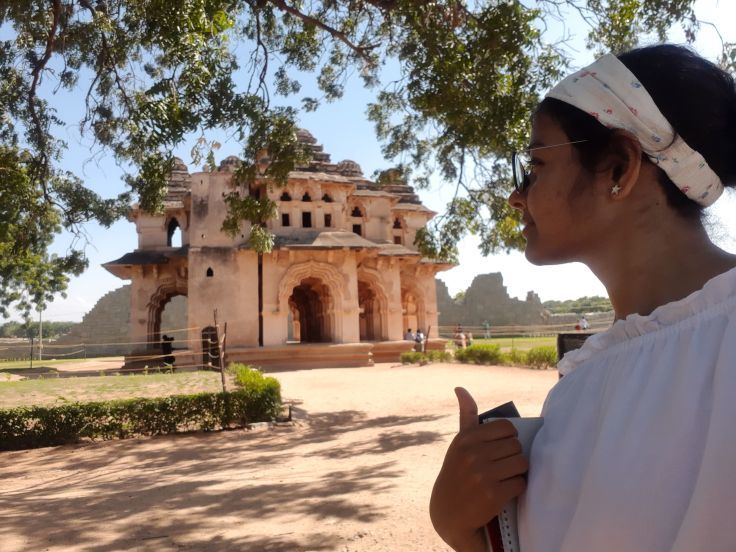 I then took my bus to Home, wearing a nose ring which I had just purchased, I returned to Bengaluru detoxified completely with best ever memories, satisfaction and love from a part of the world.
I am glad I visited there. And I will visit again because I know, Hampi has some other hidden mysteries which my eyes wait to unravel the next time.