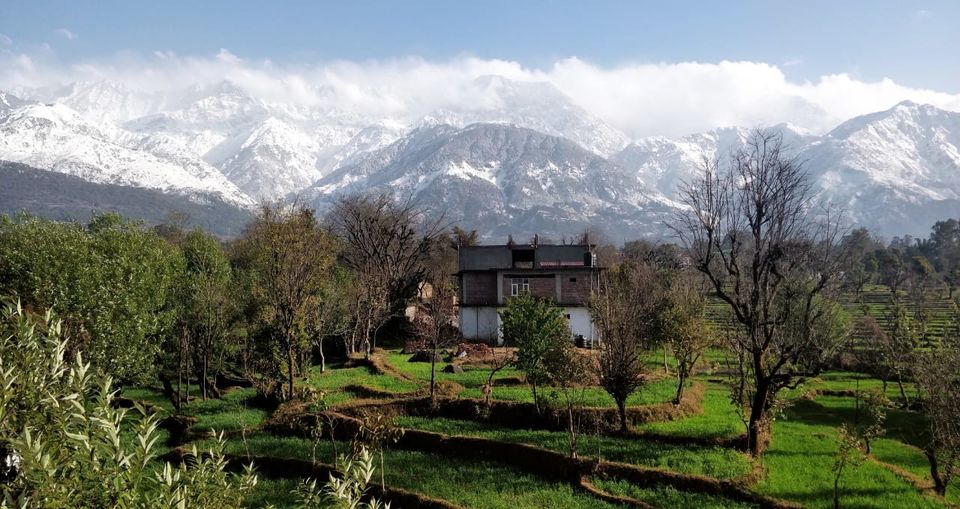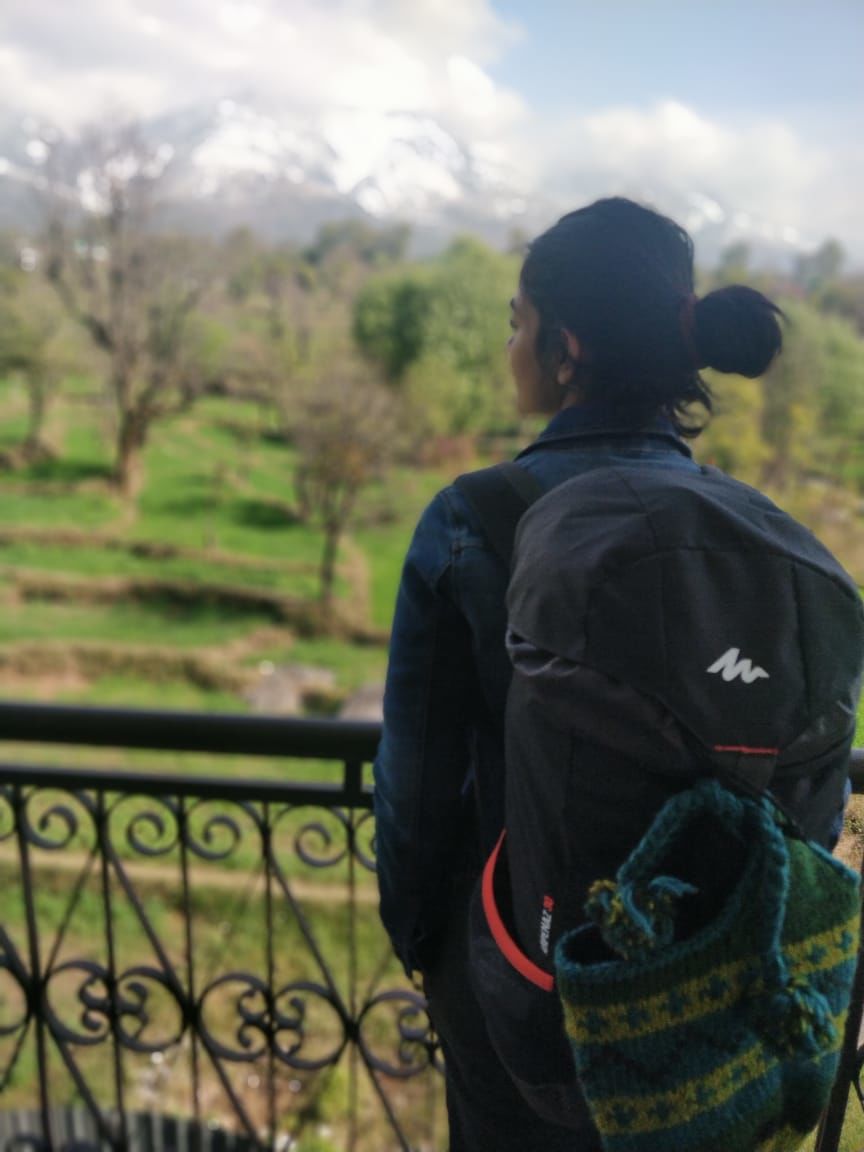 I just quit my job having realised I wasn't cut out for the corporate world. As cliché as it might sound, I found myself placed just right to kick start my travel blog on Instagram, amidst finding that one thing I was meant to do. Traveling alone isn't everyone's cup of tea and I wasn't sure if it were mine, so I decided to call my best friend and ordered him to make time for me, and no questions asked, he gladly obliged.
It took all of 5 minutes to finalize this was happening, and so I booked my tickets to Delhi, everything post that was to be a mystery for the both of us and giving the control freak I am, that it were going to be a mystery was decided. I reached Delhi early morning and as we drove to my best friend's place we decided we'd cover Himachal, so within the first hour we had our destination fixed. We booked our bus tickets to Mcleodganj - the only planning we'd done – no stay, no to-do's, nothing at all.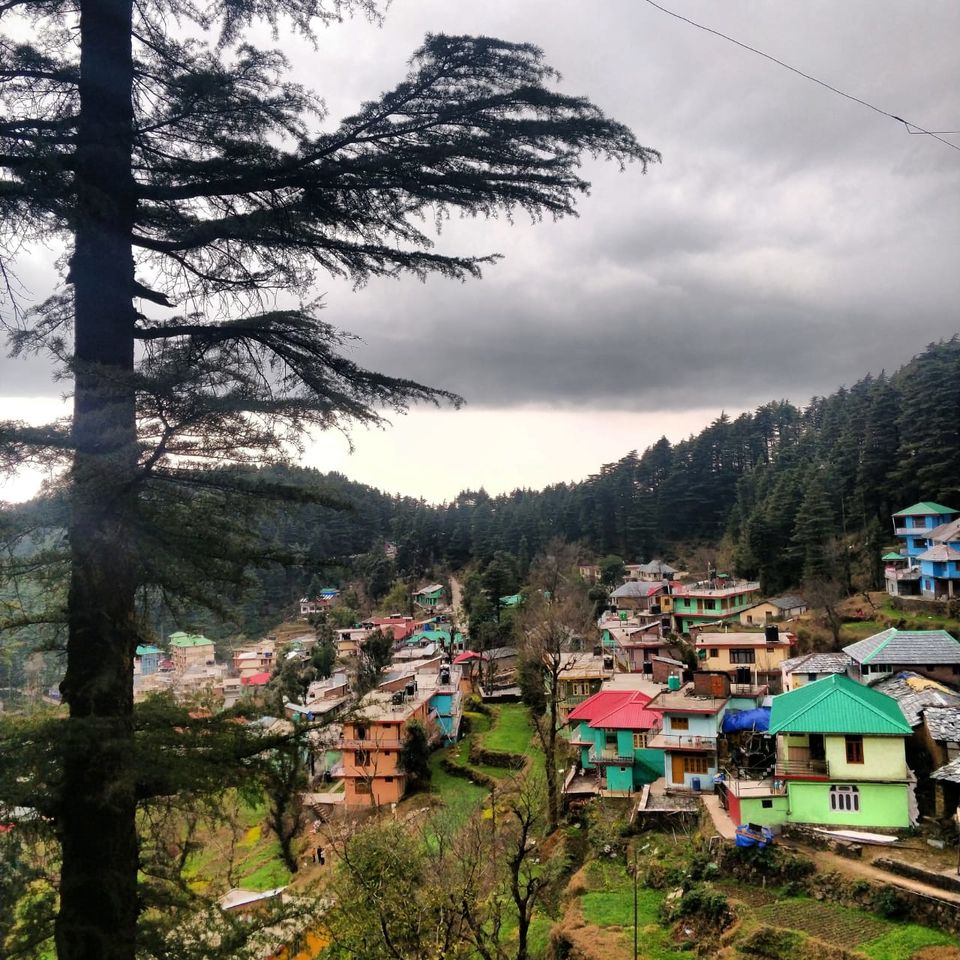 Day 1
Mcleodganj | Dharamkot
Since we were backpacking, as soon as we reached, we looked out for hostels in Mcleodganj, and I landed upon "zostel" which was higher up in Dharamkot. Before we went higher up, we thought of exploring as much of Mcleodganj in an old school fashion, so we went to random cafes to talk to the locals asking for suggestions of what we could do/ see around. We were told to see the Dalai Lama's temple which was near the main market area. It was off season so the place was awfully calm and quiet. As soon as you enter there is an aura of peace and tranquillity that surrounds, maybe because it's a place of worship, but the surrounding has such a calming vibe. The kind of place you can sit at and unwind for hours, y'know?
We were famished and having walked around doing absolutely nothing since we got to Mcleodganj at 6am, we googled most popular cafes in Mcleodganj and came across this coffee & book store called "Illiteratti".
Strutting and panting, we made our way to the café, and I was left dumbfound. What a spectacular view! And they have books for walls, I mean what more could you ask for, really? A warm and quite café overlooking snow-clad mountains, sounds perfect, doesn't it? Wasn't just the place, the food was absolutely amazing too! Having stuffed our faces to our heart's content, we decided to finally unload to our home for the night – Zostel, Dharamkot.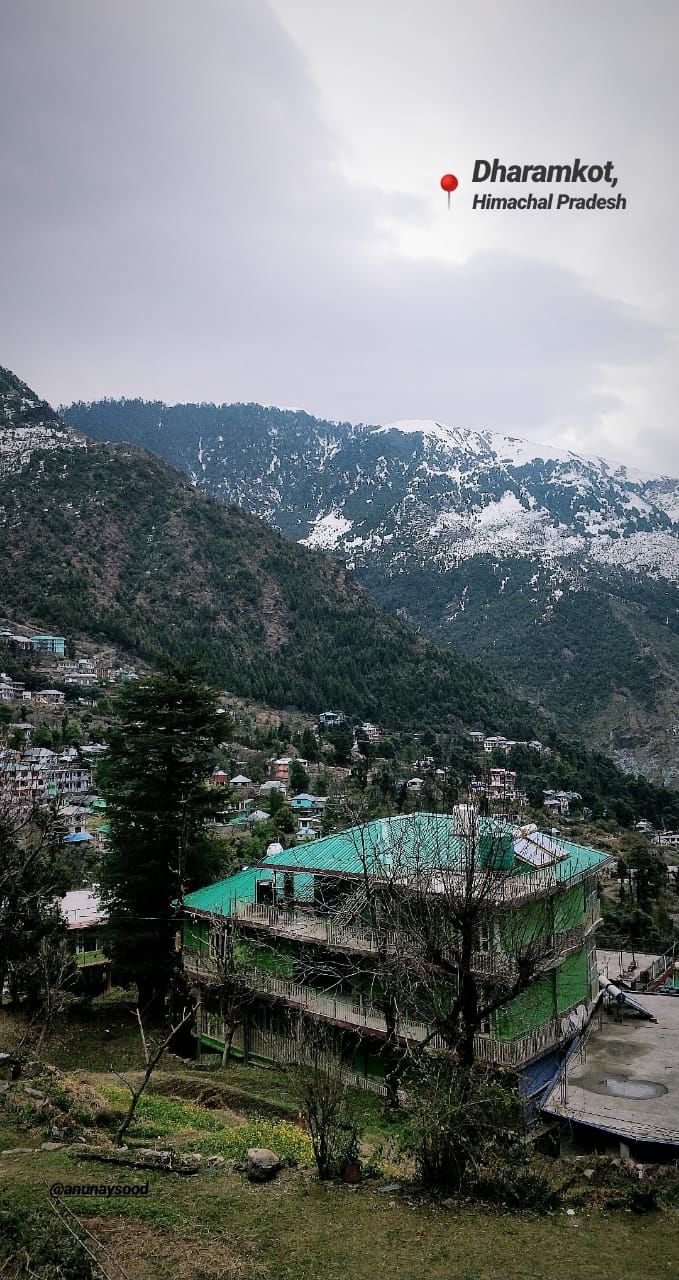 Dharamkot is about a 20 minute drive from Mcleodganj, and a further 15 minute hike from the taxi stand that refused to take us up cause it was going to snow. We huffed and puffed our way up and boy, it was worth it! Who'd expect to find this cozy hall with a burst of color and 2 puppies hogging up space under a blanket! They had my heart right there. The view from the zostel is spectacular, but that is pretty much all of Himachal! We made our way to the dorm rooms and it just got better, the rooms have the most adorable bunk beds with tiny balconies overlooking the magnificent mountain ranges. We got lucky cause we had the whole dorm to ourselves. We decided to vegetate through the rest for the remaining half of the day after having hiked all morning. Sipping on coffee with some lip smacking alfredo pasta with two puppies tucked in next to me while it snows outside, sounds like heaven, doesn't it? So, that was about Day 1 for us.
Day 2
Dharamshala| Kangra
Having slept wrapped in 4 blankets from the other bunks, I woke up feeling like a popsickle. It was freezing, it had been snowing all night, and so we sat planning Day 2 of our "impromptu" trip. We were super excited to try out this place, again highly recommended by other travel junkies called "Morgan's".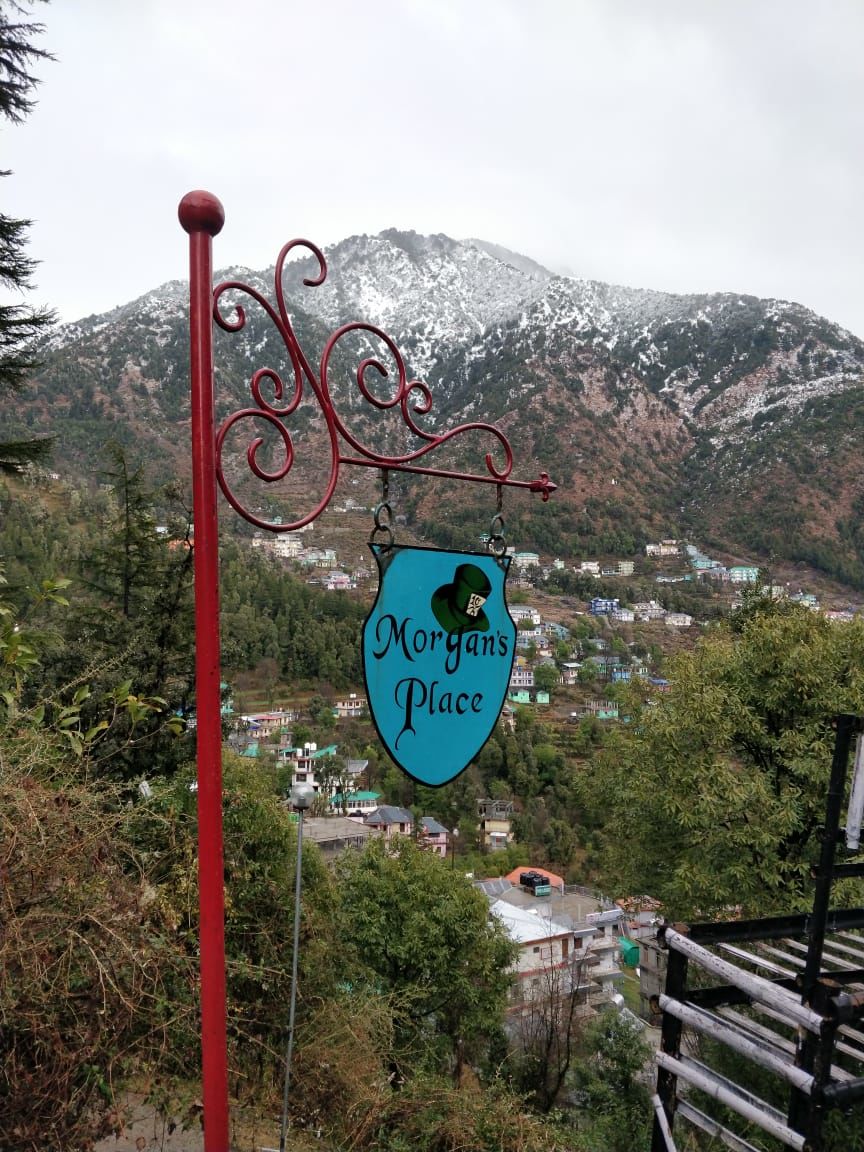 Given the crazy weather, we decided to check-out of Zostel and pave our way towards Dharamshala. As we walked further below, we see this pathway pointing towards Tushita Meditation Centre and decided we'd go check what the centre was about. We were fortunate enough to have walked in just in time to attend an open group meditation session with a guide from the centre and decided to make the most of it. With our stomachs growling, we postponed going to our next hogging destination.
Let me attempt to describe where we were, the centre is in the middle of pine trees with glass windows so you can see the mountains while you sit to meditate. To put it simply – it was therapeutic. We had a 40 minute session that flew past like breeze. By now, our stomachs were burping loud enough for the people around us to be able to hear us and we paved our way to Morgan's. The place turned out cuter and cozier than I expected it to, you've to walk down a broken stairway only to see a super bright little hut that says "Morgan's". It has mattresses and pillows for seating and guess what, in that biting cold they had heaters too! Nothing better than ginger lemon tea, scrambled eggs and a salami sausage Panini on a cold winter morning.
Without wasting time on Day 2 we head downward towards Kangra, which was lower than Dharamshala, Kangra has lesser to do compared to the other places however if one has more time, I would definitely recommend going over to the fort and spending a couple of hours there. After having walked around in Kangra, we had to hunt for a place to stay, and we decided to treat ourselves to a fancier stay for the night, so we asked around and landed upon D Polo Club and Spa resort.
If you have some money to spare I'd very highly recommend this place, the view from the rooms is mesmerizing! It was alternating between snow and rain and if I let the window open the clouds would find their way right in. The rest of the evening was meant to unwind and unload from the long treks and cold.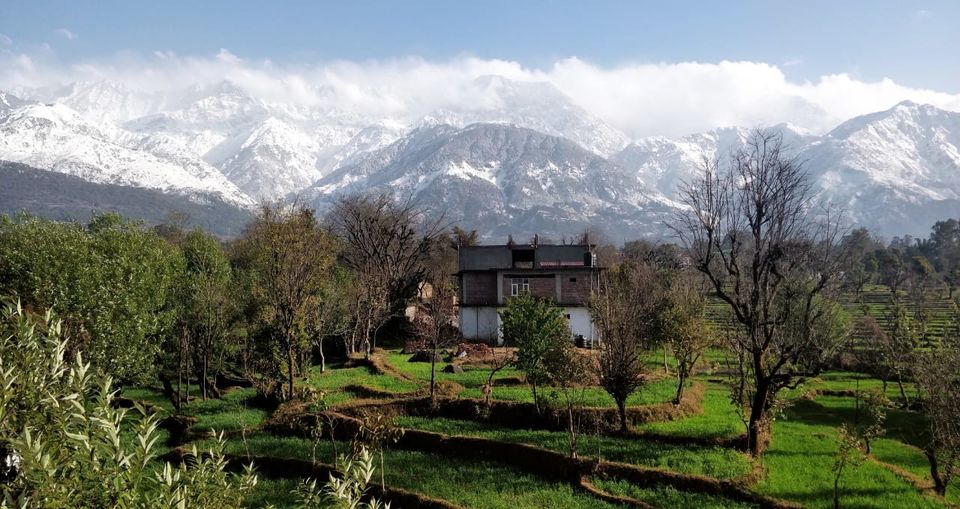 Day 3
Dharamshala | Mcleodganj
Today was our last day and for a change, we'd made our to-do list for the day – explore and eat, two things very dear to me. We went to the reception and asked for things we could do around and were suggested to give a try to the Norbulingka Institute.
The institute run by Tibetans is a preservation of the art and crafts of the Tibetan culture which manages to keep a very traditional feel to it. You should definitely pay a visit to learn about their culture and to see how beautifully it's been preserved. Post that began the most exciting part of our trip – THE FOOD CRAWL which to me is a mandate on all my trips. Up and out in the cold in the mountains some comfort food is a must, and by that, ofcourse I mean thukpa and momos! Destination #1 was Tibet Kitchen. I am short of words to describe what the food there was like, if I had one word to express what it felt like, it was heaven! Though we were stuffed till our heads, after TK, we made our way to Jimmy's bakery, this one was a pitstop to get some desserts after which we paved way to Nick's Italian Kitchen where we stuck to the classics - cheese garlic bread and a warm apple pie with vanilla ice cream, and boy was I in nirvana or what. We were stuffed beyond belief by now and all that was left to do roam a little, pick up some Himalayan caps and trinkets from the local jewellery stores.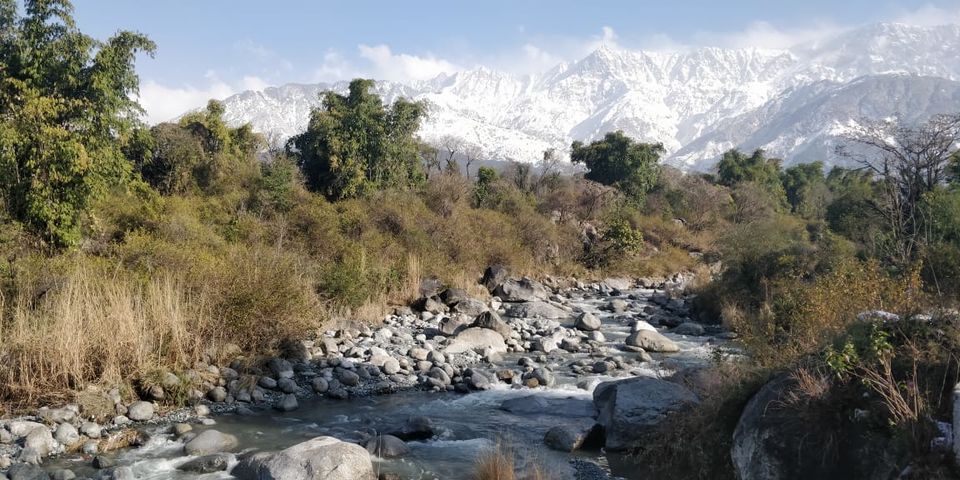 That brings me to end of our third day in Himachal and an extremely satisfying trip with my best friends – we explored the place in and out, ate like there's no tomorrow and walked, and then some. I'd suggest going to Himachal during off season, the place has such a different vibe to it, you feel like you own the mountains. 3 days were enough for us to explore most if not all of Kangra, Mcleodganj, Dharamshala and Dharamkot. What's better is that if you plan a little in advance, its extremely reasonable a place to travel to especially if you live in Delhi. I can't wait to do my third rendezvous with the mountains!