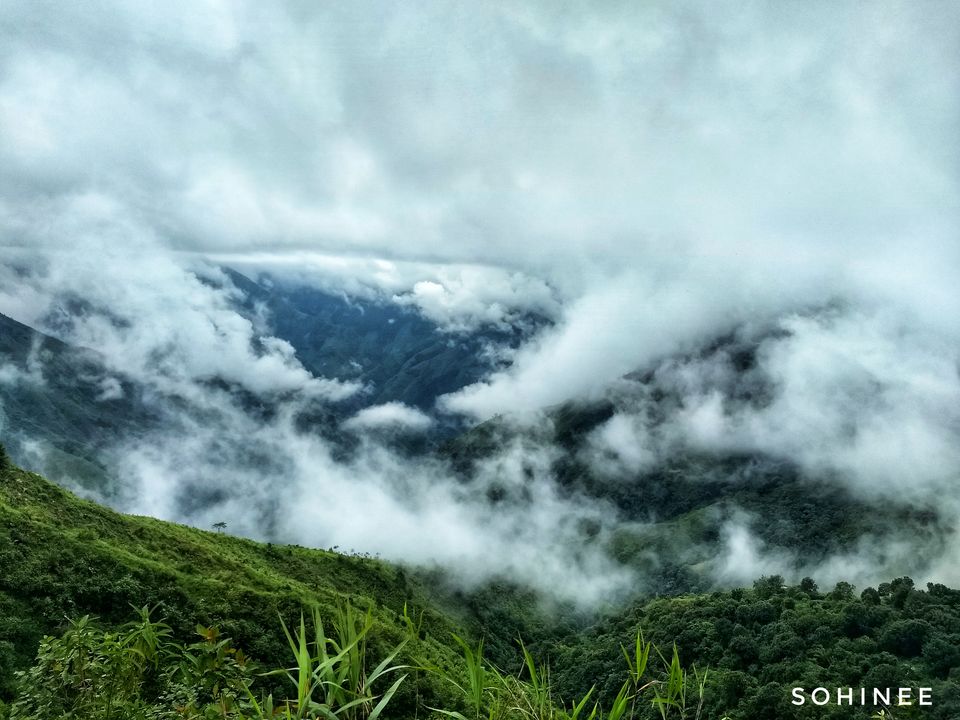 I have always wanted to visit North-east, though me being from so close to them didn't really got to. Finally last year the opportunity came. There was a long weekend last july and we grabbed that opportunity to visit Meghalaya~Scotland of the east !
How to reach?
Flight: Take a flight till Guwahati, and from there you can either opt for shared cab or book a car for your own. Its about 100km and the road condition is magnificient. We took a Sumo from the airport itself and it costed us about 3500/day for the whole trip.
Train: There is no railway connectivity in Meghalaya, one can go to Guwahati by train and go to Shillong by road.
Also there are ample bus options from Guwahati.
Where to Stay?
We decided on staying in Shillong for the whole trip, and since all the places to visit are very nearby, it wouldn't be a problem to come back by night.
There are numerous hotel options from mid ranged hotels to 5 stars. We were 7 in total, and chose to book through OYO rooms. Since it was long weekend most of the hotels in Police Bazar(the main part of the town) were booked. But since we had booked the car for the whole day, it wasn't a problem for us. The name of the hotel we stayed in was 'Hotel Knight Inn'. The rooms were spacious, and since we booked 2 rooms for us girls, they gave us connected rooms which was so cool!
Day 1 :
Our flight from Kolkata was early in the morning about 5:30am. We reached Guwahati by 7am and booked the car from airport. We were a bit worried about the weather cause we went there in June and the rainy season started there already. There were reports of the roads flooding even just about 1-2weeks before we went. But, Guwahati welcomed us with such a sunny weather. There was no sign of any rainy clouds anywhere! We were told by the driver it would take about 3hours to reach and we would be visiting Umiam Lake(also known as Barapani Lake) on the way.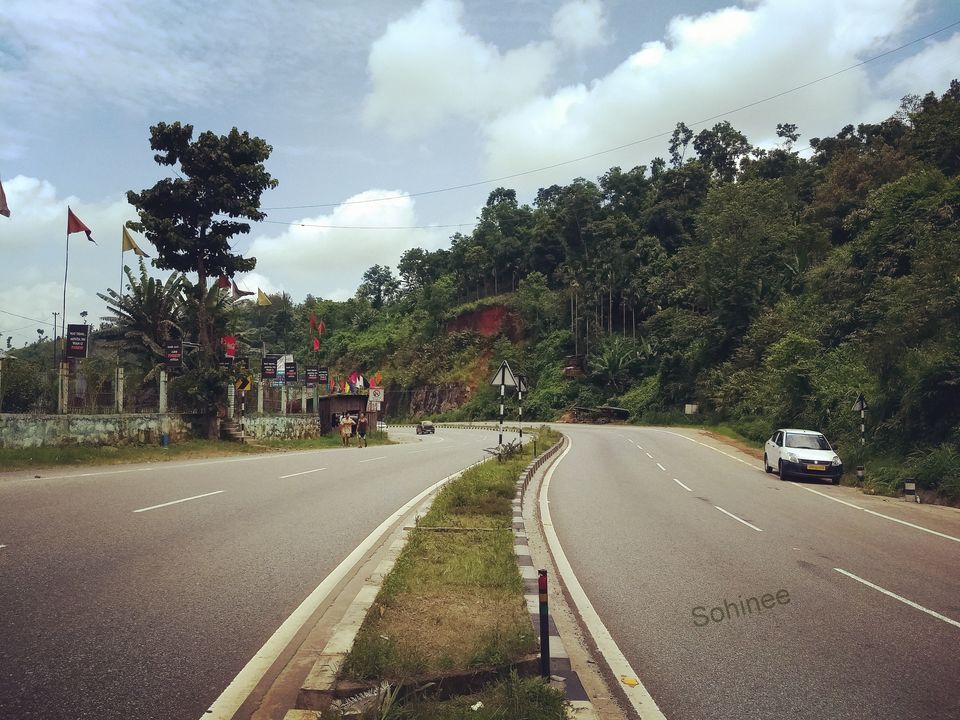 There were many water sports activity available there.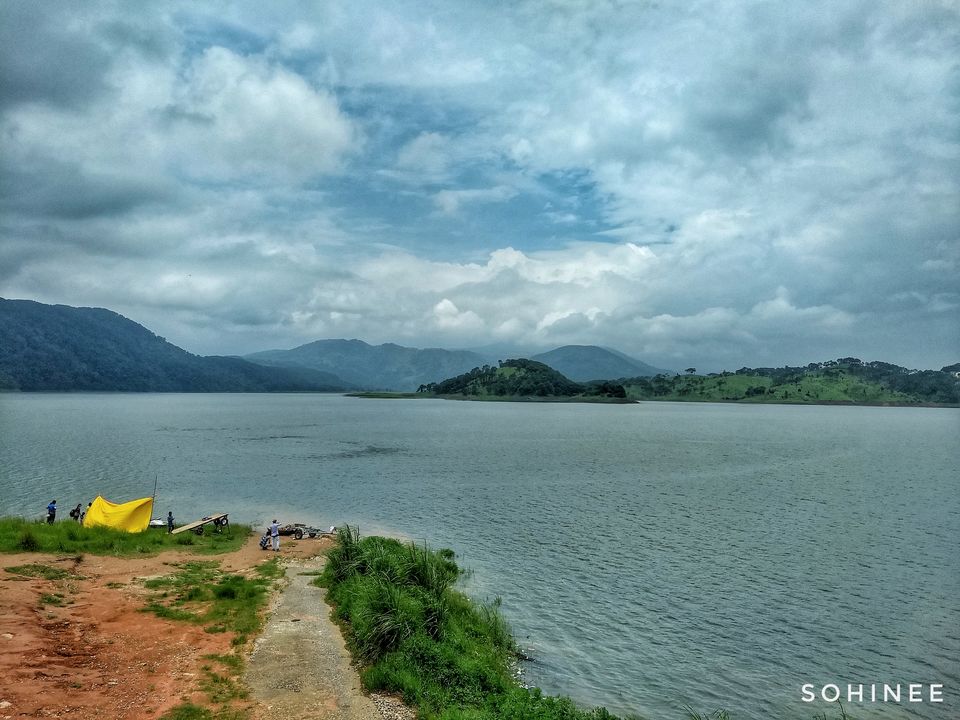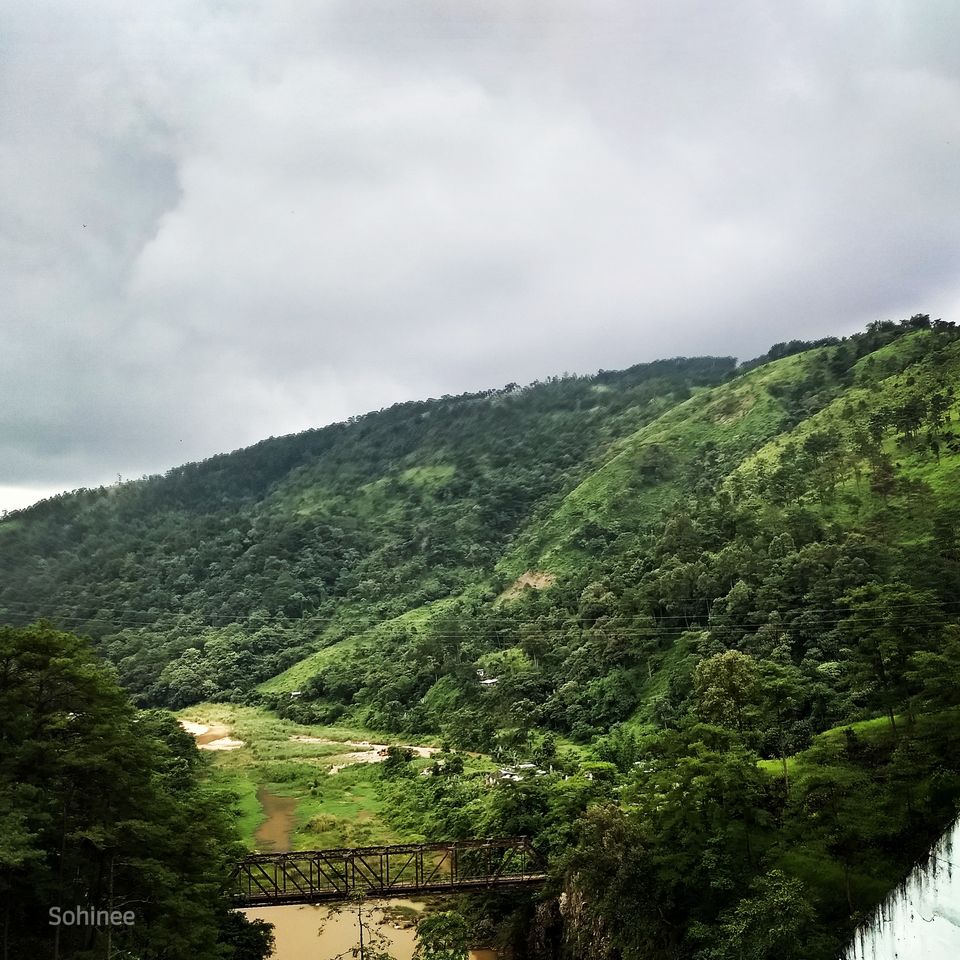 After reaching and having lunch, we went out to see the other attractions of the town Shillong.
Shillong Golf Course:
Shillong golf course is situated in the East Khasi Hills district in Meghalaya and is one of the largest Golf Courses in the world. Owing to its greenery and scenic beauty, the United States Golf Association and Museum has given it the title of 'Gleneagle of the East'. In the year 1898, it was established as a 9-hole golf course at an altitude of 5200 feet. The scenic beauty of this place is awesome. We had a great time and clicked lots of pictures of this place.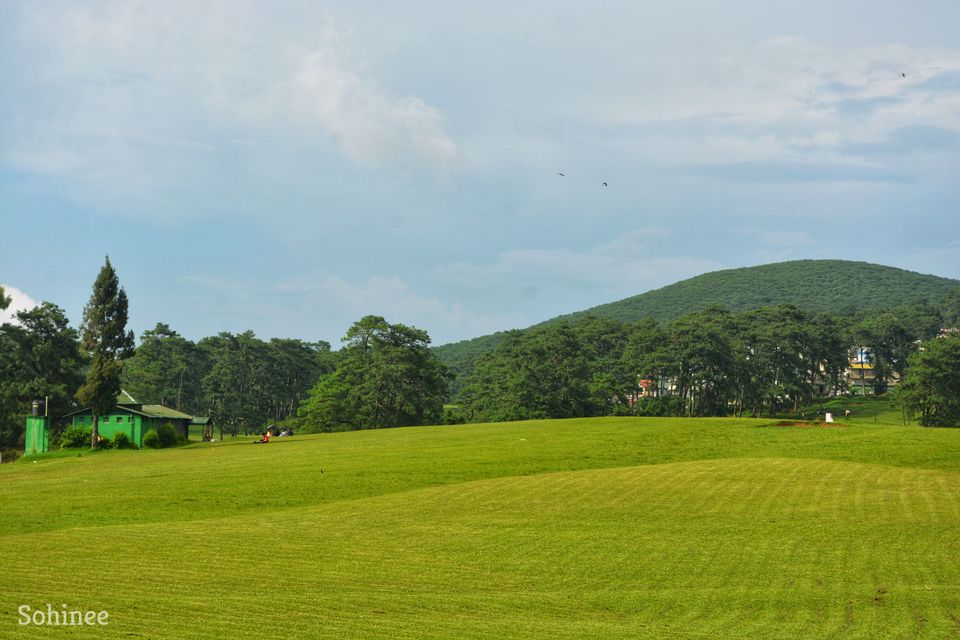 Wards Lake:
It is a man made lake, which is named after Sir William Ward, the then Chief Commissioner of Assam. This is one of the popular attractions of here. There is also a botanical garden that boasts of several orchids along with a number of other floral species. In the middle of the lake is a wooden bride from where you can enjoy a lovely views of the Lake. Boating is also available here.
Personally, I felt like, if on a tight schedule one can give this a miss.
Timings:
November – February- 8:30 am till 5:30 pm
March – October- 8:30 am till 7:00 pm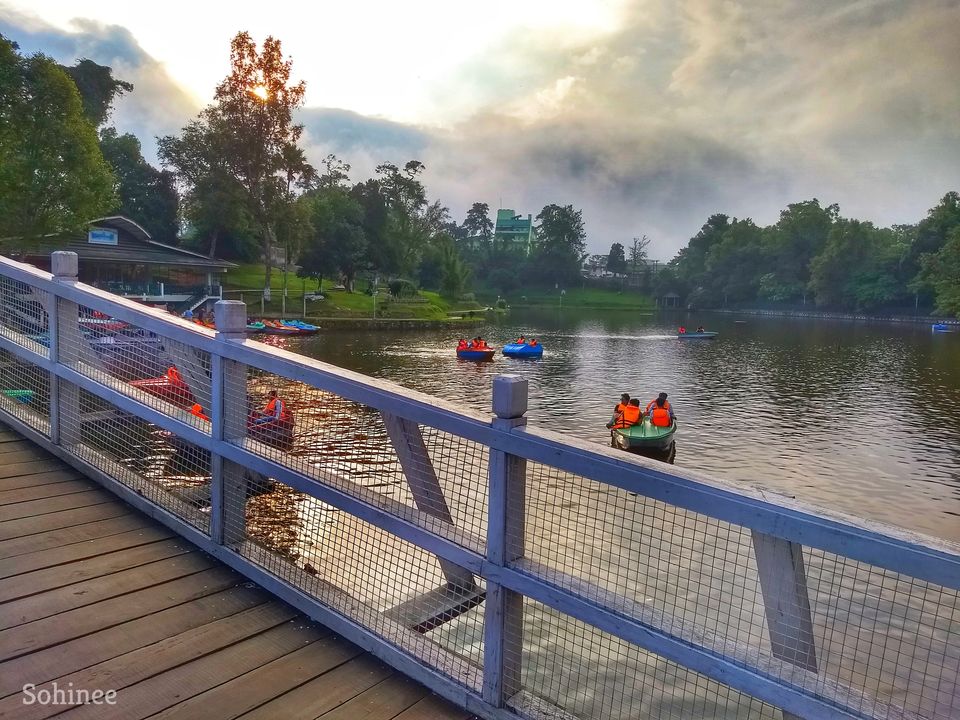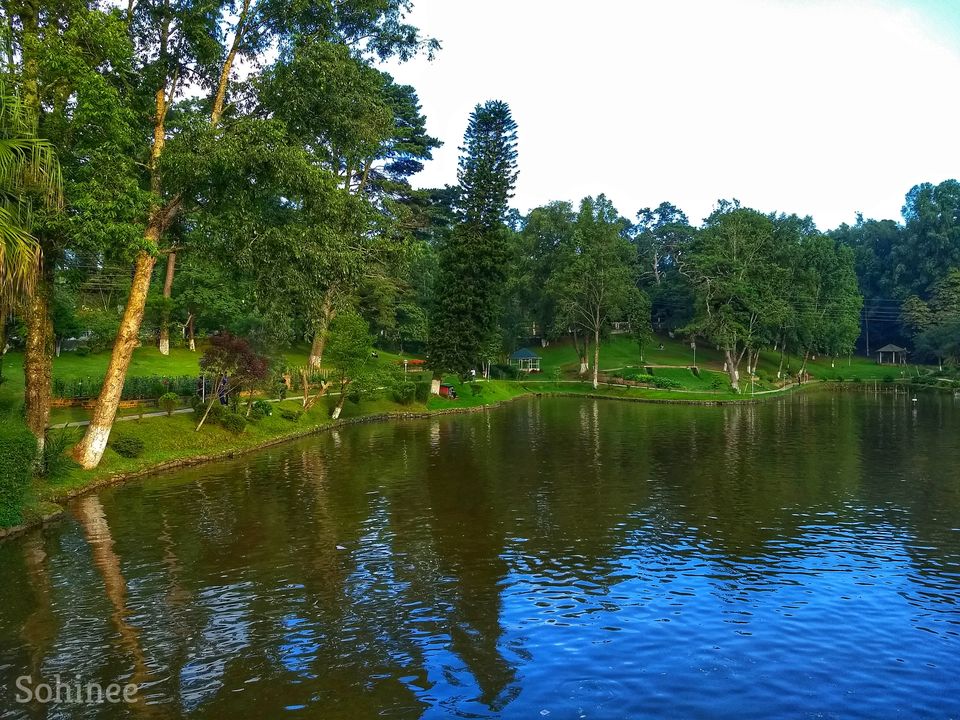 Police Bazar:
Visited there in the evening. Its a shopping place right at the heart of the city. There's mall and popular brands as well as local shops which sells everything from shoes to clothes to gadgets. I felt the prices are too much as compared to the quality and ended up buying only a cute bagpack!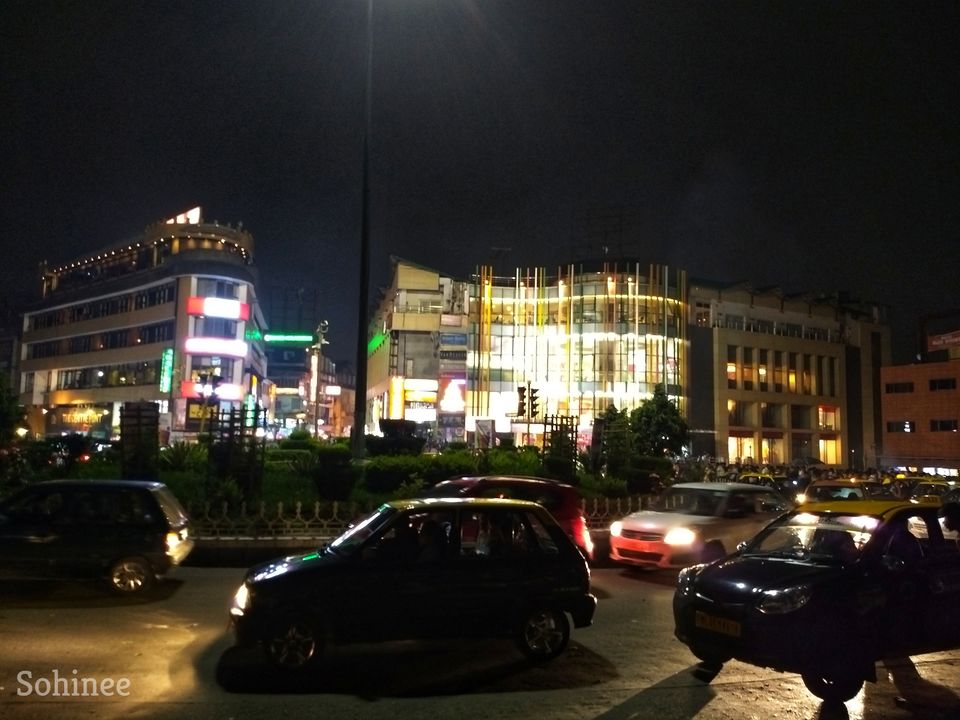 Cherrapunjee:
Initially we planned to go to Dwaki, Mawlynnong on the 2nd day, but since the sky was so clear, out driver suggested to plan for cherrapunjee!
On the way we stopped at a view point near a bridge where we had to go down a flight of stairs. By then the sun was covered with clouds and the weather was perfect to begin with!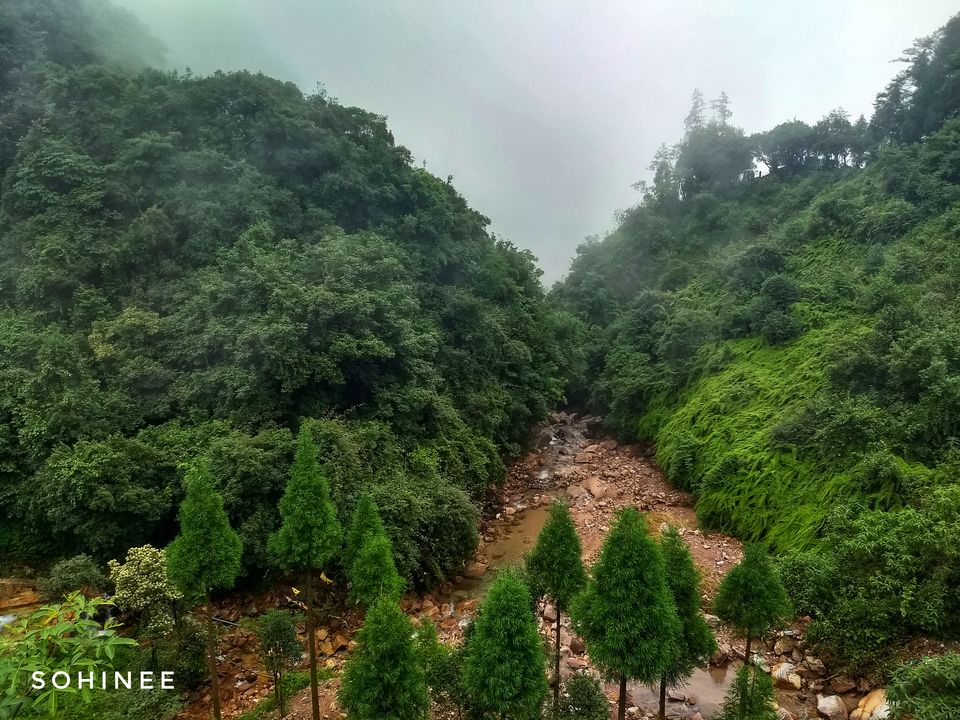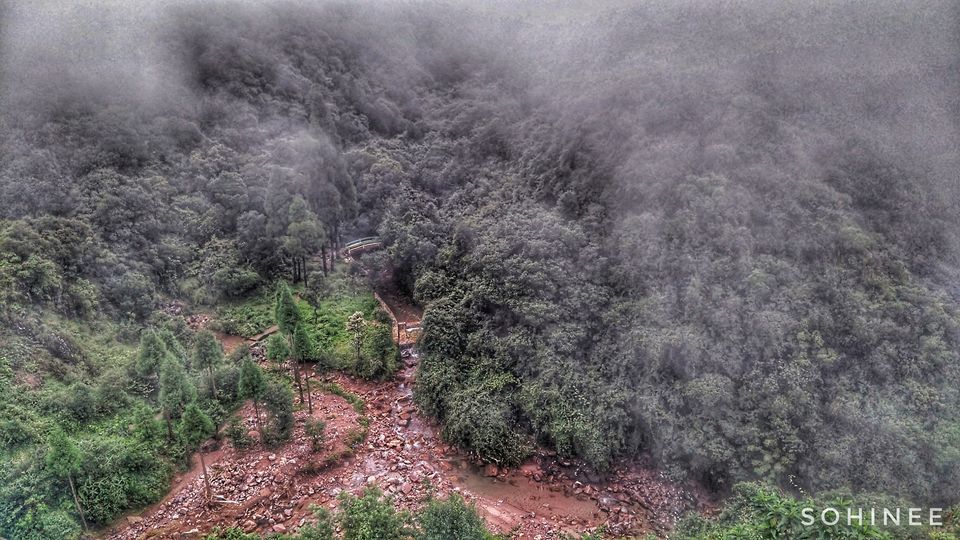 The next view point was one of my favourite from the whole trip.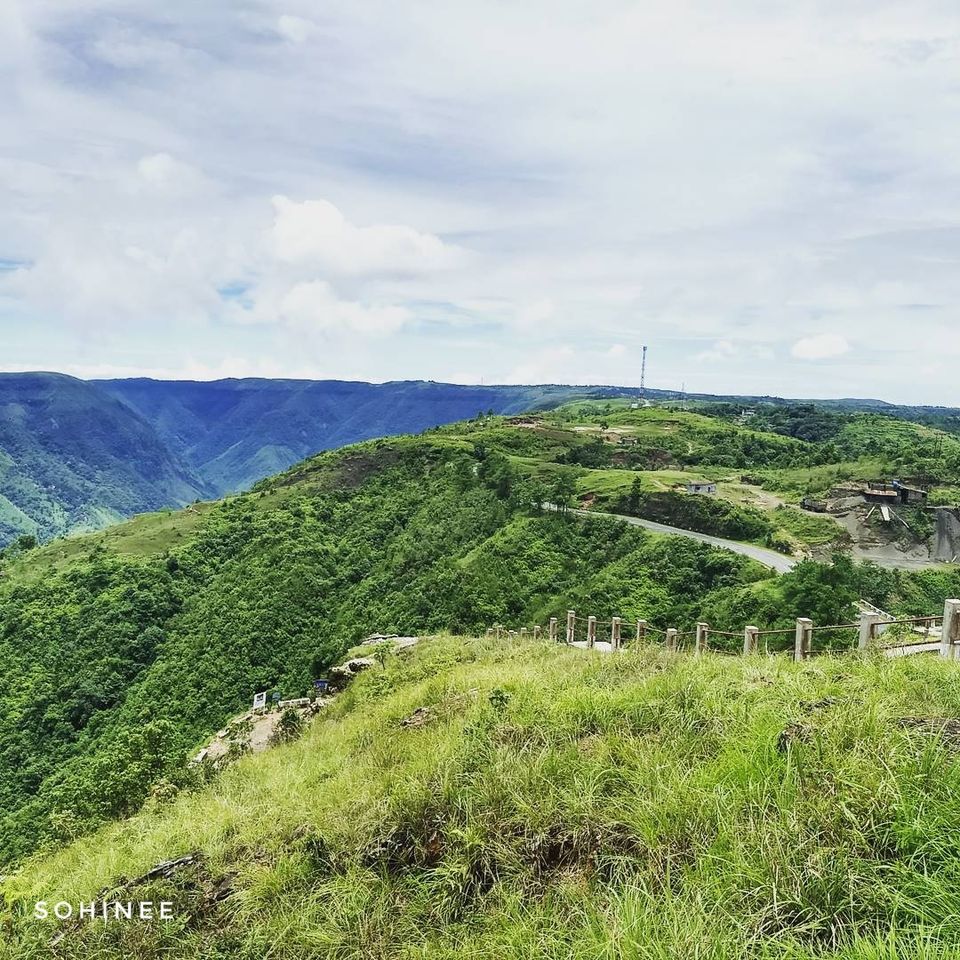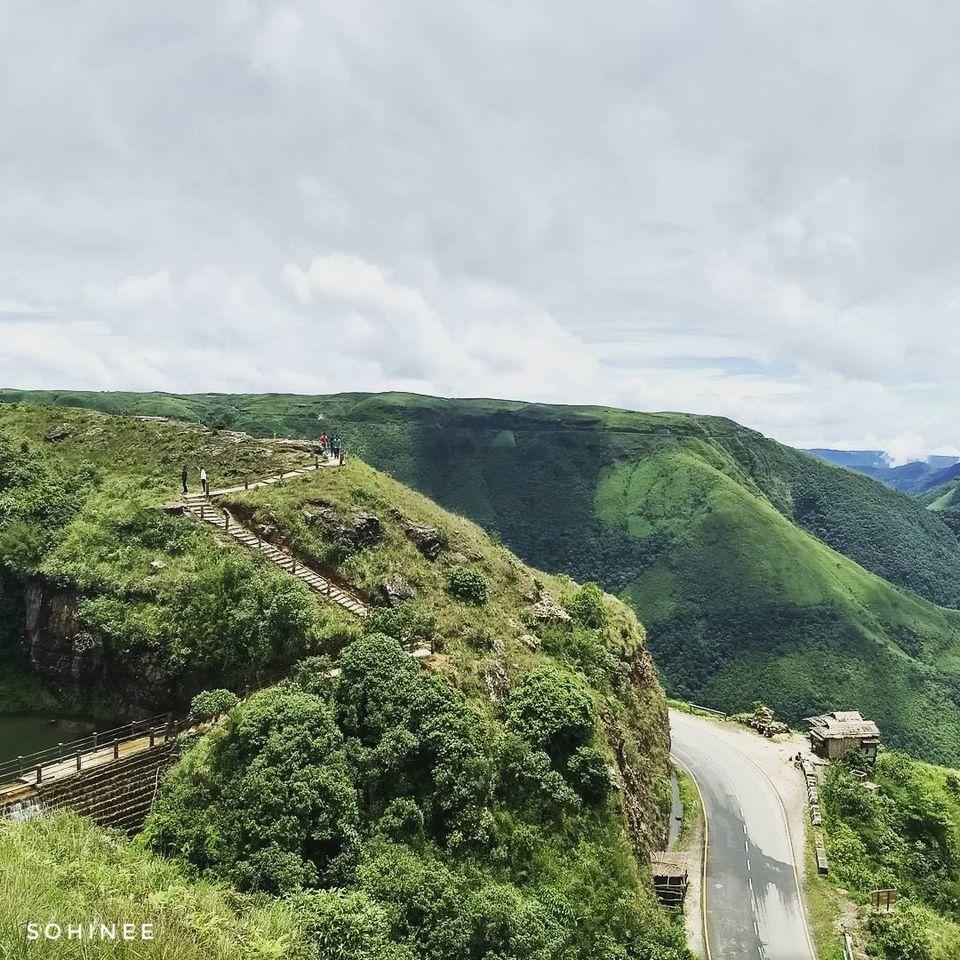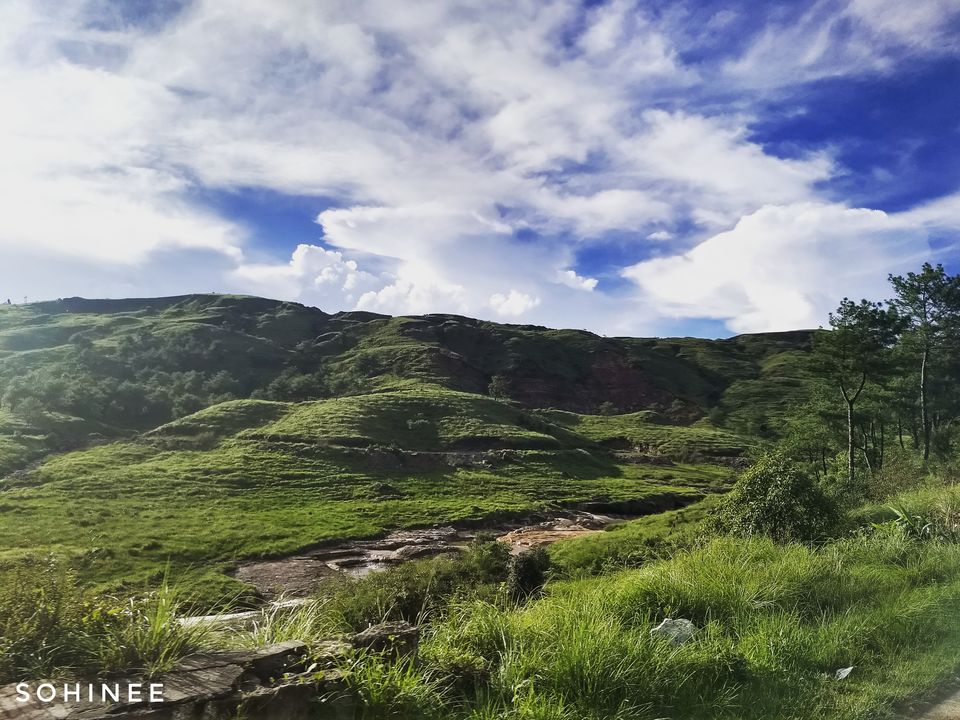 Wahkaba Falls:
After this we stopped at a point where we had yummy maggi. Mountains and maggi make such a terrific combination!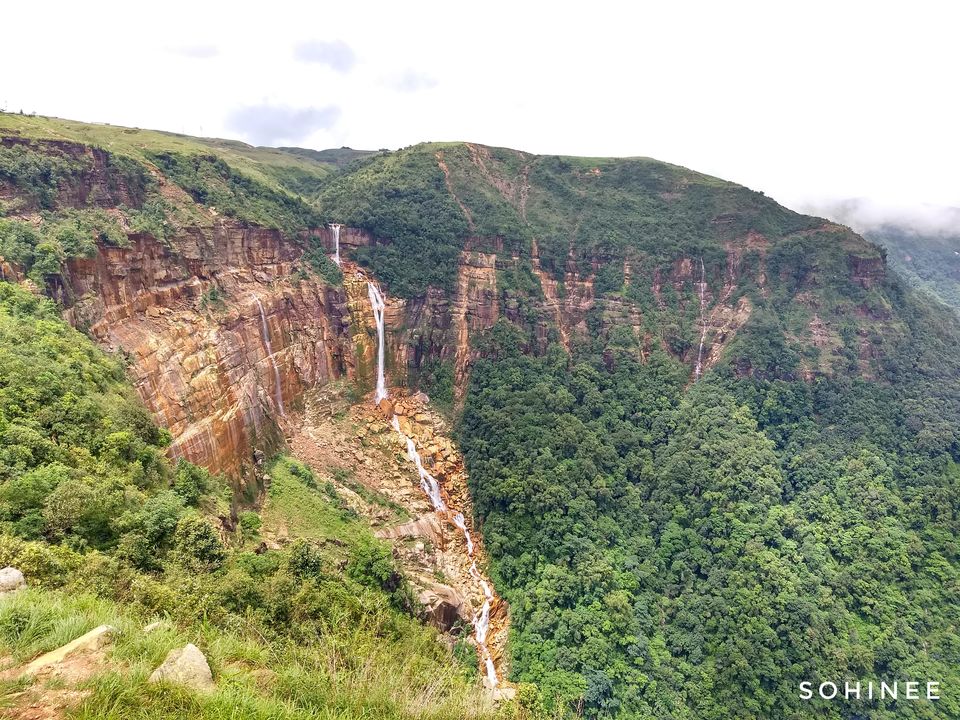 Nohkalikai Waterfalls:
Nohkalikai waterfalls is one of the highest waterfalls in India. The height of this waterfall is about 1100 feet!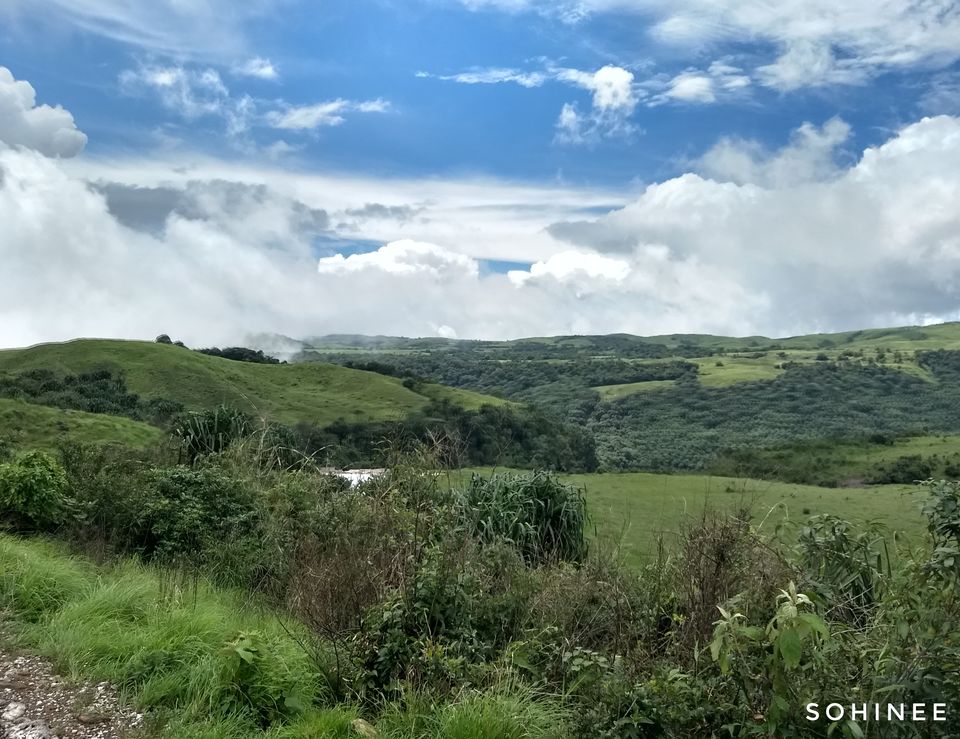 Unfortunately, when we reached there, it was completely covered with clouds and we were told to wait for some time for the clouds to pass. And after waiting for about 30-40mins we could finally see it!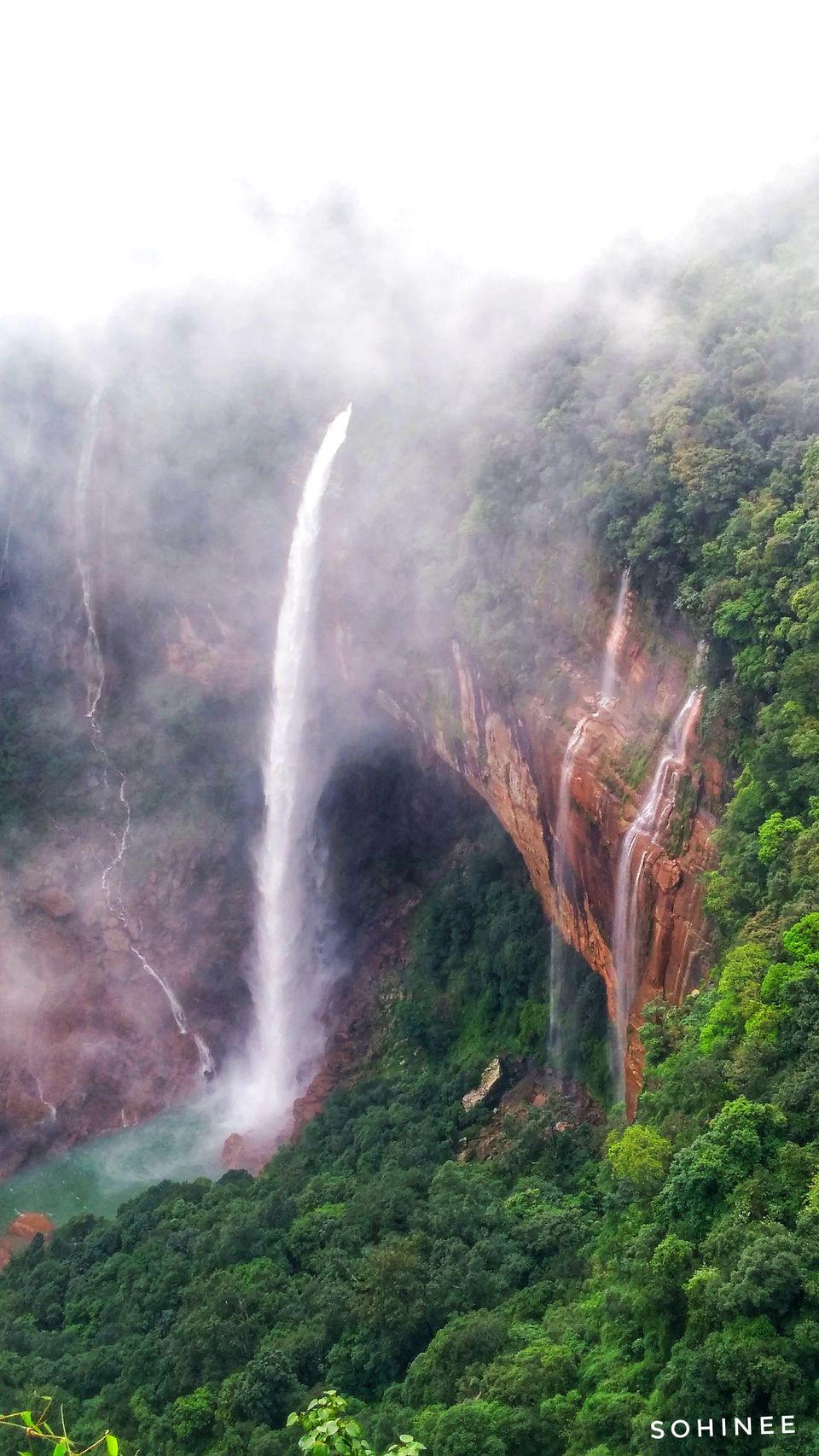 7 sisters waterfall:
There are a total of 7 waterfalls, and thus the name. It makes its way down the East Khasi Hills to the plains of Bangladesh. The height of the waterfalls are about 1035feet! This is also the fourth highest waterfall in India.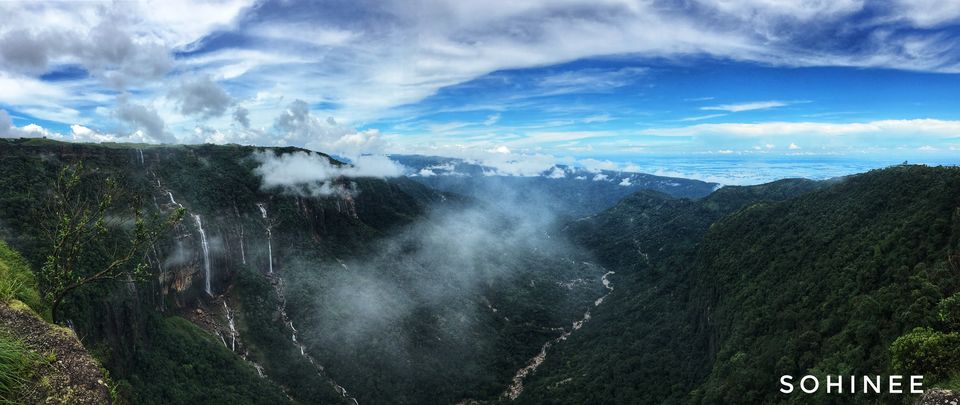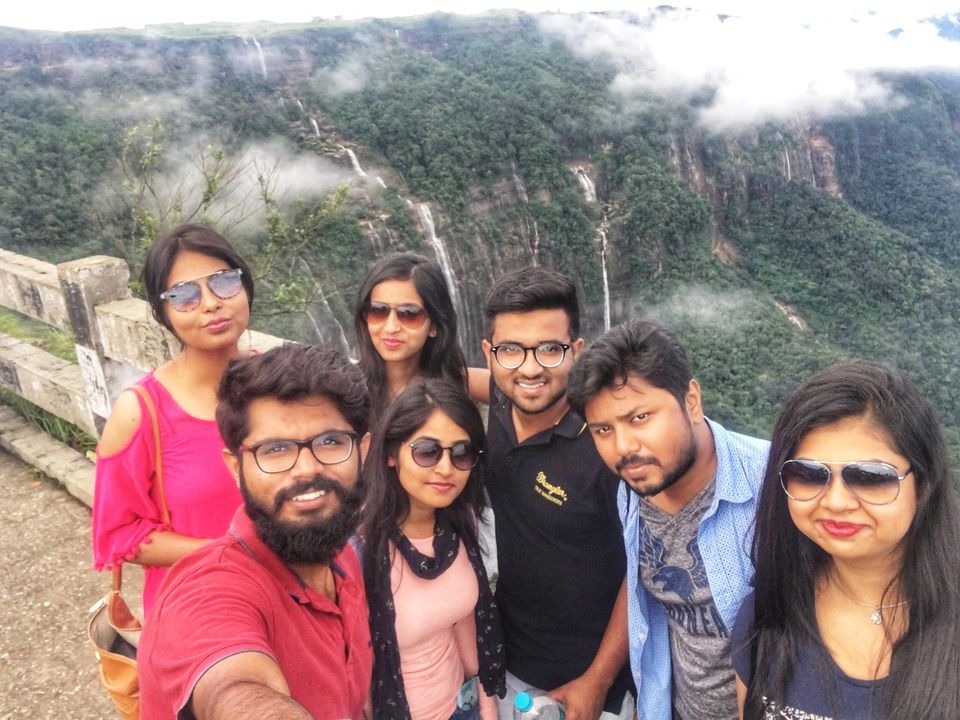 Mawsmai cave:
Our last stop was the day was the cave. Inside the cave we can see the formation of stalactites and stalagmites. The entrance of the cave was quite large but the exit was not. In some of the part we had to kneel down and bend our head to go forwards. It can be a little claustrophobic for some people though.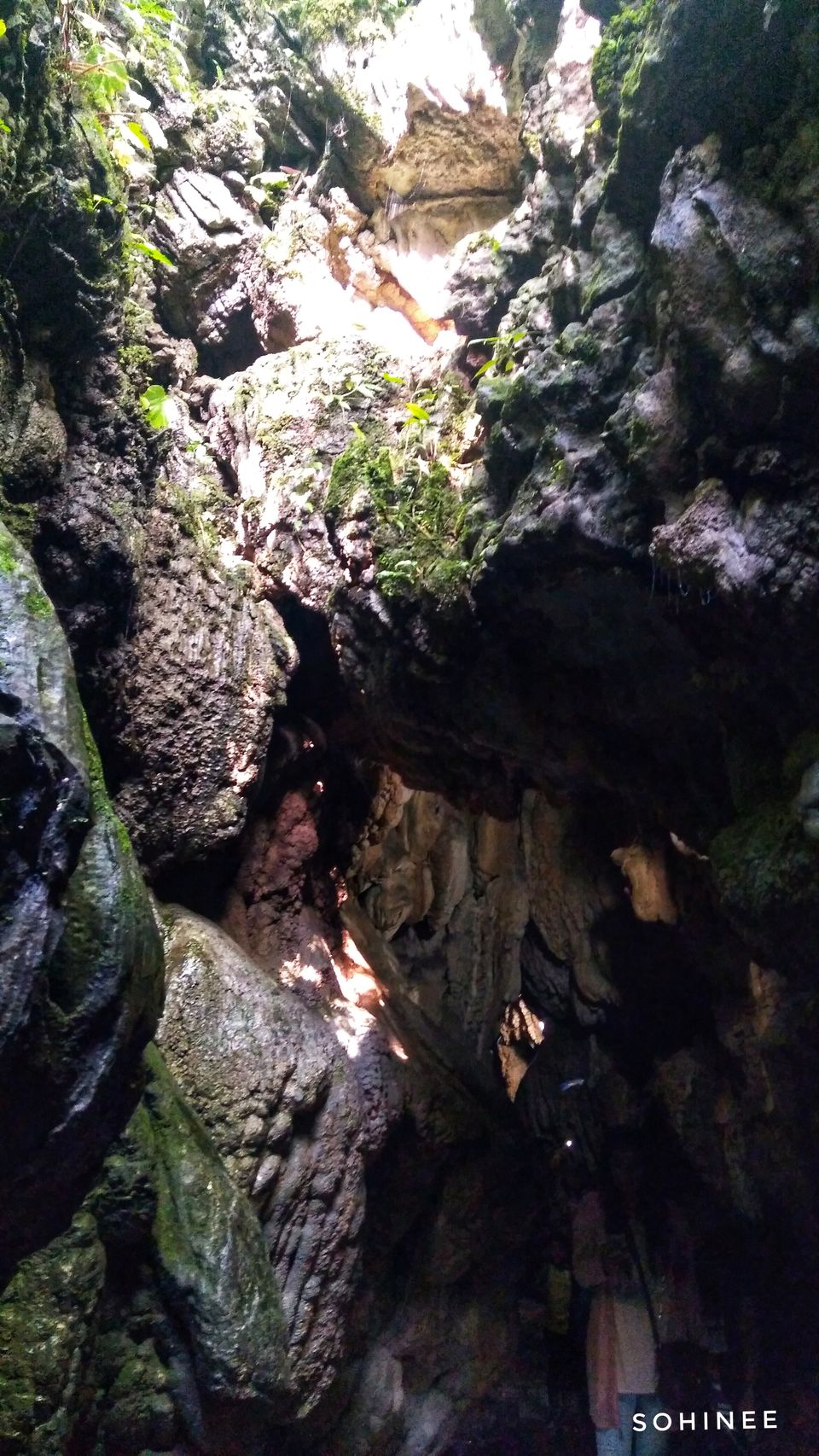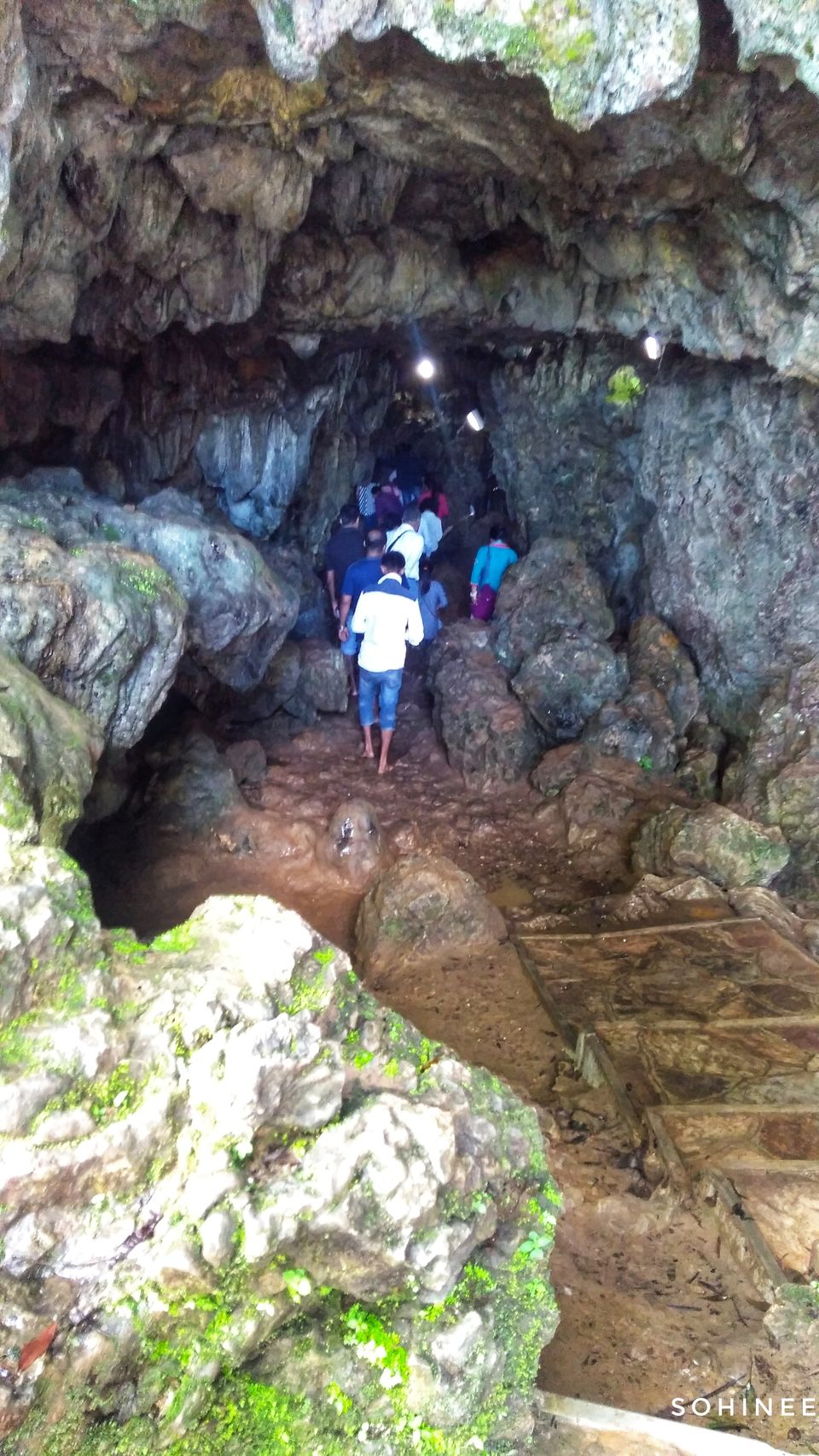 On our 3rd day, we were supposed to go to Mawlynnong, Living root bridge, Dawki river. The weather in the morning was cloudy and it gave us some picturesque view on the way.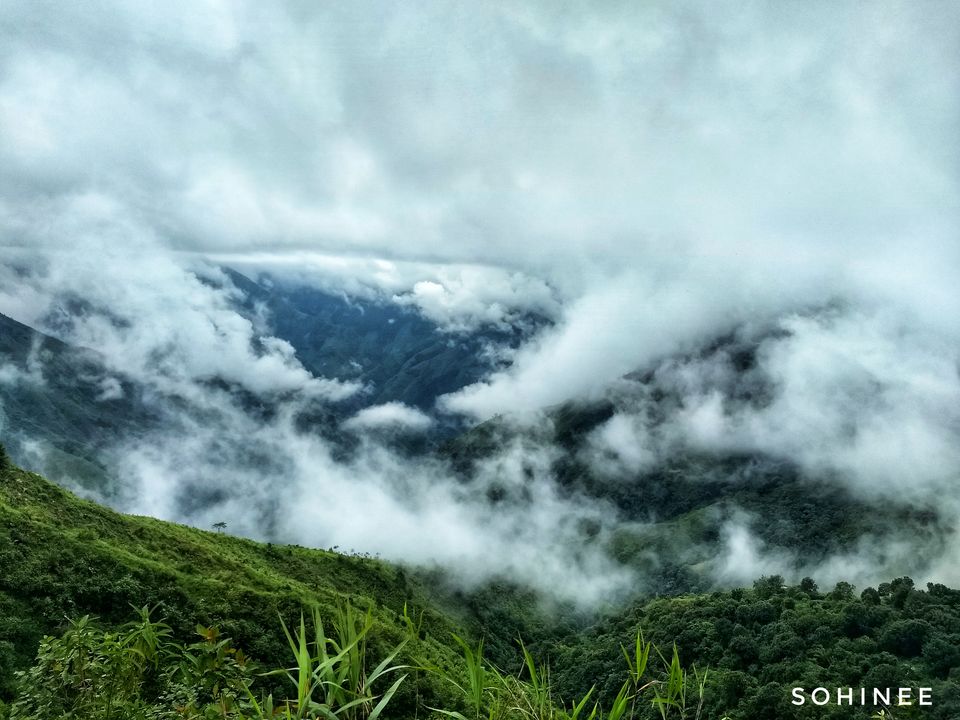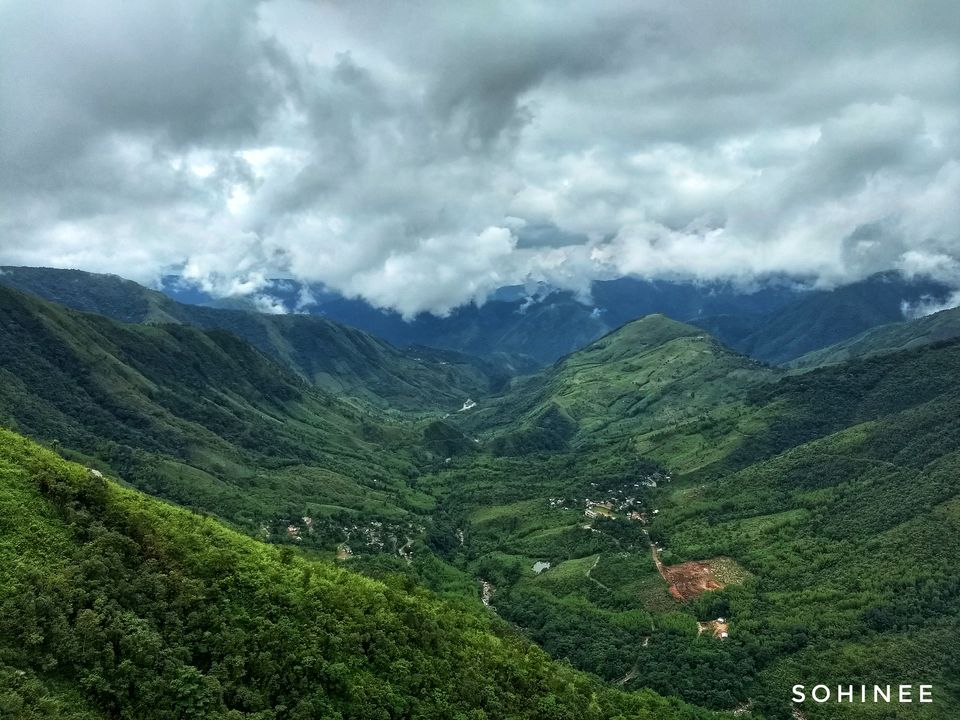 Living root bridge:
This is situation 2 kms before Mawlynnong village. There is a parking lot from where you have to trek to this bridge, its about 1-1.5km each way. You have to pay a small entry fee to this root bridges. But then don't allow to stand of the bridge, just to pass through. There's a river flowing below this bridge.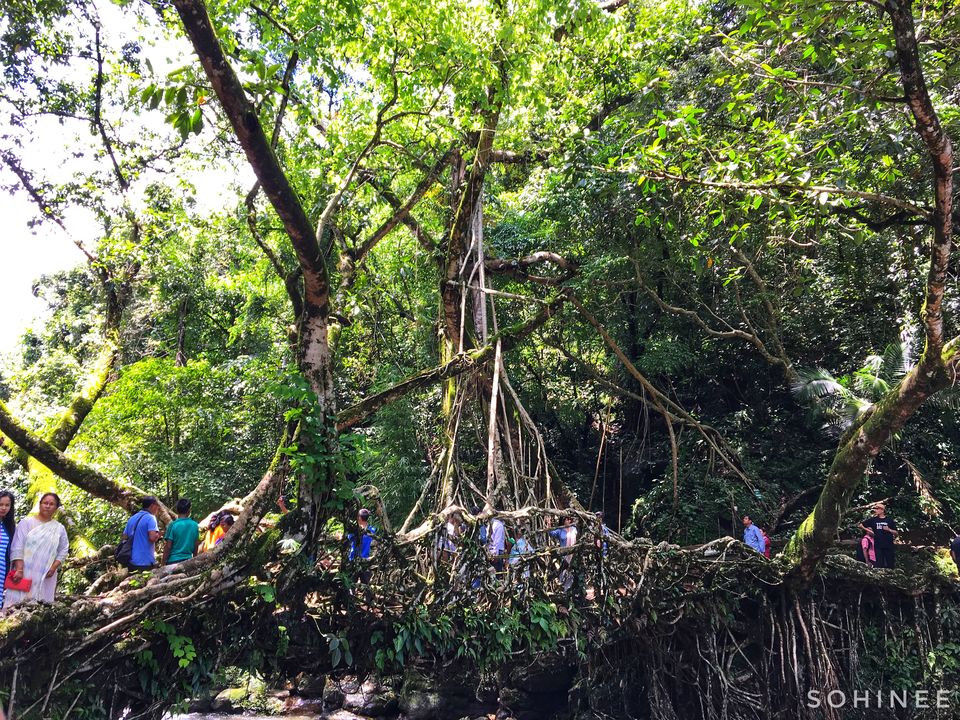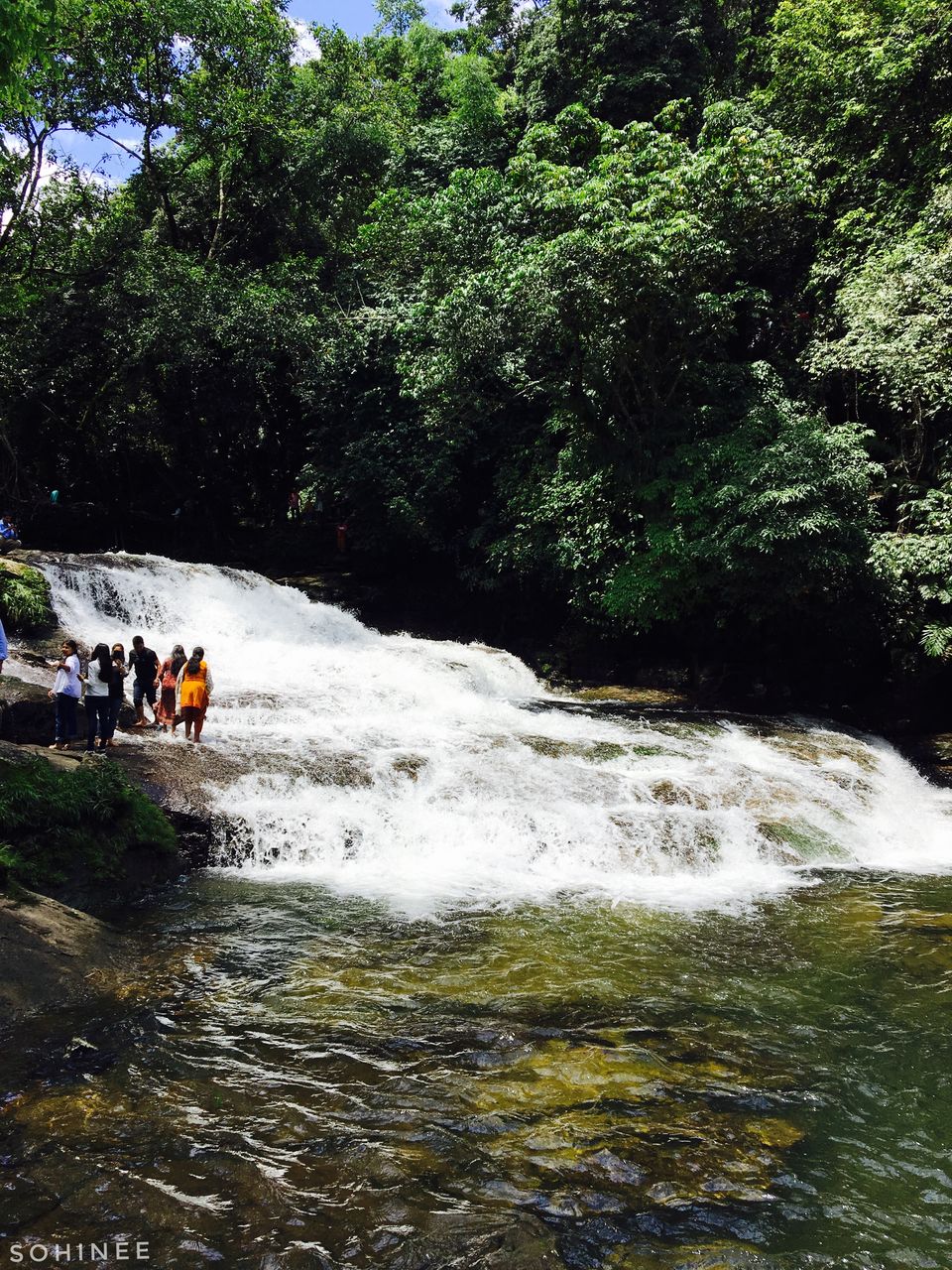 Mawlynnong:
Mawlynnong village is known as the cleanest village in Asia. We could see there were bamboo dustbins all over the village, plastic bags are banned, and smoking is also prohibited. Also, do try to have the lunch there as it was mouth watering.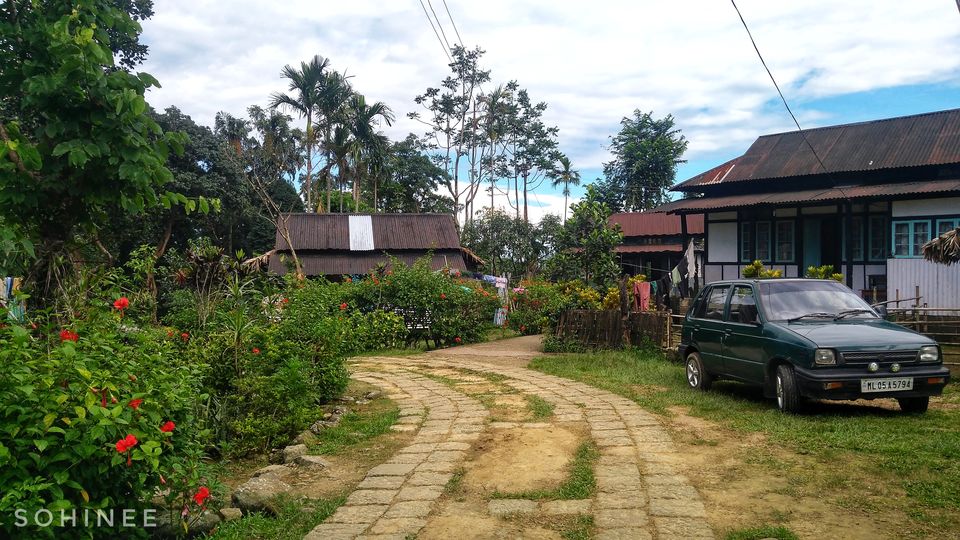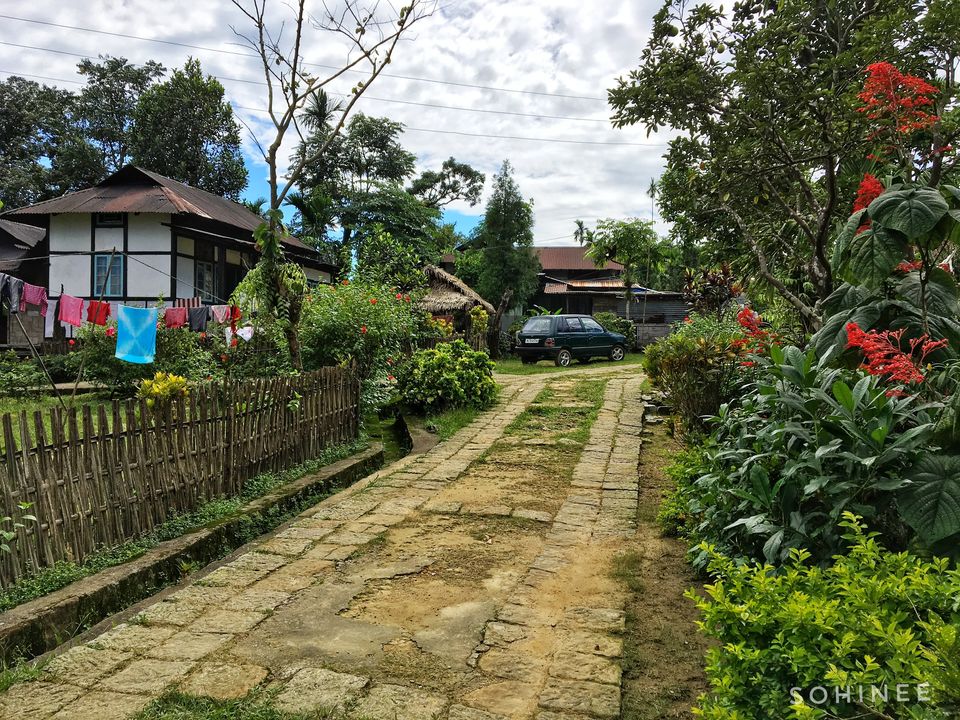 On the way to Dawki river, we visited two other waterfalls.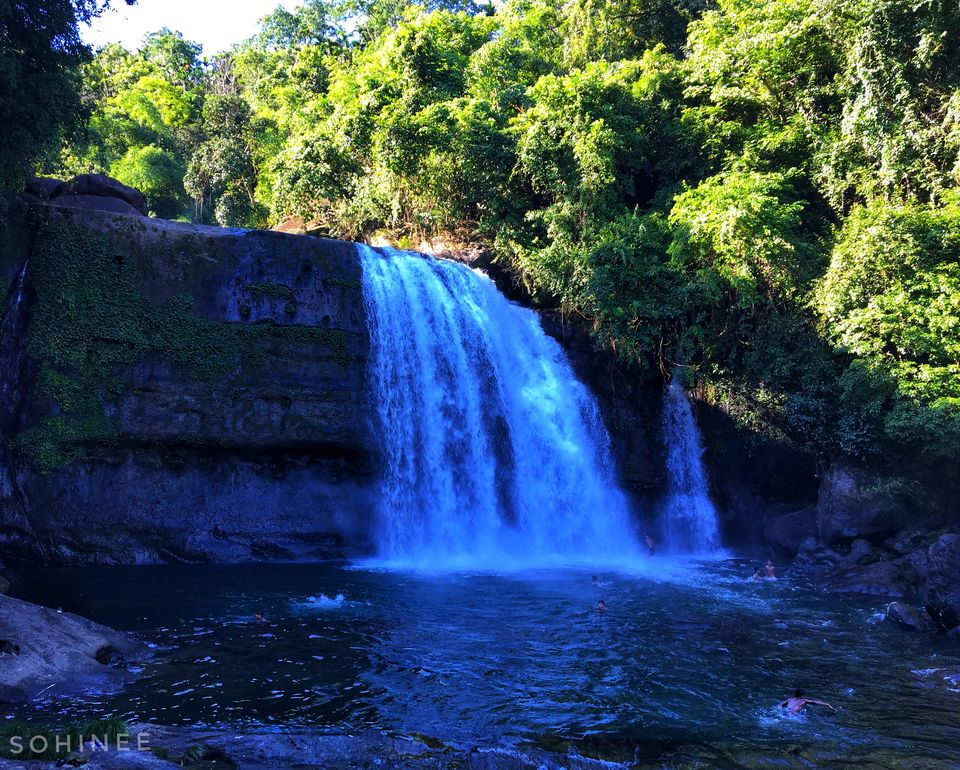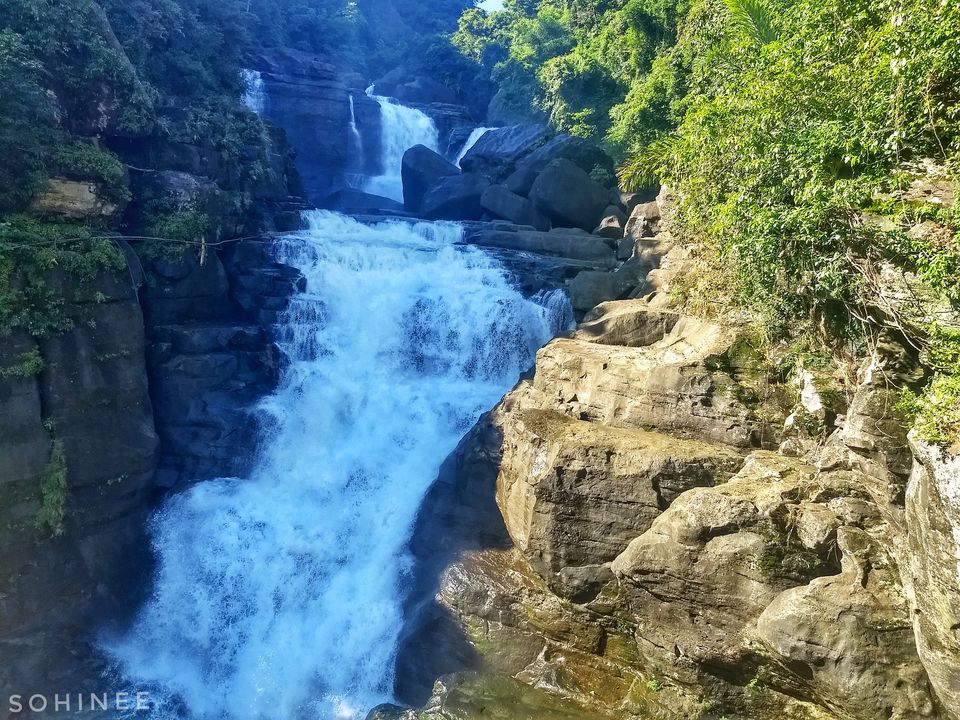 Dawki :
Dawki is a small town which lies just near the Bangladesh border. Dawki Bridge, is a suspension bridge over the Umngot River. We hired two boats there and it showed us the whole of it, also pointing out the next land far away on the other side being Bangladesh.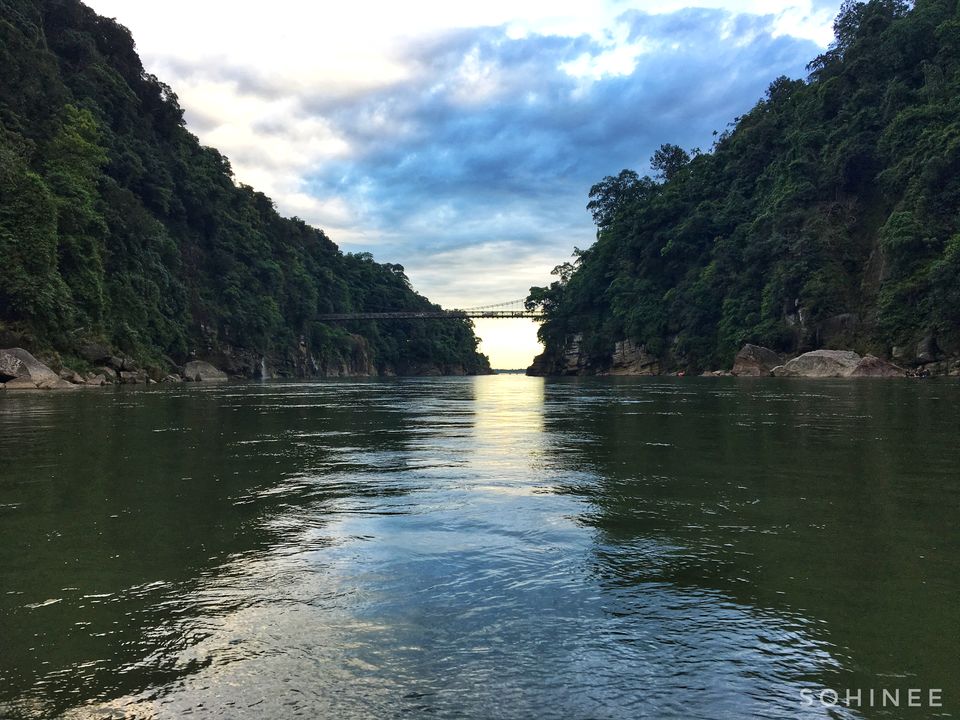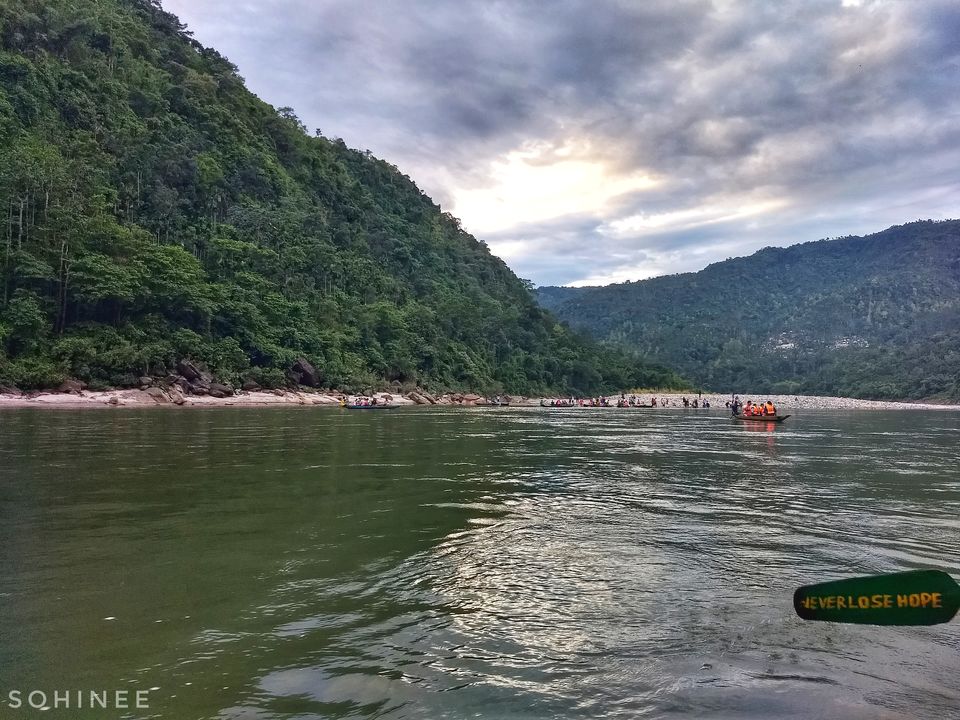 It was the last day of our trip, and since our flight from Guwahati was at night, we decided to visit some of the tourist spots left to see in Shillong.
Shillong Peak:
This is the highest point in Shillong situated at the height of 6449 ft. It offers a beautiful panoramic view of the entire city. And to our luck, it was a beautiful weather that day.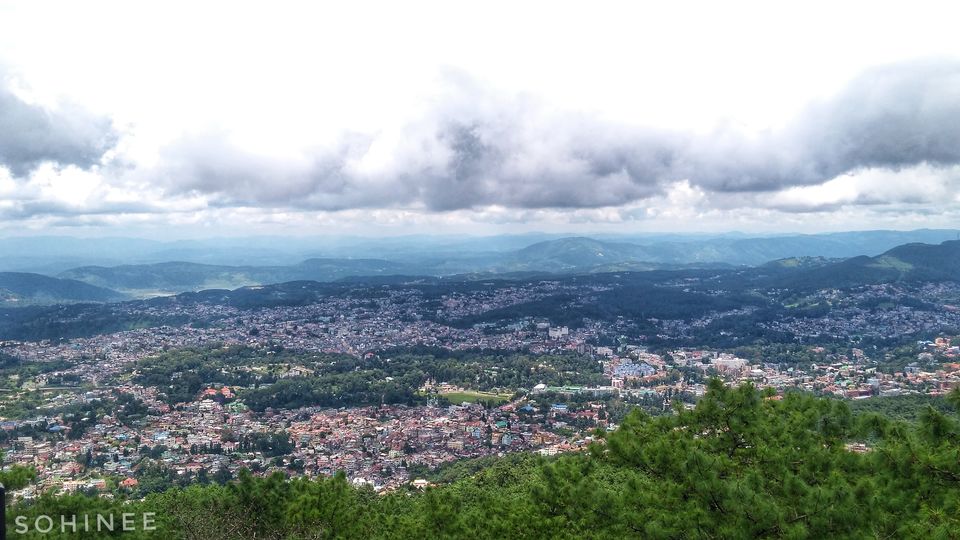 Elephant Falls:
There are basically three layers of the waterfall, which is accessible by stairs.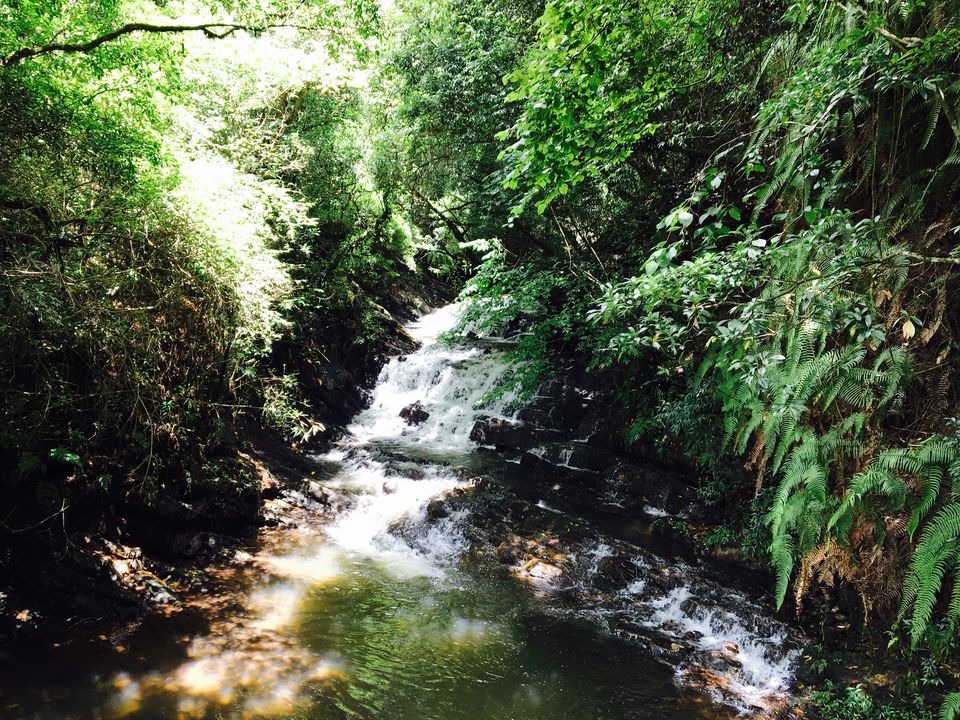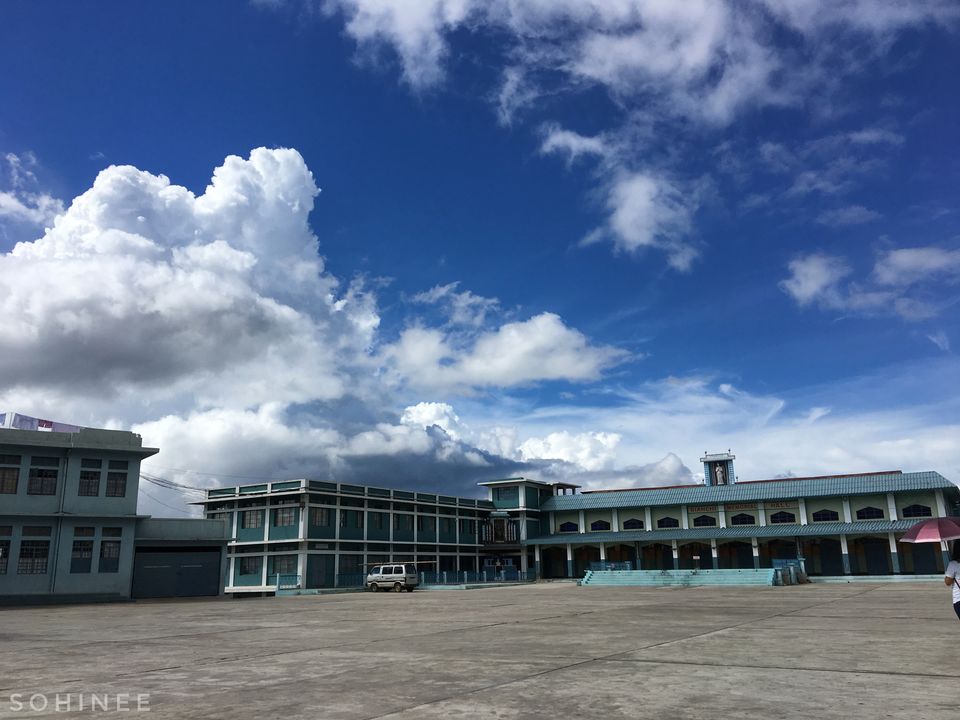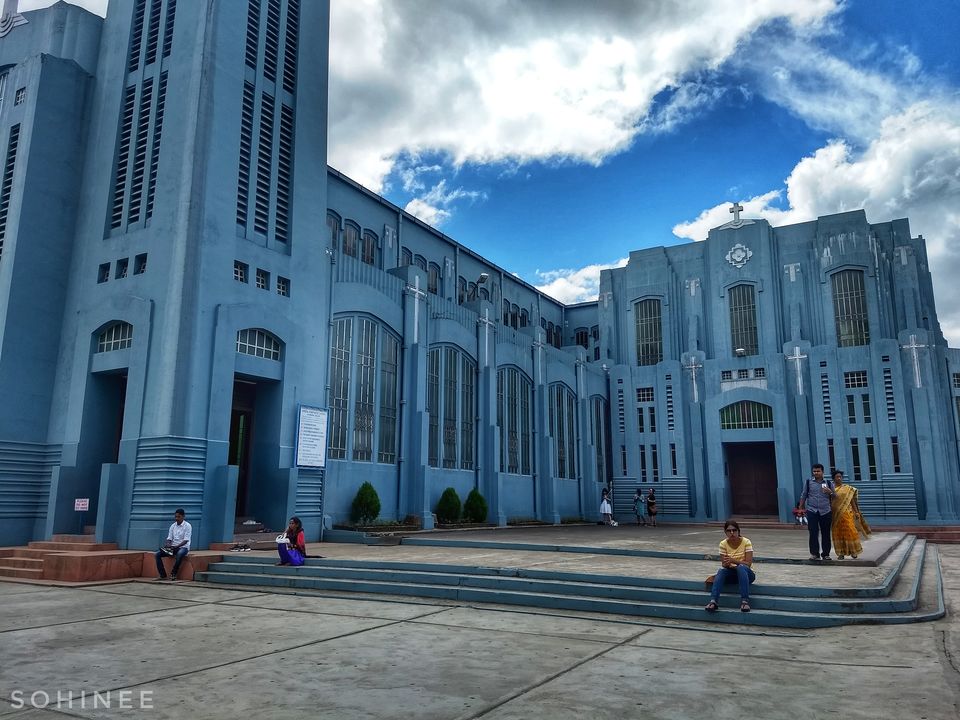 We had also planned to visit Kamakhya Temple on the way back, but couldn't since it started to rain heavily. But still we were so grateful that we got such an amazing weather throughout the journey & could visit such beautiful place.
I just covered one out of the 7 sister states, and already I am on my way to plan the next visit to north-east!