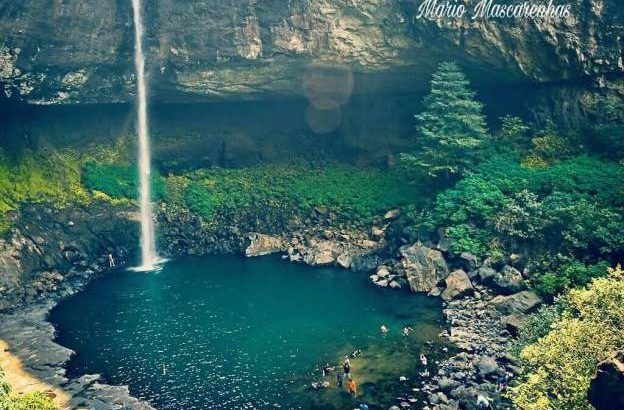 A rather hectic week was coming to an end to make way for "Trek wala weekend". These are the weekends I look forward to.
It was Saturday afternoon. I got a call from Manoj who informed me that Devkund is on (Initially, it was dicy due to less registrations).
Devkund is a relatively new and unexplored destination. At the end of a fairly easy trek is a beautiful waterfall and a natural pond with bluish green water. Thanks to Parnika (Pari) for letting me know about the Devkund plan.
Journey Begins
We met near Pritam hotel and started our bus journey around 6 am. Manoj, Parnika and Jal were from Travel Trikon. We were a group of 12. 11 of us started from Dadar and Meena boarded from Panvel.
Let The Games Begin !
It was time for virtual volleyball – a fun game to get familiar with each other's names. Vinod sir was the Iqbal of volleyball with every shot landing on Pari. Jal ensured a smooth win for us (he was in the opposite team).
Pari explained Mafia and we decided to play one round. So far we have seen records like fastest goal, fastest century and of course Usain Bolt. How does fastest Mafia sound? Yes, 2 rounds and both the Mafias were caught. City won in no time.
We had breakfast and tea at Pali and continued the journey to Bhira village.
Trekking Time !
After a couple of haunted stories by Pari and Mannie sir, we reached Bhira. Kshitij, our local guide joined us there. After a proper introduction round, we started the trek. Manoj lead from the front and Jal was the back lead.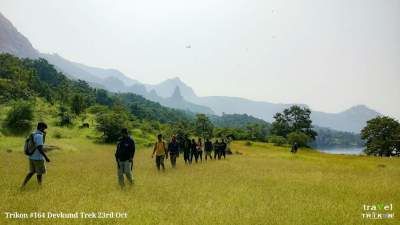 Mario sir is an ace photographer and a very experienced trekker. Priyanka and Vinod sir also had cams. I had left mine at home (random decision).
Scene #1 – Flat Grasslands
The trek started along flat grassy plains (Mannie sir loves grasslands) accompanied by spectacular views of mountains and lakes to the left.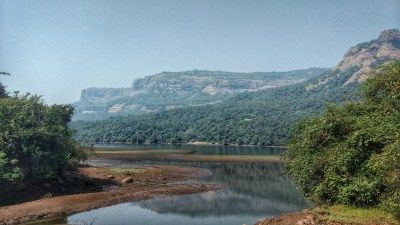 We posed for a group photo and then started walking in a single line. Mario sir loves to take photos from behind (The group photo was for reference :P).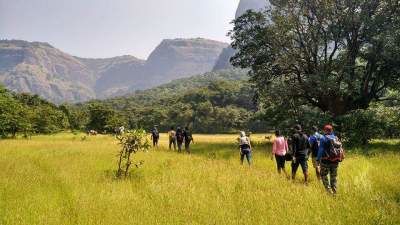 We spotted a massive spider above us. It can give you a "ye kaatega toh spiderman ban jaunga" feeling!
Scene #2 – Mild Forest Trails
The scenery around us changed to forest trails.
Apart from us Trikoners, there was one more small group which lost their way in a rather funny manner (kitna right marega, chalo left maarte hai and the rest is history).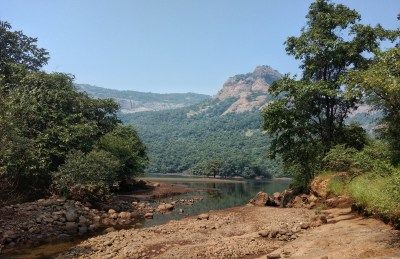 There was an ascend which lasted for only 15-20 minutes.
Scene #3 – Dense Forests
The forest cover became dense and dark. It was thrilling.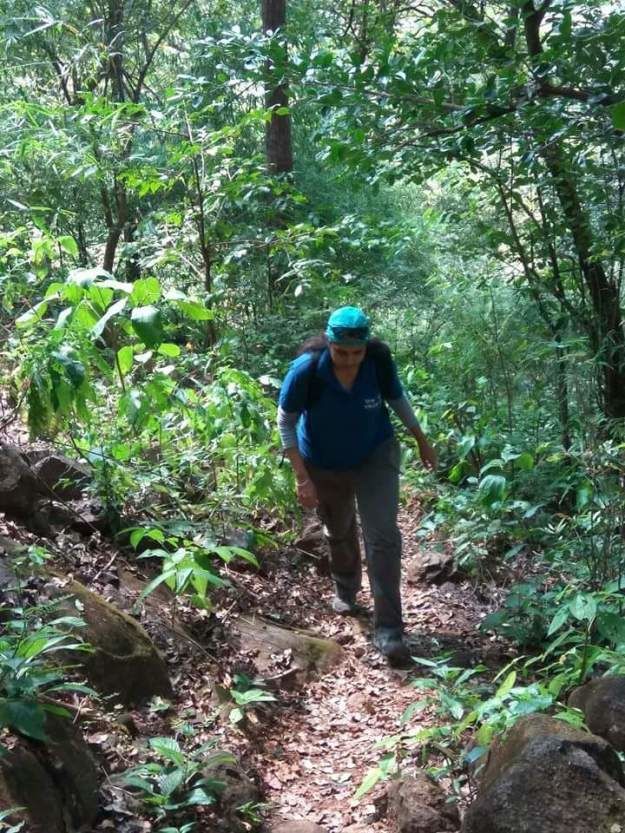 Whenever the group slowed down we took Pushkar's name (Push Kar!). The dense forest cover opened up to reveal the next surprise – rocks and streams!
Scene #4 – Stream Crossings
The last phase and the most beautiful one involved walking and hopping along rocks and crossing streams.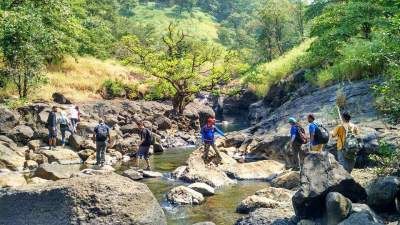 We could hear the sound of the waterfalls. The water streams were so clear that we could see the rocks underwater.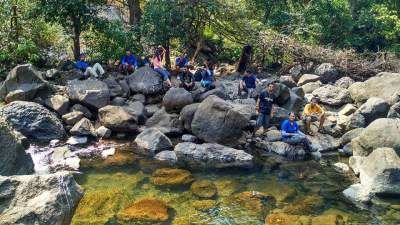 Sunlight reflected on adjacent rocks by the flowing water led to a Windows Media player visualization effect. It was amazing.
We were nearing our destination. The first glimpse of Devkund Waterfall originating from above was quite promising.
Devkund It Is
We ascended one last rocky patch and there it was ! Complete view of the waterfall along with the pond. It was the same bluish green shade as seen in its images.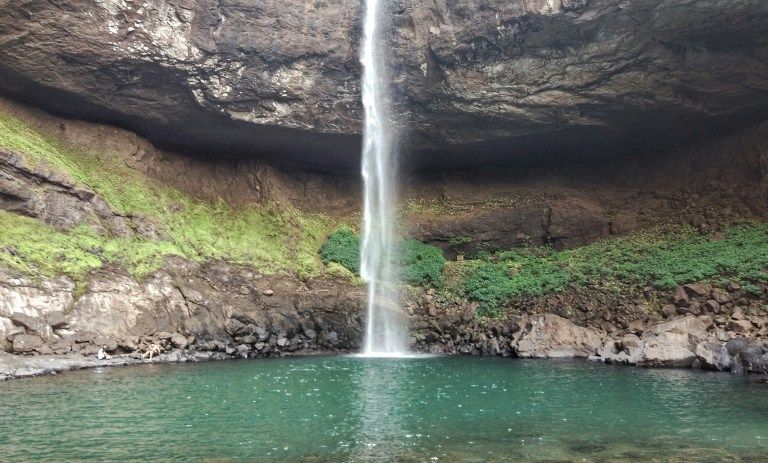 We took pics of the amazing landscape and ourselves before entering the pond. Priyanka and Meena clicked DPs for a long time (Pari counted 150. So let's assume 150 pics)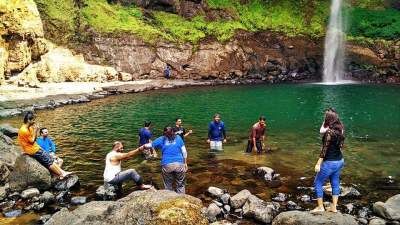 The water was cold. We had a great time splashing around, taking dubkis and of course shivering.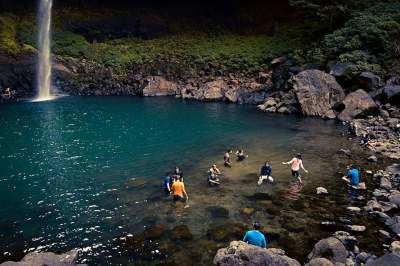 Mario sir trekked further up to capture top view and the end result – a masterpiece ! Perhaps the best ever pic of Devkund !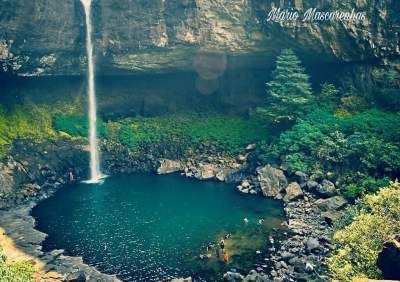 We played in the pond for some more time and then went behind the waterfall. Watching the water coming down in slow motion was a sight to behold !
Snacks By The Pond
Pari and I had packed medu vada and vada pav from Pali. Biscuits and chakna items were also there. However that wasn't all !
Pushkar had got bread, cheese spread and pizza spread as well. He made yummy wafer sandwiches with cheese and pizza spread. We also made innovative stuff like medu vada cheese doughnut and cheese vada pav.
It was time to leave.
Back To Base
We started our return trek. On the way we saw another group who had come for piloting (which further proves how less explored it is).
On reaching the grasslands, we took a trikon pose group photo and continued our return.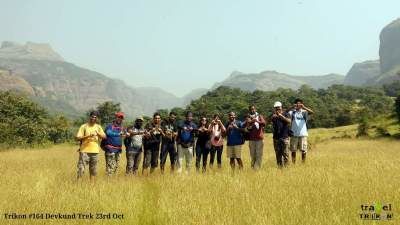 Finally, we were back to Bhira village. Changing and freshen up facilities were available and lip smacking food as well. Bhakri with pithala bhaaji was ultimate !
We went to Bhira dam for some time to witness the sunset and enjoy some more stunning views