It was October 1st and just like previous couple of years I wanted to travel on my birthday this year as well, so I choose Indrahaar Pass in Dhauladhar range. I booked the tickets to Dharamsala(Rs.540) early this time, considering the long weekend rush.
We hopped in the bus at 9:00 PM and were at Dharamshala at 8:00 AM in the morning. From Dharamsala we took a local bus for Mcleod Ganj, costing rs.10 per person. In another 30 minutes we were at Mcleod Ganj. We went in one of the many restaurants in the small town and stocked ourselves with the necessary items (paper rolls, chocolates, dry fruits etc).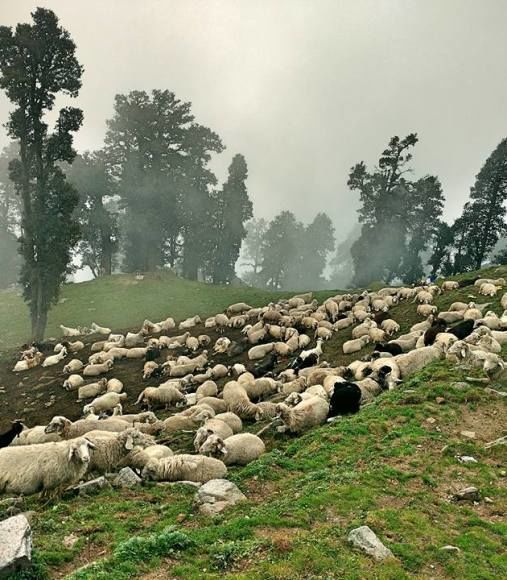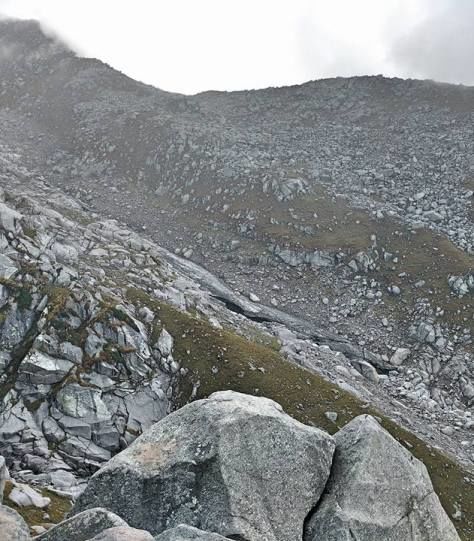 We started trekking from Mcleod Ganj only, however if you want there are taxis available till further 4kms ahead for Rs.500. We started at 11 in the morning and we maintained a good paced taking only two stops till Triund (which was the first stop of the trek till Indrahar).The trek till Triund was pretty crowded, you will find a lot of shops on the way but it is better to get stocked from Mcleod ganj since the price is little on the lesser side. We stopped for a while at the magic view, I had been to Triund earlier in 2009 and Magic view was the only café on this route back then.
We reached Triund top by 2:00 PM (if you are a first timer you will take a little longer to finish this trek) and as soon as we got up it started to rain. We stayed inside the shop on the top and had tea/maggi. It was a hailstorm now and we couldn't move further ahead. We waited for 2 hours for the sky to be clear and by this time we fed ourselves and got ready for the trek ahead. The sky was all clear now and we could see Indrahar peak and Moon peak from Triund.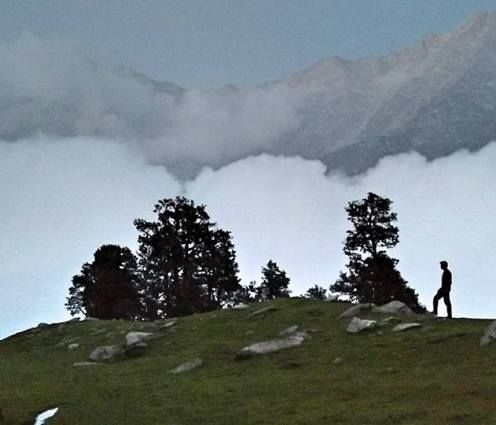 We started at 4:00 PM from Triund towards Snowline, the trek gets difficult from here, although the route is well defined but it is still tiring and you would not see many going further beyond Triund. The rain made it a little difficult for us to trek and everything became all muddy. You will see a temple while trekking that is almost the halfway mark for the Triund-Snowline trek. After 1.5 hours we got the glimpse of snowline, it was beautiful and peaceful. The view definitely was much better than that from Triund. It was almost 6 and it was going to be completely dark in another 15-20 minutes, so before anything else we pitched our tent. If you are carrying your tent you can pitch it anywhere but if you are not you can rent the tent and sleeping bags from the snowline café for Rs.1200-1500 depending on how good you are at negotiating.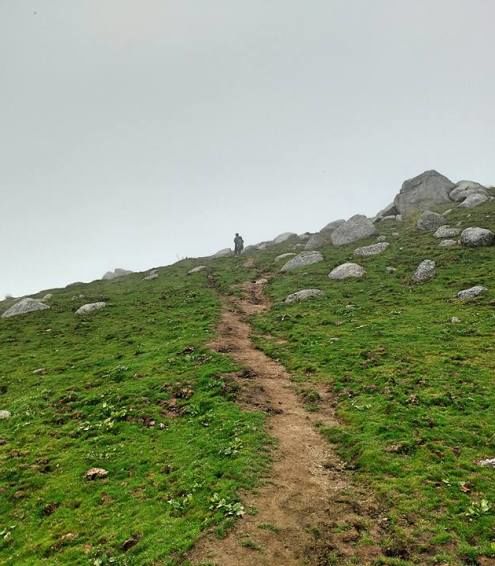 The café is owned by nice man, he told us he would light up a bonfire, as we were almost freezing by now, another group of trekkers joined us at around 6:30 PM. You can get food for rs.100 per meal (Which would mostly be rice and lentils). We chatted with the three other guys who were first time trekker and they also showed interest in joining us till Indrahar Pass. It gets really cold during the night so it is advised you get proper sleeping bags, if not you can take blankets from the café at rs.100/blanket.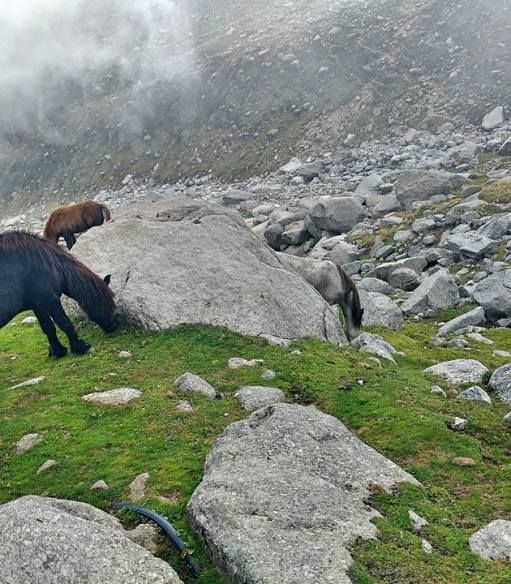 We had planned to leave by 5:30 - 6:00 am for Laka from Snowline because you have to be up at Indrahar by 10:00 am or the weather starts to get worse at top. But we were so exhausted from previous day's trek that we got up at 7, we quickly wrapped everything up in 30 minutes and started with the trek by before 8:00 am. It was sunny and bright; I decided to wear only one layer of clothing on me. The other group also joined us, but they were not able to match our pace, the trek from Snowline to Laka is not that defined and there are some point where you might get confused where to go, but you will be able to see the small shop at Laka and that's where you will have to go. You will find your way till there without much difficulty.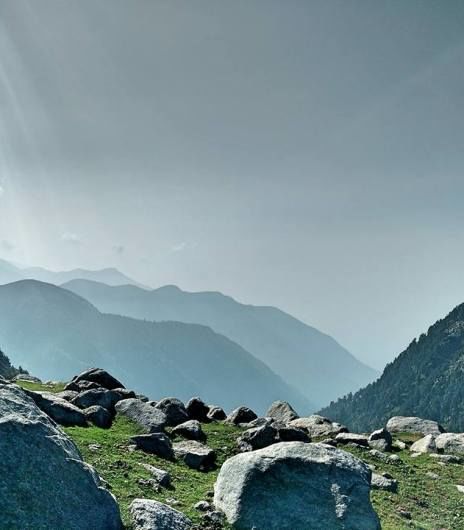 We reached Laka by 9:15 am, a very chatty and a very lively person owns this shop, he told us all the stories about Indrahar in 15 minutes, told us that we are late to go up to the top now. He also told us about a couple of guys from Delhi who got lost at the top three days ago. By the time he finished his stories that other group also came and joined us, they decided they wouldn't go any further as the trek was already looking scary now.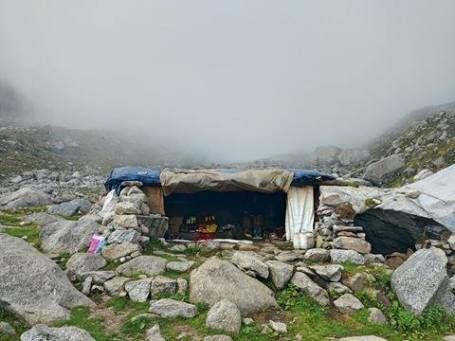 He told us about the markings on the way till Lahesh caves and from there on there is no defined way and we will find Cairn (stoned places over each other) placed at distance and hats the best way to top. We started our journey towards Lahesh caves, we had to trek on boulders now, the terrain was all rocky, we could see the Laka glacier and we had to cross the stream coming from the glacier to the other side.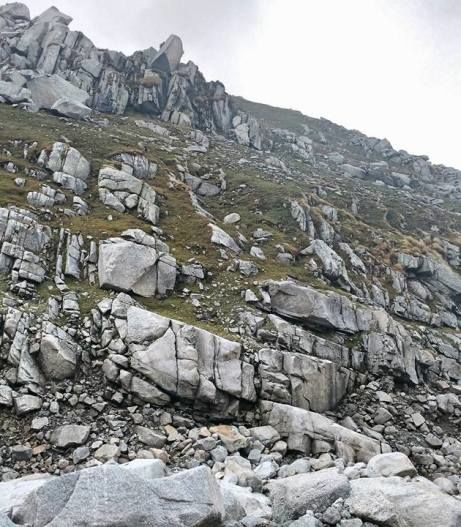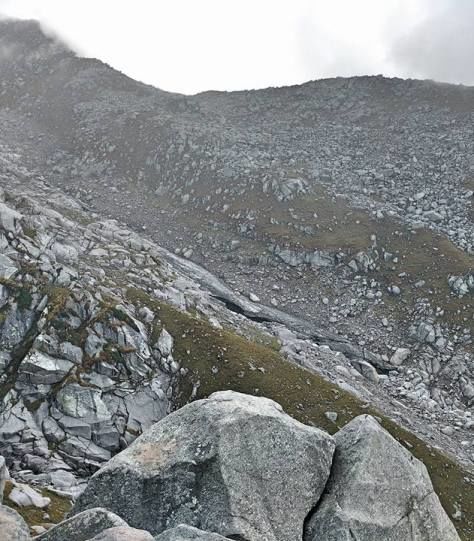 The trek was almost at 70 degree now and it was really hard to climb up. We left all of our backpacks and tents at Snowline, as it would be impossible to do this trek carrying all that gear. After stopping multiple times, we were able to reach Lahesh Caves at 10:30, we took a small break of 5 minutes and attempted to go further. We moved further 100 meters and the whole place was covered in thick cloud, we were not able to see anything up or down, it was really scary.
We were still around 300 meters from the top, but we were not able to find the way further up and the cloud build up was getting stronger so we decided to go back to Laka before it starts to rain.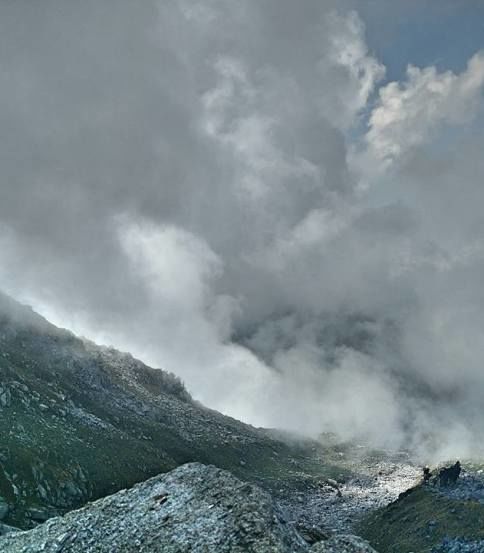 We were back at Laka by 12:30. By 2:00 PM we were back to Snowline and by 3:00 PM we were at Triund. We decided to stay at Triund for the night, we camped at a quiet place away from the all the tents.
The next morning we went down to Mcleod ganj and took a bus direct to Delhi.
This is considered to be a Moderate-Difficult trek because of the terrain and the distance, it is advisable to take a guide.
Day 0: Board the bus to Dharamshala from ISBT Kashmiri Gate at 10:00 pm(Cost rs.540).
Day 1: Reach Dharamshala by 8:00 am. Catch bus leaving to Mcleod Ganj (Cost rs.15/person) reach Mcleod ganj by 9:00 pm. Get all the things you need for trek here and get yourself stuffed with food. Start trek to Triund by 10:00 am, reach Triund by 2:00 PM. Trek further ahead till snowline by 5:00 PM (If you can trek till Laka on Day 1 that would even be better). Camp overnight and rest
Day 2: Start early at 5:00 am to Laka, reach Laka by 6:15 am. Start your trek towards Lahesh cave by 6:30, reach Lahesh cave by 8:00 am. Start from Lahesh at 8:15, reach the top by 10. Start you journey back, till Triund or Snowline its upto you. Camp overnight
Day 3: Start heading back to Mcleod ganj and take bus back to Delhi.
This blog was originally published on 'Travel Beings'