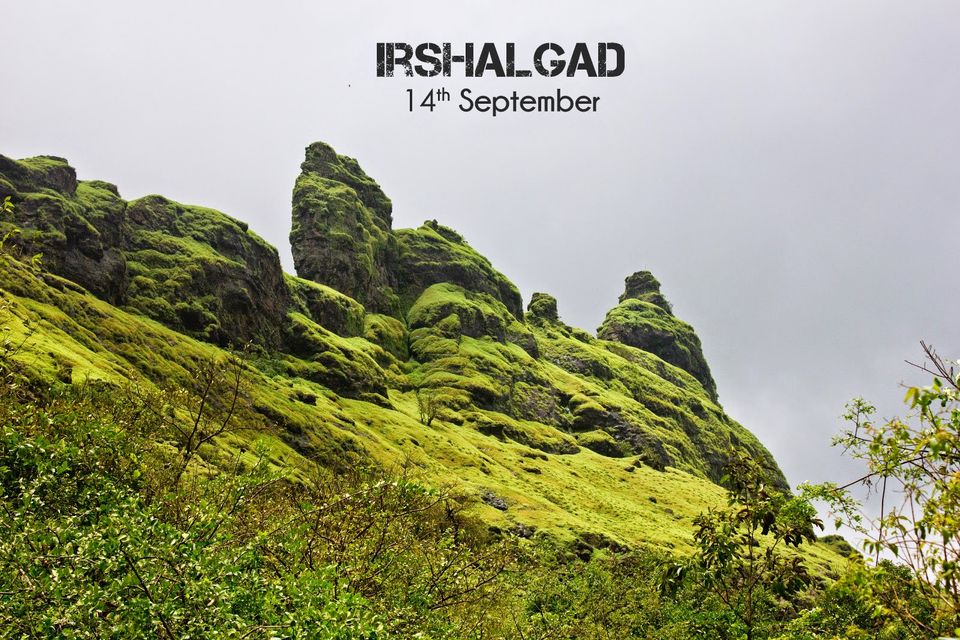 Irshal means a pinnacle and gad means a fort. A fort that is unlikeliest to be known as a fort would be this one. Hardly found anywhere in History, Irshalgad may have been under the Maratha rule when Shivaji Maharaj captured the regions of Kalyan and Bhiwandi.
The trek chooses to be green and amuse us with its variety of flowers throughout the climbing route. 
 
Where: Irshalgad, Panvel
When: 14th September
Grade: Medium
Height: Appx. 3,700 ft.

Itinerary

This is a one day trek and we will be travelling by public transport.
Participants can board 6.00 am CST - Panvel slow.
Train timings are as follows:
5.46 am:  CST
6.00 am:  Wadala
6.14 am:  Kurla
6.33 am:  Vashi
6.43 am:  Nerul 
7.03 am:  Panvel
Participants from Thane can choose to opt a different train as per their convenience.  
Meeting Point for everyone:
07:15am - Panvel ST Depot
Plan:
07.20 am: Have breakfast. 
08.45 am: Reach base village.
09.00 am: Introduction and briefing, start the trek.
12.00 pm: Reach the top. Explore around. Relax. Have lunch.
01:00 pm: Start the descend
03:30 pm: Reach the Base Village; Evening Refreshments
04:30 pm: Move towards Panvel

Cost: Rs. 400/- per person

Inclusions
Travel from Panvel Station and Back
Breakfast
Evening Refreshments 
Professional expertise 

Exclusions
Lunch or any Meals during travel
Personal expenses
Insurance of any kind  Medical hospitalization, evacuation and related expenses
Any item not covered under "inclusions" 

Note: Participants have to carry their own lunch

For confirmation of the seat, full amount needs to be deposited prior to the event.

Payment Options

Bank Account Details
Bank Name:        HDFC Bank
Account ID:        05821000058058
Account Type:    Savings Account
Account Name:   Sneha Phalle
Branch:             Thakur Village, Kandivali (East)
IFSC Code:         HDFC0000582

For payment using credit/debit card/netbanking: 
http://www.townscript.com/irshalgad


For  other payment options, queries and registration, please contact: 
+91 9867697306
+91 9867693107
travel@mappingjourneys.com