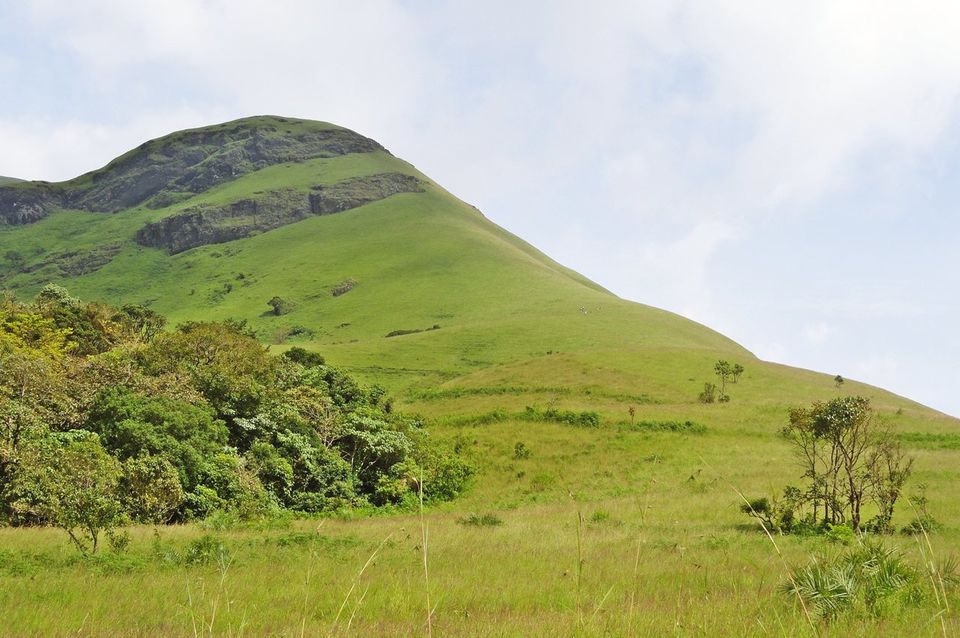 Here are my top 4 reasons on why I trek :
1. To get away from people
2. To flush myself in the bounty of a place's green cover
3. To get the most in terms of workout from the trek
4. To take back home an experience from all of the above
These reasons, as precisely cut as they are, is something that hit me while I was trekking at
Kudremukh
. That's what you also get when you trek, time to understand yourself and understand why you do the things that you do. 
Since I moved to
Bangalore
in October 2014, this was my first trek and also my very first trek in South
India
, ever. I was accompanied on this trek with two other guys, one being a colleague from work.
Here's the low down on how to reach there, what to expect and why you should go :
1. We booked a KSRTC Airavat class bus that departed Majestic on Friday night 10:45pm. While booking make sure you opt for the bus stop call 
Kalasa
, enroute from
Mangalore
. Cost per seat 583/-
2. We reach Kalasa at 6am on Saturday and as soon as we got off, we saw some other trekkers who had called for a jeep. With the jeep having empty seats, we got in. We were lucky to have found that vacancy because the base-camp (Mullodi Village) is 18km away from Kalasa bus stop. The jeeps take only 6 or more at a time with 100/- per seat. (You can find the details of jeep contact below in this blogpost)
3. Once you cover the jeep ride, you are at Mullodi Village base camp from where you begin trekking. The base camp is nothing but a lodge type of place to keep your belongings and even stay the night if you please.
1. The trek is approx. 12kms long one way (is what I've read on other trekkers' blogposts) and it is an incredibly scenic one.
2. This breathtaking scenary of this trek comes close to that of the Himalayas. No kidding. If nothing else, go for this one strong reason. Being in the lap of these hills is worth the journey.
3. The climb will take you 4+ hours and descend, 3+ hours depending on how fast or slow you are. And it can get quite tiring at some of the hill climbs.
4. Remember, decide to trek Kudremukh only if you are fully aware of your physical endurance. You don't want to feel bummed out for traveling this far, just to have come back mid-way. 
1. You will not be allowed to trek without certain "governmental" procedures that each person there has to abide by.(The word 'governmental' is is double quotation to indicate that I am unsure about the authenticity of the base-camp personnel and their claims about forcing a guide on us when we clearly don't want one)
2. You will get breakfast as soon as you reach the base-camp at Mullodi. You can pay 25/- separately per person for breakfast right there if you haven't informed them earlier. 
3. Forest entry fees per person is 275/- for which they will give you a receipt. I got mine after the trek.
4. A guide, they claim, is mandatory as per some forest department protocol. A guide comes for 500/- per group.
5. You can place your lunch order during breakfast and the guides will carry it for you to eat on the trek. They cook both vegetarian and non-vegetarian. Not sure about cost.
1. As mentioned earlier, the jeep ferries only 6 or more people at a time. Since we were 3, we would have had to end up paying 600/- i.e 200/- per person and we would be dropped not till Kalasa bus stand (18kms away) but only till the local bus stop (8kms away) from the base-camp.
2. You are going to have to really negotiate your way for the above unless you don't mind walking 8kms of a trail to reach that local bus stop from where you can take a bus to reach Kalasa.
3. From the local bus stop, we boarded a local bus, 13/- per person which dropped us off at Kalasa. The time here was 5.45pm on Saturday.
4. Our bus to Bangalore was scheduled to arrive at Kalasa and leave for Bangalore at 10.15 pm that night.
5. KSRTC has a reputation of being dot on time. It was. We reached Majestic on Sunday at 4.30am.
Approximate cost you can incur on this trek :
Bus from Bangalore to Kalasa and back - 1133/-
Jeep ride from Kalasa bus stop to Mullodi village base camp and back - 200/- 
Forest entry fees - 275/- per person
Guide charges - 500/- per group
Overnight stay charge - 600/- (inclusive of breakfast, lunch and dinner for one day)
Contact of Satish, one of the attendants at the Mullodi base-camp - 9481074530/ 8722847688. He is your man from jeep pick-up to stay.
About Kalasa town : Kalasa is like a little township in an otherwise rural setting. It's got it's line of shops and food places. The place begins shutting down after 8pm. All in all, it is a nice-quiet town to spend your time waiting for a bus.