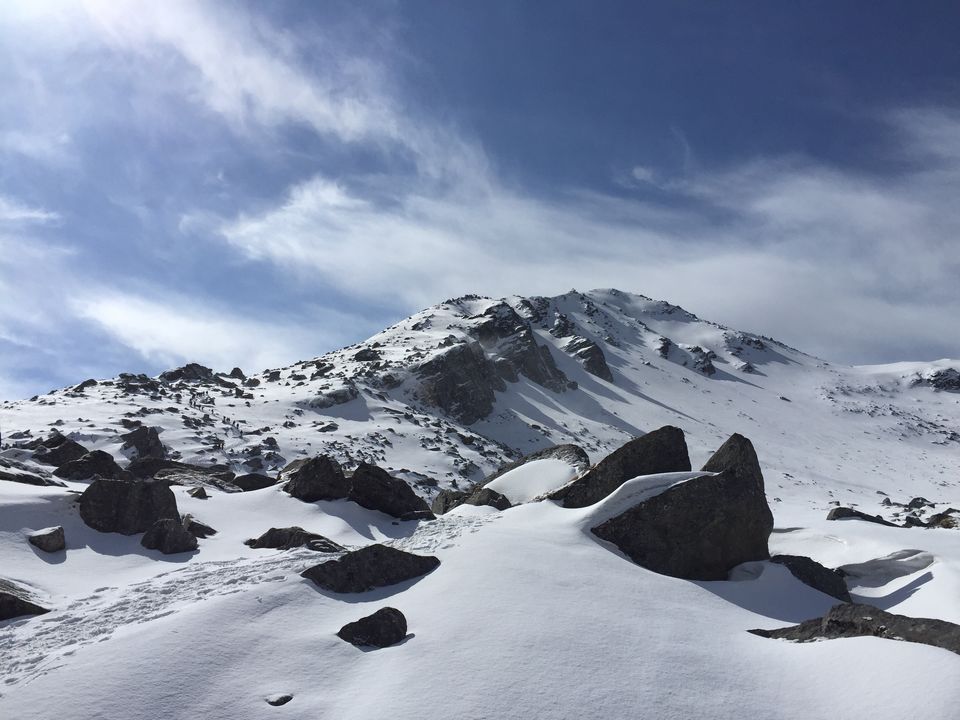 Day 1
2 months back I had planned for a trek to Kuari Pass with "Trek the Himalayas". Kuari Pass being one of the treks in my winter bucket list since my first Himalayan encounter with the Valley of Flowers. But destiny I guess had Pangarchulla written all over it!
TTH cancelled the Kuari Pass batch which I booked for lack of min. no of trekkers just before 14 days and while swinging between the sad fate of cancelling the trip or finding a group quickly to fit in my dates much to my delight I found Bikat Adventures – a group I had never heard earlier.
The Pangarchulla trek of Bikat not only fitted my dates but also came with an added sugar coat of even Kuari Pass with it since Bikat does the trail together and that too within 6 days, while Pangarchulla trek alone is covered by TTH and the likes in 7 days. Curious that I was I compared the itinerary of the groups and figured out that while first day camp of Indiahikes(IH) and TTH was on Gulling top, Bikat had its camp in Khulara which was the 2nd day camping site for IH and TTH. So altitude-wise if I compare post the drive from Joshimath to Dhak village (the starting point of the trek) while Bikat climbs from 6,790 ft to 11,122 ft (Khulara), the other 2 groups climbs from 6,790 ft to 9,600 ft (Gulling top). To my mind this may expose the trekkers to a higher risk of potential altitude sickness than what otherwise would have been and I was not in for short-cuts. So I searched some more and finally in a reluctant manner, not left with much of a choice I decided to go ahead rather than calling off the trip.
So bags packed, full of enthusiasm and with some bit of apprehension there I was waiting at the Dehradun ISBT on the morning of 21st Apr. After the initial confusion of the pick up, the vehicle finally arrived.
Post the initial "hi", "hellos" with fellow trek mates we started our journey towards Joshimath. It was a happy group looking forward to the thrill of the summit climb. Much to my delight 3 other girls were there for the trek. While 1 was travelling solo, the other 2 met in a previous trek. Recently I believe solo traveller population are showing an increasing trend in India but trust me to meet so many solo travellers that too for an adventure sport like trekking and that too girls is a definite high for any girl trying to explain everyone that she is not the only one into trekking with a bunch of strange people! Apart from the majority girl population we had the junior most member of our group – a 15 yr old with his dad.
While my memory took a jog as we travelled the same path to our base "Joshimath" that I travelled during my first trek to Valley of Flowers, the luring mountains and the beauty of the path with the eternal Ganga flowing by all throughout never cease to charm you. Since we had a late start on account of an extended breakfast of the much excited group and then stuck in a traffic jam on our way for around half an hour and then to add some mechanical problem with our car nothing could have dampened the spirit of its excitement.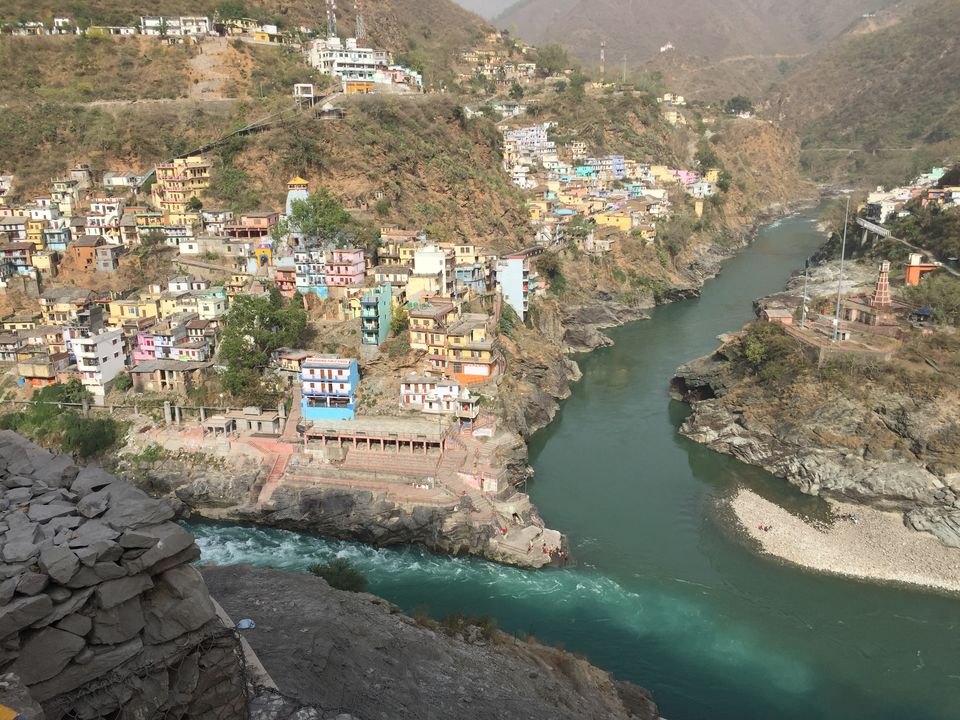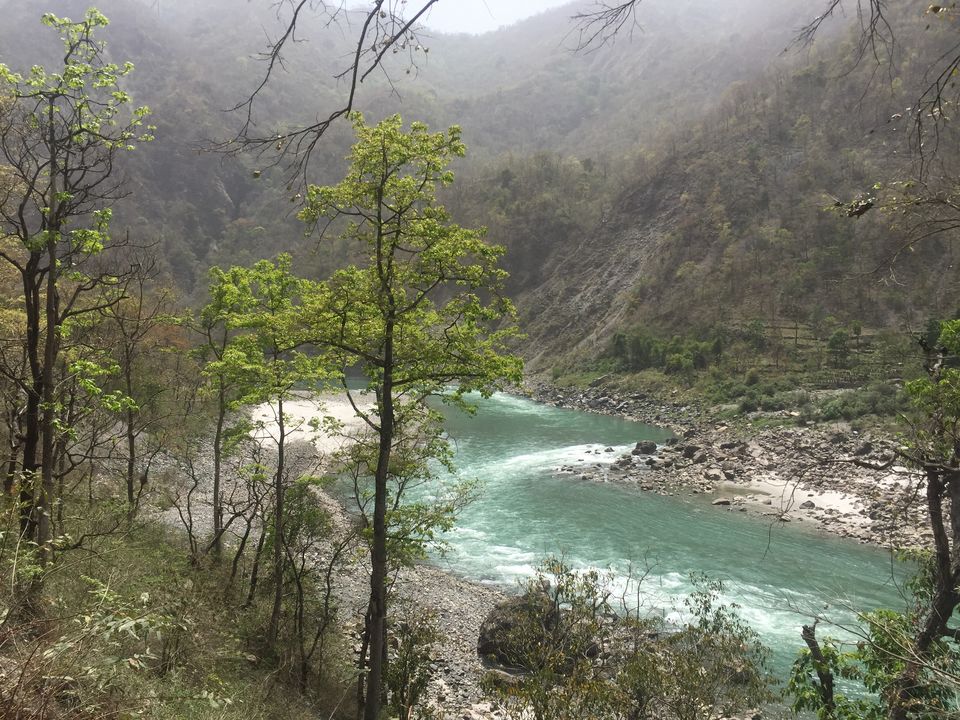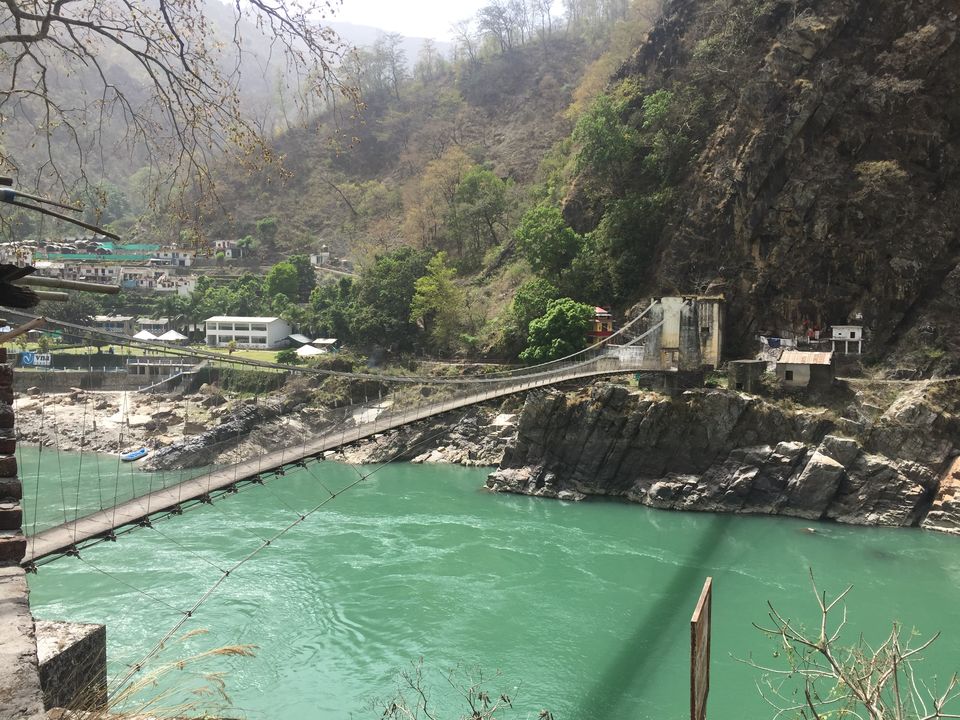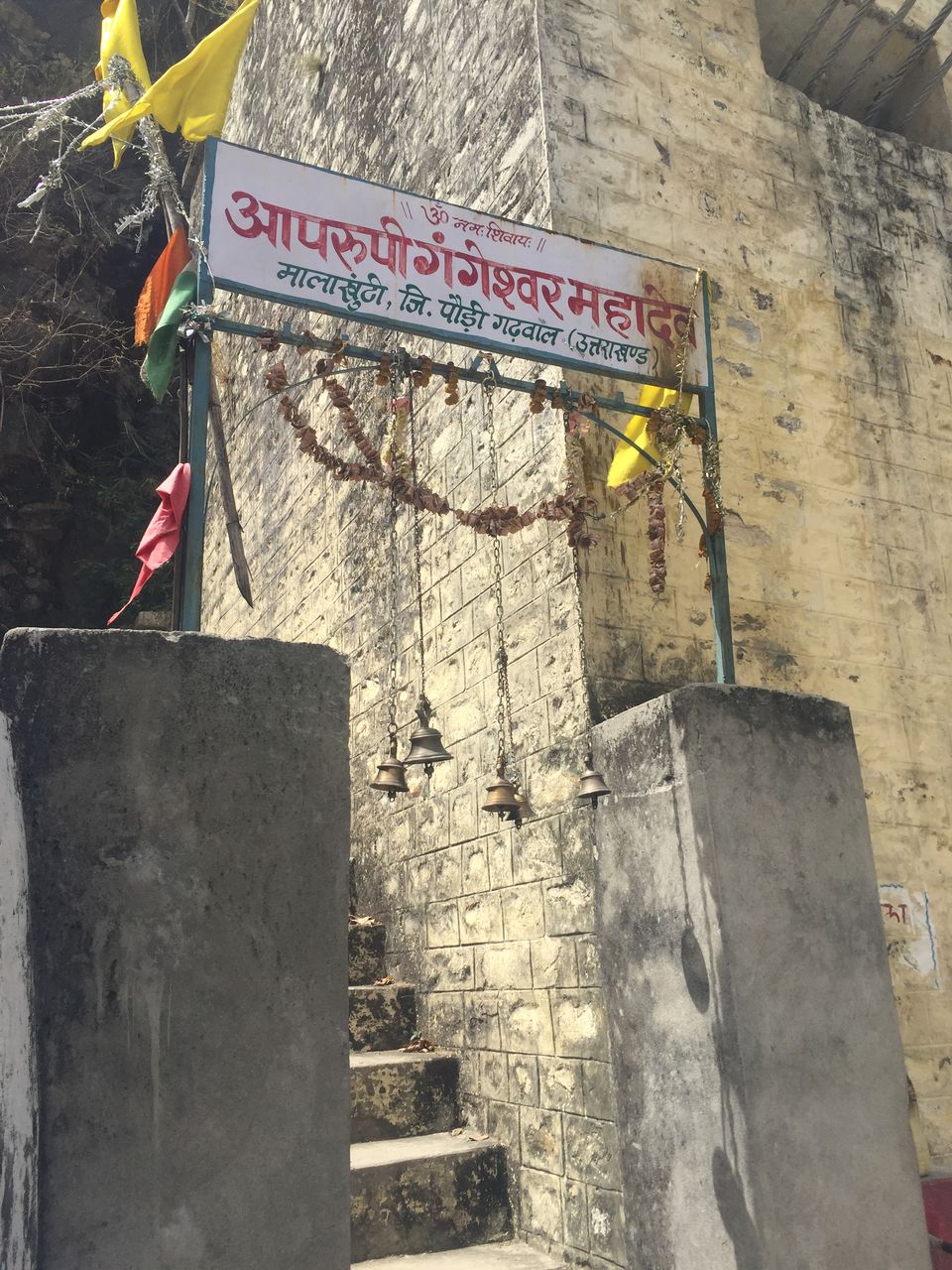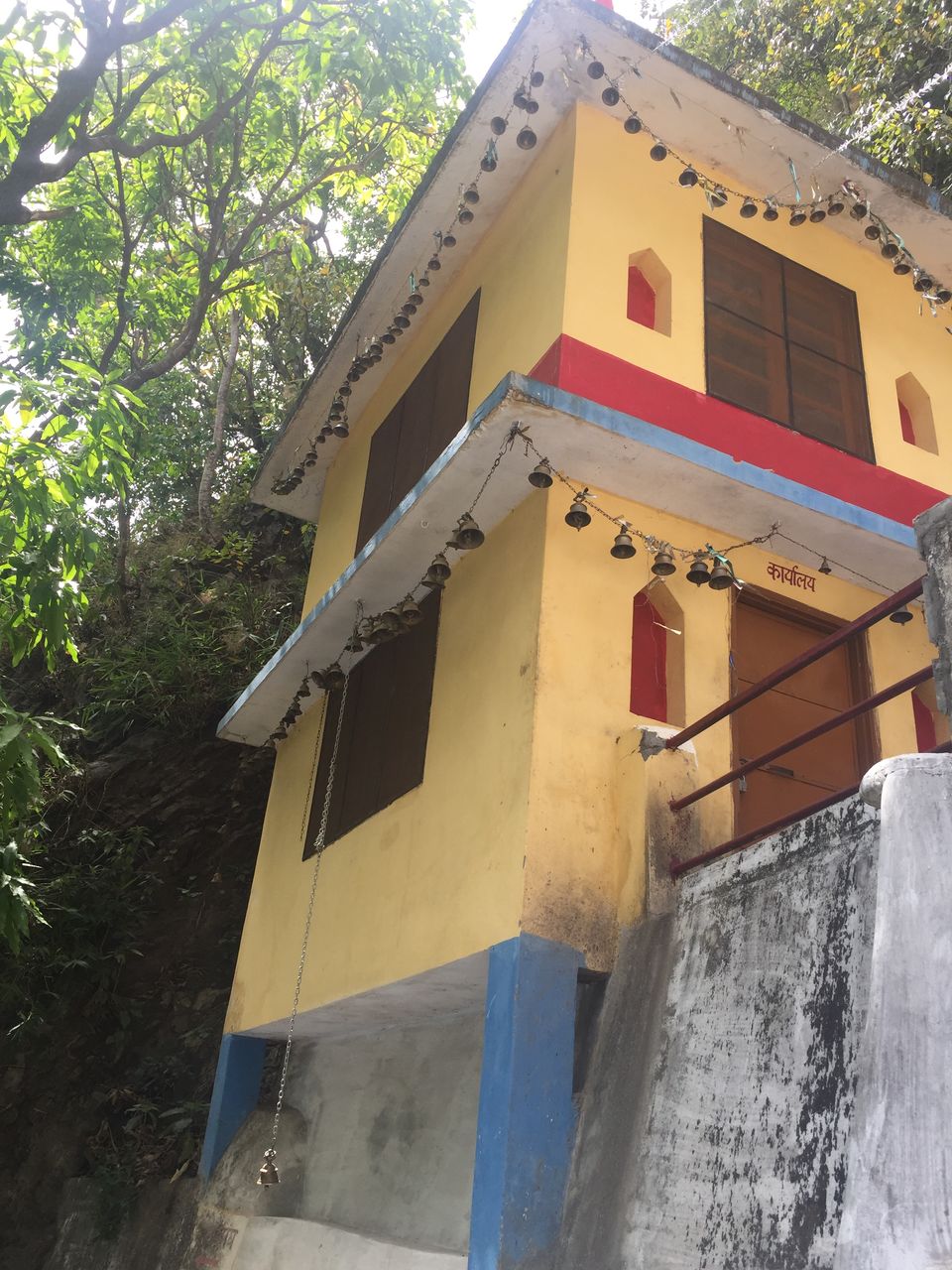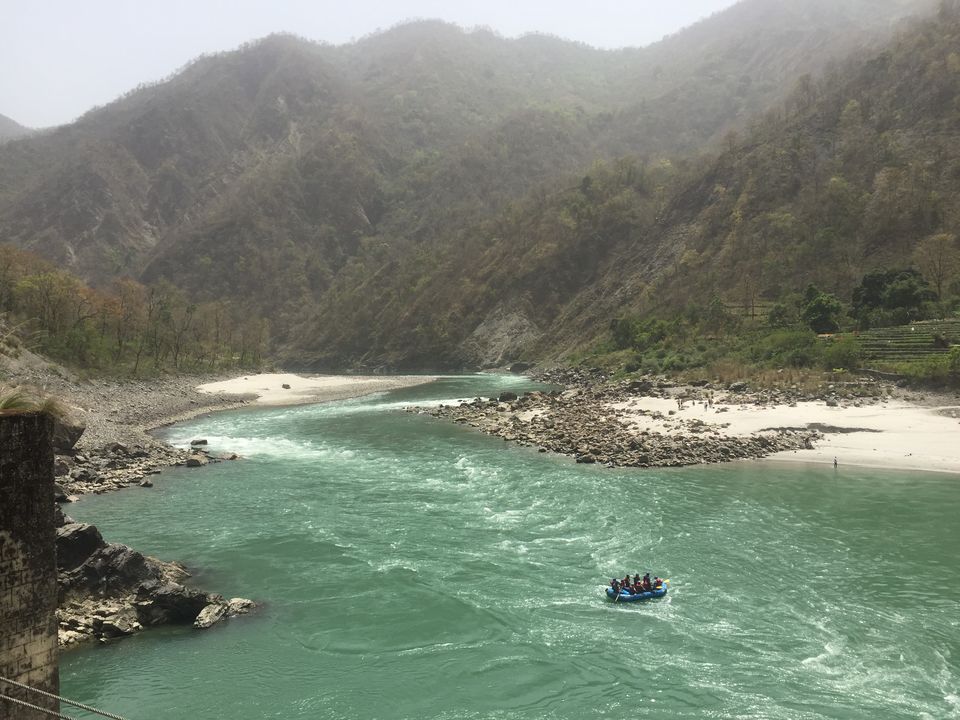 When we finally managed to reach Joshimath it was 10pm and much to our amazement no one from Bikat was there and we were left to fend for ourselves. Superb! Almost all the shops were closed and our hotel said they were not aware so dint prepare any dinner for us. Famished that we were, all 6 of us rushed to the nearby closing dhaba and requested to help us with some dinner. A hearty meal of dal-chawal never tasted better!As we tried to reach to some coordinator of Bikat to know the plan for the next day, we also realized that some 3 more people who will be joining us are also there, but where?- no one was there to tell us that. All these confusions because the trek lead who was supposed to join had some emergency and we were left temporarily with no one to manage the trek from Bikat.
Day 2
With all confusions it led to a late start in the morning and instead of 7am which was the initial plan we started at 9 finally. After a 40 mins picturesque and a little dusty & bumpy (last few miles only – since the road was under construction) drive from Joshimath, the car dropped us a few kms after Dhak village and from there we started our much awaited hike.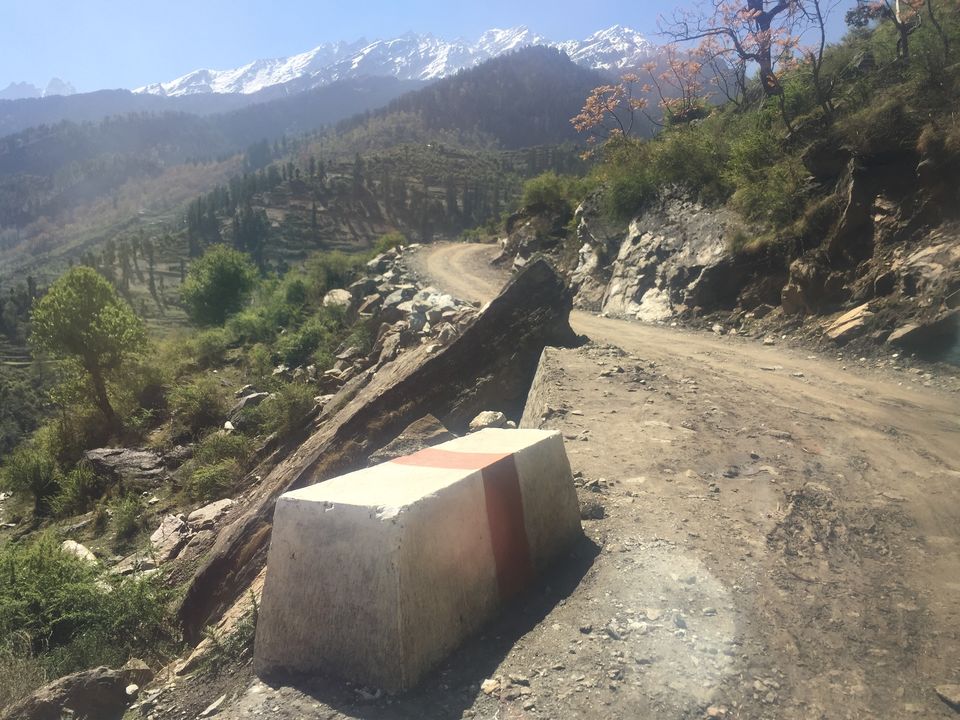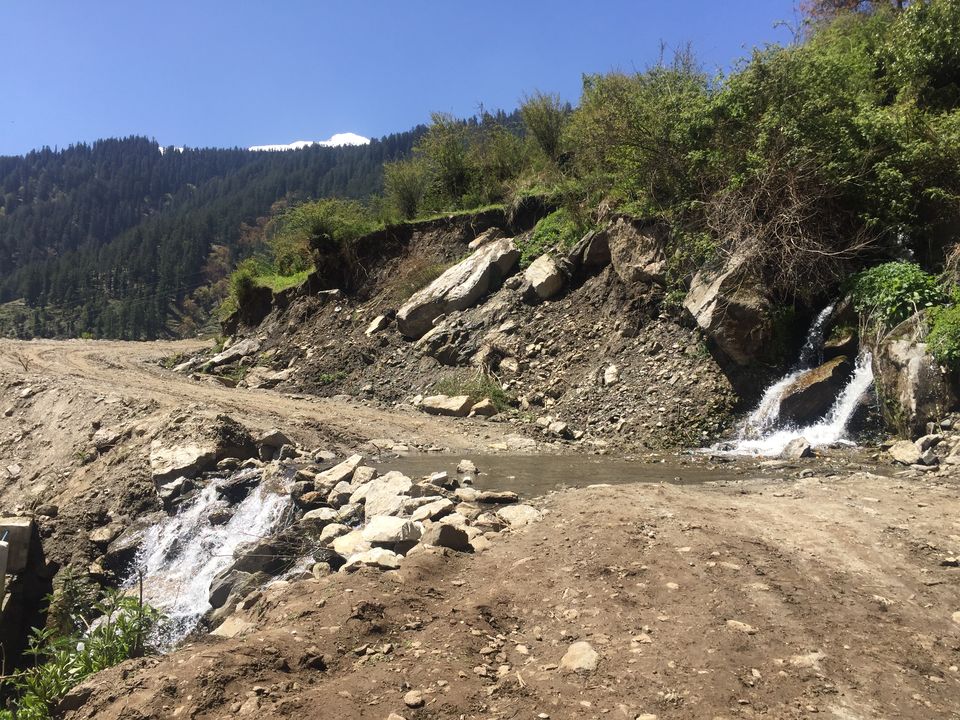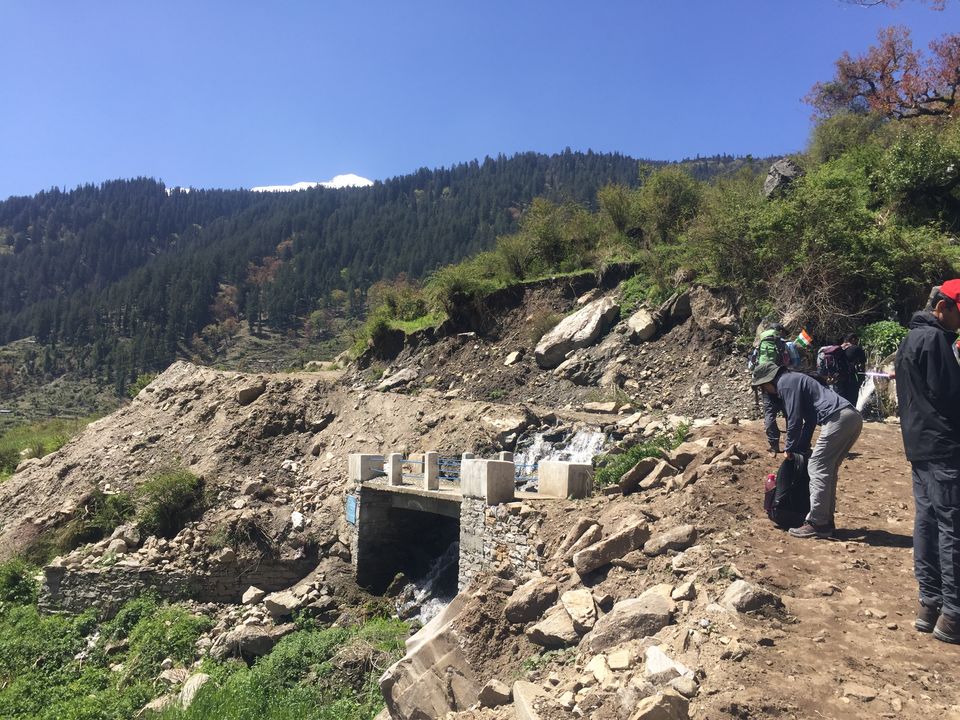 Almost 3km later (and ofcourse a lot of short breaks throughout) of a dusty, rocky hike we reached Tugasi village. Tugasi is a sweet picture of a high-altitude Garhwali Himalayan village with their wooden houses, cowsheds, shepherd clans, farmers, and other agrarian people set in the backdrop of mountains.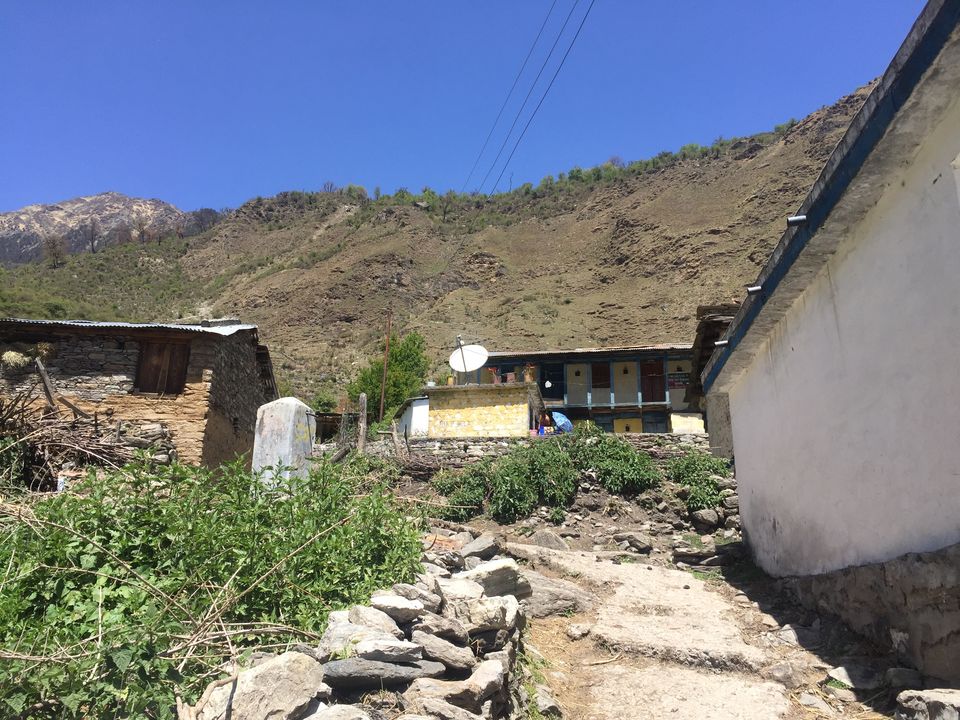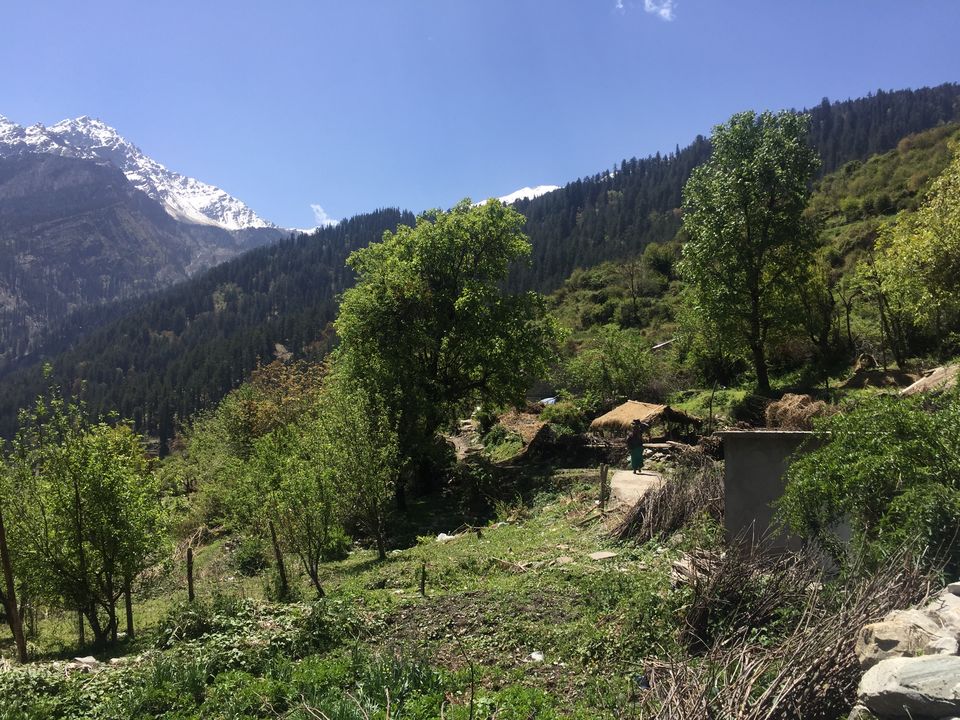 After immersing in the different flavor of life for sometime here and filling our bottles with the sweet mountain water from the gushing stream, we moved towards our next stop.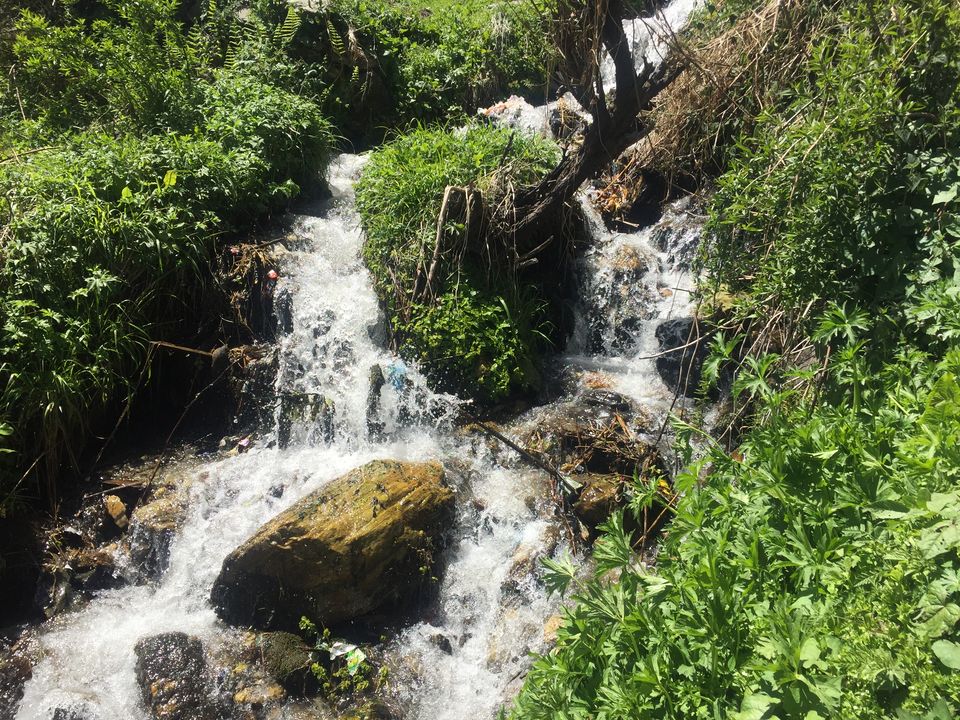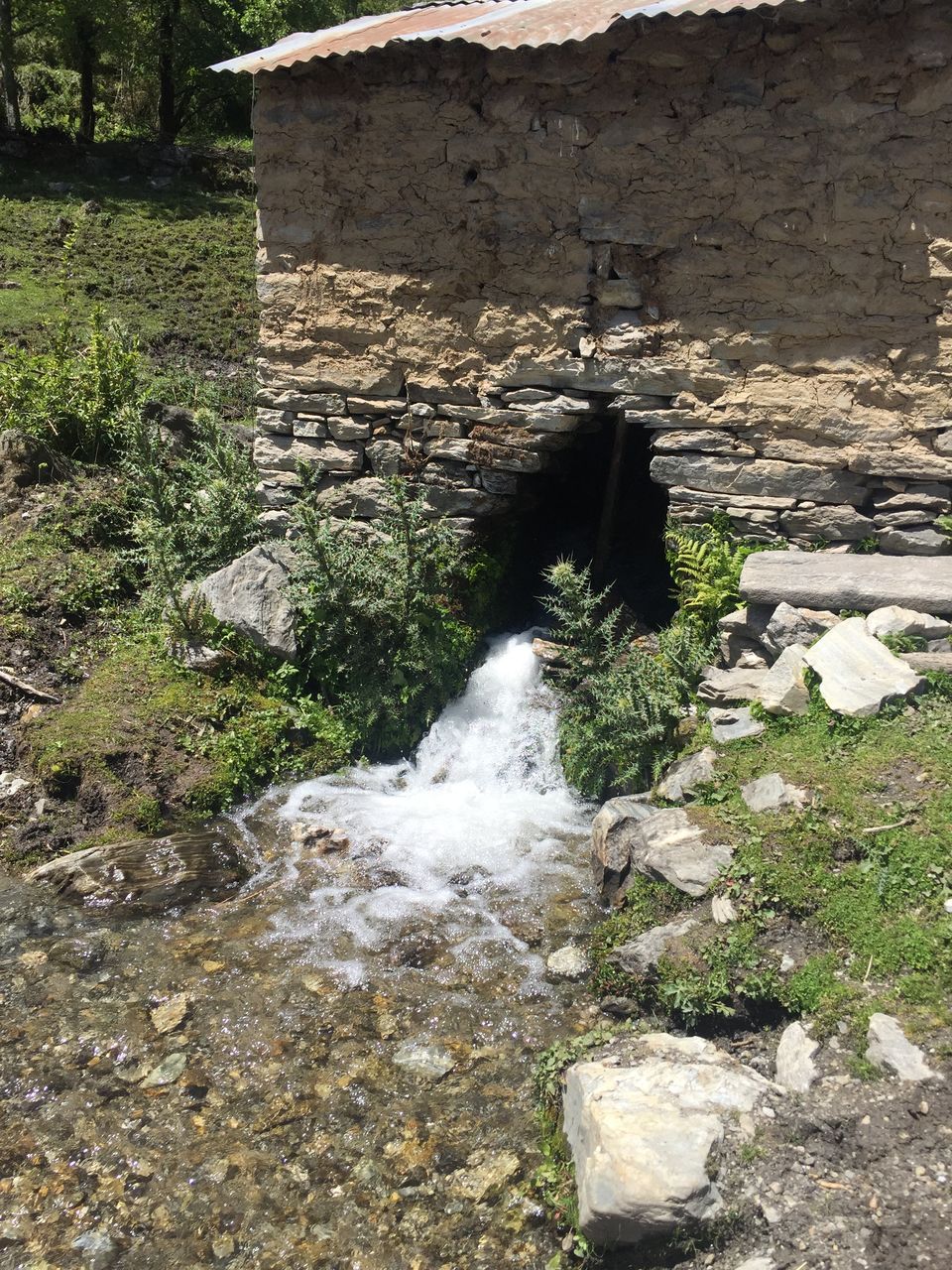 From Tugasi the trail is ascending and becomes much greener and as the forest area kicks in, the civilization reduces its presence.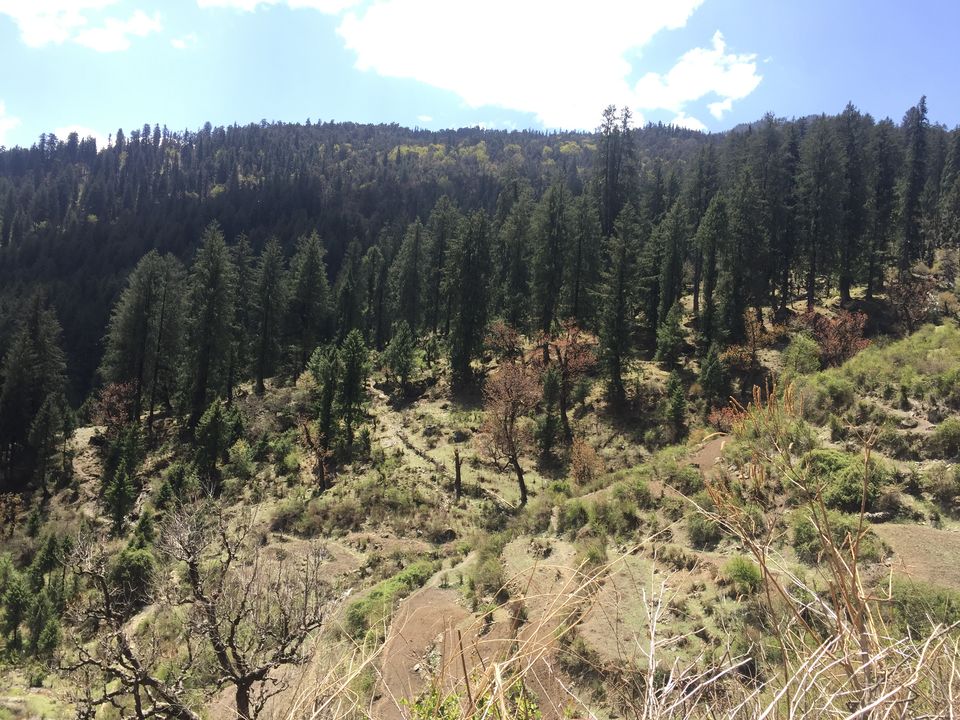 After almost 2 more kms we reach our lunch spot admist the peaceful nature watching the brilliant mountains all around.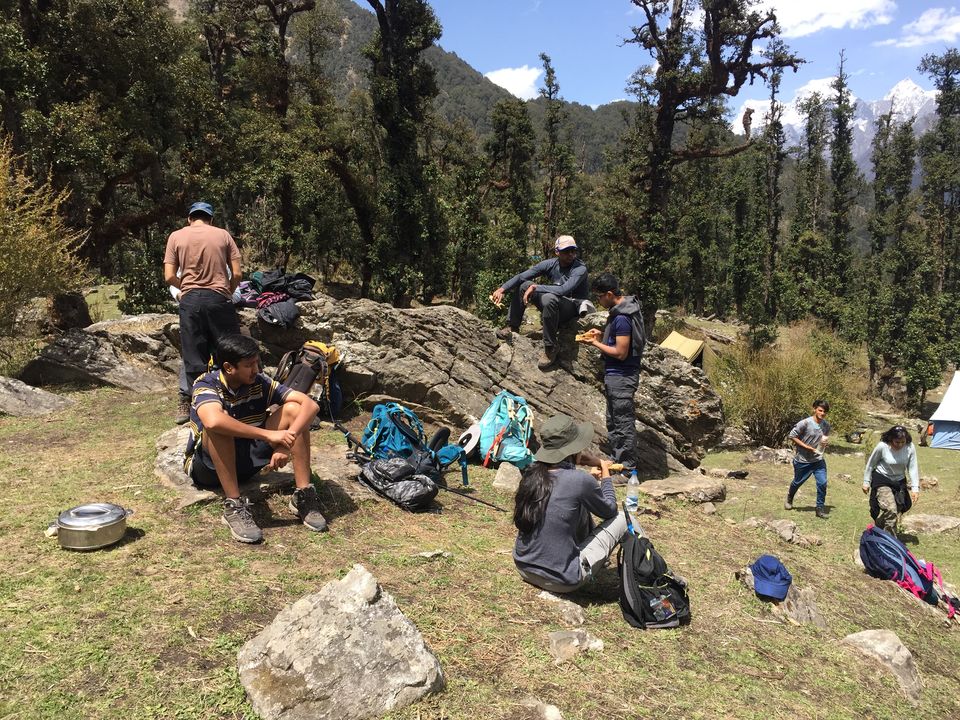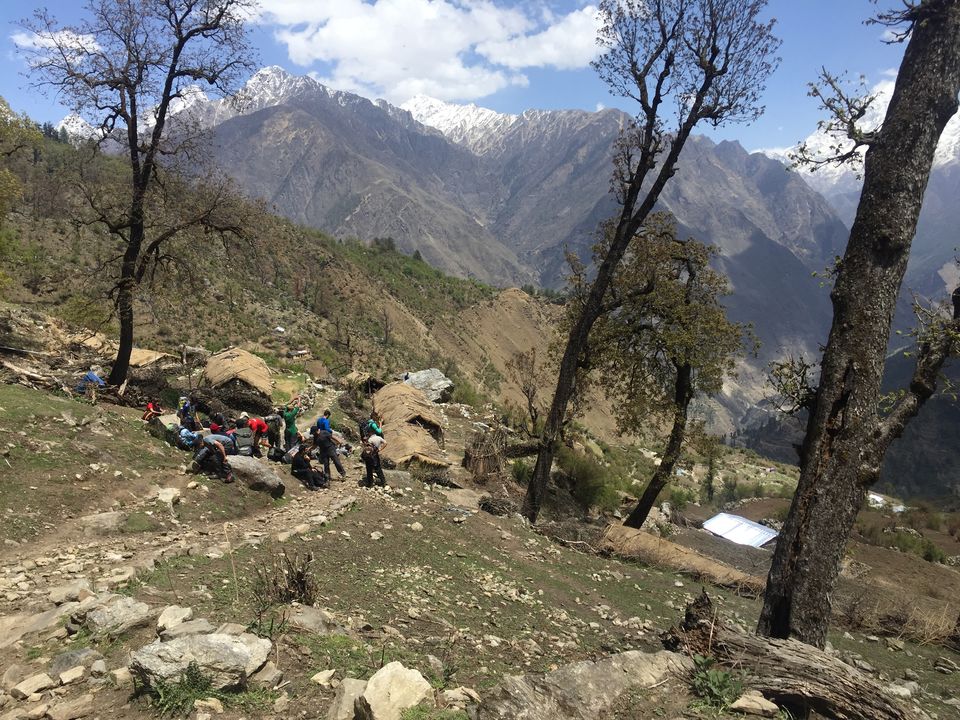 From there after a hike of another 2 kms and 5 hrs of total hike we reached our base Khulara. As the tired feet approached the already set up camp, the heart skipped a bit and the eyes feasted at the sight of the green flat meadow where our tents were pitched with nothing but the magnificent snow-clad mountains all around.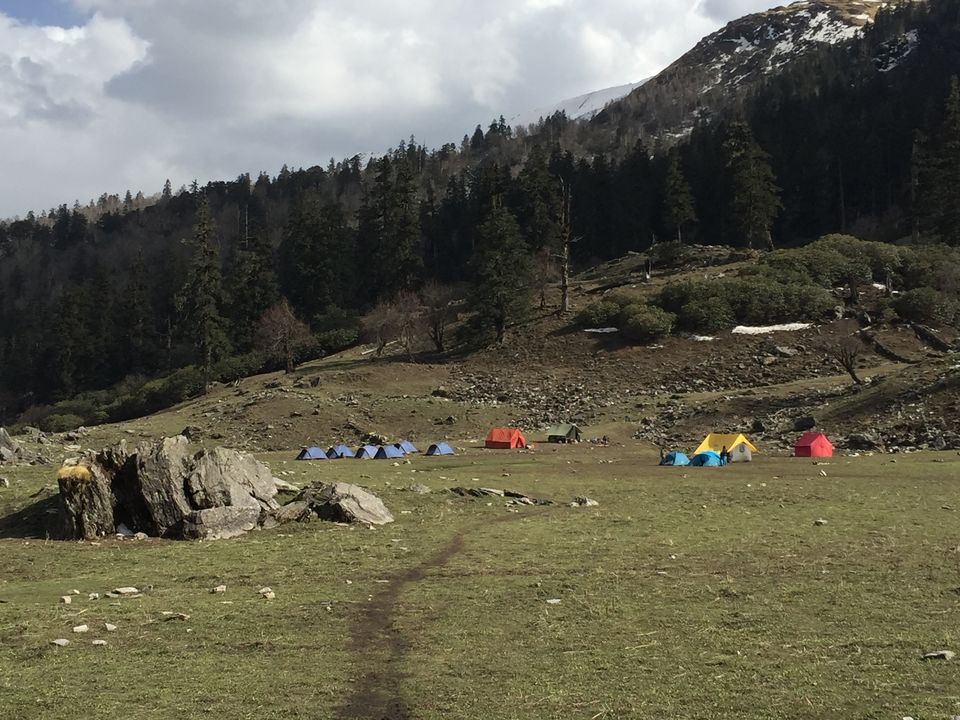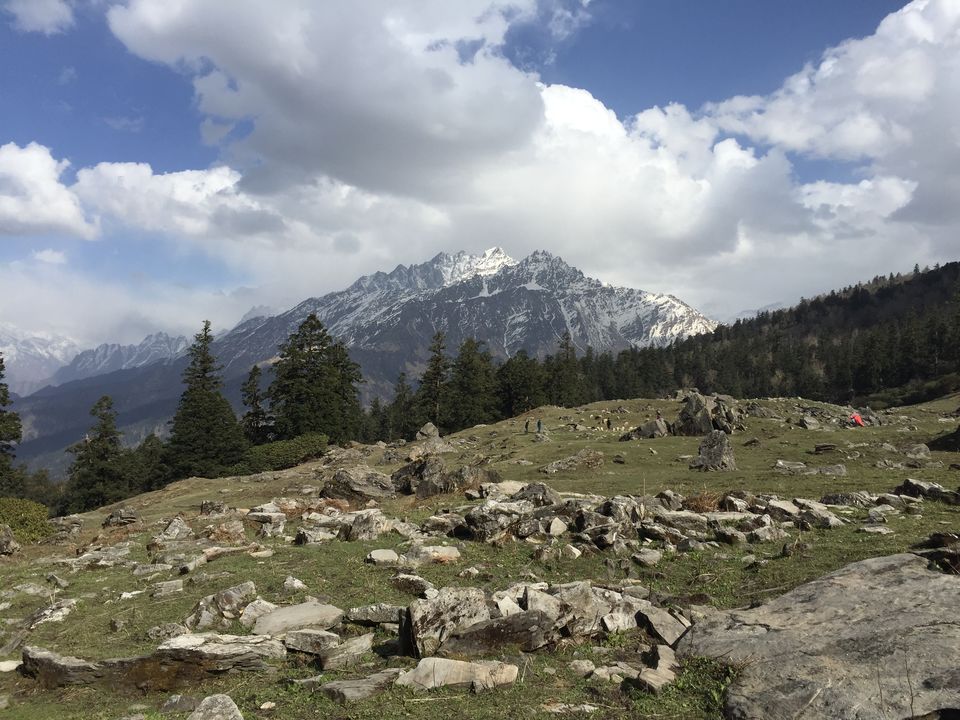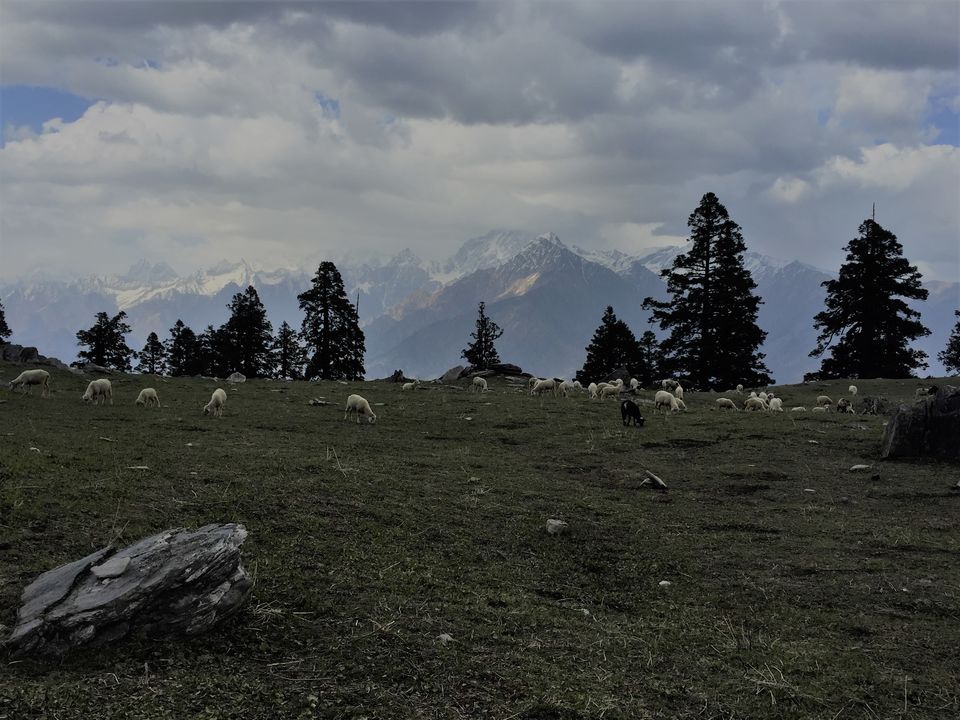 Freshening up a bit as I sat relaxing outside my tent and much to my delight it started snowing. Initially it was soft and then it became hard small snowballs pouring all around. As much as I wanted to just go inside and snuggle in the sleeping bag the beauty of the entire set up was too much to resist and I was happy sitting in my tent with the outer door open and watching the snow to my glee. The green surrounding gave way to a white sheet all over. Its too hard to describe in words!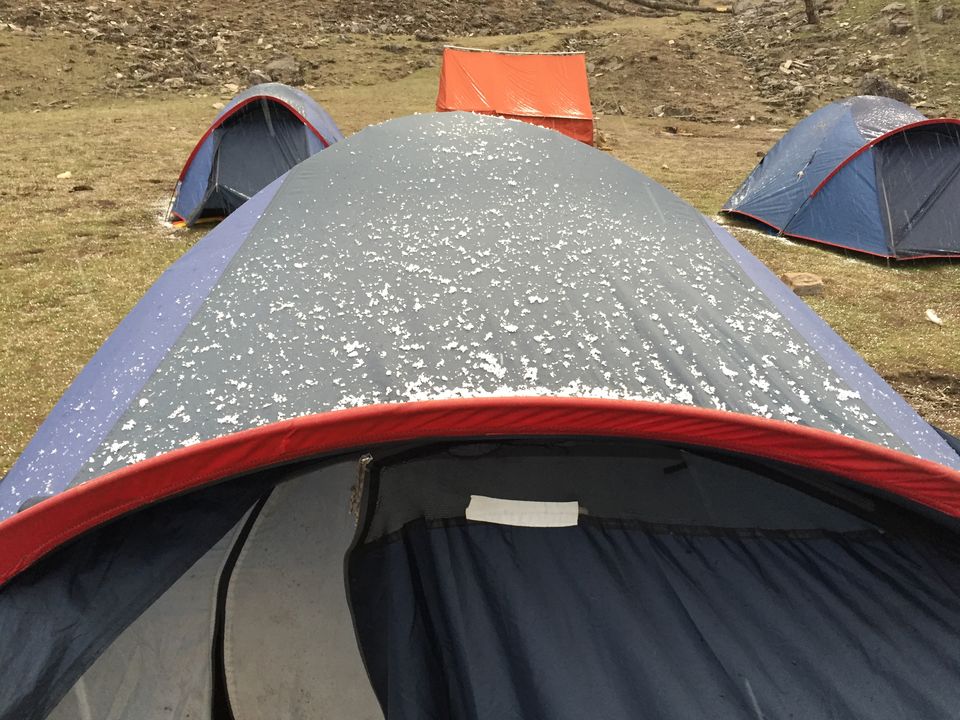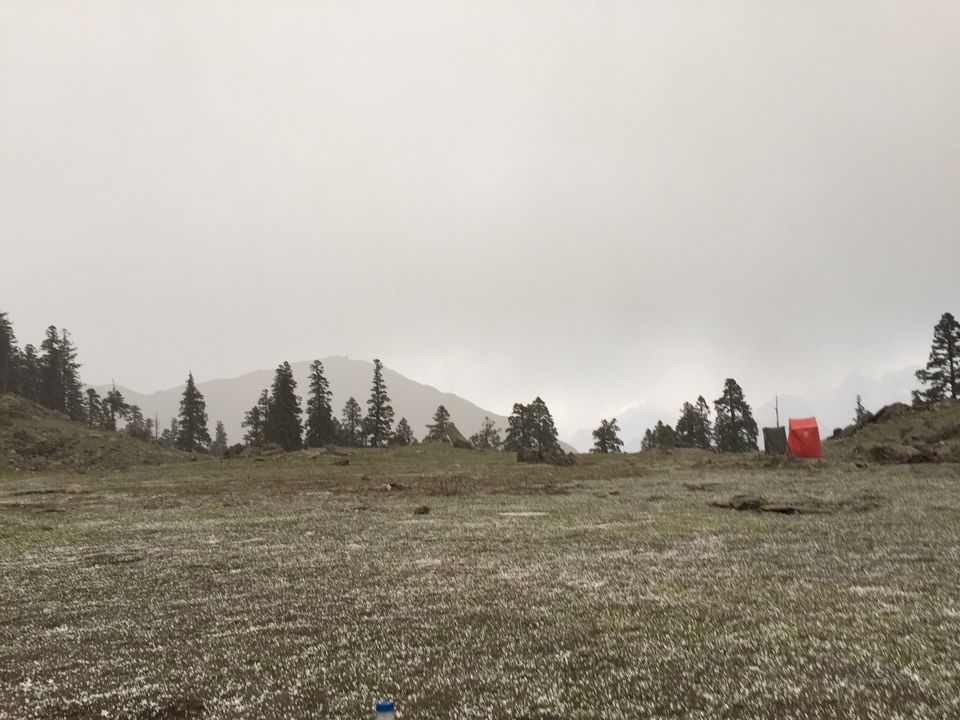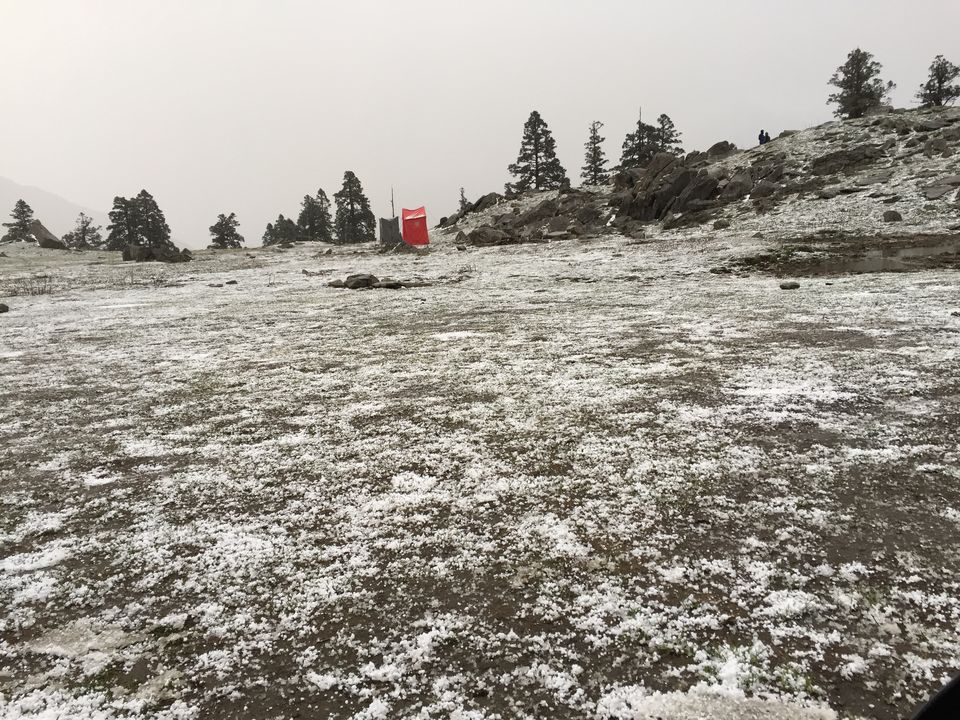 We all had an early dinner in the cosy dinning tent and decided to call it a night. And what a night it was! Usually I don't get much of sleep in high altitudes but to add to that I guess the snow led to a freezing temperature. While my upper body stayed warm post a layer of thermal, a fleece and ofcourse a down jacket inside a sleeping bag (yes I wore that many!!) the feet refused to become warm even after 3 pair of socks (1 of them woolen!).
Day 3
Anyways with too little sleep and the fatigue of the hike earlier in the day I felt somewhat feverish in the morning and decided to take the day off and relax at the campsite than go Kuari Pass as per the plan.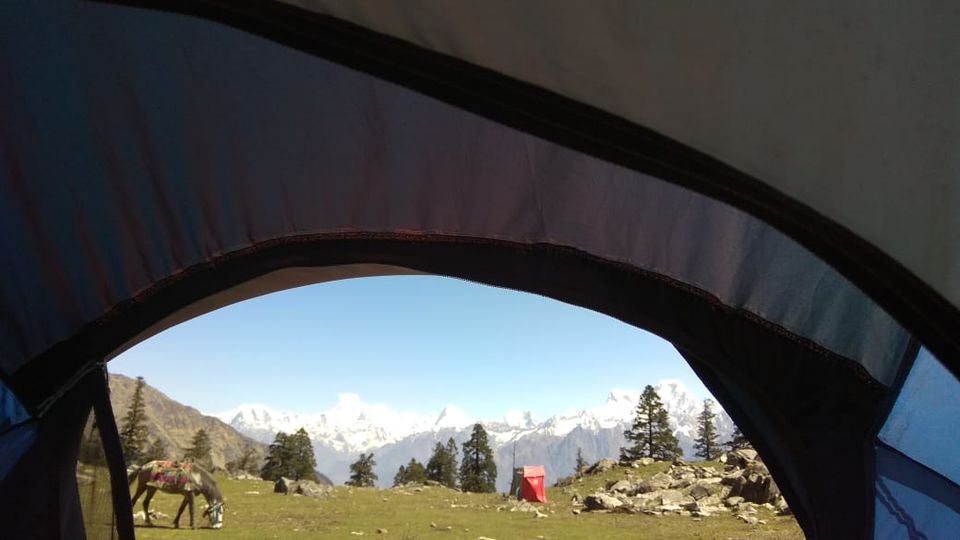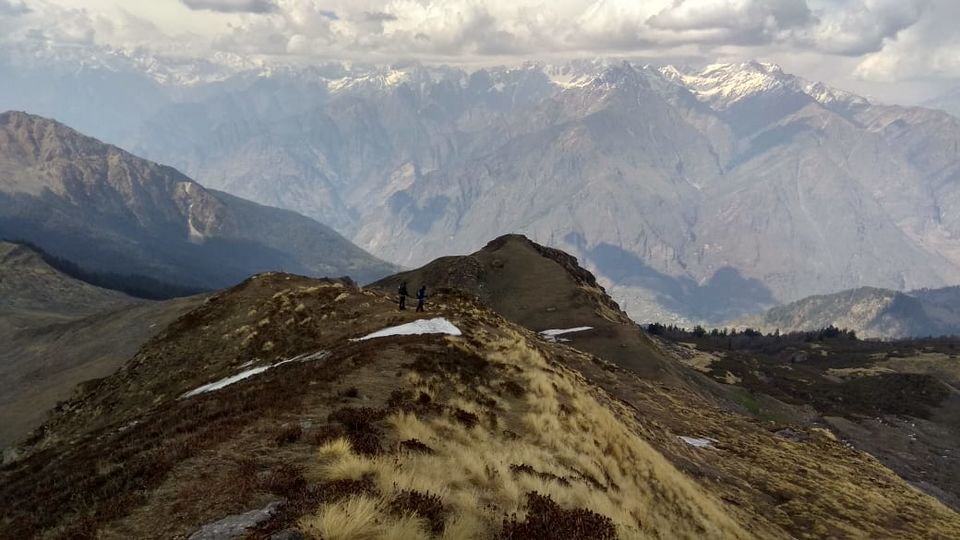 The instruction to me by our local guide, who is managing the trek so far with his team of cook and others was no sleeping inside the camp and to walk around as much as possible. It was not clear yet whether I was hit by a mild AMS which was my worry since I felt we climbed too high too early. Acclimatization is important. Another trek mate was sick all throughout the climb yesterday but she decided to go for the hike. Anyways I listened to my body and decided to take it light. 1 trekmate decided to stay back for some toe discomfort as well. We chatted with the cook and the few locals (part of the team) and helped in setting up some more camps for the next batch of trekkers. Whenever I come for treks I find the locals who belong to these small villages, away from the humdrum of the city and its so called comforts, away from the lure of gadgets and social media are happy in their own world. Life could be a struggle with limited means but nevertheless they are satisfied with what they have. 2 of the boys in the team were in their teens and goes to school. They come to help during their summer vacation and by that earn some little money for their families.
After some small walks nearby appreciating the majestic views mostly staying under the sun's gaze saw our trek lead finally made an entry. Also to our surprise our guys who went for Kuari Pass came back very fast. They mentioned that they did not go till the Kuari Pass and was made to return back by our local guide who changed the plan at the last moment since it got late. So not much of repentance in not being able to go after all!!
After the initial introductory session with our new trek lead over some popcorn, fra-yams and tea the plan for tomorrow's summit was firmed up. Next was the session on how to wear "gaiters". These are almost knee length water proof materials which are worn on top of the shoes to prevent the snow from getting in. And yes for Pangarchulla summit a considerable mountainous terrain is through some deep layers of snow. How deep that we were to know only tomorrow.
This evening as well we had our snow shower bringing with it the chilly wind to make us comfortable inside the cosy dinner tent. Many of us sat at the dinner tent only till dinner.Dinner today was even earlier since we were to start around 1.30 am tomorrow morning for the summit. Also today 2 more groups have arrived and they were to summit tomorrow as well. So the camp site was full but still not noisy!
Day 4
We all were up and running by 1.30am and post some small breakfast of maggi by the time we started it was almost 2am. The path was pitch dark only illuminated with our head torches. We were all instructed to carry 3 ltrs of water as there was no water source in between. Multiple steep climbing points and thinning oxygen layer makes the stretch a laborious climb. It was a beautiful night with the sky studded with sparkling stars. How I wish I had a DSLR now to capture the milky way but to take care of the weight I was only carrying my iPhone for photography. Slowly as the sun peeked in from the distant mountains and the path became illuminated with the soft rays of the early morning sun it was sight to behold.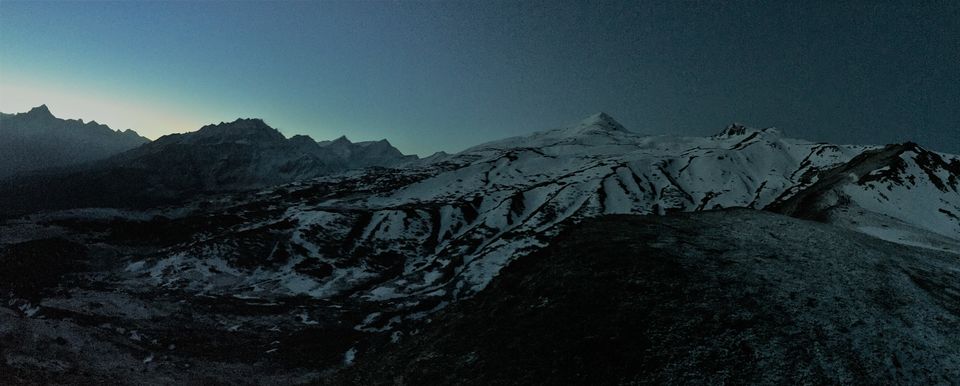 After the initial ridge walk, level snow grounds spread ahead giving you a scope to catch your breath. As far as the eyes could see and the mind could perceive it was only snow.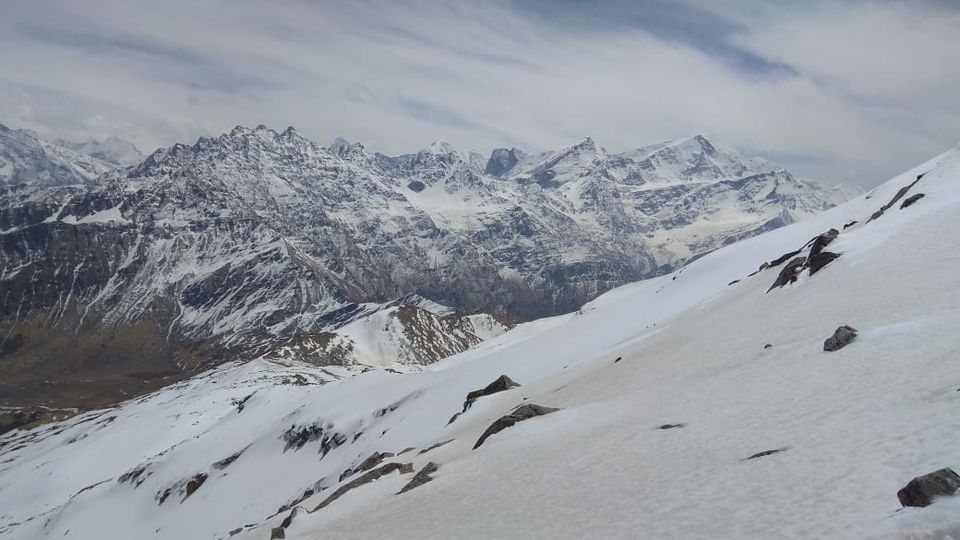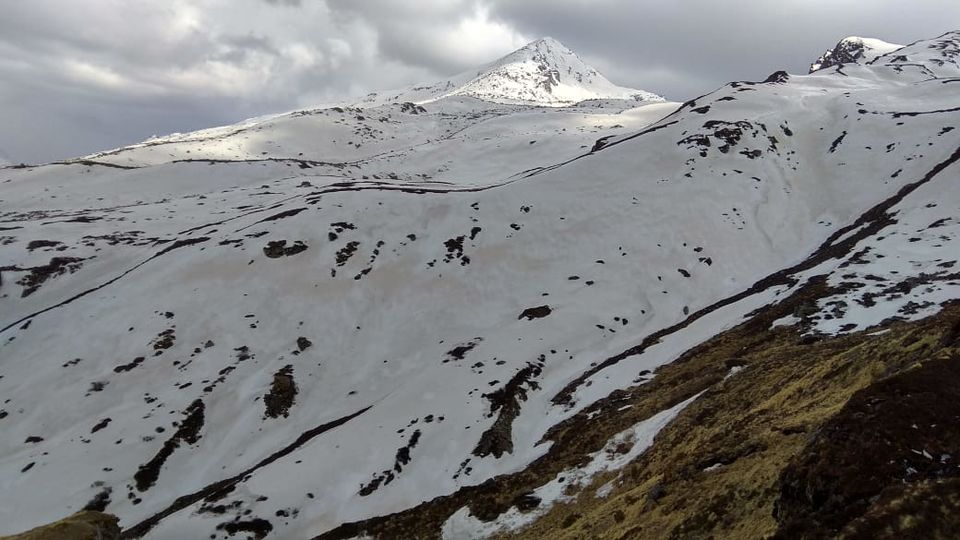 At this point we wore our "crampons". These are spikes worn on shoes which assists in getting a grip on the snow and reduces the chances of a slip. Since already a group has passed before we reached this point the path was marked with their footsteps and we were told to follow the same. Its kind of like steps were already made and now you climb on those steps to reach your destination.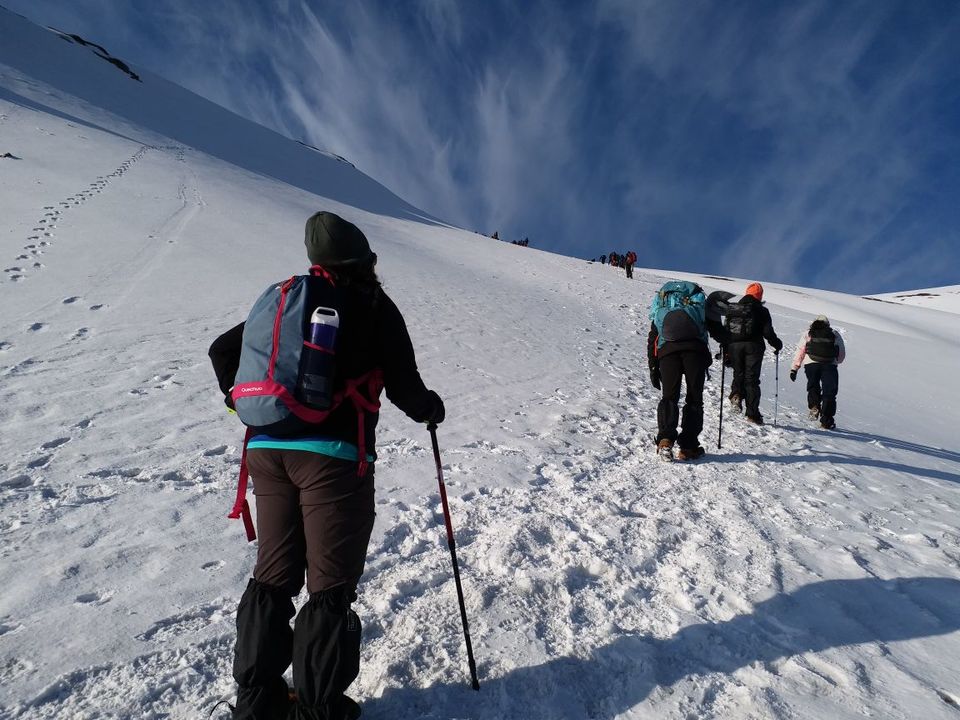 It was freezing cold and the moment you stop the windchill will almost get in the bones. You cant even wear layers of warm clothing as walking becomes exhausting and then if you start sweating you loose water more from body and then you should replace it as much as possible else chances of AMS becomes significant. Covering head is very important, a balaclava helps here as it not only covers the head but also can cover the mouth and help get some little much needed warmth.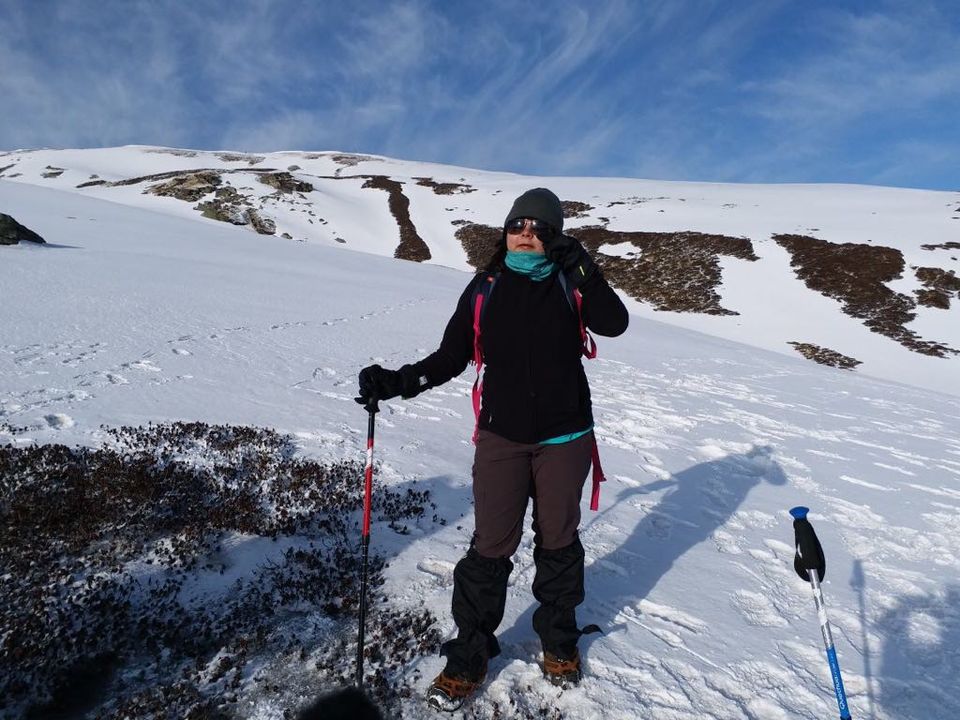 Walking on the snow is a tedious job yet the thrill of the climb along with the terrific view of the Chaukhamba massif, flanked by Mana, Kamet, Hati-Ghodi and other snow caps will make it worth it.

We kept taking breaks and sipping some water in between to keep ourselves hydrated and reached the base at around 9am.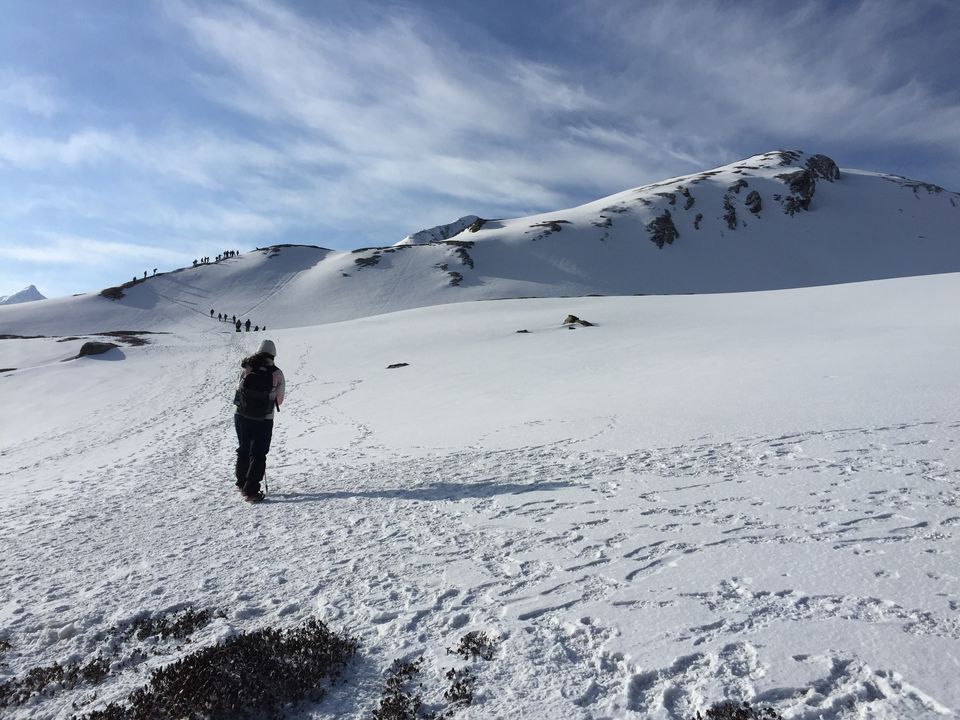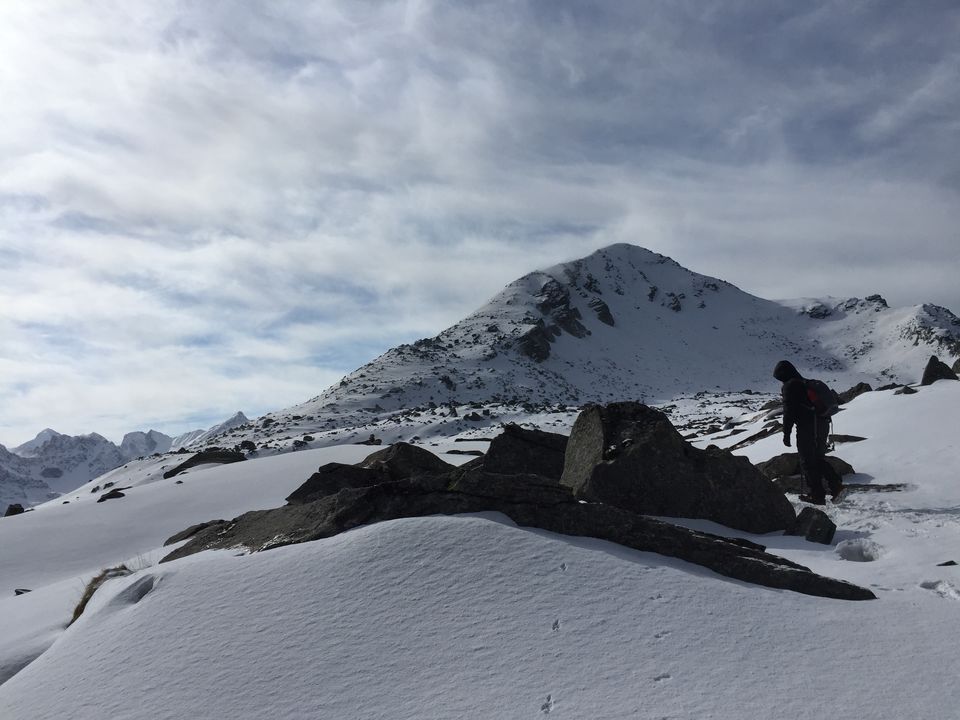 My head was already throbbing since some time and I was also feeling nauseated and I knew these are signs of altitude sickness which if it gets worse and then the descend time becomes too long it may kill even. Yes it may turn that bad! I have seen mostly trekkers coming up without even understanding the dangers that they may face in the Himalayan hikes. Is that good? Irrespective of how many leaders/assistants that a group may have it is always better to atleast be aware of some of the common dangers a person is likely to face on the trek. It's the difference between knowledge and ignorance that can make a decision right or wrong at these stages. Trekking is after all an adventure sport!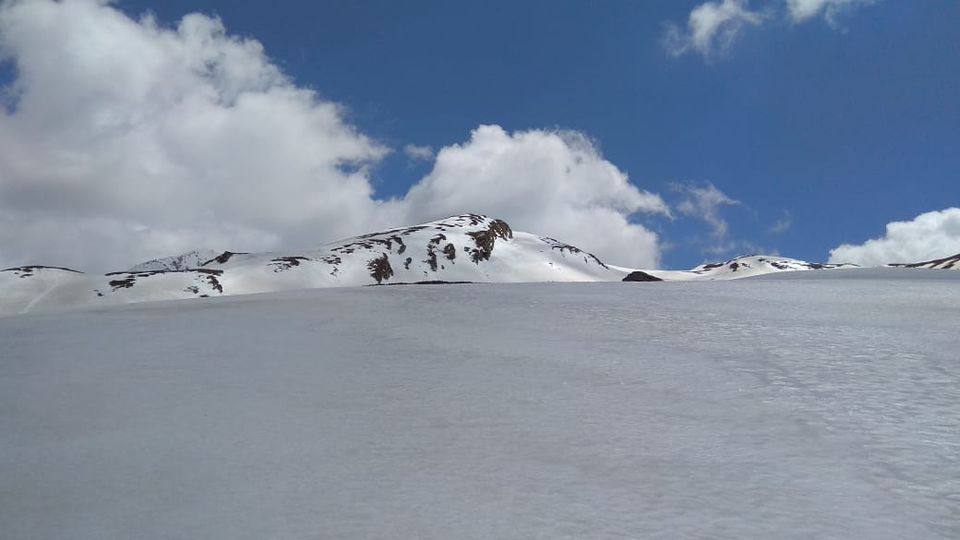 From the base of Pangarchulla Main Peak, it once again becomes a steep ridge climb with very strong winds. From a distance you can see the winds swishing by and it's a sight which is dangerous yet tempting. At this point the breath is heavier, walking becomes slower and the body almost feels like giving up. And you know you are at 14k ft. At this stage it becomes more like a madness to touch the summit once and then hurry back down.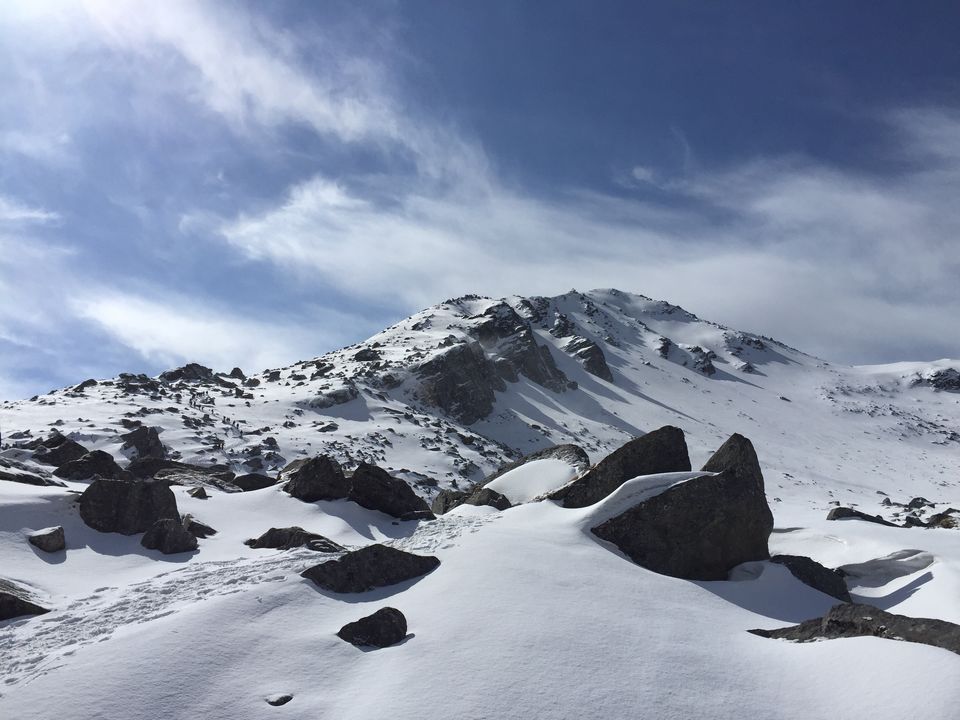 The summit seemed near but I knew it will be another 1.5 hrs before I can make it and then need to descend as well. Being so near it was a tough call to take to let it go now and return. But if my AMS worsens which in all likelihood it will , since more altitude gain means it will only aggravate and I may not even be able to return on my own (Typically the person cannot walk in a straight line as well and is not even able to think clearly, basically the mind stops operating properly and to add to that you behave strangely and some people don't even have any memories as well later – All these I have read in so many of the posts from so many experienced trekkers). I have been in 15k ft earlier so to somewhat the ego was asking me to push some more and it was so close! It was a tough call but then I believe sanity prevailed and I decided to return. 1 of the other girls was there with me and she was not feeling well since the time she started the climb. So both of us along with our trek lead decided to turn back.
We sat on a stone for sometime at the base appreciating the Garhwal snow peaks in all their glory.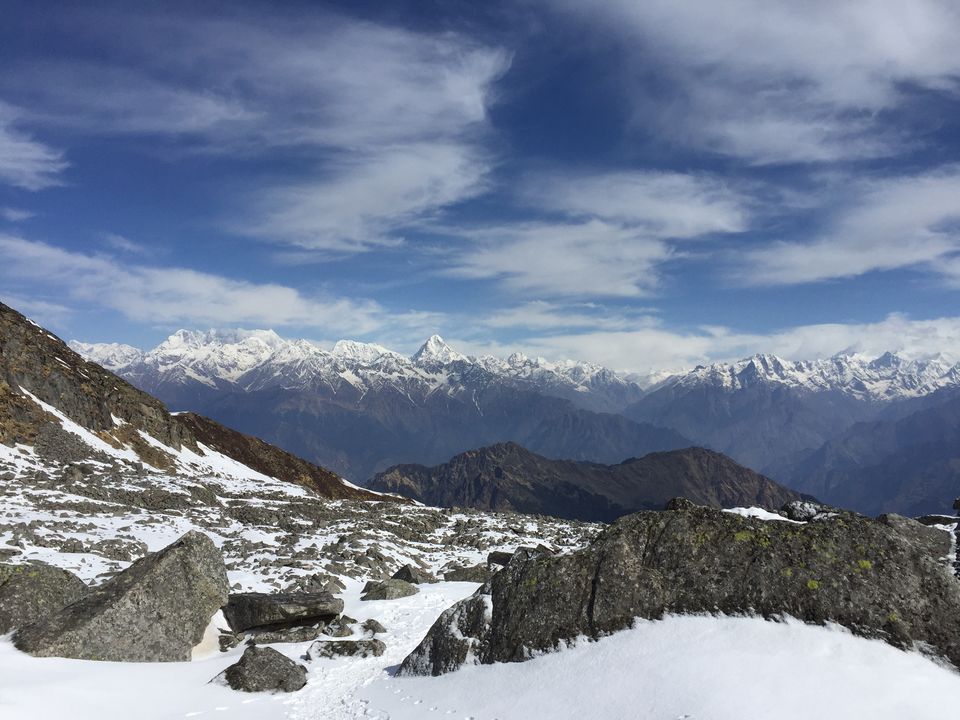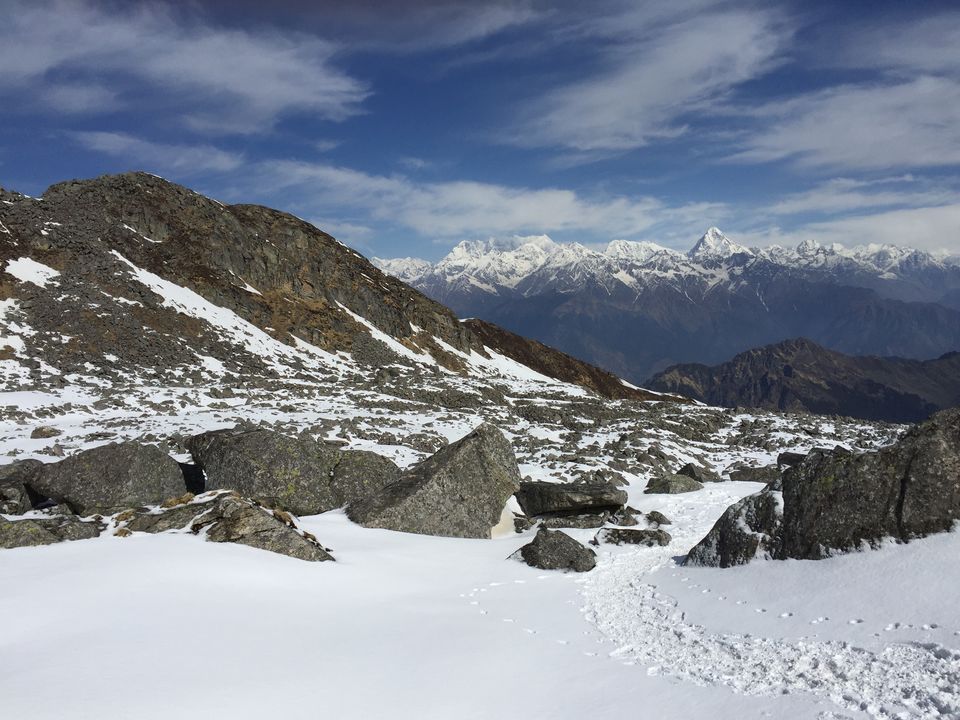 And then we turned back. Now the tricky part was that with the rising sun the snow was already melting and so suddenly you will find your knees slipping deep inside the snow. It did happen with us for quite a few times and yes it was scary. As we descended we found so many trekkers who had given up even before the base and we rescued a person with a serious case of AMS without any experienced guide (and he came through one of the very well-known groups). Infact when we tried giving him some chocolates (sugar helps with some energy but the descent needs to be very fast, the more altitude you loose the more better you get) he took out his toothbrush from his bag. He was almost walking towards the cliff side and looked imbalanced. We kept chatting with him and literally pulled him to come down with us. Later we came to know he was a foot-baller and this was his first trek. He knew nothing of what happened to him. And its better I don't comment on the hiking group with whom he came. Infact we found a lot of people from that group finding their way down alone without any of their guides being there. And they make big claims on being professional and cry foul of the other groups!
Anyways, post the snow path was over we enjoyed our way back. We took innumerable stops, just sat down and stared at the mountains, the sky, the clouds, the flowers , had snacks and fruits on the way, listened to some music, chatted and had fun.
Some clicks on the way down...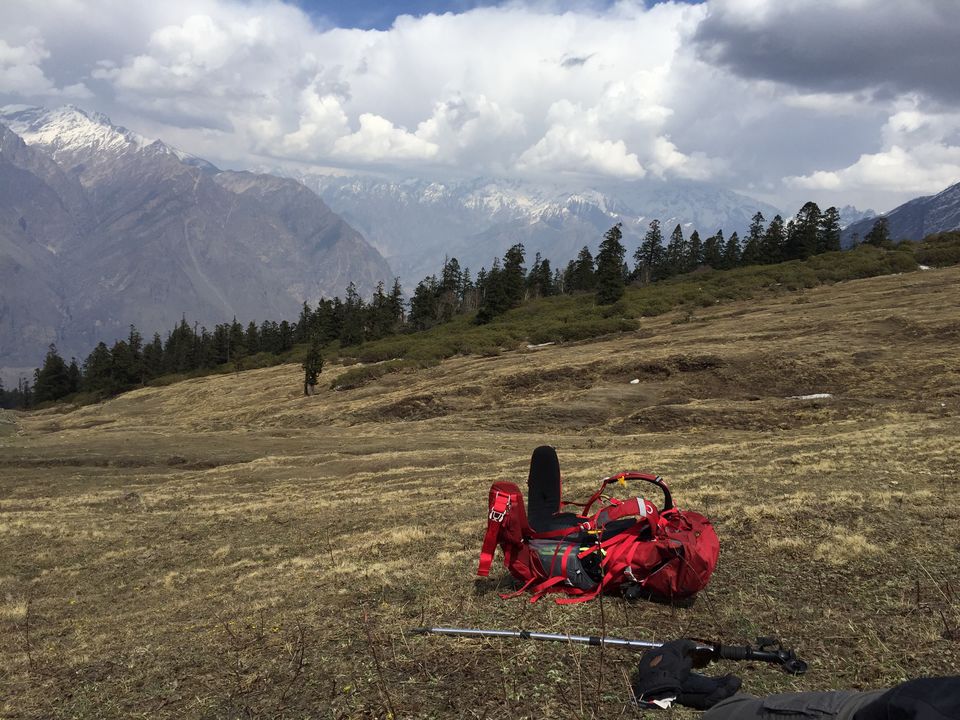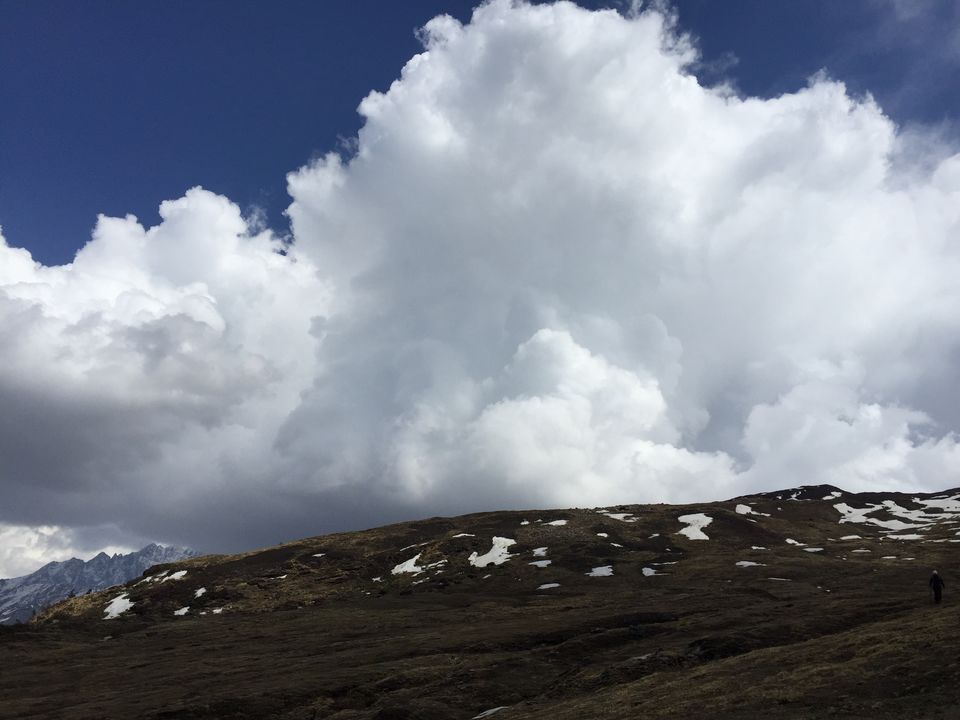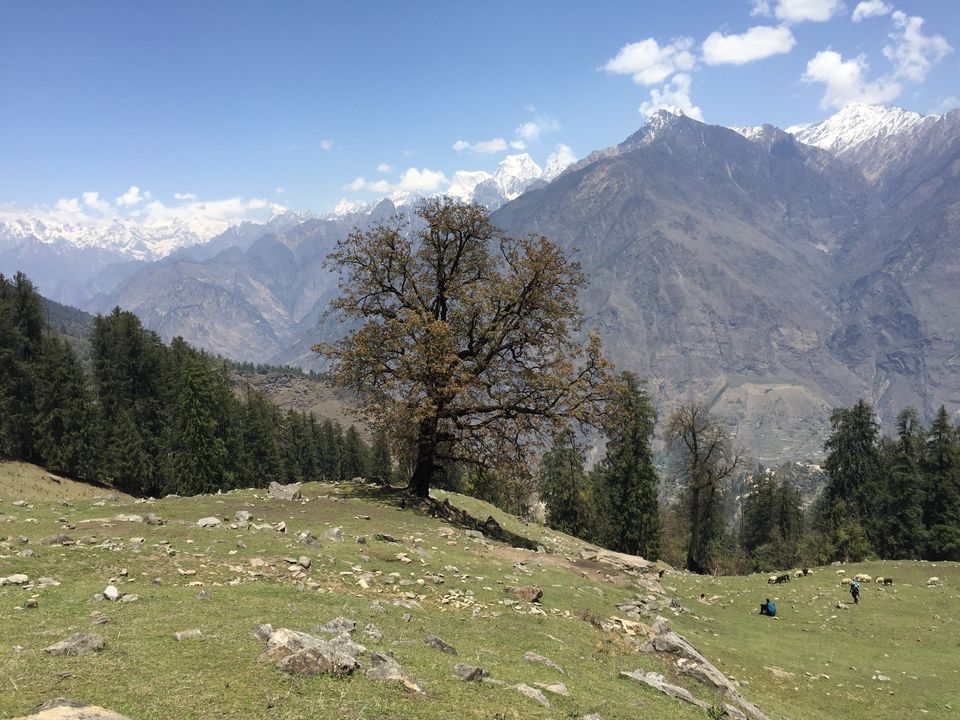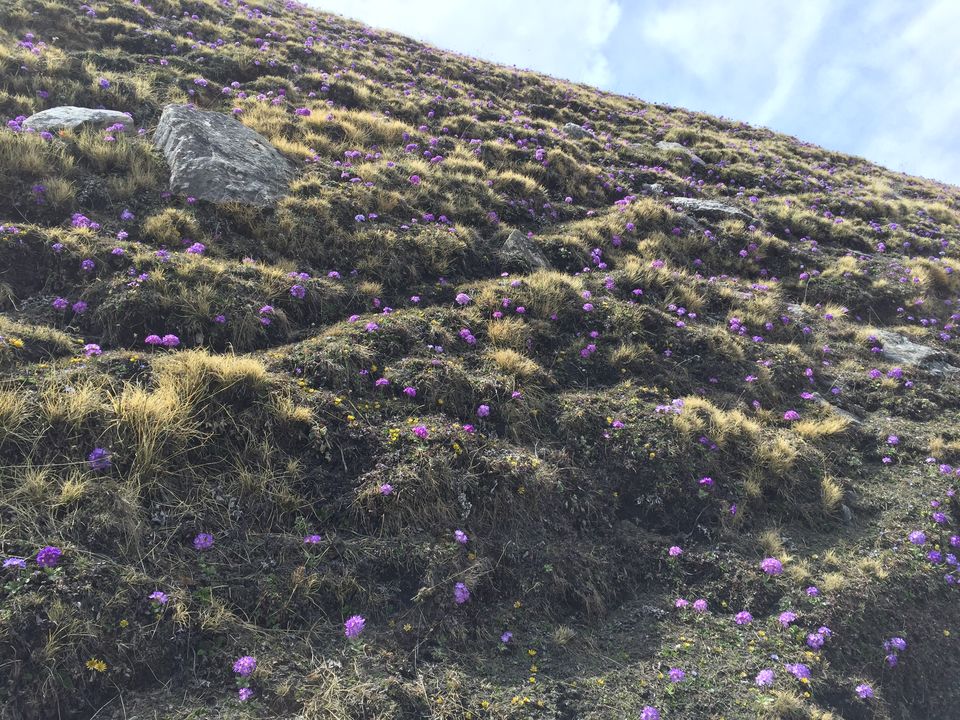 Infact that enjoyment became so much that the way down took another 5 hours! But we were happy! Of our group of 9, 6 summited while 2 of us came down and 1 stayed at the camp only. That's the statistics. Do I have any regrets for not going to the top?? Not at all! I was happy in what I did and that's all that matters! But yes my learning was never to go for a hiking group that cuts short a day and make the trek small than what it usually requires. A day makes much of a difference for acclimatization. While different individuals body may react differently and may adjust but then why to take unnecessary chances.
Once all were back we had some lovely chai and pakoras and shared our individual experiences. Those who summited all mentioned that they don't remember much of it and all they could think was not to slip and have a fall as the final climb was almost like 90 degrees in deep snow. It was more of like finishing a task in hand and start the descend! My headache and nausea disappeared like a magic as I came down back to the camp making me realize that I did took the right decision. Today also same time in the evening we were greeted with the snow shower but all were too tired to enjoy it anymore and we all went to take some rest in our respective tents. Had an early dinner and went to sleep with a tired body but a slightly sad soul as the next day we go down and the trek will be over. Tonight it dint feel so cold after all. May be the body got used to it.
Day 5
Morning started with some yoga!Well this entire Bikat trek for us seemed to be in some confusion. While yoga and breathing techniques should have been taught before the hike, ours happened on the last day we were suppose to go back! Anyways, post a hearty breakfast we began our descent, this time through a different route.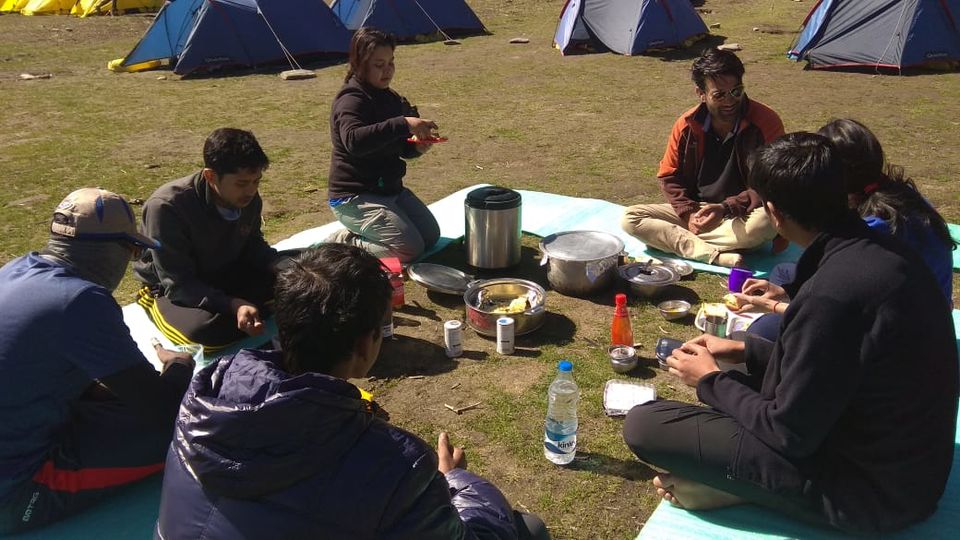 This route was slightly lengthy than the one we came through but more greener and more picturesque. Noone was in any hurry and we slowly made our way back to from where we started.
Some clicks as we slowly made our way back...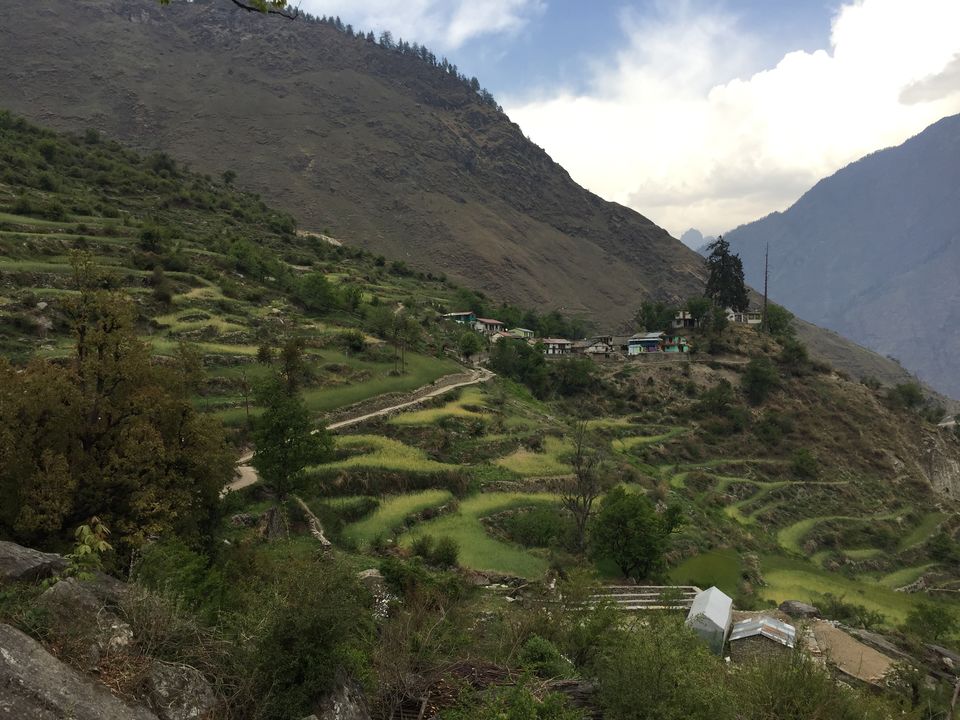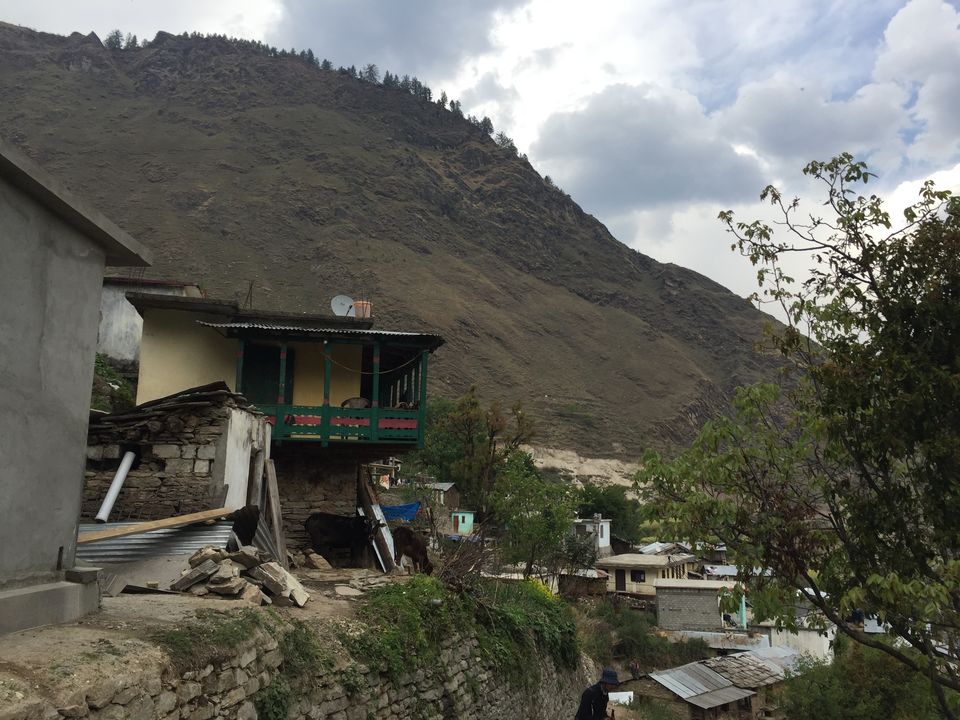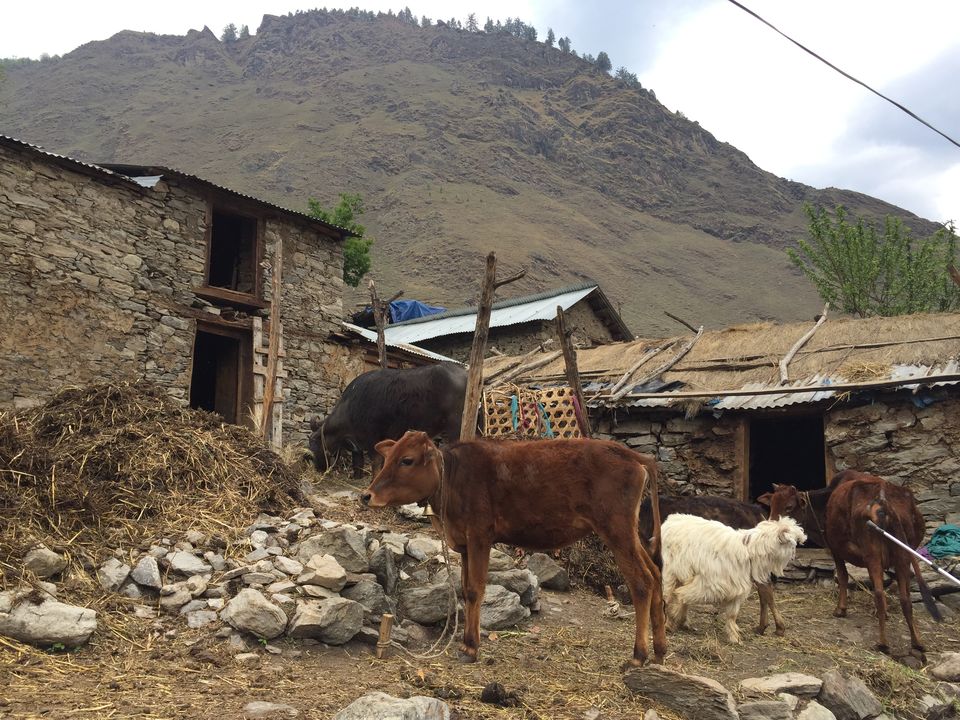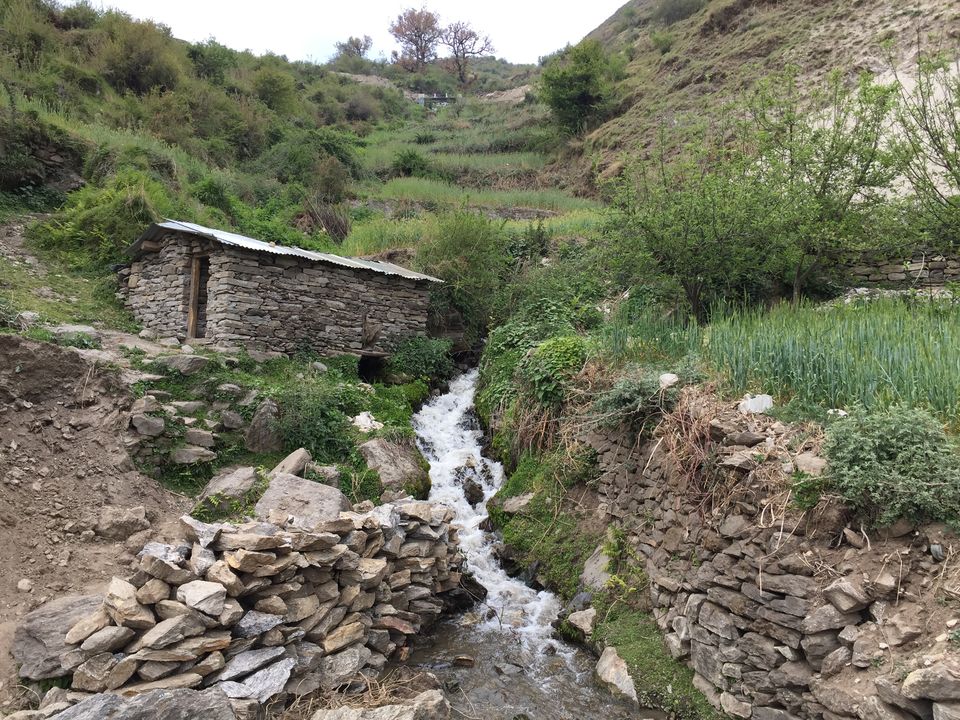 Back to Joshimath by 3pm, it became time for all the good memories to remain in the heart and say goodbyes with a wish to meet again in some other treks.
Day 6
Left from Joshimath