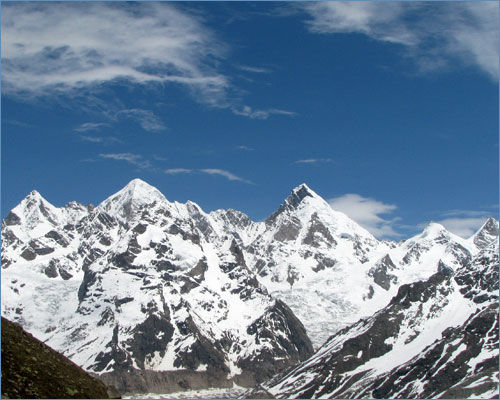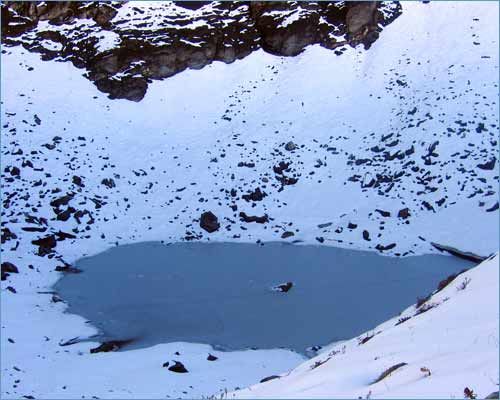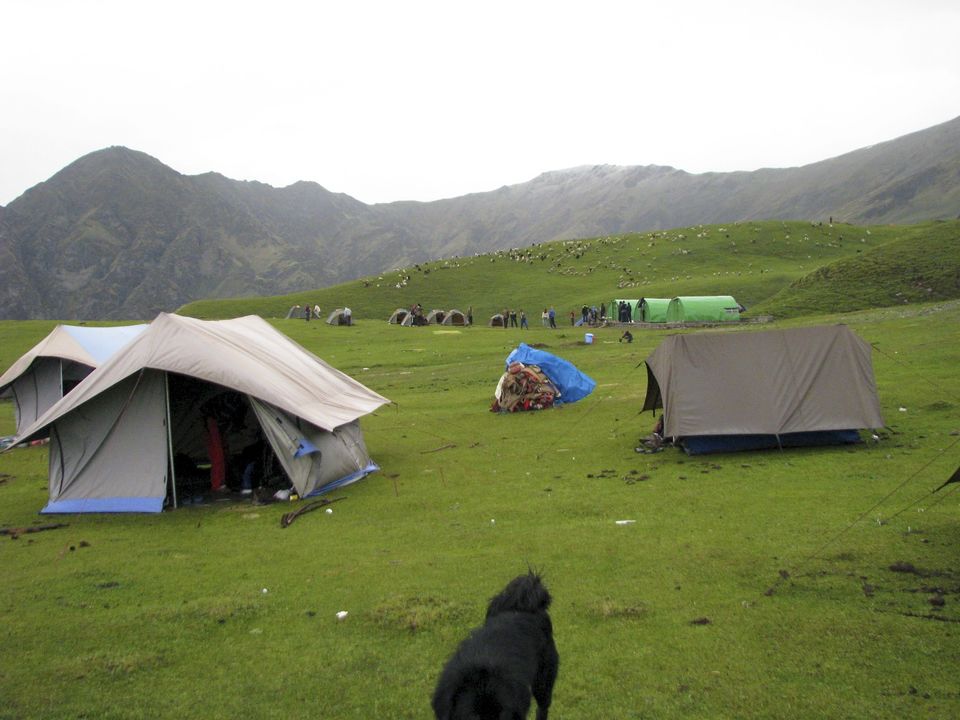 Trek To Roopkund - [1st to 8th June 2014] - Registration is ON
The Roopkund trek is popular because of the several climbing objectives in this area which include the beautiful trident peak Trishul (7122m) and Ronti (6078m). At a height of 5229m Roopkund is also called Mystery Lake because of the unusual remains of humans and horse bones around it. The route of the Roopkund trek passes through delightful alpine pastures and snowfields and offers magnificent views of peaks such as Trishul, Ronti, Nanda Ghunti, Chaukhamba among others. It is also the same route that's taken in the famous Raj Jat Yatra that's held once in 12 years.
Trip Details:
Type: High Altitude Trekking Altitude 5,029 meters Meeting point Laxman Jhoola, Rishikesh at around 07:30AM on 1st June, 2013 Gradient: Moderately Challenging Ending point: Rishikesh at around 07:00PM on 8th June, 2013

Tentative Schedule:
1st June 2014
Reporting at Rishikesh (Laxman Jhula area) at around 07:30AM. We all will meet up there & proceed to Wan which is a 7-8 hour drive (We will hire a cab at Rishikesh to drive to Van & the costing will be shared among all the participants). Reach Wan & Overnight stay at camp.
.
2nd June 2014
Trek from Wan to Bedni Bugyal (3354m) – 12Kms/6Hrs
The trek to Bedni Bugyal will take you through beautiful green oak and rhododendron forest as we get over the tree line we are greeted with magnificent views of the 6000 and 7000m peaks all around. With packed lunch and at a leisurely pace, the trek concludes at Bedni Bugyal late in the afternoon and later with an over night stay at camp.

3rd June 2014
Acclimatization day at Bedni Bugyal.
On this day, after breakfast we will do a leisurely hike to Ali Bugyal and will return back to Bedni for lunch. Overnight stay at camp will follow.

4th June 2014
Trek from Bedni Bugyal to Baggubasa (3800m) – 9 KM/5 Hrs
The trail starts climbing soon after Bedni Bugyal and goes past more stark vistas. The hot lunch at Baggubasa is a welcome relief after the trek. If the weather is good and everyone is feeling good and strong then we might make an early attempt on this day. Overnight stay at camp.

5th June 2014
Trek Baggubasa to Roopkund and back to Baggubasa – 5Kms/7Hrs
The climb continues to the lake at Roopkund. While the route on the Roopkund trek will take most of the time, the return is a fairly easy descent.

6th June 2014
Trek from Baggubasa to Bedni Bugyal – 9Kms/4Hrs
Return to the pasture at Bedni Bugyal on the same trail that was taken on the way up. The reason we have a short day planned is because in-case we do not make it to Roopkund on day 4 or 5 we will have time for a third attempt as well as on Day 6 and still get back to Bedni.

7th June 2014
Trek from Bedni Bugyal to Wan – 14 KM/5 Hrs
We retrace the same trail back to Wan.

8th June 2014
Depart from Wan to Rishikesh after breakfast (7 - 8 Hrs. drive). (We will hire a cab at Wan to drive to Rishikesh & the costing will be shared among all the participants).
People who want to stay at Rishikesh can stay on their own cost & others can depart according to their train/bus/flight timings.
 
Participation fees: Rs.9000/- per person
Cost Includes:
- Camping Tents, Kitchen tents, Dining Tent and Sleeping bags (Holofill) and Carry mats.
- Nutritious, high calorie vegetarian food (Food cycle starts with dinner on 1st Jun 2014 & ends with breakfast on 8th Jun 2014
- Guide, cook and camp helpers.
- Horses with horsemen to carry loads on the route. (Participant will only have to carry a small hiking day pack with their water bottle, some trail food and trail layers. Everything else will
   be carried on horses.) There is a 10 kg weight limit for your bags that will go on the horses.
- Tented accommodation - for 3 people
Cost Excludes:
- Any expenses of personal nature like phone call, detour etc
- Vehicle cost between Rishikesh & Wan AND between Delhi & Rishikesh
- Any air/train ticket to reach Delhi and return from Delhi
- Any hotel accommodation
- Extra food apart from mentioned above
- Anything not mentioned above
 
 Thing to carry:
- Backpack 35- 40 Liters (this will go on the horse. If you want to carry it on your back your welcome)
- Small day pack 20 Liters (you can use this on the trail to carry your trail food, camera, water and trail layers.)
- Hiking pants/trousers and shirts
- Good walking/hiking shoes
- Flash light with extra batteries
- Sunglasses (optional)
- Suntan lotion and toiletries
- Camera (optional)
- Water bottle
- Warm jacket/pullover
- Warm gloves
- Warm socks
- Raincoat
- Prescribed medication (if any)
The Terms and conditions mentioned below shall apply for the event:
Maximum efforts are made to ensure the safety of the participant. However, BMC & their management or employees will not be responsible for injuries of any nature, mental or physical, whether caused directly or indirectly due to any adventure sports or their allied activities.
Every participant is required to fill a registration form and indemnity bond prior to the commencement of the trip.
Refund and cancellation:
- If you cancel 20 days before the trip begins, BMC will retain 20% of the trip cost.
- If you cancel 15 days before the trip begins, BMC will retain 50 % of the trip cost.
- If you cancel less than 14 days before the trip begins, or, are not present when the trip begins, there will be no refund.
BMC will take every care to ensure that itineraries are followed to the letter but circumstances beyond control may necessitate changes. In case of changes in routes and properties, BMC will accept no liability but make arrangements for substitution of equal.
BMC will accept no liability for any damage, losses and expenses suffered by any client as a result of sickness, quarantine, weather conditions, war, strikes, riots or any other cause outside our control.
Any damage, other than that attributable to fair wear and tear, to the equipments by the participants will be billed to you. Our decision on all such matters will be final and binding.
 
Read our Cancellation Policy, just in case you have to cancel participation
Read our Refund Policy, in case we are forced to cancel this event.
Please transfer the Participation fees before you register
Register for this event now