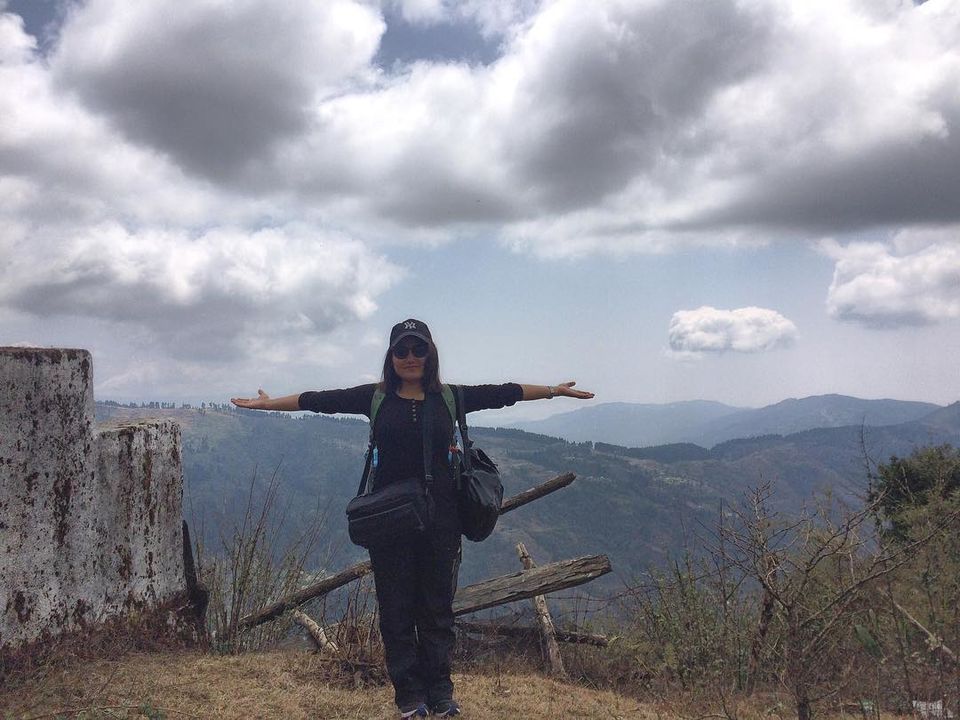 Ahh Sandakphu. *rubs my palms together excitedly* Where do I begin? It was the first trek of my life and the experience of trekking was fabulous but I wish I knew few things earlier than what I discovered while en route to Sandakphu. As we know, Located at an altitude of 11,941 ft in the Darjeeling district of West Bengal, Sandakphu is popularly known as a 'Trekkers Wonderland'. Honestly, it was very difficult trek for me.
I started off my journey by getting into a shared jeep from Darjeeling more, Siliguri to Sukhia Pokhari at 1pm. We reached around 4 pm. As we got down in Sukhia Pokhari we immediately found a maruti van that takes you to Manebhanjang covering 7 Km in 20 mins. We did a lil bit of research on homestay at Manebhanjang before getting in there. The hotels/ homestay won't cost you much. Just around 600 Rs per night and you won't find any difficulty in finding one. One has to stay overnight at Manebhanjang if you are planning to trek BTW. Otherwise you can easily find those old British Land Rovers that takes you up to Sandakphu 31 kms away from Manebhanjang in just 4 hours.
On the next day, we began the much awaited trek at 9:30 am, The first 3 km walk was very hard as the road were steep with a lot of turns. My heart was pounding very fast but my friends were so encouraging and supportive. They helped me get through this situation where I almost gave up the trek and I almost took a rover to reach the destination. We then walked via long concrete Stairways through the mountains which are short cuts made for trekkers. After hiking up to 3 km we reached Chitray (8,340 ft.), a small mountain hamlet on the way to Sandakphu. The route up to Chitray passes through pine, fir, birch forests and bamboo glades. There is a beautiful Monastery and a small shop where you can stop by to have food, local drinks and tea.
On the way we also found some trekkers coming from different parts of India along with local nepali Guide daju (brothers). It was great mingling with them. Knowing about their stories, cultures and what they do etc.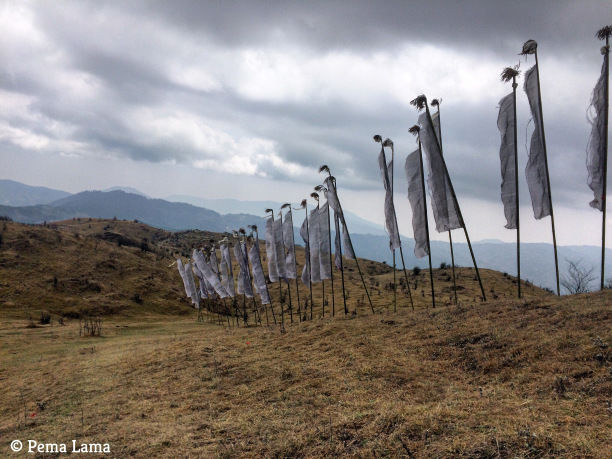 We walked 11 km in 8 hours and decided to halt at Tonglu (10,130ft) which is one of the higher peaks of the Singalila Ridge and a small settlement inside the Singalila National Park. It is the perfect place to explore the mountains. The home stay rates are same. It can charge you from 250 Rs for dormitory to 600 Rs for double bedded room. Foods are expensive. Veg thali here cost 200 Rs which is not so great but what can one expect when on trek in Himalayas.
Pictures below are taken in the morning around 5:30 am.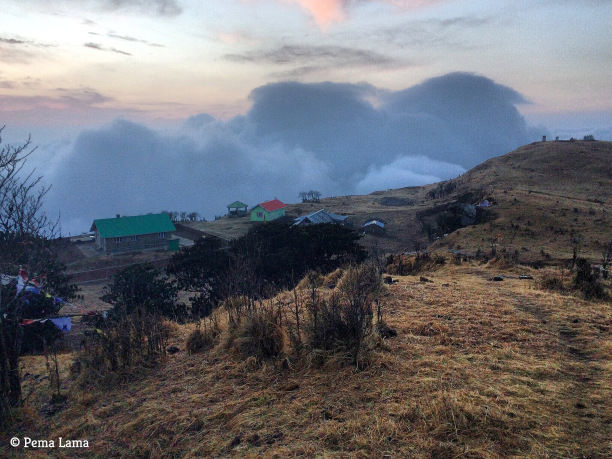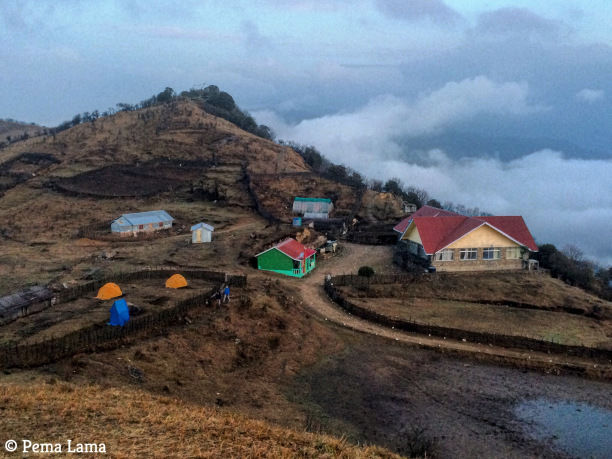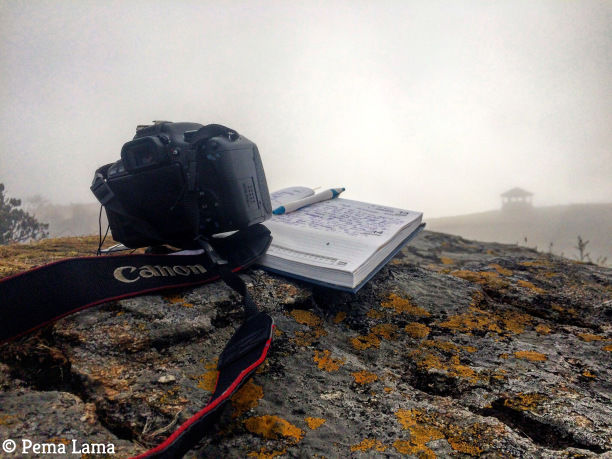 We needed to cover 21 Km to reach Sandakphu, as we didn't plan to halt anywhere but Sandakphu. We were so excited about thinking how half way away we are from our stop. We left Tonglu at 8 am. We walked through cold desert to reach to the nearby village which is Gairibas (8,600 ft) ASAP. Because covering 21 kms in one day isn't easy task to do when it comes to steep gravel roads. It was something we had no choice than to cover it. By the time we reached Gairibas it started raining. We stopped by the shop to eat momos and cup of black tea. It was cold. While our stay here in the restaurant we met French couple who were returning back to the town. They told us how bad weather it is in Sandakphu but the trek is worth it no matter what happens. We smiled as they wished us good luck and it was great knowing their experiences. The rain didn't stop and so didn't we. ( PS. Don't forget to carry raincoats if you want to trek, the weather up there is unpredictable). It was very cold and the road visibility was not clear. It was too foggy. We walked another 6 km and by the time we arrived this place called Kalphokari or KaliPokhari (10,400 ft) it was 1:30 pm. We were hungry and it was freezing cold outside. So, we went into this small shop and ordered Black tea and chowmin and soup wai wai. Because that is all you can get here. The visibility weren't clear yet.
But we gotta get going. Some locals asked us to halt for the night as it will be dangerous to go sandakphu in the weather like this. We didn't listen to them as we only had to cover 6 km distance. We found a rover that were headed to the way where we headed so we got into the vehicle as it was drizzling and driver daju dropped us in this place called Bikey. He was just like other local people who were one of kind person we met on our journey. He did not take money when we offered. We reached Sandakphu at 7:30 pm. The roads were really very steep rough stony, muddy and partly graveled and we didn't find anyone on the way to Sandakphu. I guess it was because no one travel there in the evening. It was real dark, freezing cold and strong winds were blowing that were making crazy scary sound. Walking through the jungle for more than 4 hours were a great torture. There was a milestone showing Sandakphu 0 Km but no sight of houses NOTHING. We had to walk another half kilometer to reach the proper Sandakphu to find the village. I could feel the temperature was dropping to minus 3 degree. It was too foggy we could only see a limited distance.
We then found a shelter at Hotel Namo Buddha and Restaurant and the hospitality was great there BTW. The owner of the hotel welcomed and showed us our room and informed us that the dinner would be served in an hour.
Next morning, one of the oldest hotel staff showed us around and took us to the view point.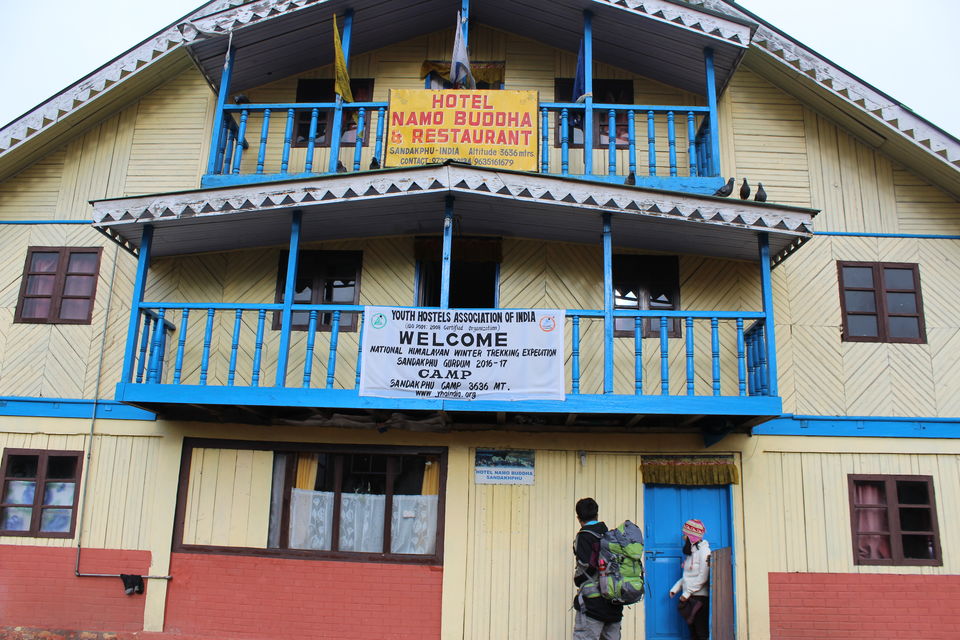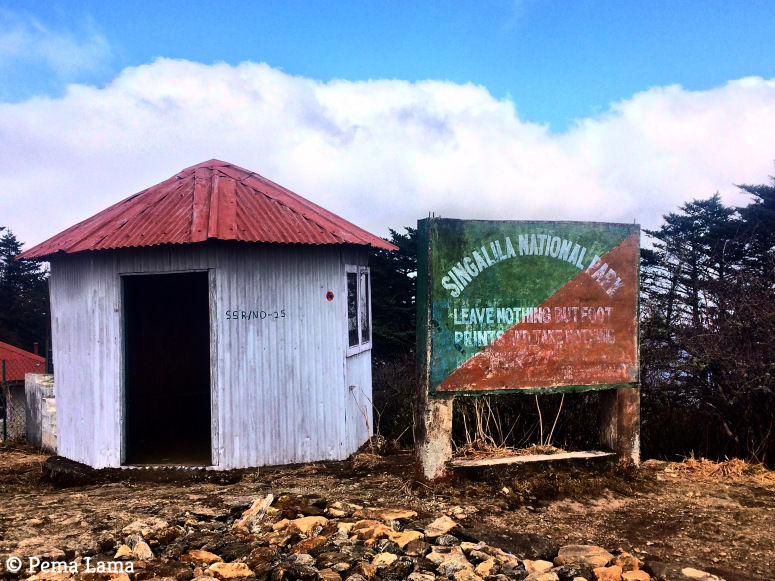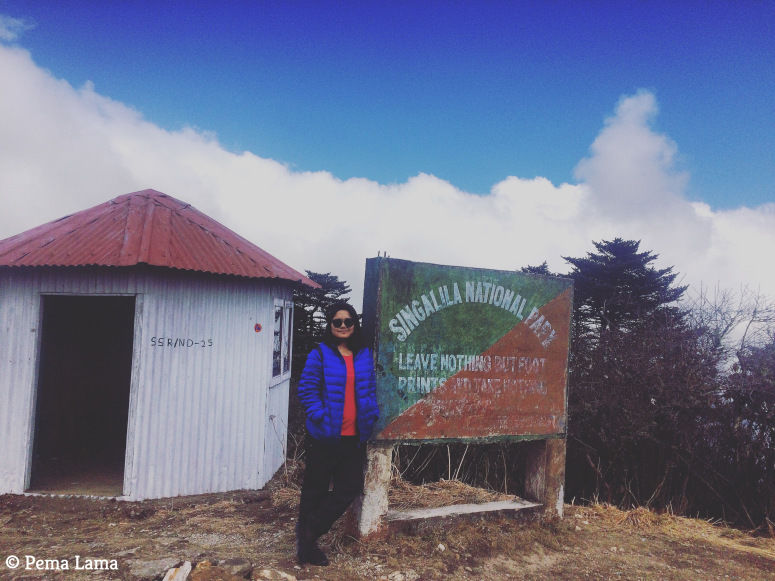 The weather didn't seem to be favorable on that day. So we returned back to manebhanjang by the Land Rover.
I was travelling back home with lovely Bengali family from Islampur, west bengal who told me that how they are also so fond of travelling and had been travelling the entire family together to Sikkim, Sandakphu and now the next stop is Mirik. I was amazed by listening their travelling stories. "Wow that's incredible", I REPLIED! That moment i missed my family.
Coming back home safe, the very first thing i did was Thank god and just ticked off the Sandakphu Trek from the travel list. WOO! It was like there since 2014. I am fortunate enough to make this trip happen Finally. It's just felt good.