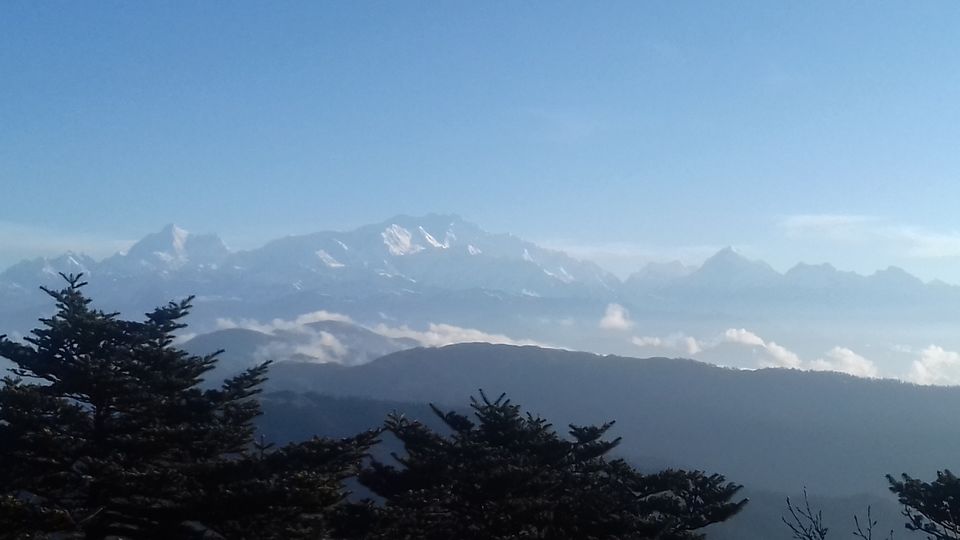 "It is not the mountain we conquer, but ourselves"
I read this somewhere and it enthrilled me to plan a trek, with my husband. We wanted to check our physical capacity as well as how we get along in the severe conditions, as in a trek.
North-East has always captivated me, where it be Green Sikkim or Darjeeling, and now a days there are plenty of destinations around Darjeeling, for treks or  family get-aways for one who want to avoid rush in Darjeeling.
But what bewitched me is the sight of magnificent "Kangchenjunga" along with four of the five highest peaks in the world, Everest, Kangchenjunga, Lhotse and Makalu, which can be seen from the summit of Sandakphu. It also offers a pristine view of the entire Kangchenjunga Range, which resembles to "Sleeping Buddha".
Those stupendous views, from the summit of Sandakphu, motivated us to plan a trek to this majestic place.
"Everyone wants to live on top of the mountain, but all the happiness and growth occurs while you are climbing it." so true that. This is why we planned our trek on the route of Tumling-Kalipokhari-Sandakphu-Gurdum-Rimbick
We decided to go with "Youth Hostels Association of India" as their enroute facilities and arrangements are good and it has a good reputation in Adventure Sports and Accommodation category.
It was a 7 day trek, total route of 54 kms, in which first 2 days were for acclimatization.
We booked a flight from Mumbai to Bagdogra and then booked a cab from Bagdogra to Darjeeling. There are ample of cabs available so there is no need of pre-booking, but one should be aware of the rate card, as on the spot booking can cost you more. You can enquire with your hotel about the price. Many hotels do provide cabs at an extra cost, don't forget to bargain, as they can charge more (including their commission) specially during On-season.
We reached Darjeeling base camp in the afternoon and completed the reporting formalities.
Rest of the evening was in leisure, so we roamed around the market in Darjeeling.
Market is good for purchasing winter and rainy clothes, rest I found ordinary, as in our city.
During dinner we met our other co-trekkers.
Day started at 5 in the morning. We had a 6 km to and fro hilly road walk to "Darjeeling Peace Pagoda" from our base camp.
Amidst the serene and peaceful environment is situated "Peace Pagoda" and "Japanese Buddhist Temple".
The Peace pagoda is designed and created to propagate world peace.
This is a must visit place when in Darjeeling.
Don't forget to visit "Japanese Buddhist Temple " in the premises, Walk up the wooden stairs of the temple and you will find a big prayer room, as you enter the room, you will be invited to sit and join the prayers. This is an unforgettable experience, exposure to different cultures broden our views towards life and human race.
The walk was pleasant and the sight of peace pagoda was the cherry on top.
We had rest of the day at leisure, so we have done some Darjeeling sightseeing.
We visited Tea gardens, as we dint had them in our trek route, Toy train ride including batasia loop, although I will not recommend this ride as the sight or view is pathetic, but one can visit Ghum museum at Ghum Railway Station, which gives us insight of history of Himalayan railways and the vintage british trains which runs on 2 ft narrow guage track.
There is a "Padmaja naidu zoological park", although we have not visited, but our fellow companions who visited recommended it as must visit for the very unique Himalayan "Red Panda".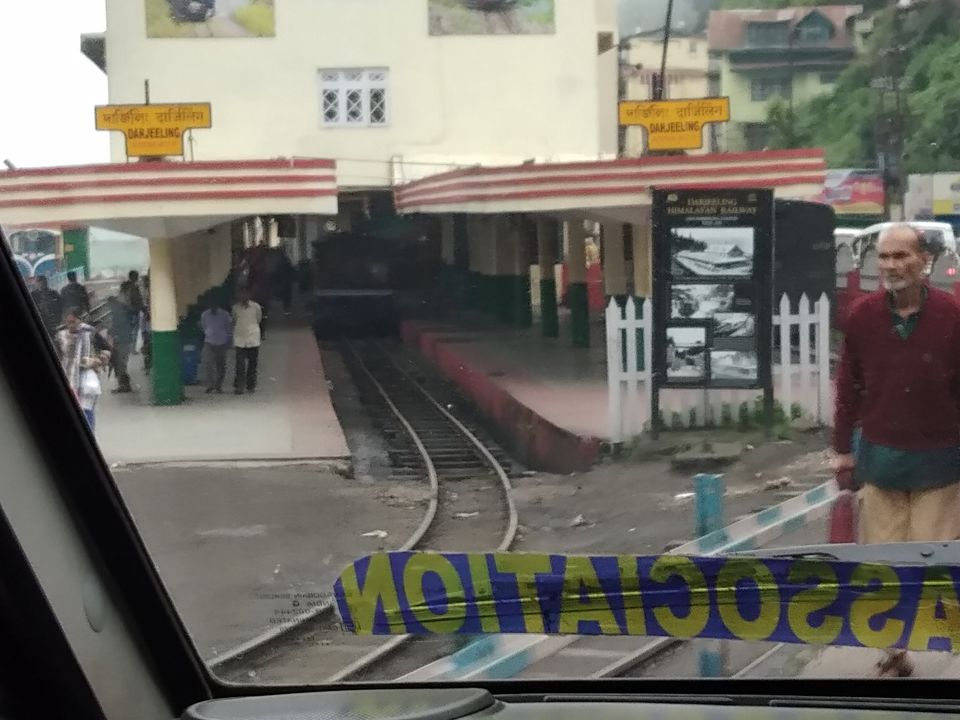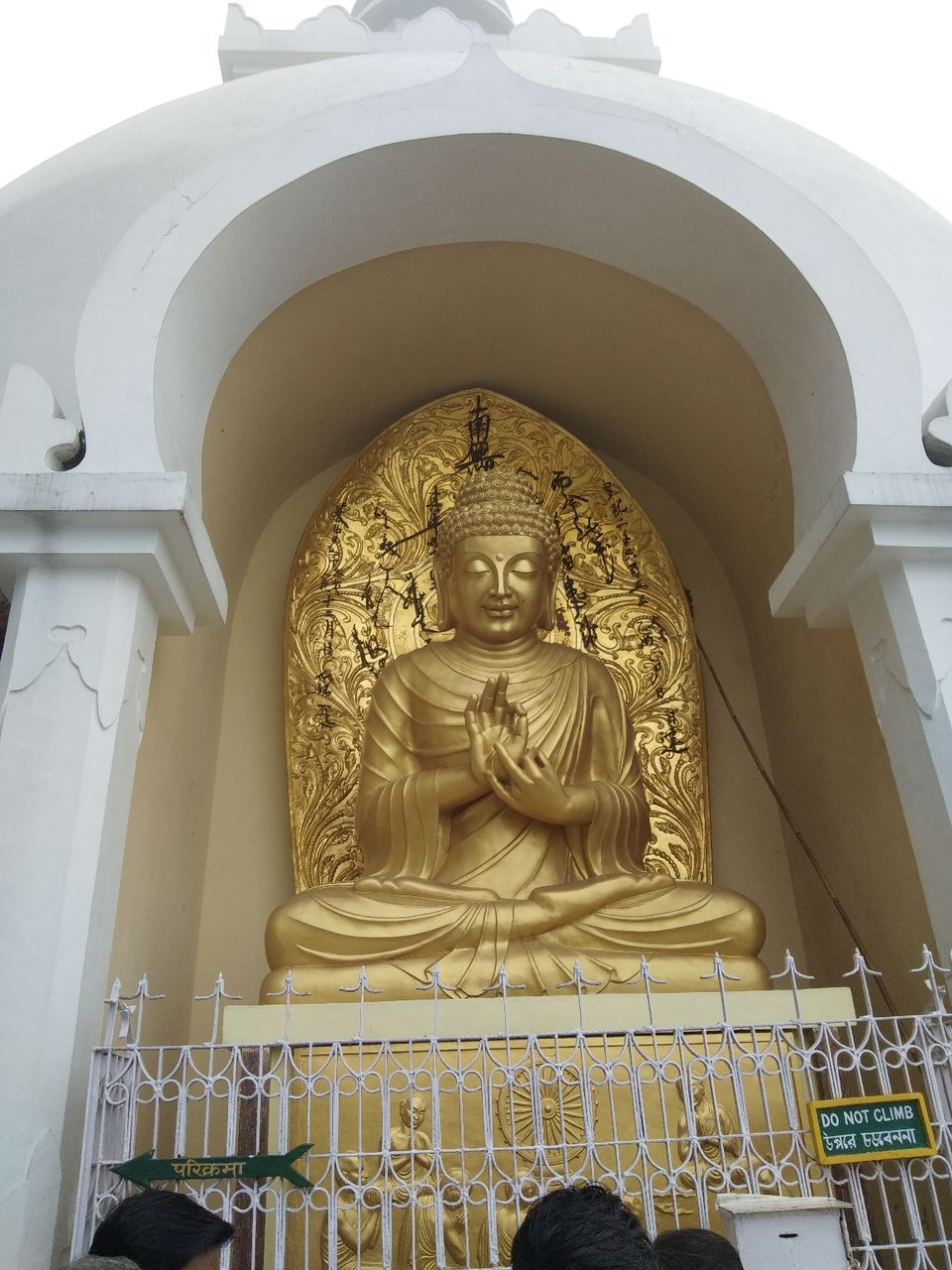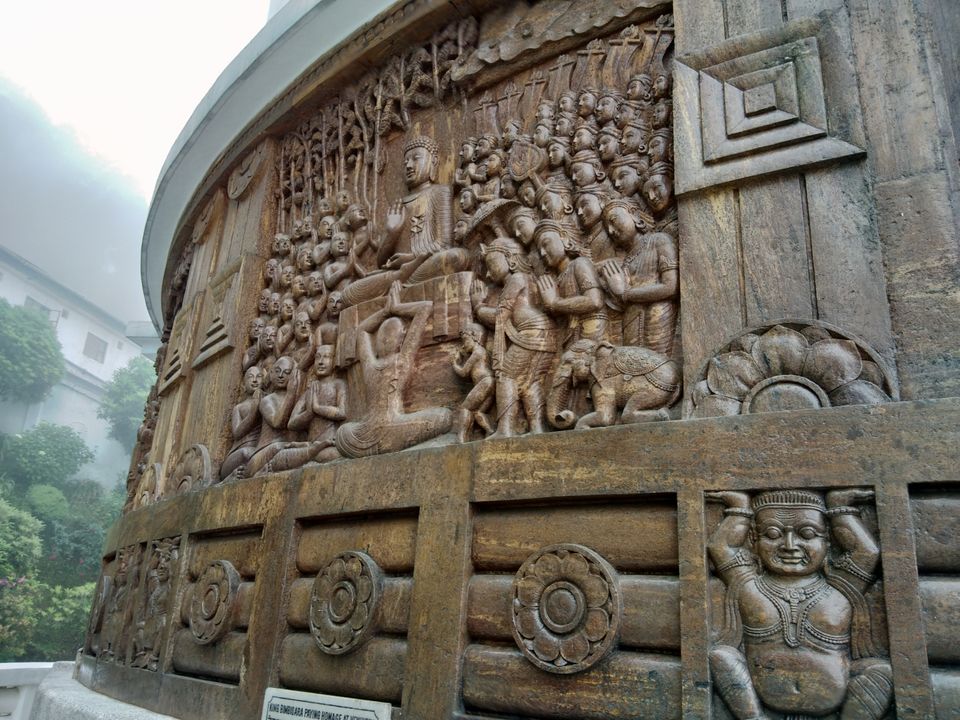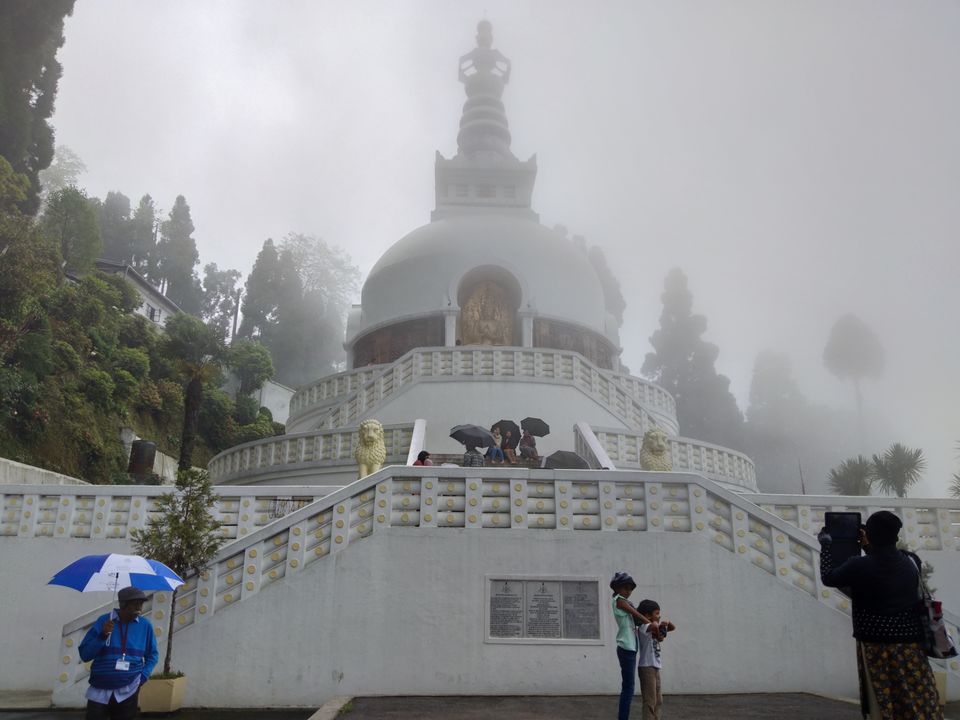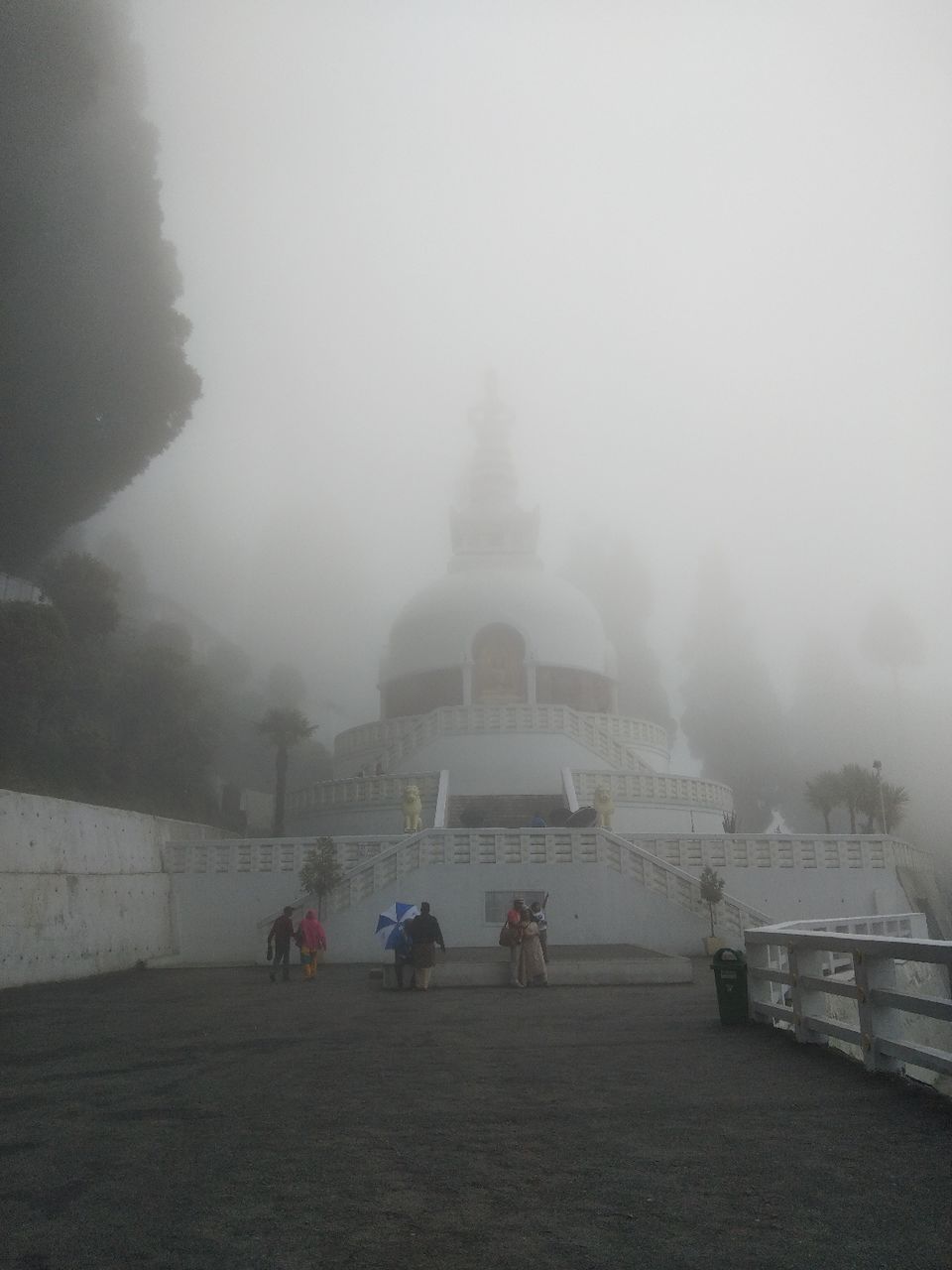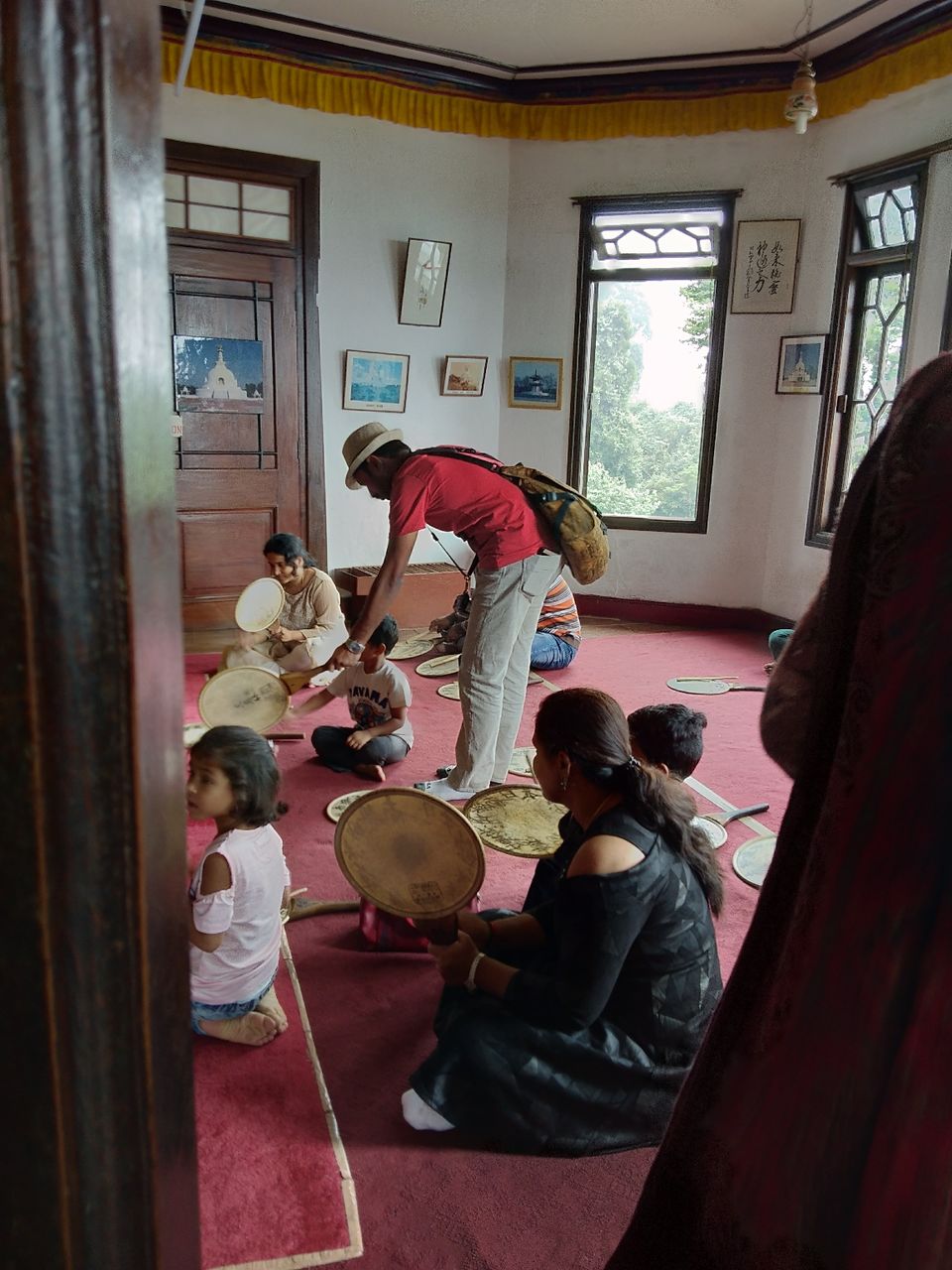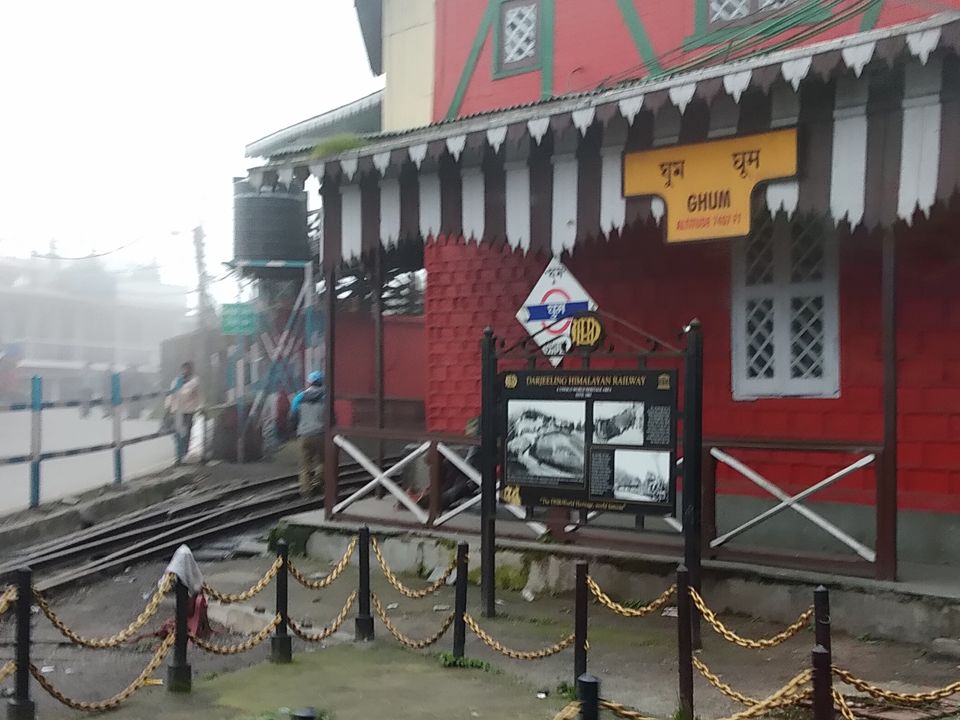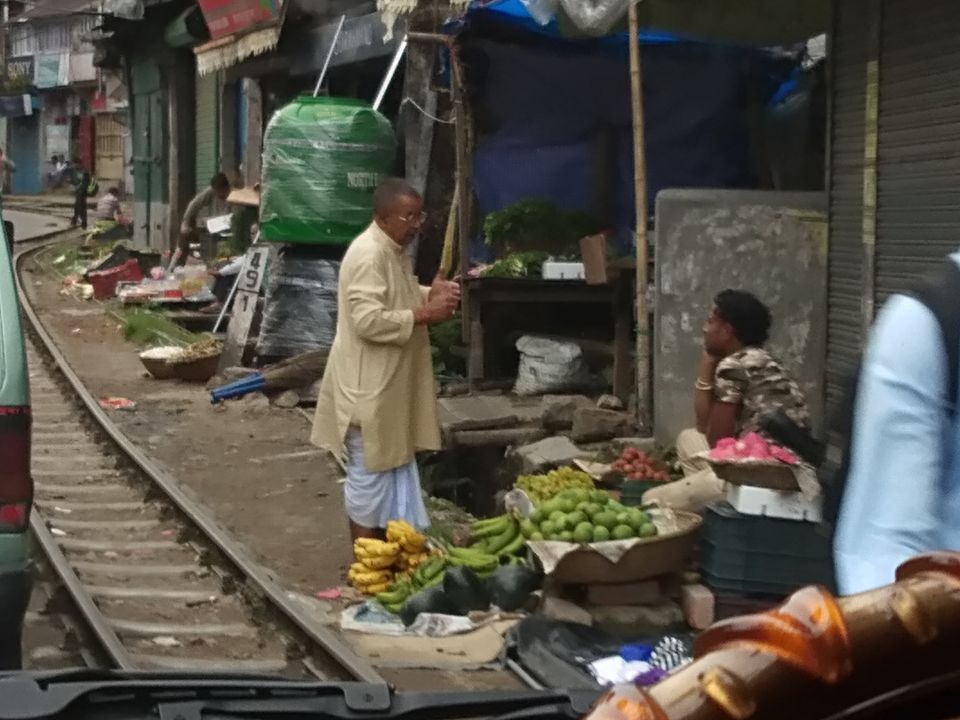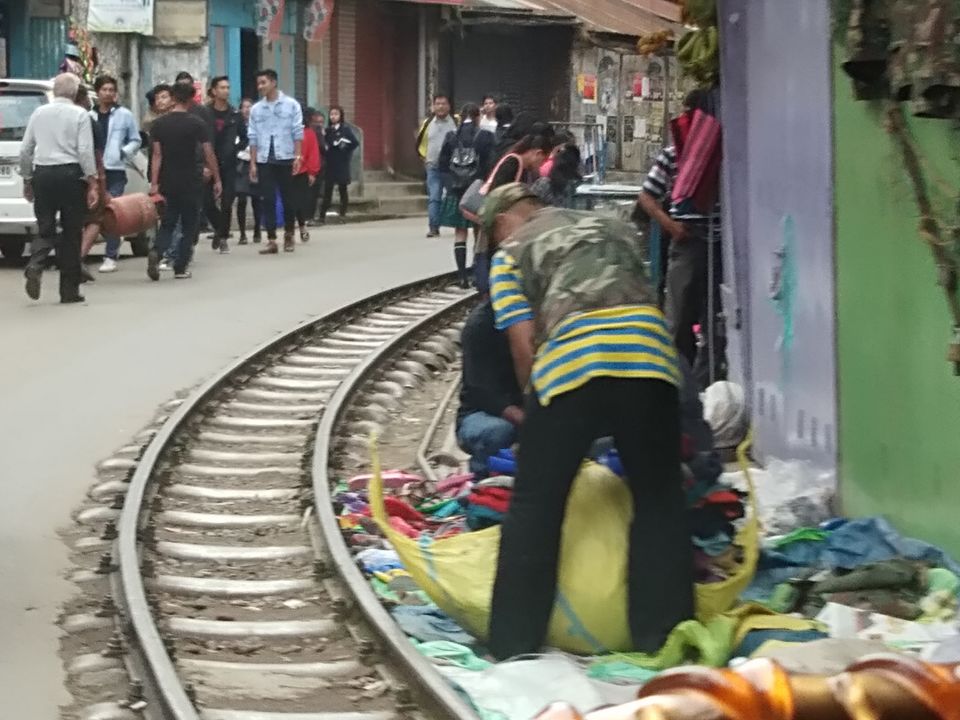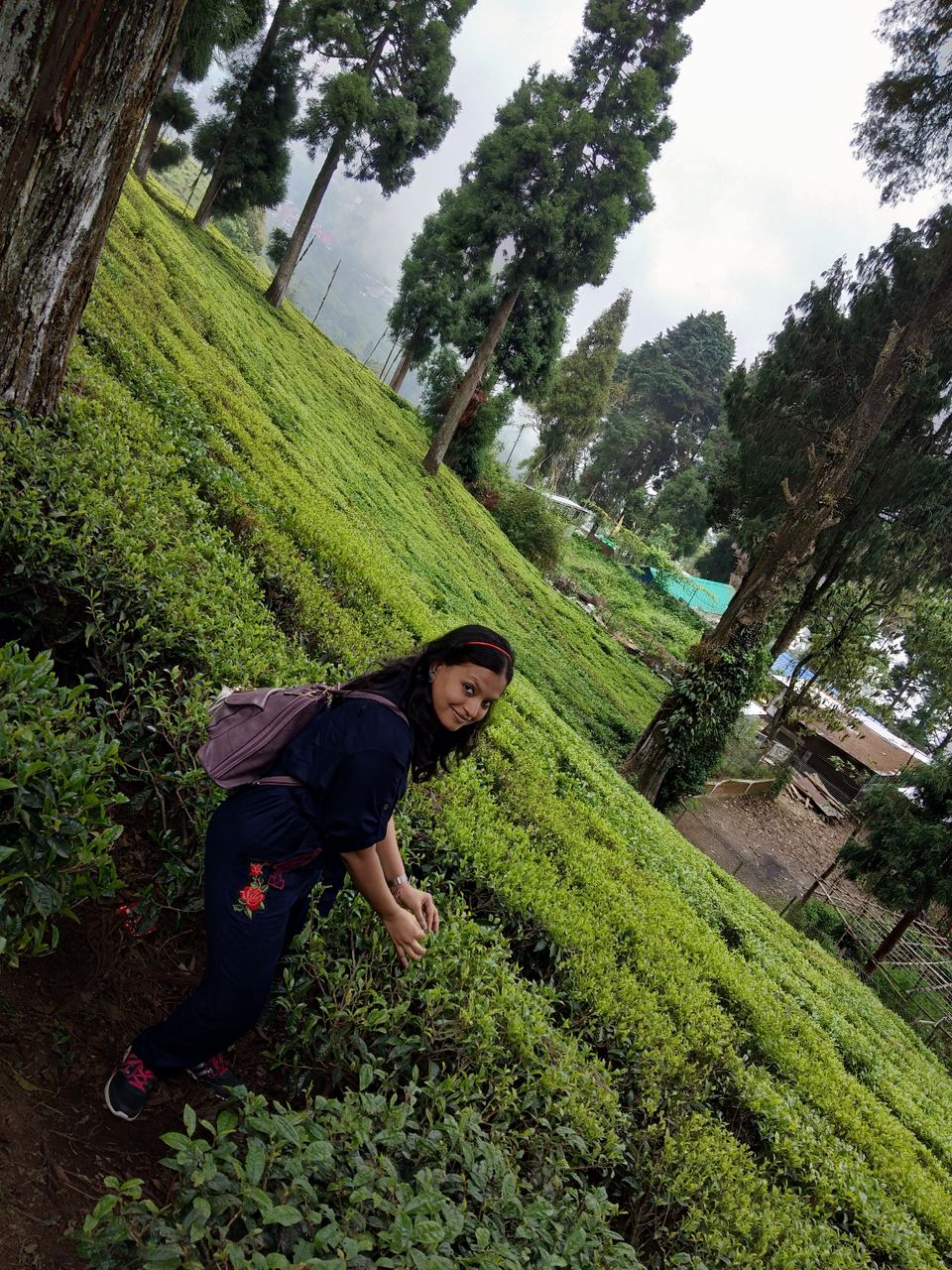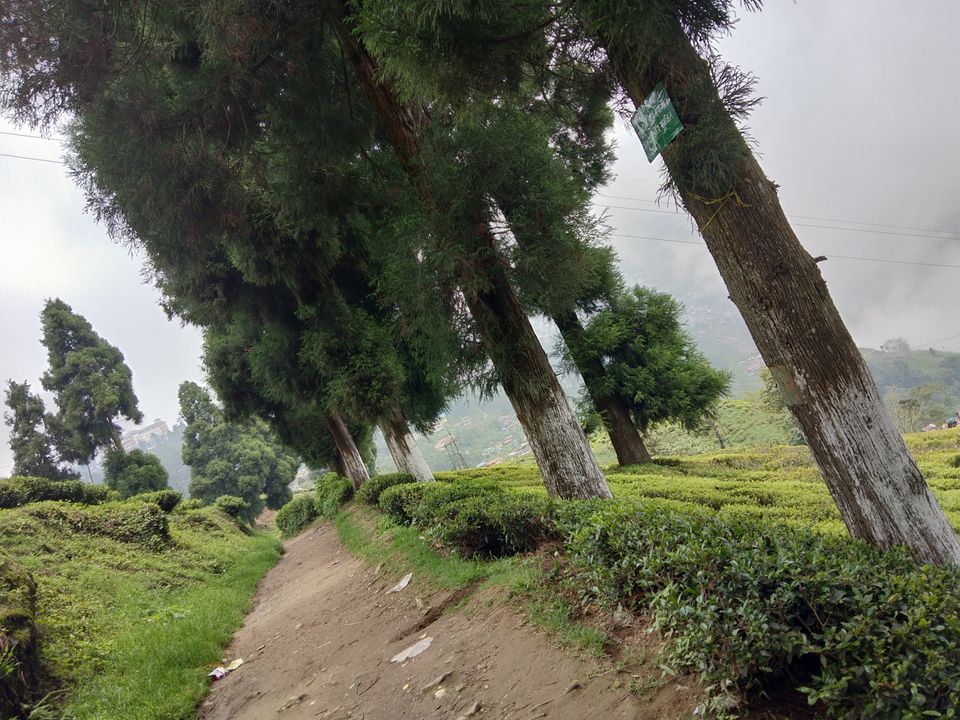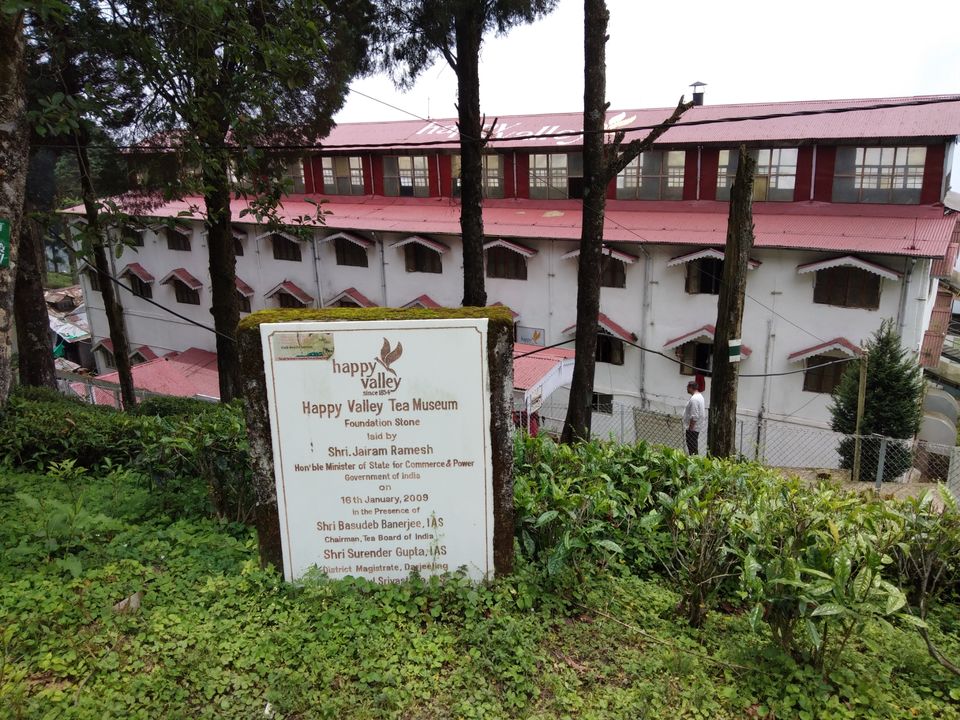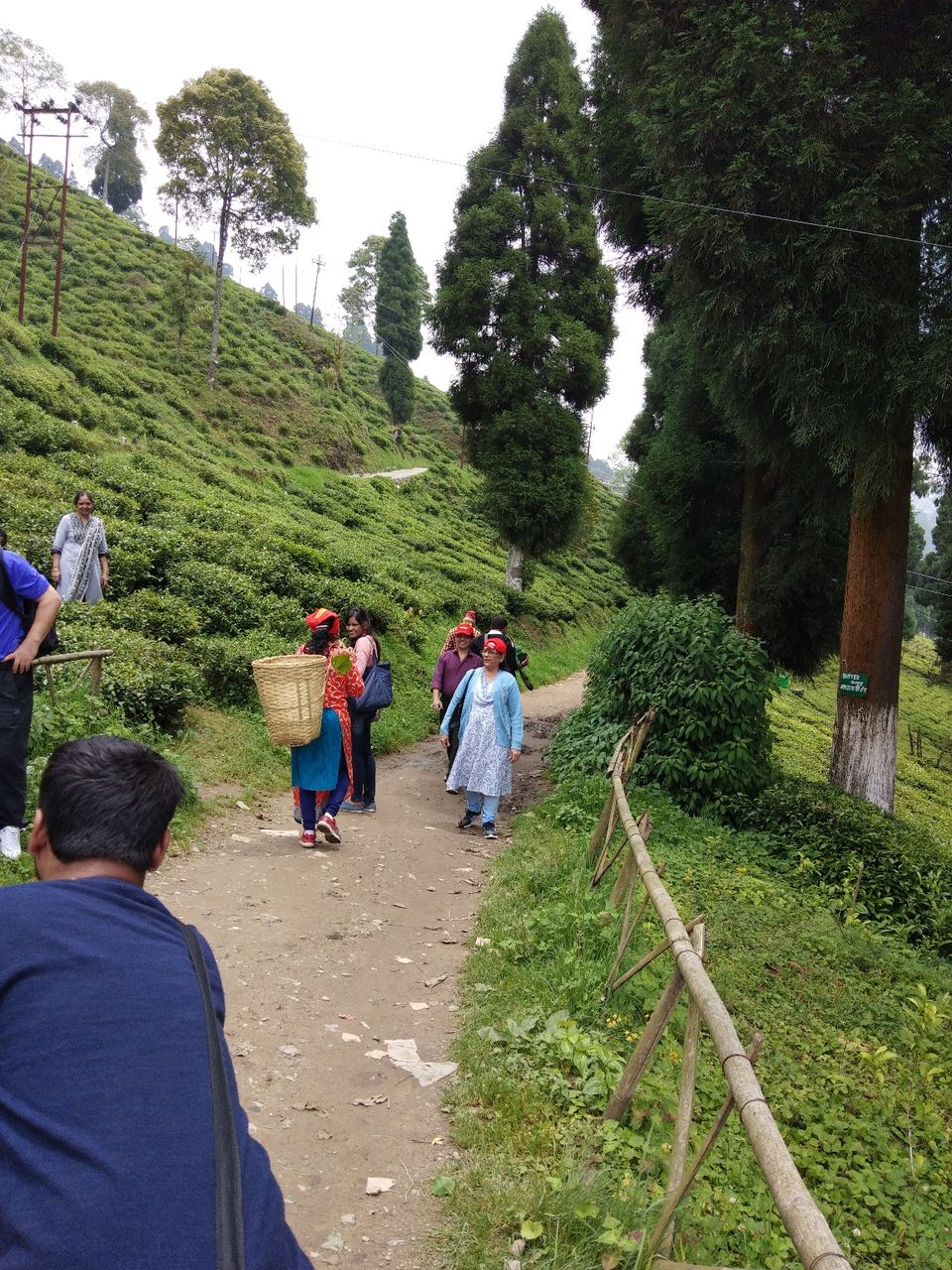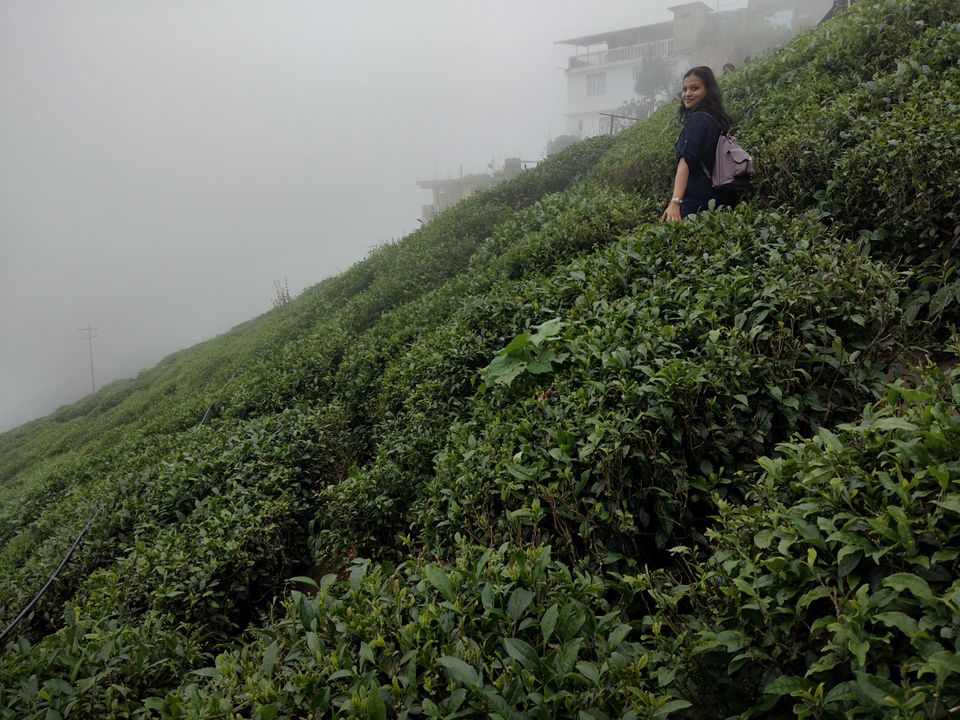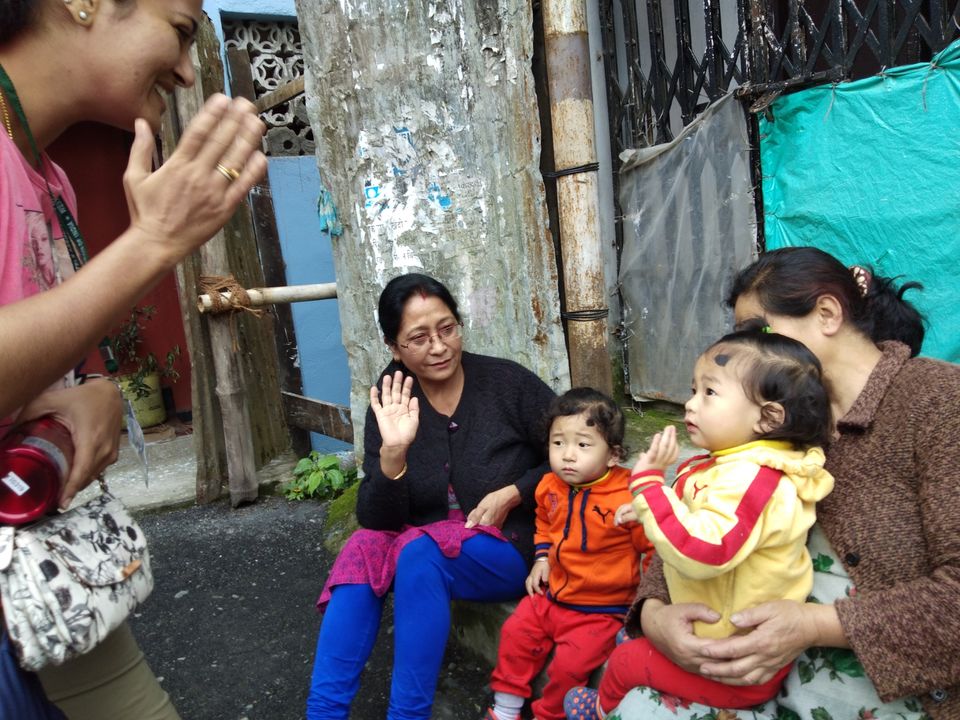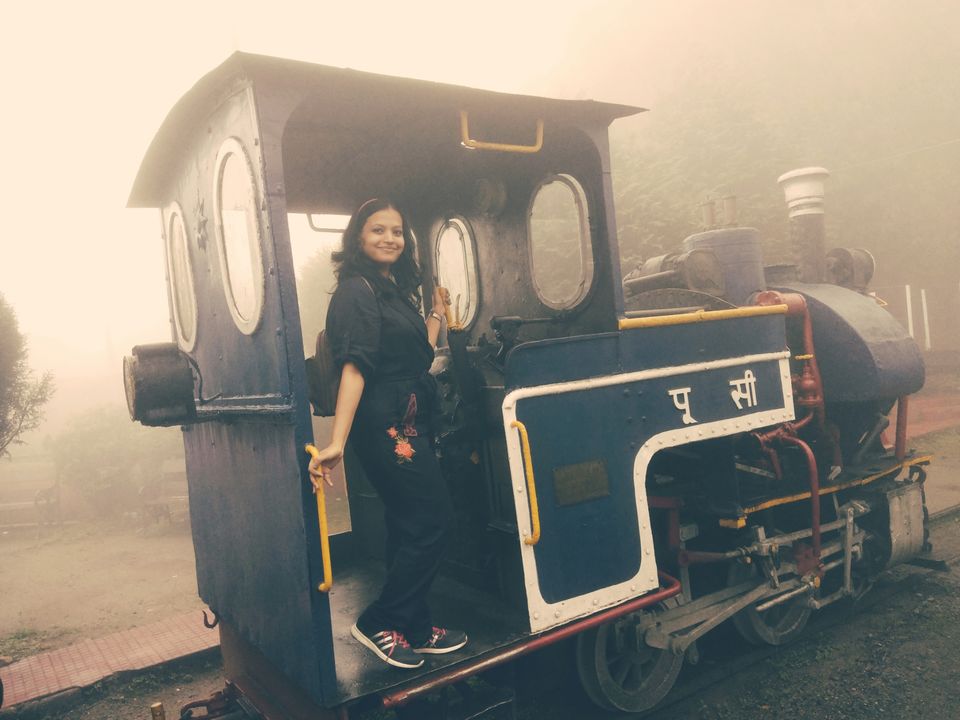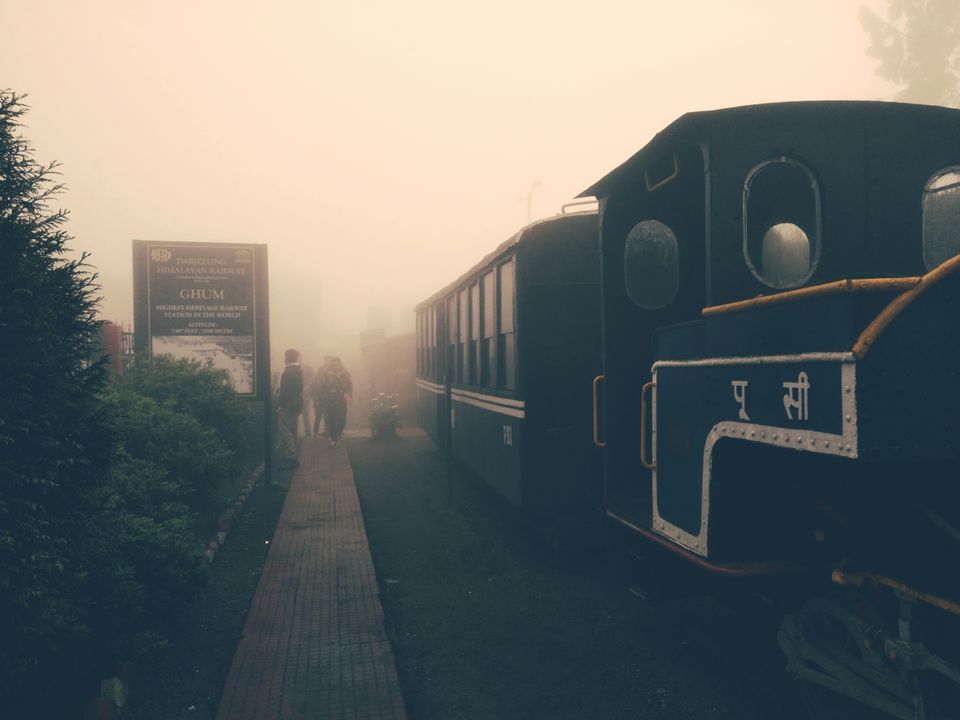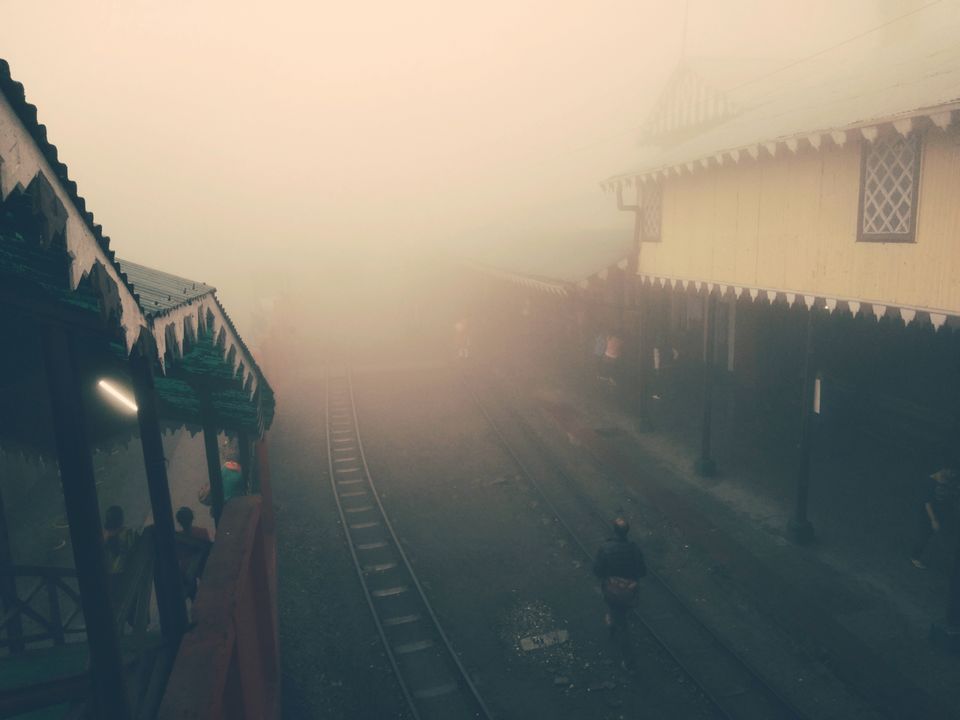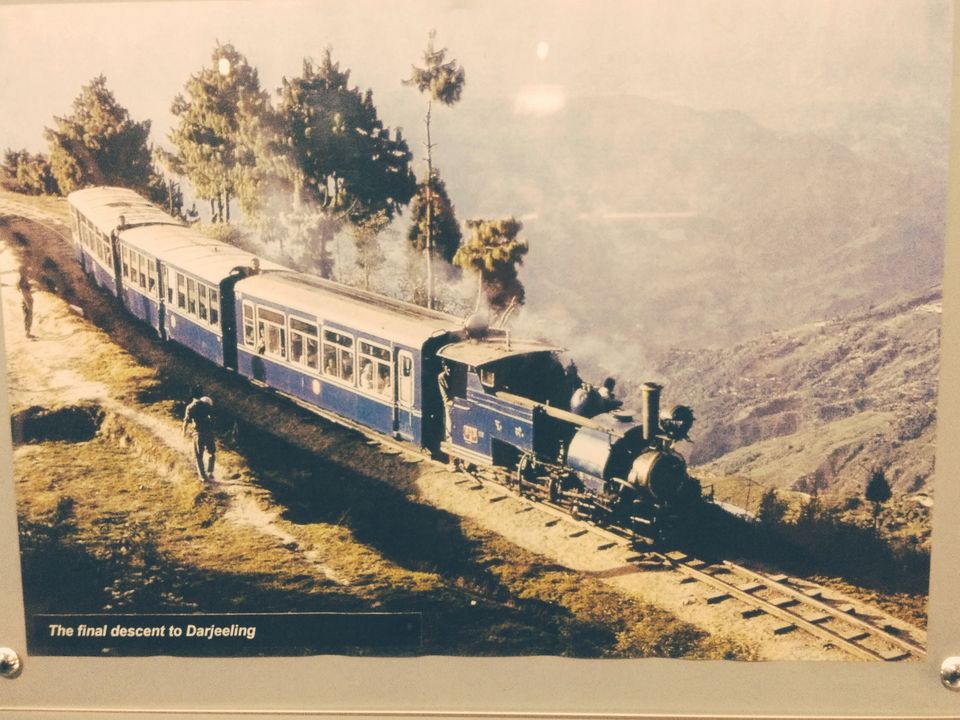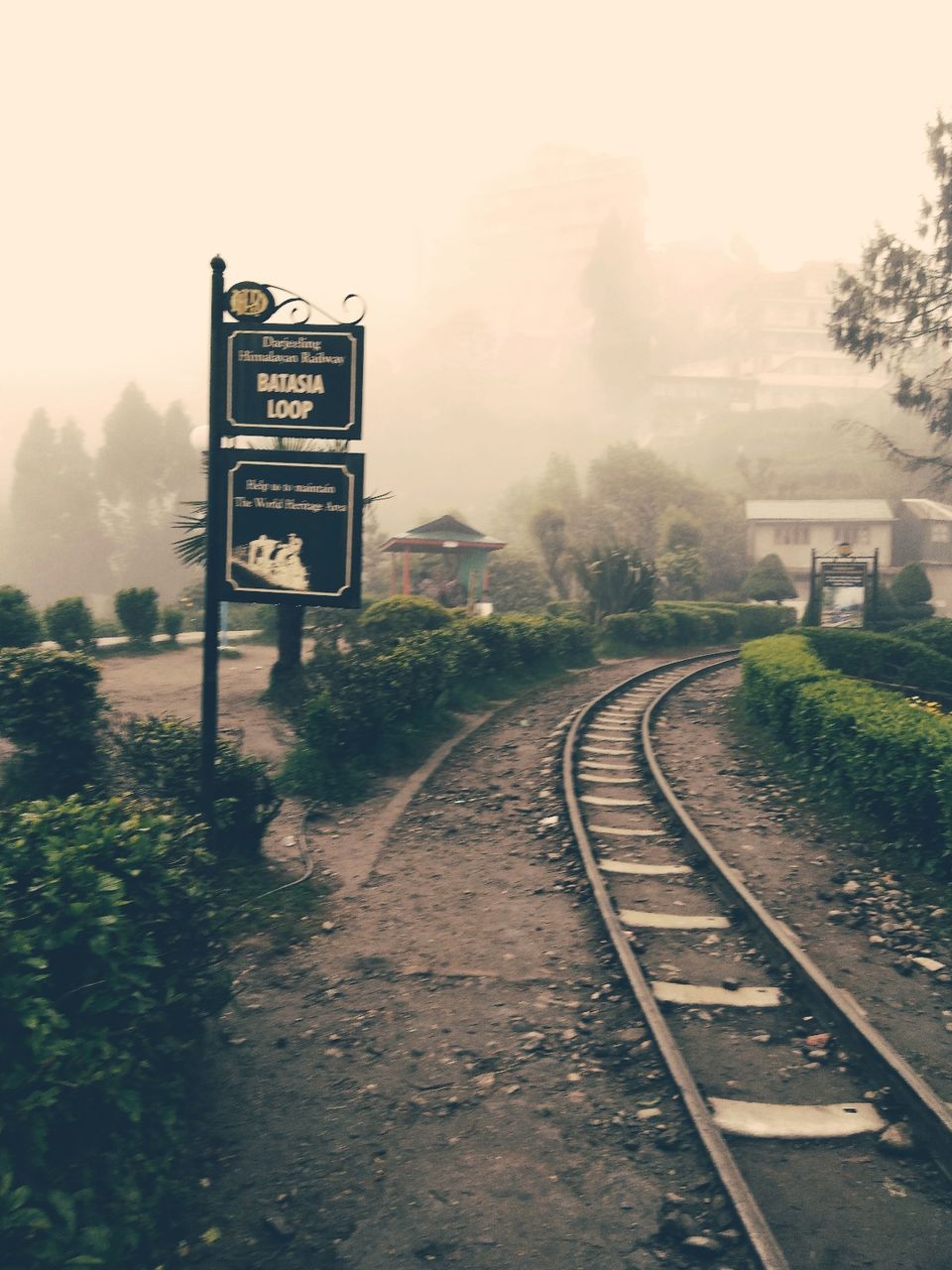 Dhotrey - Tumling (7 km)
We left Darjeeling early in the morning by 7 to Dhotrey, which is a small Himalayan village located within the buffer zone of Singalila National Park, It was a 30 km drive with Altitude of 6,700 ft at Darjeeling to 8,500 ft at Dhotrey.
There is a check post, at the time of entry in singalila range, where we need to take all the permits.
We reached Dhotrey by around 10 am, and had a brunch over there, there are homestays which also provide fooding facilities. Here we joined our trek guide, who was a localite. Other than trekking season, he used to do carpentry works over there.
We begin walking towards tonglu, our lunch stop. The entire trek route is in singalila forest range, hence we came across rhododendron flowers, which blossom in spring, along with bamboo and oak trees.
The gradient from dhotrey to tonglu is a little steep, at some spots. By lunch, we reached tonglu (10,070 ft), lazed around the tonglu lake and had our delicious and healthy vegetarian food at a homestay. Hereafter we begin walking towards Tumling, which is 2 km from tonglu and comparatively straight walk (Alt of 10,000ft) on a concrete road. We encountered heavy rains with ice droplets in between the trek, which was a super awesome feeling to experience. Thanks to our Poncho raincoat that our clothes and bag has not become wet and we also enjoyed the rains.
Tumling actually is part of Nepal although there is no restriction for Indians or foreigners with Indian visa. In fact the border between India and Nepal in this part is quite blurred and there is a free way for all.One is able to see the Kangchenjunga Range from here.
Stay in a wooden house with all the essential facilities, tasty and healthy hot veg soup, "Gulabjam" in dessert, we were enjoying all this, that too in a tiny village, situated in Nepal, on Indo-Nepal border, with only 12-15 Nepali families.
After interaction with the ladies in the kitchen, I came to know that this ladies know many Indian receipes including "Imli ka Aachar"and they prepare those for their guests. They also know Hindi, so communicating with them was rather not difficult.
We had our currency exchanged here, taking a few Nepali currency with us as a souvenir.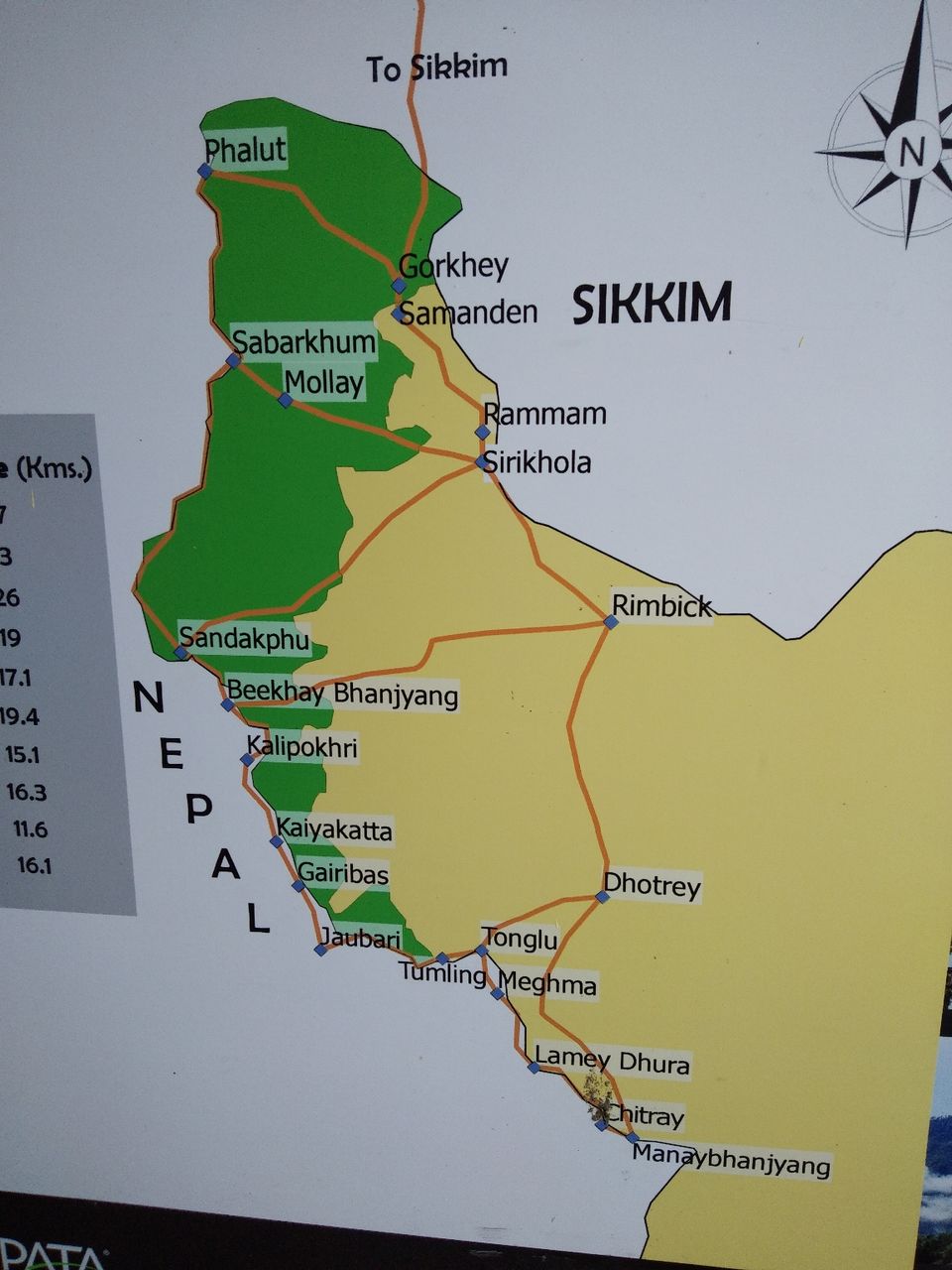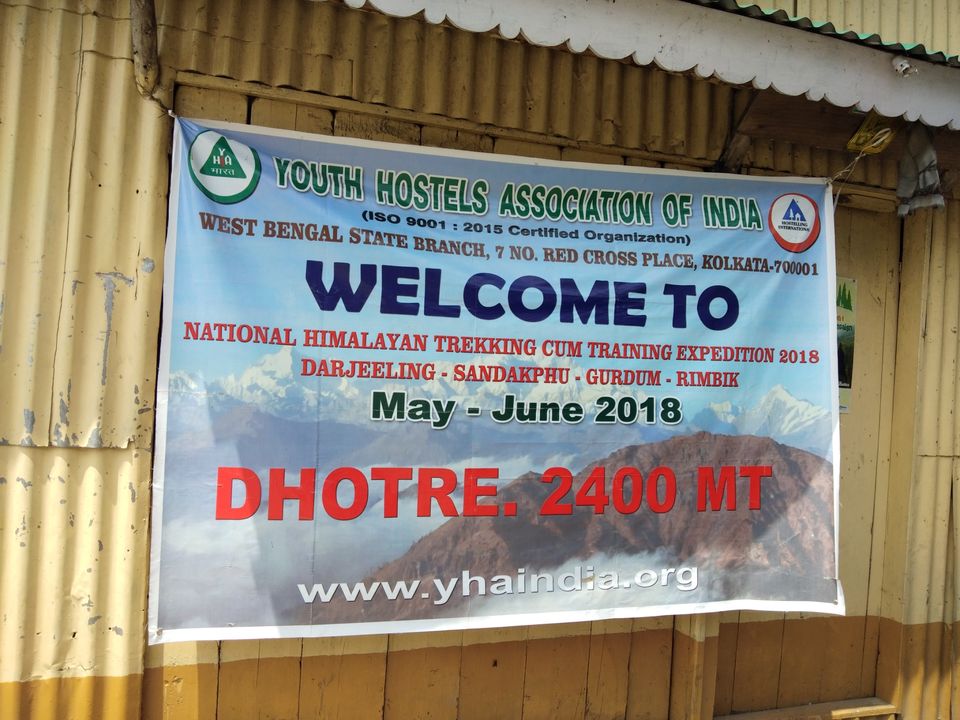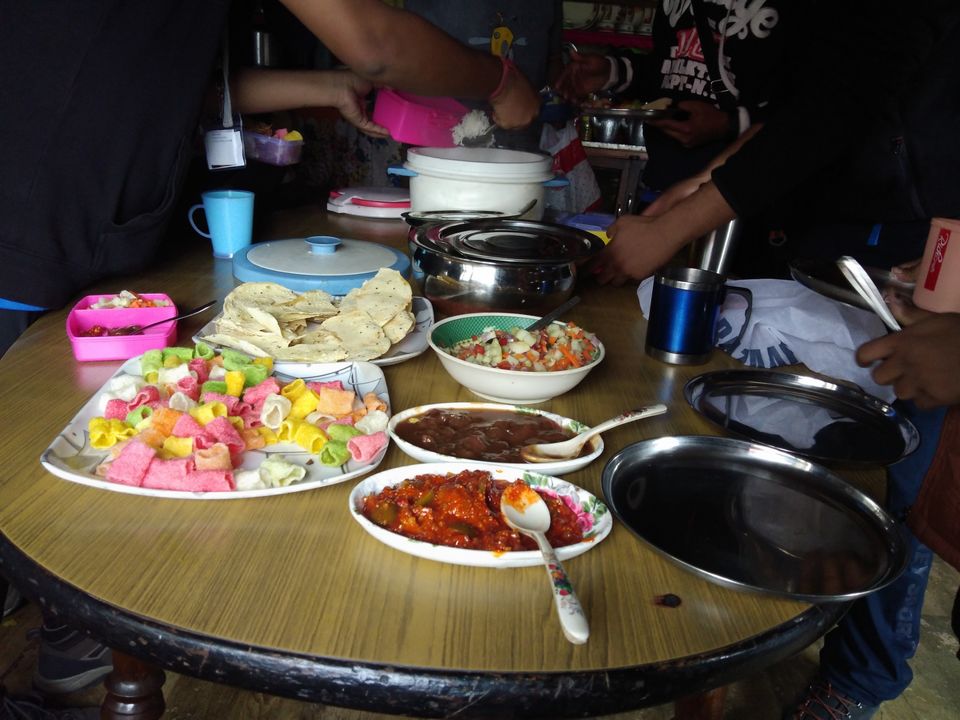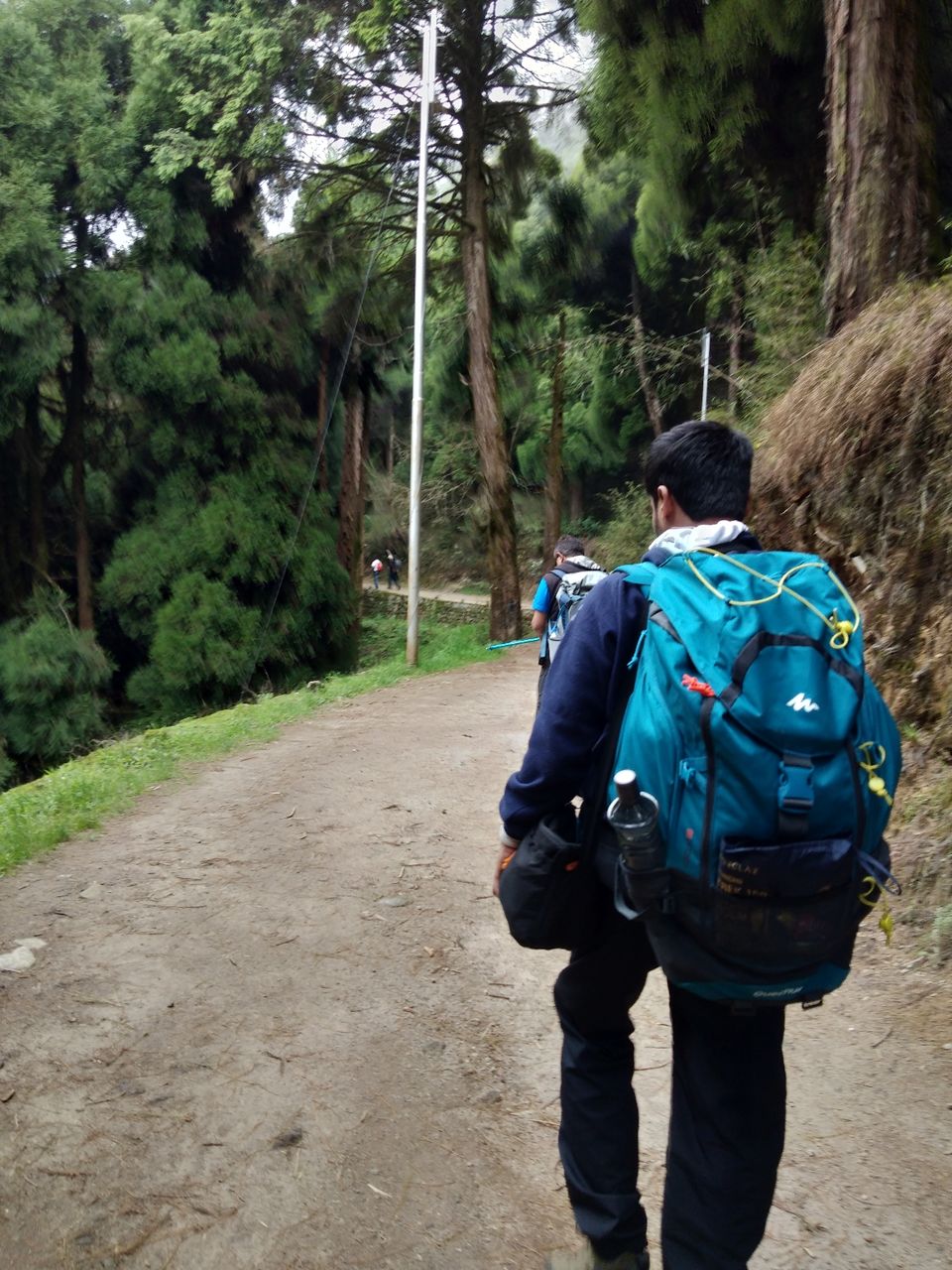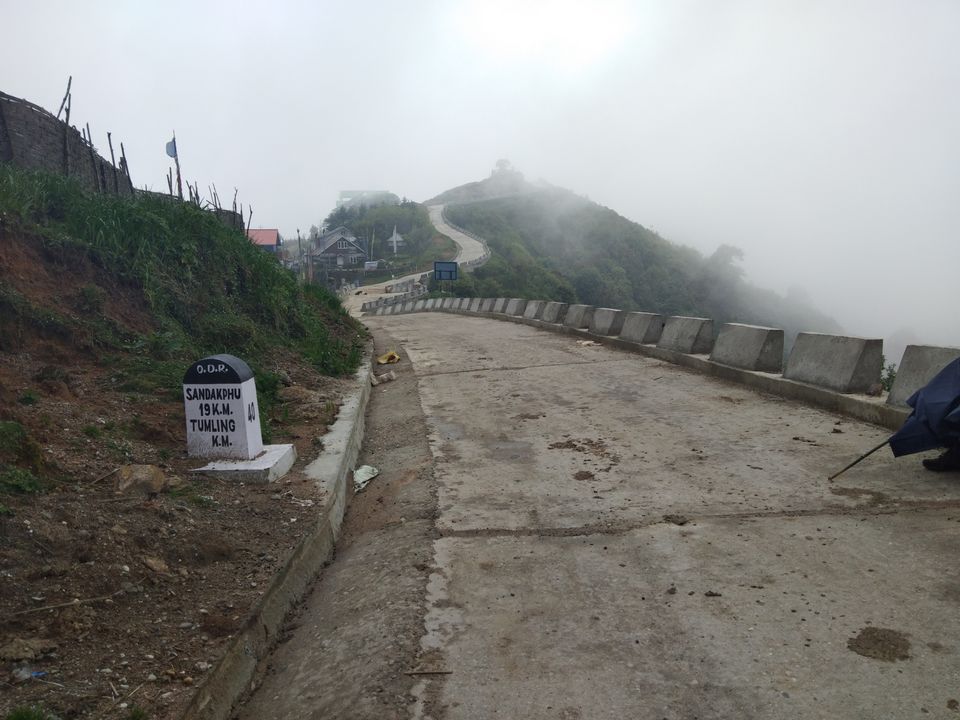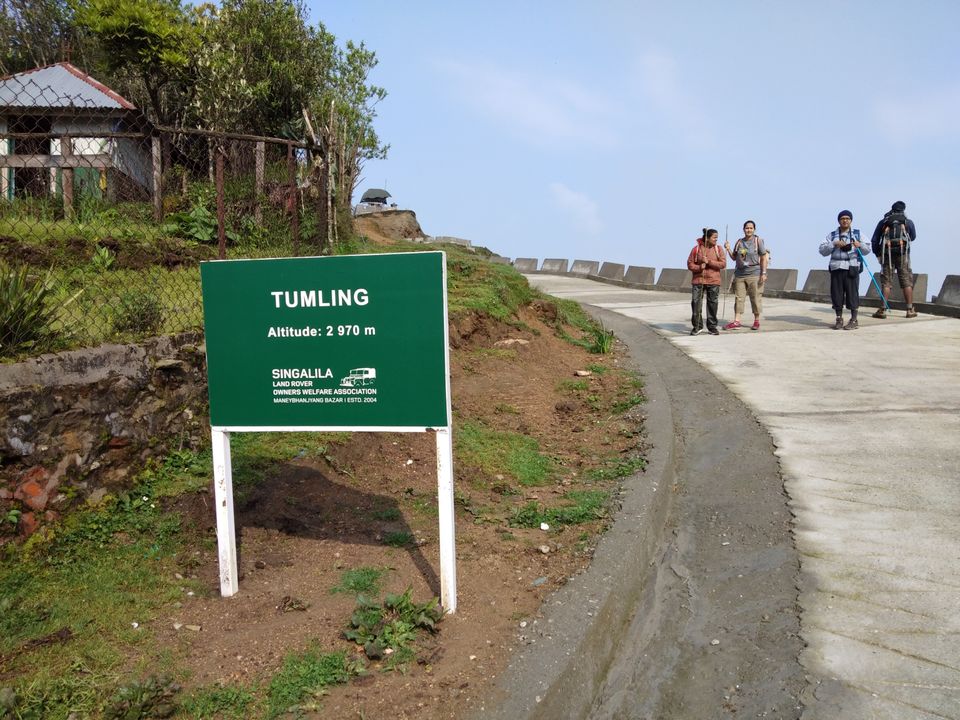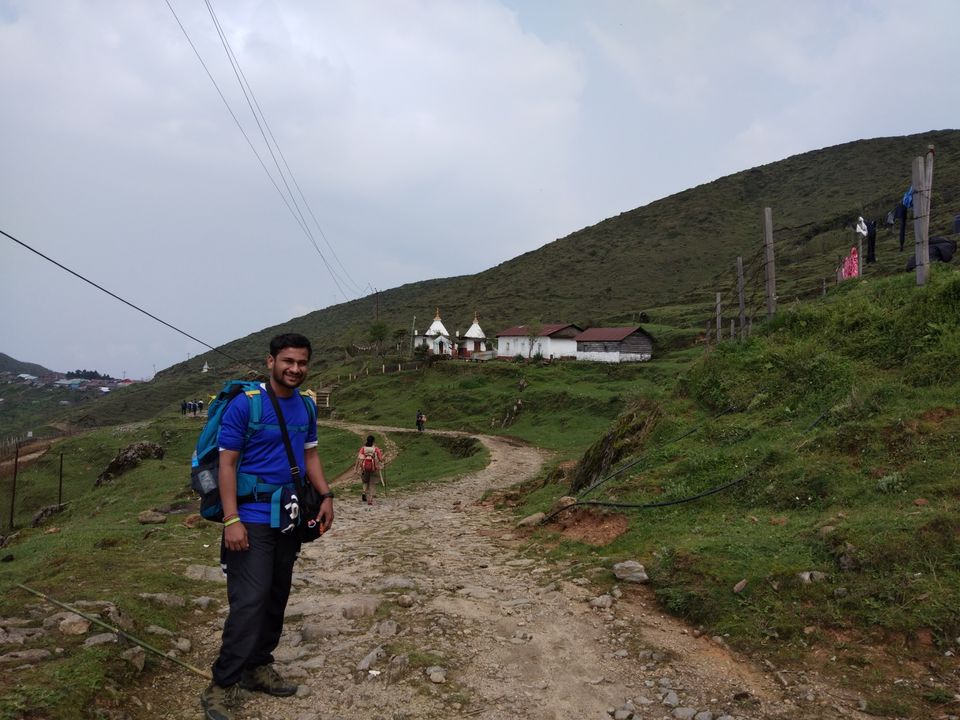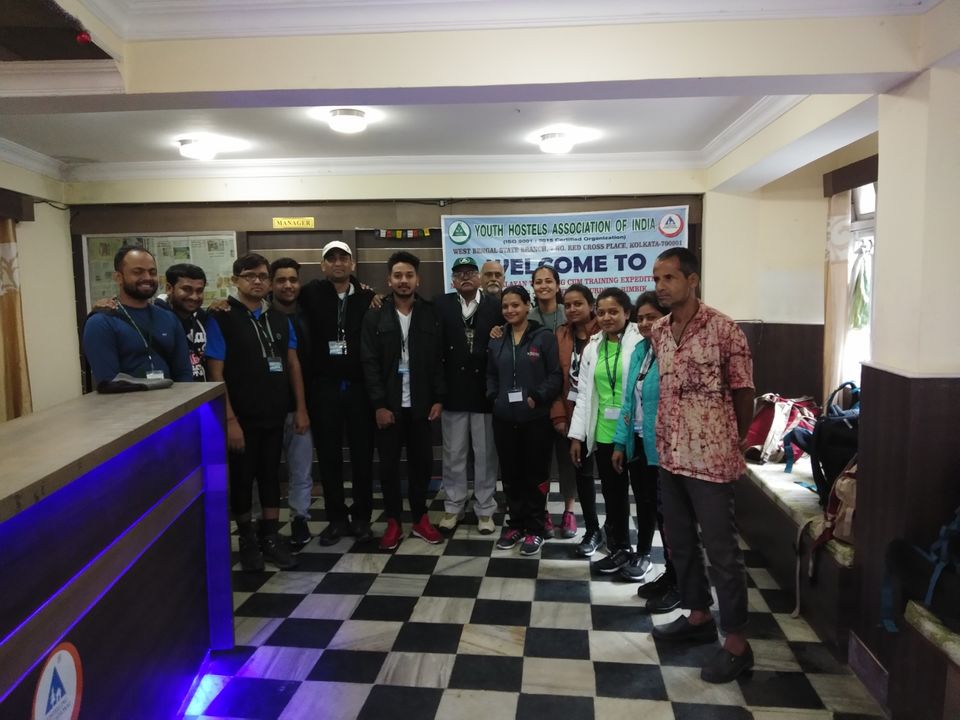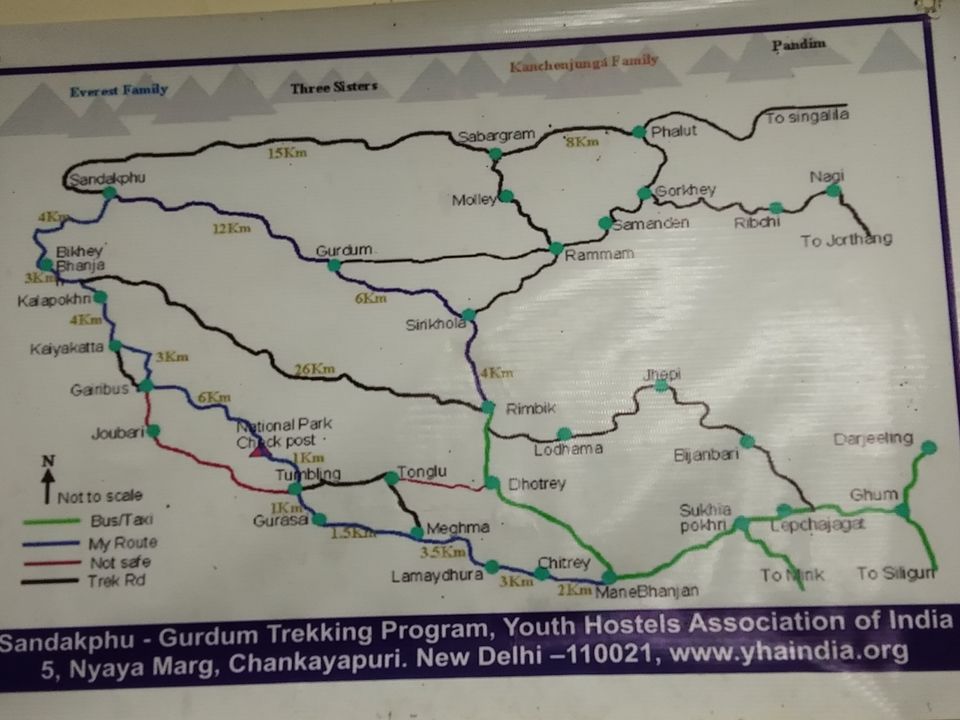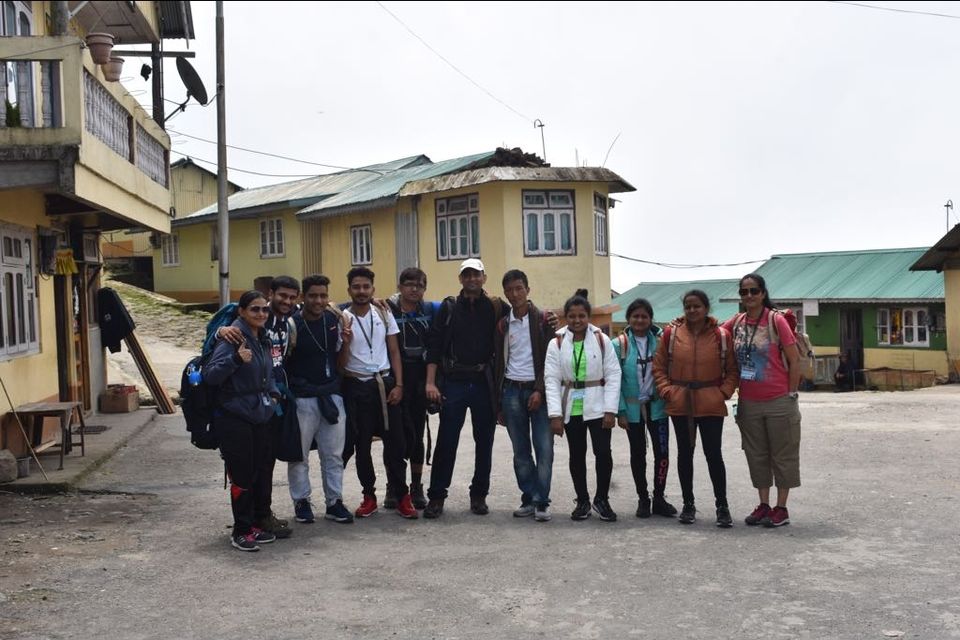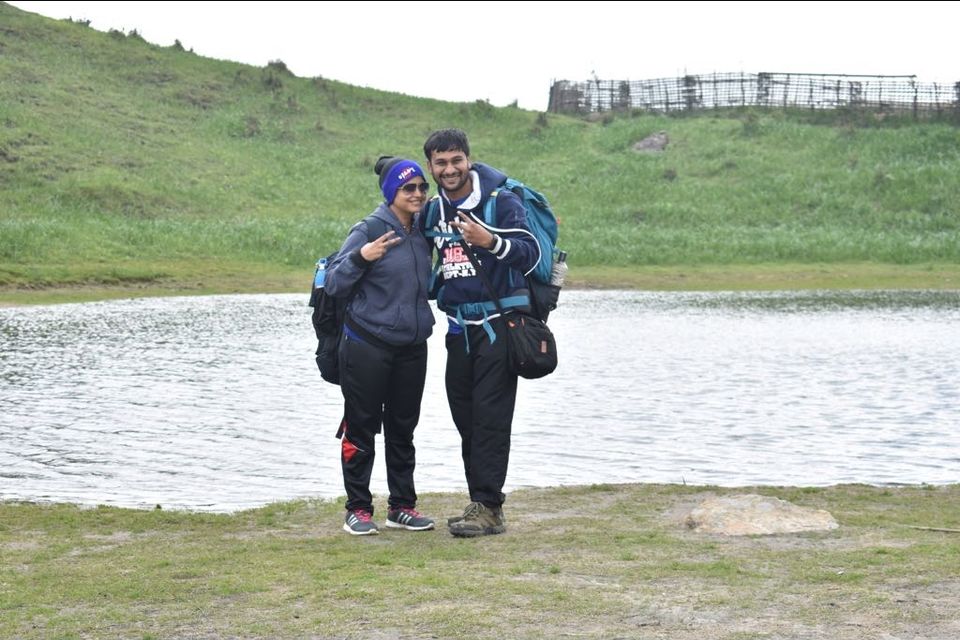 Tumling - Kalipokhri (14 kms)
We started in the morning by 7 am, as distance to be covered today is more, we need to pace up.
We have taken the route Tumling - Jaubari - Gairibas - Kalipokhri. There is a checkpost before Jaubari (Alt 9186 ft), from where the gradient is steep downhill until Gairibus (Alt 8612 ft), one has to keep their balance on the descending slope. We also experienced slight to heavy rains enroute.
We carried lunch with us, at around 10:30-11:00 am we reached Gairibus (Alt 8612 ft), had our lunch and hot tea there.
Hereafter we begin walking towards Kalipokhri (Alt 10,695 ft). From Gairibus towards Kalipokhri, there is steep uphill for 3 kms and then straight road.
Our basecamp at Kalipokhri was a wooden Structure, with basic essential facilities. The basecamp is situated in Nepal on Indo - Nepal border. Hat's off to our basecamp leader Mr.Biraj for providing the hot food and basic facilities, in the temperature as low as -2°c, in a tiny village situated at altitude of 10, 695 ft, where even continuous electricity supply is a rare thing.
The best part of our trek was the invitation we received from Major Uttam Ghosh Of Seema Suraksha Bal(SSB), to visit their camp, which was on Indo - Nepal border. We got to see the life of our on duty Army men there. In the freezing cold temperatures, at remote place, our Army men are staying and protecting us. They had absolutely no civil life. They had no means of entertainment, hence they were playing sports to keep themselves entertained and fit. We had a short discussion with Major Ghosh about their life and political and social conditions in the area.
We enjoyed our evening with a deliberate walk in fog and cold temperature and some photography.
The bonfire time at night was awesome. We had our group members from different states of India with different cultural backgrounds, ergo we enjoyed some Bengali, Marathi, Tamil songs. Even our caretaker Mr Alex, who is a Nepali, joined us for a Nepali song. Albeit we least understood the meaning of the songs, we had a gala time.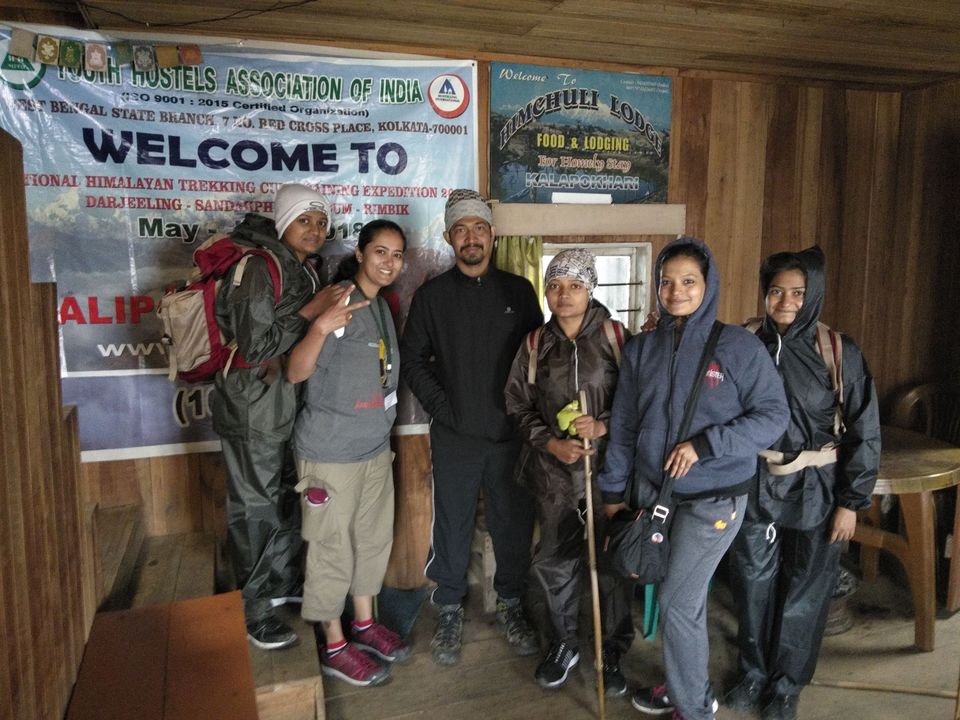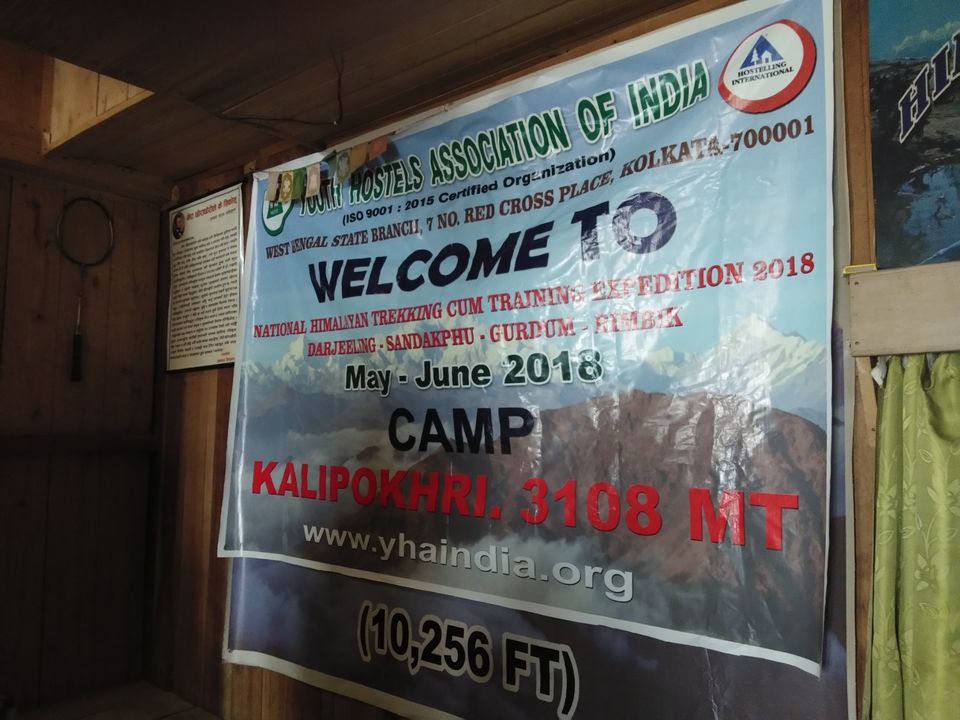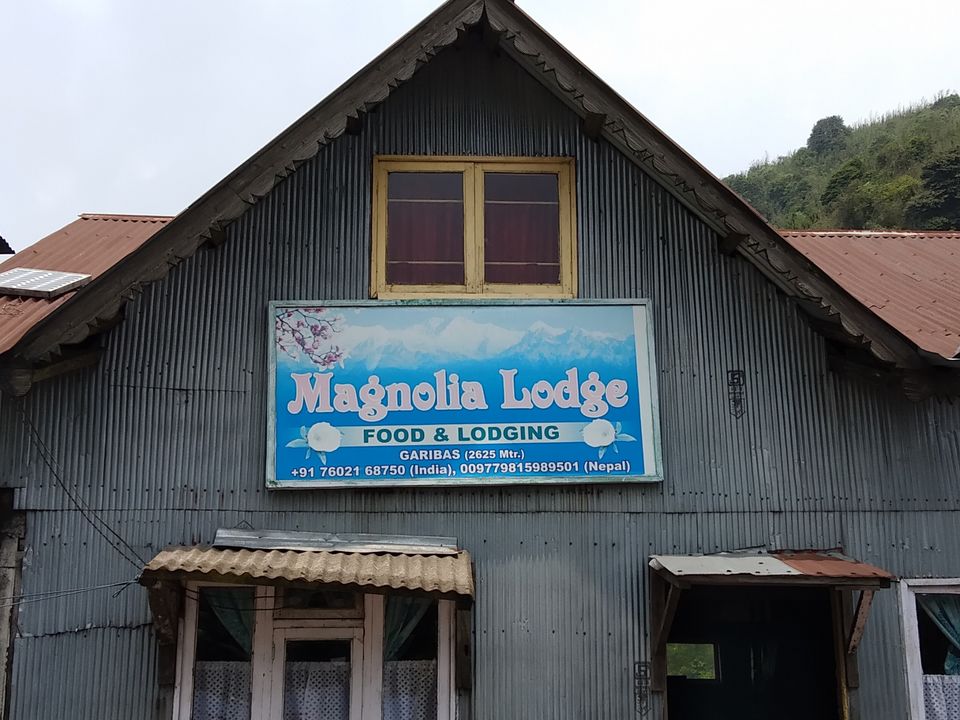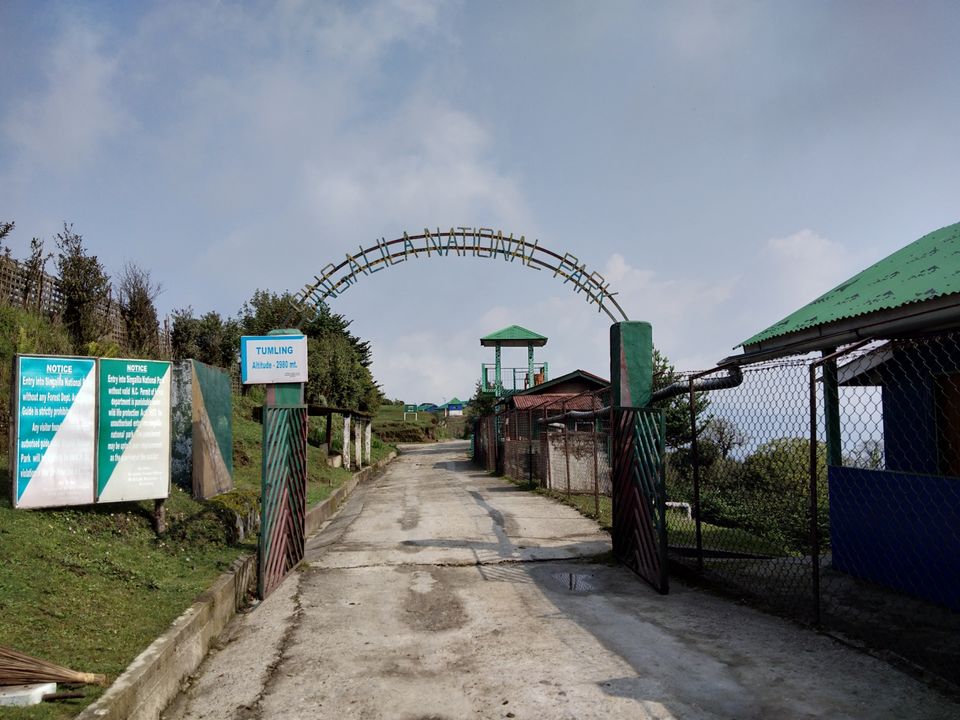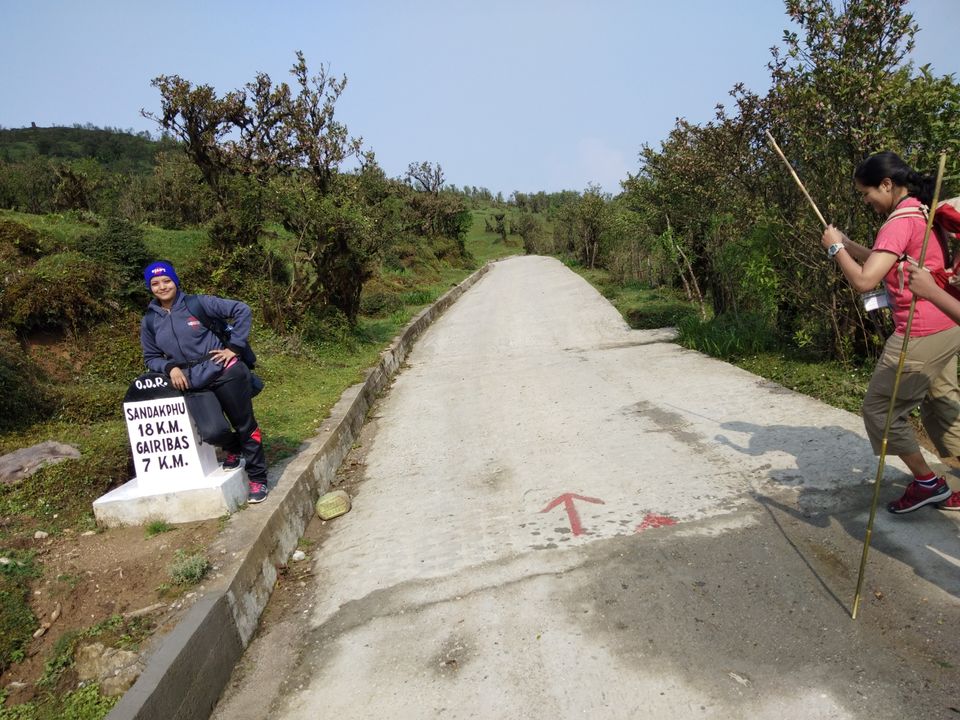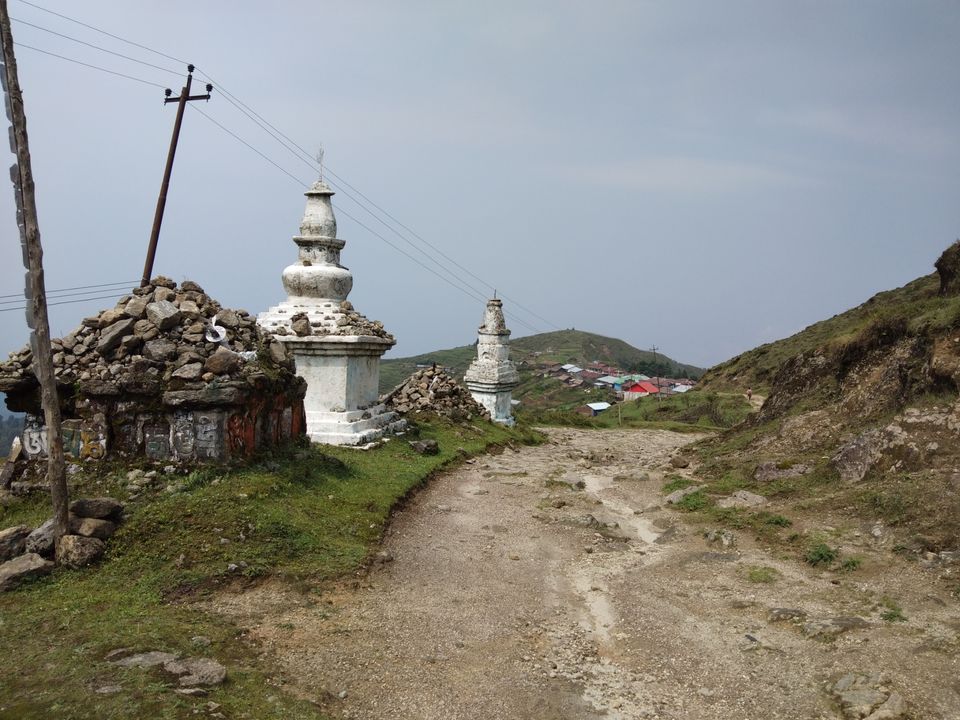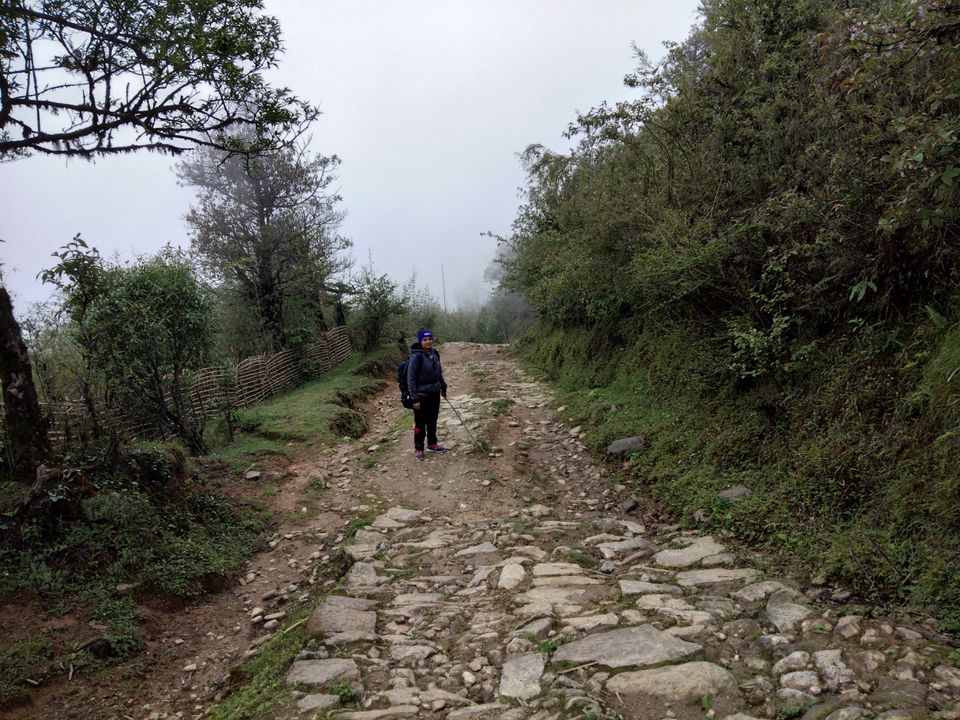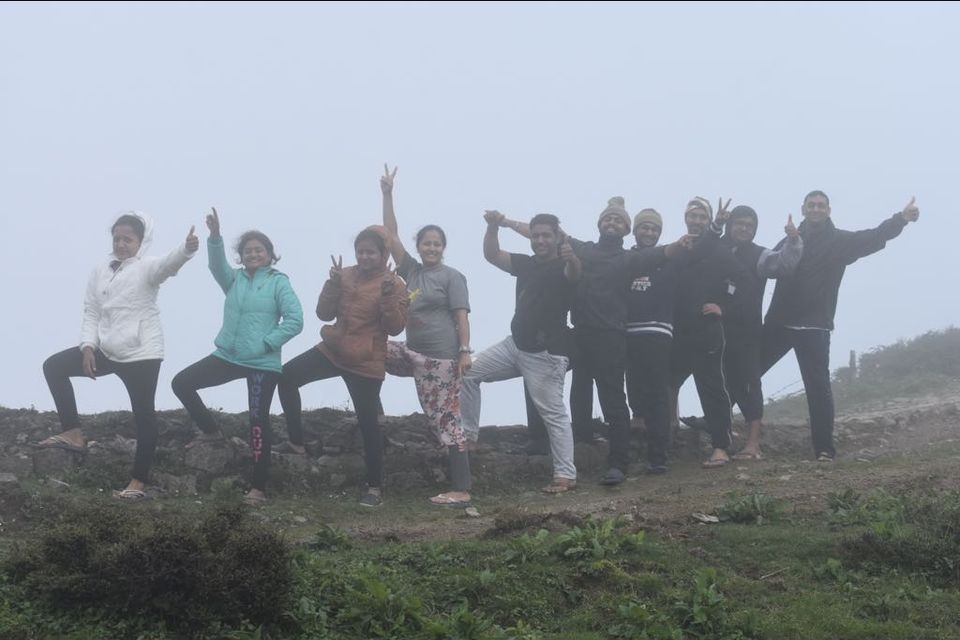 Kalipokhri - Sandakphu (6 kms)
We started by 8:00 am. This was the main day, the walk towards summit.
"Somewhere between the bottom of the climb and the summit is the answer to the mystery why we climb."
So true that. Today, the final day when we finally catch the sight of 5 highest peaks.
The glimpse of Mt Kanchenjunga we had at tumling base camp kept us motivated to climb the steep road towards Sandakphu.
Total route is 6 km, Kalipokhri to baikaybhanjan is 2 km straight road and then uptil sandakphu (Alt 11930 ft) 4 kms steep slope.
We reached sandakphu by 12:45 pm, had a hot soup and delicious veg khichdi served hot to us in the freezing cold temperature. We had some rest and then lazed around the area, as the weather was cloudy we were not getting the sight of 5 peaks. We were continuously adjuring to God to make our trek fruitful by clearing up the clouds and providing us the view for which we climbed the altitude of 11,930 ft (3636 m) and which is the highest peak in west bengal.
Our prayers are answered on next day morning by 6:00 am, "The best view comes after the hardest climb." so true that. Those alluring snow cladded mountain peaks, it was a visual delight, an visual treat to watch. We were stunned, mesmerized by the view. We got a clear view of the Mount Everest and Kanchenjunga peaks for about 1 hour. It was a great feeling of accomplishment. Those views made our trek a gratifying journey. It's hard to verbalize it, ergo one should experience it.
Our camp at Sandakphu was a wooden 3 storey house, neat and clean. Water is in scarce there, so we were advised to use it genuinely. The camp is located on Indo Nepal border, albeit the network connectivity is poor, the SIM card used for calling is Nepali.
We had a joyous time at the camp. Our camp leader Mr Mukharji has taken all the care of our entertainment with his expedition stories to prominent peaks, his song "O o o finista", an govian song, which became song of our trek.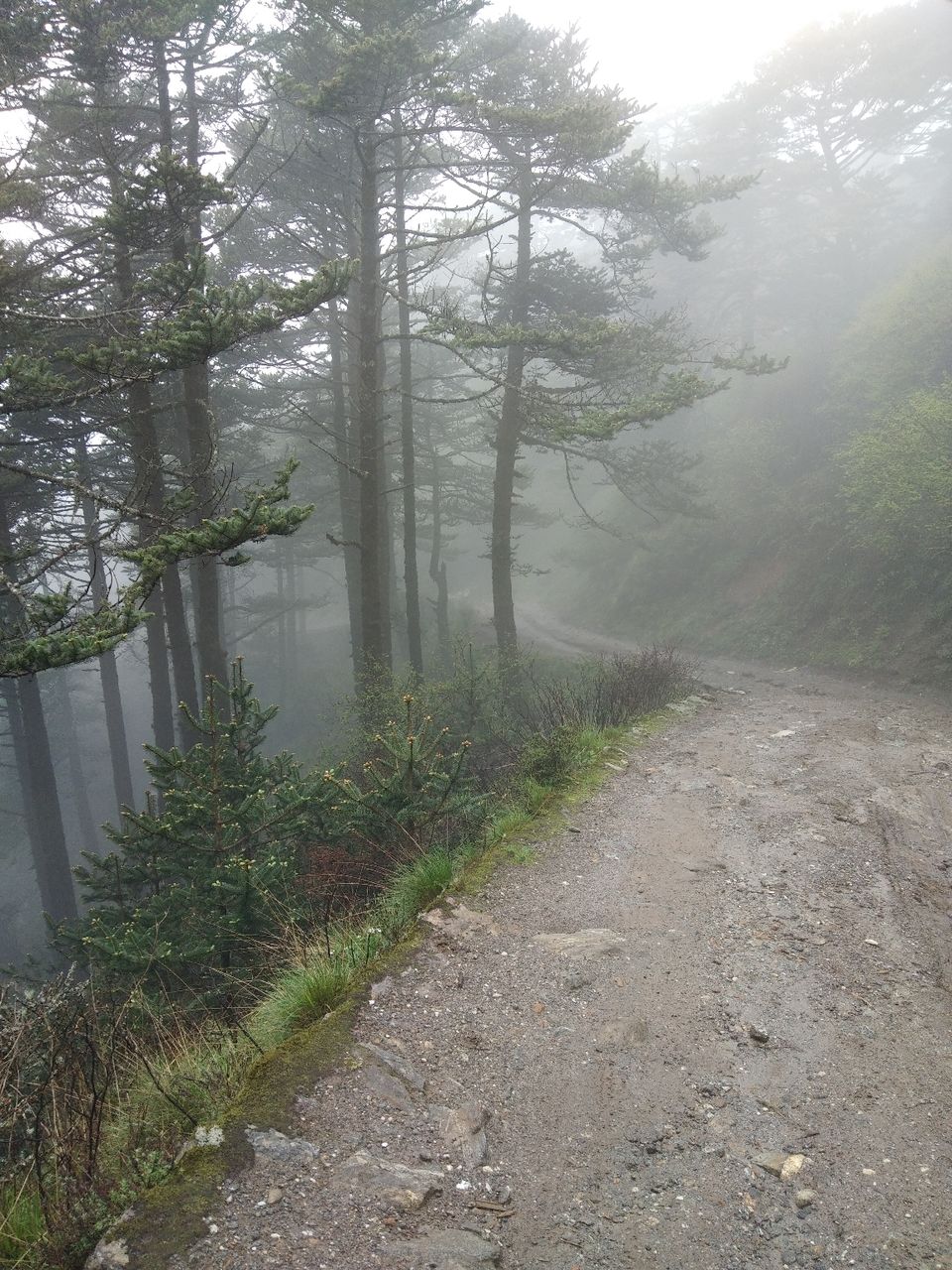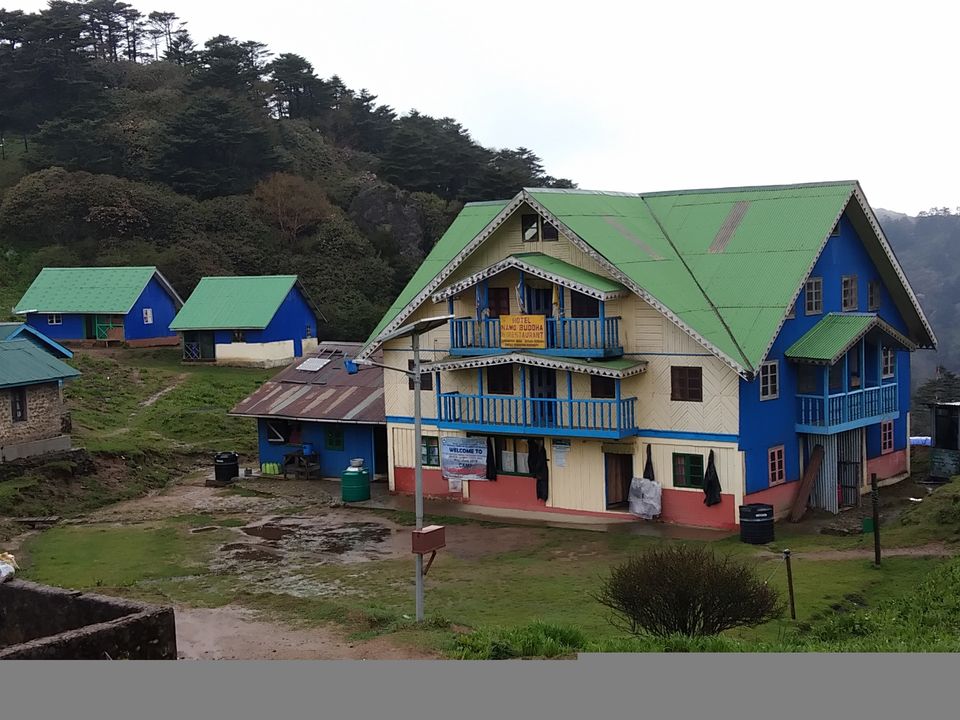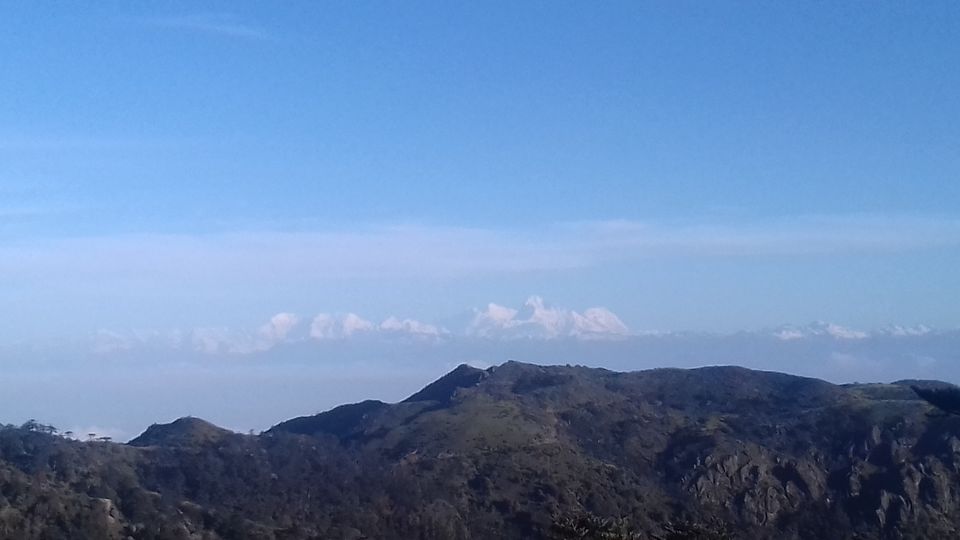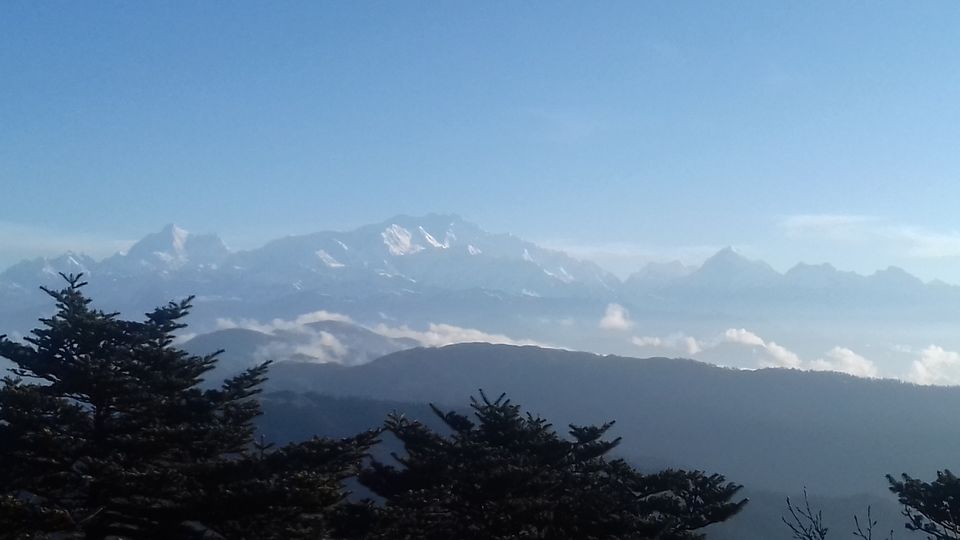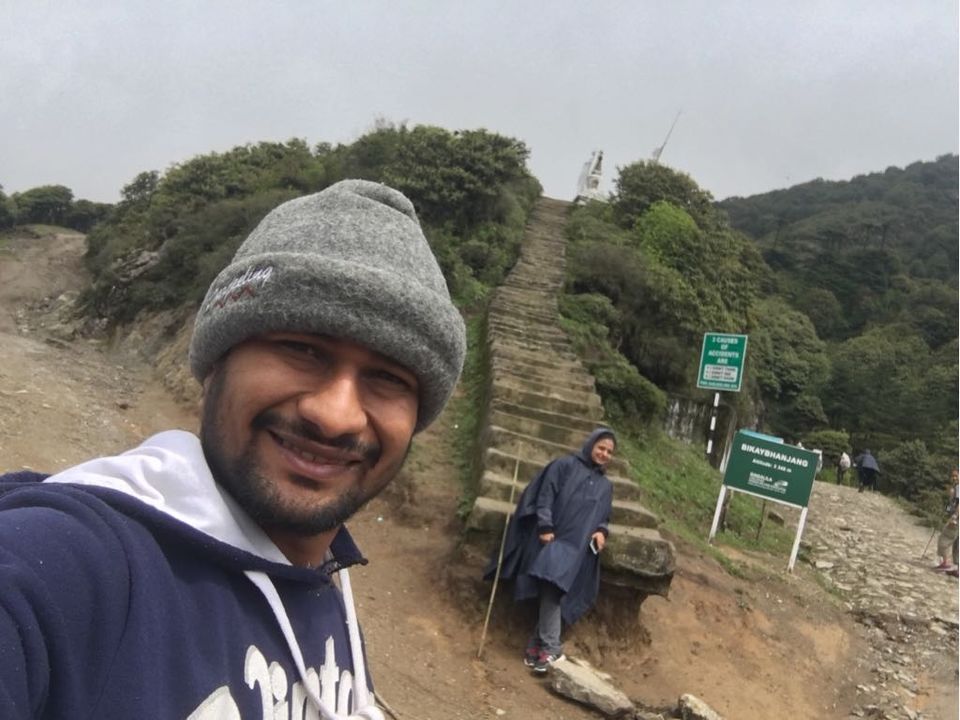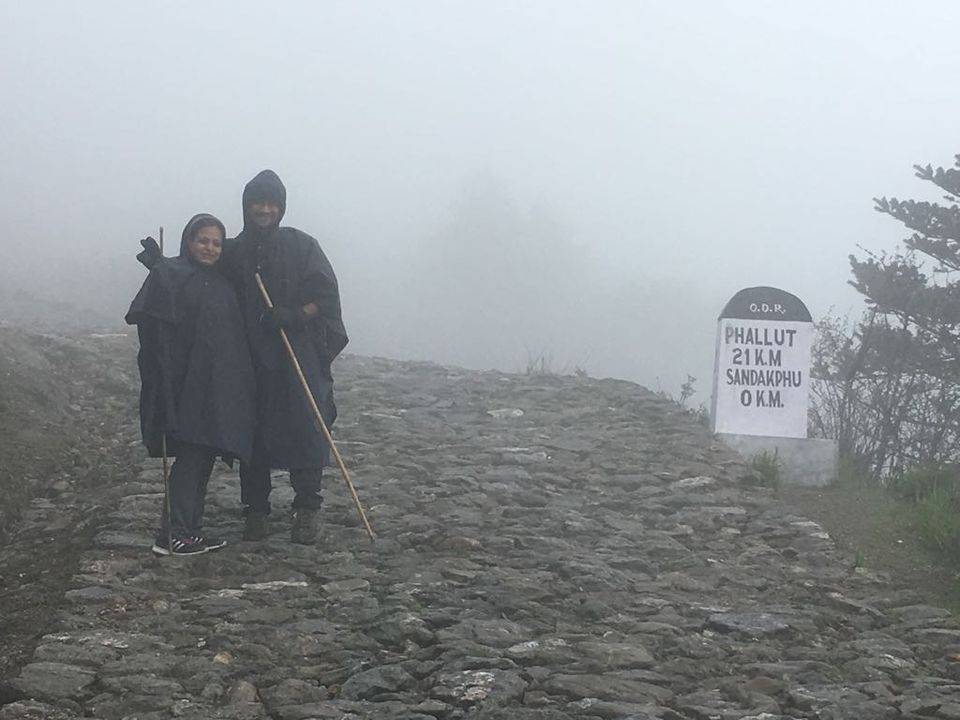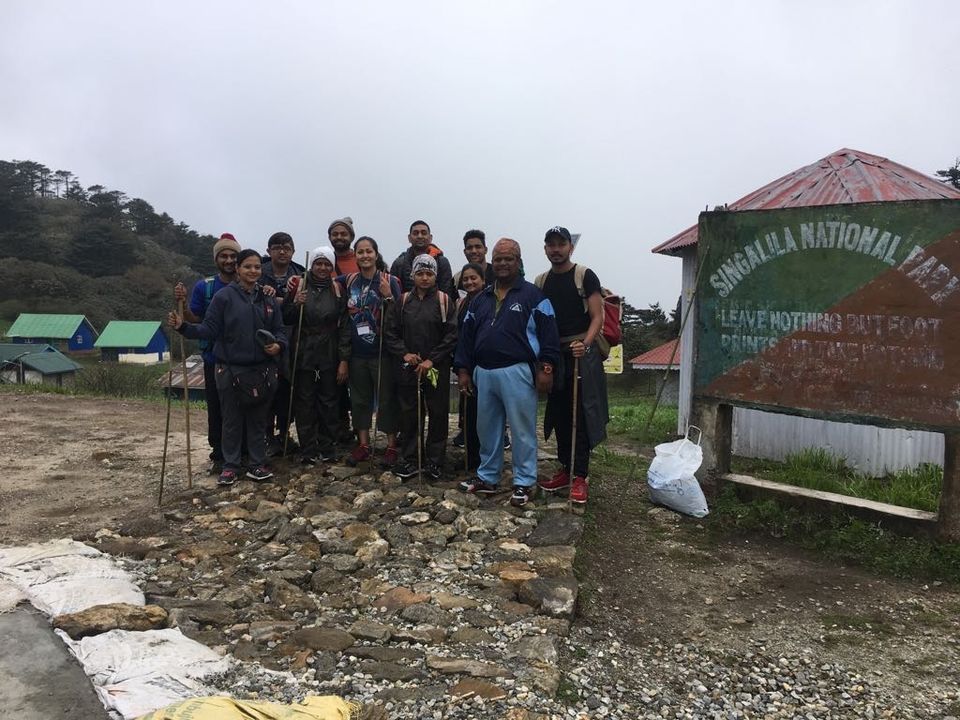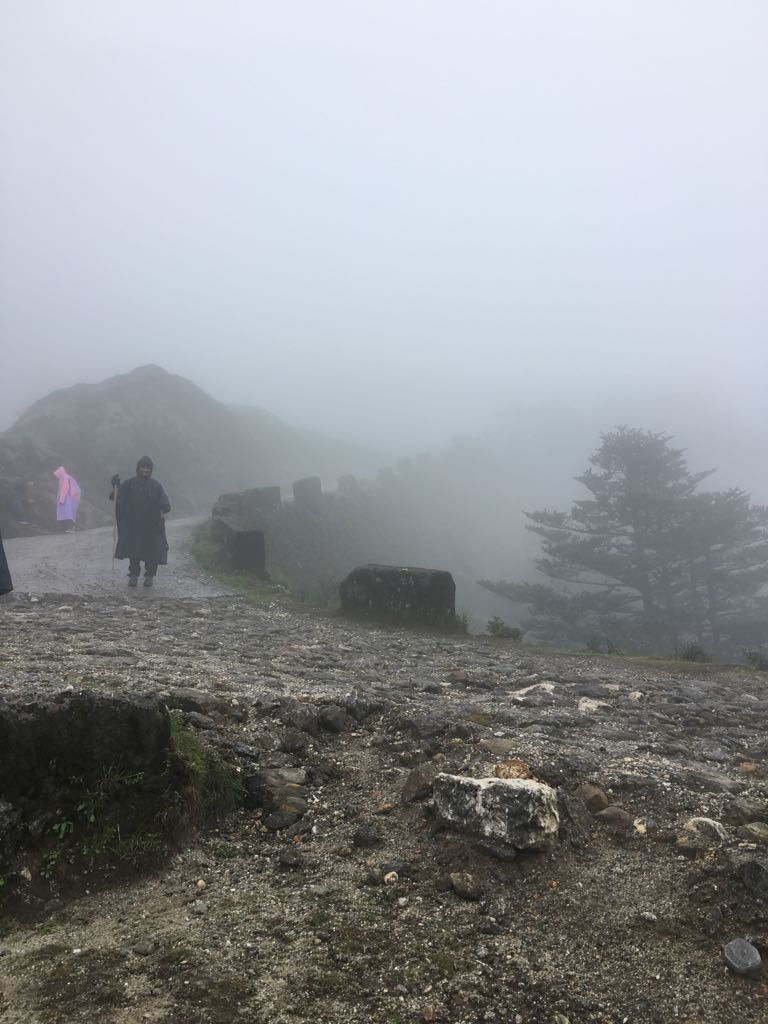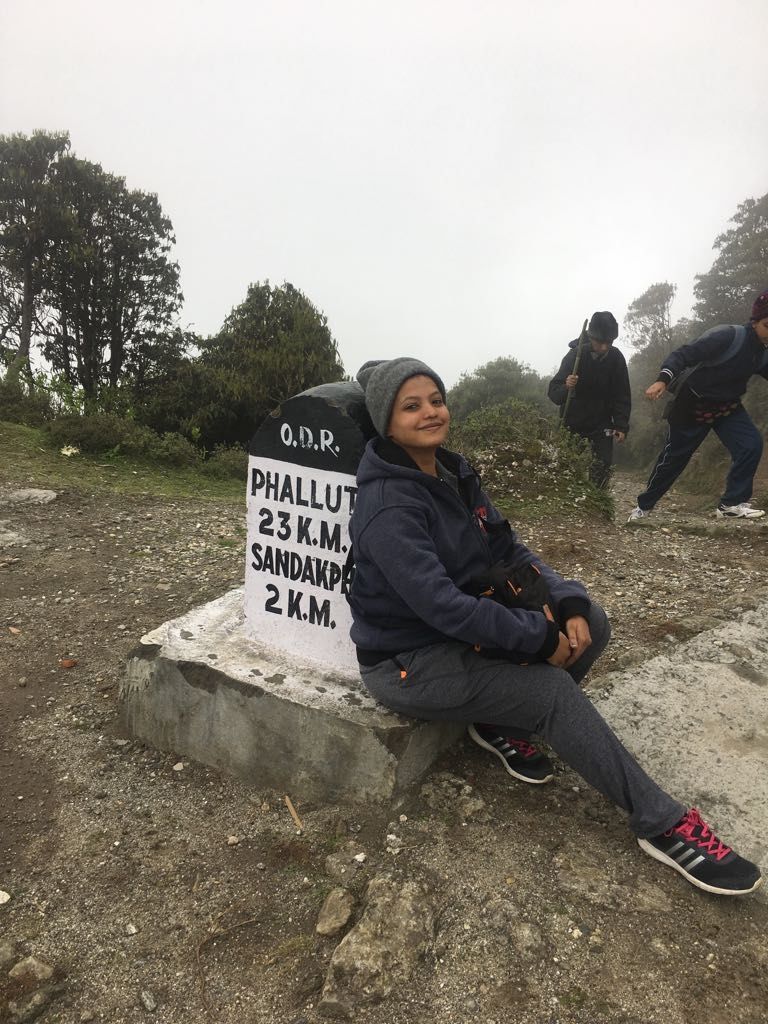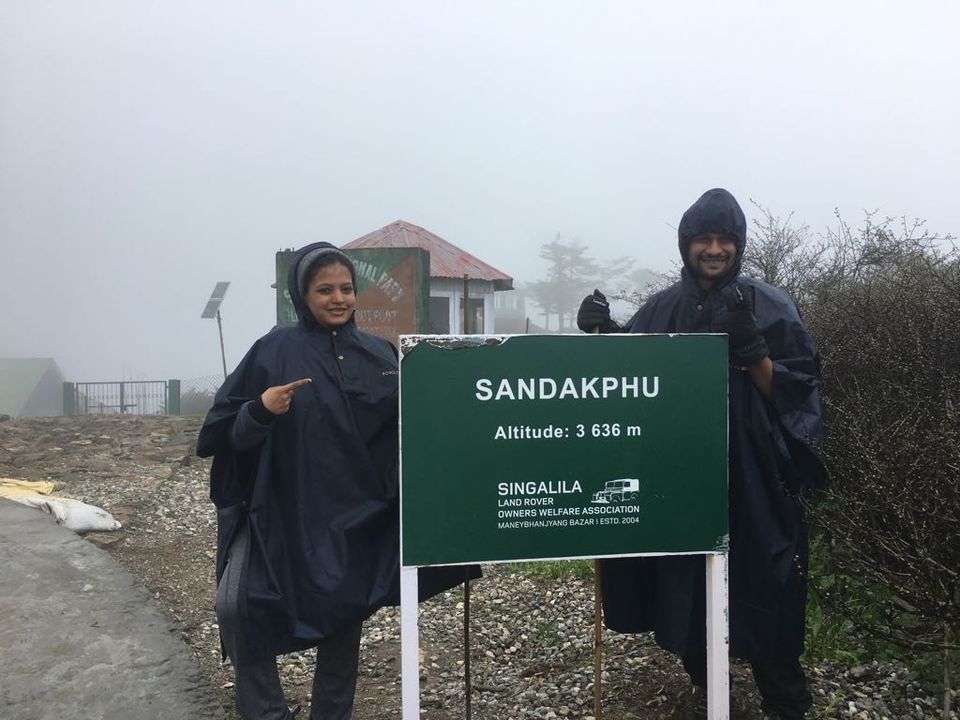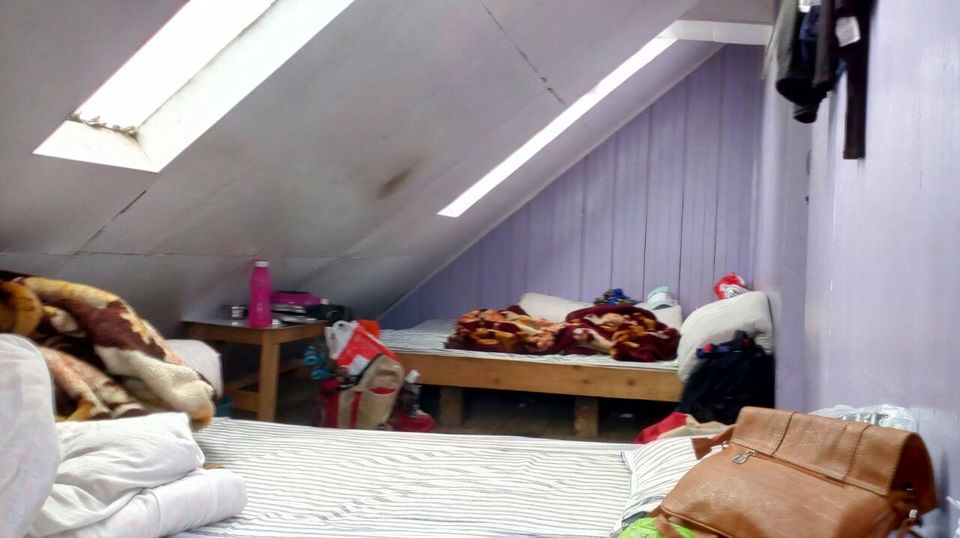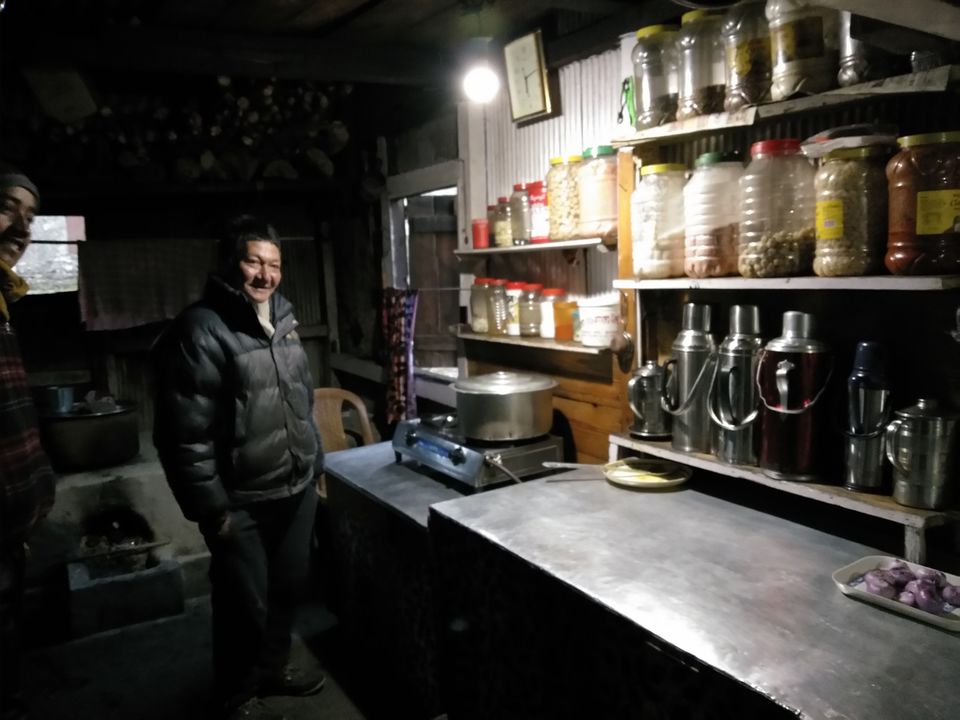 Sandakphu - Gurdum (10 kms)
After having a captivating view of Mt Everest and kanchenjunga and other peaks, we had our breakfast and started for Gurdum (Alt 2900 m).
We had a 10 km, down hill walk. It's a steep downhill. This entire route is in forest of Singalila national park. There were bamboo plantations, snake Lily's, Rhododendrons etc.
This route is closed from 15th June to end of August, as the wild bears, deep in the forest, comes up to eat flowers of bamboo trees.
The entire route is beautiful, covered in white and red and pink rhododendrons. If you're lucky enough, you will get to see Red panda, but as he is a shy animal, will runaway or disappear quickly.
We reached at our camp in Gurdum by lunch. Gurdum camp was a pleasant place with wooden cottages and plantations of many different and beautiful flowers.
We had a fun evening with our other co-trekkers.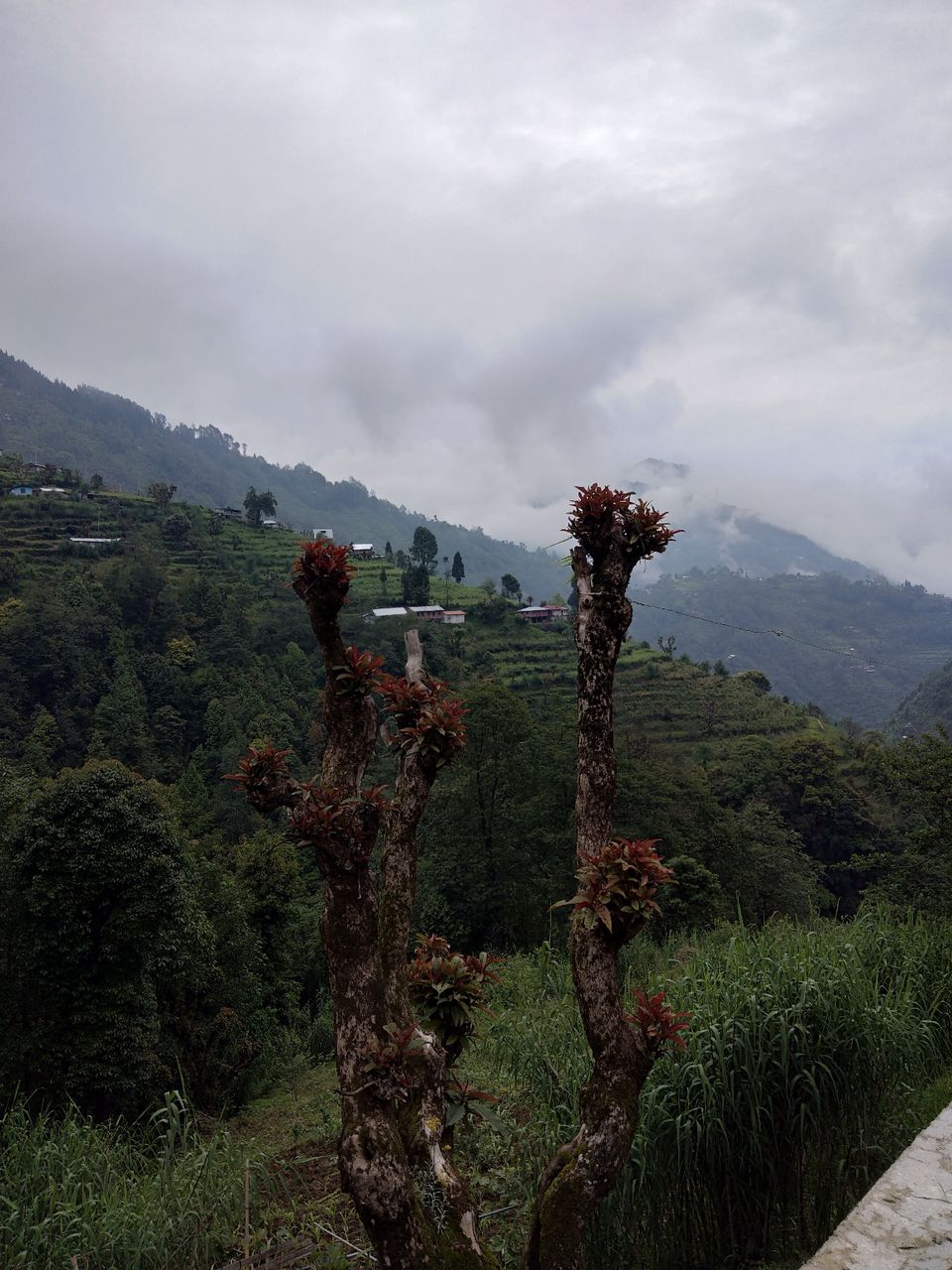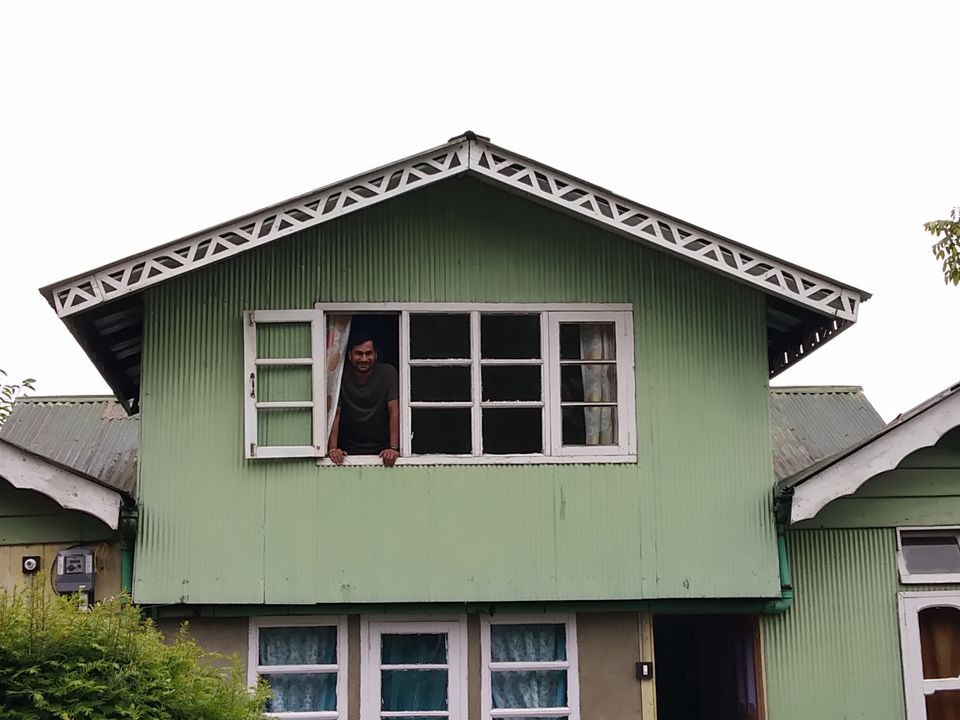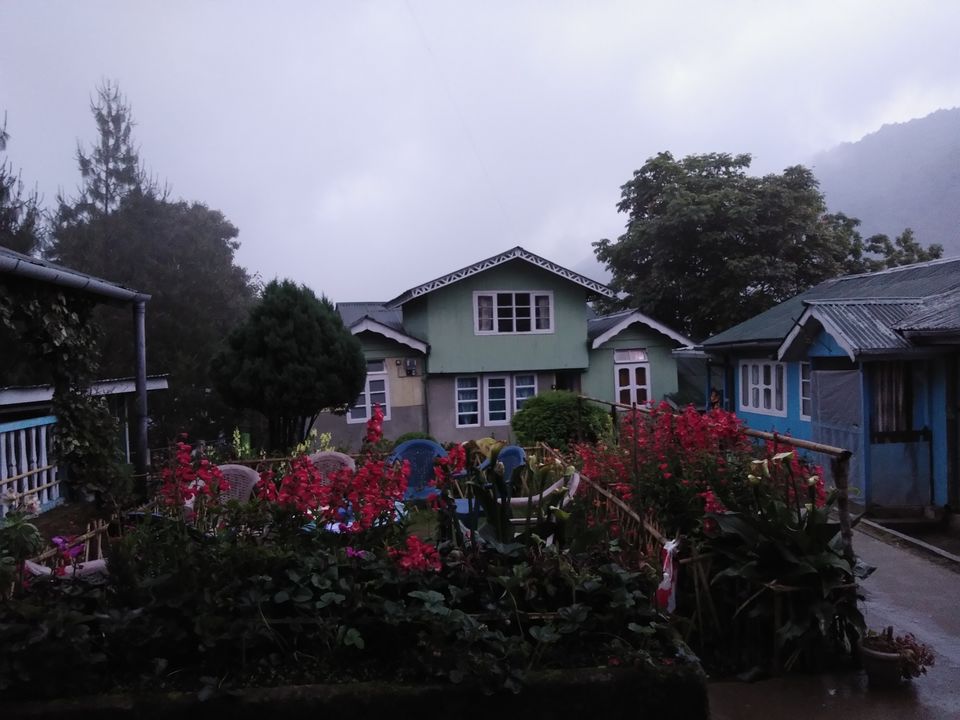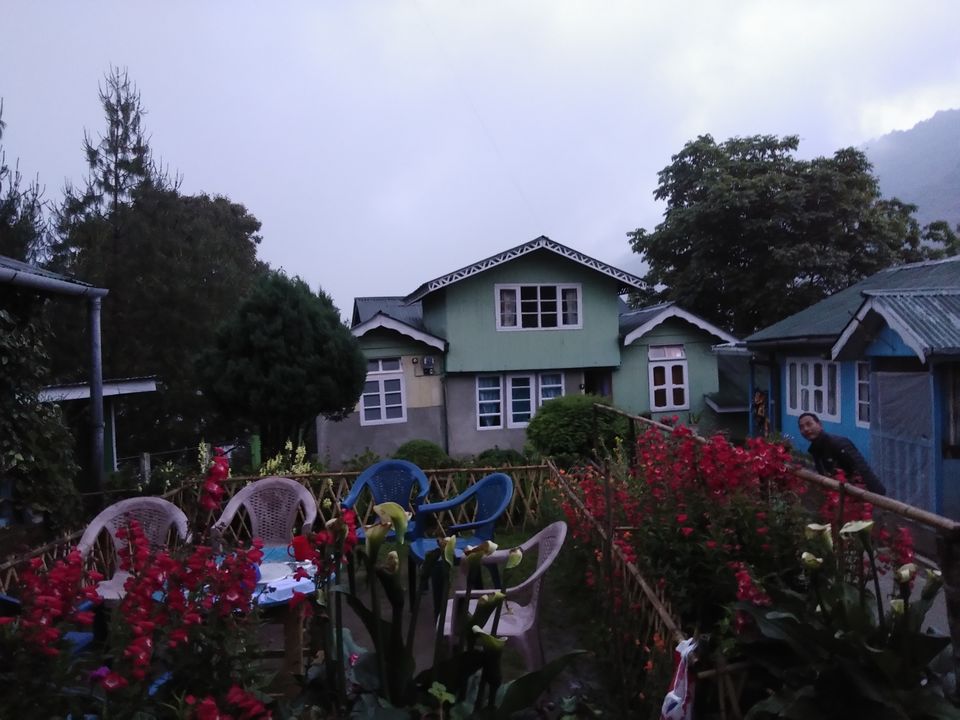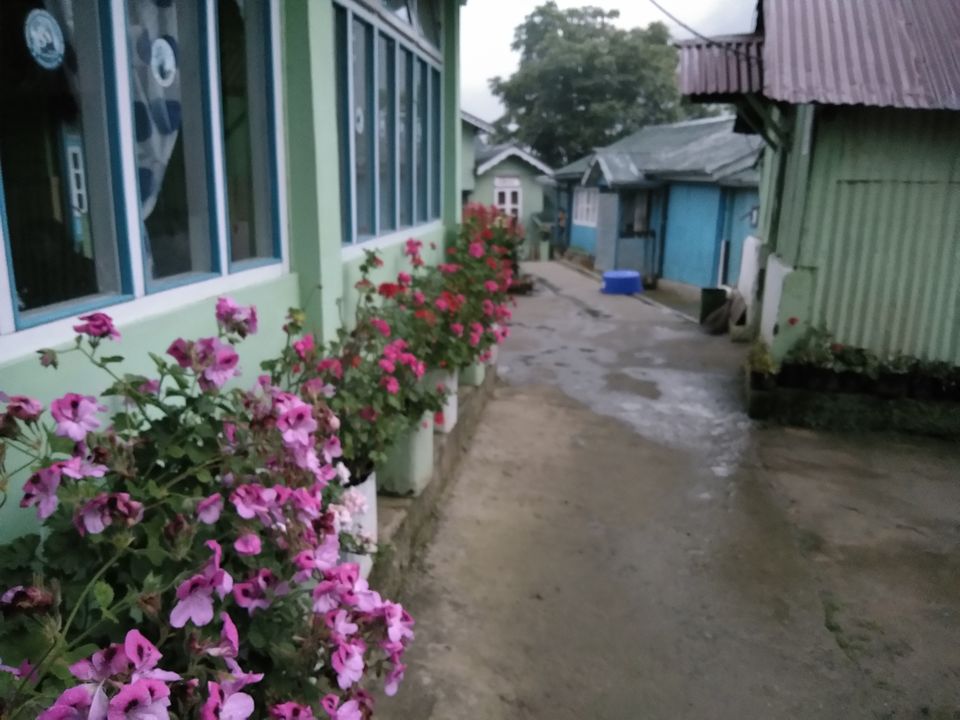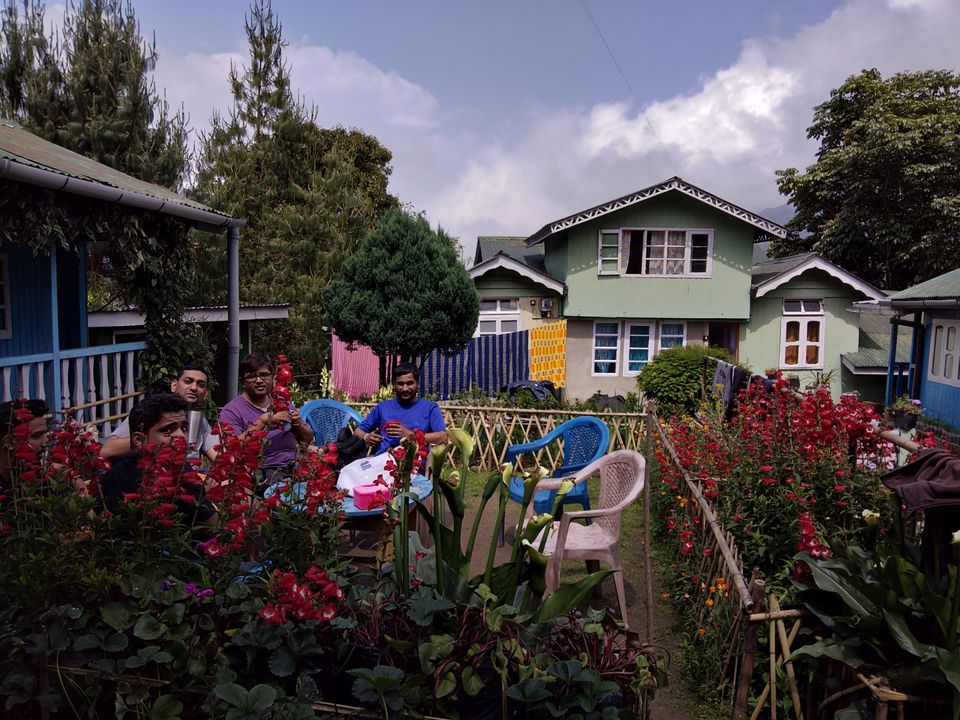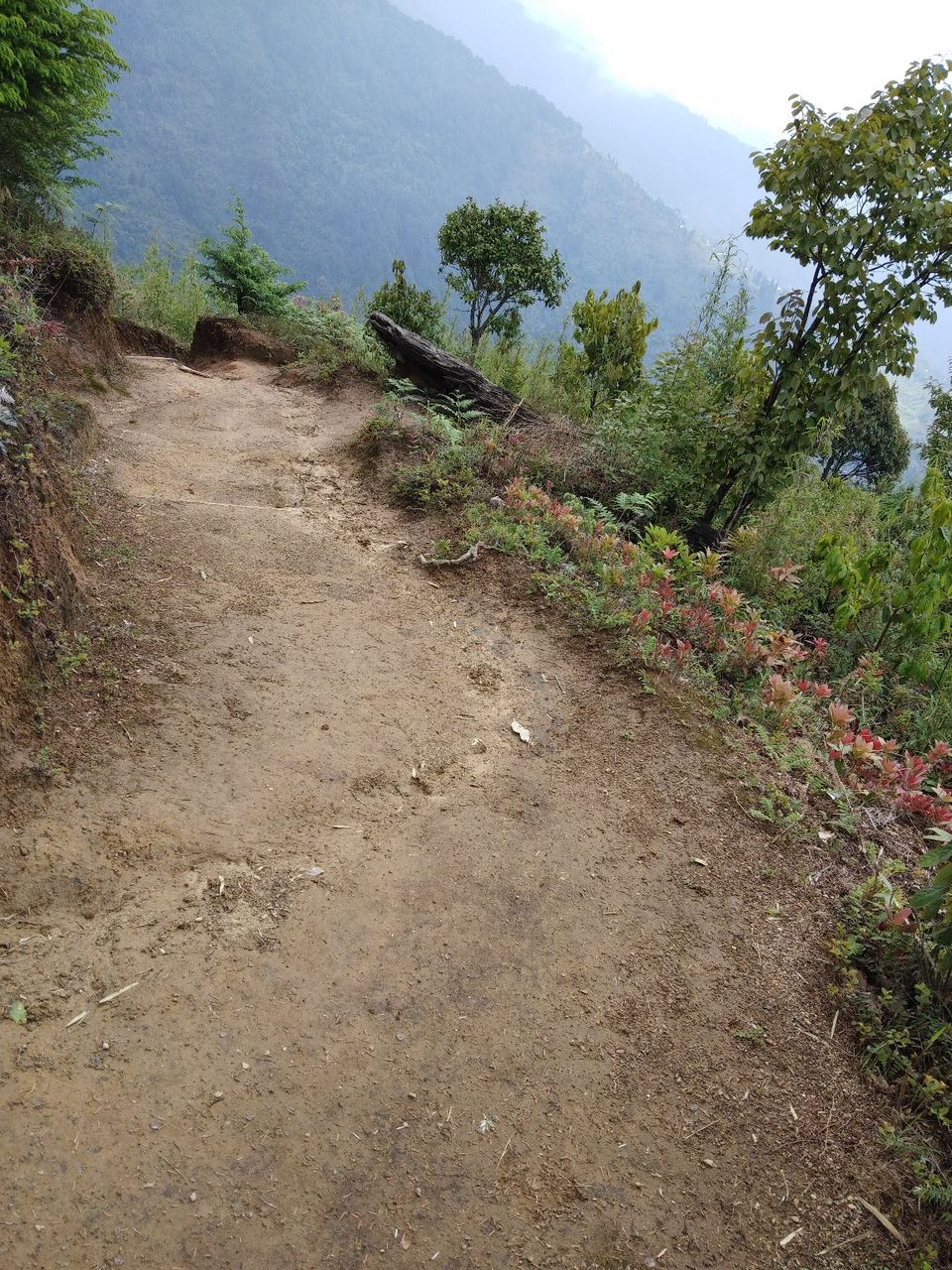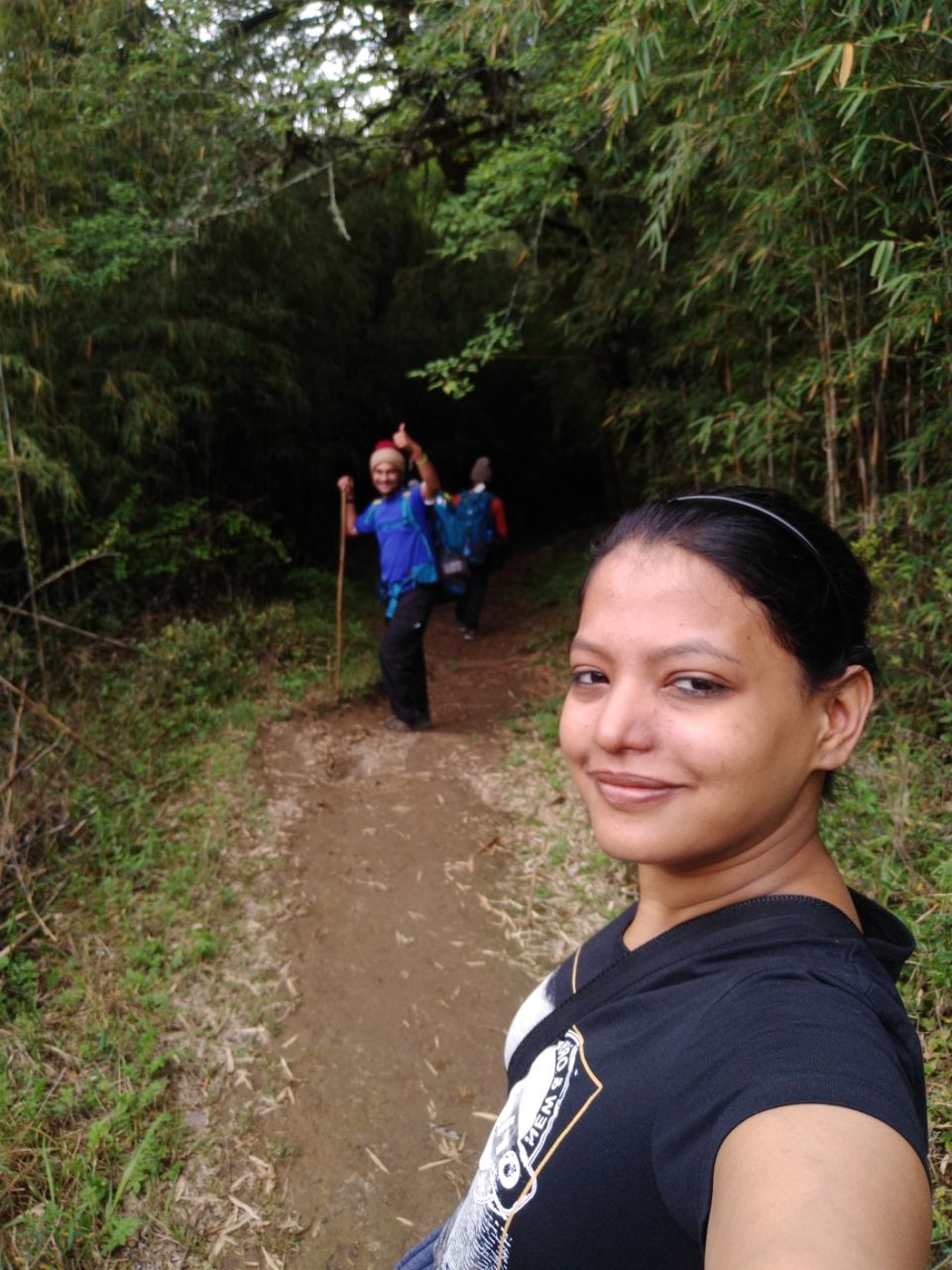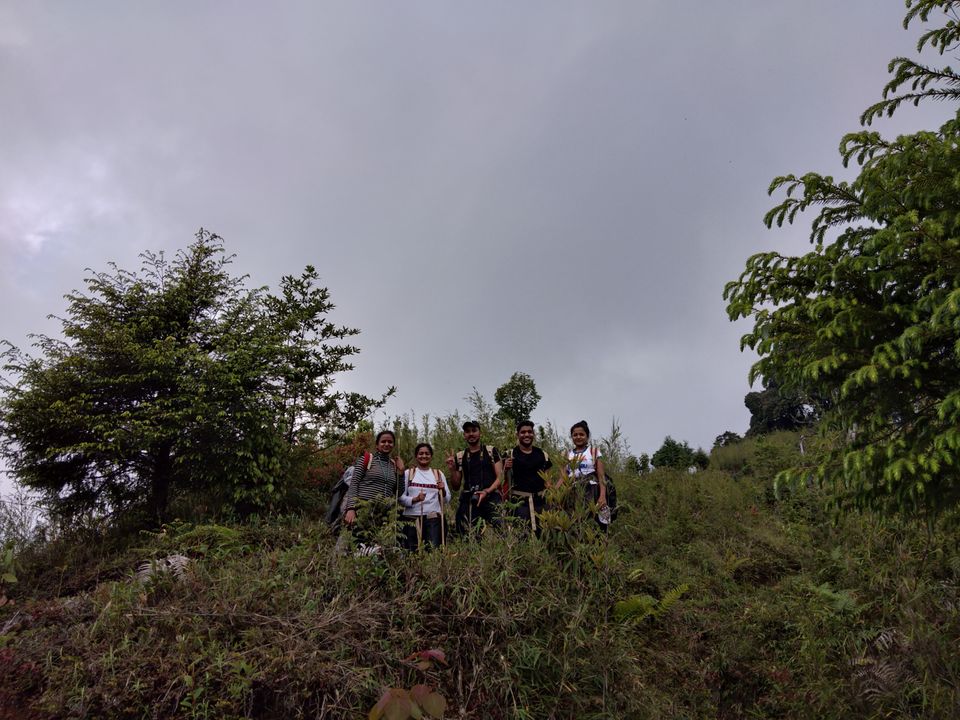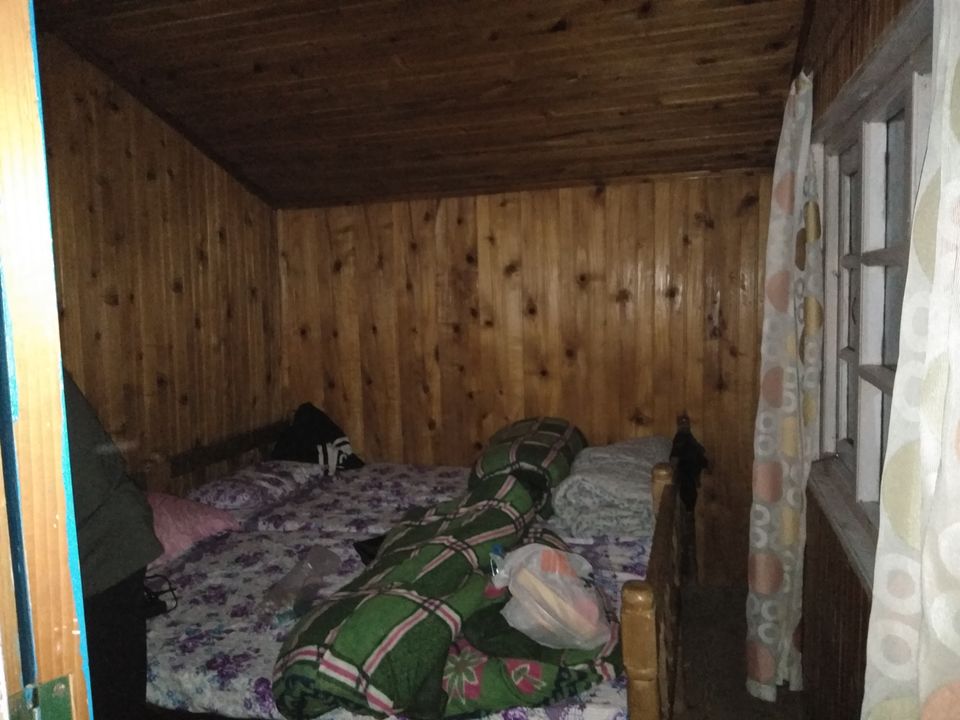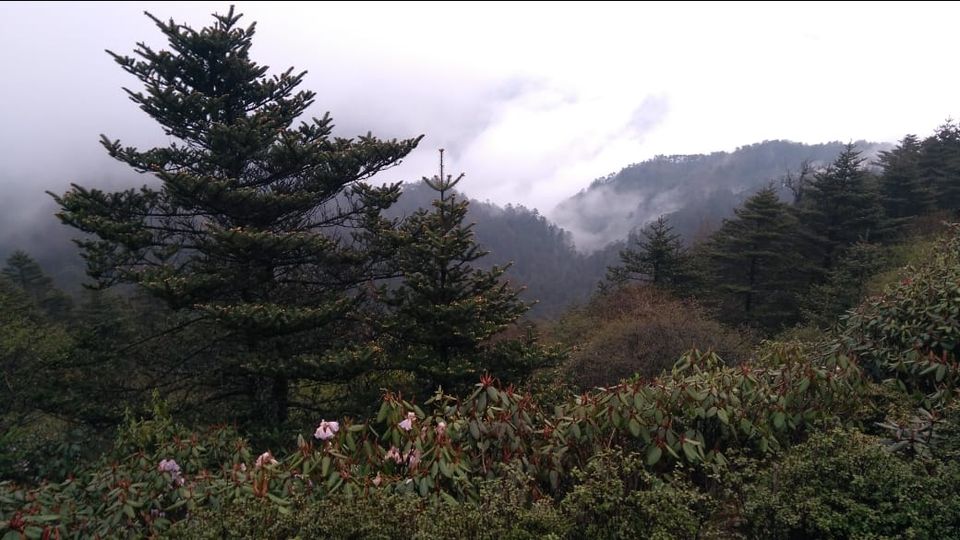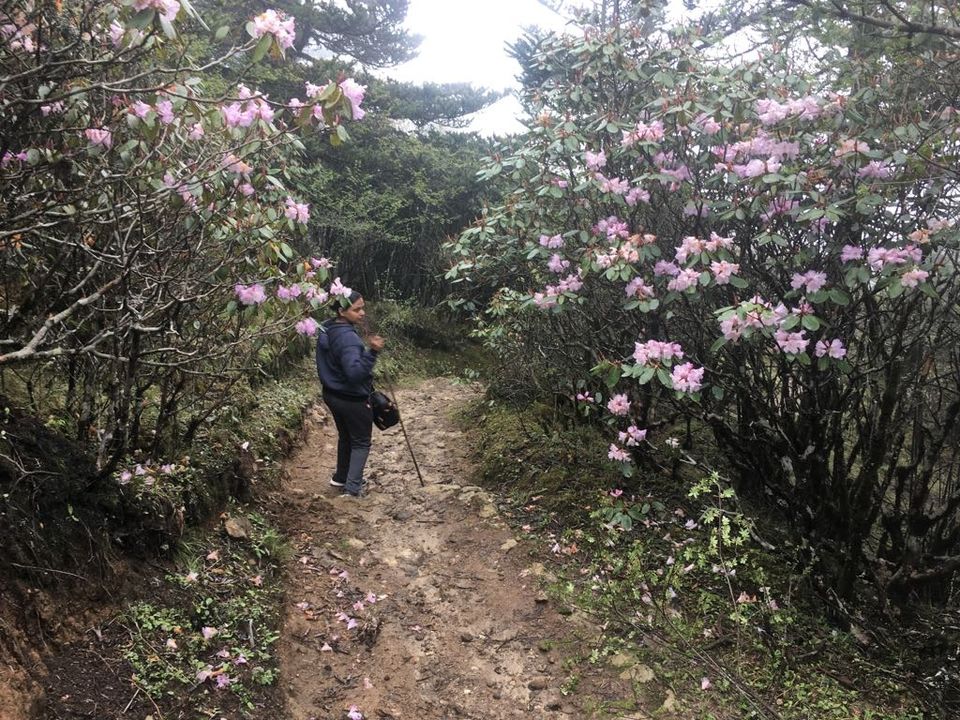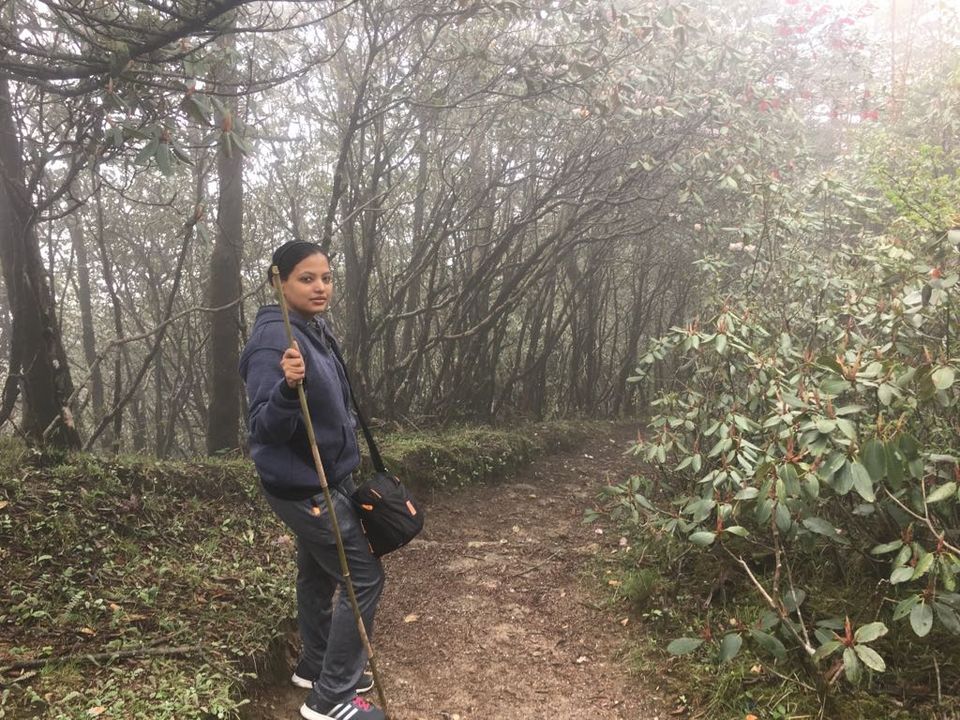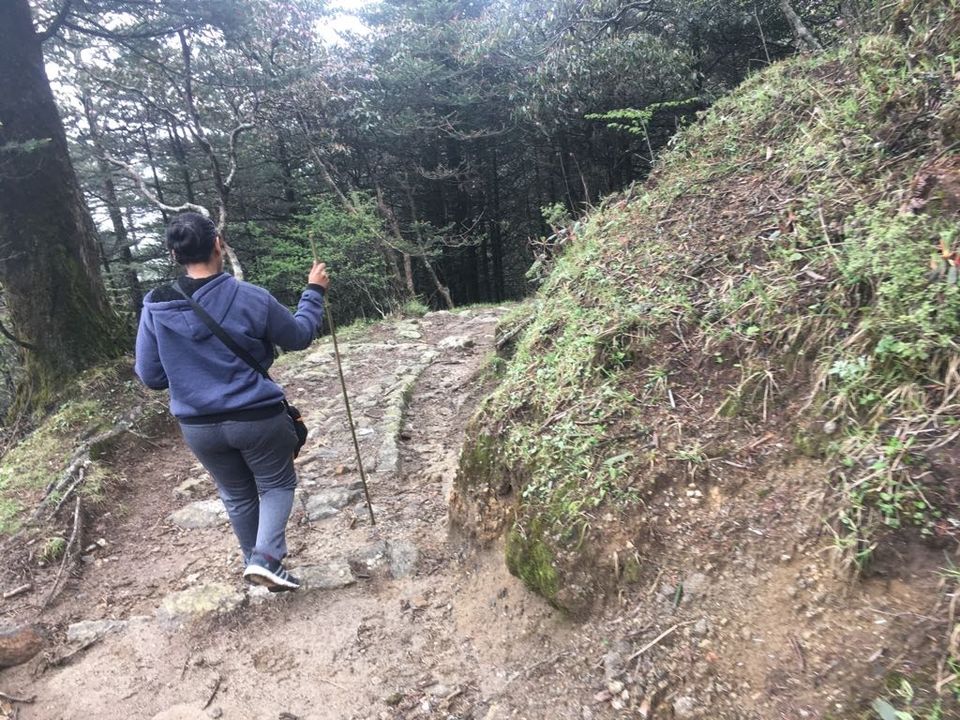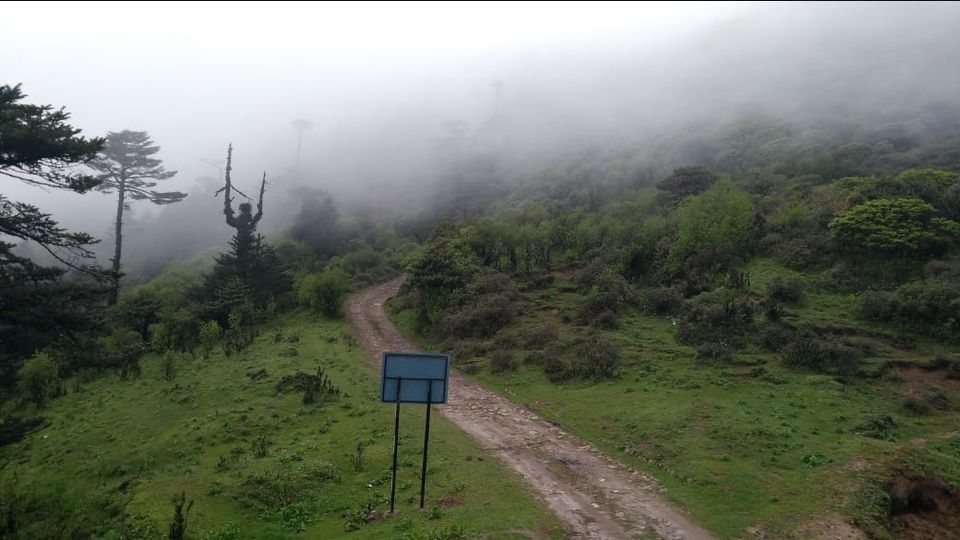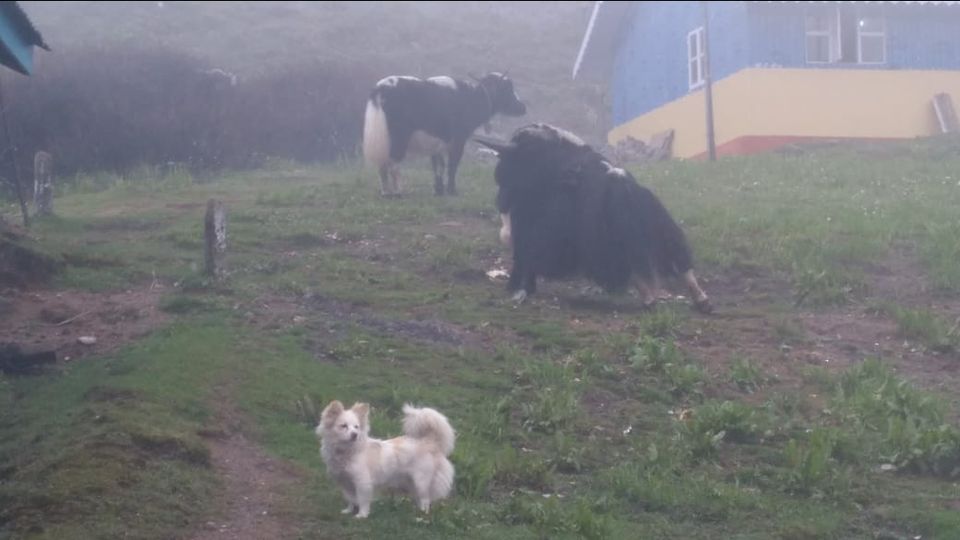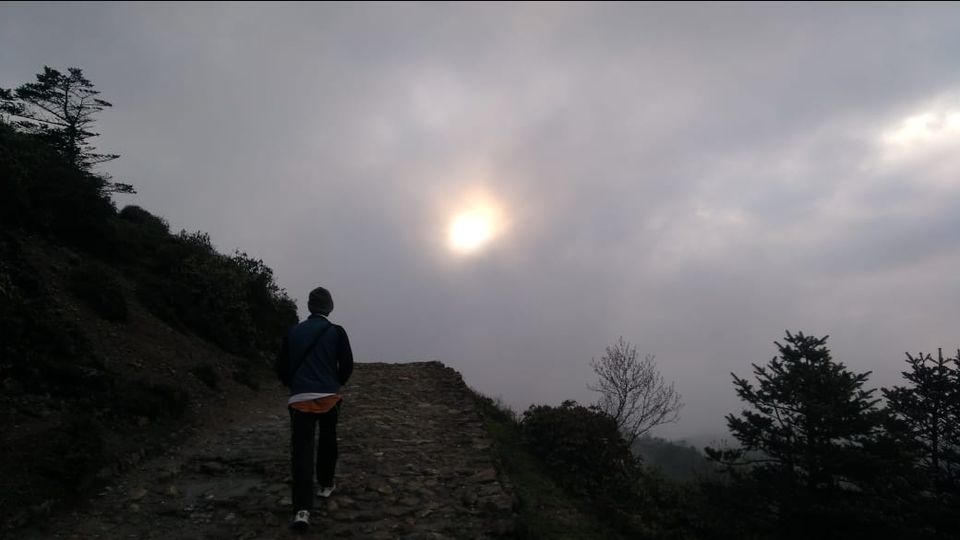 Gurdum - Rimbik (13 kms)
We left for Rimbik (Alt 2400 m) after breakfast, by 8:00 am
The road is good, almost straight and a bit downhill, this route is on West Bengal and Sikkim border, ergo the villages on this route are clean and beautiful. One thing is noticeable about houses here, they all have beautiful flower plantations outside their tiny houses, which is so eye-catching and beautiful. People here believe it to be auspicious to plant such flowers outside their houses.
We halted for lunch at Sirikhola (srikhola). It's a beautiful Village in North Bengal, along the trekking route from Gurdum / Phalut. Road is also approachable by car from Darjeeling. This village has breathtaking views of Srikhola river and hanging bridge. We spent our afternoon enjoying in the river, walking and clicking photos on hanging bridge.
Post lunch we started for rimbik which is about 5 kms from srikhola, connected by a good road. 
The road along the villages are extremely clean, and people here are helping and cooperative.
One thing which beguiled me while walking towards rimbik is a scene of few school children cleaning the road outside their school. Upon asked they said that this is their routine activity to clean the road beside their school and that this activity is to be done by students of all the grade respectively. The lessons of hygiene and public cleanliness is thought to the children here in schools and in very young age, which leads to a mature and sophisticated generation. Hat's off to the Education System in Sikkim.
We reached Rimbik base camp by 4 pm. The camp was nice and clean with all the necessary arrangements.
We had a walk in the village in evening. Market is good. It's a liveable village. Enjoyed our leisure time amidst chestnuts, oaks, pines and rhododendrons.
We enjoyed Bon fire, "Damsharaz" (our trek game), danced on "O o o finista" (our trek song), cultural event in late evening.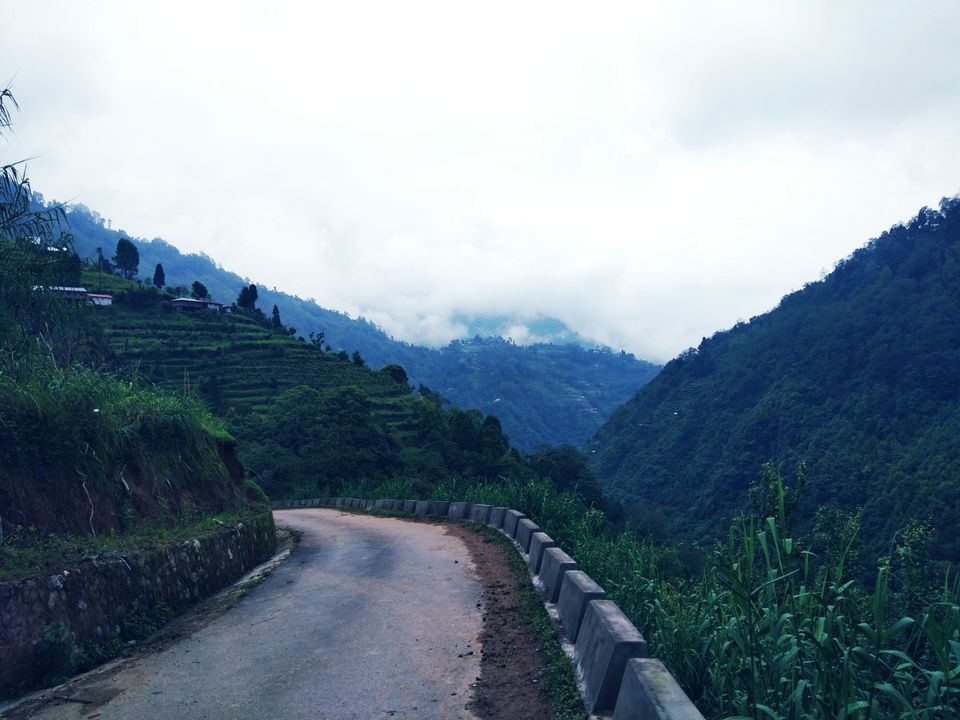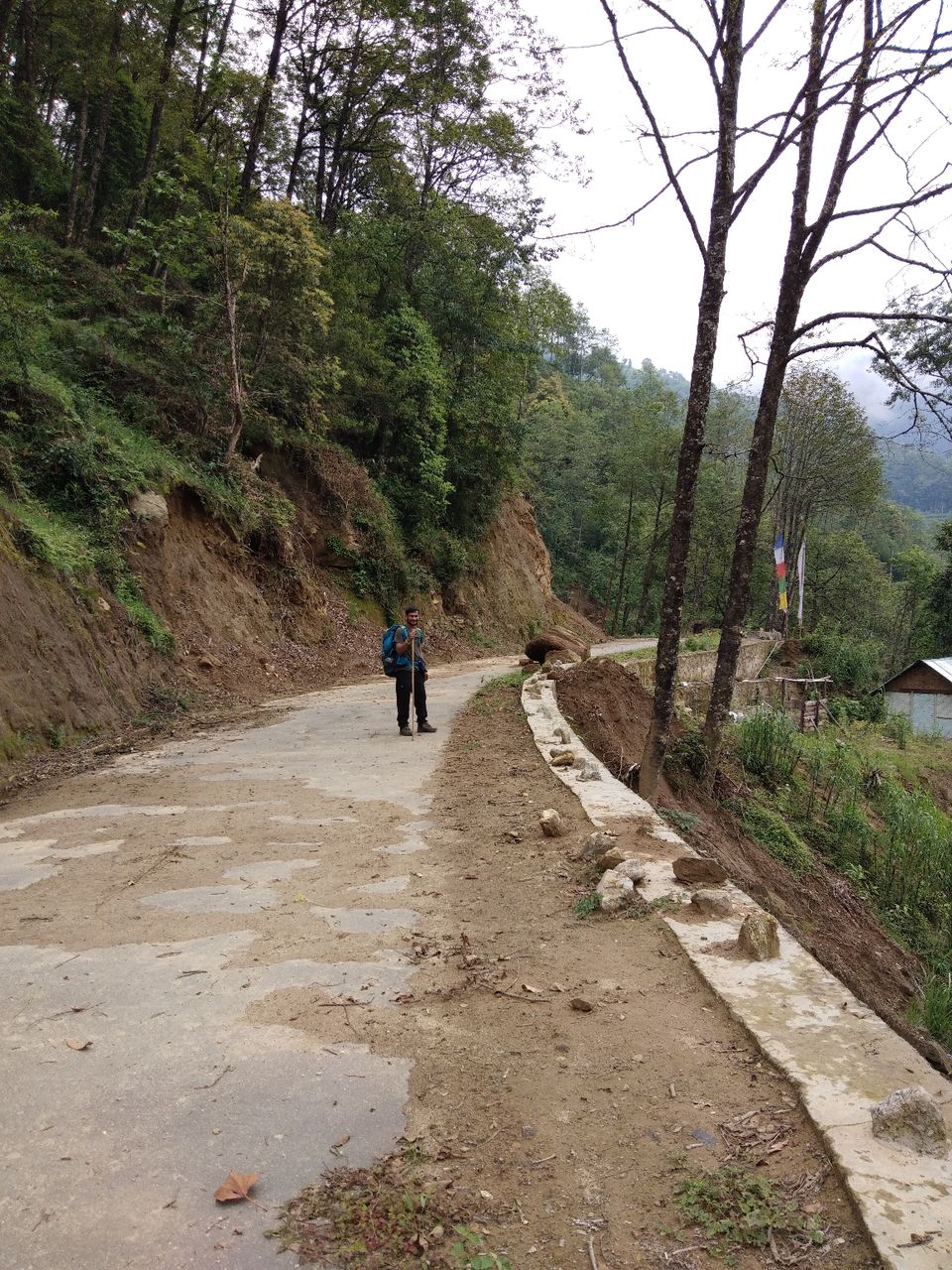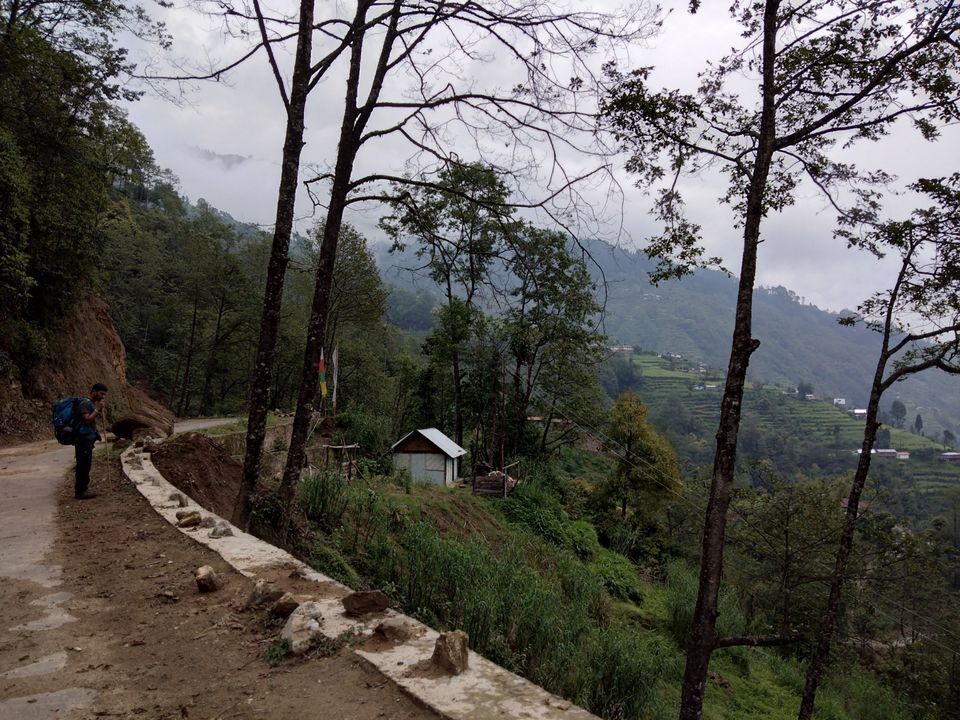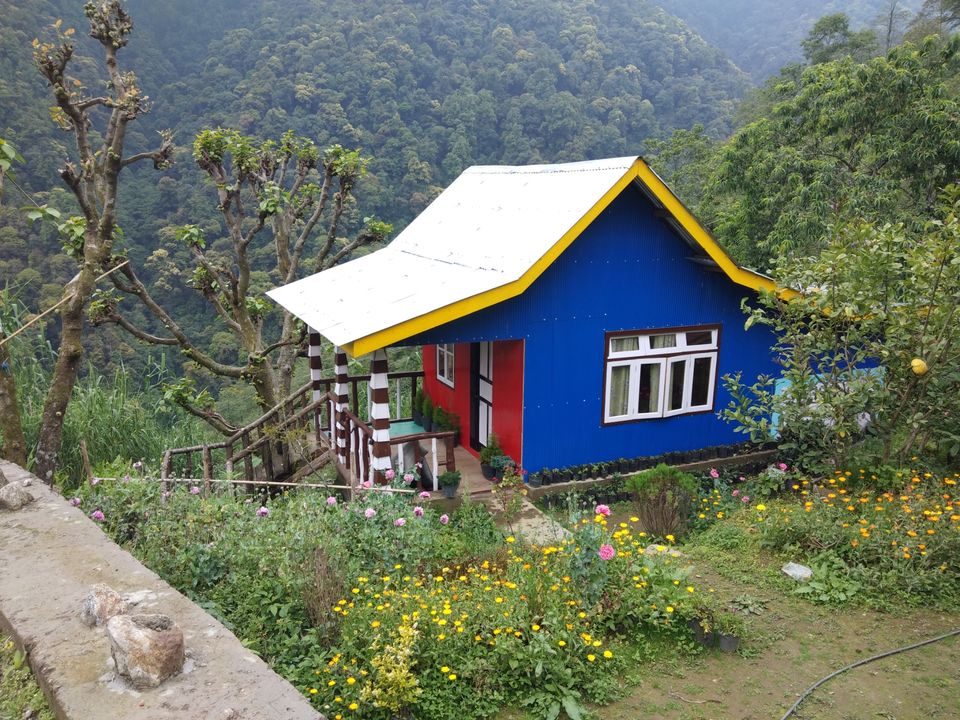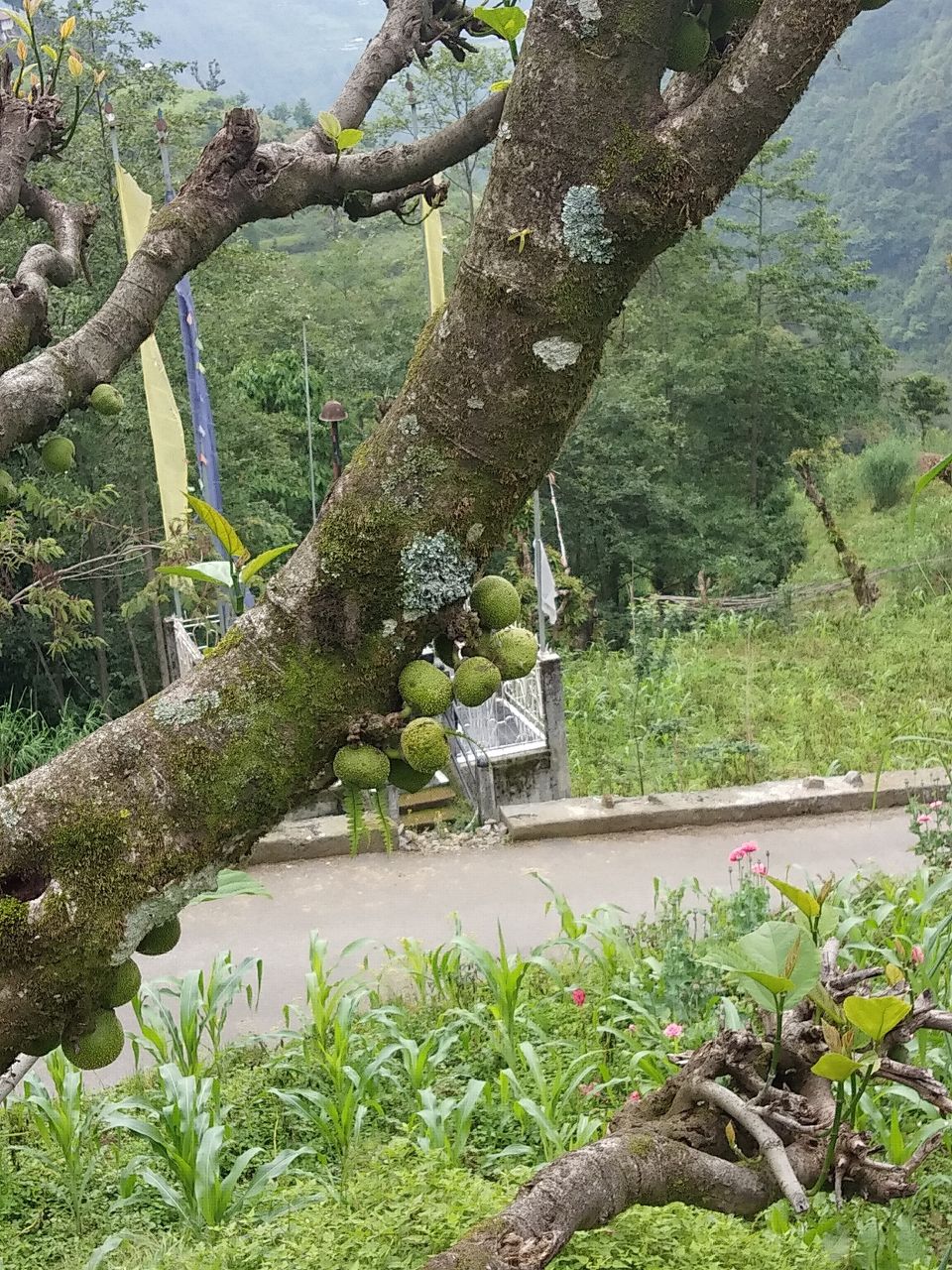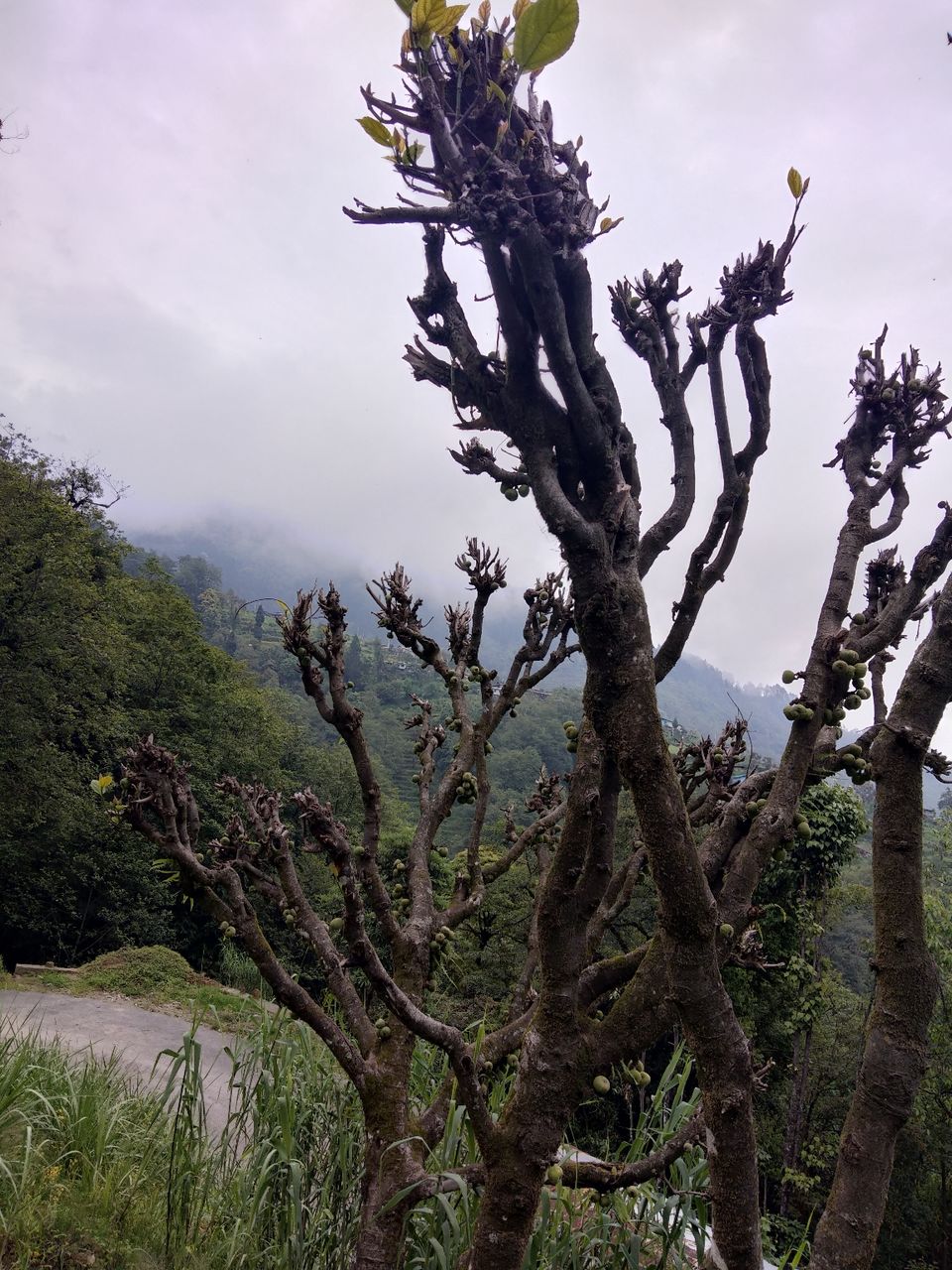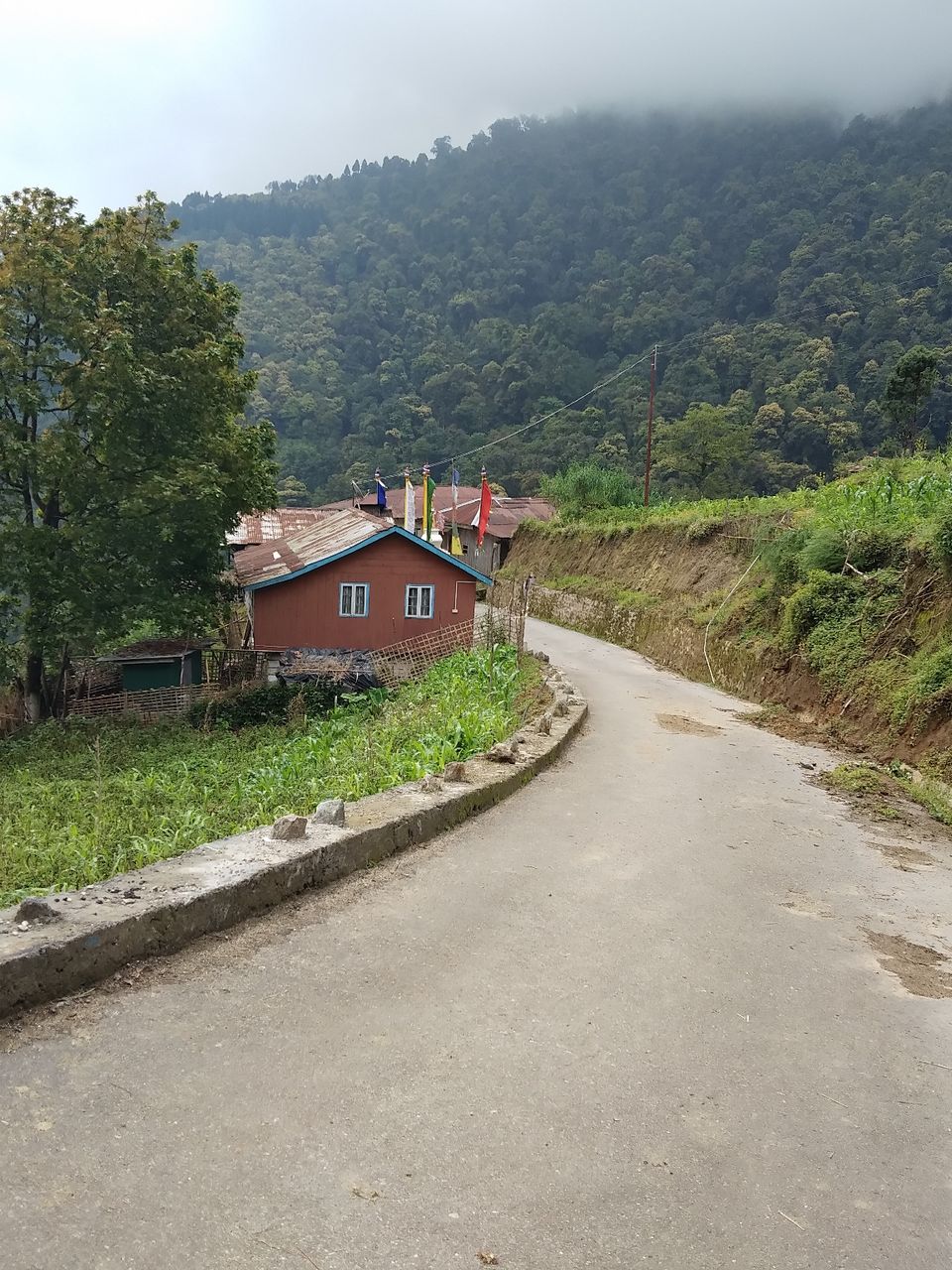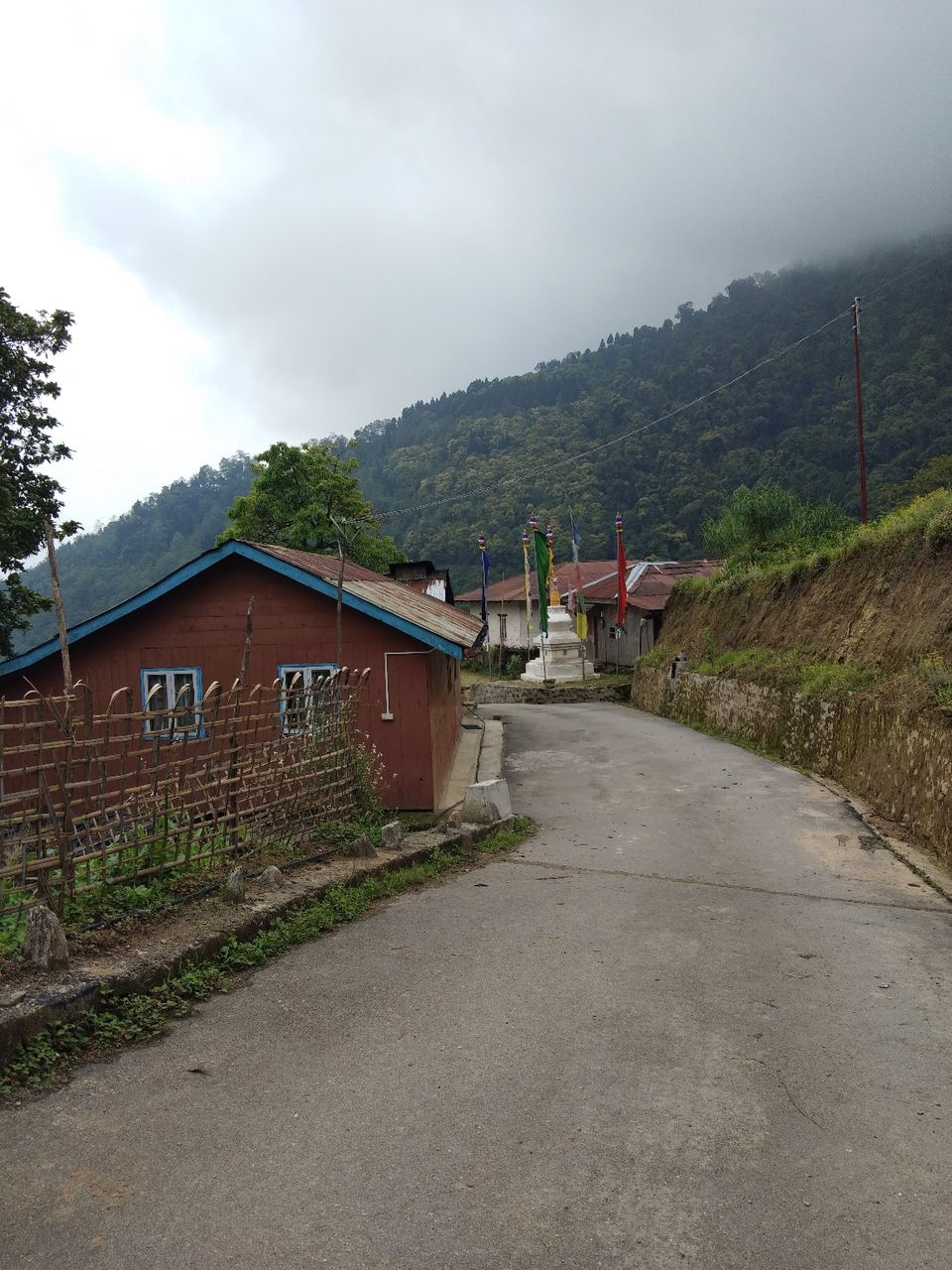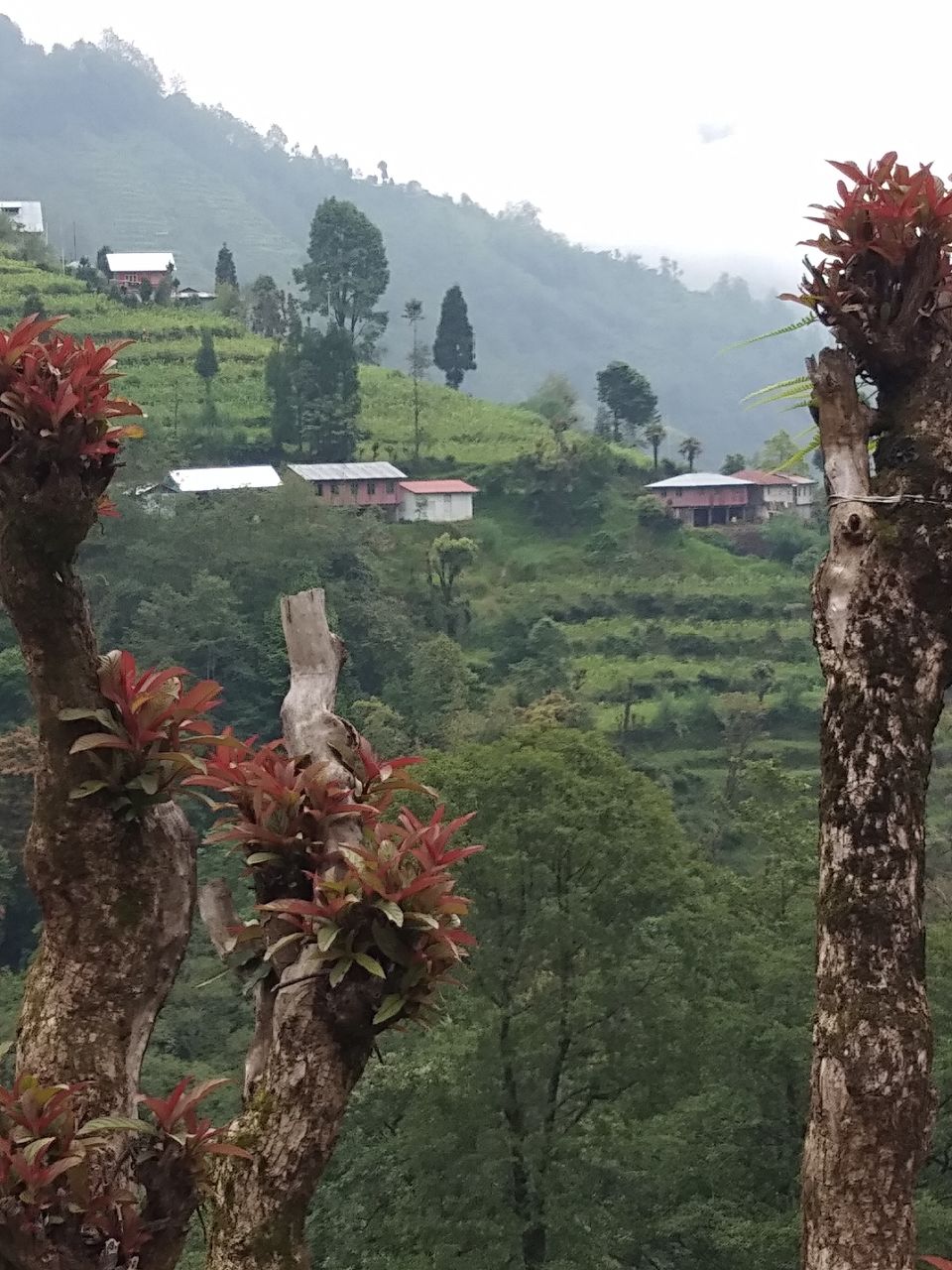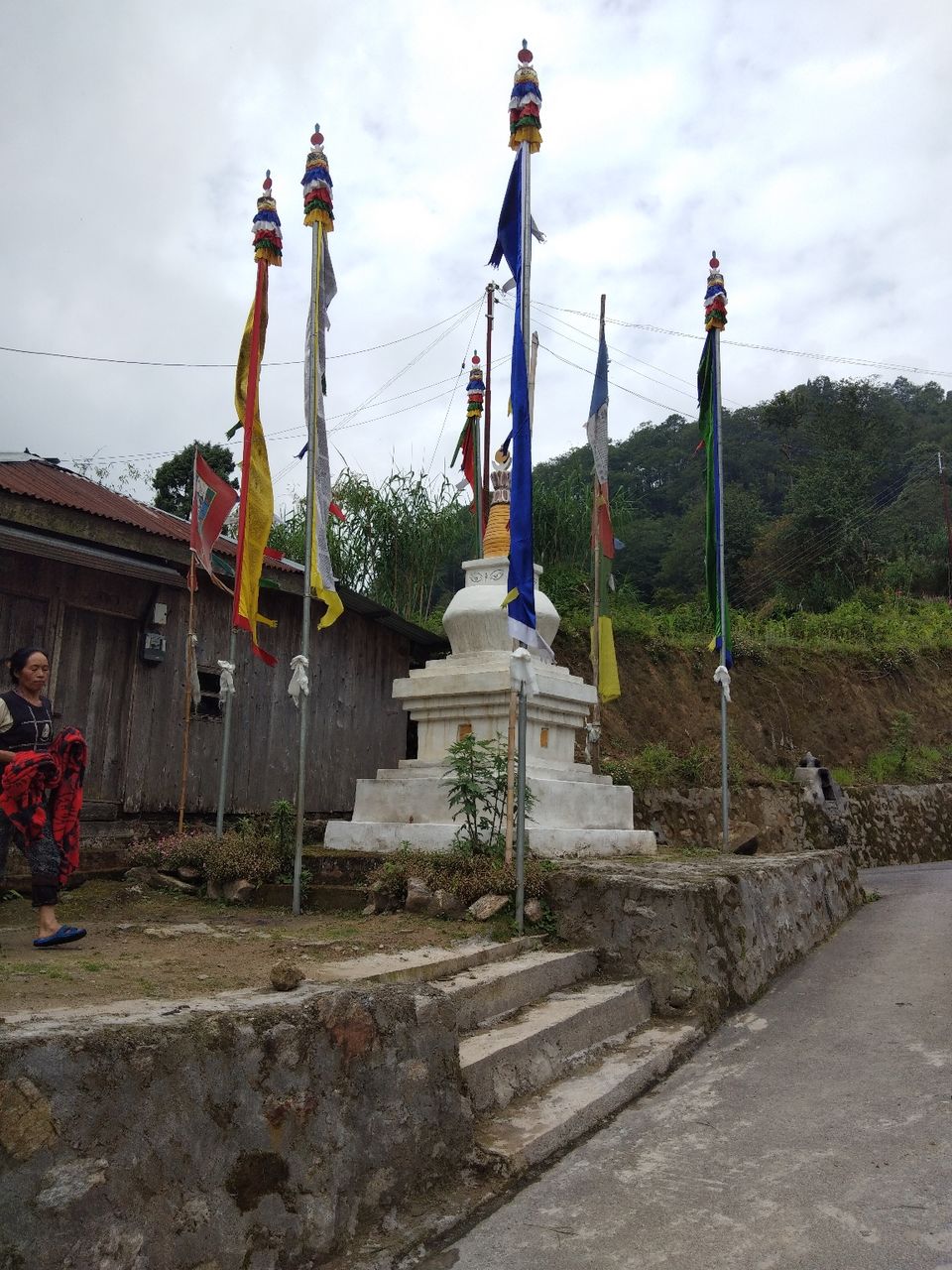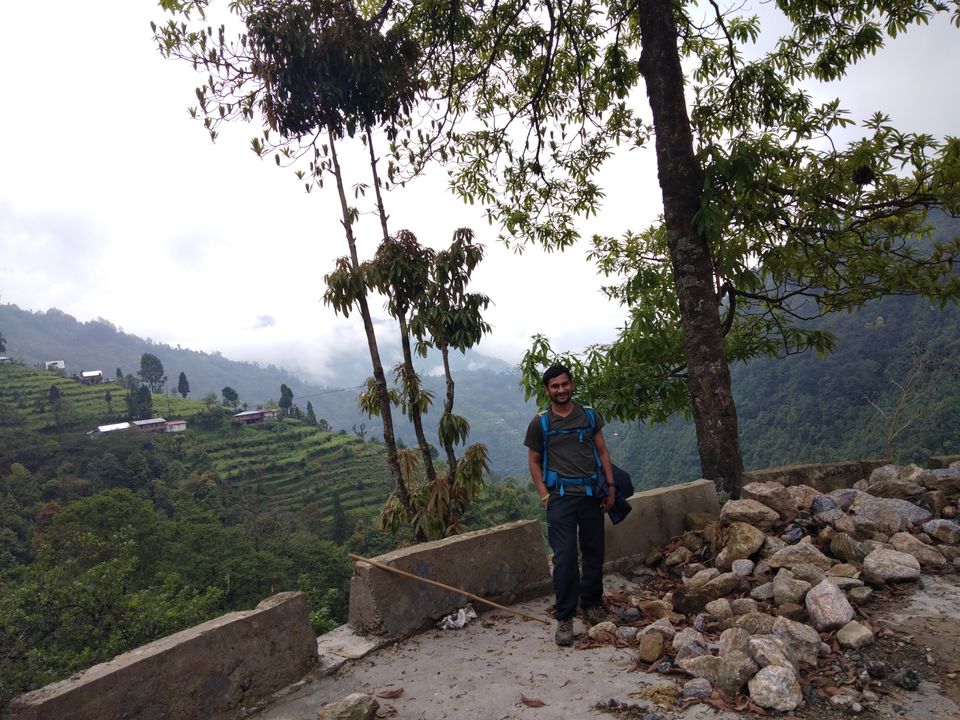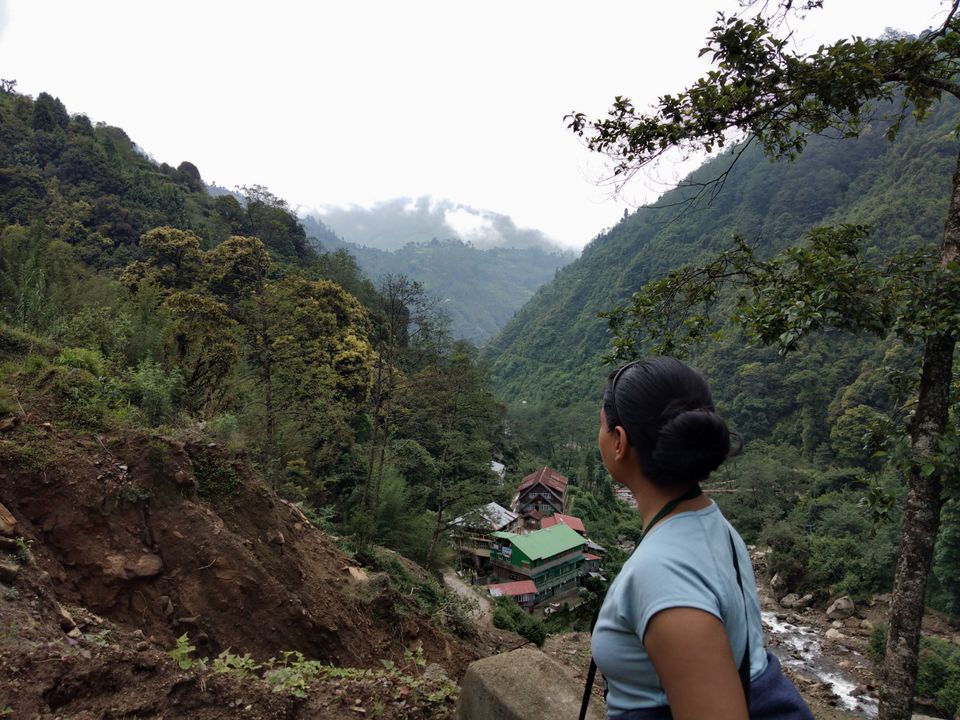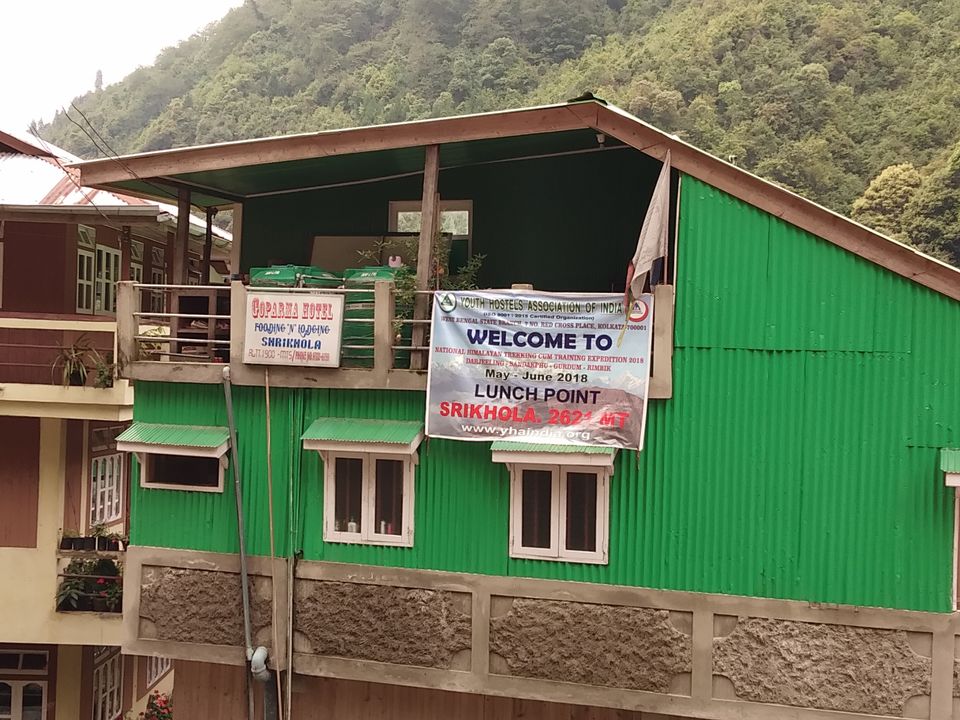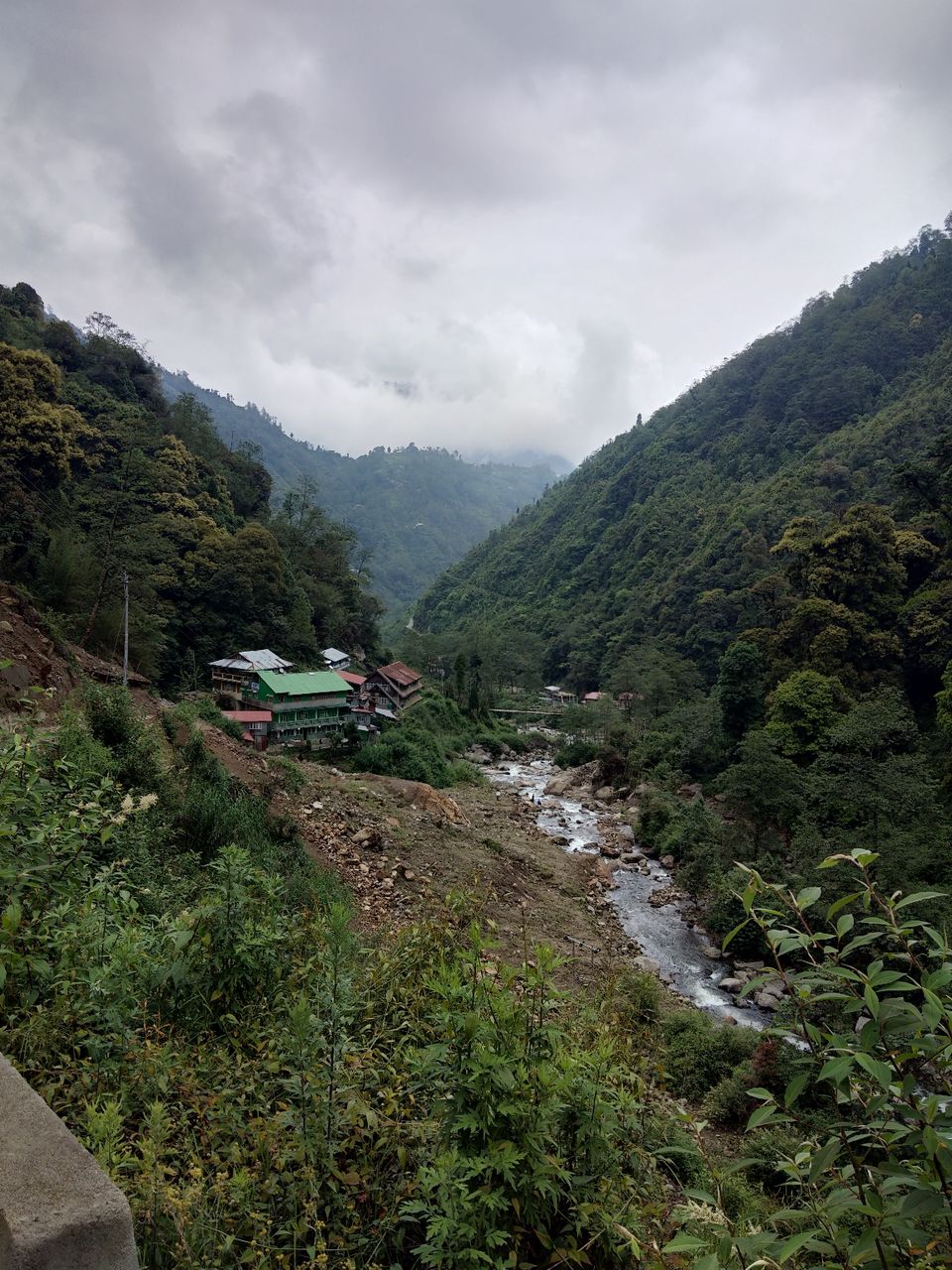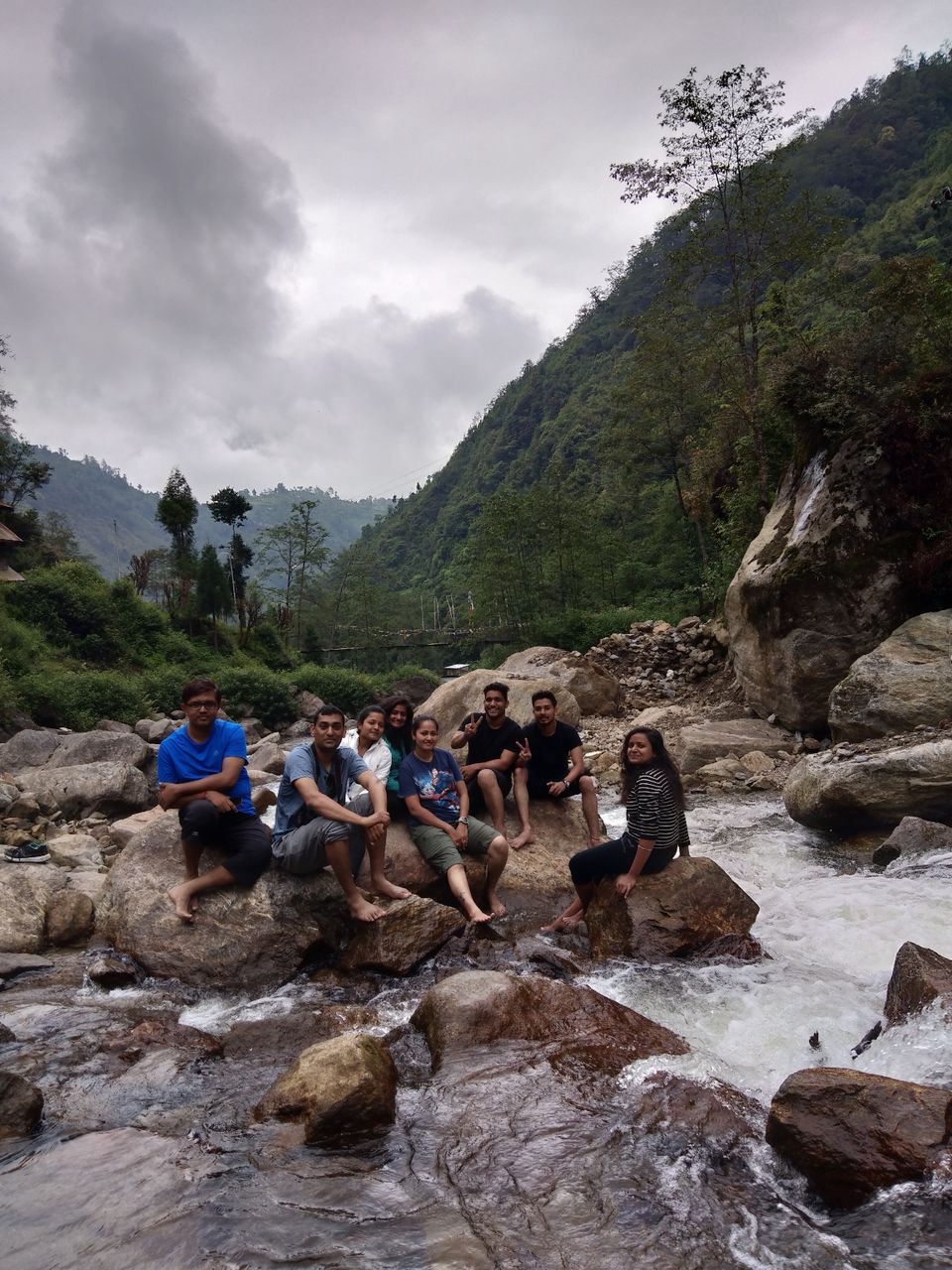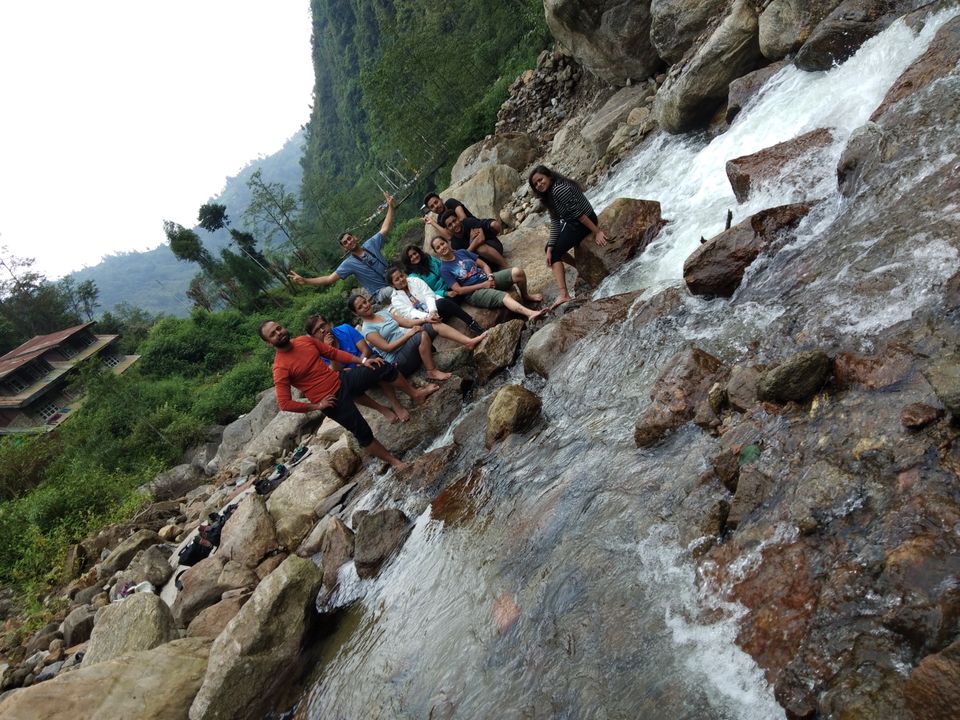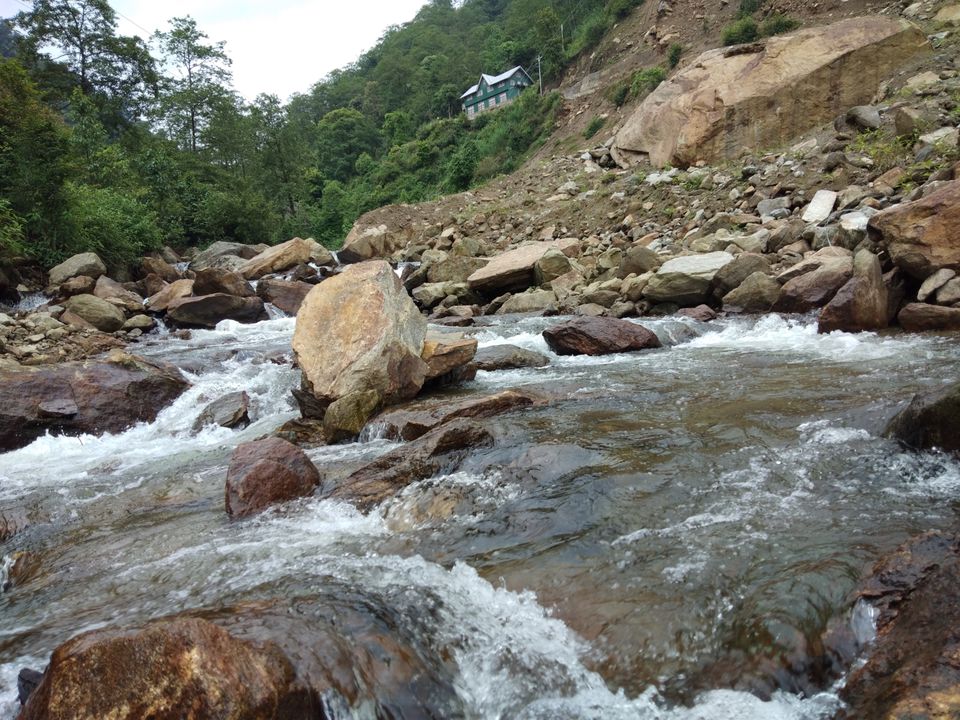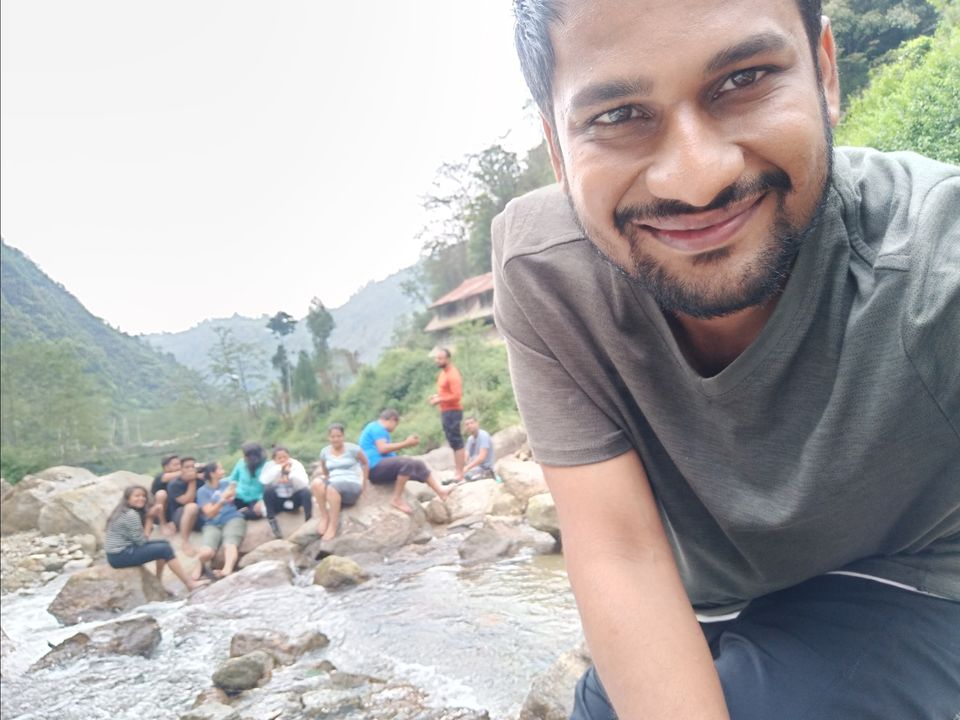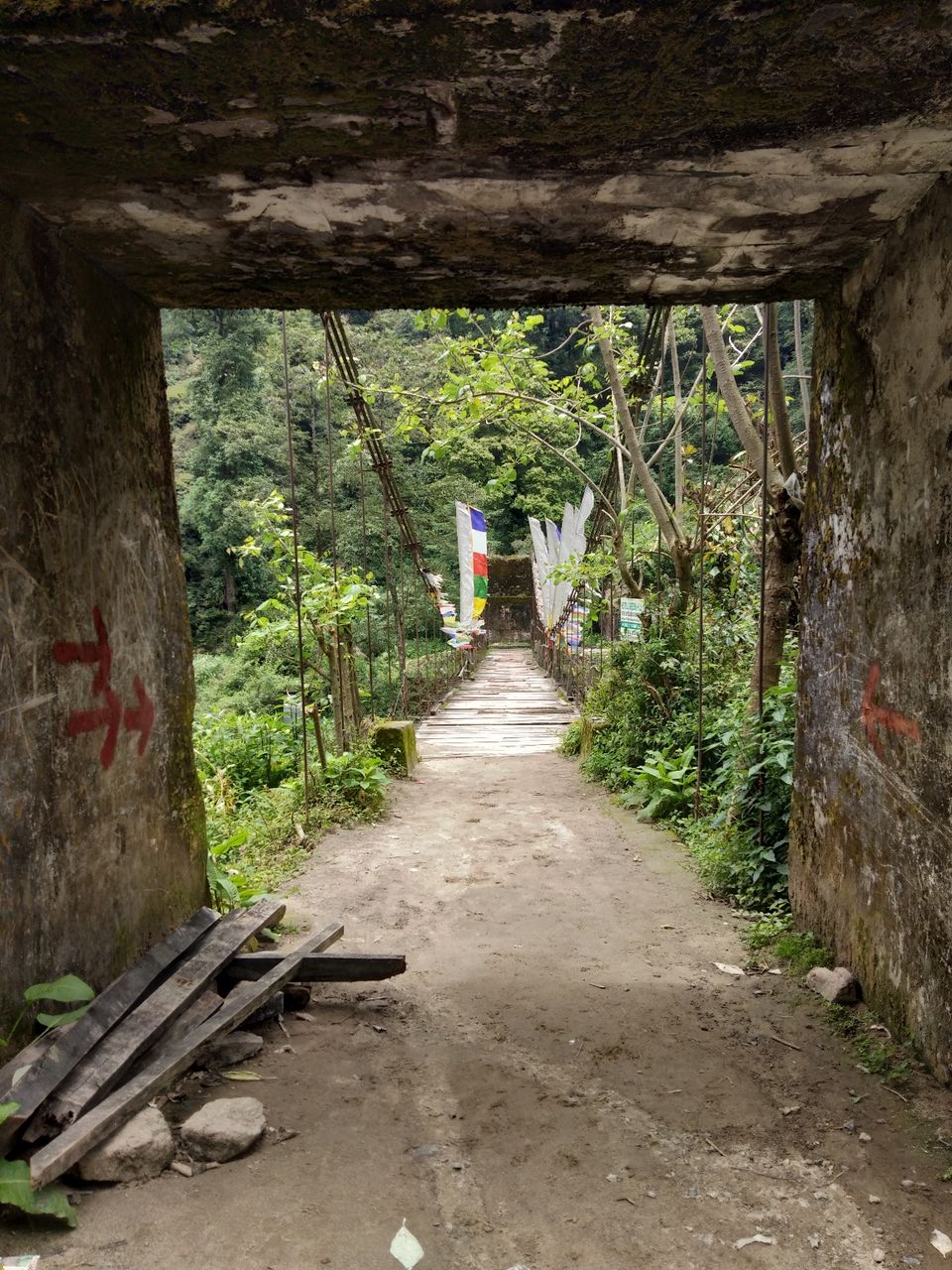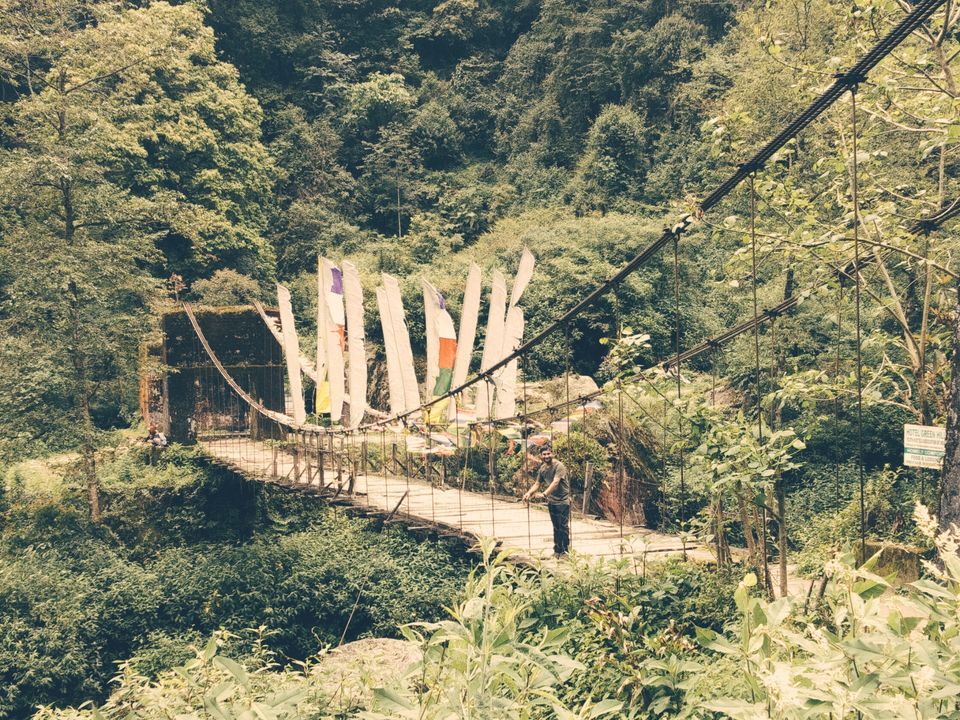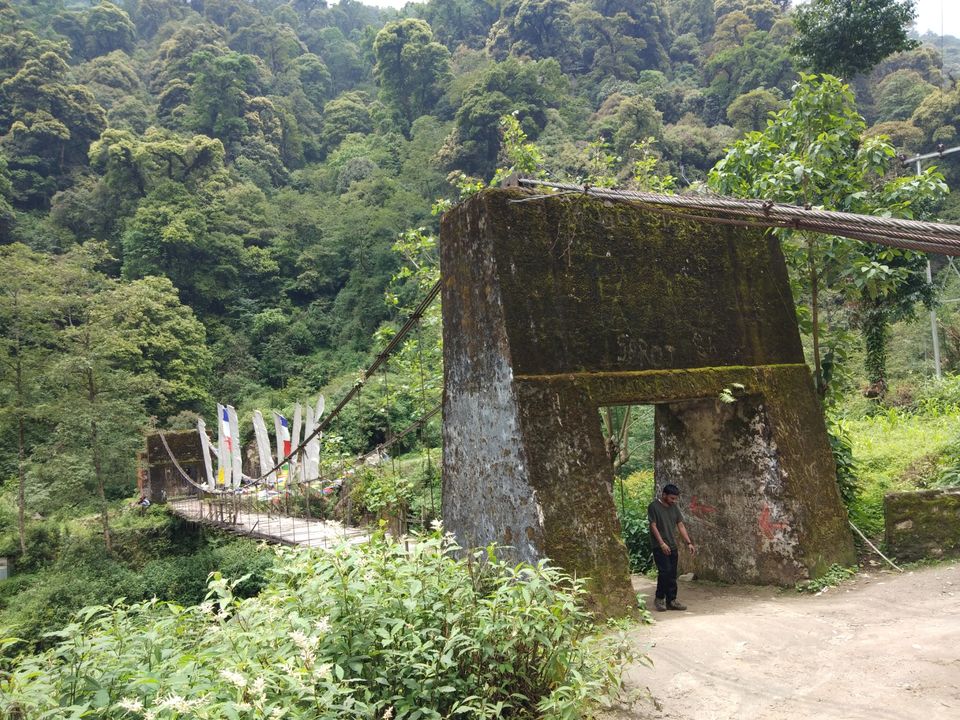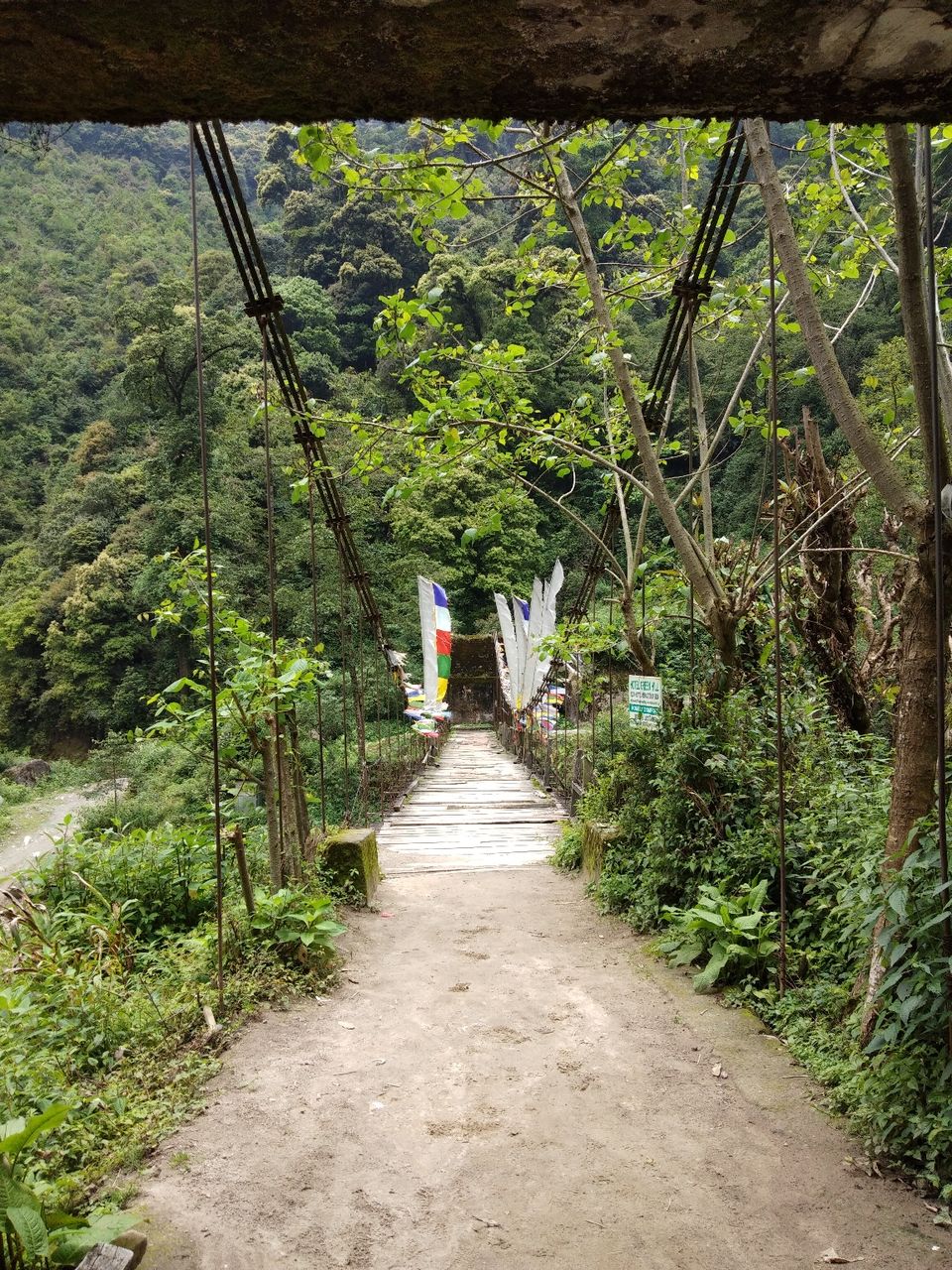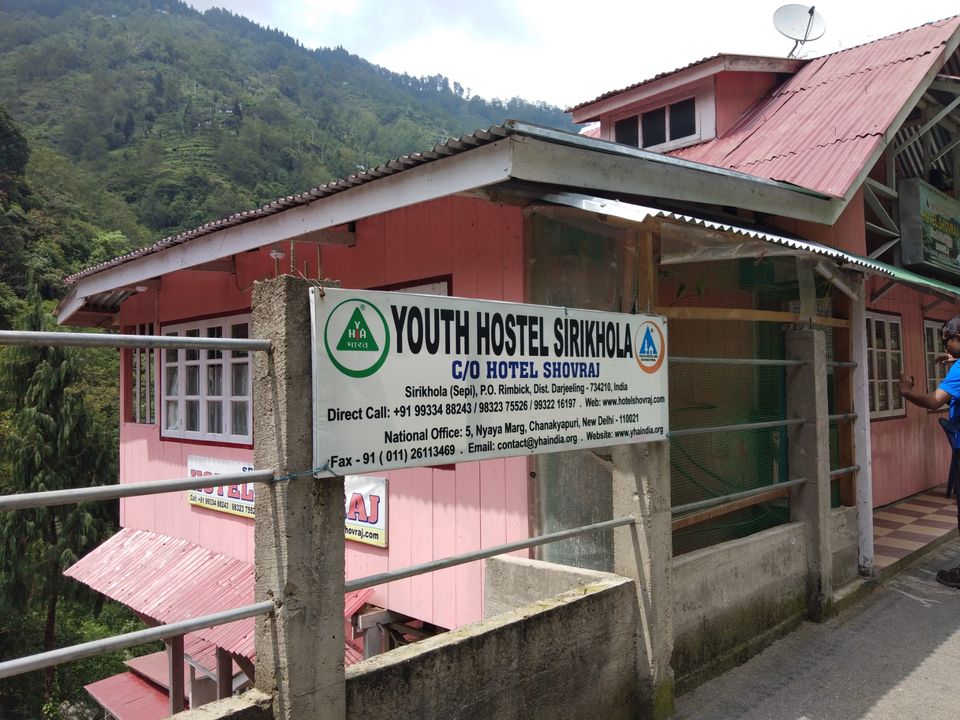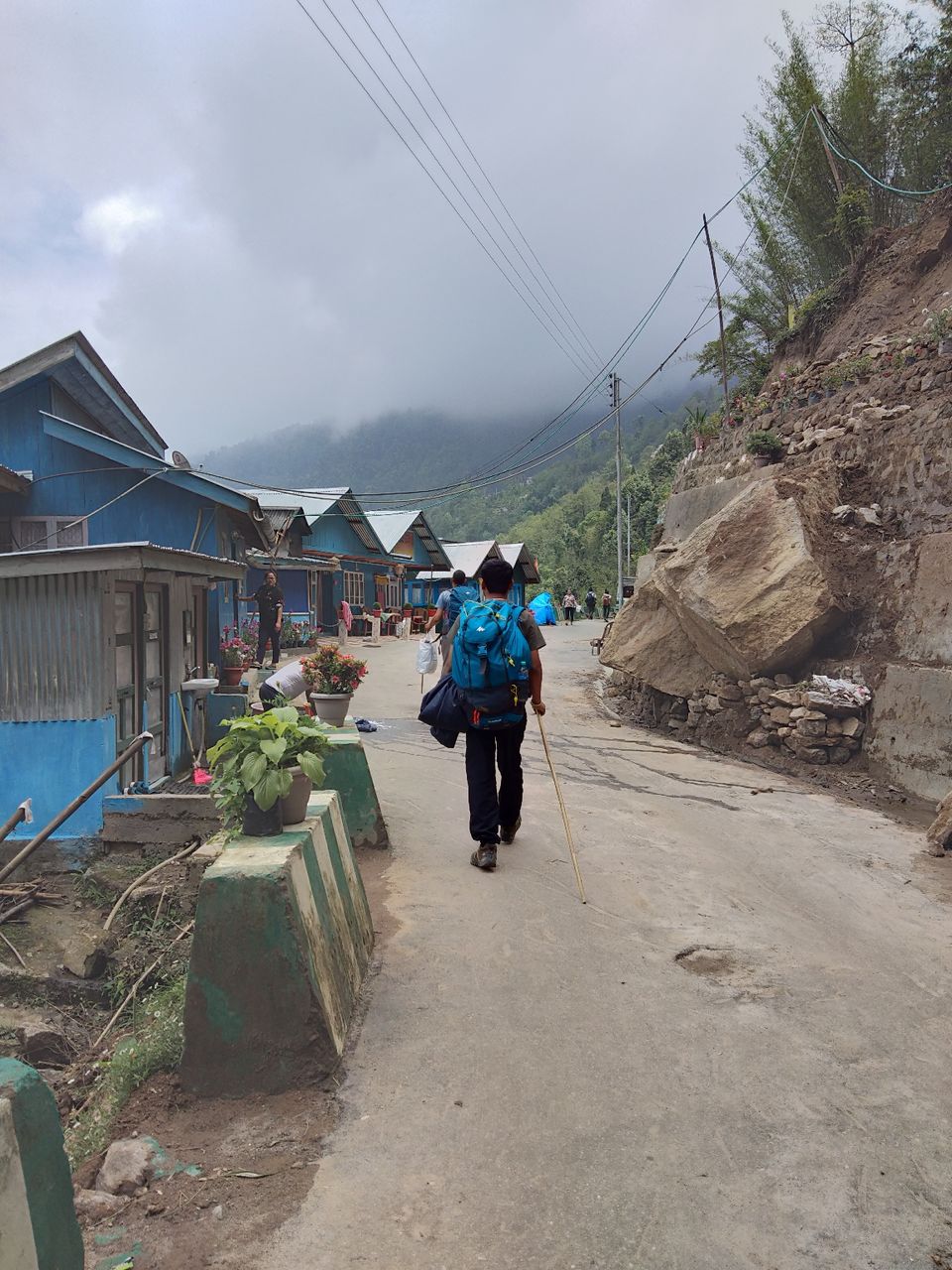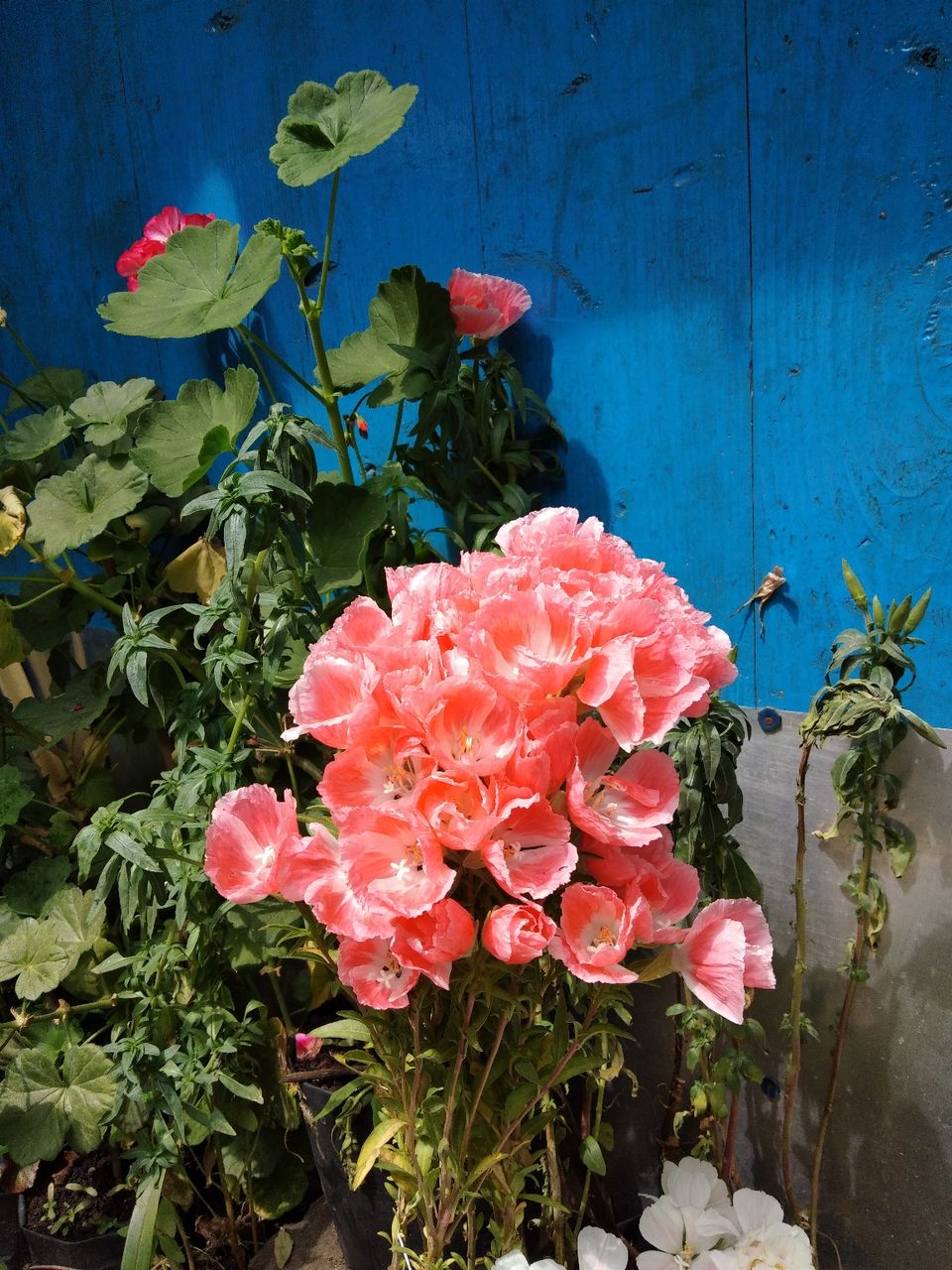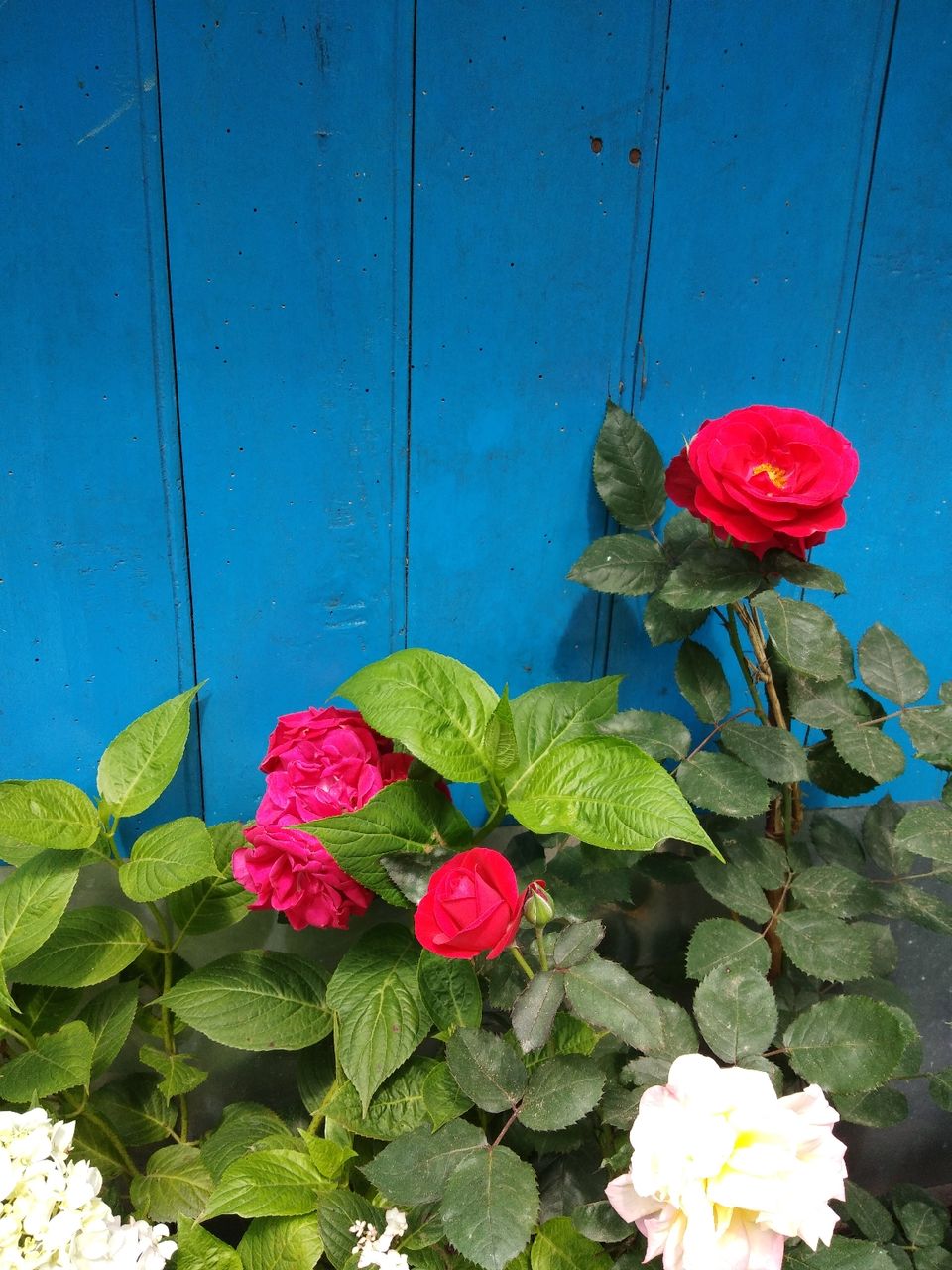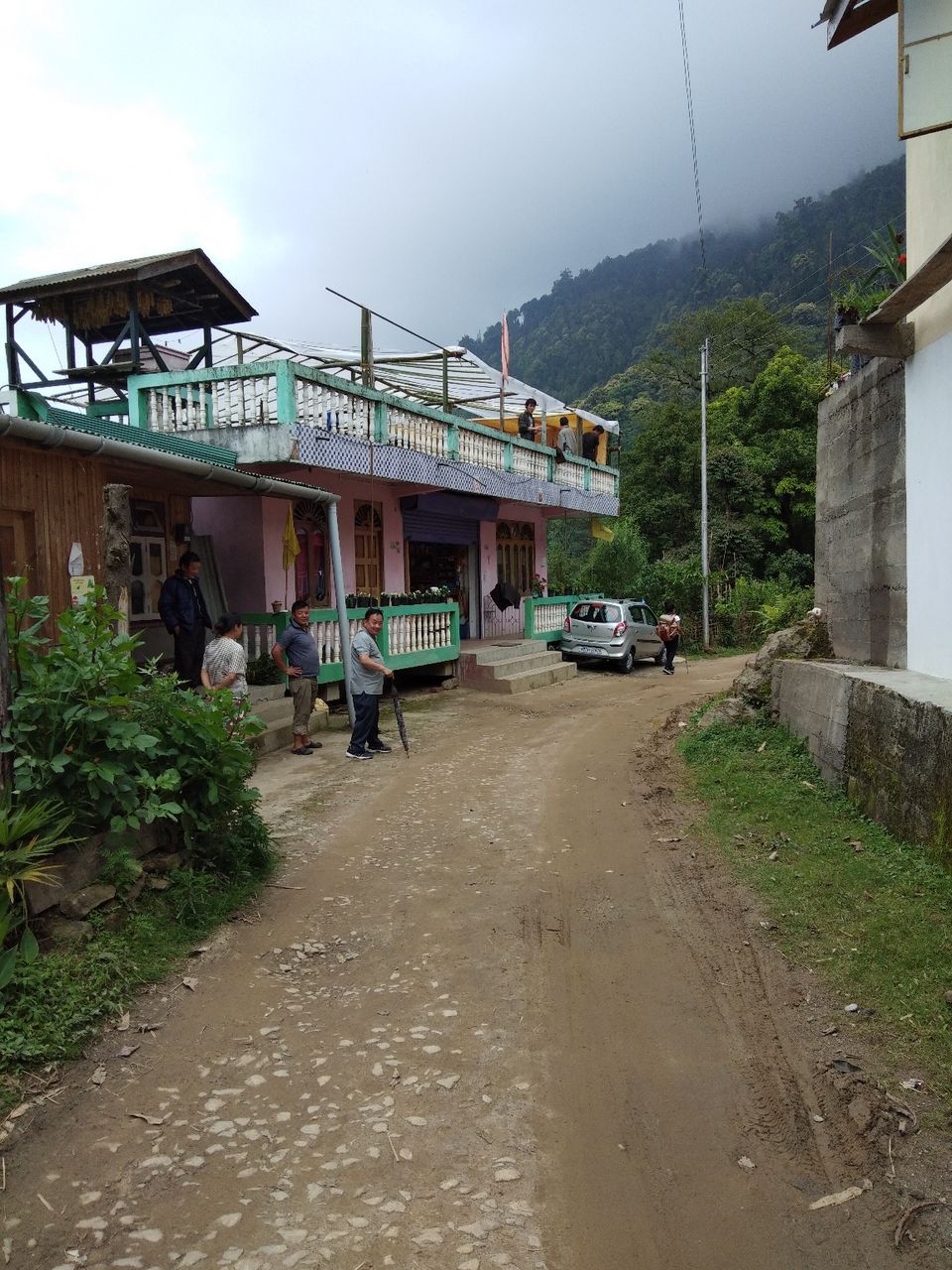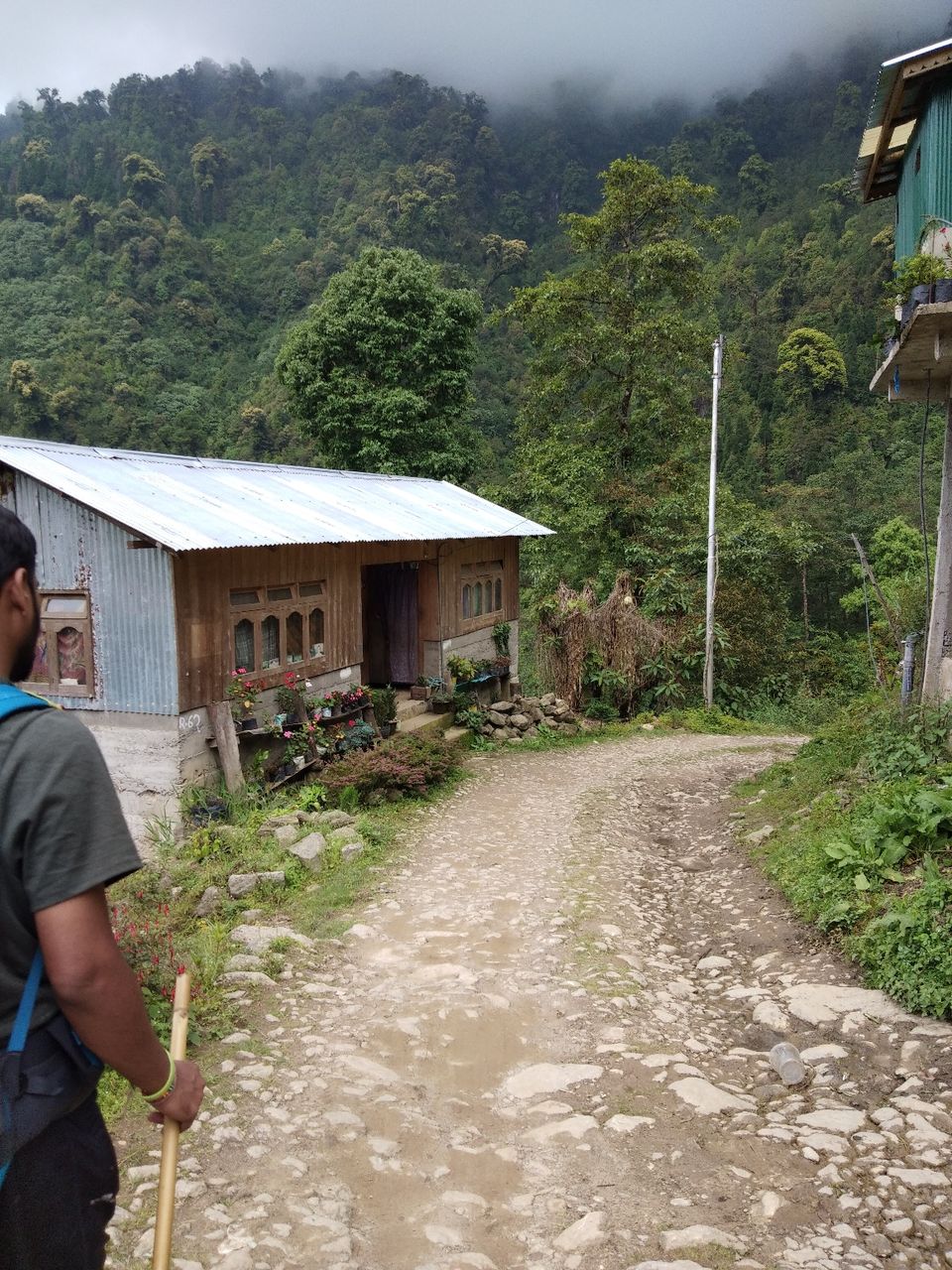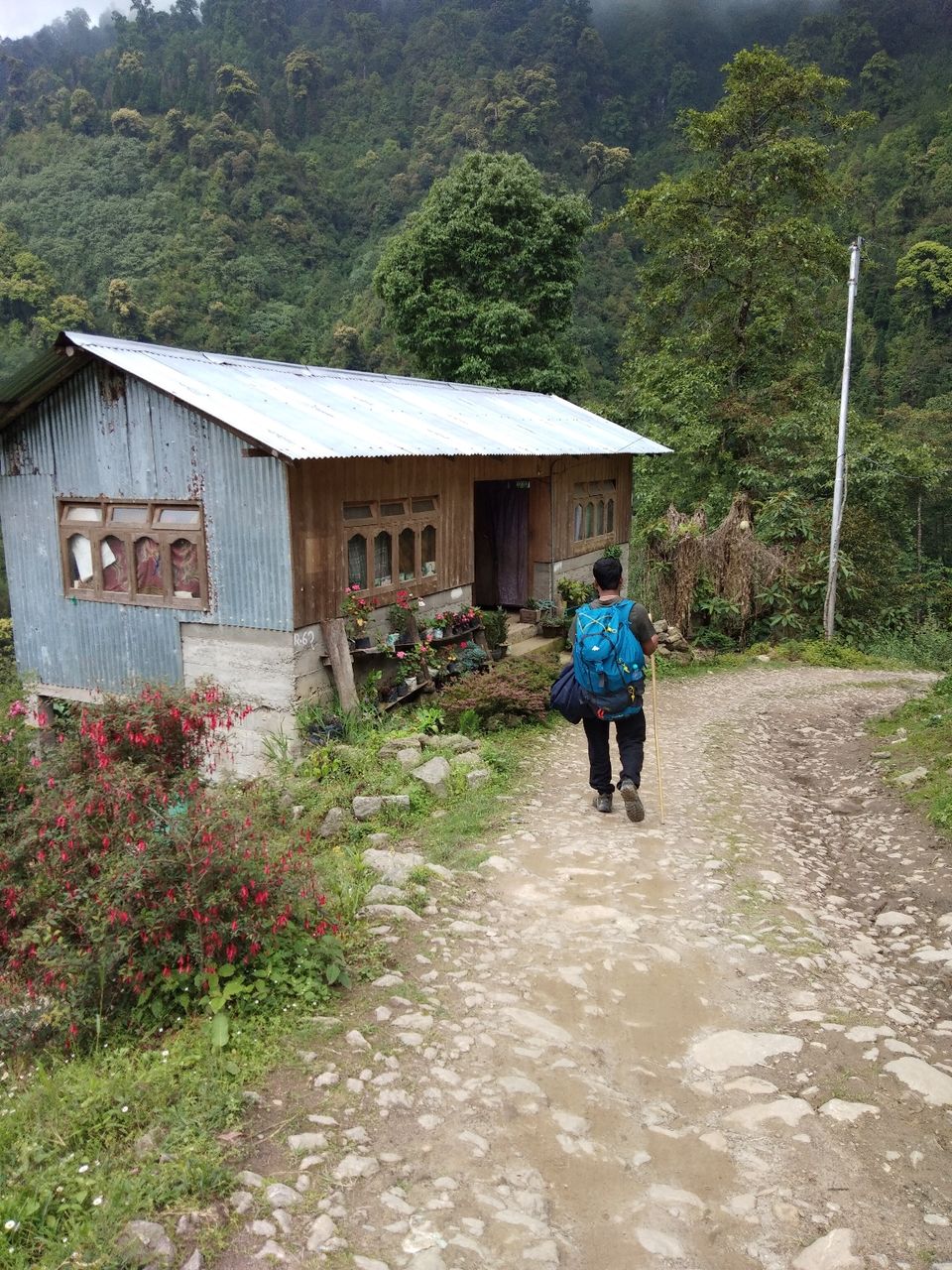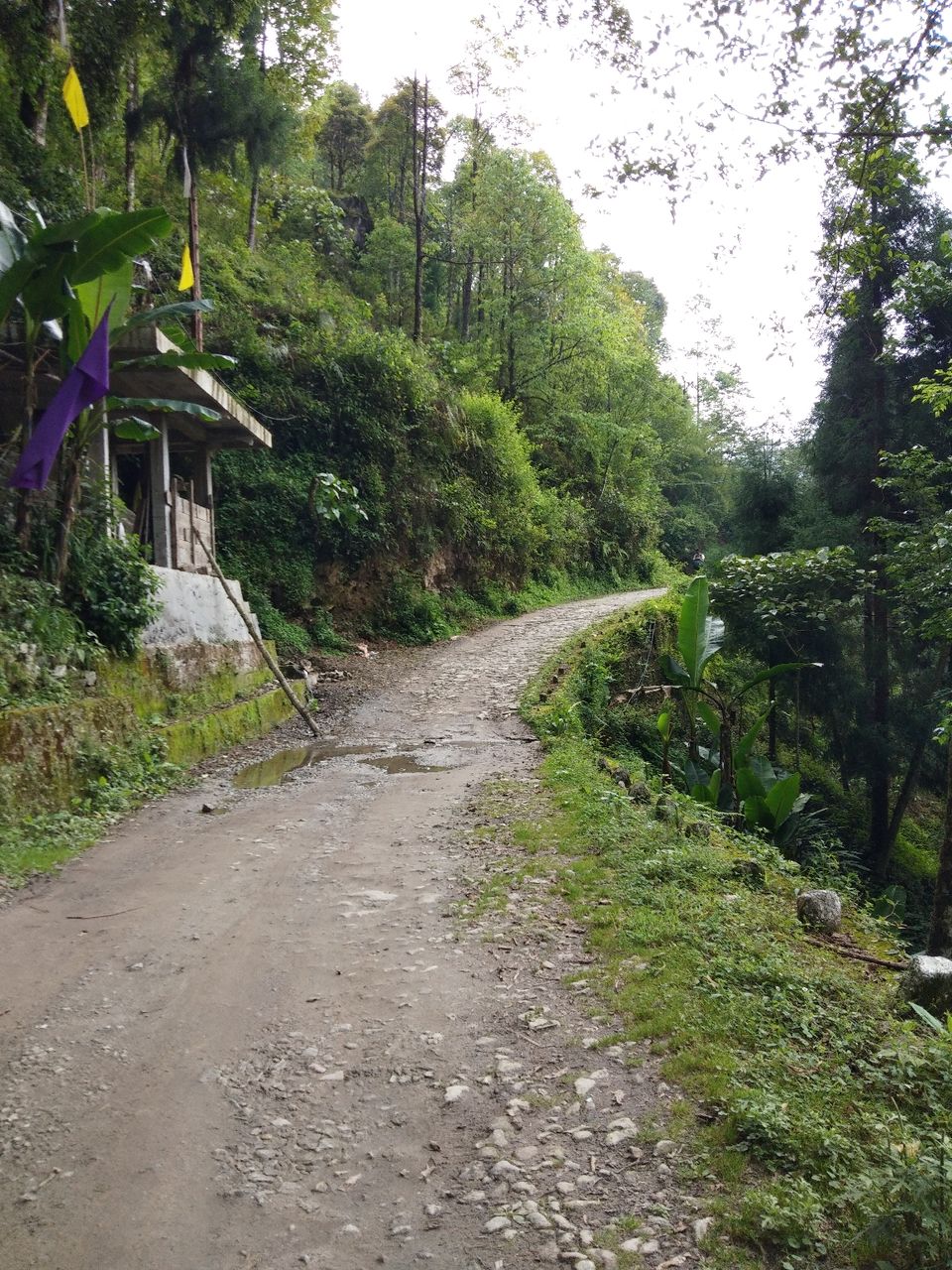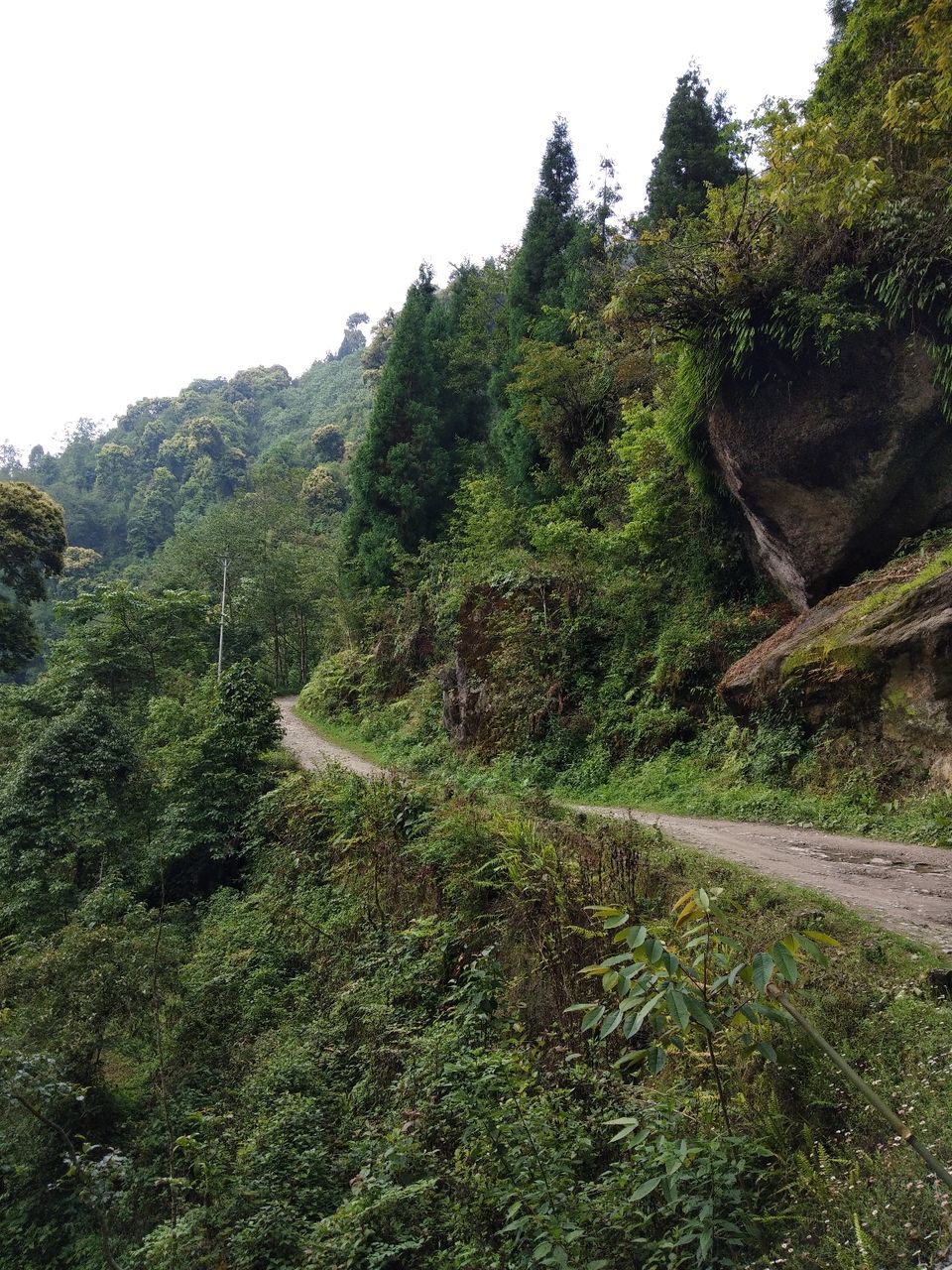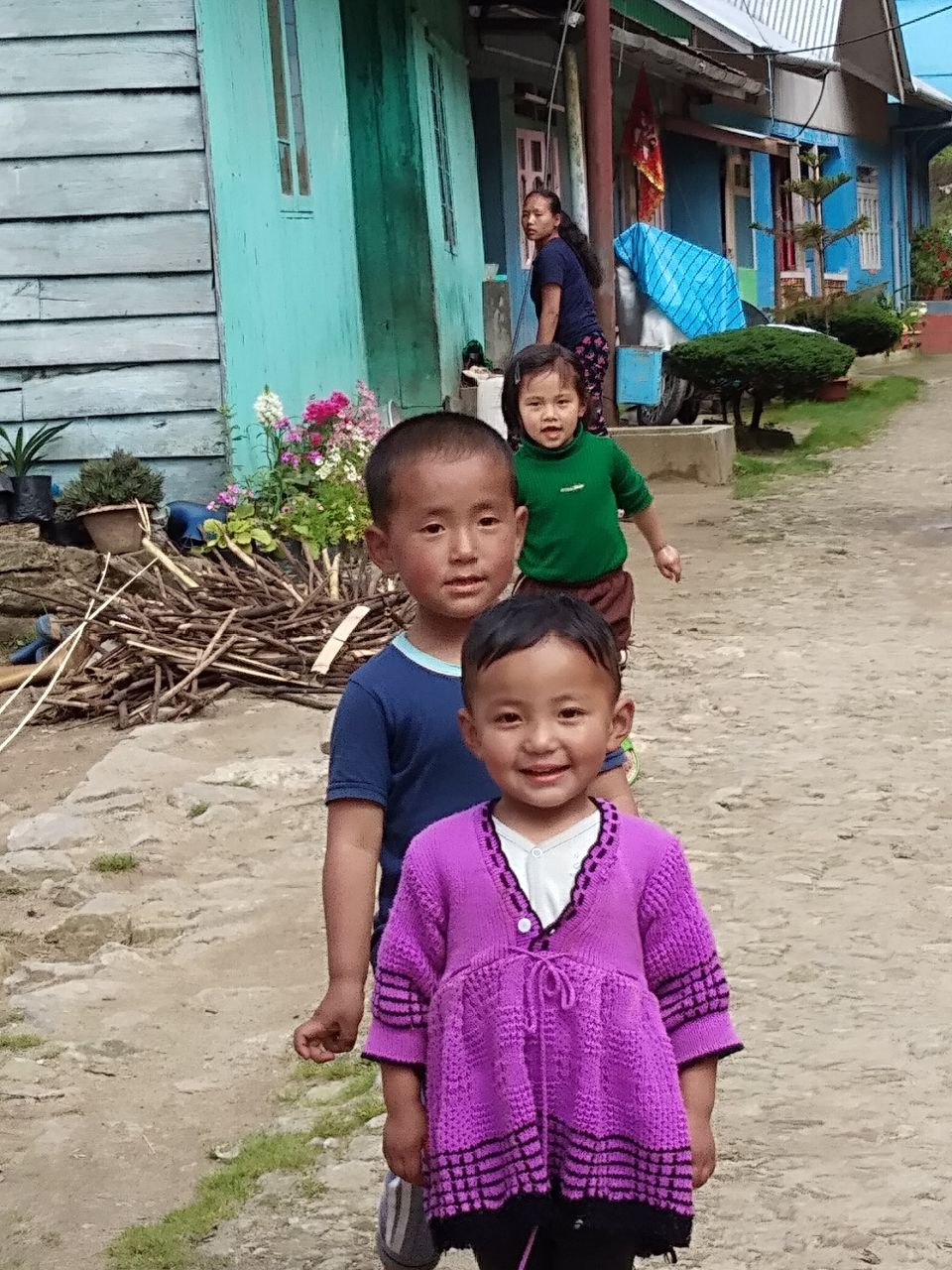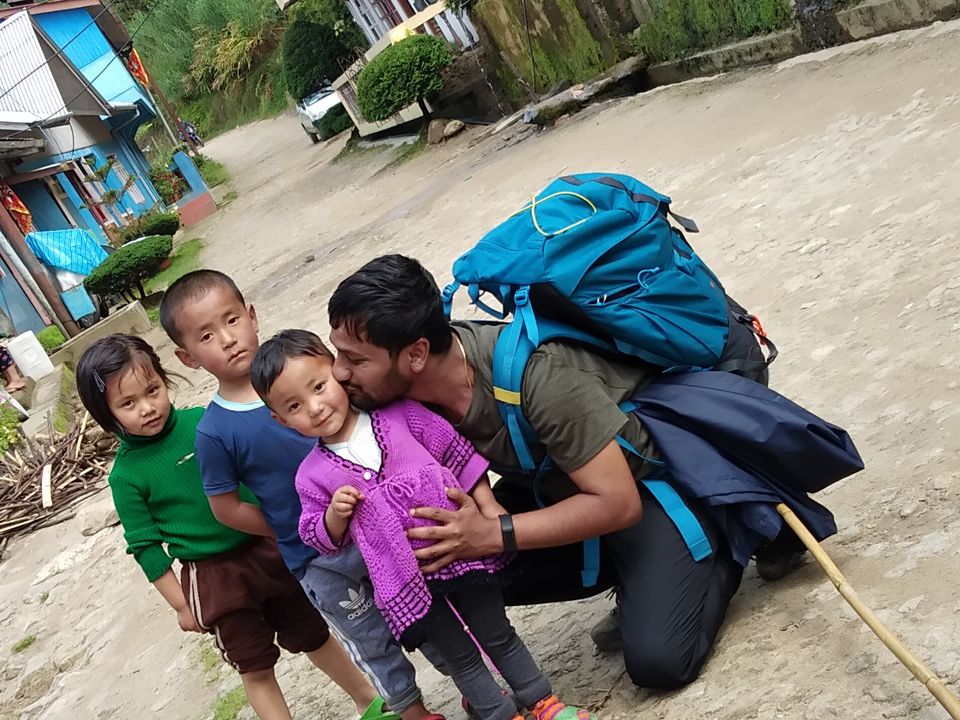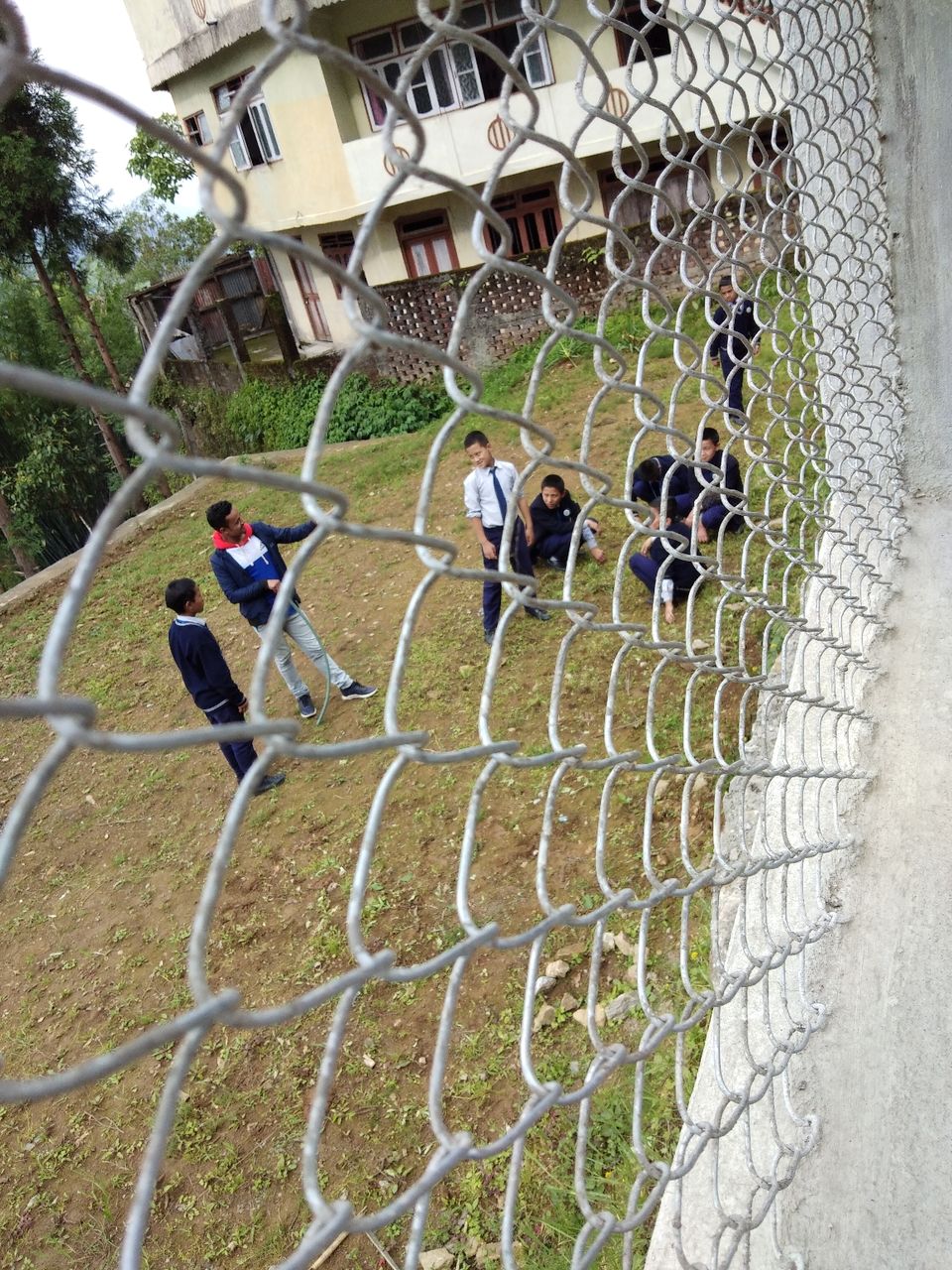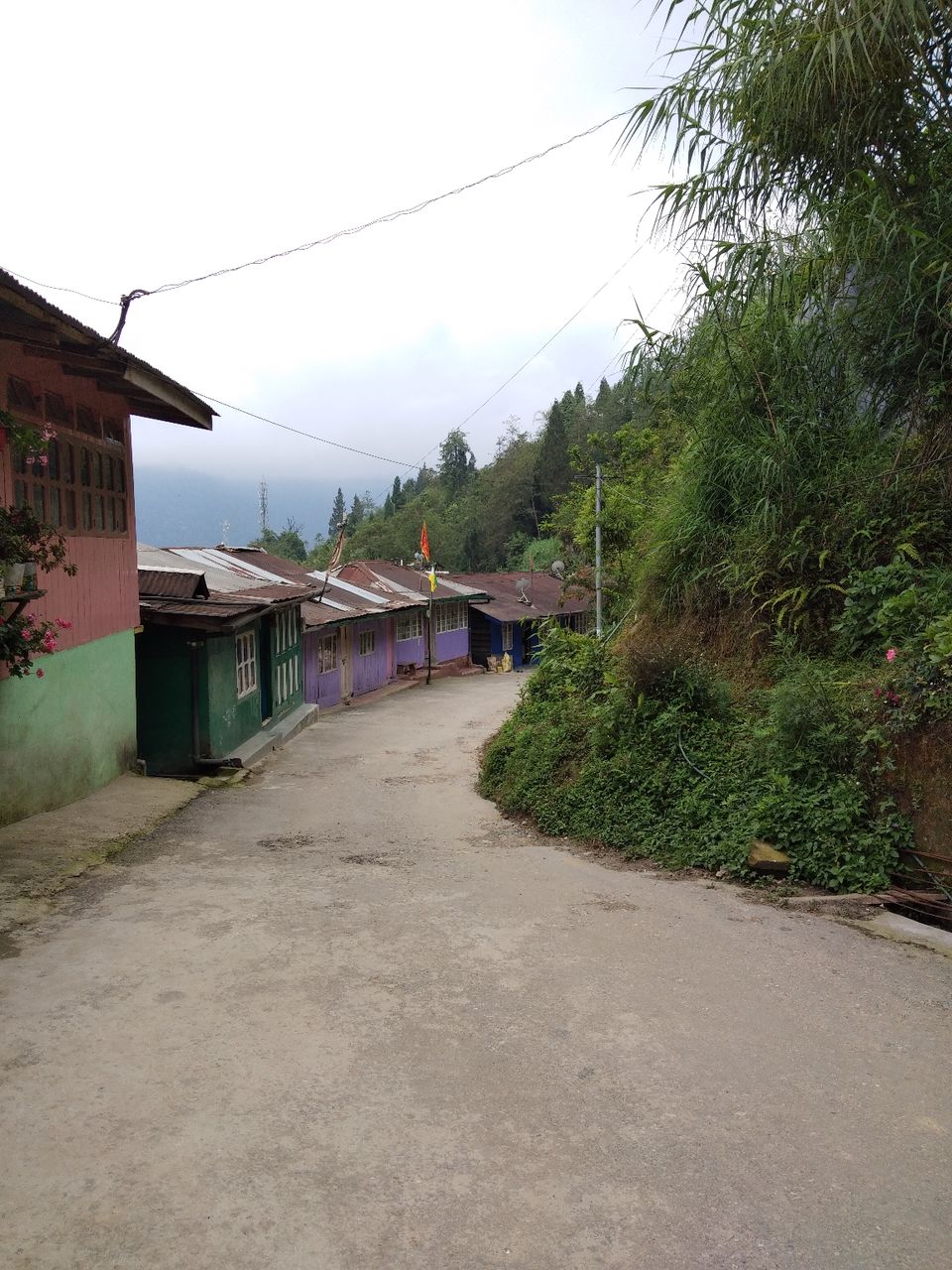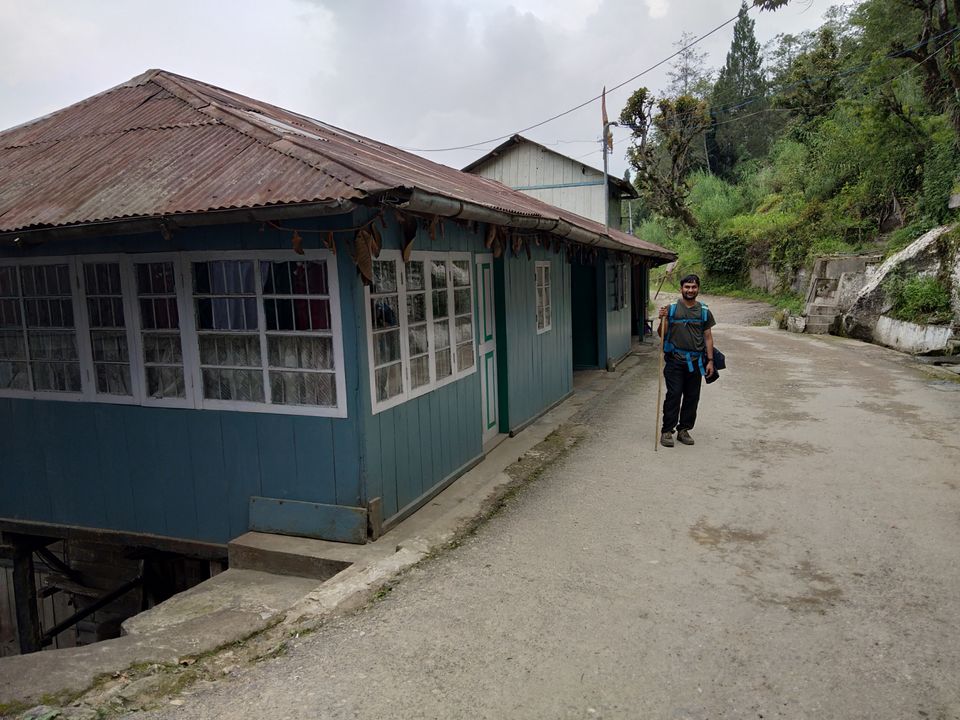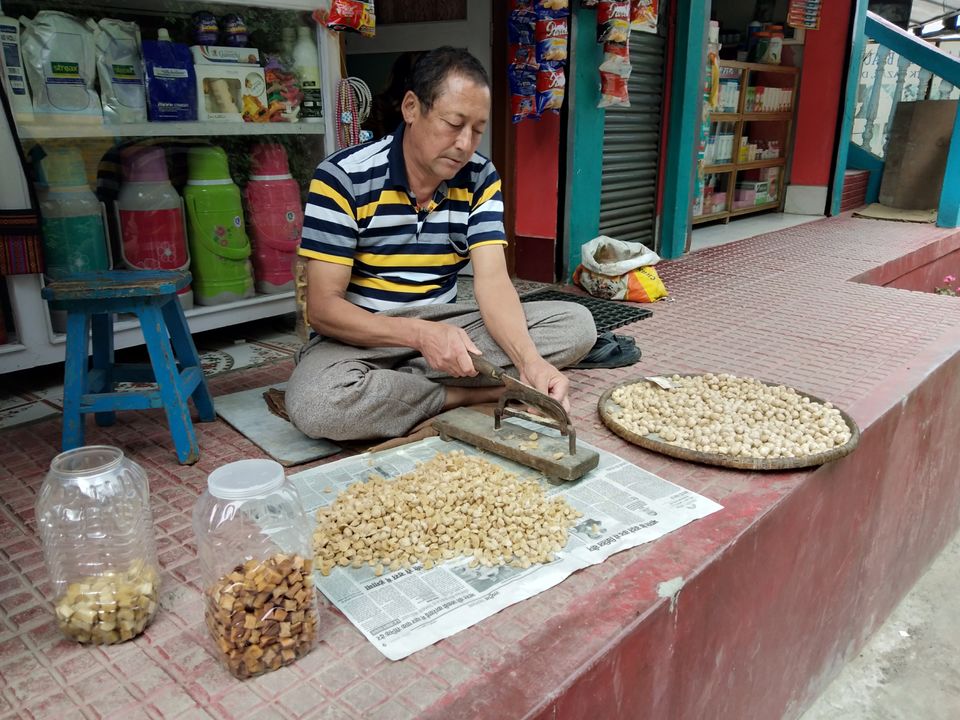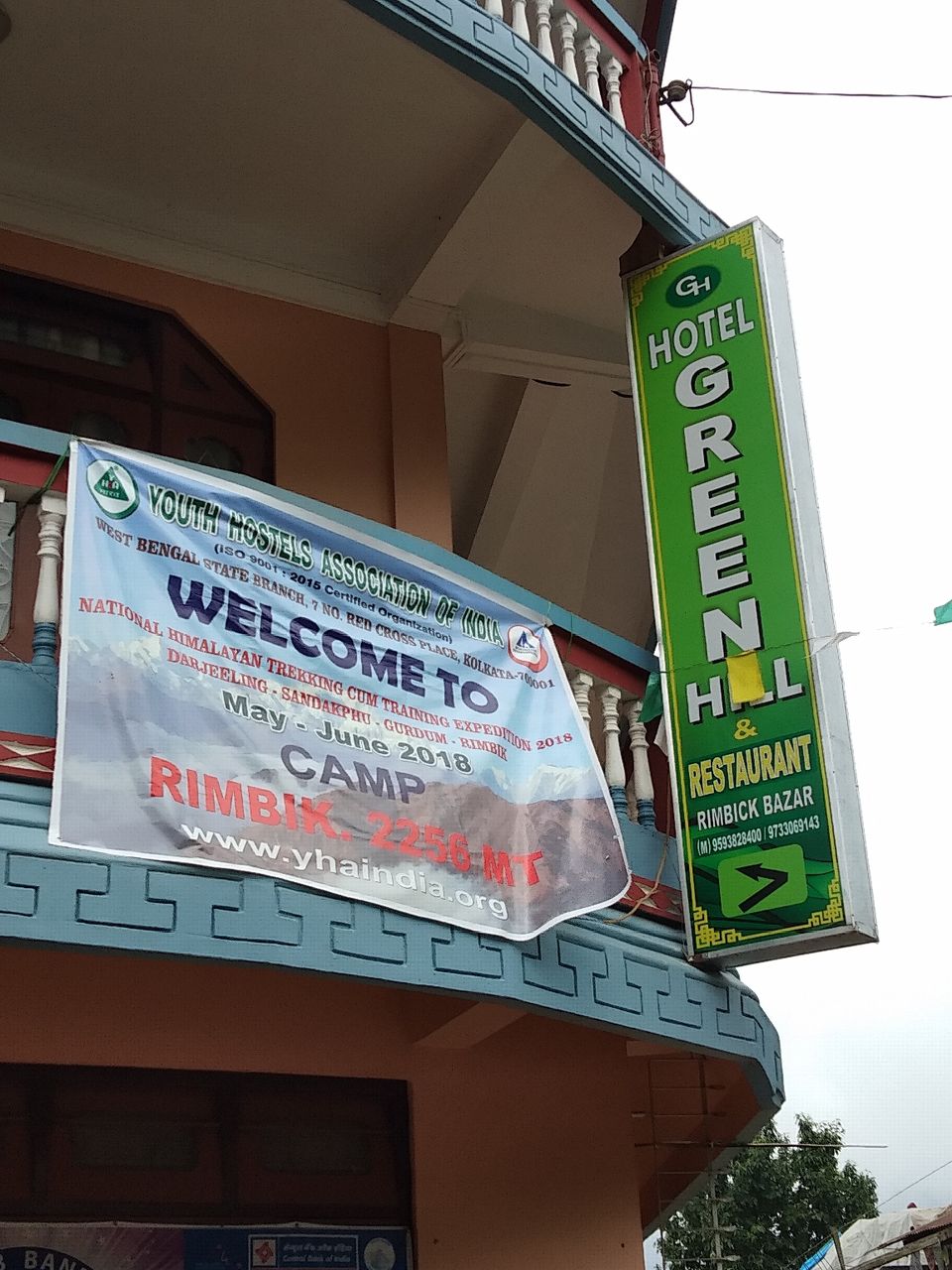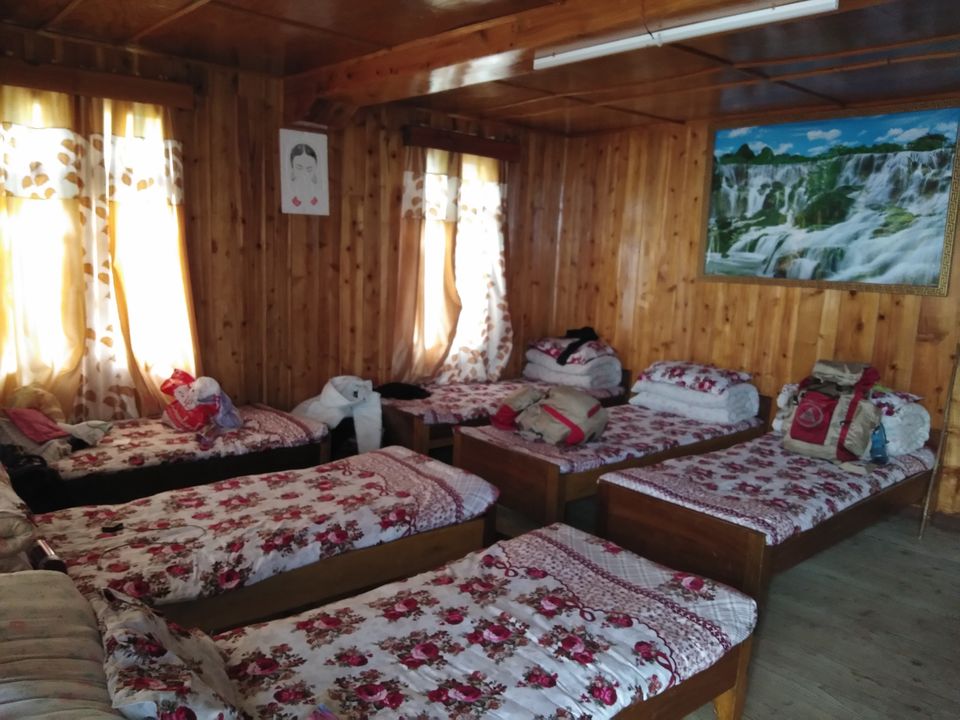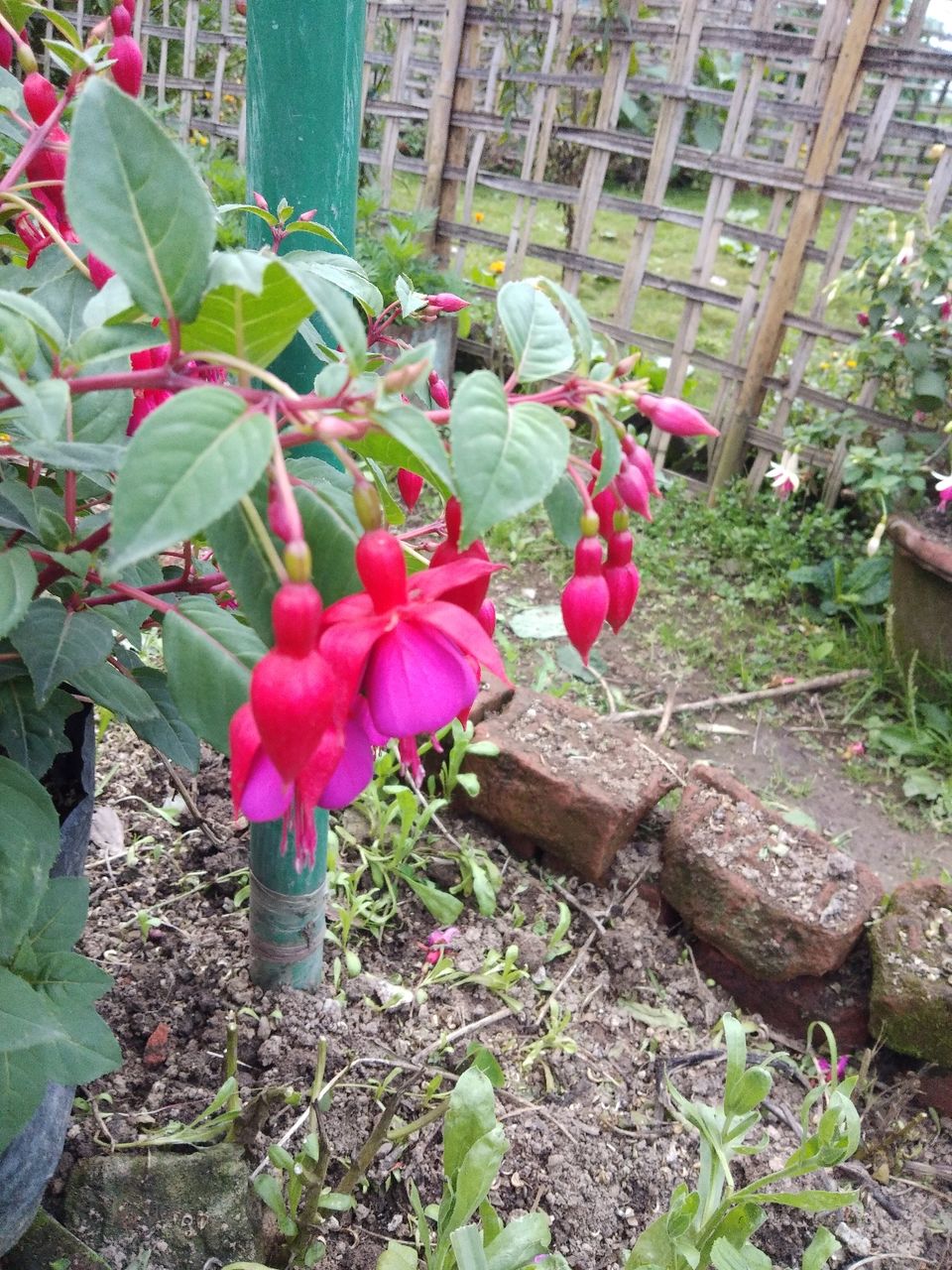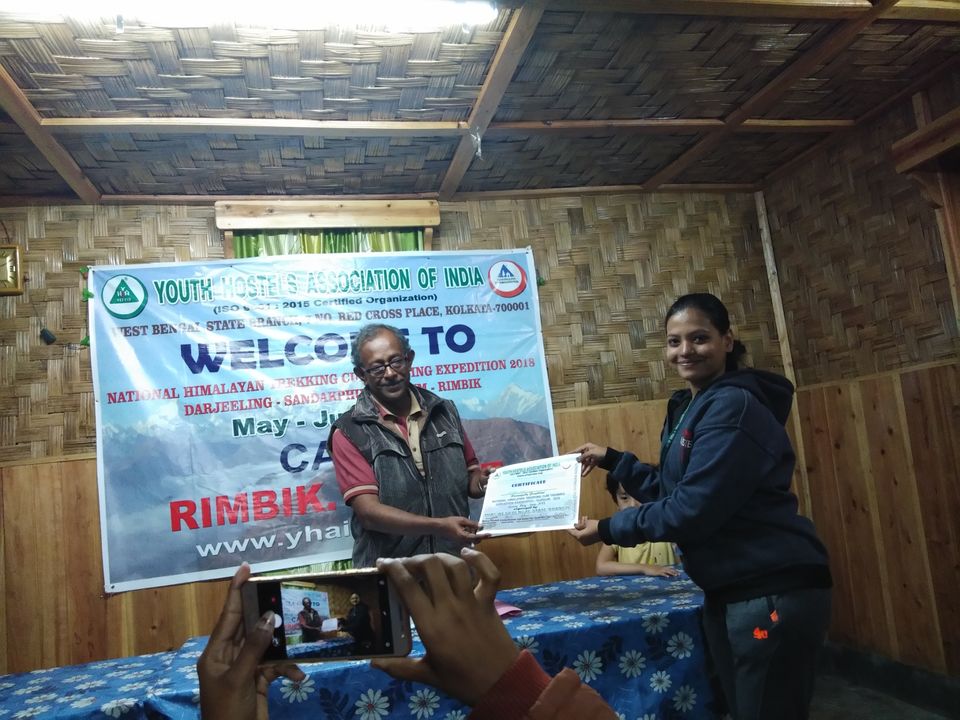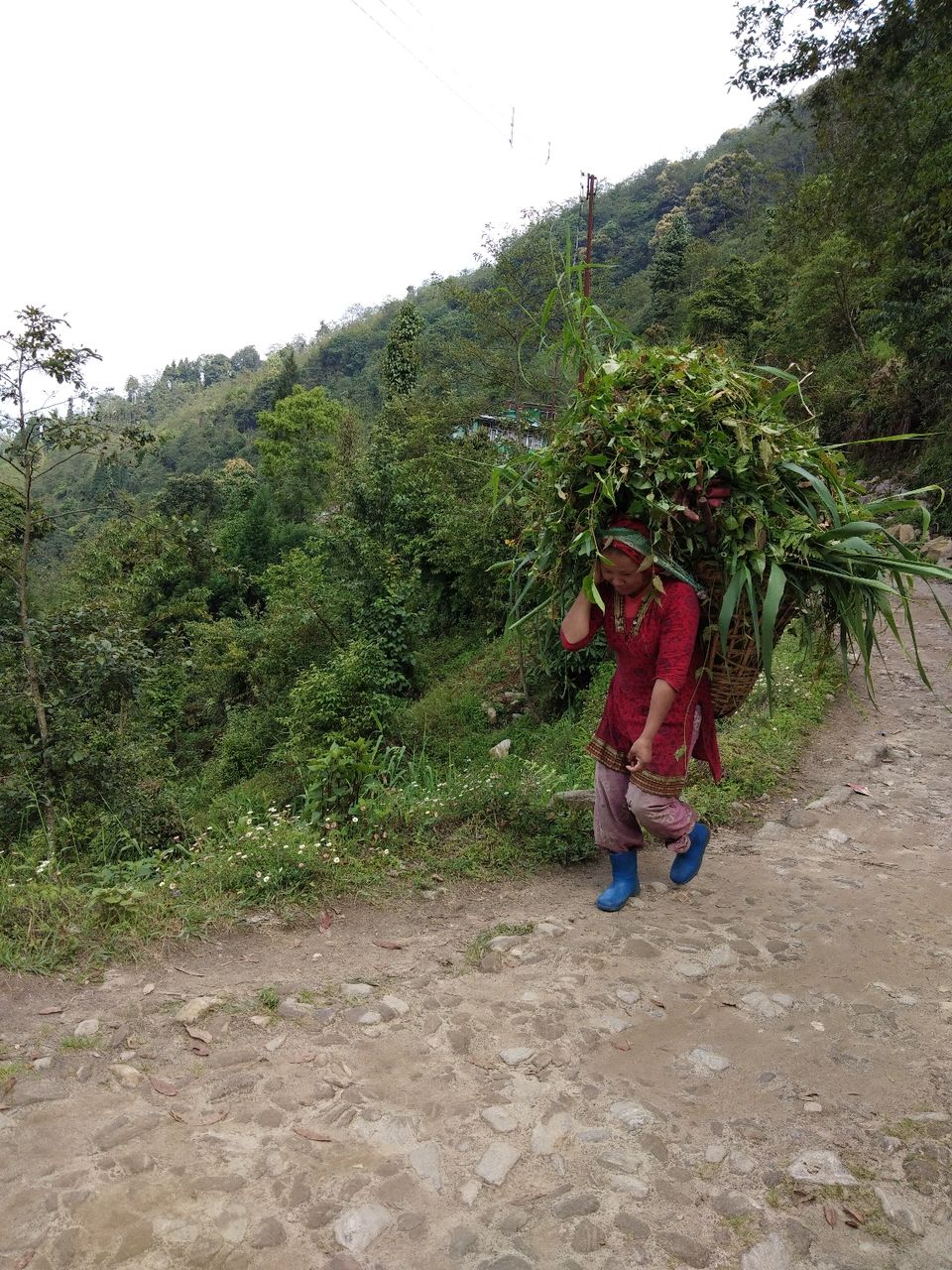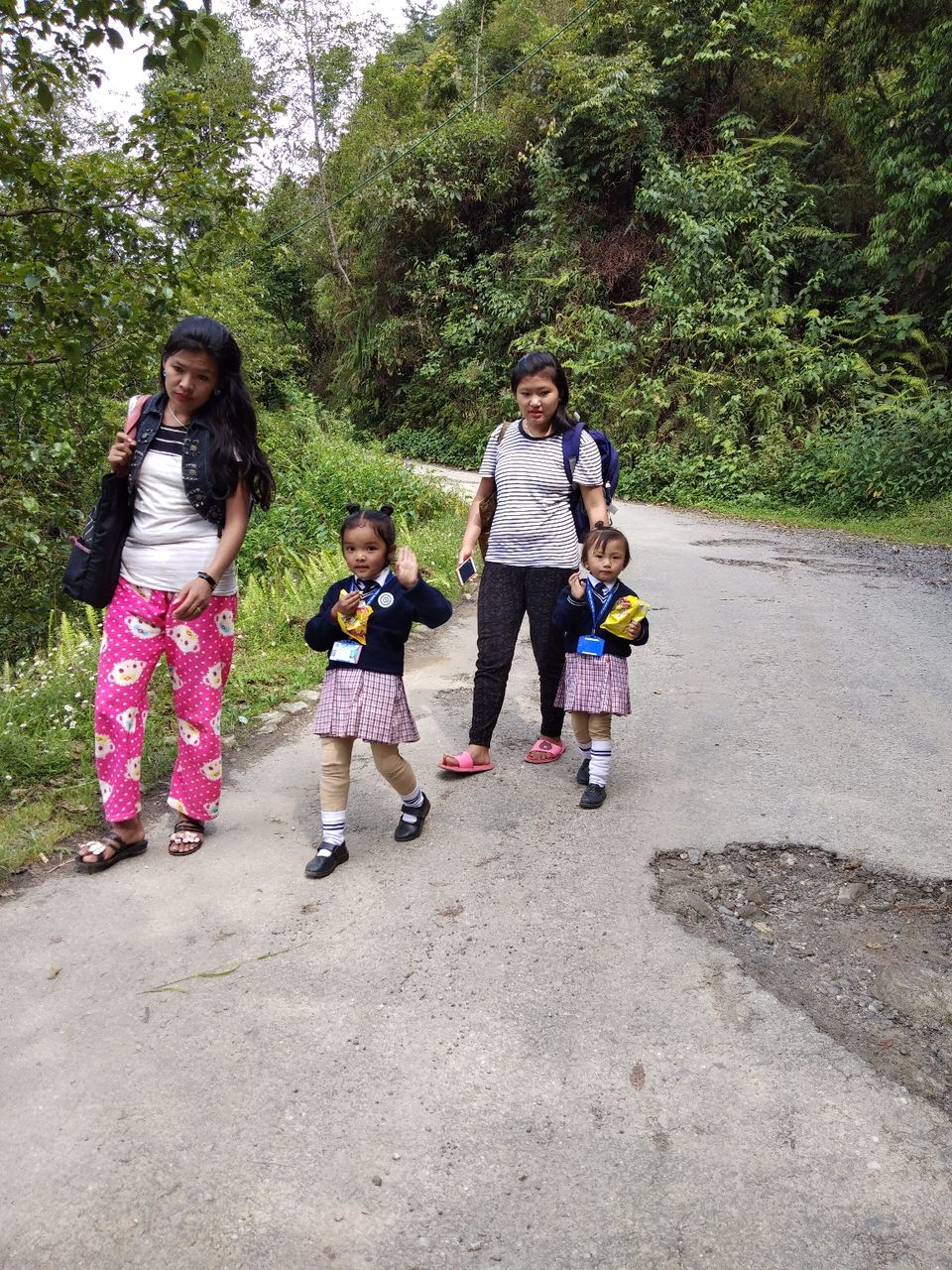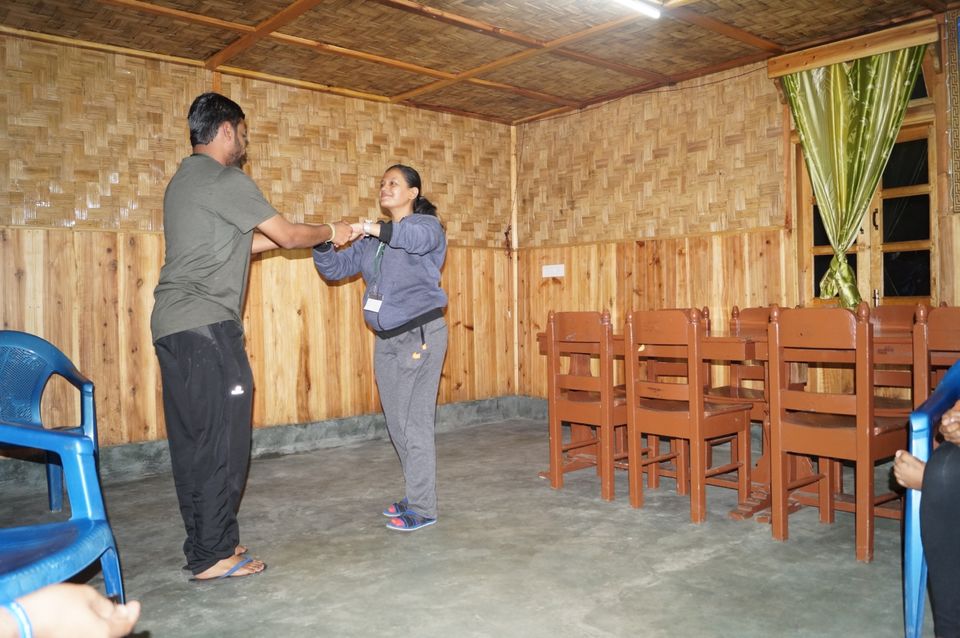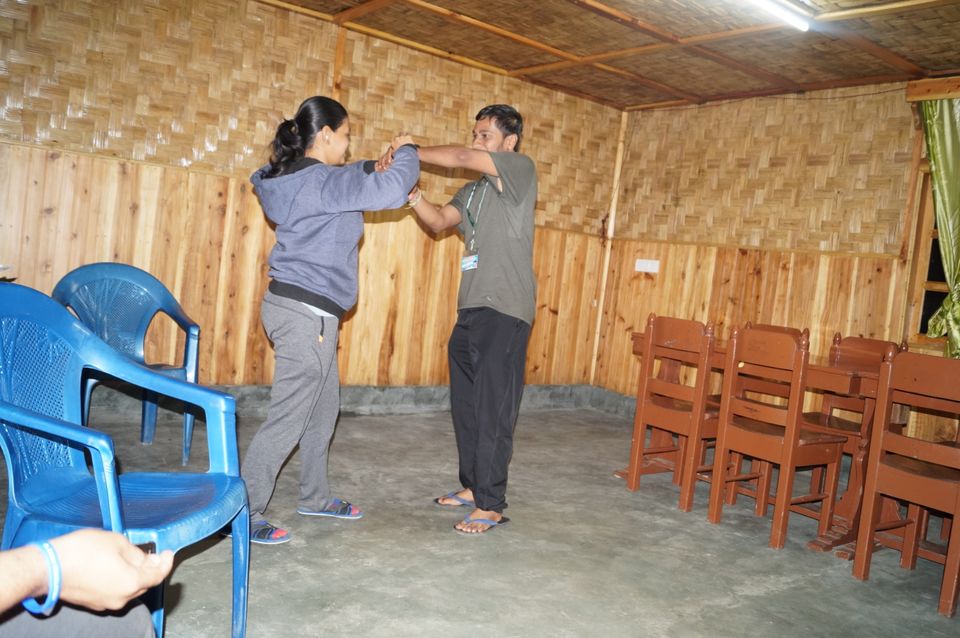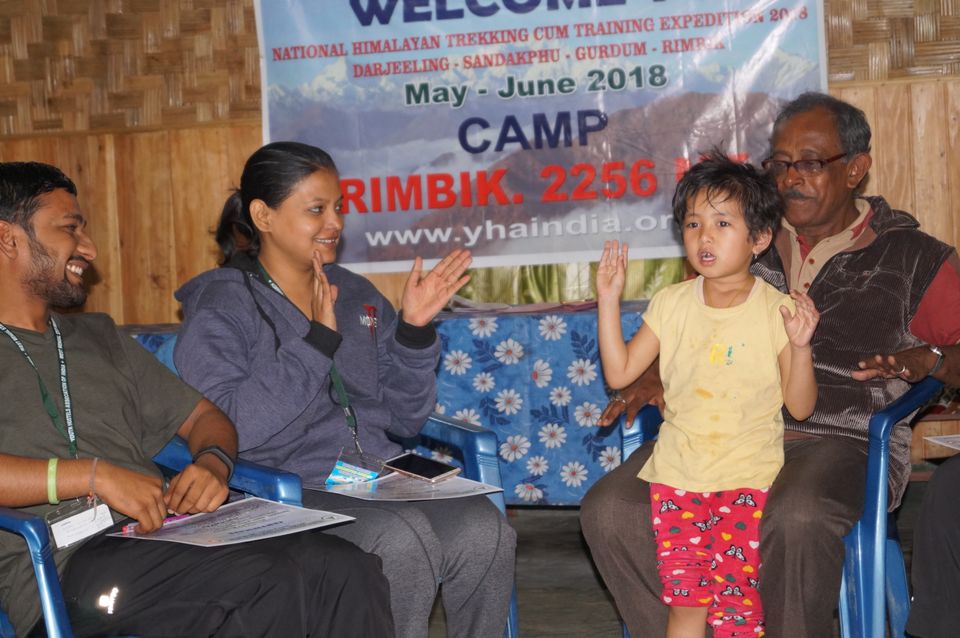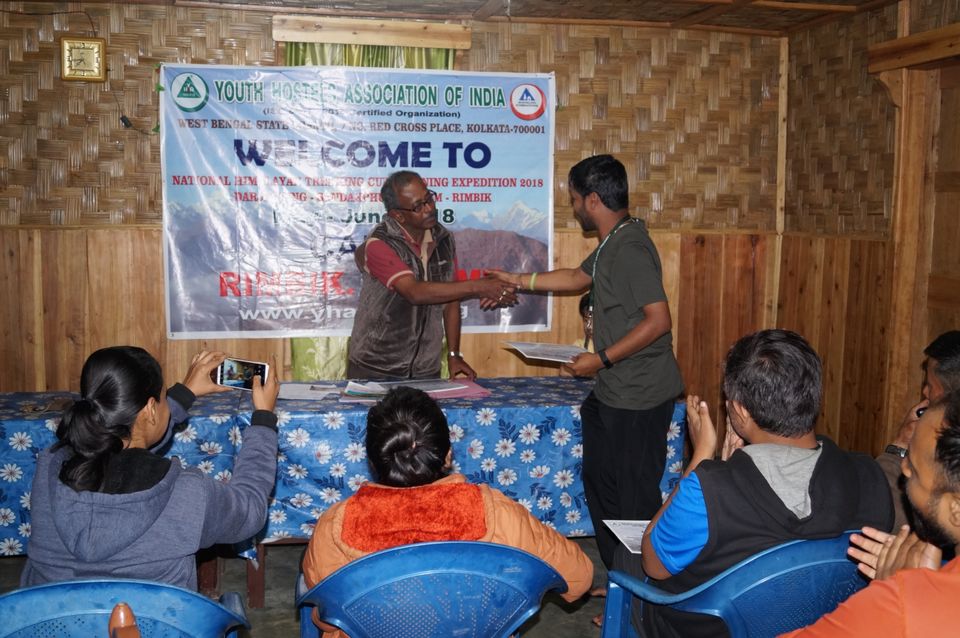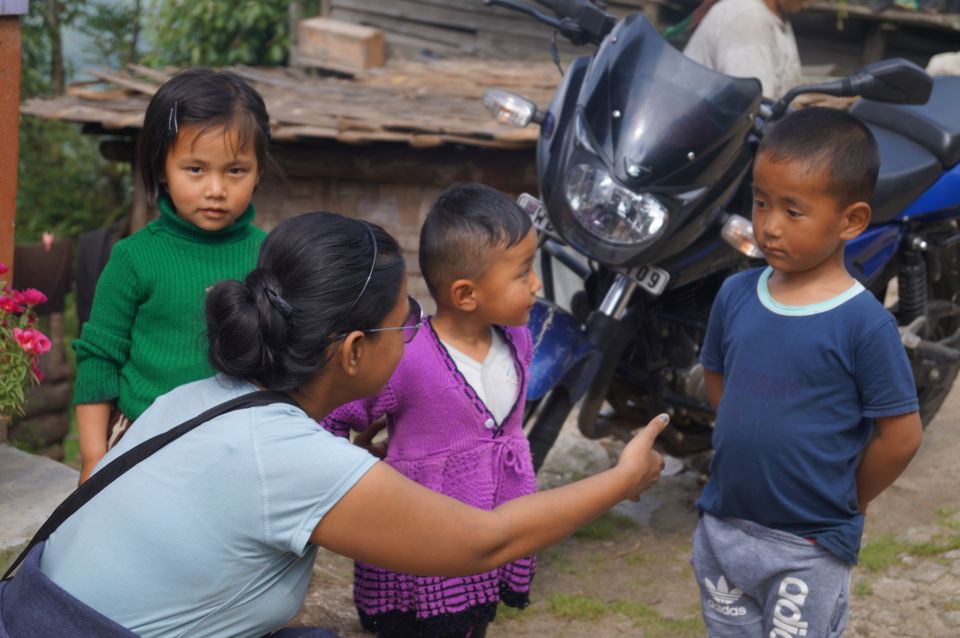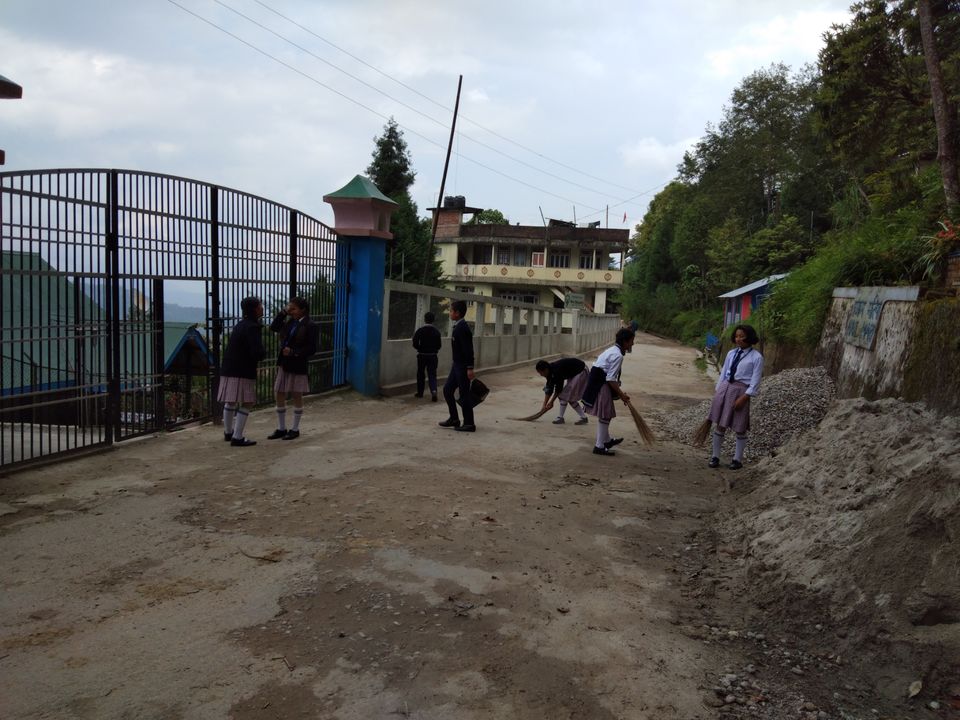 Next day morning we left for Darjeeling via dhotrey in a Jeep.
The villages  enroute like sirikhola, Rimbik are so very beautiful and peaceful that one can skip Darjeeling and come here to stay and have a wonderful vacation. After this trek, I feel Darjeeling is an overrated vacay destination. There are so many other places in west Bengal, around Darjeeling where one can have a good vacation.
It was indeed a memorable trek in my life with lots of varied experiences. Trekking or hiking teaches you a lot about nature, weather climatic and cultural heritage of the area, people and their livelihood, occupations, agriculture, history and Geography and mainly,  you know yourself better, your potential and stamina, patience level and many more things which are personally beneficial in long run.
Lastly, to sum up I can say, Sandakphu is a must do trek in a lifetime. I'm short of words to pen down the beauty and charm of this trek.
Happy Trekking!