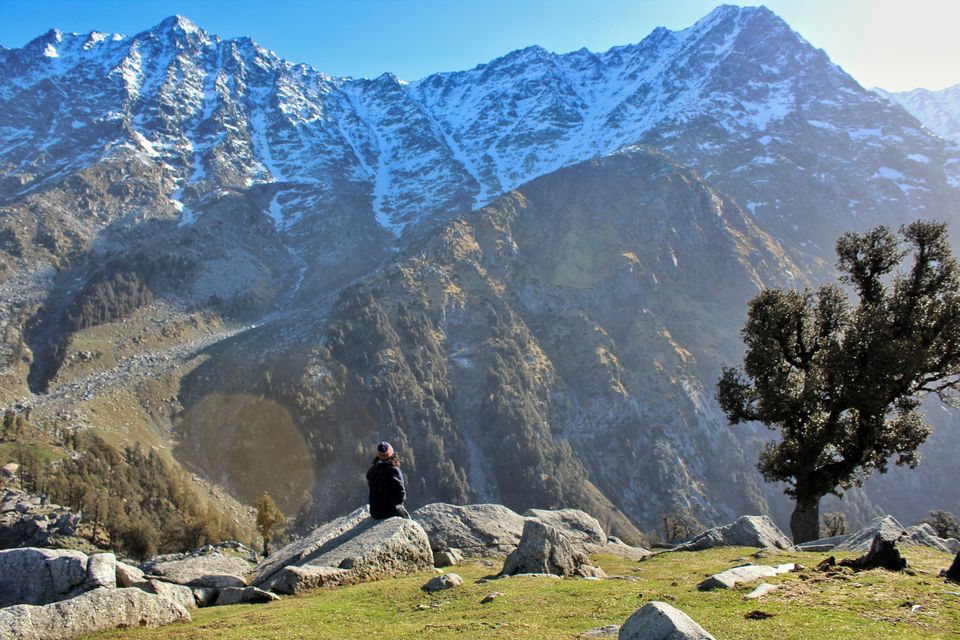 After an adrenaline fueled airline adventure in Bir, I was off to Mcleodganj. But who knew that my adventure in Mcleod would beat the one in Bir too!

After changing 3 buses, from Bir to Palampur to Dharamshala to Mcleod, we were finally in the town of "Little Lhasa". From a peaceful quaint little town of Bir, I was in the chaos of the narrow streets in Mcleod.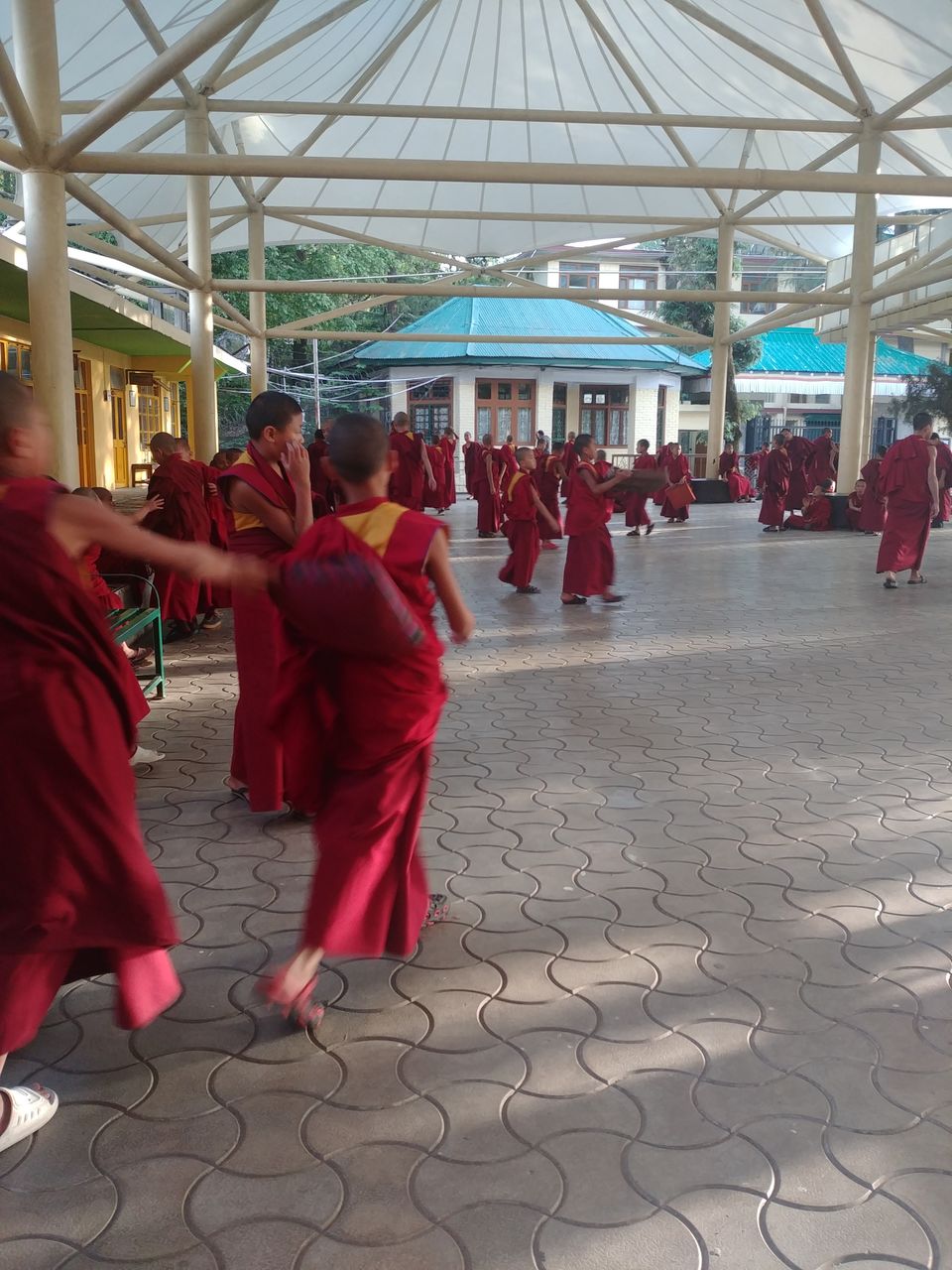 Until recently, the Tibetan influenced small town of McLeod Ganj, was the place to be with its Tibetan temples, monks and refugees and but now it is completely commercialized, overflowing with souvenir shops and a lot of tourist vehicles creating traffic jams. Mcleodganj is not what is was a couple of years back. Things have changes drastically. With increasing popularity of Mcleodganj and a huge influx of tourists year on year, it is quite difficult to find solitude in this place anymore. So now most travellers decide to stay further up the mountain, in the smaller and quieter villages of Bhagsu Nag, Dharamkot and Gallu. I had my stay booked in Bhagsu Naag in Hostelavie.
Infact there is a very interesting article on how we have ruined Mcleodganj forever.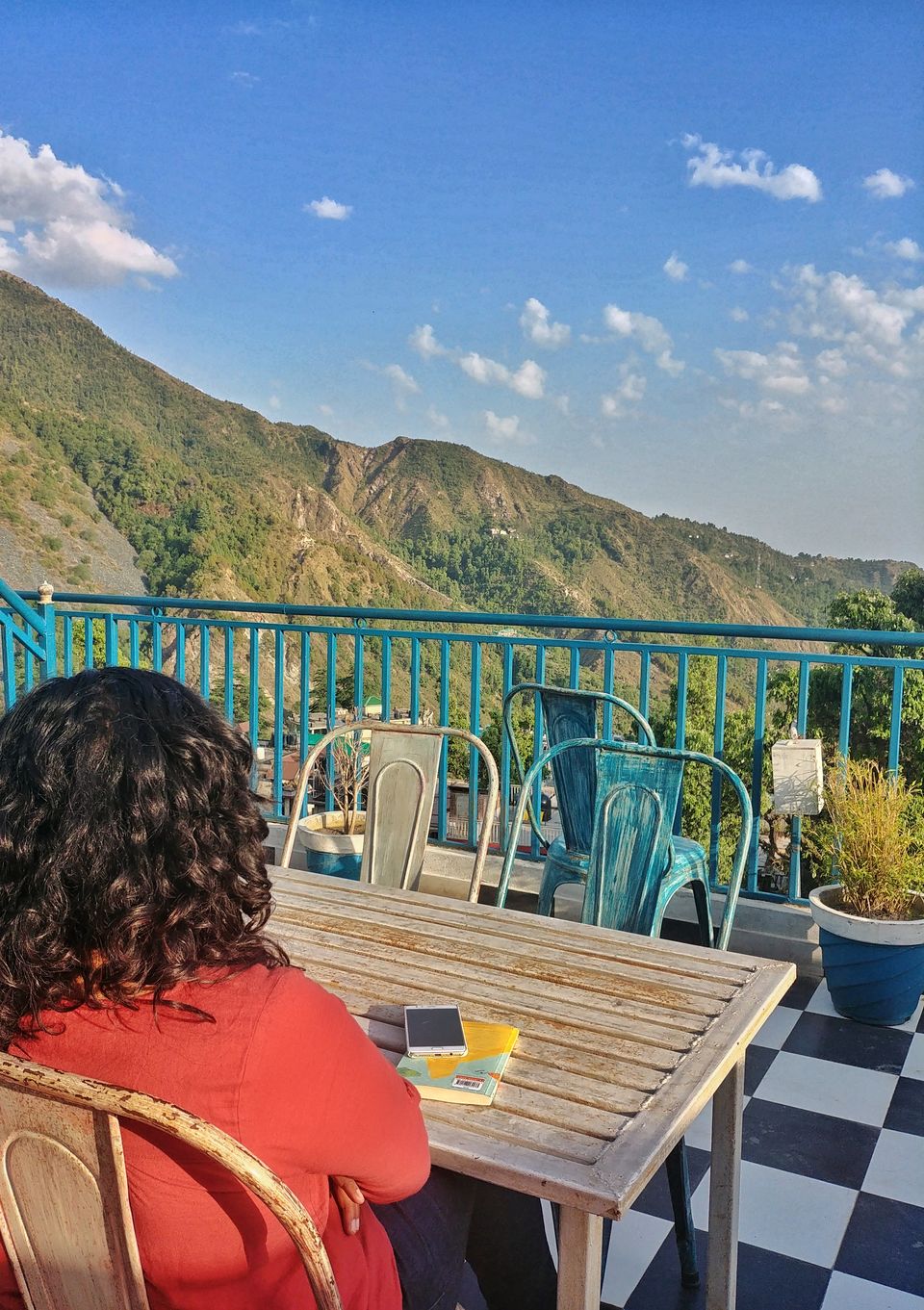 Having said that, I had a couple of days in Mcleodganj and I knew what exactly I had to do. I wasn't up for any typical touristy stuff like visiting the cricket stadium or any monasteries. I decided to give all these a skip and experience the vibe of this place, hike a couple of places and explore some cafes.
Talk about cafes in Mcleod and not visit the most beautiful bookstore café?! Not legit!
Spent my evening in Mcleod, gazing at the majestic Himalayas, conversing with fellow travellers and indulging in some delectable food at Illiterati.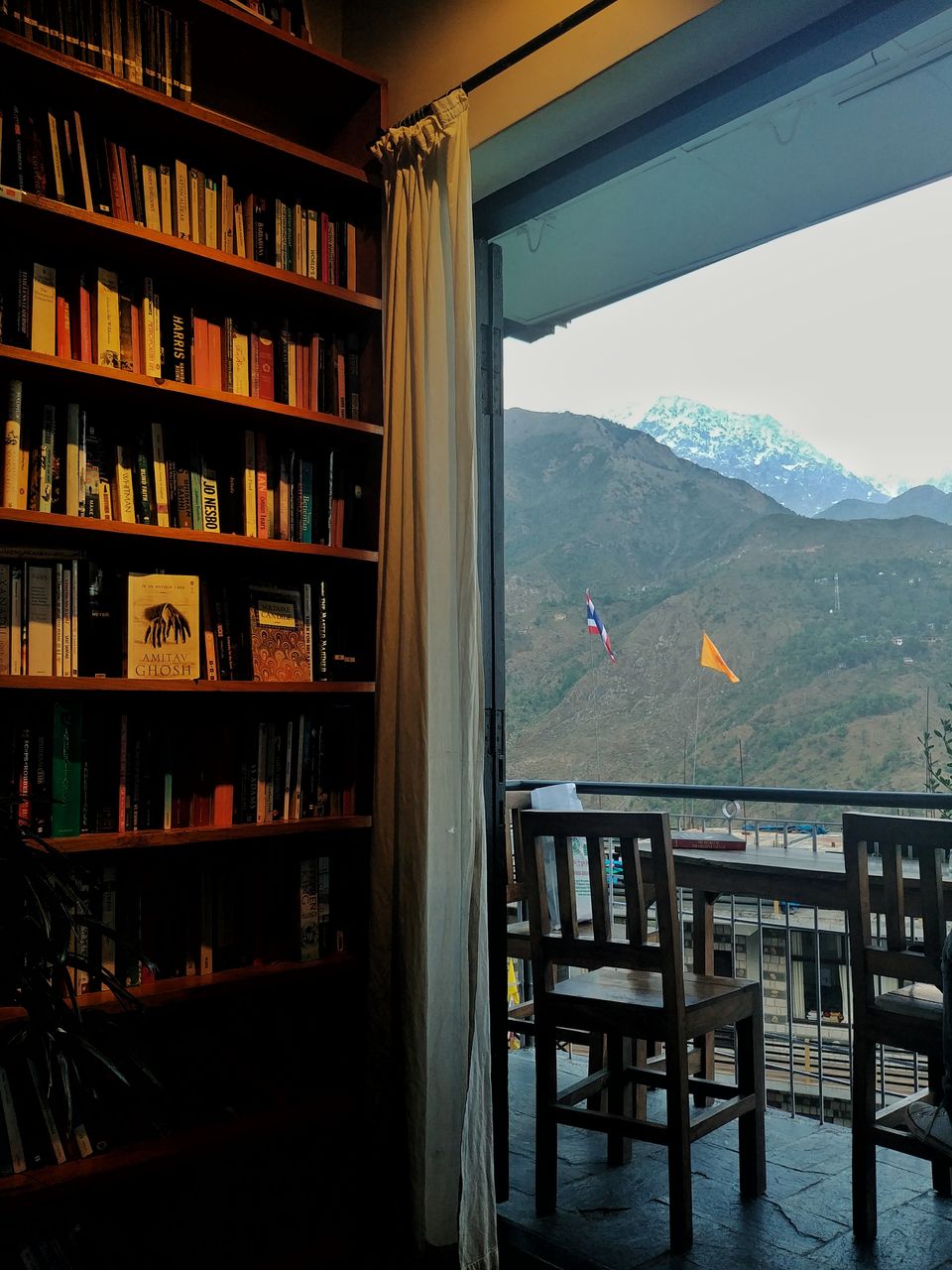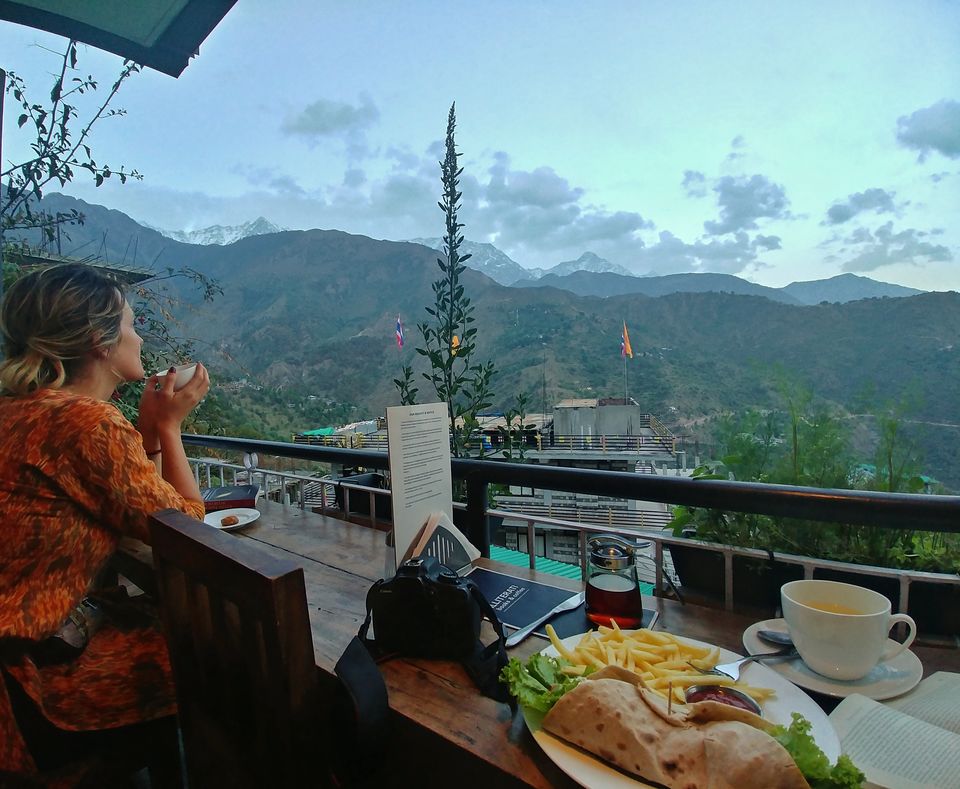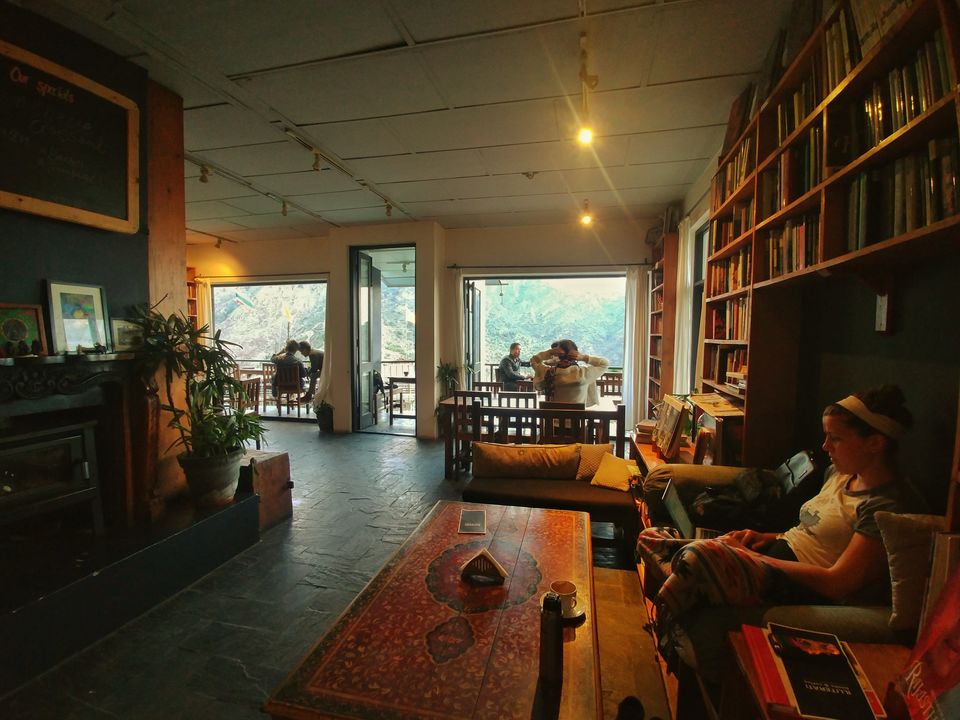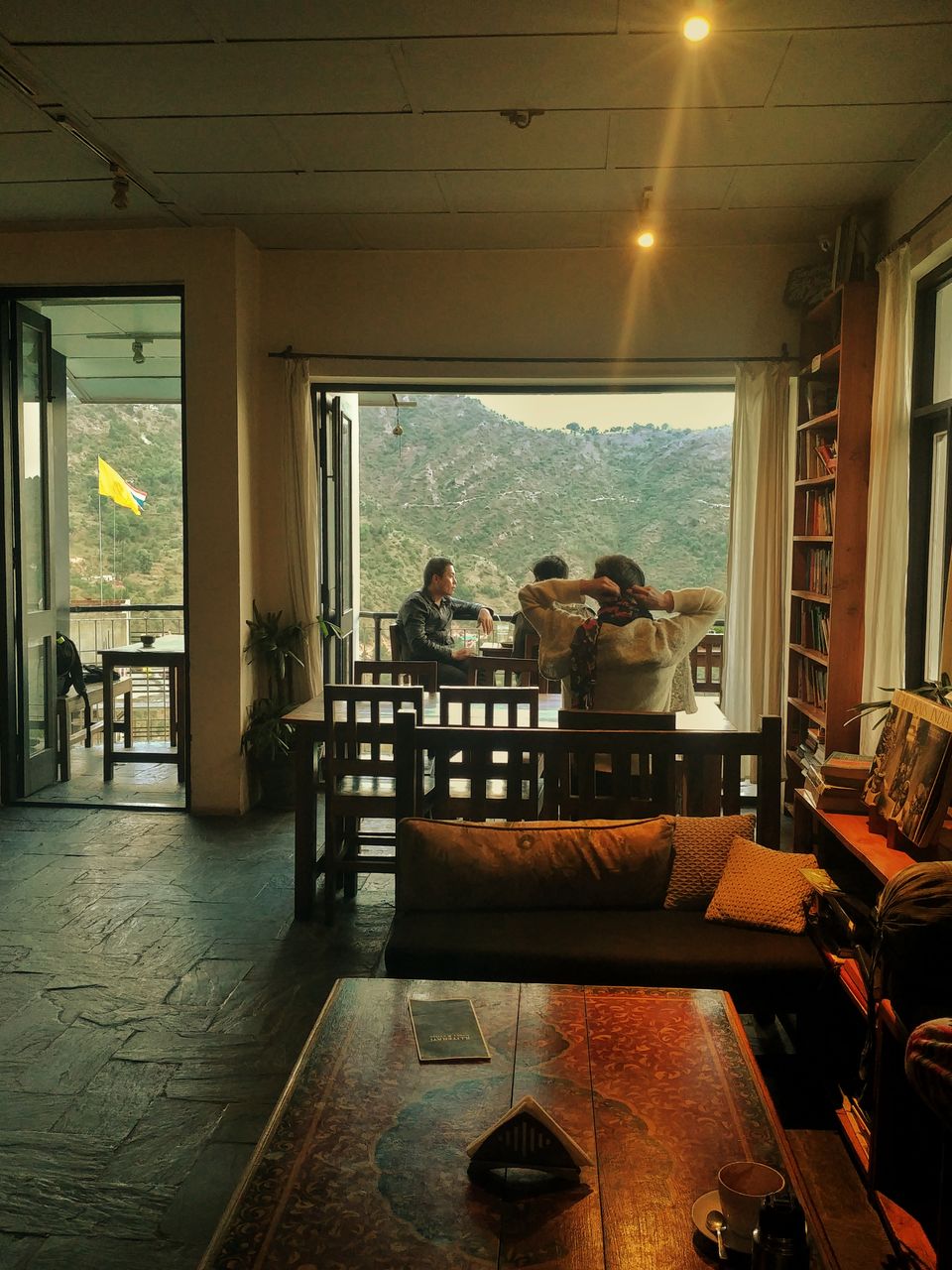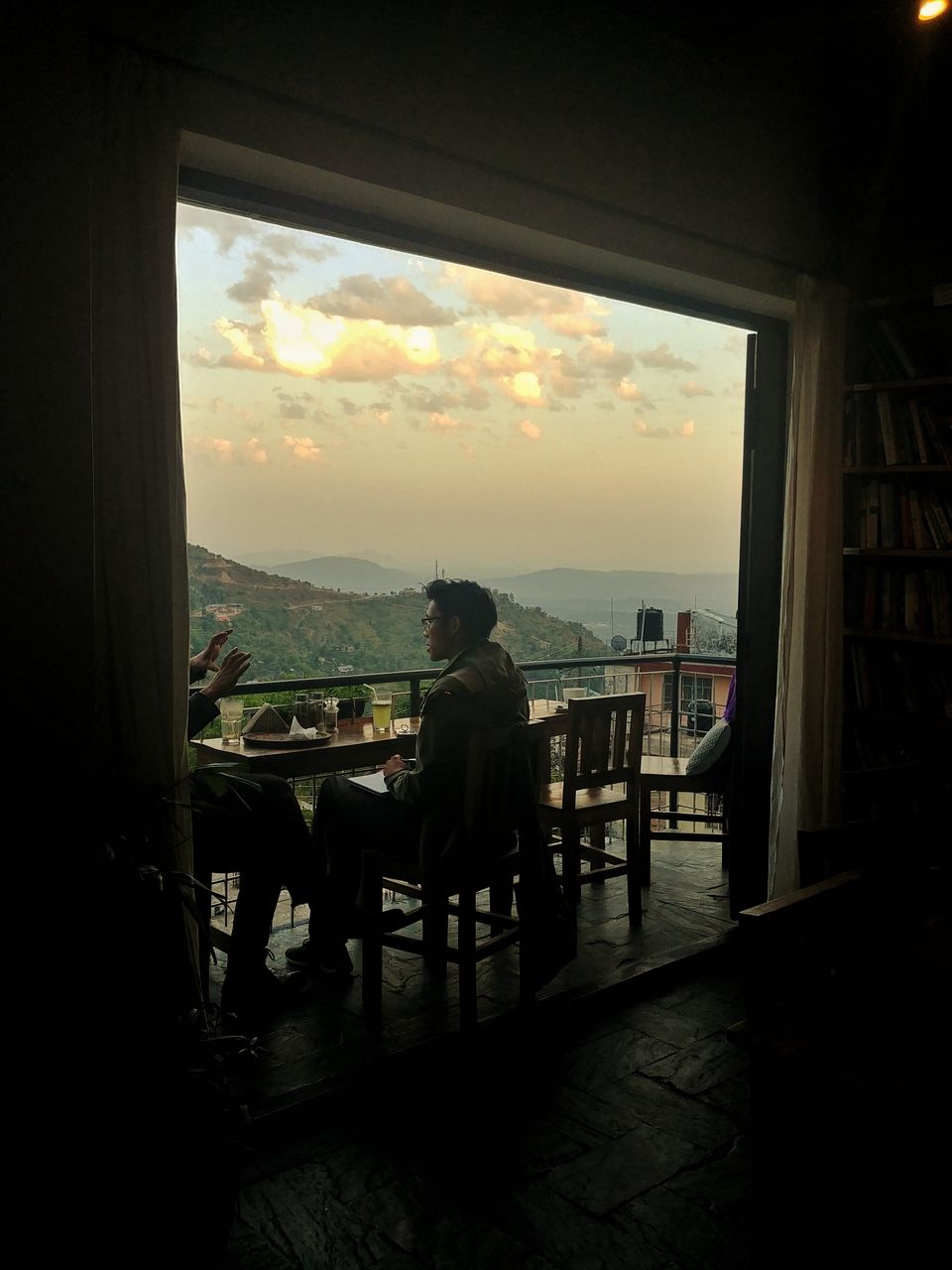 Allow yourself a day or two to explore the many beautiful cafes that have housed all over in Mcleod. It is the ambiance and the food of the cafes where you eat that can really enrich your travel experience. Some of the most popular ones include Jimmy's Italian Kitchen, Crepe and Pancake Hut, Tibet Kitchen, Carpe Diem, Shiva Café, Woesar bakery and Illiterate ofcourse, amongst many others
The trek to triund was in my agenda for day 2. So, I woke early, headed straight to the café in Hostelavie and started checking with fellow travellers if anyone was up for the trek to Triund. Since the weather showed rain in the forecast, most of them gave a tentative reply. I trusted my gut feeling and started my first solo Himayalan hike. And It never rained that day, silently, I thanked the rain gods.
Don't trek to Triund. Stretch yourself and head to Snowline Peak
Triund Trek is quite popular as this is quite doable as a day trek too. My initial plan was to camp there for the night. If you are planning to do the same, you don't have to worry about carrying your tents or sleeping bags. There are a couple of cafes up there which provide you these basic amenities.
So, here I was trekking from Bhaagsu Naag to Triund, crossing the villages of Dharamkot and Gallu. If you are short of time, you can easily take a cab till Gallu Devi temple and start your trek from there. This will save you easily an hours trek. As you reach Gallu devi temple, there is a police checkpoint, where you need to enter all your details . Do carry a photo/address proof.
Tip: Do carry waterbottles and snacks/biscuit, as the prices are double once you start climbing up.
Earphones plugged in, I started my solo trek, greeted by breath-taking views of the valley and plenty of blooming red rhododendron trees on the way. Halfway across the trek, I encountered a drunk gang and that freaked me a little. I was thinking, if this is the state here, what would the scene be at the campsite. Should have realized early on, Triund popularity comes with a cost – drunk parties, filled with weekend warriors from Delhi/Punjab/Haryana.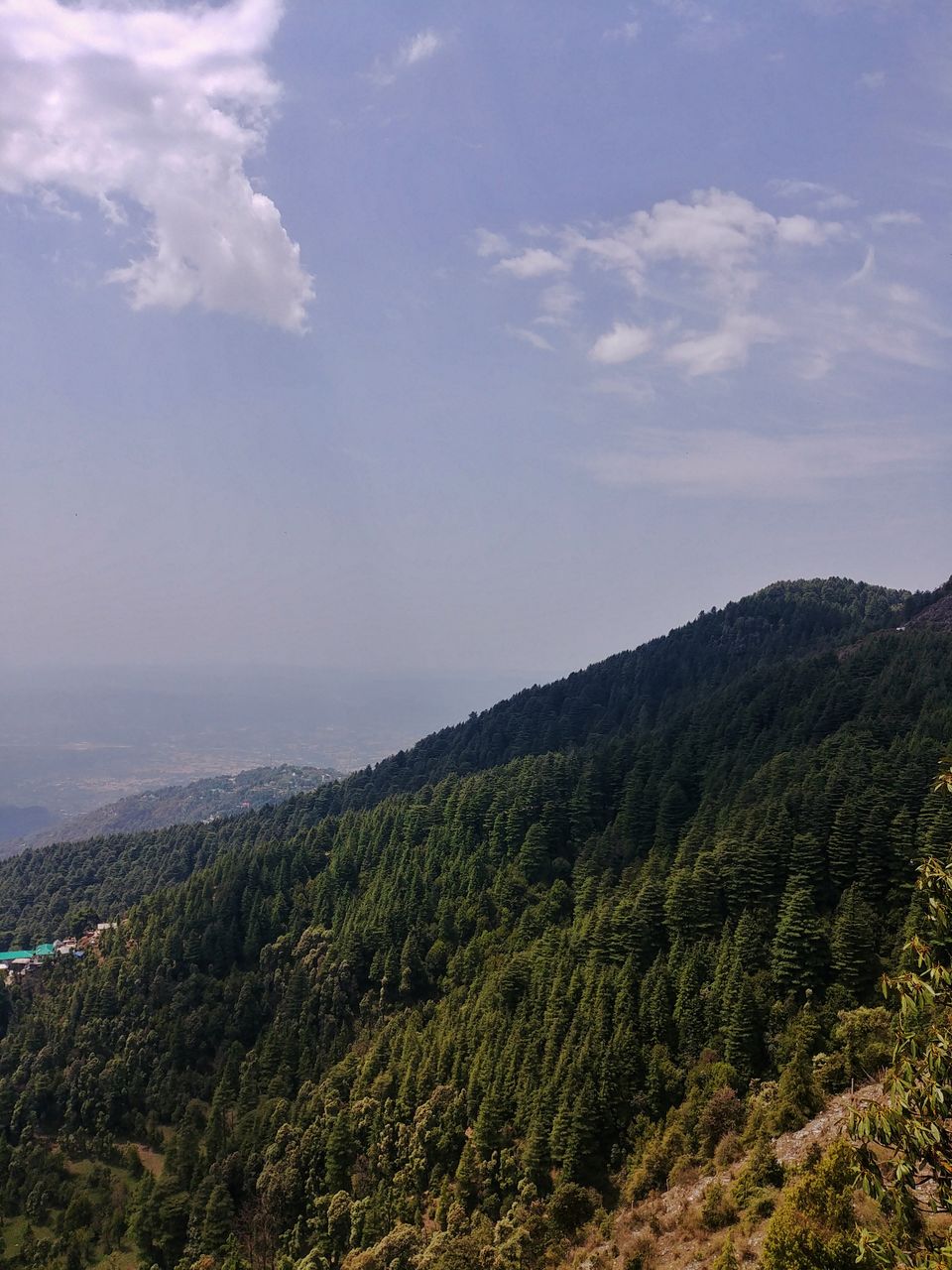 Midway, we reached "Magic View Cafe", where I befriended two guys and we started our hike together and then there was no looking back. We reached Triund around 4pm in the evening, after an enthralling hike of 4 hours and 7 kms.
Here I was at Triund, clicking pictures, relaxing, staring at the lofty Dauladhars, thinking I have reached my destination. But, the view didn't quite appeal to my fellow travellers and they wanted to hike to Snowline Peak, which was another 3-4 kms further to Triund. I wasn't convinced for the extra hike, as I believed the view would be the same even from Snowline and I didn't want to strain my knee and aggreviate the minor leg injury that I was having.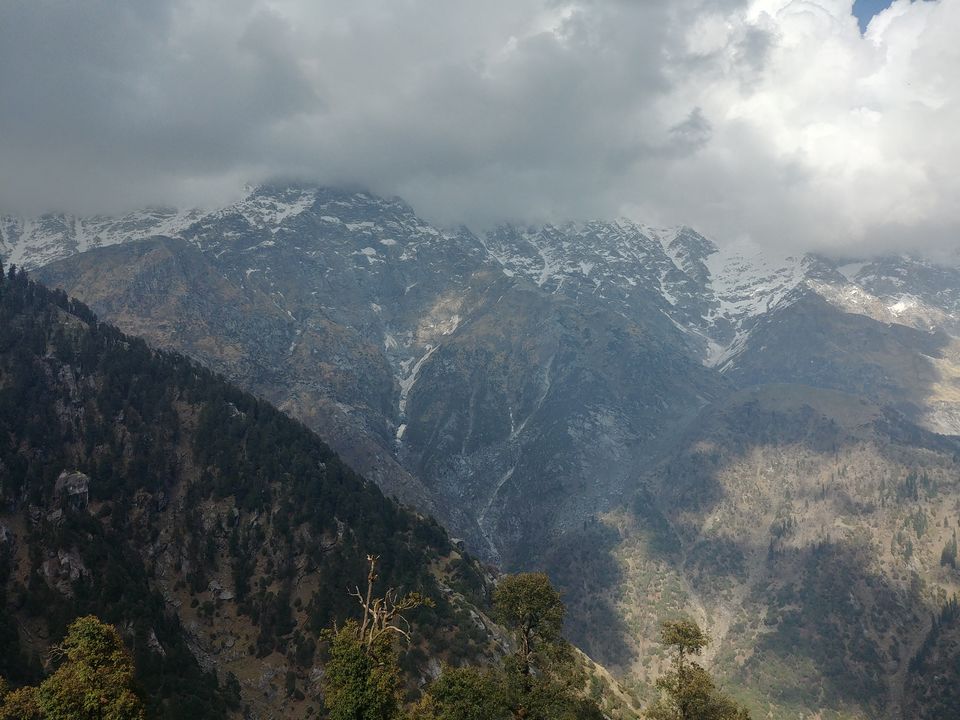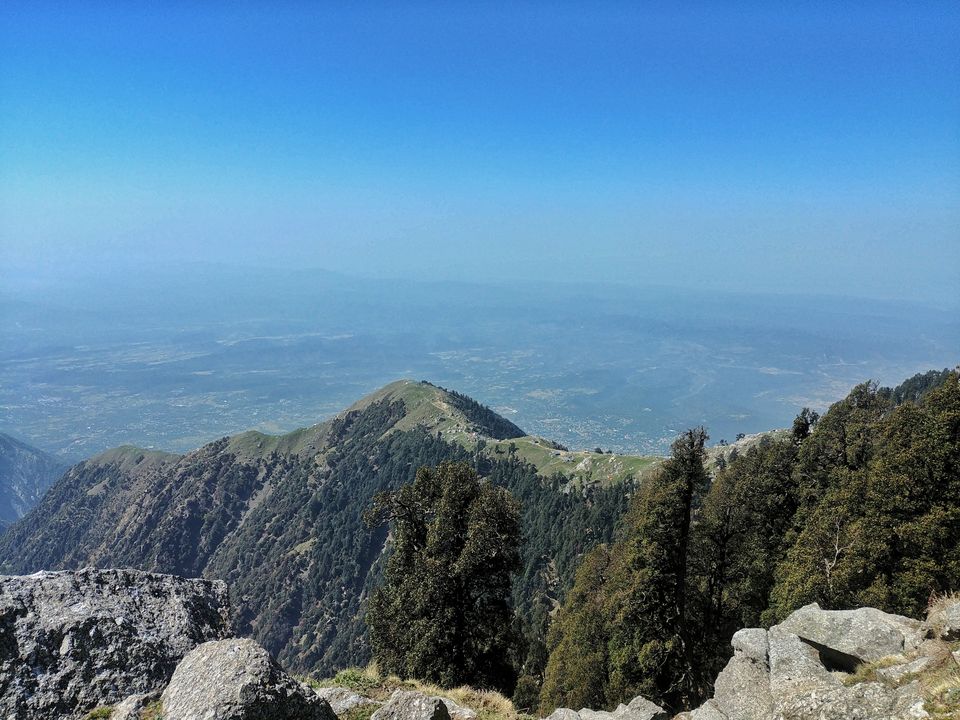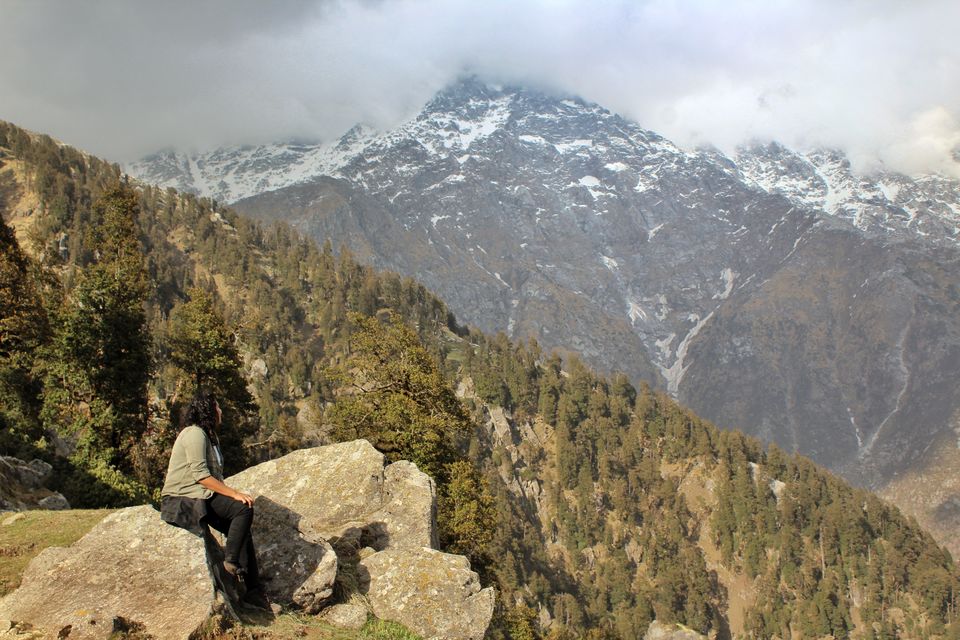 Convinced after some coaxing, we started our trek to snowline. All the while during the trek, I kept telling them, it better be worth it!! And was it? Hell yes!! The trek to Snowline is another 2 hours from Triund. The trail is rugged, narrow and steep at most of the points. My progress was slow and tedious. Years of lethargic lifestyle was showing up and so did the Dauladhars with every turn, they became clearer and closer.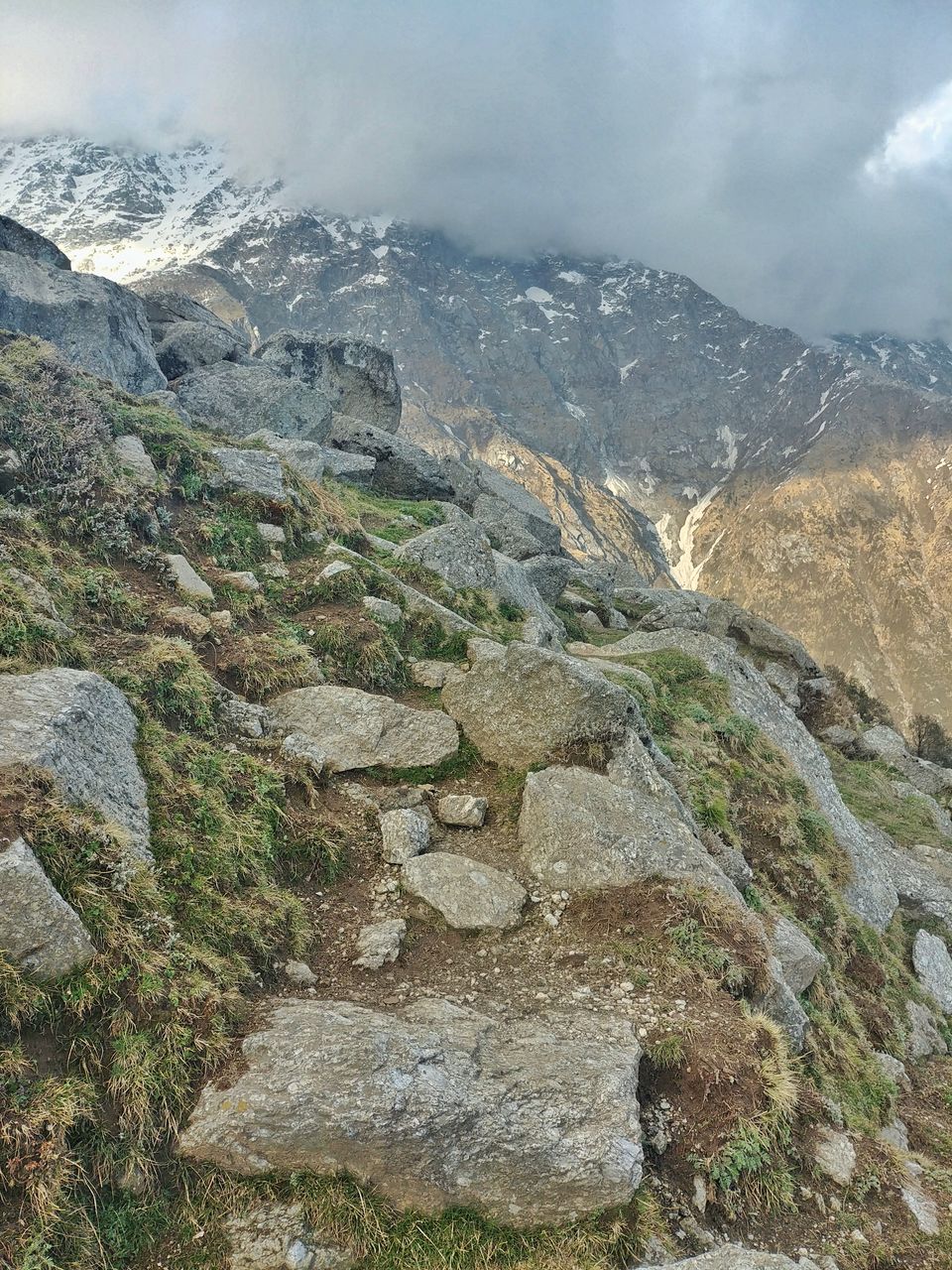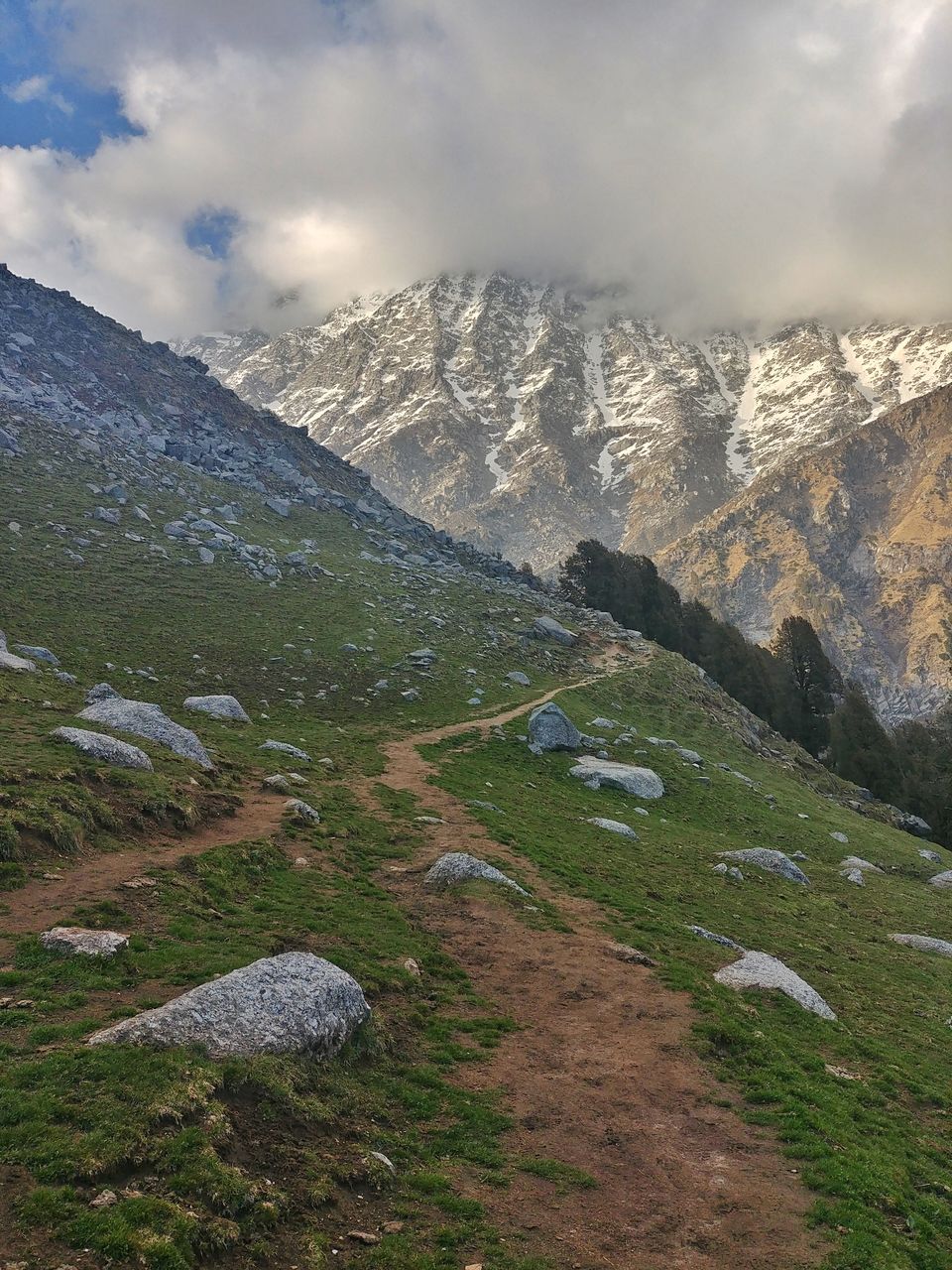 After a tiring hike, we reached Snowline café, the only café situated up at 11000 feet run by a humble man – Jaychand Sharma, who stays 9 months a year up here. We reached here, just in time to witness the stunning Himalayan sunset.
My first Himalayan night under Zillion stars
The highlight of the trip, however, were the zillion stars I saw. It was absolutely breath taking – my reward for all the hard work I had put in to reach there.
I gazed at the zillion of stars like a small child. Lost in its vastness. The crescent shaped moon glistened on the snowcapped peaks of the Dauladhars against a sky holding myriad stars. It was a surreal moment. I kept watching it, until it started getting windy.
I finally tucked myself into my sleeping bag, knowing that I was sleeping, for the first time in my life, under zillions of stars and then later waking up to the view of the lofty Dauladhars right in front of me.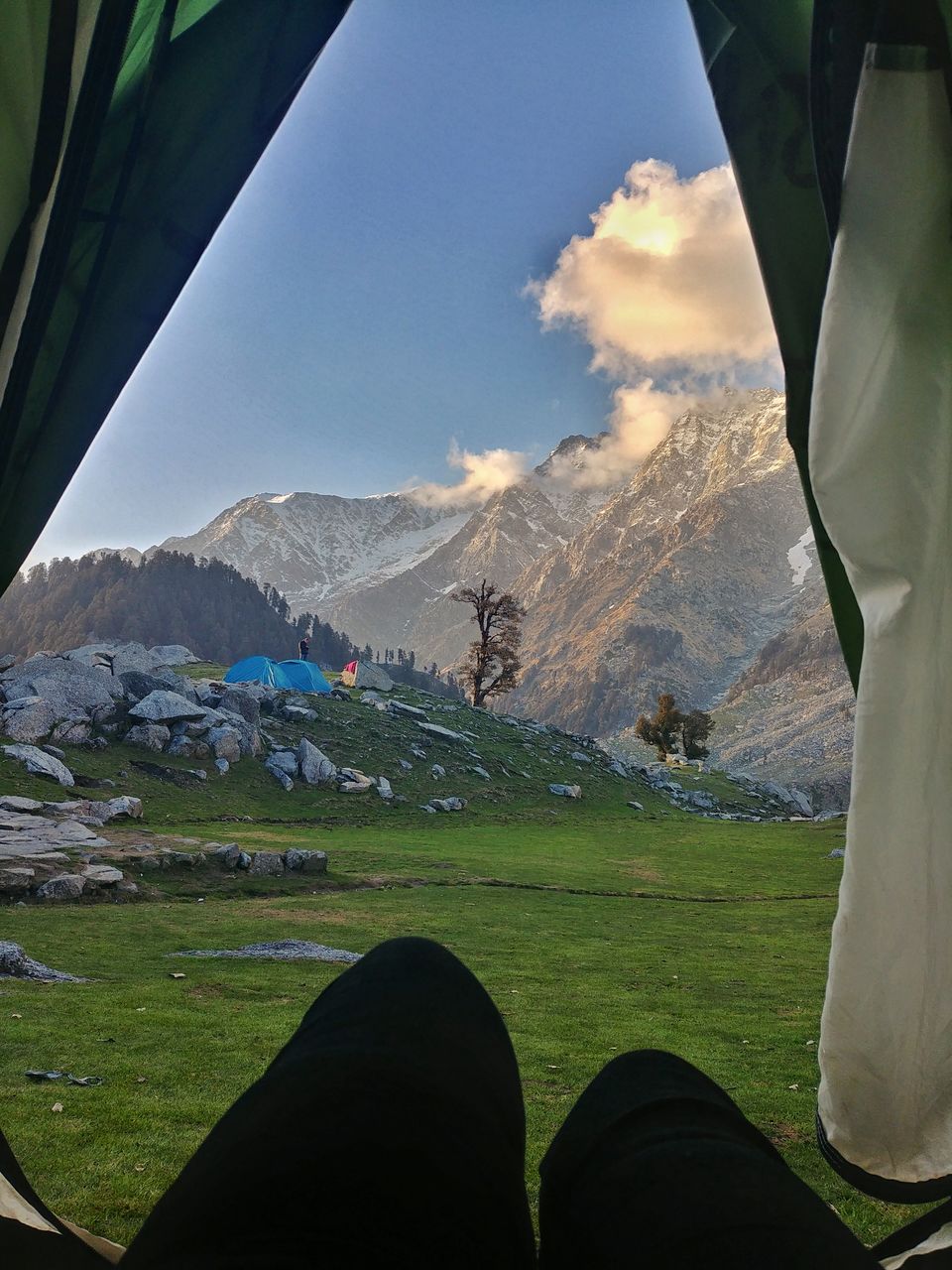 The next day, we were back to Gallu in 3 hours, carrying a lifetime of memories etched in our minds and some captured in the camera!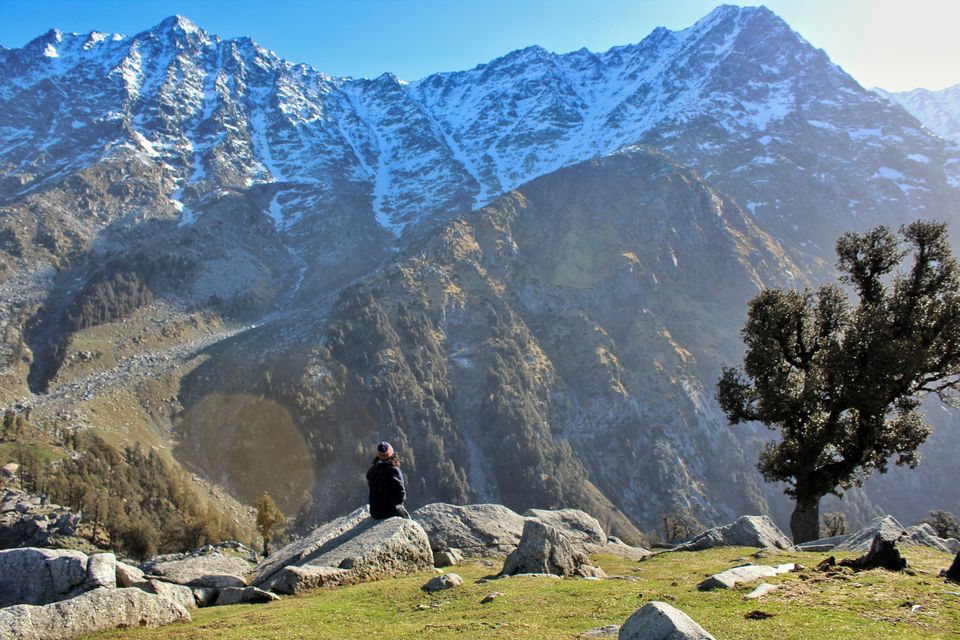 So, whats the difference between Triund and Snowline?
If you ache for more solitude than Triund or if you want a closer look at the Dauladhars, then Snowline is the place to be.
The major difference being, at Triund, the Dhauladhars are at a distance, but at Snowline they are majestically over you. You wake upto having them within a touching distance, they are literally all over you. The sheer scale of these makes you realize your insignificance.
Clearly, all this while, I had always been a beach person more than a mountain person, but this experience really got me thinking. Mountains have never ever made me this happy! This experience will stay with me for the rest of my life, for many reasons :)