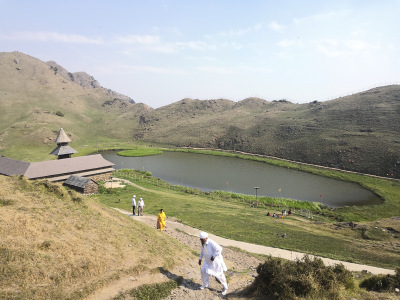 ALL THE THINGS THAT I LOVE - MOUNTAINS,DOGS,A LAKE & TRAVELLING SOLO!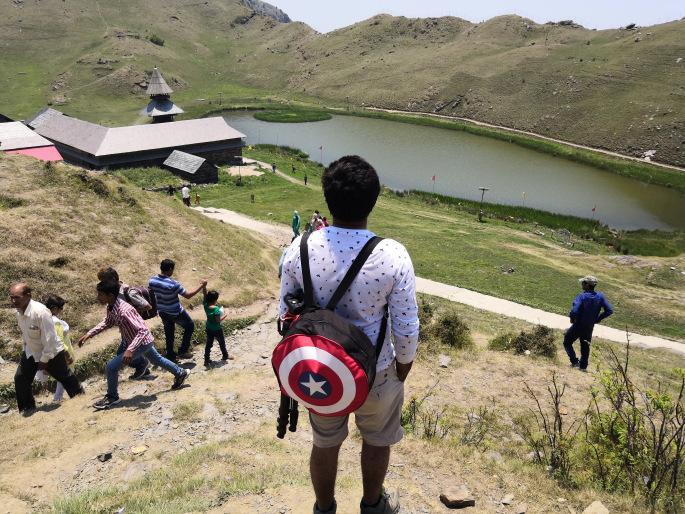 We learn various things about life and work when we are all alone-SOLO. Same goes for travel as well .We travel to be free ,free from bondation , free from people's perception about us and almost everything which tends to hold us back from being us .
Travelling SOLO gives you the certificate to be yourself . We don't travel alone to prove to anyone that's it's possible and i can do it but for ourselves.For our own satisfaction,peace and for the happiness from within . Many of my plans for my solo adventure were cancelled but i eventually got to pull one of with success - a solo trip/trek to Prashar Lake , Mandi , Himachal Pradesh .
Prashar Lake is 49km from Mandi . It is at an elevation of 2730m above sea level . It is said that the name Prashar came from Rishi Prasahr who meditated there. Close to the beautiful lake is the Prashar Rishi Temple.The lake is fenced so that nobody enters it. The depth of the lake is not specified and there is a small floating island in the lake which people say keeps on changing it's position .
HOW TO REACH PRASHAR LAKE ?
The closest bus stop to Prashar Lake is Mandi Bus Station (49kms) .So in total Prashar Lake is at a distance of 488 km from New Delhi. Many,soo many buses depart from ISBT KASHMIRI GATE for Mandi . Most of these buses are overnight and i would suggest you to take one in order to avoid the morning rush and the Delhi heat and another reason being that the bus for Prashar Lake leaves Mandi at 7:45 am on daily basis. So if you board any bus between 5-7 pm from Delhi you will reach Mandi well within time to board the bus for Prasahar Lake . If you're planing a budget weekend trip then this one is definitely the best suited for you. The bus fair from Delhi to Mandi may cost you from a minimum of 507 rupees for ordinary HRTC BUS to 1170 rupees for Volvo Buses . So, if you wanna keep the budget low taking bus from Mandi to Prashar Lake is a great option for the second leg of your journey and this will cost you about 100 rupees. Or if your reach early you can book a taxi as well which will cost you about 800-1000 rupees depending upon your bargaining skills .
TREK TO PRASHAR LAKE !!!!!
This summer i decided to do something different,something that i always dreamt about & wanted to do- TRAVELLING SOLO!
I took an over night bus from ISBT NEW DELHI and reached Mandi around 6 in the morning . The bus timing was 7:45 am and i had almost 2 hours to wait . I thought to leave the bus option and decided to take a taxi to Baggi inorder to save some time and start the trek early. The drive to BAGGI took around one an a half hour . The morning scenes were just mesmerizing. The place was quite and the route was soo scenic. We were driving through the mountains and the beautiful and mighty BEAS river gave us company almost the entire way.While on our way i saw the beautiful IIT Mandi campus . Built at a perfect place with gorgeous mountains all around it . And as i was admiring the beauty of nature we reached Baggi . I decided to have a quick breakfast at shop at Baggi .The owner also provided tents at Prashar Lake so,i had a talk with him and booked a tent for 500 bucks for one night .
Soon after discussing the route and the stay, I started my trek at around 8 o'clock . I still had my doubts about the route so on my way i kept on asking the villagers and cute kids going for school about the route . Few of them also tried to scare me off by mentioning tigers in the forest . For the starting 45 mins things were going quite well . But I was all alone, there were no fellow trekkers on the route . After walking for a few more minutes I met a guy who was heading back to Baggi , I asked him about the way to Prashar lake and after that i was on my own .
The jungle was dense and i was all alone heading to my destination . To be frank while trekking alone at the dense forest i felt like it was a big mistake. But heading back to Baggi was a more difficult option.Plus,i really did not want to give up.There was an old lady taking her goats for a walk and that was the last person i saw until i reached Prashar Lake. I was getting tired because of the tiring bus journey last night and finally thought of taking a nap .And thus, in total i took 3 naps on the way.After walking for 3 hours i was still nowhere . I was still inside the dense jungle and believe me,i was trying to stay brave but the fear of encountering any wild animal started to really settle in . On the way, i lost the track twice ending up on a path which was heading no where .I stopped many a times ,contemplating my decisions,but every time i gathered all my strength to just start walking again . I was lucky to have network on my phone .After a few more hours i reached a green land .
Though i felt lost but i was finally on the correct trail.As the say,desperate times call for desperate measures . Searching for any hints to reach upto the lake, i found electric poles , with the thought that they will be providing electricity to the near by locality .I followed the poles and once again found myself inside the dense forest .The only difference was the inclination was more this time. Wild bushes all along the path and through the forest and after another 30 mins i was able to see the sky again. I was able to see the road again and to my astonishment it was just 1:30 pm. I was very exhausted and decided to take another nap .After 20 minutes,the quest for the mountain lake started again. I walked past few broken mud houses & felt that i was just few more kms away.
Well now,I realised that I had just crossed a mountain and now i was at a more open area . The view from here was just beyond amazing.The clear blue skies & green mountains all around.Also,this is were i took my final nap . Trust me,all my "nap spots" are the most beautiful places you can ever nap at! ???? .
It was very hot out there ,but i was so tired to complain and there was no one I could complain to, as yep,you guessed it right- STILL I WAS ALL ALONE. Waking up again and this time full of determination to just reach there,i resumed my trek . And as the people said there are wild animals out there i saw a female wild fox who was chasing a BHOTIA ( Mountain Dog ) who took her new born . It all happened so quickly, i couldn not even react. The mom was watching out helplessly as i walked out from the scene .
After all the hard work, fear ,naps ,getting lost on the way finally,i was here. PRASHAR LAKE trek was finally completed .And as i reached close to the Lake this was the my first click .The mystic blue lake and the pagoda-like temple are surrounded by splendid views from every angle.
I was very hungry when i reached there because the only meal i had taken was my breakfast at 8 in the morning and it was almost 4 o clock . Skipping the usual maggi this time i had my favorite RAJMA CHAWAL .Yummy-Yum!
TRY IT IF YOU'RE THERE SOMETIME!
The place has just one single dhaba out there , the same guy provides you with the tents and bonfire . I had a very very tiring day . Travelling from Delhi to Mandi and then the trek . I was able to stay up till the sunset & the magical sunset gave a very soothing end to my day.I started getting my usual headache after this due to which i slept early & missed the my two favourite things-the nightsky full of stars and bonfire.
One of the most beautiful & happy things about the mountains are - the Dogs . The Bhotia's ( The Protectors) and there were many out there . I LOVE dogs and i befriended them when i reached the place and the next morning the cutest furballs were all sleeping outside my tent .
After having my breakfast and sharing it with my furry little cute friends,i started to head towards to a higher place so as to get the complete view of the Prashar Lake and the Temple as well . Just walk for a few minutes and you reach here and get blessed by this magnificient view :
After reaching the top and taking sooo many pictures from different angles it was time to descent back to the my tent . Everything was just simple, quite and natural. Not overcrowded and just those limited amount shops and home stays . I was also happy to see that there was a dump pit as well to keep the place clean . Places like these should be kept untouched ,preserved because no moderation is required here. These places are best when they are kept original.It's this natural essence that gives the magical & soothing feeling to these gorgeous places.
I reached the tent & i packed all my stuff ,said goodbye to my lovely fluffy friends and marched my way to the local bus stop which is 1 km from Lake .
One final victory and all the love to these mountains which are the only things that have kept the nature alive .
And in no time i was at the bus stop.I reached earlier than the bus's departure time just to be on the safer side. I love HRTC for the services which they provide to such far of places.Finally i started my journey to Mandi and then boarded the bus to Delhi.
Sitting in the back seat of this bus i was thinking what an adventurous SOLO trip it has been .And then i decided that i should be & i would be doing more of this in the coming future.
This beautiful place is the best for weekend trips and is well within budget. The experience you get is great.Out of 3000 rupees i was still left with 500 bucks and thats pretty good . This time the place was all green and i hope to visit this place again when it's all white under the snow cover. It's going to look more magical & dreamy then.Hope that dream comes to reality soon .I understood a lot about life,about travelling,after spending time with myself & travelling alone . There are a few things which one would only learn and understand when they are alone and travelling SOLO .So for all the wanderlust,gypsy souls out there keep the fear aside and travel SOLO .
Thanks for Stopping By ........