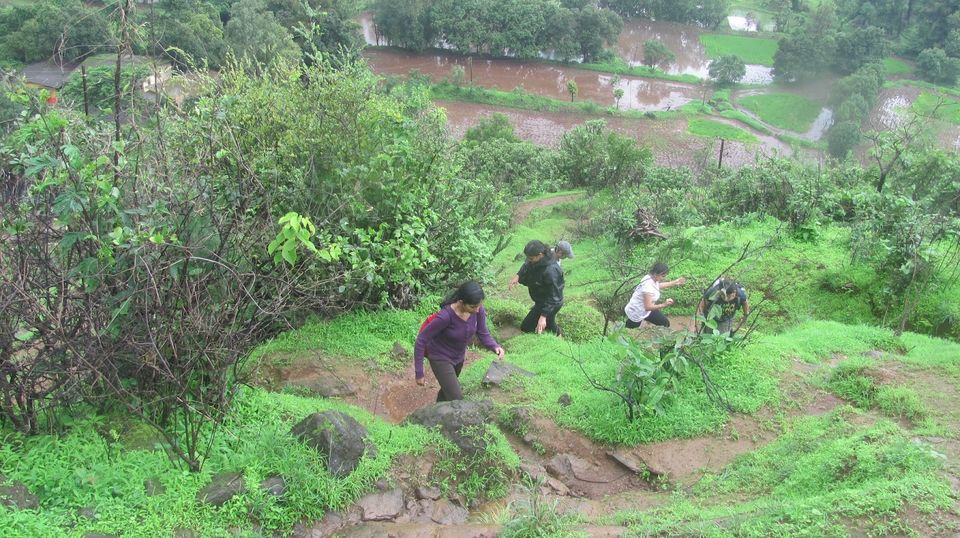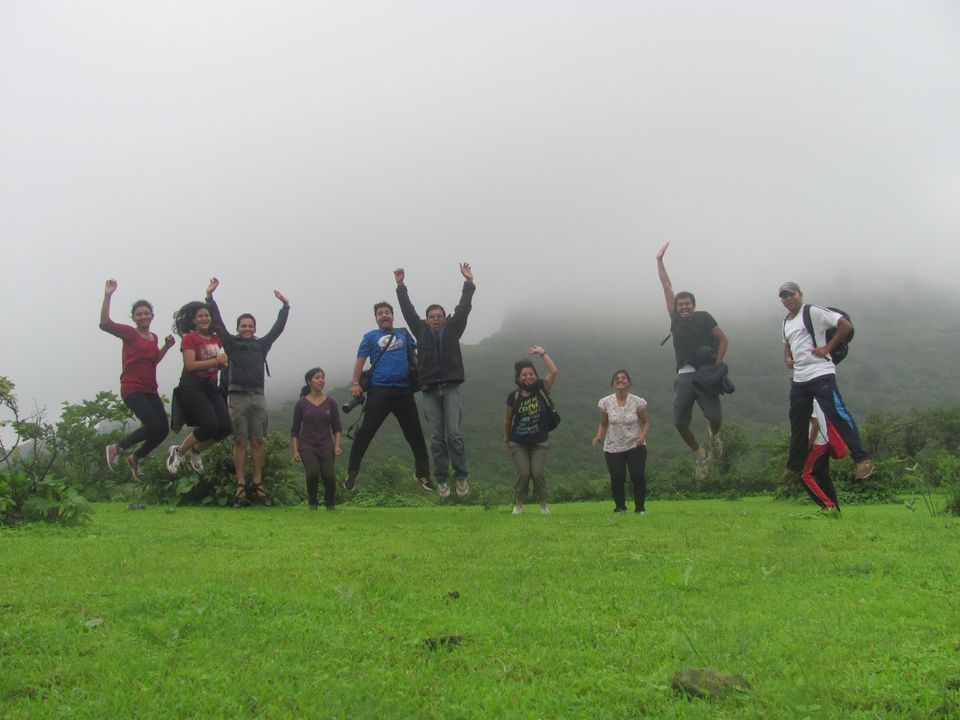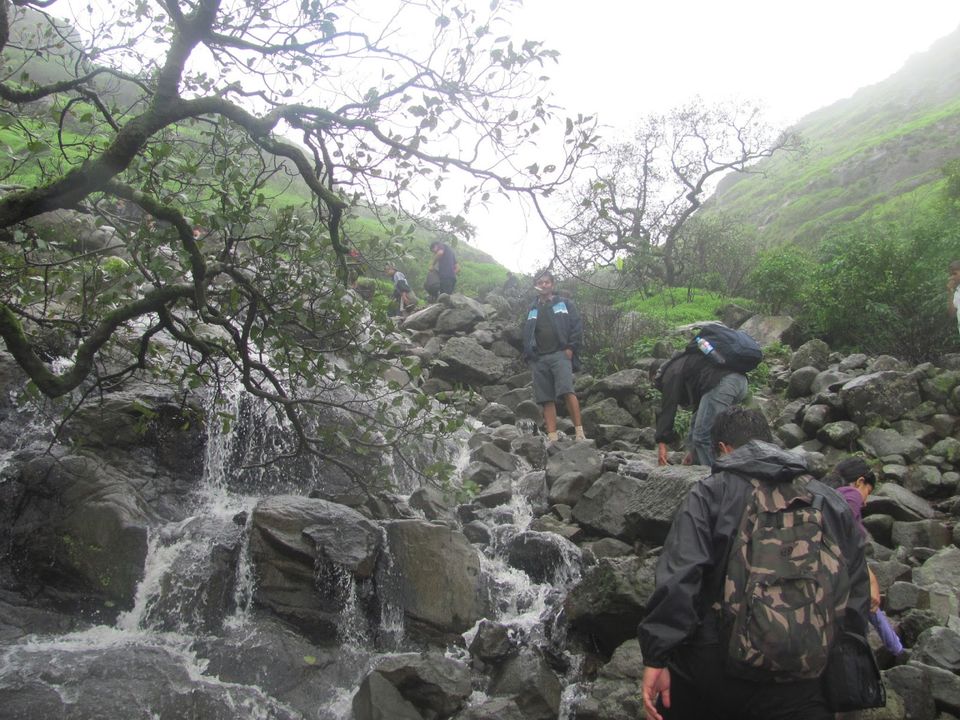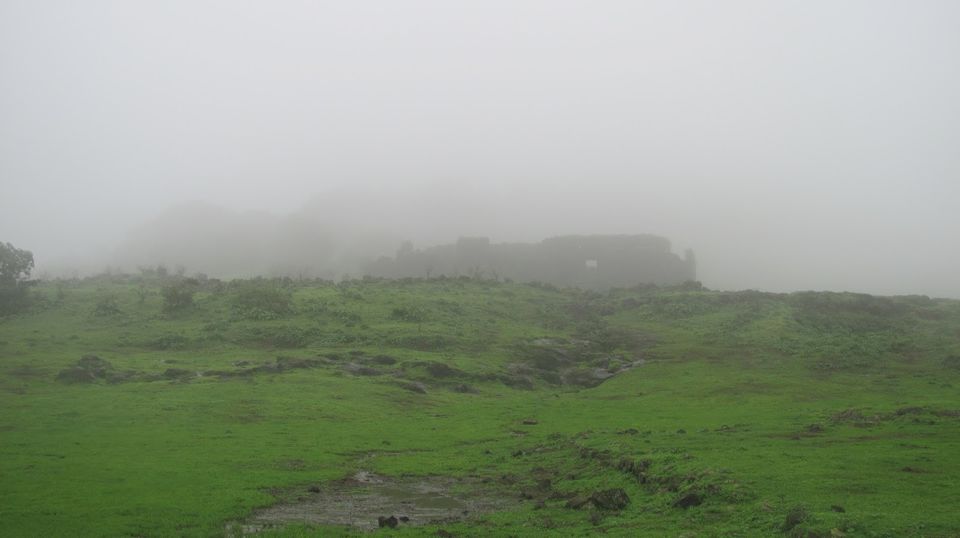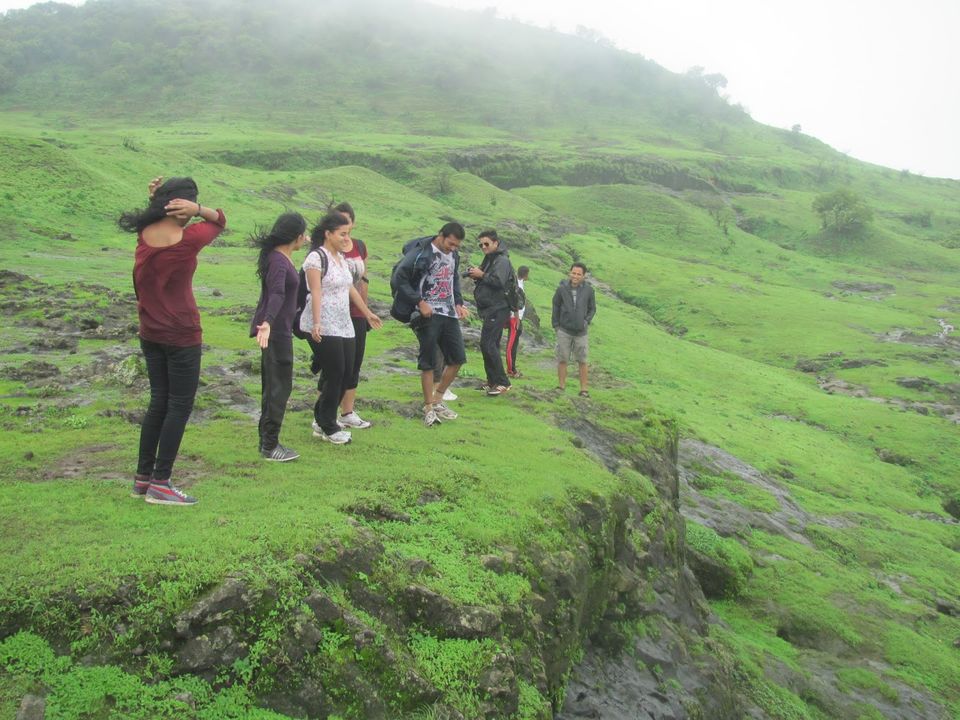 Wandering in Sahyadri continue with VISAPUR FORT

One more fort conquered, and yeah, moved out of the bucket list of TO DO TREKS MANSOON 2013. Visapur, it is.  Its near Pune, base village is MALVALI. To reach here, one needs to board into the local train from Pune to Malvali (One station prior to lonavla) and then you can start walking.

We started this one day trip with 10 enthusiastic trekkers, perfect mix of beginners and experienced. We boarded into 6.30am local form Pune station and to our surprise, it was on time. At this time of the day, trains are not much crowed so you can give rest to your legs at least for this part of journey. 

We reached Malvali station by 7.45AM and started our on foot journey from here. A well maintained road leads from station to the base village. It's hardly 30 minute walk. On the way there is a hotel, Parth (small in house), where we fed our bodies with tasty Poha and Upma plus not-to-forget TEA. Hotel owner also helped us find a guide for the trek as the way is full of misleading trails, Hrishikesh, A kid but our pathfinder for this VISAPUR fort.

After 10 minutes walk from the Parth hotel, there is a beautiful waterfall which makes a family picnic spot in itself. Just after this fall, the Road leads to Lohgarh fort and the Staircase for some Caves, in the middle of which Visapur fort trek starts. 

Initially the route is quite steep so if you are a beginner, you get tired after each 5 min climb so you should take breaks for 2-2 min (not longer than that) in this part, and utilize that time for clicking pictures (one of the necessary elements of a trip ). And don't forget to look back while you climb, coz that amazing view gives you the courage to keep going and hoping for more fabulous views form the top. 

After 45 min of steep climb and nervously thinking 'How would we get down this way, this is too slippery and steep man!!', we reached to half way of our destination and now NO CLIMB (At least, for a while), Plain-Wide-Green and beautiful ground on the hill, ad-on breath taking views of the forest, hills and village. Take a lot of snaps here, but keep walking to save time :D
As I said earlier, there are multiple misleading trails so ensure to follow your guide and keep your friends together (as one of our friend got lost, guide had to go back to take him, fun it was to shout for him name and we hadn't gone too far so guide found him very quickly). We took trail to left in the dense forest which led us to a majestic waterfall. After that we continued going through the way of flowing water with rock patches, one needs to be careful in this part as water makes the rocks slippery and small stones keep moving so make sure of your grip. This ends after around 40 mins and starts the stairs of the fort. On the stairs there was a small flow of water coming over the side walls , getting drenched in its freezing water was soul refreshing. 

After enjoying so called waterfall and clicking pictures we headed towards the fort, NOW THIS IS THE TOP. One word from all, 

A very big plateau having some walls around, AWESOME fabulous views of forest and Lohgarh fort. Cool breeze flowing, soothing our body and soul and helping us to dry ourselves after getting wet in the rain and so called waterfall. And yeah, we clicked a hell lot of pictures.

There are a lot of holes on the ground, crabs live in there we came to know. We had light snacks biscuits/chips and Chivada with sev bhujiya added flavor to the satisfaction of reaching the top, as our stomachs were giving signals for refill. After exploring the fort and the taking pictures in all possible poses along all the walls, we started our return journey. It was raining heavily for a while and stopped then it was drizzling all the way to the base.

While getting down, one needs to careful during the waterfall rock patch part as it is very slippery. After the waterfall part is over, it is not difficult to trek downwards.

Just the end part is quite slippery again as it is muddy all the way down after jungle trail and big plateau which falls mid way. It took us around One and half hour to descend down to the base.  Total ascend and descend was for 5.30 hours when we did it taking breaks and clicking pictures all the way.
The trek is bit difficult than Lohagarh, falls under the medium category. Just to be on safer side, take at least one or two experienced trekkers along. And you must hire a guide, otherwise high chance of getting lost on the way.

It was an enriching experience for us. Perfect choice if you want to move to the next level from easy to medium level trekking. This one is the easiest in medium category. Visapur is a must have destination for trekkers bucket list. Happy trekking!!!