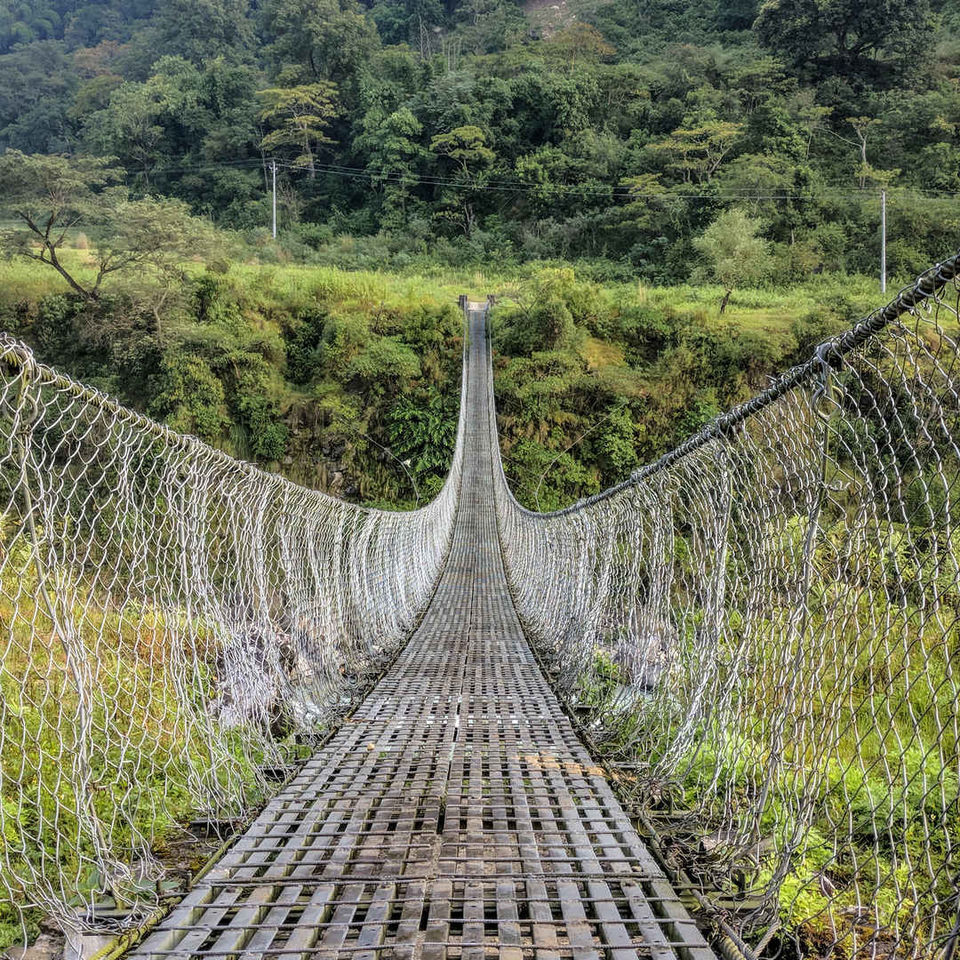 Starting point: Ghermu (1130 m)
Ending point: Timang (2615 m)
Date: 15th Oct 2019
Distance covered: 38 Kms
Day 02 on the Annapurna circuit was all about seeing some beautiful waterfalls all day long.
I started off day 02 at 06:15 am from the Ghermu village (1130 m). I was little concerned because my fellow trekker Kajol who had blisters in her feet. So we decided that she would take a day's rest and come to Manang village (3540 m) by vehicle (70 kms) and resume her trek once the blisters are gone.
There is NO trail from Syange (1120 m) village onward and you have to compulsorily walk on road till the next village called Jagat (1300 m). But, if you start your day early then you can definitely avoid the dust being blown by the vehicles. You will see many people starting the Annapurna circuit hike from Jagat (you can arrive at Jagat from Besisahar in a jeep).
Picture 1/10:
After hiking for 5-6 km on road you will see a trail that goes to Tal (1700 m) from Chamche (1385 m). Every trekking group takes this diversion so you will not miss this one for sure. It was indeed a very beautiful trail. It will take you through suspension bridges, river side ridges and one could see some really humongous waterfalls while walking on the trail. If you take the jeep then you obviously miss waterfalls like the one shown in the picture. Further, there are enough tea shops en route Tal so you could take small breaks and refill water whenever you feel like.
Picture 2/10
The waterfall at Syange (1120 m) is so huge that it is visible from the Ghermu village itself. It is loud and furious. The spot becomes really crowded in the daytime with people on bikes and jeep stop here to click pictures. However, it was really peaceful at 07:00 am.
Picture 3/10
Trust me when I say that there were numerous waterfalls till Timang (2615 m) on this day. This one was at Chamche (1385 m) and it created a small plunge pool at the bottom. If possible, then do stop for a cup of tea at this spot. It is pretty huge and you will not miss it for sure. Do not sit inside the tea shops, stay out and let that mist from the waterfall fall on your face and cool your body down. I would definitely put this waterfall in the list of "Top 10 waterfalls to see on the Annapurna circuit".
Picture 4/10
The trail from Chamche to Tal is most of the time a traverse running parallel to the Marsyangdi river until you make one final small ascend to enter the Manang district.
Picture 5/10
The gorge marks the end of the Lamjung district and from here on you enter the Manang district of Nepal which is considered to a relatively prosperous region. The trail now would rise up gradually till Timang.
Picture 6/10
You could very well notice one thing that the river bed of the Marsyangdi river is relatively wide and calm in the Manang region in contrast to the furious flow that you would witness from Besisahar.
Picture 7/10
The route from Tal (1700 m) to Dharapani (1900 m) is a mix of numerous ascends and descends. It will NOT be easy and if you are a beginner or a slow pacer then I would recommend you to stay in Tal (there are many hotels in Tal, there is telephone service, mobile recharge facility, WiFi etc) and then start your hike on the next day. Further, while walking on the trail now you can see the road on the other side of the river.
Picture 8/10
As the day progressed I crossed Dharapani (don't forget to make an entry in the check post at Dharapani), Bagarchap (2160 m) and reached Timang (2615 m) by 05:00 pm. The last 10 km long segment (Dharapani to Timang) was again an unpaved road but, I didn't experience any dust again since it was too late (normally people hike on the circuit till 02:00 pm max.) Further, the road condition was NOT at all good but if you think from the perspective of an off-road bike trip, it was the perfect setting. I could see many bikers on this stretch with their backup vehicles.
Picture 9/10
The gross elevation gain shown by the application called Strava was 5700 meters. I think that the app algorithm failed to gauge the real elevation because such a gain value was tough for me to comprehend. But, I would definitely say that since I was hiking alone this day, I walked a lot and it was indeed a tough day. Further, I hiked for almost 11 hours, and the app shows 8 hours which is totally wrong.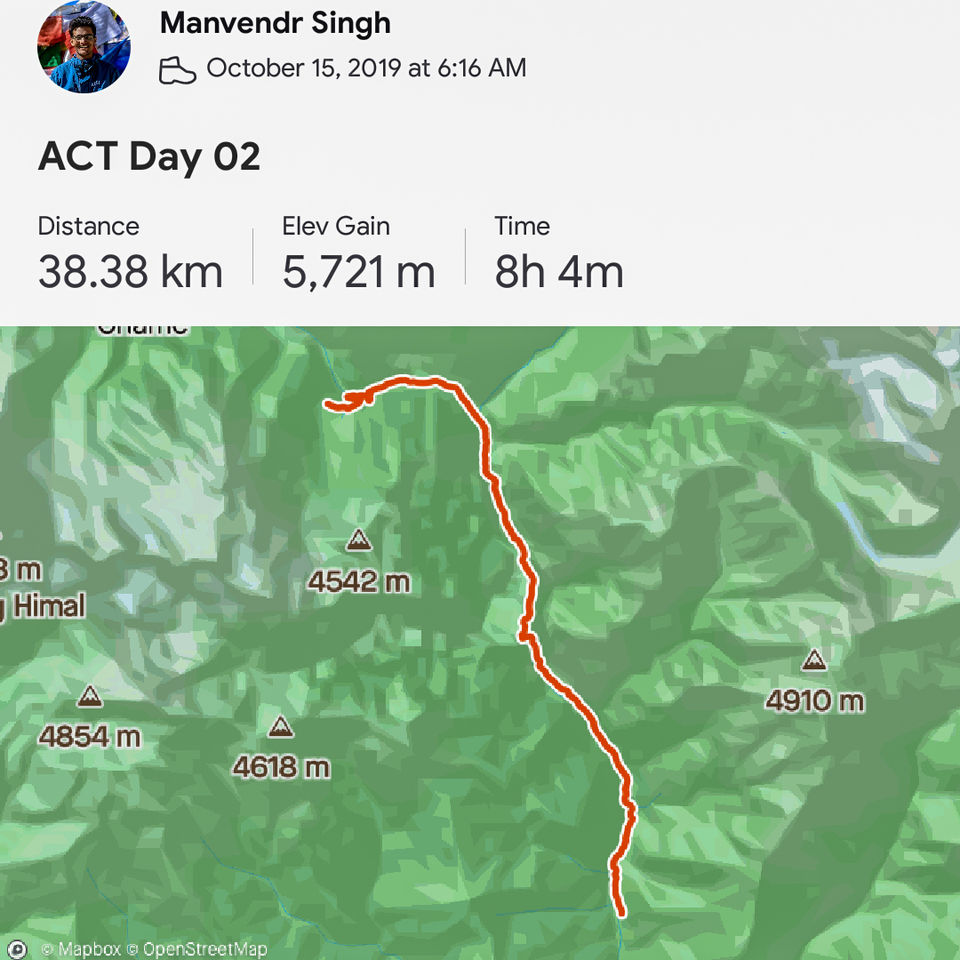 Picture 10/10
You can get more detailed analysis about the recorded hike. You can find me on Strava under the name 'Manvendr Singh'
Day 03 on the circuit was another difficult day and the altitude increase was really high but, it was Fun.
See you in the next one.