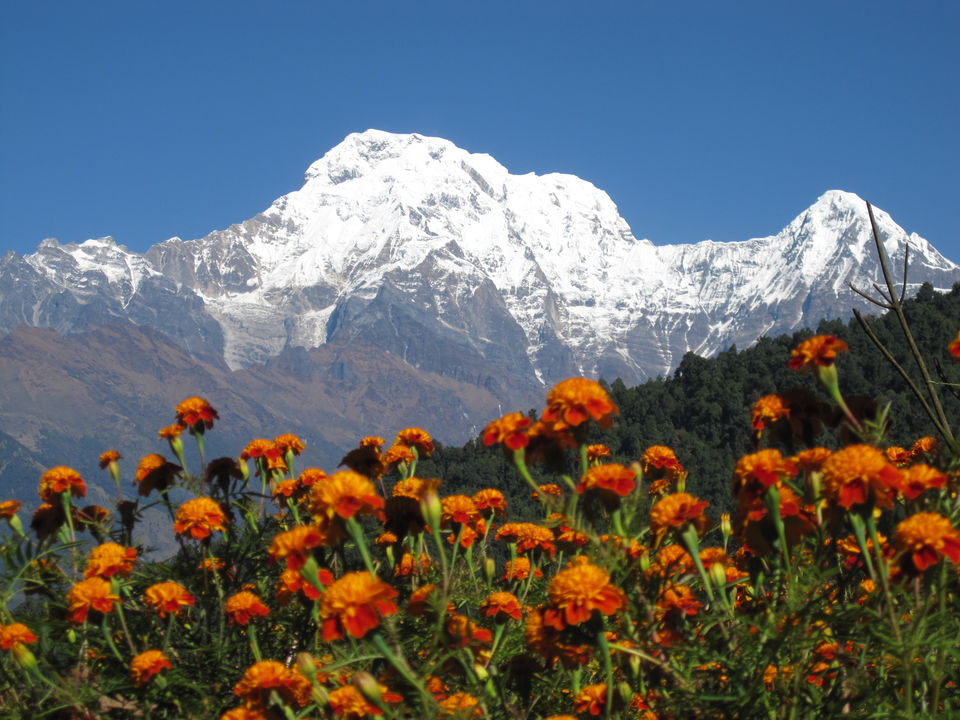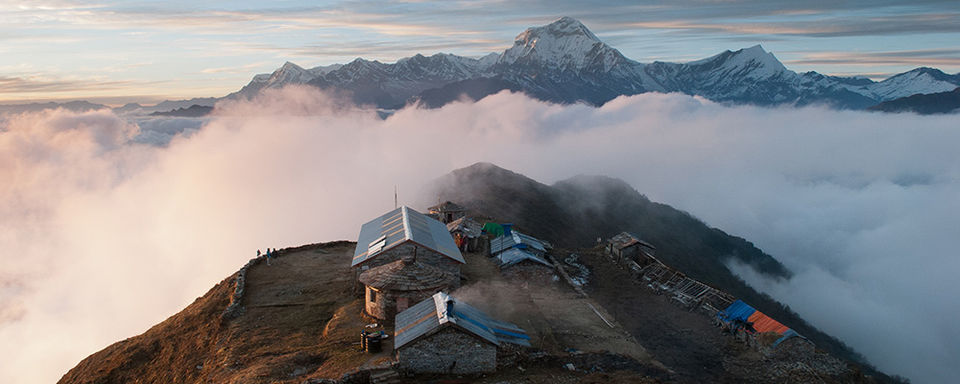 Ghorepani Poonhill Trek with Alpine Eco Trek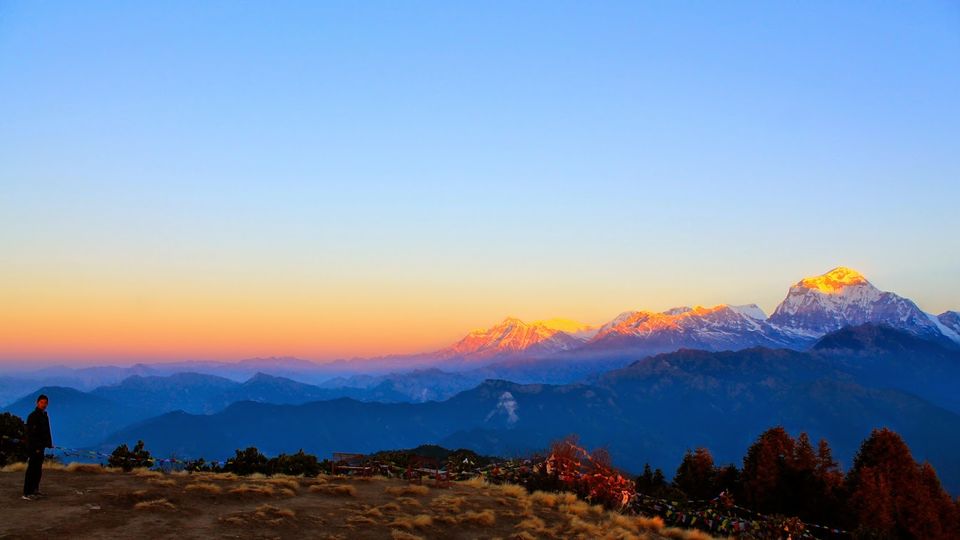 http://www.alpineecotrek.com/ghorepani-poonhill-trek.php
Ghorepani Poonhill trek is perfect introduction to trekking in Nepal. The trek takes you through the Spectacular foothills of the Annapurna range, through charming villages, terraced rice paddies and rhododendron forests.

Fact of the Trip
Activities: Trekking
Start/End: Kathmandu
Destination: Ghorepani Poonhill
Trip Duration: 10 days
Max. Altitude: 3180 meters
Group Size: Min. 1 / Max.15
Grading: Leisurely Plus
Daily walking Hour: Approx. 4-6
Best Season: February, March, April,
 May, June, September, October,
November & December.
Cost: info@alpineecotrek.com

Frequently referred to as the Gateway to the Annapurna, Poon Hill is the last mountain before the mighty Annapurna massif rears skyward. A regular trading and trekking route into the Kali Gandaki valley, the deepest valley in the world, the paths are bustling with the old and the new.
Clanging bells announce the brightly colored mule and yak caravans that regularly use the well-trodden paths on their way to and from Tibet. We climb with them through oak and rhododendron forest and across sparkling streams to Ghorepani Pass (2,834m). On day three, in the pre-dawn, we climb to Poon Hill (3,190m) to witness a classic Himalayan moment. As the sun rises in the eastern sky, the mighty peaks begin their dawn parade, changing colors every minute as the stunning vistas open up.
Descending through giant primary rhododendron forest, troops of monkeys and exotic birds set a vivid and colorful scene. We arrive in Ghandruk (1,940m), one of the largest Gurung villages in the Kingdom with its traditional buildings and picture-perfect setting below Machapuchare (6,993m). We descend to the road head for the journey back to Pokhara after 5 magical days.
Gorepani  Poon Hill Trek is one of the most popular treks in Annapurna region. We often have group departure to this region so if you like to join a group then we highly increase you to send us an inquiry. We at corresponding desk would like to provide all the necessary details to you within very short period.   
Note: The above information is just a guide and standard pattern of what we provide. The trip can be tailored at your request to accommodate your specific requirements. On adventure trips of this type, weather, transport or a multitude of other factors beyond our control can result in a change of itinerary. It is, however, very unlikely that the itinerary would be substantially altered; if alterations are needed the person in charge will make a decision what is the best alternative, taking into consideration the best interests of the whole group. Where a change does arise, we do everything we can to reduce its effect, but we cannot be liable for the results of changes or delays.
Ghorepani Poonhill trek - Itinerary
Day 01: Arrive at Kathmandu (1345meters) and transfer to hotel.

Day 02: Drive from Kathmandu to Pokhara (914m.) Drive six hours.
We depart for six hours drive to Pokhara (915m,), 200 kilometers west of Kathmandu. As you climb out of the Kathmandu valley, only to quickly descend again to the Trisuli River, you follow upstream to its junction with the Marshyangdi River. You follow the Marshyandi gently up through heavily terraced fields and small hill towns to the Seti River that takes you directly into Pokhara. Having pleasant weather, Pokhara is tourist's paradise with full of natural as well as cultural heritage sites such as lakes, caves, temples of Buddhist and Hindus along with mountains. You can observe views to the north across the hills and Phewa Tal (lake) to the white peaks of the Annapurna and Dhaulagiri Ranges. This drive will take most of the morning, leaving much of the afternoon to fall in love with its beauty. You can also fly from Kathmandu to Pokhara which takes about 25 minutes.
Day 03: Drive from Pokhara (915 m.) to Nayapul (1050m). Drive one and a half hours.
Here, you begin your trek from Nayapul (1050m.) to Tikhedhunga (1577 m.) via Birethanti (1065m.) which takes about four and half hours. After breakfast at hotel you could drive by car or van for one and half hours to Nayapul. Then, you start your trekking. The first part of your trek is easy passing through numerous small villages and settlements. Afterwards you could ascend gently to the final destination of the day. The majority of people here are Gurung and their religion is Buddhist. They are engaged in agricultural activities, tourism business and some in Gorkha and Indian regiments.
Day 04: Trek from Tirkhedhunga to Ghorepani (2675 m.) Walking  six hours.
To begin your trek, you could ascend steeply for the early 2 hours and then ascend gently passing through Ulleri (2070m.) and Banthanti, Magar villages. On the way, you could see good view of Machhapuchhre or Fish Tail (6997m.), Huinchuli (6441m.), and Annapurna (7219m.) south. Now, your trail is quite easier passing through forest and descends gently up to the final camp. You could see some of the wildlife such as monkeys and various species of birds.
Day 05: Trek from Ghorepani to Poon Hill (3180m.) to Tadapani (2675m.) Walking five and half hours. Early morning trip to Poon Hill (3232m.) to enjoy the sunrise view over Mt. Dhaulagiri (8167m.), Tukuche Peak (6920m.), Nilgiri (6940m.), Varaha Shikhar (7847m.), Mt. Annapurna I (8091m.), Annapurna South (7219m.), Annapurna III (7855m.), Machhapuchhre (6993m.), Annapurna IV (7525m.), Annapurna II (7937m.), Lamjung Himal (6931m.) and other numerous snowcapped mountain peaks. After breakfast trek Ghorepani to Tadapani (2650 m.) through the deep forests of rhododendrons, bamboos and oaks. En- route, you frequently see waterfalls, rocks, wild animals, local birds and green scenarios. Tadapani is a small village surrounded by beautiful forests which grants you a magnificent view of Annapurna South, Hiunchuli, Fishtail, and Annapurna II and so on.
Day 06: Trek from Tadapani (2675m.) to Ghandruk (1950m.) it takes about three hours.
 It is very easy trek by descending gently all the way through rhododendron, oak and other kinds of dense forests. You could hear different kinds of birds chirping on the way. This is one of the popular destinations for the birds' lovers. Ghandruk is a big Gurung village. There is a handicraft centre and Gurung museum. From this village you could see good views of Annapurna South, Hiunchuli, Gangapurna (7455m.), Annapurna III (7755m.) and Fishtail.
Day 07: Trek from Ghandruk (1950m.) to Pothana (1990m.) which takes about six hours.
First part of your trek is steeply down following stone staircase to Kimbu (Bee hive). Kimbu or Bee hive is located at the elevation of 1200 meters on the bank of Modi Khola. Now, your trail steeply ascends following the stone staircase up to Landruk. The trail ascends gently for nearly two hours and again ascends steeply for an hour to Deurali (2150m.) passing through Tolkha village (1850m.). From this point you can see panoramic view of Dhaulagiri I (8167m.), Annapurna South (7219m.), Hiunchuli (6441m.), Fishtail (6997m.), Annapurna III (7755m.), Annapurna IV (7525m.), Annapurna II (7937m.) and Lamjung Himal (6930m.). Now, the rest of the trail descends gently down to Dhampus passing through Pothana village (1900m.).
Day 08: Trek from Pothana to Dhampus Phedi (1113m.) Four hours walking.
Your trail descends gradually for at least an hour and follows gravel road for two hours and then steeply descends to Phedi passing through Dhampus village, paddy fields and forest protected by local community. Upon your arrival at Dhampus Phedi, you could take a vehicle to reach Pokhara.
Day 09: Drive/fly from Pokhara to Kathmandu.
While driving from Pokhara to Kathmandu, you head up to Damauli,, Dumre, Muglin and Kurintar where Nepal's first Cable car is operated to reach to Manakamana Temple. En- route, you could enjoy the mountain views, green sceneries, rice terrace fields, vegetable fields and people being engaged in their daily life activities. From Naubishe you climb up to Thankot, the gateway to capital city. You can also fly from Pokhara to Kathmandu which takes about 25 minutes.
Day 10: Final Departure from international airport.
Note: If above itinerary couldn't meet your needs, we can design a tailor-made itinerary to suit your needs. It is also possible to combine with some other activities such as white water rafting and wildlife safari.
Why choose us?
Alpine Eco Trek aware that there are many companies seeking your business as you plan your adventure holidays in the Nepal Himalayas. We believe we offer the very best value for money and take your safety, comfort and ultimate holiday experience very seriously. Read more…
Service Includes
•All meals (B/L/D) during the trekking period
•Accommodation (Lodge) during the trekking period
•Tims and A cap permits
•Domestic airfare (if necessary)
•Domestic airport tax (if necessary)
•English speaking guide
•Highly experienced staffs
•Staffs food, clothing & salary
•Staffs insurance
•All necessary grounded transportation
•Medical supplies (first aid kit will be available).
•Airport picks up & drops
•Arrangement of Emergency Helicopter service which will be paid by your Travel insurance company.
•All Local / Government Taxes
Service Excludes
•Personal nature expenses
•Bar bill and all kind of drinks
•Rescue & Evacuation
Travel Insurances 
Travelling is an investment and we believe that an insurance makes your investment secure.  It is a condition of joining any of our adventure trips that be protected against comprehensive expenses potential to incur due to medial issues or accidents (to include helicopter rescue, air ambulance, and treatment costs). Please be noted that we do not arrange or sell insurance.
A relaxed trip is not possible without good travel insurance. In the event of any sickness or injury, the cost of emergency treatment and evacuation is shocking. Therefore, travel insurance is strongly recommended for everyone who signs up with us. We strongly recommend that you be careful while choosing a policy as some makes special exceptions for adventure travel. Before buying your insurance make sure your insurer is aware of the AET adventure itinerary that you are going to undertake and is agreeable to cover all activities being undertaken in the trip. Such as if you are planning trekking or climbing/expedition in Himalayas your insurance must cover emergency air ambulance/helicopter rescue including medial expenses. For a group tours in urban areas, your insurance coverage of ambulance or helicopter rescue is not mandatory, however better to have with them too. Again, in Tibet trips there is no possibility of helicopter rescue, so no need to buy the air ambulance coverage in Tibet trips. Also, check your insurance policy firmly to even include trip cancellation, as all deposits paid are non-refundable.
Please kindly provide us your copy of insurance policy (e.g. your insurance certificate) or carry it with you while you come on the trip.
Food during the trip
Food on full board basis will be provided during the spent on trekking. Three meals (Sherpa, Nepalese and Tibetan, Continental, Italian and Indian dishes) a day will be provided from the guesthouse/teahouse/lodge menus. Every day dinner and breakfast are used to take in the same teahouse/lodge you spend the night. Lunch will be taken on the way to destination. Reception, farewell dinner with culture show and breakfast will be provided during your stay in Kathmandu.
Acclimatization
Alpine Eco Trek is professionals at operating at high-altitude. Each trip we run has a realistic acclimatization programme. Our entire adventure trips are designed to allow gradual height gain, spread over a number of days. High altitude is not predictable sickness, so there is no way of predicting who will suffer from altitude but, for the vast majority of people, a slow ascent to height will produce minimal effects. We can provide 'Gamow Bag' as a precautionary measure as per your request on renting basis. Acclimatizing takes time and there are no safe shortcuts. All trips to altitudes in excess of 3,000 meters carry medicines essential to the treatment of altitude sickness, and our leaders, guides and staffs are well trained to administer them and to know the symptoms.
Equipments & Packing List
Gears are pretty much essential for your great trip. Please click here for the comprehensive packing list for this trip.
itude (tip) for staff
Some Frequently Asked questions by Our Valued customers
How can I book this trip?
Once you confirmed trip, we need photo copy of your passport and 20% down payment of the total price for advance flight tickets and hotel booking and permit process.
How can I enter in Nepal?
Nepal is a popular tourist destination in south Asia. Several airlines have direct and non-stop flights from Middle East and Asia to Kathmandu, Capital of Nepal.
There are direct flights from London, Paris, Frankfurt, Doha, Osaka, Shanghi, Mascow, Bangkok, Singapore, Hongkong, Karachi, Bombay, Delhi, Calcutta, Paro, Dhaka, Lhasa, Varanasi.
Can I do Ghorepani Poonhill trek?
Ghorepani Poonhill trek is suitable for any walker looking for something a little more comfortable but energetic. It does not require that you have any previous trekking or mountaineering experience. Although, daily jugging or walking exercise is useful and you need to be in good physical condition and able to walk for 5-6 hours daily.
When should I come for Ghorepani Poonhill trek?
February, March, April, May, June, September, October, November are the best seasons. However, July & August are okay and trekking can be done but not so clear visibility due to rain.
 Can I join with group?
Yes, you can join with group, we guarantees a series of fixed group departures dates for Ghorepani Poonhill trek. We can arrange small group trekking trip to suit your requirements. Please contact us  for group departure dates.
Do I need to join with group?
Well, It is not necessary that you need to follow our fixed group departures dates, because private trip departs every day upon your request which are best suited to couples, families and small groups of friends. We are happy to organize your holiday according by your selecting starting date.
Do you also offer Tailor-made Departures?
Yes, we do offer Tailor-made Departures, if our holiday's tours are not perfect or the group departure dates are not convenient as per your travel plan.
What kind of accommodation I can have during the trip?
In Kathmandu, we do provide 3 stars hotel in Kathmandu and during the trekking, we provide you guest house which is called Tea house. Tea Houses are more like hotels, with hot showers, western food, and private rooms (twin sharing). In this arrangement overnight halts with dinner and breakfast will be in Tea-houses (Lodges) and lunches in local restaurants en-route.
What kind of equipment do I need to bring with me?
Trekking holidays in Nepal is a exiting and adventure trip. We trek up to 6000m walking through villages, green hills, and white snow path so you need to have right equipments with you. Click here to have more info  
What kind of meals I can have during the trip?
All Meals on full board basis will be provided during trekking. Freshly cooked food is served at all times (western, continental and Nepali meals are available in all places). Three meals a day will be provided.
Do I have pre-departure meeting?
Yes, at first, our staff will receive you at the airport and transfer to the hotel and our tour leader will brief regarding about the trip. The briefing will cover the itinerary and introduced your trek Leader.
Can I charge camera batteries along the trek?
Yes, Most of the places, you can charge batteries along the trek (per hour USD 2-3 for charging).
Is someone going to meet me at the airport? Are transfers included?
Definitely, our Airport Representative will come to the airport to pick you up. We will be displaying a play card of Alpine Eco Trek with your name on it. Airport transfer is included.
Can I extend my holiday?
Ghorepani Poonhill trek can extend and there are many options and choices to extend your holiday before or after your main trip. Following trips are suggested for your holiday extensions.
-2 nights / 3 days Chitwan Jungle Safari
-2 full day sightseeing tour in Bhaktapur, Patan Durbar Square and Kathmandu valley
-1night/2 days Trisuli or Bhote Kosi river rafting
-Everest mountain flight
- Tibet overland tour
- Bhutan sightseeing tour
Further Information
Our homepage contains as much information as possible about this trip. However, if you have any questions regarding trip, please feel free to contact us. We answer all enquiries within 24 hours. If you want to book a trip, you can send us an email or contact us directly by phone: 0977 98510 36844 (Ram Kumar Adhikari).
About US
Namaste and welcome to Alpine Eco Trek, a leading trekking and Travel Company in Nepal recommended by various guide books and travel forums. 
We are a small adventure company in Nepal and proud to be an eco friendly travel and trekking agency based in Kathmandu, Nepal. Registered with the Government of Nepal and associate member of various adventure associations, we are one of the most experienced travel and trekking company offering personal services in planning and execution of every holiday trip. We provide you the best holiday and cultural trips for small or private groups, custom plans for yourself, your family, friends, student travel group or a trip for your organization. These are the outcomes of our extensive research, careful planning and working experience to give you unique experiences of a real holiday with nature, culture and adventure.
Our dedicated, experienced and committed team thrives to provide our ultimate satisfaction to our clients by obtaining thorough trainings and research with experience and feedback throughout the years. Our team always aware to take cares all the required services flexibility and as much your exotic holiday can be enjoyable, comfort and safe with us.
Trekking in Nepal with Alpine Eco Trek is affiliated to the various organizations such as KEEP, TAAN, NTB and Eco Tourism.           
Thank you for your valuable time!
-------------------------------------------------------------------
Alpine Eco Trek & Expedition (P) Ltd. 
P.O.Box: 19844 Thamel Marga 29, Kathmandu, Nepal
Tel: (+977-1) 4420187, Res: (+977-1) 4027424
Mobile: +977 98510 36844 (Ram Kumar Adhikari) 
E-mail: info@alpineecotrek.com, tibettour@hotmail.com 
Facebook: http://www.facebook.com/alpine.ecotrek 
Websites:  
http://www.alpineecotrek.com/
http://www.tibettourtrek.com/
About Trekking in Nepal:
 Alpine Eco Trek offers Trekking in Nepal provides great experience of Nepal, unbeatable combination of natural beauty and culture. On beaten trails or virgin tracks, Nepal is a trekker's paradise. The very organic rhythm of foot travel is a wonderful way to explore and make meaningful contact with this extraordinary country.
Along with forests of rhododendron, temples and monasteries, a multitude of birds and animals, you will also encounter many small mountain villages. In these isolated hamlets, friendly people of diverse cultures offer a fascinating glimpse of traditional rural life. And in the background, every step of the way, is the magnificent presence of the Himalayan peaks - providing breathtaking panoramic views.
Trekking holiday usually consists of a series of ascents and descents walking 5 to 7 hours (9 to 14 km per day on average with a guide, cook and porters and on some occasion's pack animals.
The objective of trekking is not just the particular destination, but also the journey itself. You travel at a modest pace, observing nature, rural communities, and spectacular mountain panoramas.
It's not unusual to cross snowfields in the morning and bathe in sub-tropical streams in the afternoon. For the most part, trekking routes are well traveled by local people, but remain unmarked without signposts.
Trekkers rely on our staff for trail finding and an introduction to the local people, culture, religion, and lifestyle. A trekking route will often pass through forests of rhododendron, bamboo, oak, and hemlock, visiting one or two villages each day. Rivers are crossed on log passages or suspension bridges.
Our job is to ensure your comfort and safety as we take you where you want to go, at your own pace. We show you what you have come to see, and help you discover things you had no idea were there!
Alpine Eco Trek offers a wide selection of different treks to suit both novices and experienced trekkers. Whether you have two days or two months to spend in the Himalayas, we can tailor- make itineraries to suit your needs.
http://www.alpineecotrek.com/trekking-in-nepal.php
Ghorepani Poon Hill Trek, Annapurna Short trekking, Nepal Trekking, Trekking in Nepal, Alpine Eco Trek, leading company in Nepal.