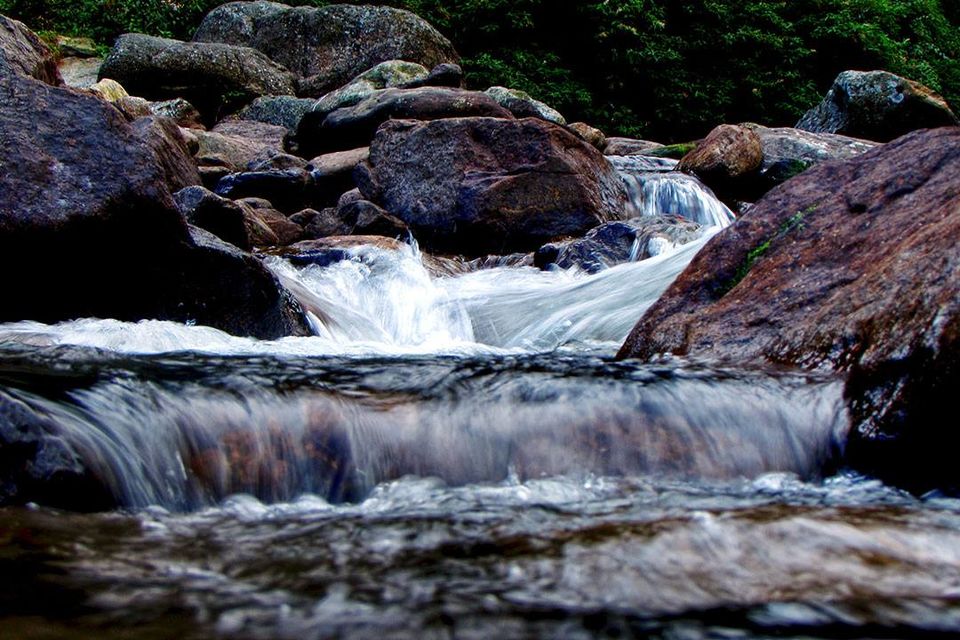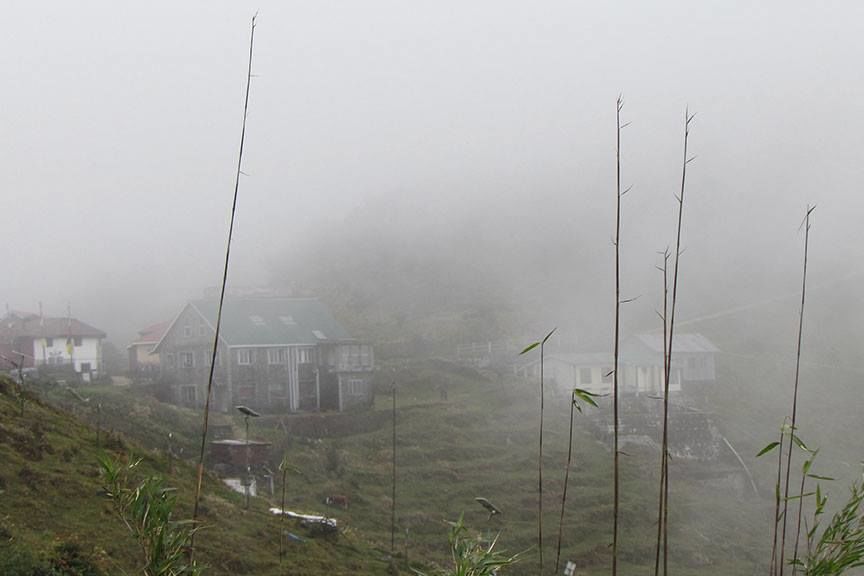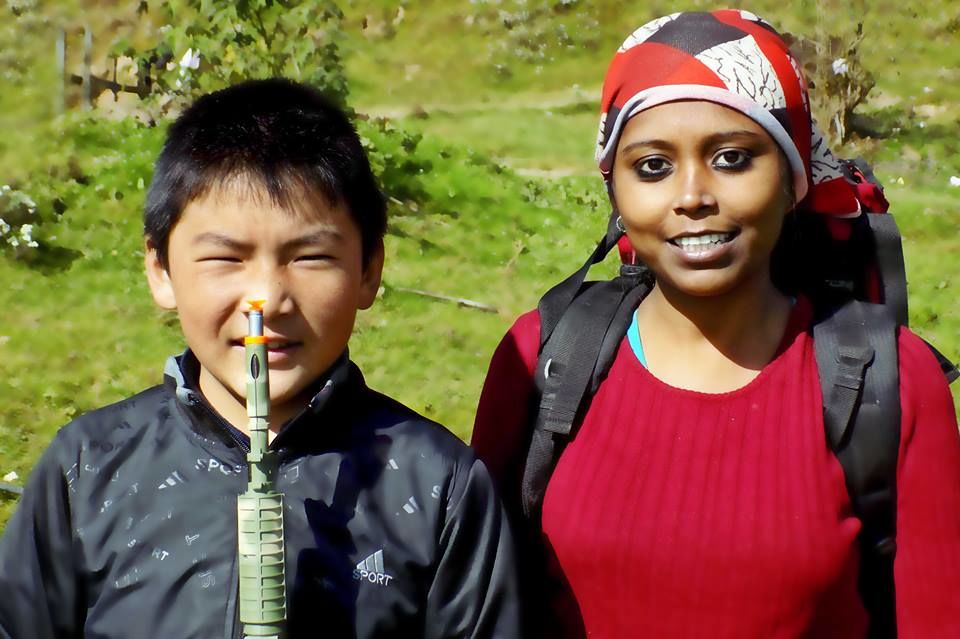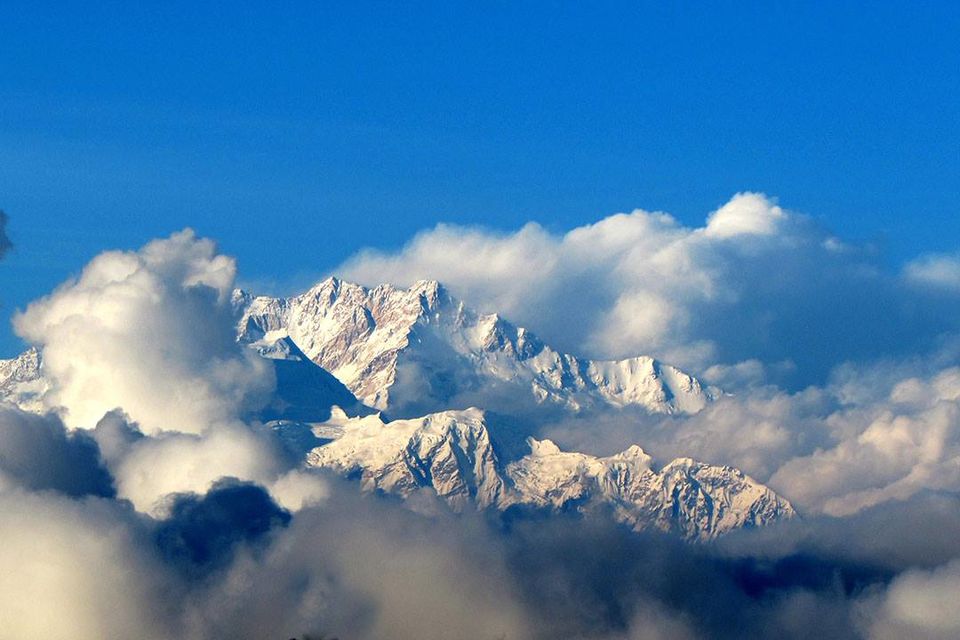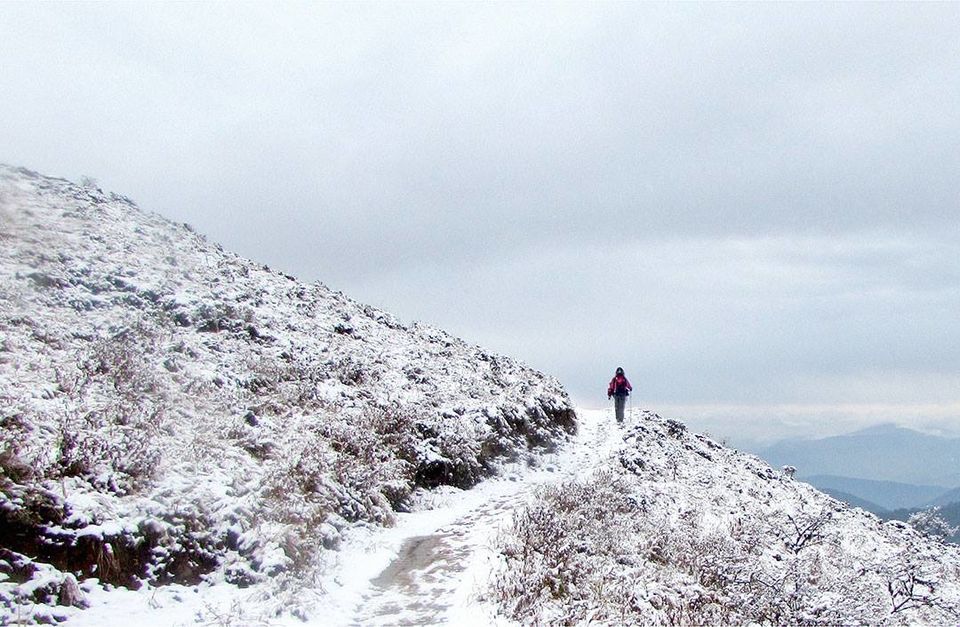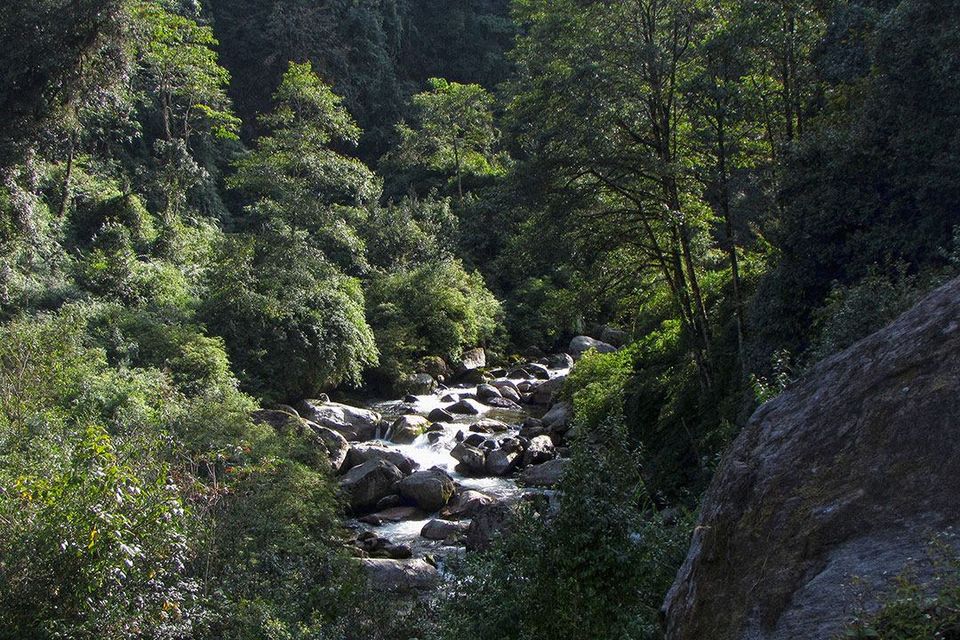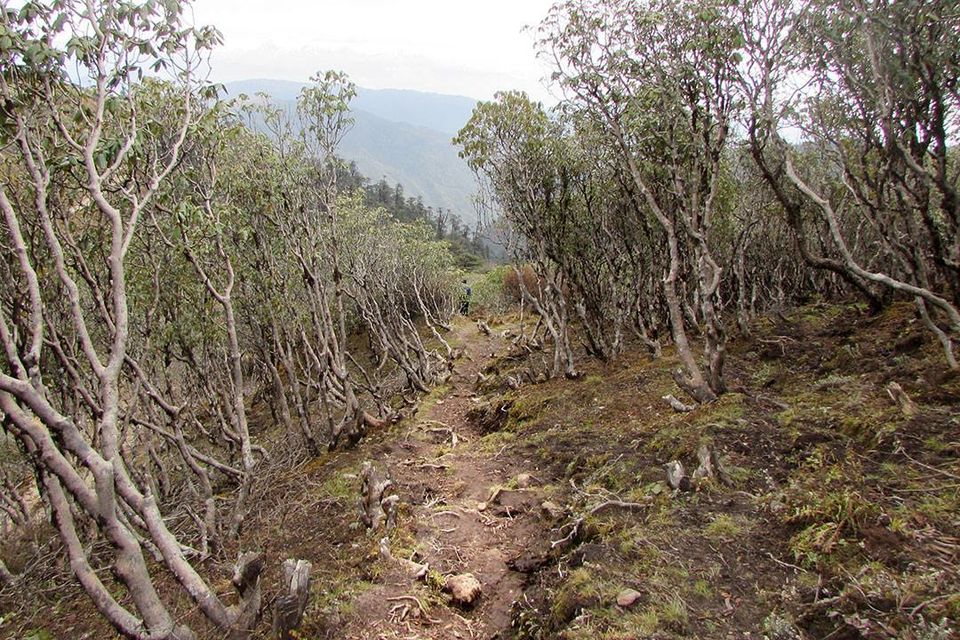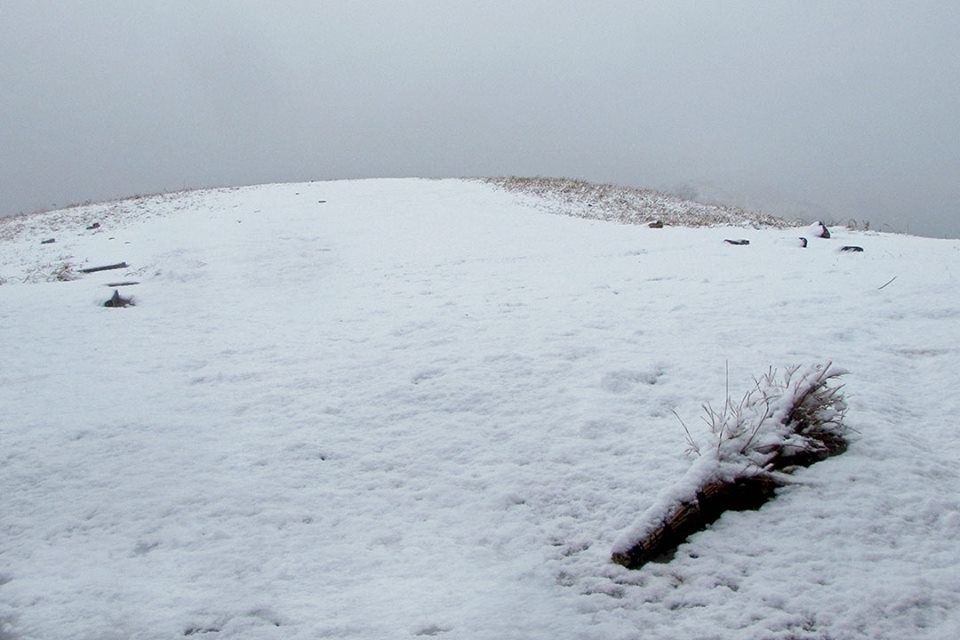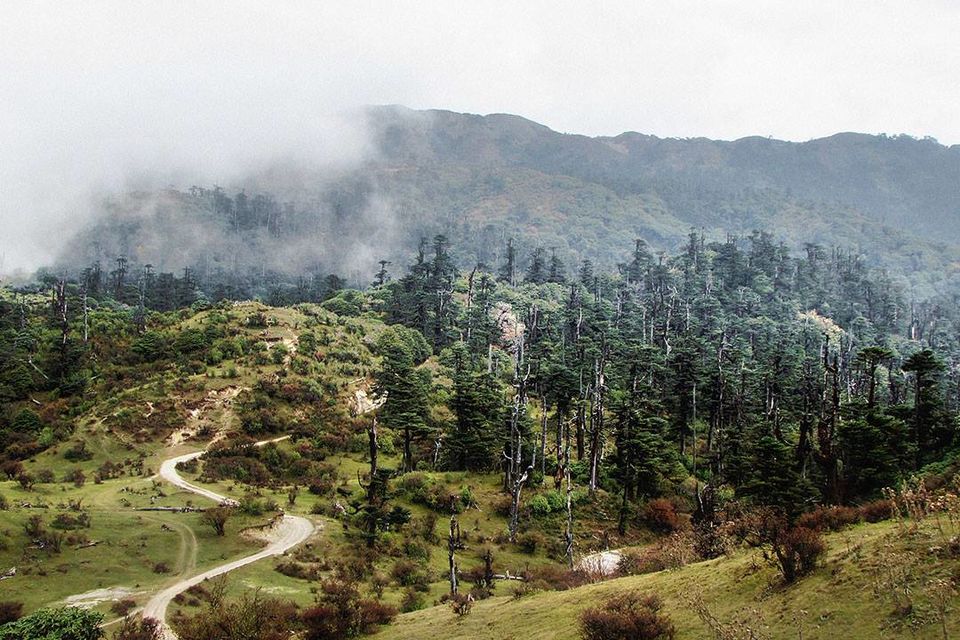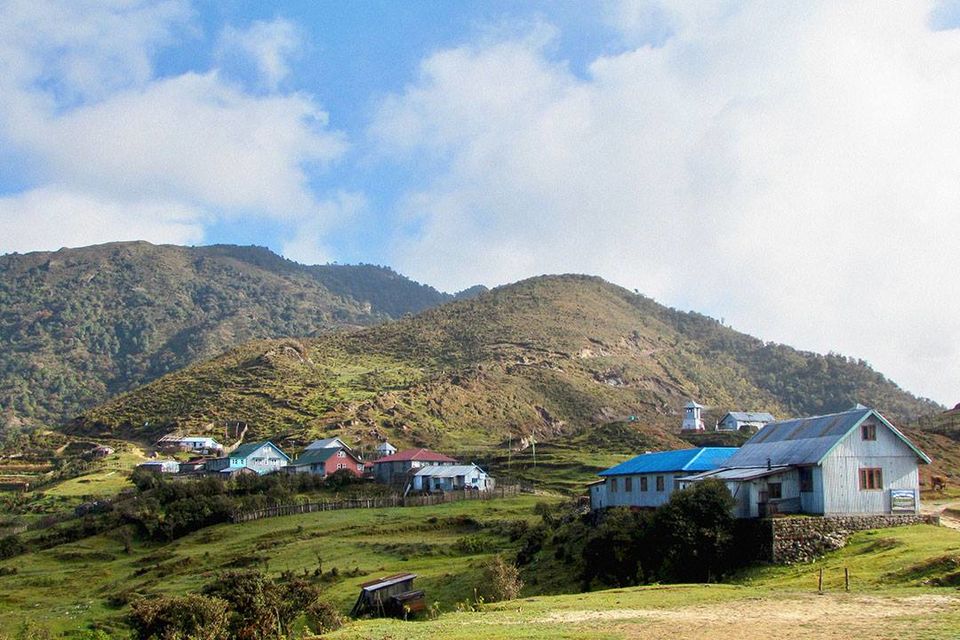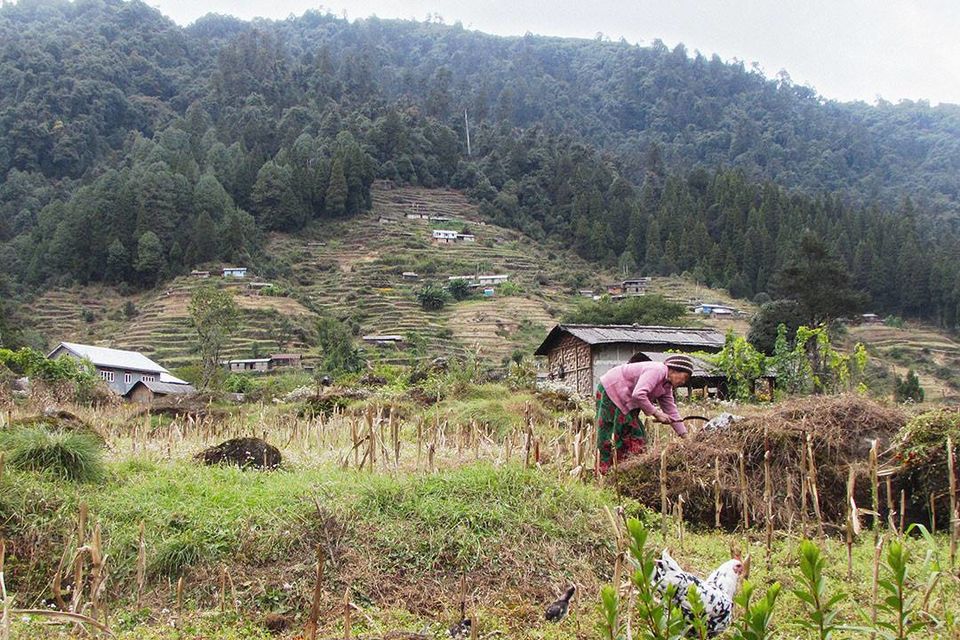 Life begins when you take the first step
Mountain and its people have always remained my favourite when it comes to travel, but at the same time being an extremely laid back person trekking was never on my wish list. Walking a couple of kilometer on the hills was the highest I could afford to satiate my adventurous spirit. Listening to the envious stories from my trekker friends, or their wonderful Flickr albums, nothing could actually motivate me enough to take the first step on the mountain.  Every time they made a plan, I refused by saying, "guys! it's not my cup of tea. I need mettaled road below my feet". But as they say, inspiration comes when you least expect it, or wait was it inspiration?
After officially breaking up with my long time boyfriend and coming out of the toxic relationship the first thing I could do was to leave my full time job, which I found to be equally unhealthy. Both the decisions were tough, the result was some stressful, sleepless nights and on one such night I found myself booking a ticket to New Jalpaigudi and thus I was all set to begin a new life. After sharing the plan for trekking to Sandakphu, one other friend showed her interest to join in and insisted to add Phalut to it, so my first trekking was 85 kilometer walking in 6 days.
Known to be the wonderland for the trekkers, Sandakphu is a perfect trek for the beginners, offering mesmerizing view of four of the tallest peaks, Everest, Kanchenjunga, Lohtse and Makalu, and you'll be on the highest point (12,400ft) of West Bengal, a fact not to be ignored. Trekking through the Singaleela National park, witnessing its rich flora and fauna is itself an experience to be remembered for a long time.
The trek begins at Manebhanjan, a small town 28km away from Darjeeling. A car can be hired from NJP station which will take around  Rs. 2000 to 2500 depending on the season, however we took share jeep, after all I was out of job and in no mood to go back to a full time job any sooner. We took a shared jeep to Ghum, the rate is Rs.120 per person. If you are lucky enough you can get a front seat and can chat with the warm cordial Nepali driver along the way. Take a train of flight which reaches NJP/Bagdogra in the morning, otherwise a getting shared jeep might proved to be difficult, especially beyond Ghum. From Ghum we took another shared vehicle till Sukia, it took Rs 60 per person and from there we reached Manebhanjan, the fare was only Rs 20 for a person. Remember to withdraw required money for the entire trek in Sukia,you won't get any ATM after that.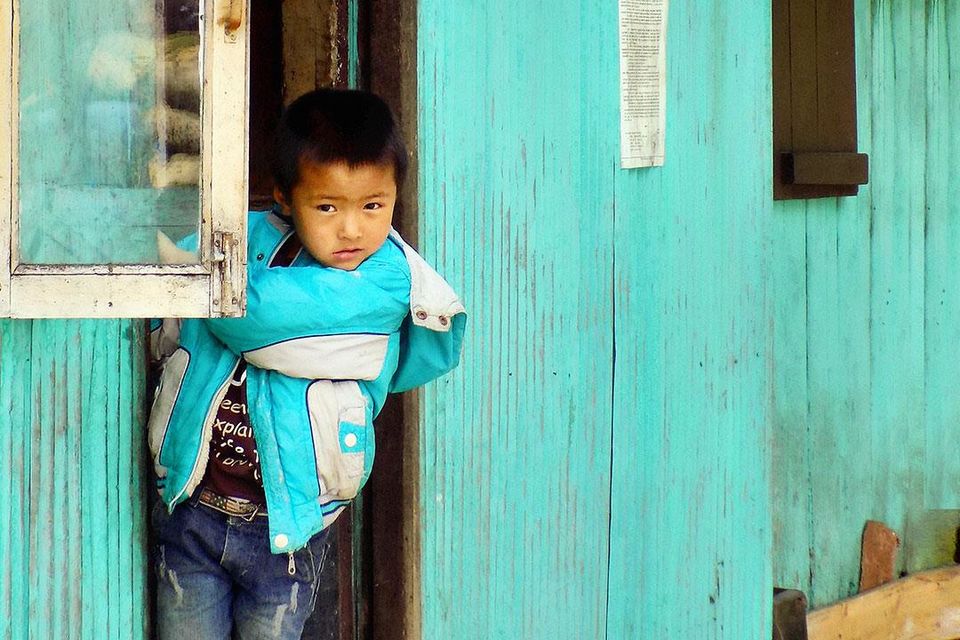 Manebhanjan is the place where you'll find the guide office. You need to have a local guide who will accompany you throughout the trek, and without him you won't get a permission to enter the Singaleela National Park. You have to pay the full amount to the guide office and they'll fix a guide for you. You have to pay Rs. 750 per day and his food in Sandakphu, in all the other places he'll manage for himself.
We planned, instead of staying at congested and clumsy Manebhanjan we would stay at Chitrey, a small quaint village two and half km away from Manebhanjan. Besides avoiding the crowd this would serve two other purposes, firstly it would give us a scope to enjoy the warm hospitality of Phunksuk and Dolma, the family running the only home stay at Chitrey, and secondly we would cover the most difficult part of the first day trek, thus having some elbowroom on the following day.
After fixing everything in the guide office, we entered a small road side shop to grab some momo, and there we did the first mistake of the trek.  It was around 2pm and a perfect sunny afternoon. The locals were having beers and other drinks in the shop, which enticed us so much that we couldn't resist but ordered a couple of drinks. To put it honestly, it was not the drinks but the feeling of freedom which you get by having beer in a roadside shop, in the day light with some extremely pleasant and simple people all around was much more alluring to us. This is a situation unimaginable for two girls in our city. By 3.30 pm we were done with our food and drinks and headed towards Chitrey.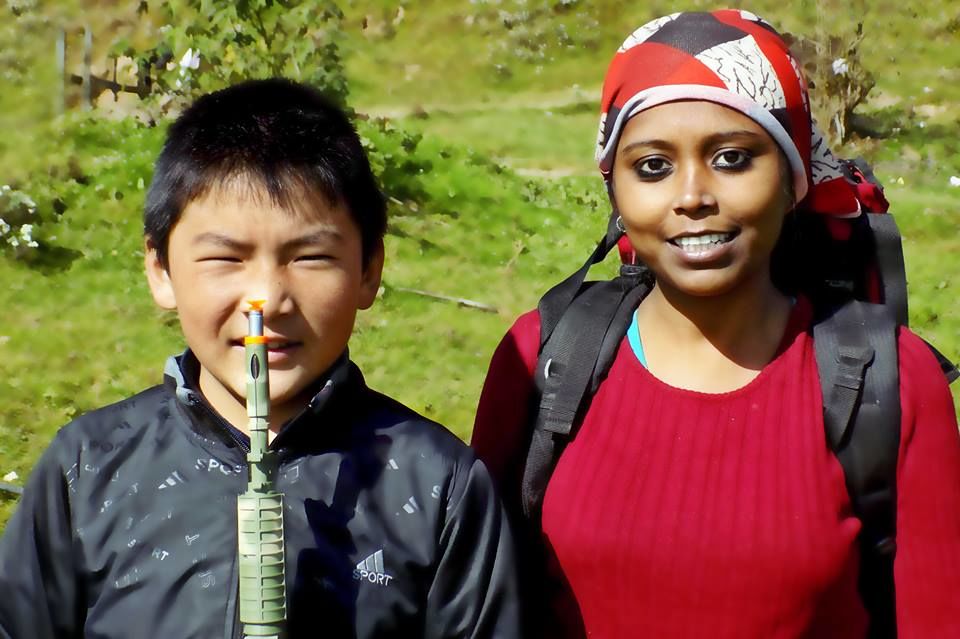 Chitrey is located at an altitude of 8,340 ft, while Manebhanjan is at 7054 ft, the elevation is 1286 ft, which is quite high for a 3km distance. The homestay, Hawks Nest is situated at lower Chitrey which is about two and a half kilometre from Manebhanjan, so keep an eye on your left or you might miss the small settlement of 5 families and reach at the SSB camp in upper Chitrey, what exactly happened with us. This was not my first time in Chitrey so I was quite confident as we started our walk. It's a steep walk, and it was the first day, so negotiating with the altitude and weather was a bit difficult and we were prepared for that. We estimated it would take roughly one and half hour to reach Chitrey, if we walk slow and take rest here and there. But nature had its own plan, soon after we started our walk, there was a sudden deterioration of the weather condition and it got all cloudy. We tried to increase our pace but it was not easy and our lungs were refusing to support our decision. It became dark soon, and we didn't have any idea where we were, from the mile stone we just knew we had crossed 1 km distance much before.  The head torch was not of much use in that cloud and we knew we shouldn't have wasted so much time at Manebhanjan. The thumb rule in mountain is to complete your walk as soon as possible, you cannot really depend on the weather. After walking in the dark for a few more minute we met a group of people, by then it started raining. As we asked them about Hawk's Nest, they said it's only two turns away and will take another five minute. Even after walking for another 20 minute we didn't saw any trace of the house or the village. The second thumb rule in the mountain, don't go by the time of the local people, they do not have any idea how slow we walk. As it was getting darker and rain was becoming heavier we started losing our mind. The visibility was near zero, and it was impossible to find out the house. After walking for some more time suddenly I realised we are walking on boulder road. "We have crossed upper Chitrey", I screamed to my friend, the milestone was showing Chitrey '0' km.  The road till upper Chitrey is metalled, after that you will get boulder road. We started walking back while calling out for Phunsuk, as the mobile was not working we couldn't call him. After two-three minutes we saw an angel in front of us, it was Phunksuk with high power torch and umbrella.
The warm coffee and warmer reception by Dolma (wife of Phunsuk) and Jigme (11 year son of Phunksuk) made us forget the horrifying experience in a few minute, we were on the right track again.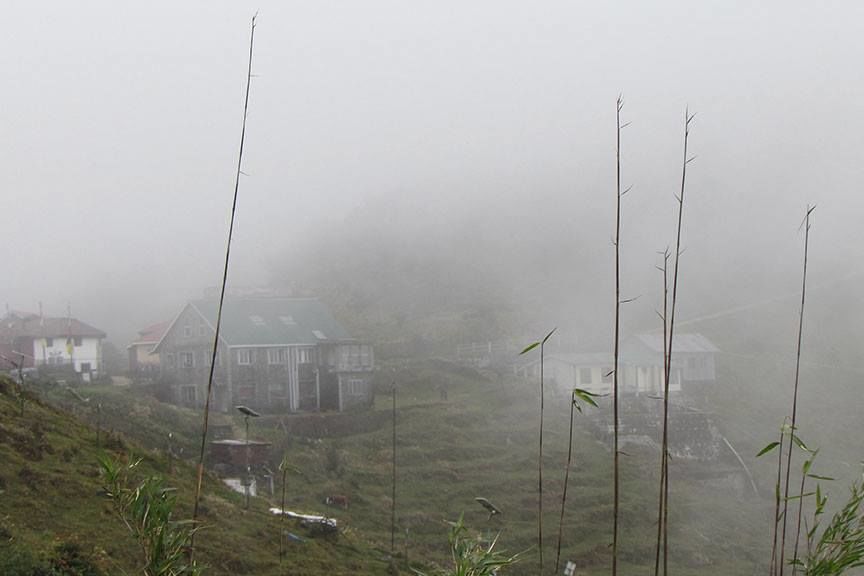 Next day we woke up to a bright sunny morning. The guide, Vinodji arrived much before. Before heading to our that day's destination Tonglu, we spent a little time at the Chitrey Monastery, which is a meditation centre for the Buddhist monks. There we heard, a group of monks have just completed their 6 year 6 month 6 days meditation and went to the Meghma monastery for offering their prayer.
This day's walk is comparatively easy one, it's 9km trek, the elevation is 1,734ft. The slope is gradual and you'll trek through the lower forest. After walking 2km you'll get a small settlement called Lamey Dhura. For the entire trek route till Sandakphu, you will be passing through Indo-Nepal border, some of the settlements are in India, while some others are in Nepal, and the local people don't care much about that. The Lamey Dhura is in Nepal, and there are only a couple of huts selling tea and other knickknacks for the trekkers.
While walking through a ridge from Chitrey to Lamey Dhura, there was a clear view of gorgeous Kanchenjunga which made the trekking even easier for us. After Lamey dhura, the next settlement is Meghma, 5km away. Again it is easy gradual slope. At Meghma monastery we  met the monks who were meditating for more than six years. All of them were young, jovial and happy. A small interaction with them revealed that they have come from different parts of the country and have been learning Budhhism, this long meditation was the final leg of their training and now they were allowed to travel to different monasteries. They gave us chips, chocolates and cold drinks, as they told they offer these things to their god. Happy us, started for that day's last part of the trek. The one km is the toughest part of that day's trekking, steep ascending it is.
One can also chose to stay at Tumling in Nepal to avoid this, from Meghma there are two roads, the left one takes you to Tumling while the right one goes to Tonglu. In Tumling there are few lodges, the cost of food and stay is a bit high (it will take Rs. 800-1000 per person), but rooms are cosy and comfortable. The government trekker's hut is at Tonglu along with one-two homestays. The stay is cheap (Rs 125 per person). One can book the trekkers hut at the GTA Bhawan in Kolkata or Siliguri, or can take the risk to reach there without any booking, and book the rooms on spot. We opted for the second one. The best thing about Tonglu is some of the rooms in the trekkers' hut as well as in the Homestays offer you a wonderful view of Kanchenjunga. So you can see the sunrise right from your bed, you just need to be lucky enough to have a clear weather, and in Tonglu you often have one.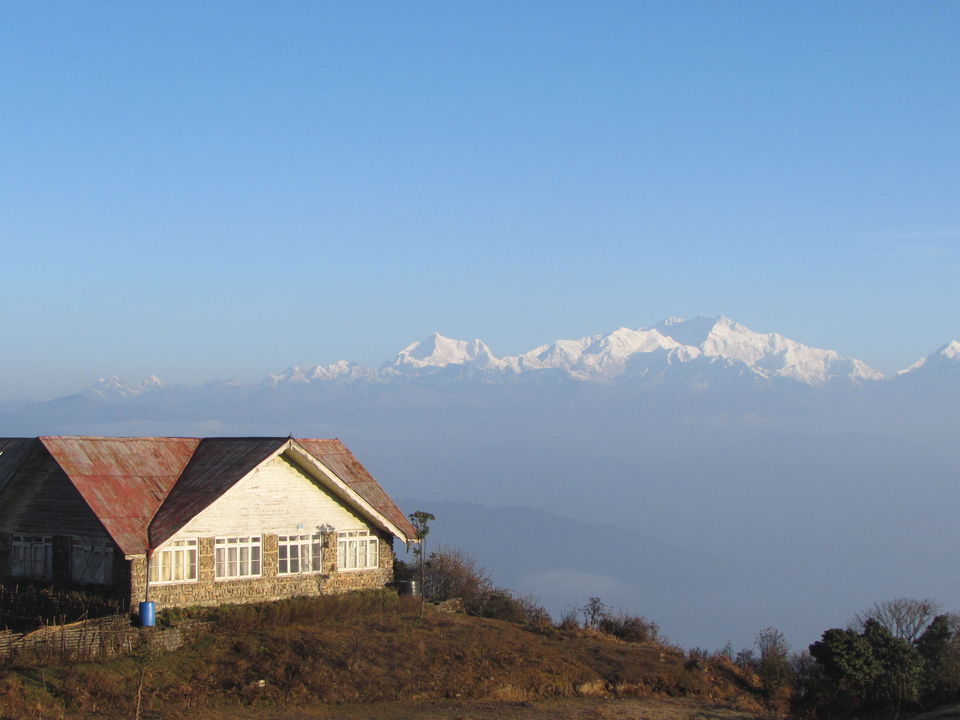 The following day we started from Tonglu subsequent to getting a charge out of a hypnotizing dawn and having a dish of hot noodles. Noodles are the standard breakfast in all these places, although those are not that tasty but on a cold morning with some breathtaking view and wonderful surrounding it's not that bad either.
This day's destination is Kalapokhri, a small Nepali village with a lake called Kalapokhri.
The trek from Tonglu towards Sandakphu is full of wide assortment of greenery, fauna and avifauna as you enter the Singalila National Park. After walking for about 2km you will find the forest check post of the National Park, locally known as Phatak . Here get your entry pass, 100 Rs each, extra charge for camera. From there you'll find three different routes leading to Gairibas, the next settlement. The left route through Joubari (Nepal) is the easiest one and favourite among the trekkers. The route in the right is through India. One can also decide to walk over the hill and get down at Garibas on the other side, they need to take the route in the middle, this route is short but tough, as it involves steep ascending and subsequent descending.
Joubari in Nepal is a settlement with a police check post, few shops and some overnight accommodation. Collect your gloves, caps and other such necessities from Joubari, if you are not carrying it. Tonglu to Joubari is about 6 km, do not continue on the road from Joubari onwards as it will take you to the deep into Nepal. Take a right turn and cross the village to enter into India.  From there you need to walk down for 3km to reach Gairibas. The walk is easy for lungs and tough for knees.
At Gairibas you can grab some food, noodles I mean, or sip a cup of tea. Take some rest, as after this you have to climb steep uphill for a couple of kms to reach the top of the hill. Then another km walk to Kaiyakata. It's better to plan your lunch a Kayikata, because after that it's a comfortable walk of 3km till you reach your that day's destination Kalapokhri.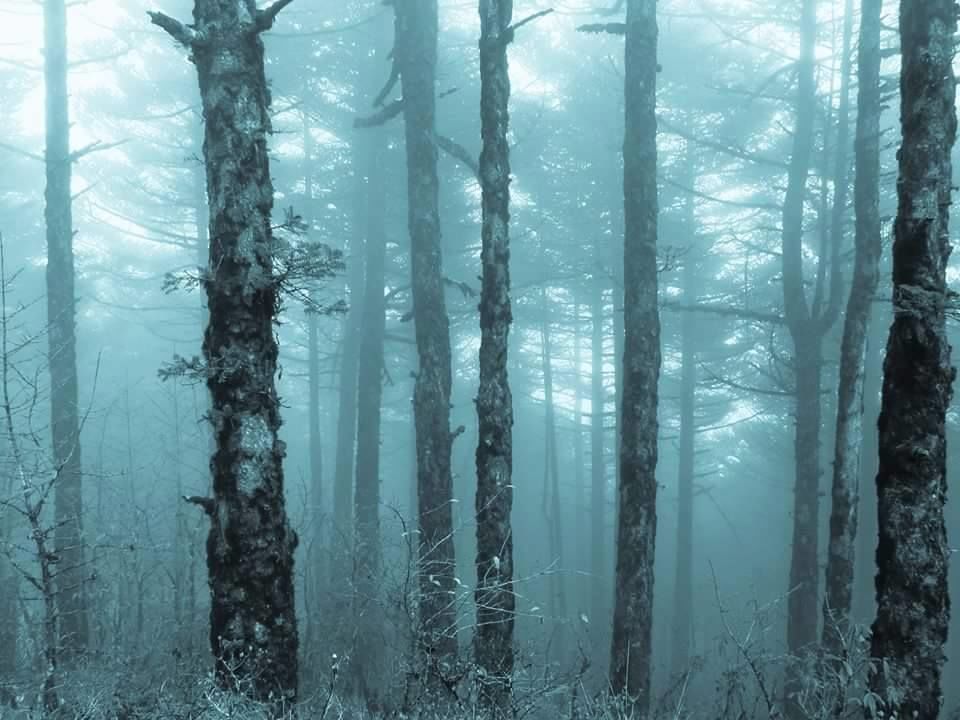 The road from Kayiakata to Kalapokhri is gradual uphill with a soothing green surrounding. Walk slow to enjoy it fully and keep your eyes open. This particular part of the forest is house of the Red pandas and we were lucky enough to catch a glimpse of a Panda couple and got totally awestruck by this surprise.
Kalapokhri in Nepal is situated at an altitude of 10,200 ft. It is on top of a ridge, expect heavy wind blowing and a chill in the air. There is a trekkers' hut and few lodges in Kalapokhri with basic facilities. The lake is surrounded by pine trees and prayer flags and the water is dark.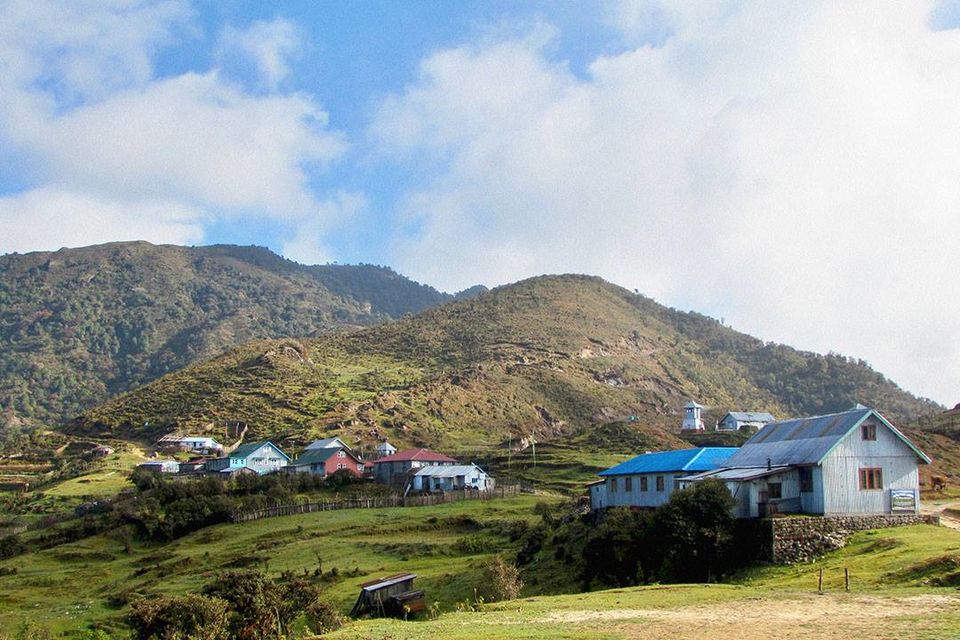 Kalapokhri welcomed us with hot and delicious Tibetan tea. The night was spent with much excitement as we were only 8km away from our first destination, Sandakphu, and the following day is the toughest climbing as told by our guide.
We started quite early on the next day. After two kilometre of walk we reached Bikeybhanjan, the last hamlet before Sandakphu. The view from Bikeybhanjan was implausible, you just need to look at the colours of the trees in the valley. The six km from Bikeybhanjan to Sandakphu is the most difficult and steepest stretch of the entire trek. The main route is in the right side which is in India, but our guide suggested taking the left one through Nepal as it is comparatively easier to climb. The fervor and physical strain banned us to appreciate the magnificence and the climate was additionally baffling.
There are several hotels in Sandakphu, some with nearly luxury facilities, but water is scarce. The view from Sandakphu is something to remember for lifetime. The entire range of mighty Kanchenjunga, Everest, Lohtse, Makau can be seen with its full glory. The sunset view is surreal. Keep your camera ready because it changes colour rapidly and you might miss a shot.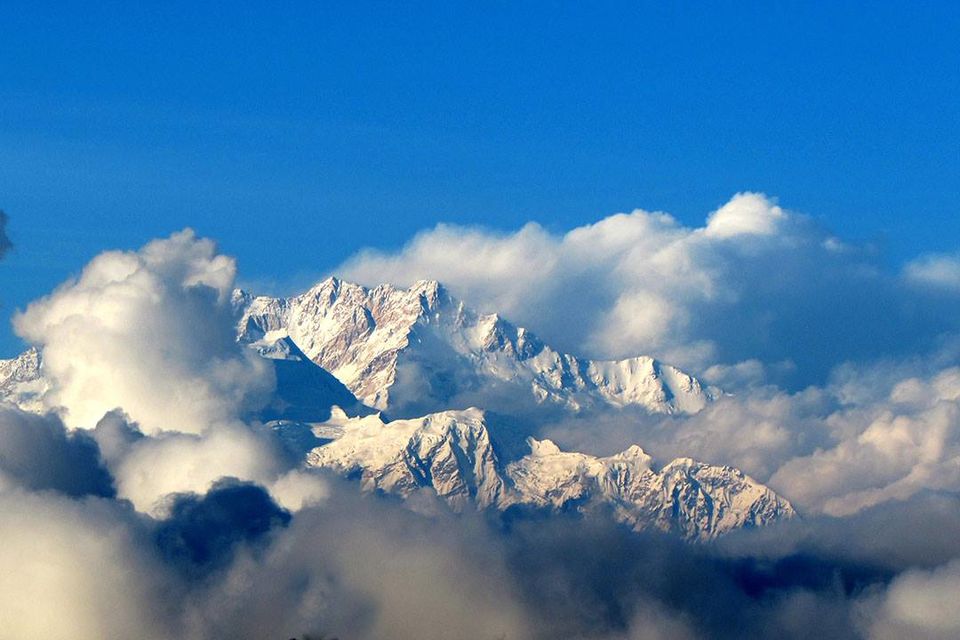 Sunrise view on the next day was equally mesmerizing, instead of clouds here and there. This days' trek is long, it is 21km walk from Sandakphu to Phalut via Sabarkum. As there is no altitude gain it is possible to cover the whole distance in one single day, but take it from me, walking this long at a stretch with a 9-10 kilogram sack on your back is not an easy job.
By then we were convinced that we have lived the best part of the trek, the rest is just for achieving more, but nature had other plans.
The landscape becomes totally different when you trek through Singalila ridge to Phalut. There are lush green meadows and only a few trees here and there, most of the trees are burnt. Have some food (read noodles) at Sabarkum otherwise it would be difficult to continue the walk. Also carry some dry food for this journey, because Sabarkum is the only locality in this entire stretch.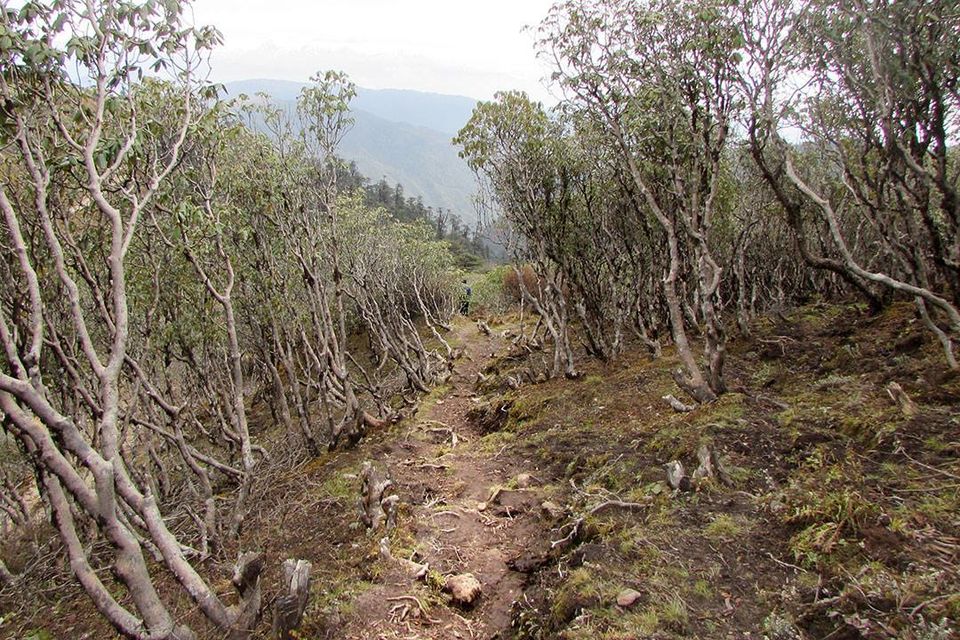 At Phalut there is only one accommodation and that is the trekkers' hut. There is another accomodation, which is a Forest Departments' Guesthouse but on spot booking is not allowed there. Phalut's morning was the greatest surprise awaiting for us. We decided to wake up a bit late as this day's trek is totally downward of about 16 km to Gorkey. The dawn was cloudy and in a way depressing. We decided to spend some more time enjoying the warmth of blanket. Suddenly we could hear howling of the fellow trekkers outside. We peeped through the curtain to look into the matter and the view outside totally enthralled us, it was all white. It was snowing. We rushed out of our beds to enjoy the snow flakes and take some photographs to make friends jealous, back home.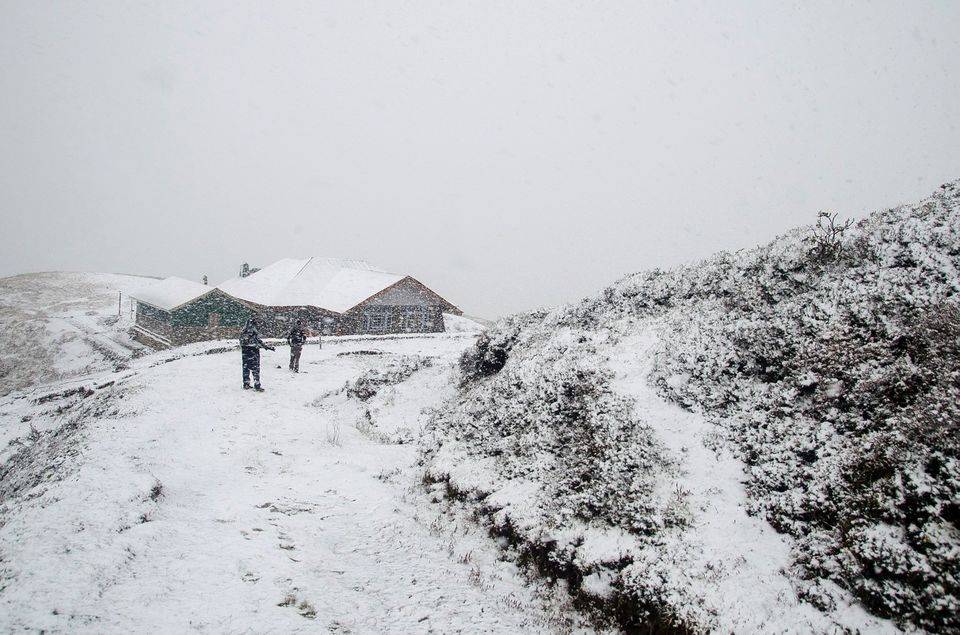 After a couple of hour we started our journey as the guide suggested it would be difficult to walk, once the snows start melting. The trek is through semi dense forest, totally downhill and leads to Gorkey.
Gorkey is picturesque village in the river valley at the Bengal-Sikkim border. The Singaleela National park ends here. There is trekkers' hut and several homestays in Gorkey with basic amenities. Plan some good meal here and take a long bath, not in the river but bathroom.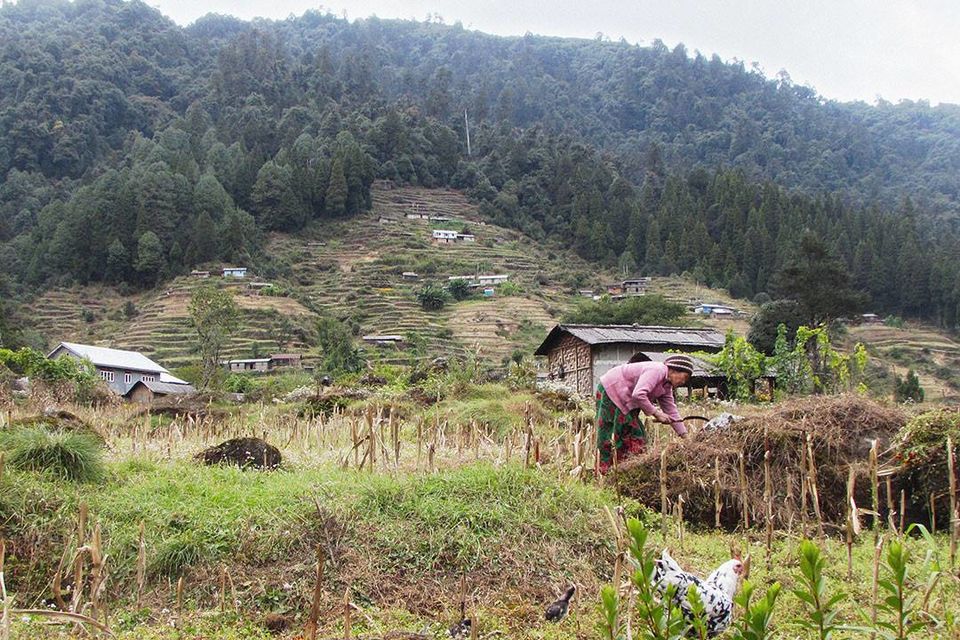 From Gorkey to Srikhola it is 15 km walk through the woods, mostly on a plain surface. Srikhola is also situated on the bank of Sri River. Trekkers' hut and hotels are available, but don't expect a luxury. You can also take a bath in the river if you are daring enough.
The journey ends with a one km walk to Sepi, which is a road head, from there we took a shared jeep to Darjeeling.