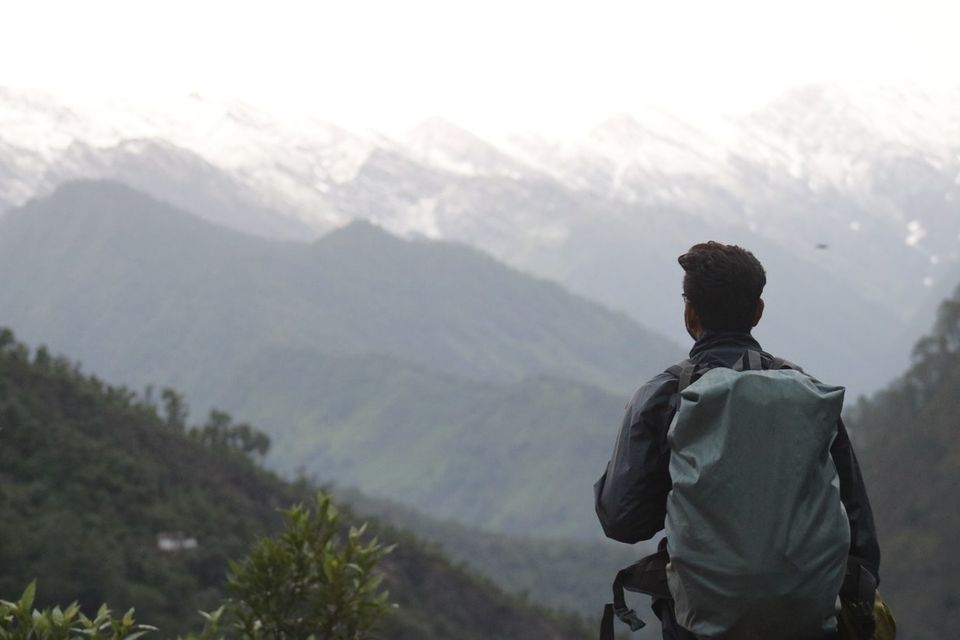 Going for the Benog Tibba trek was totally by chance. And I have often found that these chance visits to places turn out to be quite interesting and worth remembering. Mussourie has always been one of my favourite destinations. I had first visited this hill station when I was merely five years old. 20 years hence, I visited the place again and fell in love with the place again. This time I came to know about the Benog Tibba Trek and decided to go for it.
The Benog Tibba Trek is an easy trek apt for the beginners and lies in the Benog Quail Sanctuary in Mussourie. The sanctuary is a part of the Rajaji National Park and has been developed as a bird watching sanctuary. The sanctuary is the home to a large number and wide variety of Himalayan birds. The best part of the trek is that it can be easily done from Mussourie starting from the Cloud End Resort in Mussourie and ends at the Kempty falls. When I heard about it, I was pretty excited. What can be better than enjoying fresh mountain air and also go for light trekking? After all, this is something that I simply love to do.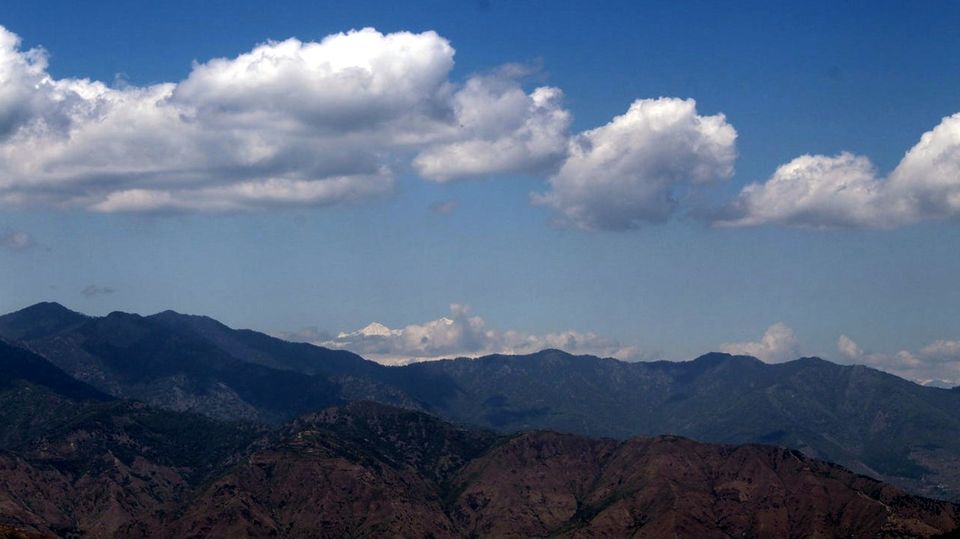 So early in the morning after a sumptuous breakfast, I started from the Library Bazar. The trail is a mild uphill one with a few turns until Hathipaon. From here, I kept on walking towards the house of George Everest. Do not worry, there are clear signposts here, so there is no chance of getting lost. From the George Everest House, Benog Tibba is around 6 km.
The trail goes through the villages and goes on to a beautiful meadow. The meadow was quite beautiful and could not but stop for a few photographs. After a few minutes of walk, the valley can also be seen. The view was simply amazing. I kept on walking until I reached the Clouds End Resort. You can reach upto this place by a vehicle, but I decided to come here by foot.
From Clouds End, there is a descending trail through the forest. This trail is covered with dry leaves and quite beautiful. I could hear the constant chirping of birds all along. After walking for sometime, I came to the point from where the steep ascent started. The trail is well laid and without much difficulty, I went uphill till I reached Benog Tibba.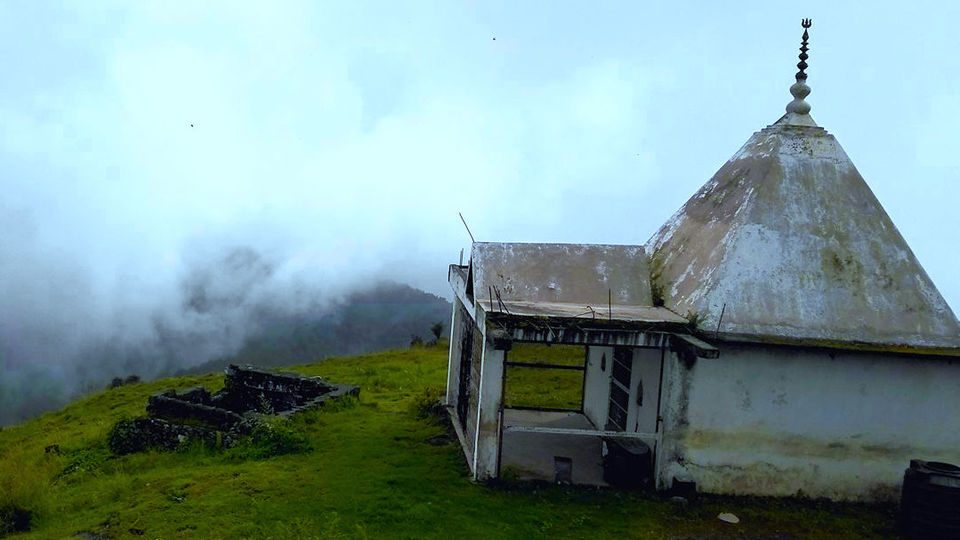 There is a temple at the top of the hill. From here, a panoramic view of the Yamuna valley could be seen. The mountain ranges of the Garhwal and Nag Tibba could also be seen from here. I spent some time at Benog Tibba, had the packed food that I brought with me and then started my way back through the same route. I had heard that there is another route that ends near the Kempty Falls. Since I could not find any well-marked trail, I decided to let it go and chose the same route back.
It was a great experience to trek through this offbeat trail. I did not find any trekkers in the entire route that day. Since I did not have time and resources, I did not camp overnight either. You can camp there as well.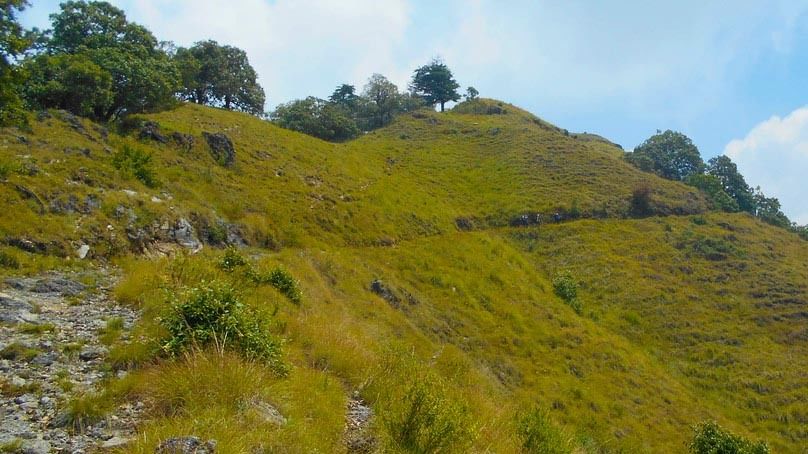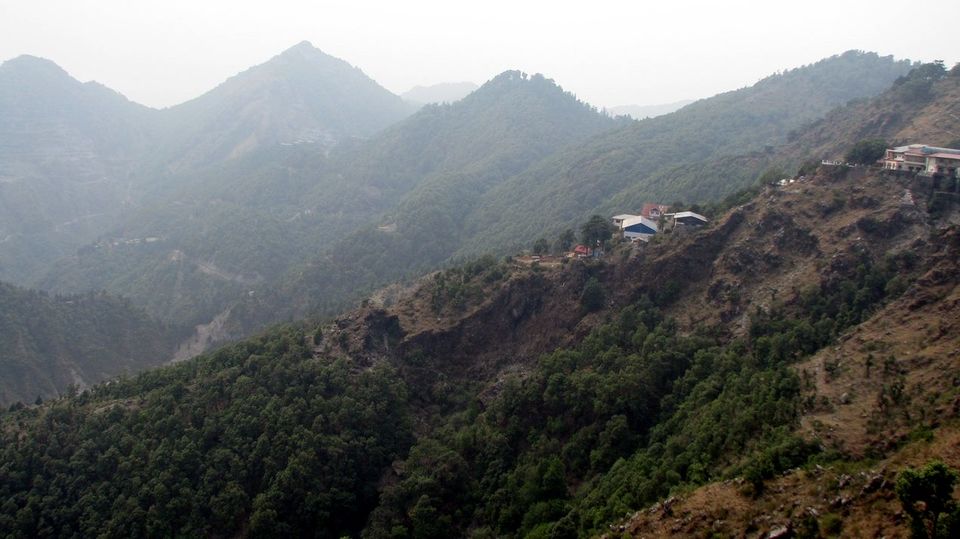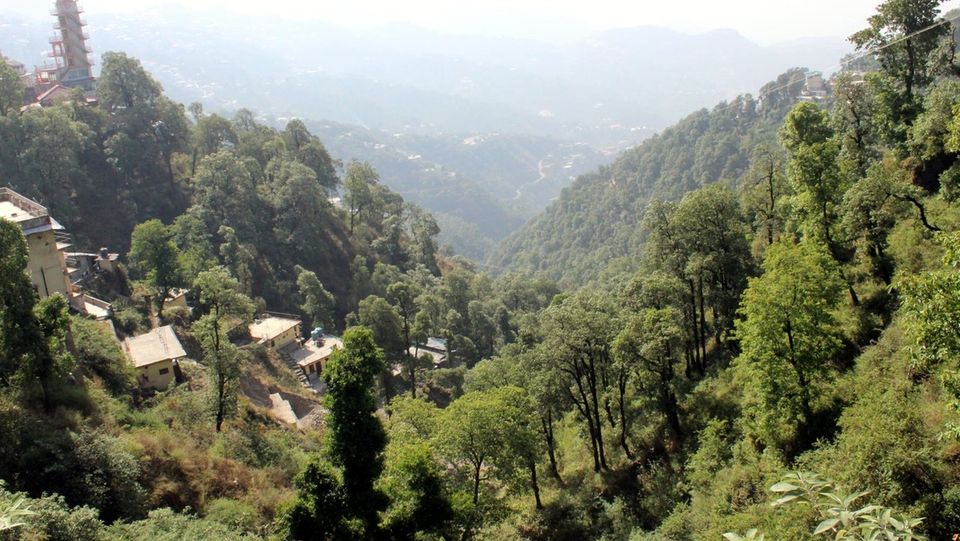 A few facts about the Benog Tibba trek
Difficulty: Easy
Type: crossover Trail starting at Mussourie and ending at Kempty Falls
Nearest Road head: Mussourie
Best Season: Any time of the year
Carry enough warm clothes if you plan to camp at the night.
How to reach
You have to reach Mussourie for doing the trek. The nearest airport is the Jolly Grant Airport at Dehradun. From there, take a cab to Musoourie. It is only 35 km by road and takes about 2 hours. You can also take a bust from Dehradun ISBT to Mussourie.
If you are coming by train, then take an overnight train from Delhi to Dehradun railway Station. You will also get buses from Delhi to Dehradun.