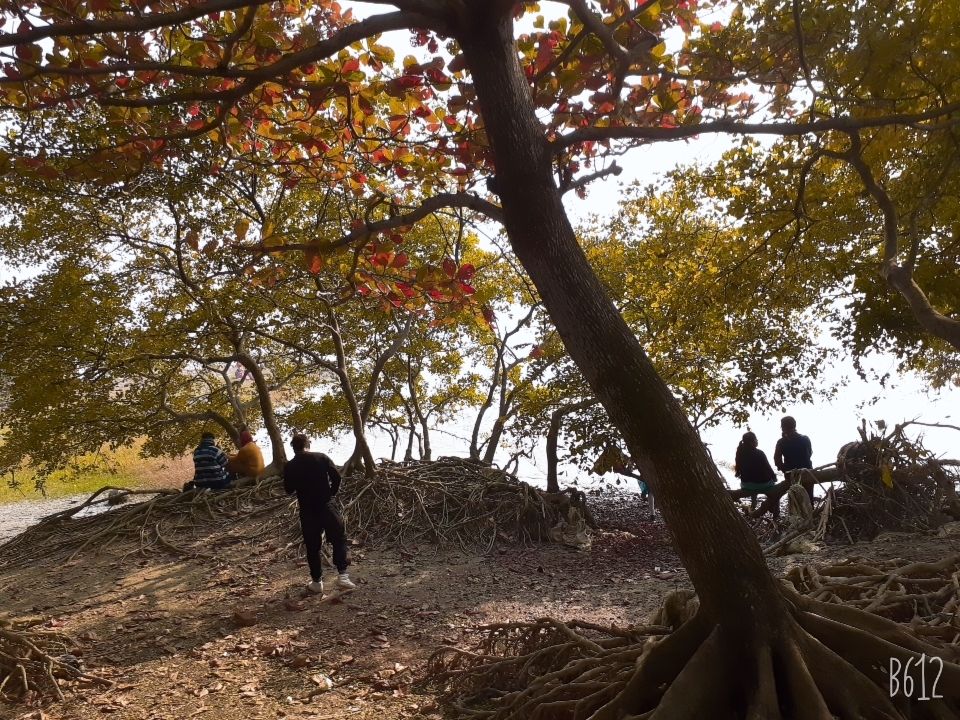 "Best picnic spot " , "Photographer's favourite zone" etc are some of the appropriate names for this place and this week we decided to chance upon Diamond Harbour and have a close view of the Bay of Bengal.
It's better to start quite early when there's a matter of catching a train because trains from Sonarpur junction always remain behind the expected time . We boarded the Diamond Harbour local at 12:15 am and reached Diamond Harbour at 1:25 pm. These stations have many fast food to offer. We took a toto from the station to Purano Kella - the best spot here . The place is close by and one can have a walk to catch  glimpse of the serene view  of the area. This view is sure to lighten up the mood after the hectic train journey.
The municipality charges ten rupees to enter the Purano kella ground and other varied charges are there for toto , bus , bike and tents and for renting the holiday home. The locals here put up small dhabas to sell dry food as well as cooked ones. I had made a short research about the history of Purano Kella . It was used as a port and ware house by the Portuguese.  Now only scattered remains are seen . The locals have interesting ghost tales about the Purano Kella which makes it more interesting to the tourists. A walk through the narrow path with Bay of Bengal on  right and cauliflower field to the left is picture perfect scene.
We had our lunch in one of the dhabas called ' Hindu Hotel' which served rice , dal , cabbage curry and fried potatoes. Gur or jaggery is famous here . The place has many mangroves and other trees. Its quite crowded in the winters owing to the serene view and pleasant weather.  The nights are peaceful-  pleasant sounds of the waves and calm breeze makes it worth  staying here  for long. Many hotels have been constructed to enhance the tourism.
The local market here is vibrant and colourful and sells good quality vegetables and fishes and rich garments. The area is crowded more with the tourists than the locals.
Thus the day ended perfectly and we caught a train back to home at 7:00 pm.