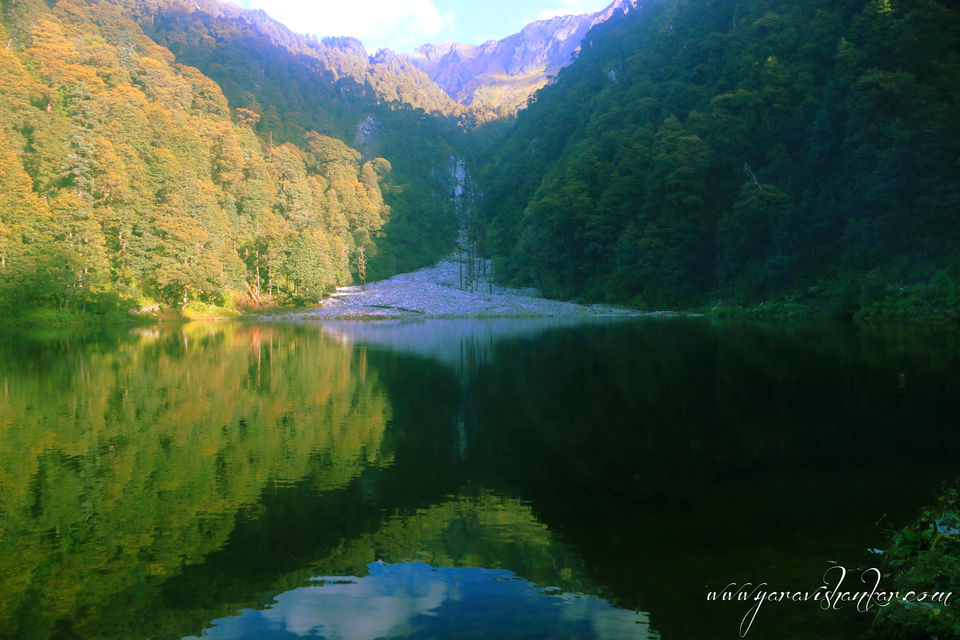 https://www.facebook.com/RaviShankarsPhotography
https://www.instagram.com/yaravishankar/
6000km by air in 6 hours, 1200km by road in 50hours, trek of 65 km in 6 days and reaching highest point of 3,885 meters height (12,937 ft).
With Sudharshan SD ( caption ) , Sreevathsan (Vice caption ) , Natarajan ( Guruji) , Narayanan, Hariraman, KS Bhat, Sarmesh, Sukumara, Hemanathan , Bhaskara, Emanuel ,Phani and me (Ravi Shankar)
23-Sept-17
We left from Bangalore in the evening. Reached Delhi at around 10:30PM. We took 2 Chevrolet Travera to reach Haridwar. The road was bad and only few of us could sleep. We stopped at a Dabha for a good paratha and good lassi enroute. It was raining and the roads was filled with lot of pot holes and the driver had to avoid pot holes. At one point driver landed on a bad pot hole and the car suspension broke down. The car was slightly leaning on one side.
24-Sept-17
Despite that the driver drove slowly and somehow we reached Haridwar early morning. We were all sleepy and we were sad to see that it was raining heavily. We slept for some time and woke up and had good tea.
Despite the heavy rain we took dip at the cold Ganga water at Hari Ka Pauri at Haridwar. We were happy to eat hot Poori and aalo at Mohan ji. Some of us went to Manasa devi temple on a hill top. By 3PM we were happy to see that the rains had stopped. I had forgetten that I had left my camera at the hotel. There is provision to take shared diesel auto for little longer distance. For shorter distance near Har Ke Pauri you could take electric auto. We came back to hotel to see beautiful rainbow with starting of Himalayan range in background.
Evening we came to Hari Ke Pauri.
We were able to witness Ganga aarathi at Har Ke Pauri. It was one the amazing view. People gather after the sun set to see Aaarathi to Ganga. It is a feast for your eyes. Remember to go early and sit near the Ganga banks for a better view of the Ganga Aarathi. We came back to hotel to have hot roti , palak paneer , rice and dal. We went back early to bed.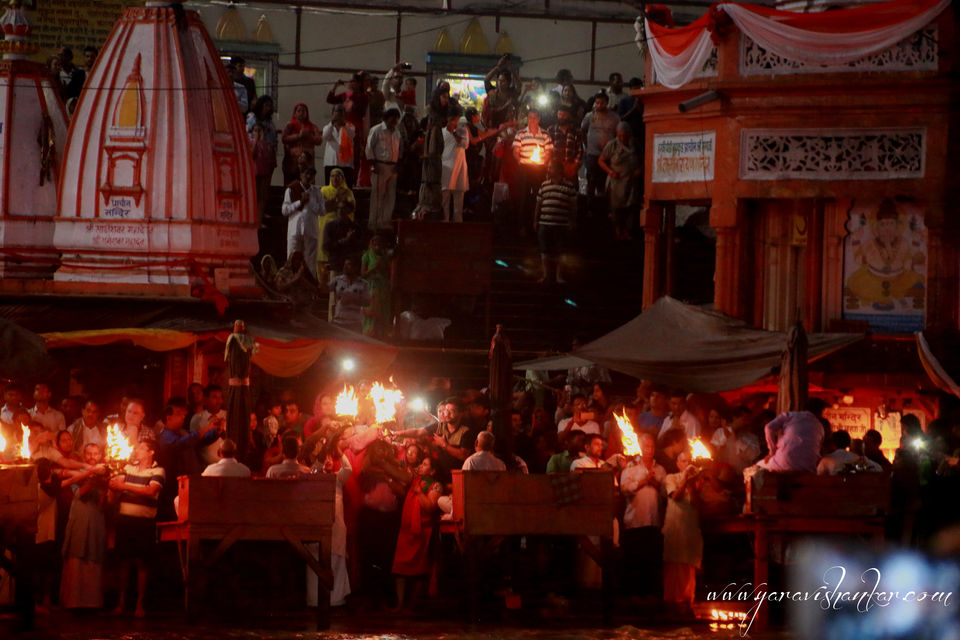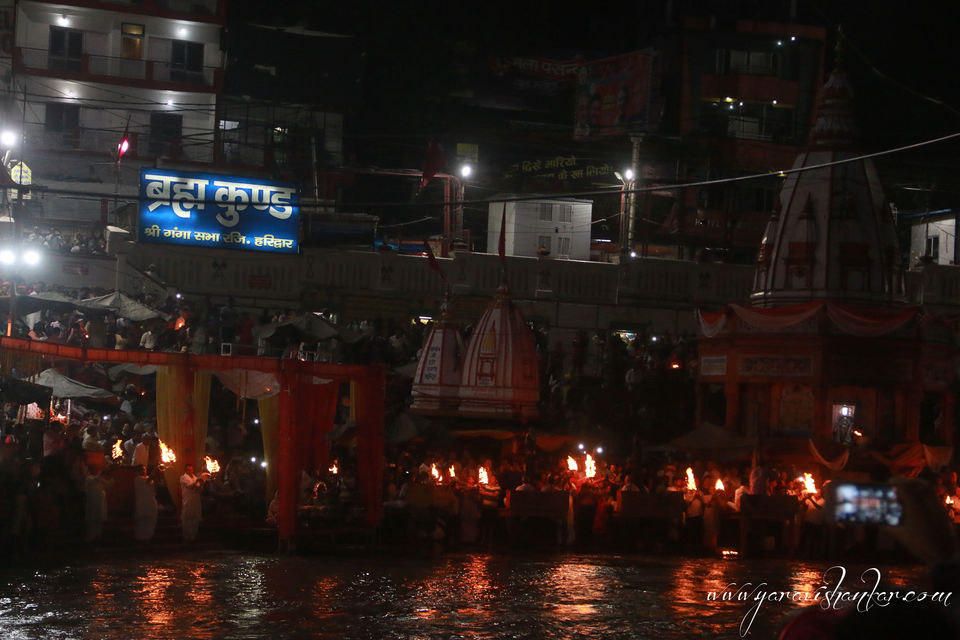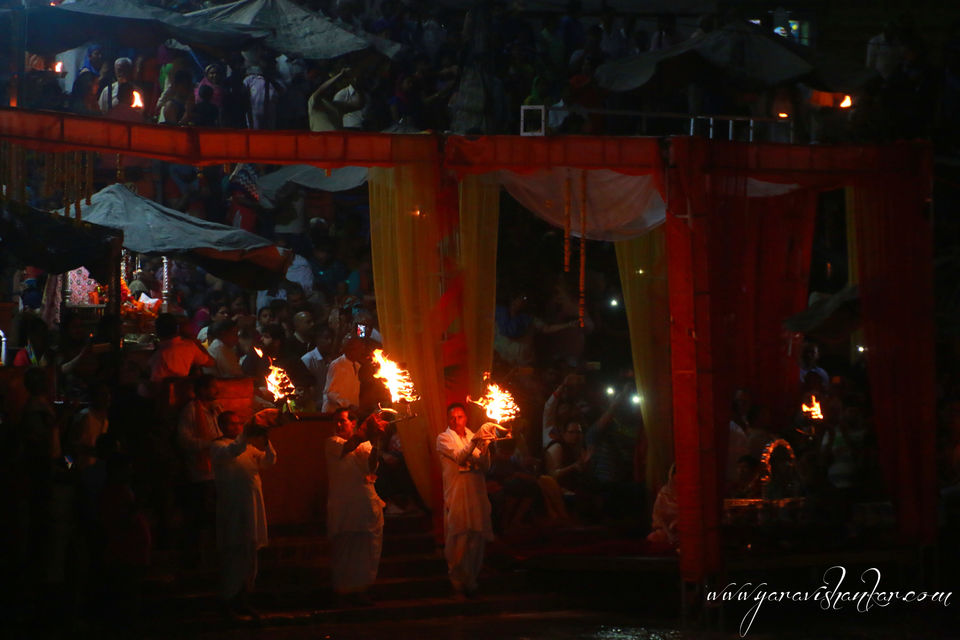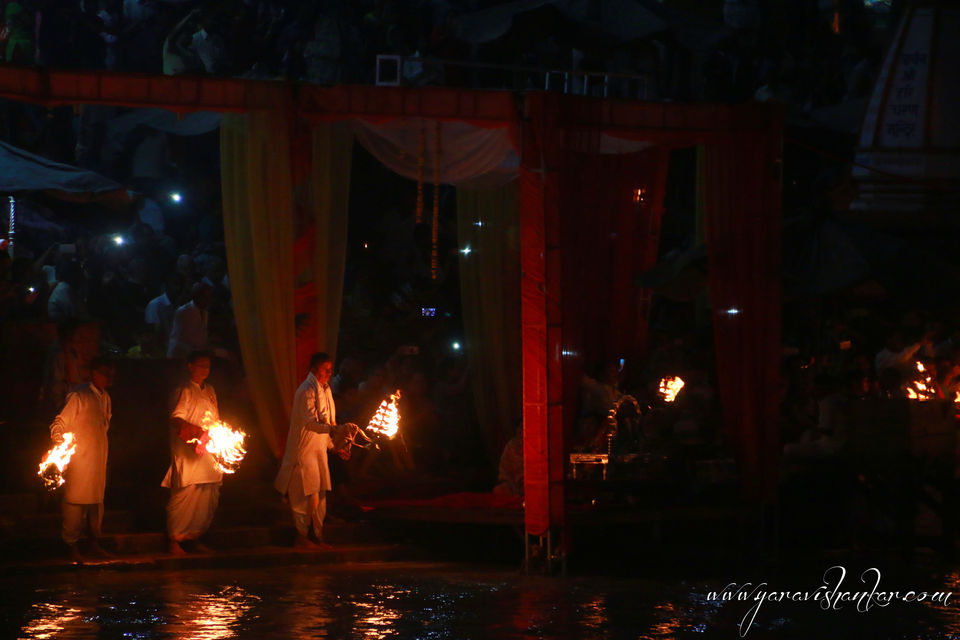 25-Sept-17 (Gangothari 10,170 feet or 3200m height)
We started early morning from Haridwar. Stopped for breakfast to have aloo paratha maggi and some bread butter jam. The view enroute was good. However due to curvy roads some of us had to puke. Others struggled to control the nausea. Rest were playing anthakashari and debating. I ate a big piece of fresh ginger to reduce nausea. On the way we could see reservoir water of the Teri dam.
We stopped at Uttarakashi for lunch. We ate some aloo paratha and roti-dal for lunch. I bought a pair of gloves for trekking as I had left it at home. Bought some sun screen. We took a small tour to market. We drove again and had a pit stop at Ganganani. We had some tea there. As the tempo traveller climbed higher and higher towards the Himalayan range at some point we could see snow covered Gangothari range of mountains. Somehow we reached Gangothari at 7PM. We ran to see Ganga arathi at Gangothari temple. We reached there just in time. We collected our bag and dropped it at the hotel. We had aloo paratha and maggi for dinner. We all went early to bed. It was a little cold at the hotel. Thick bedsheet helped us to get some sleep.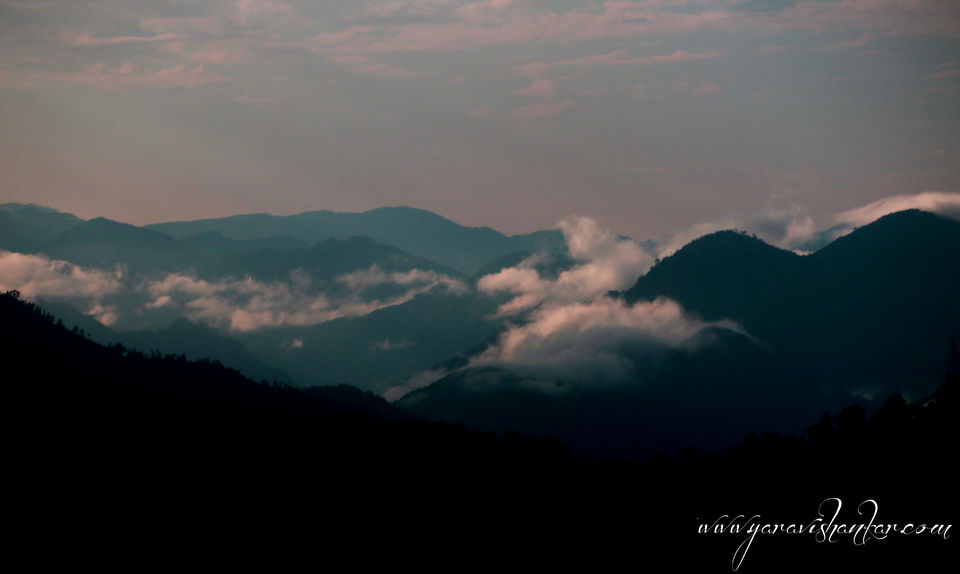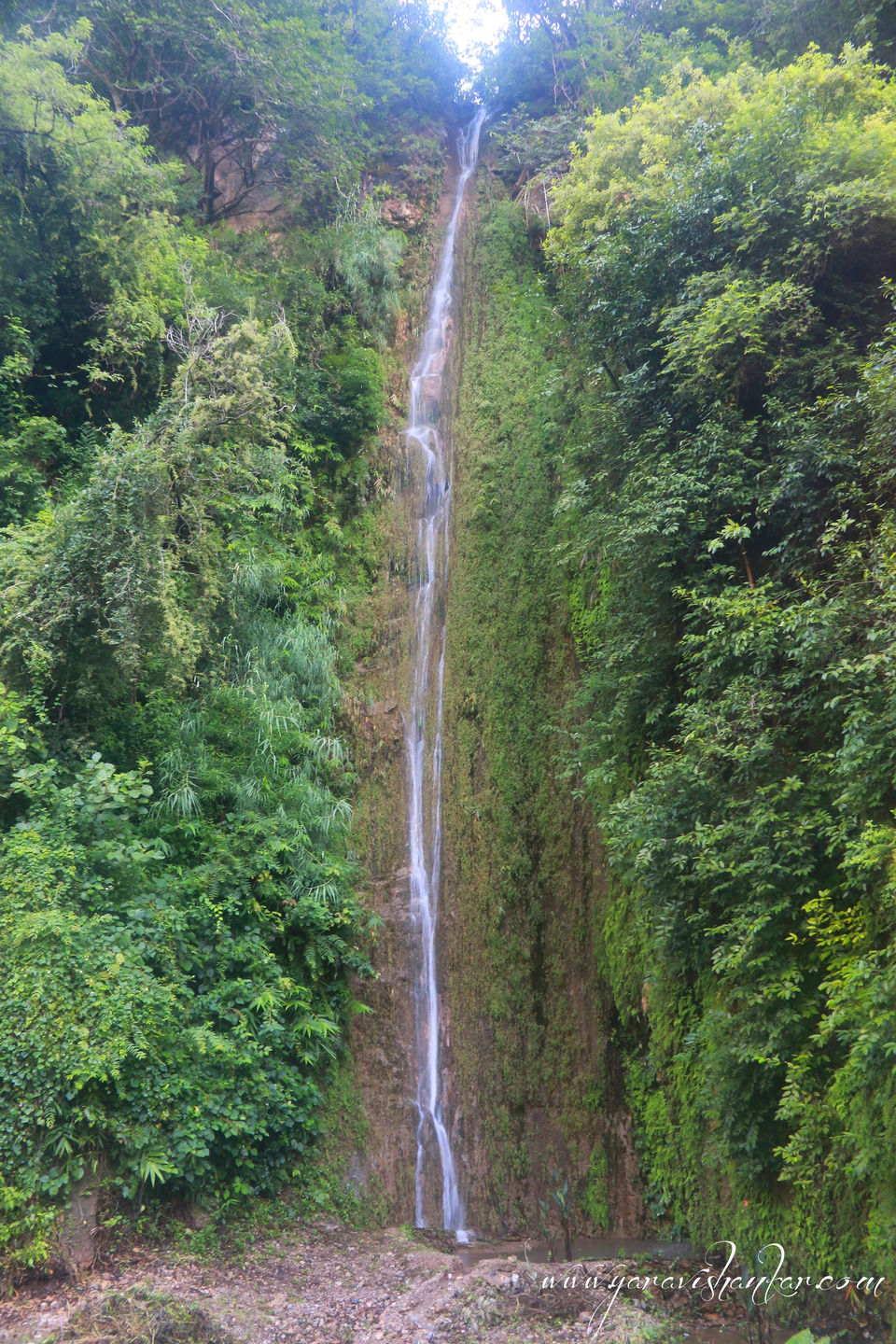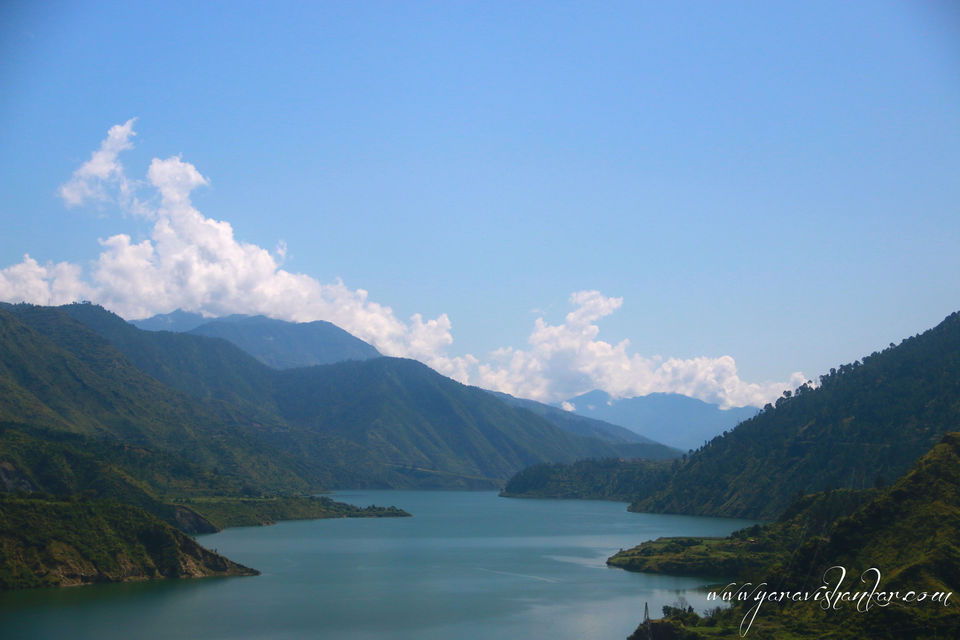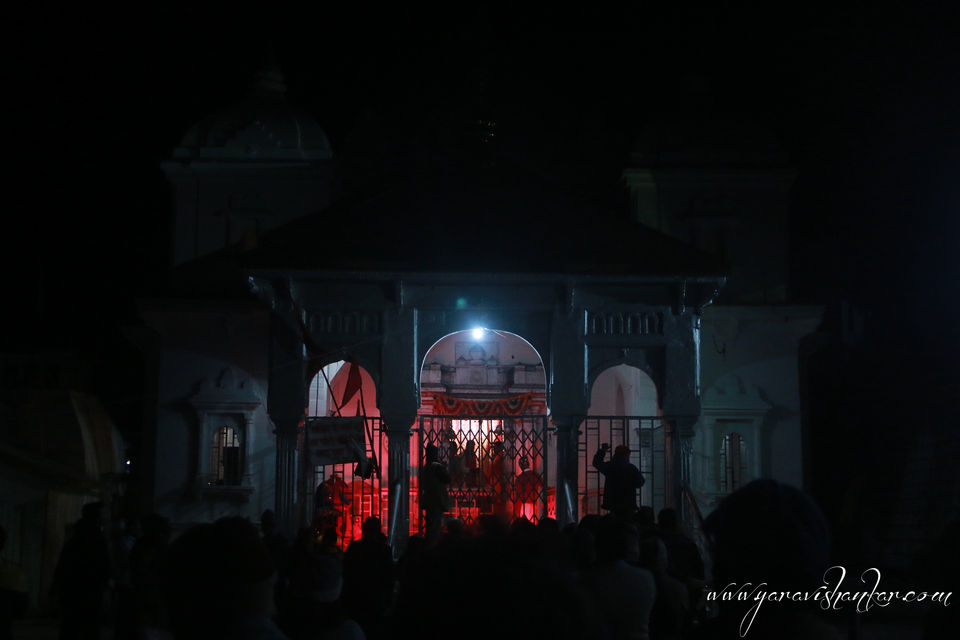 26-Sept-17
We went early morning before sun rise to Gangothari temple to see some Ganga aarathi.
We bought a brass vessel to collect some Ganga river water. Actually Bhagirathi river flows from Gangothari and it later joins Alaknanda to form Ganga at Dev Prayag.
We saw Surya Kund near Gangothari temple. Goumuk is 18km trek and requires a 2 day trek.
We came to Bhairov Nath temple which is where the temple deity resides during winter. I tried some tasty Indian pears and some apples. We had some lunch and took some hot water dip at Ganganani. We stopped on the way to buy some fresh apples. We could see some apple tree and we were warned not to go to the apple farm.
4KM of Trek:( Agoda at 2250m or 7381.89ft)
We reached sangamchatti at 4PM and started walking to Agoda village. The walk to Agoda village was little difficult with lot of slush. We followed the instruction of the guide and fellow villagers and reached Agoda. We were hungry and were welcomed with Borvita and team with Phani's home made avalakki. Some of us reached late and they had to reach village with torch light. We had roti phulka , rajama rice with some sweet kheer for dinner. After some briefing from Sudharshan we went early to bed. We made some phone calls using Sarmesh' Vodafone network.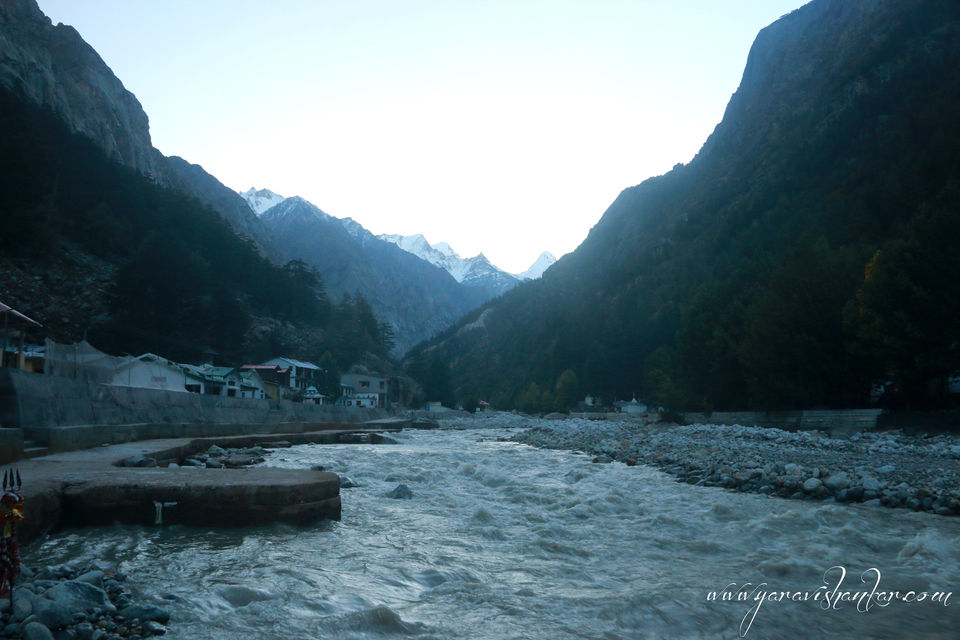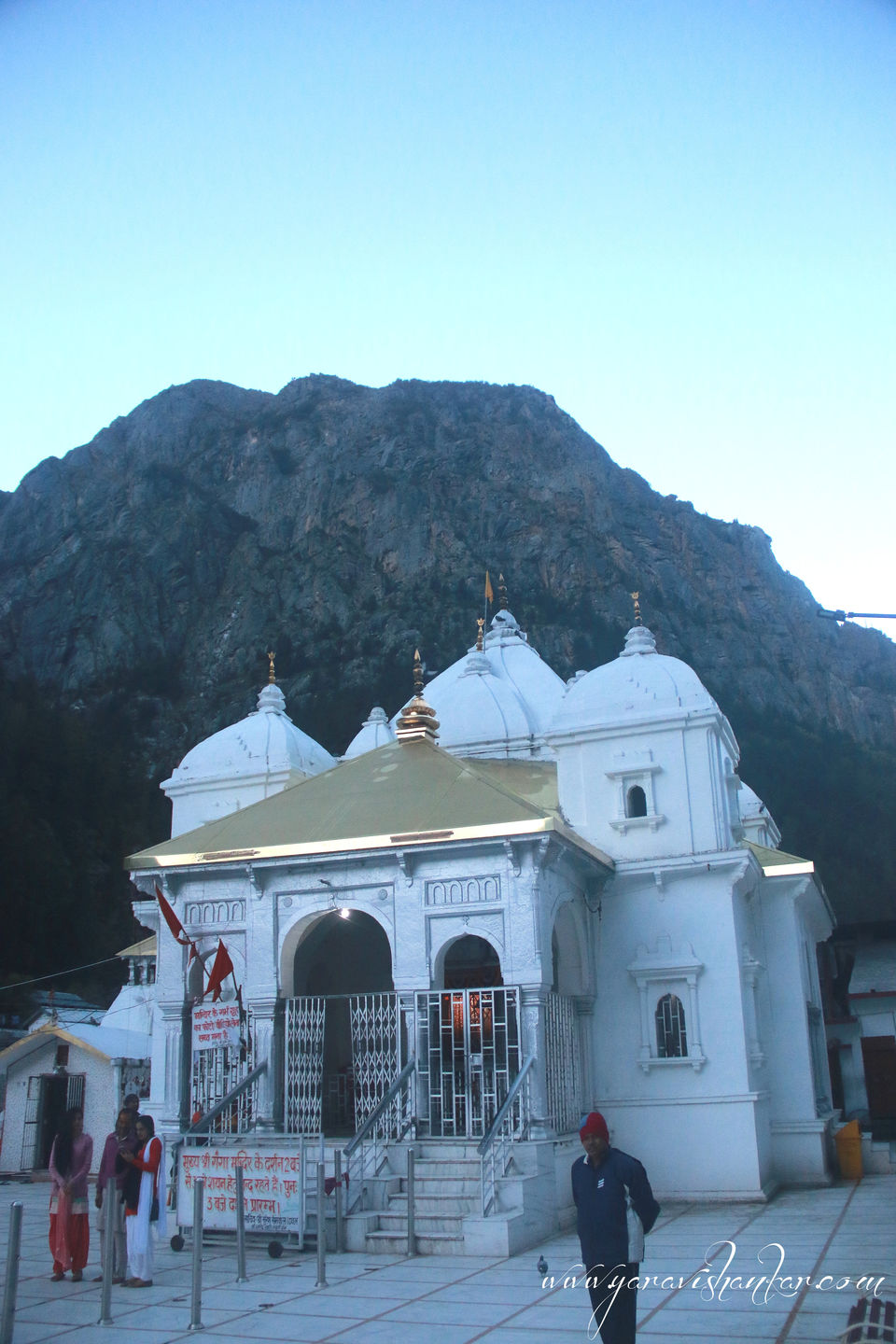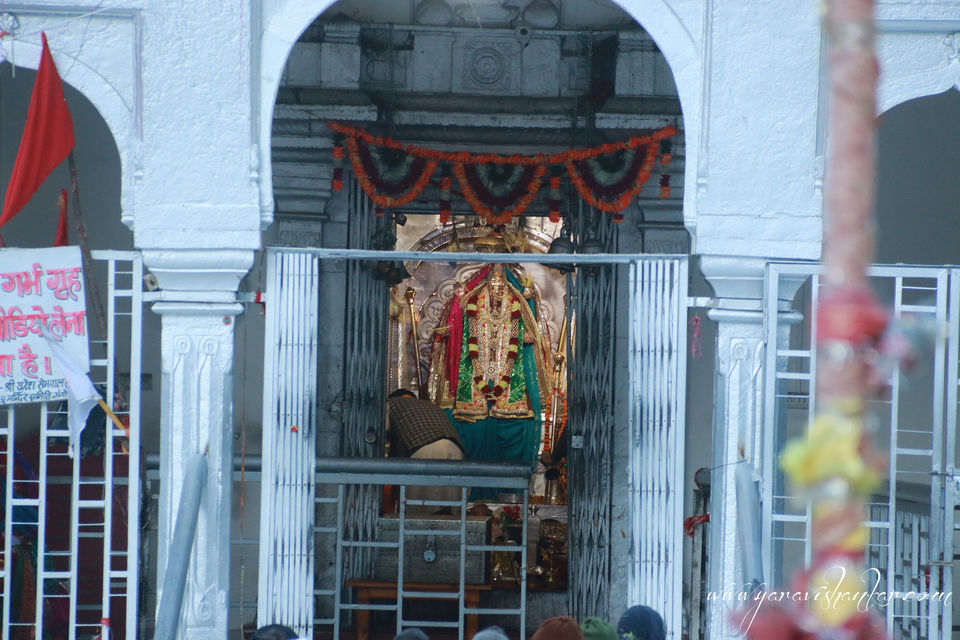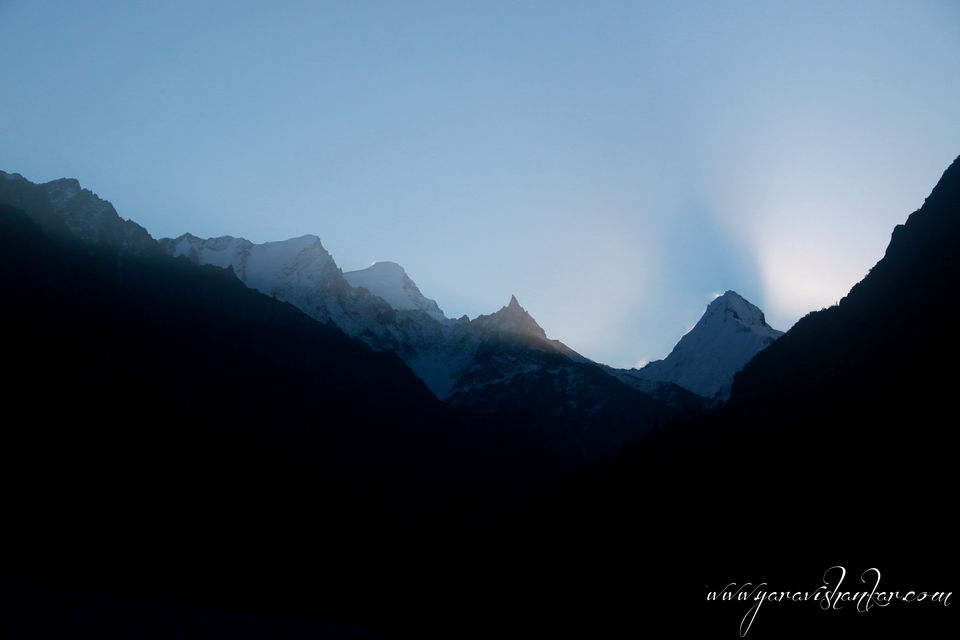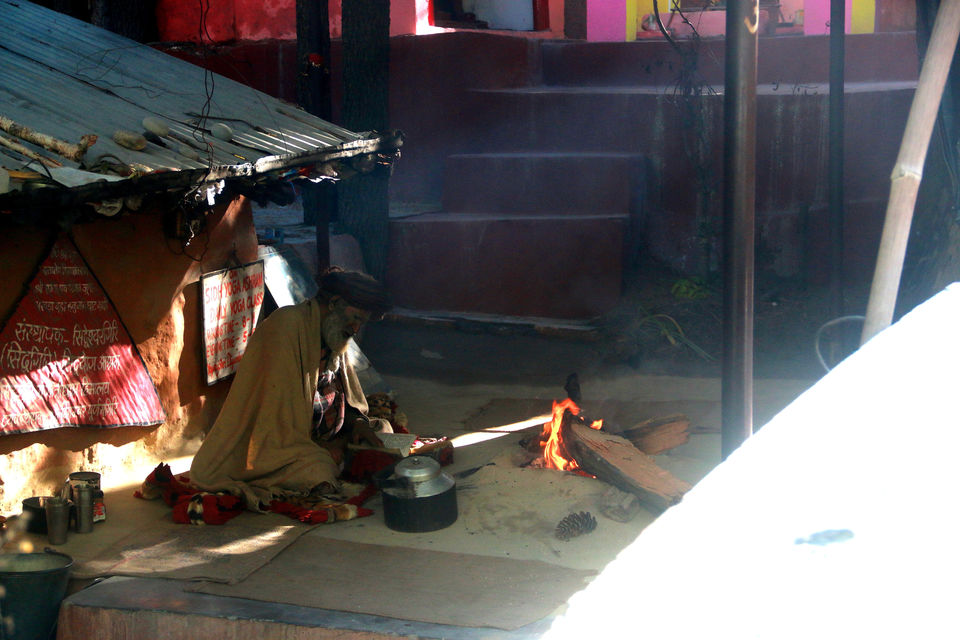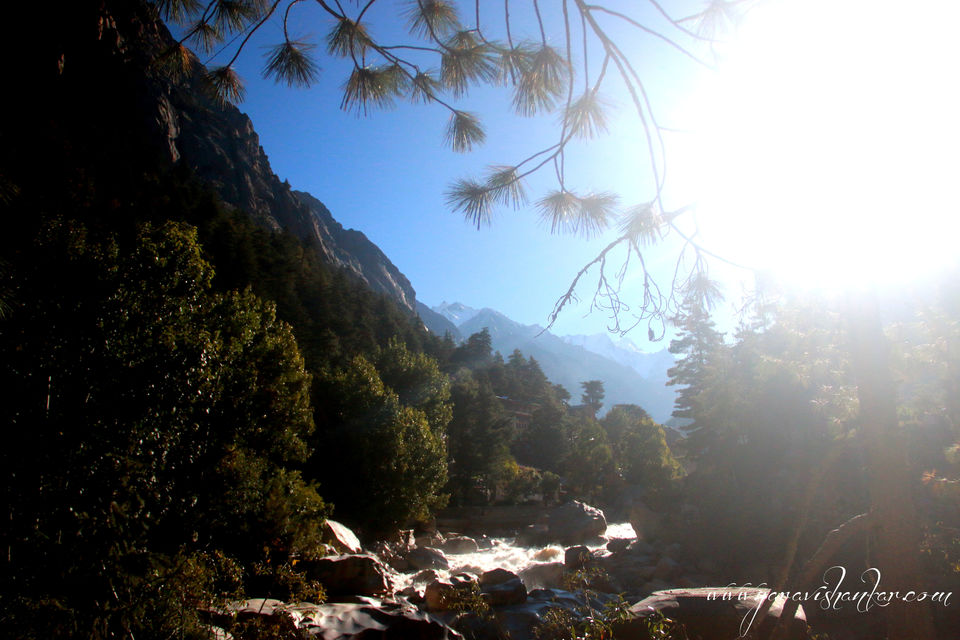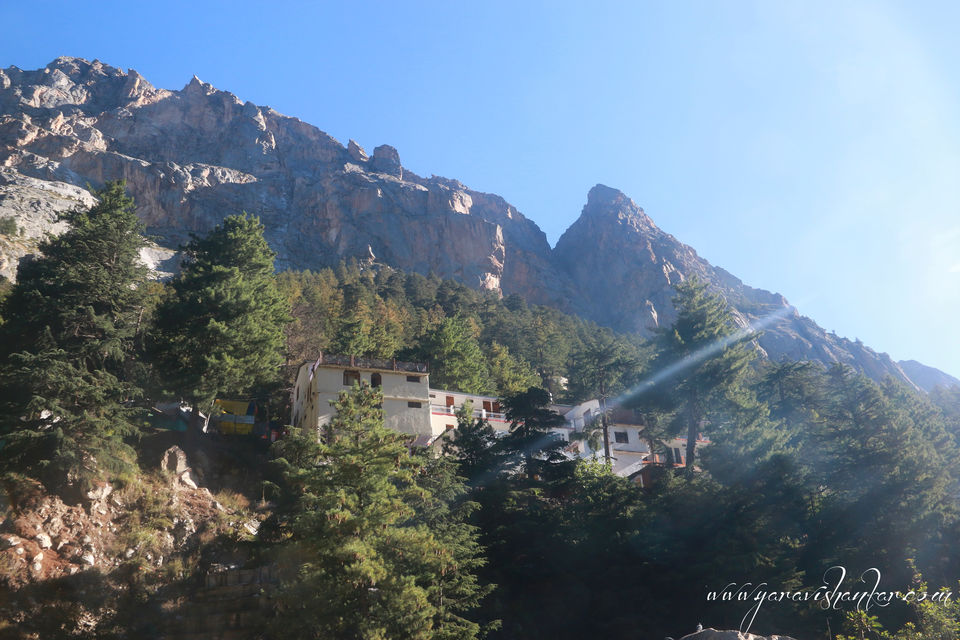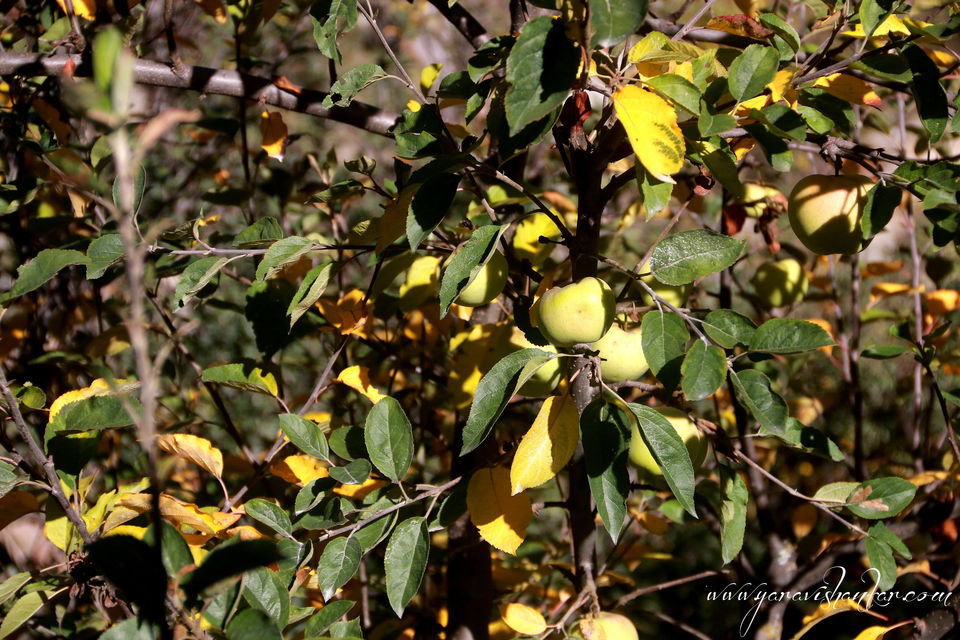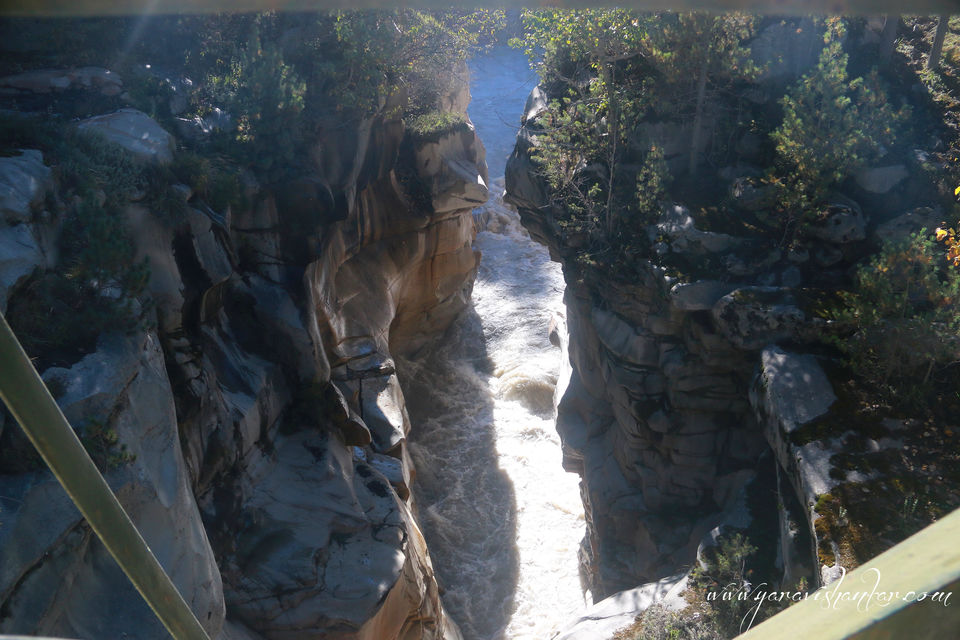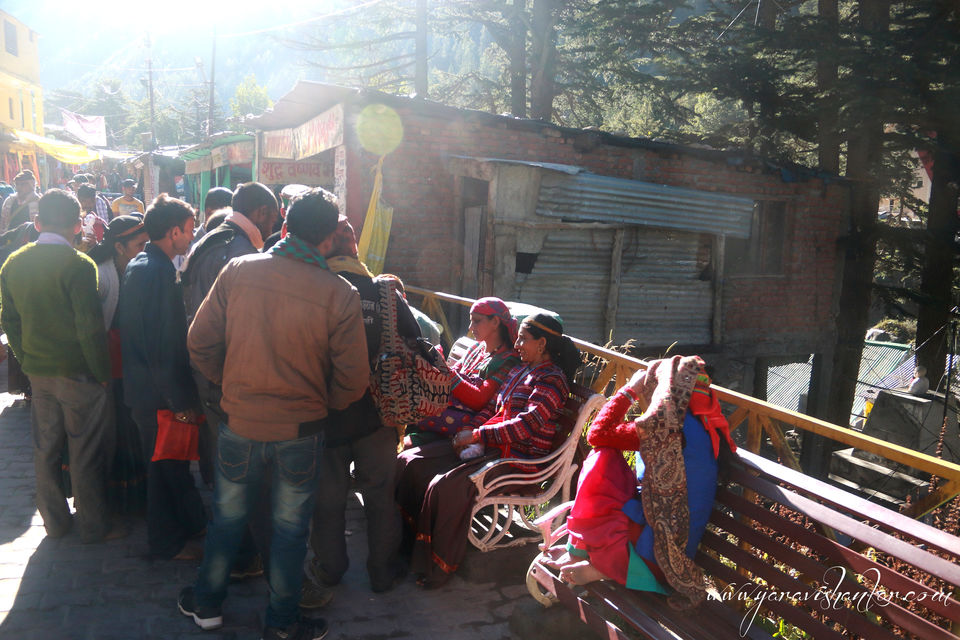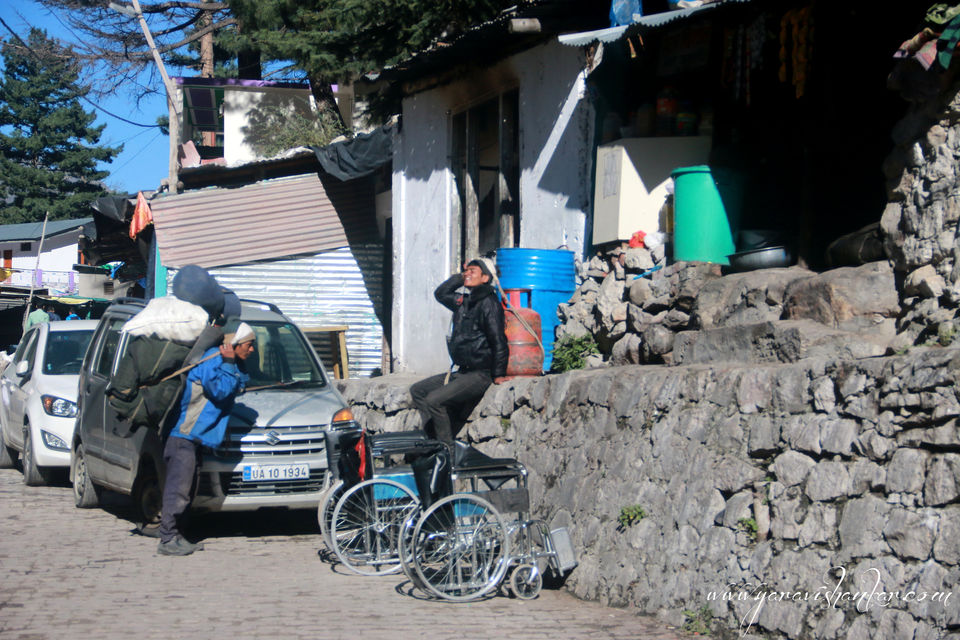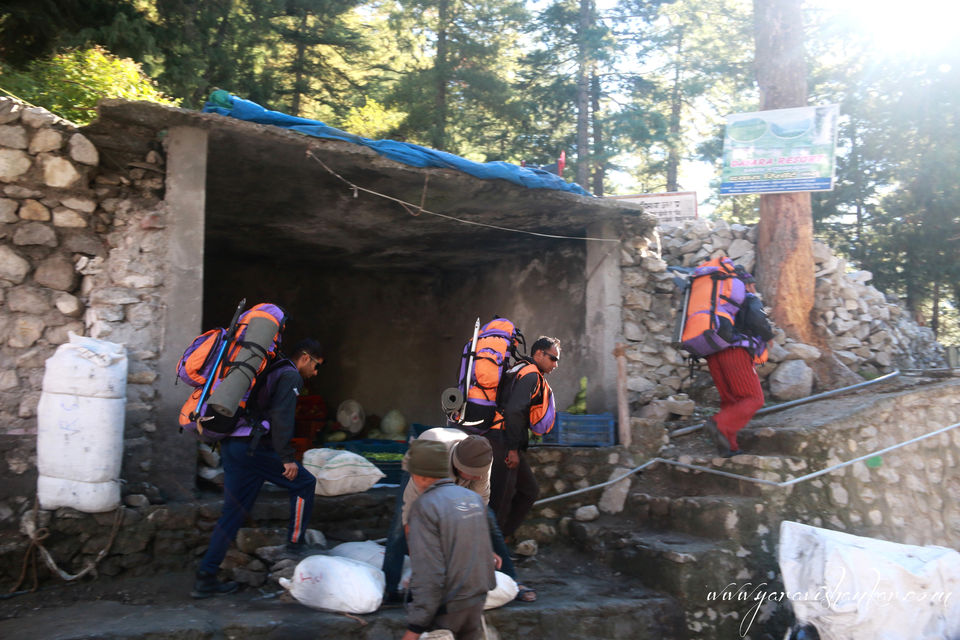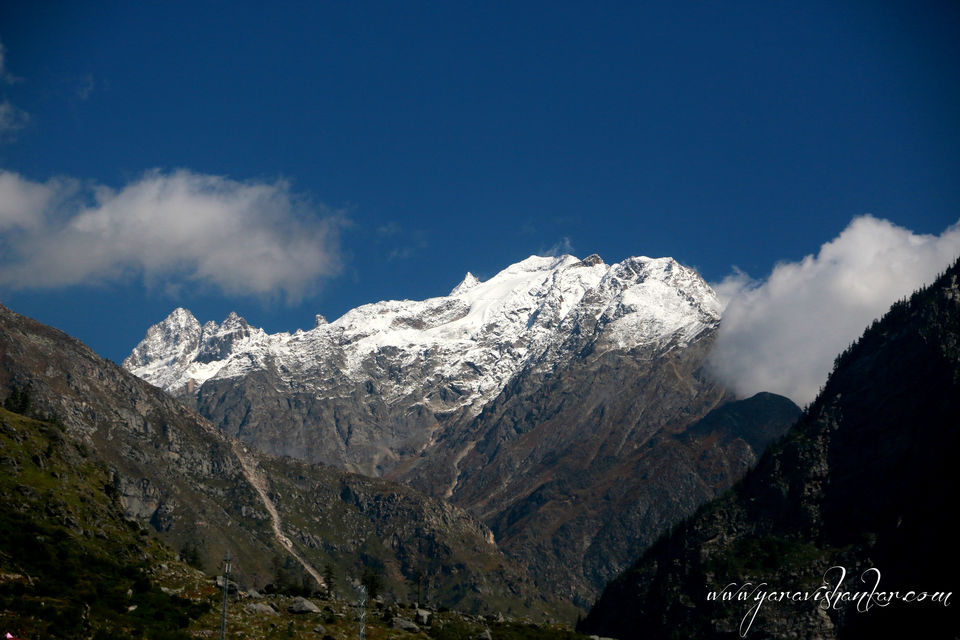 27-Sept-17: 15KM of Trek to Dodital (3125m or 10252.62ft)
We got up early to see very beautiful hills in front of the village house. We got fresh up. We couldn't take bath with cold water. We started trekking to Dodital. The route was a little difficult climb with view of the valley. We had some kids from a school at Dehradun for company. We stopped for lunch to have sandwitch and Frooty. We reached dodital peak. Then it was a little descend to Dodital lake. On the way there was a crevice and we had to get down to cross the crevice. The porters had to unload the pony there and then load it back. We reached Dodital to see beautiful lake. We had a visit to temple. Sudharshan explained this is birth place of Ganesh. I considered myself lucky to be there. We had hot soup and popcorn for evening. With all the discussion, talk and debate we slept inside to tent after a good dinner. Porters collected some fire wood for some camp fire.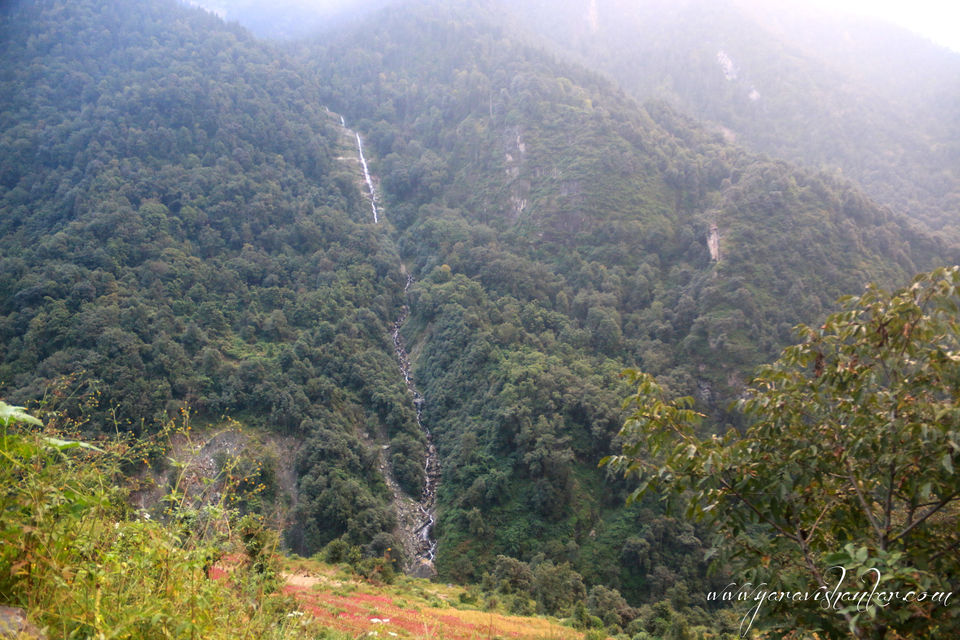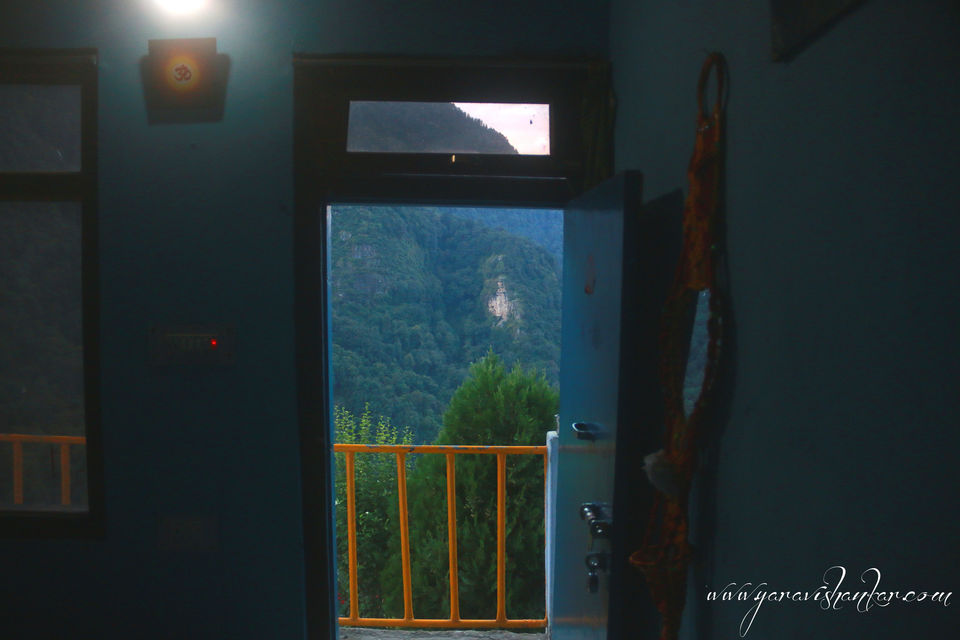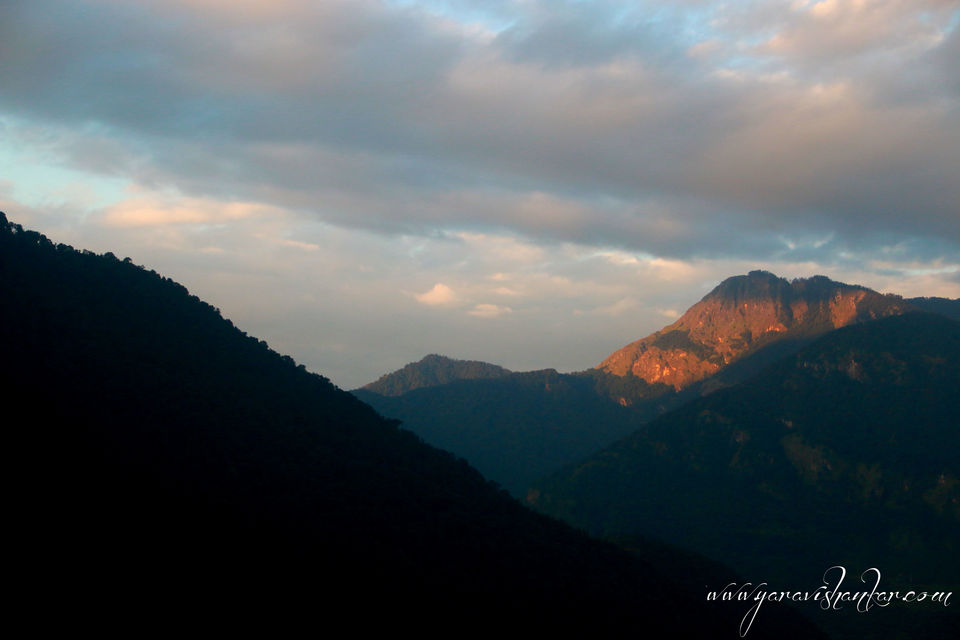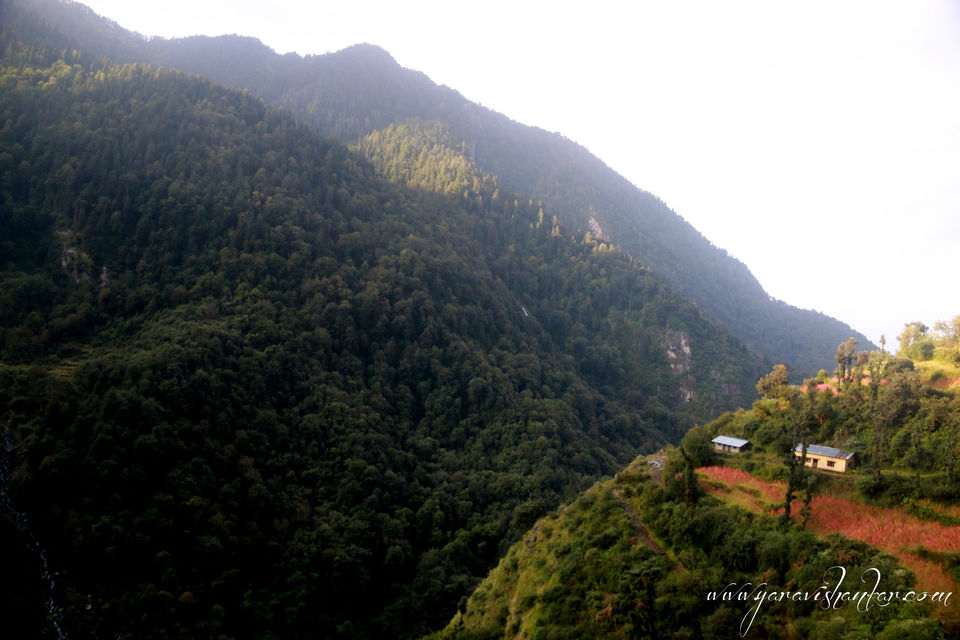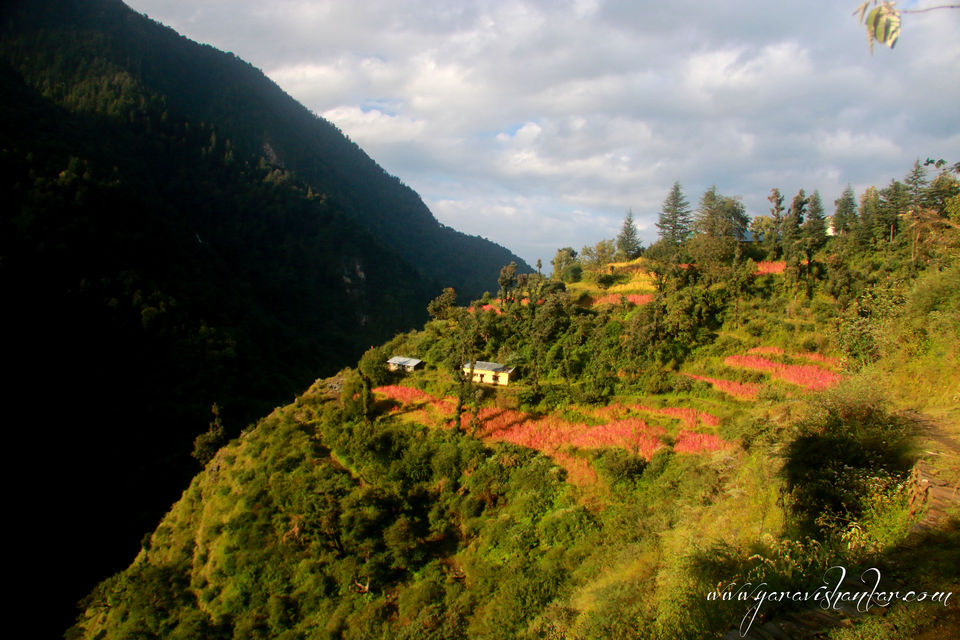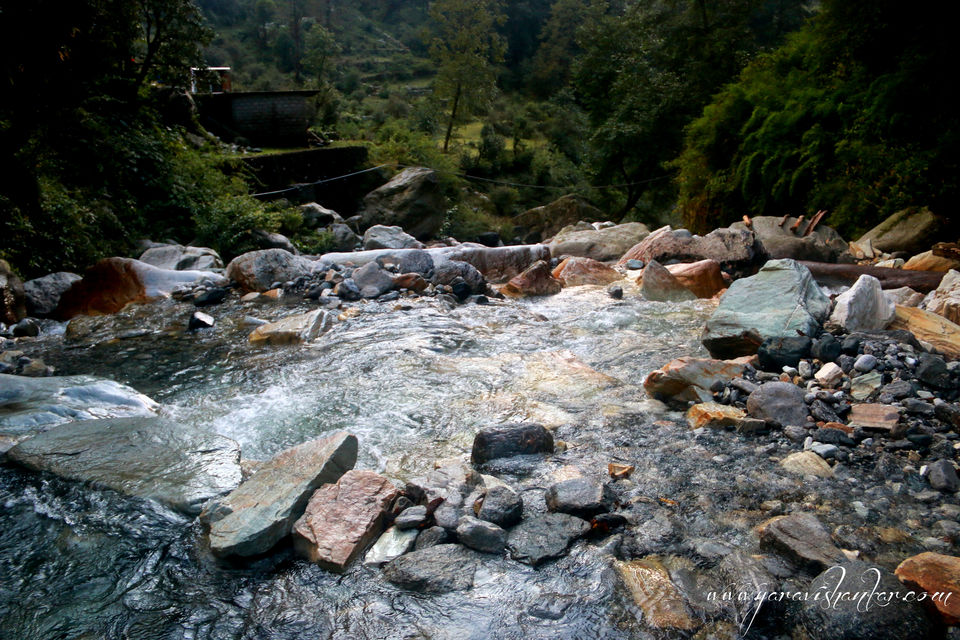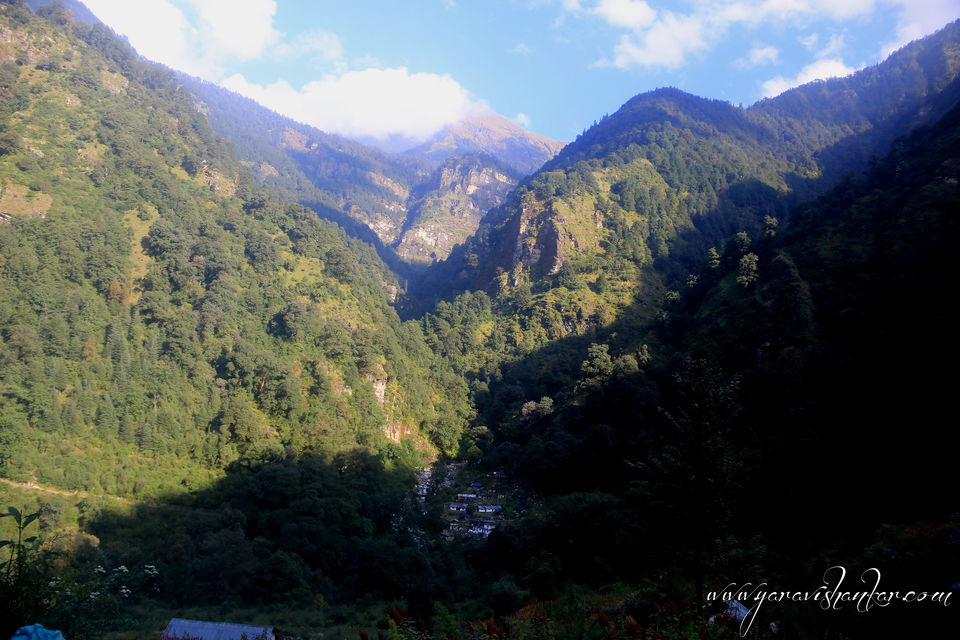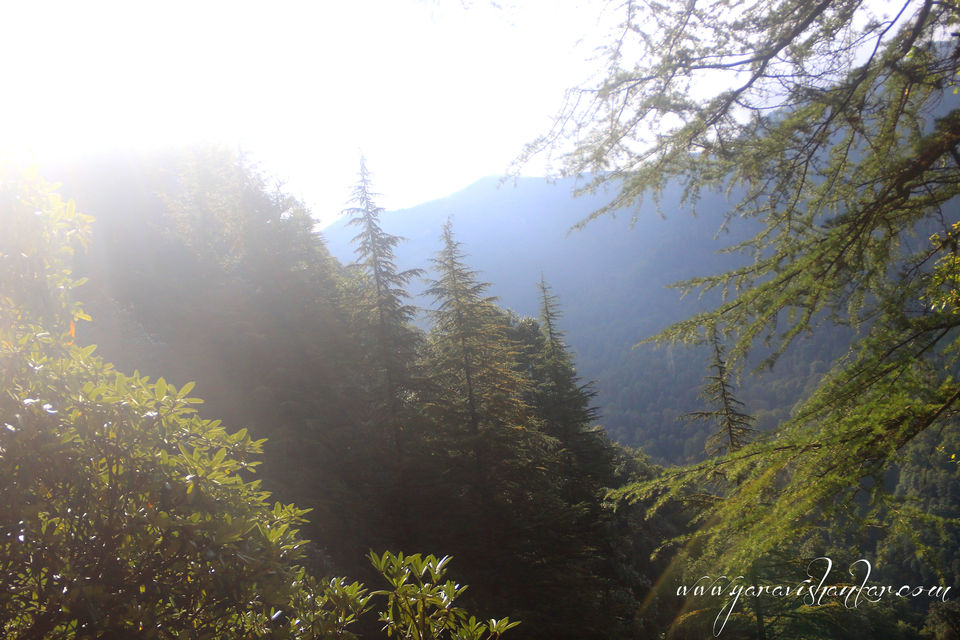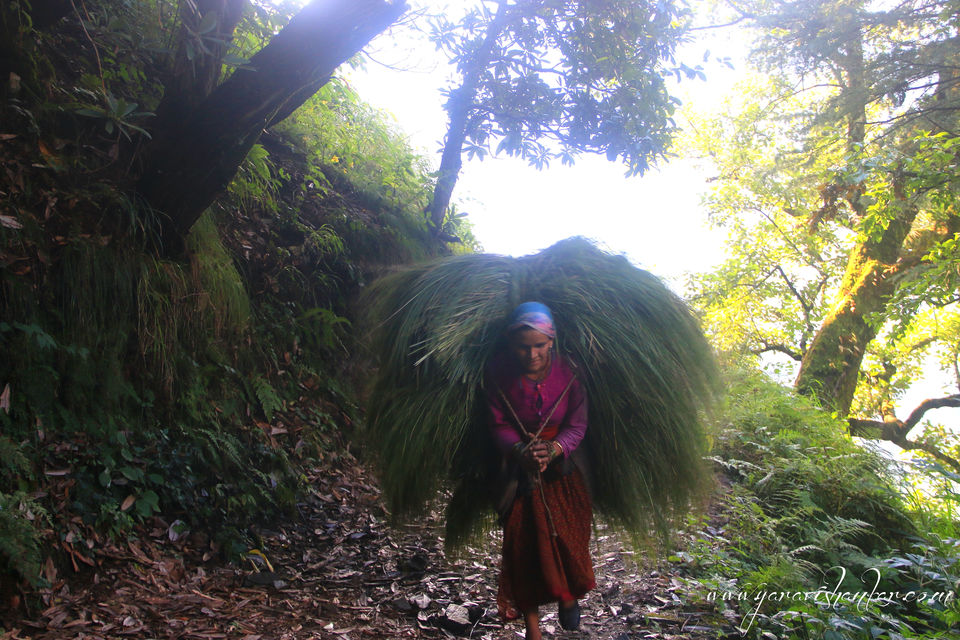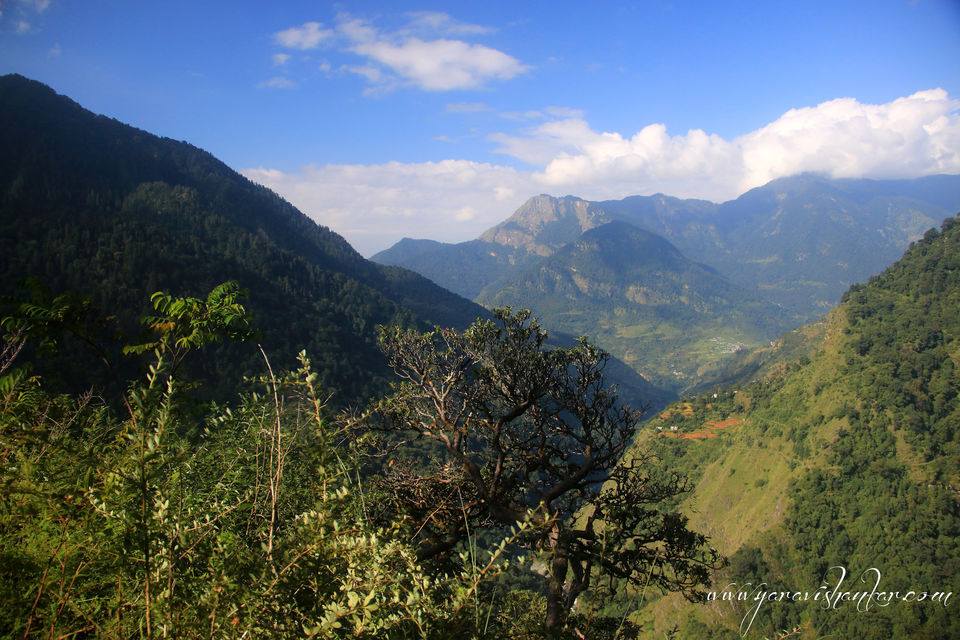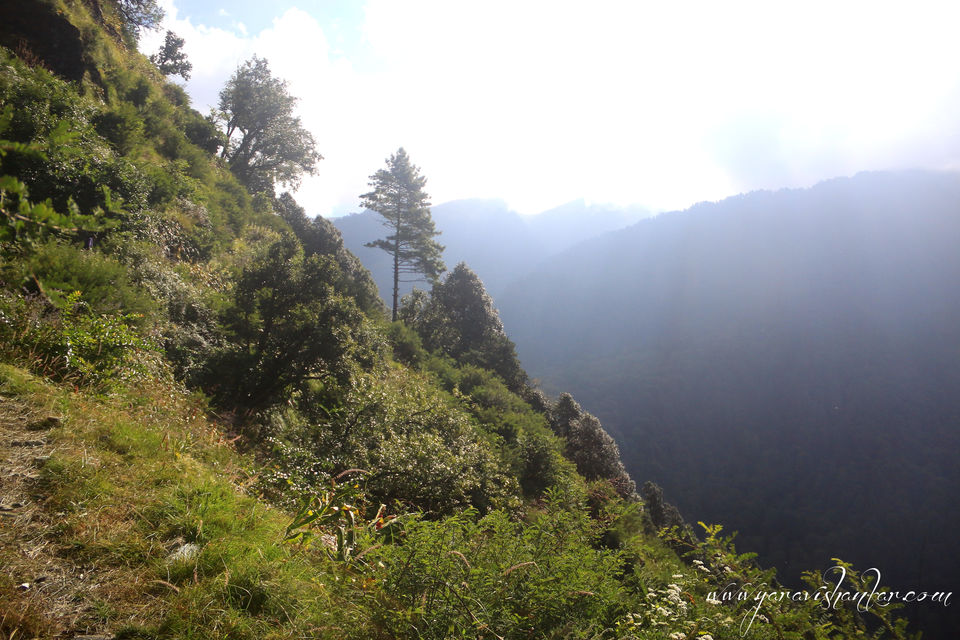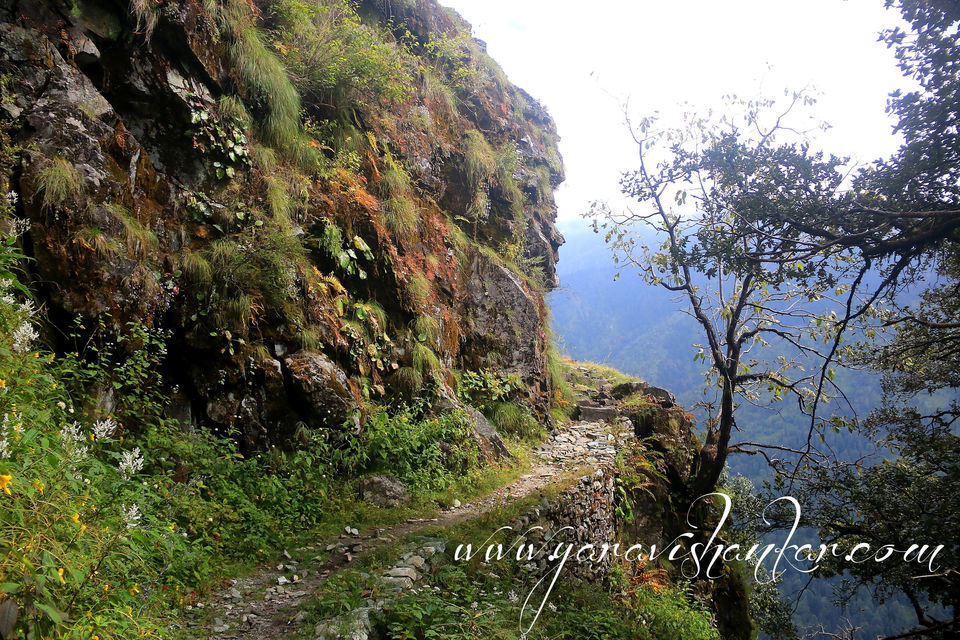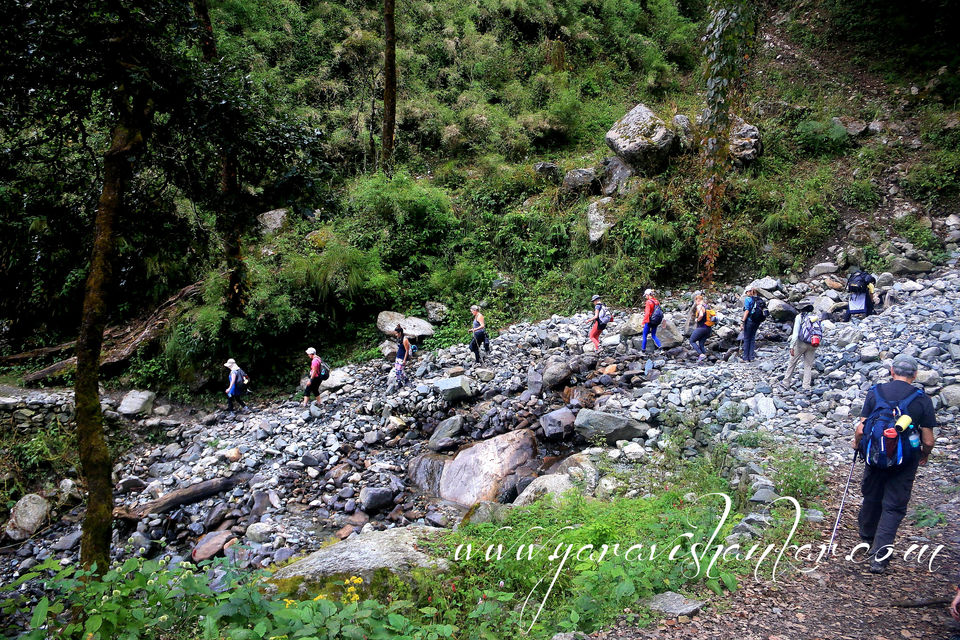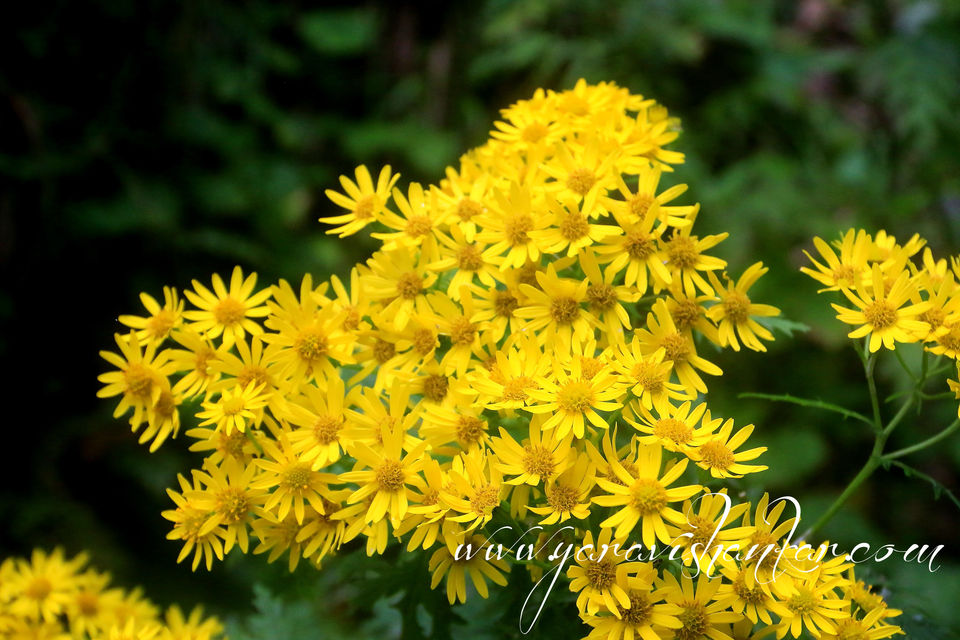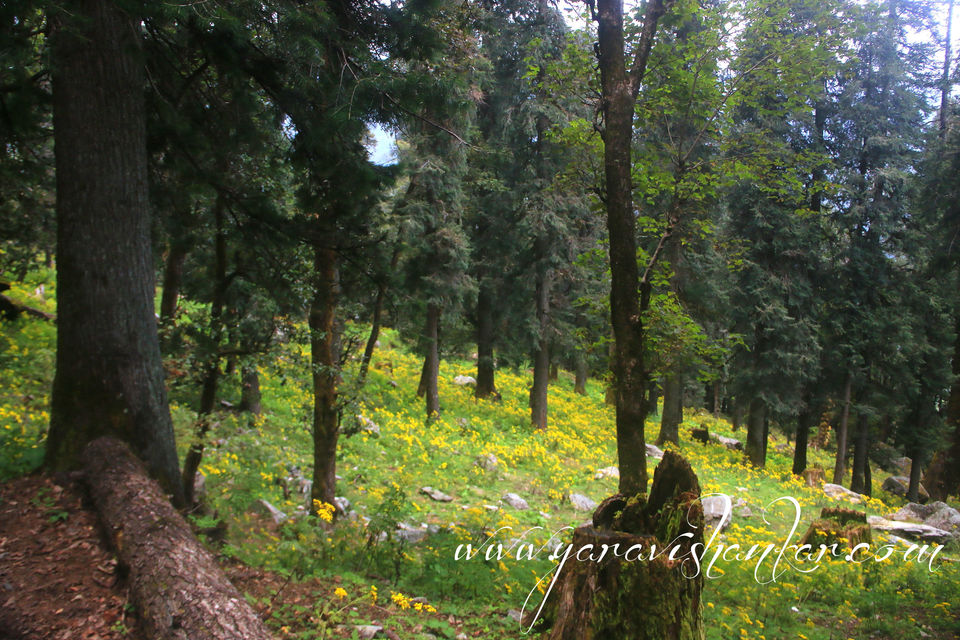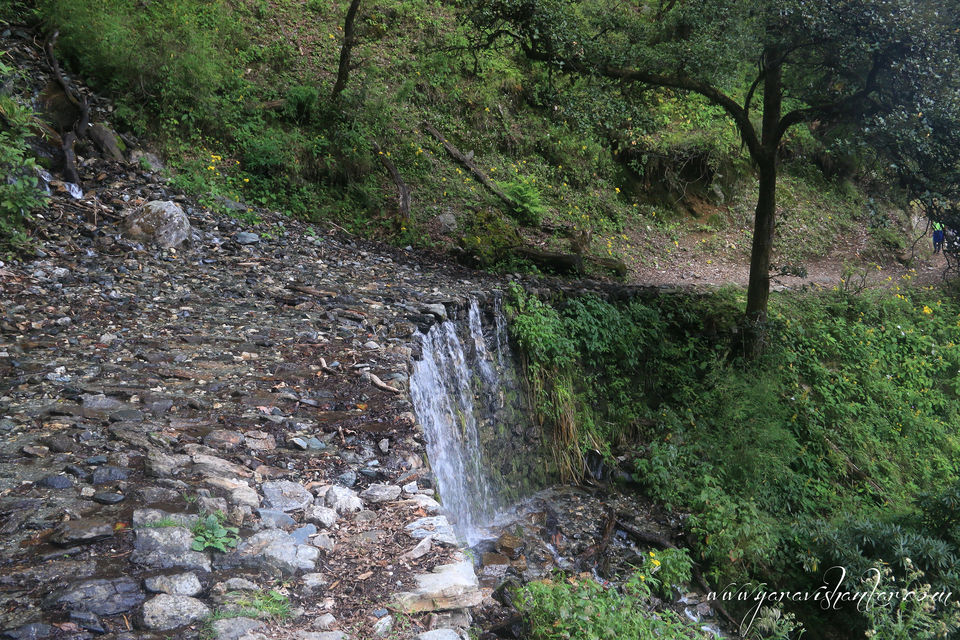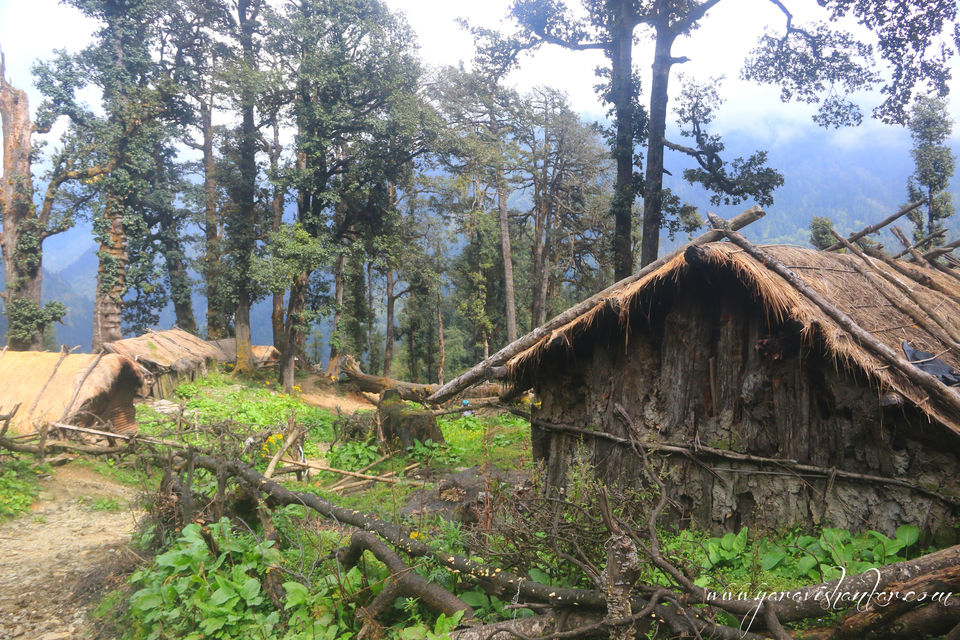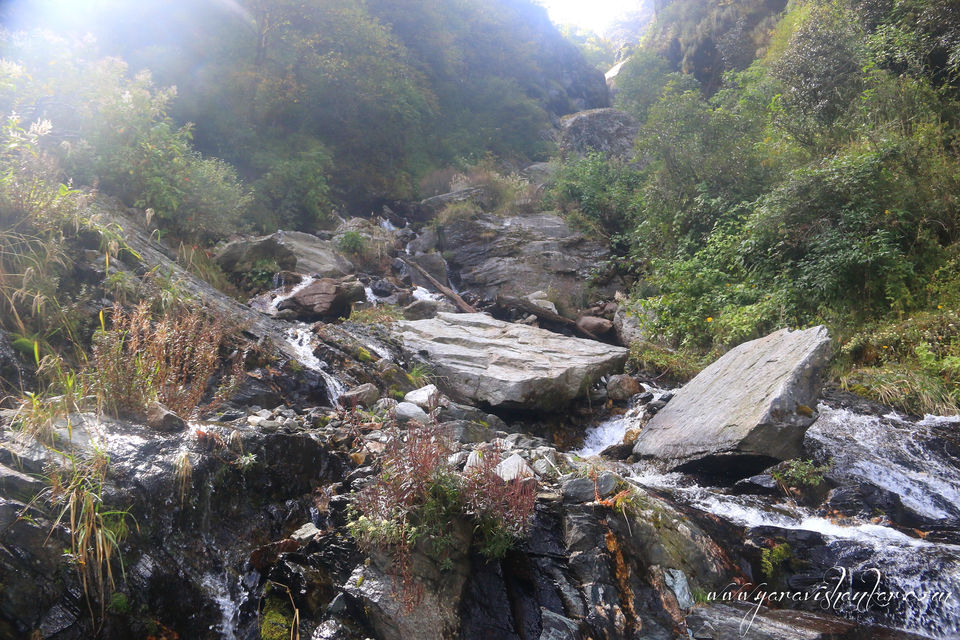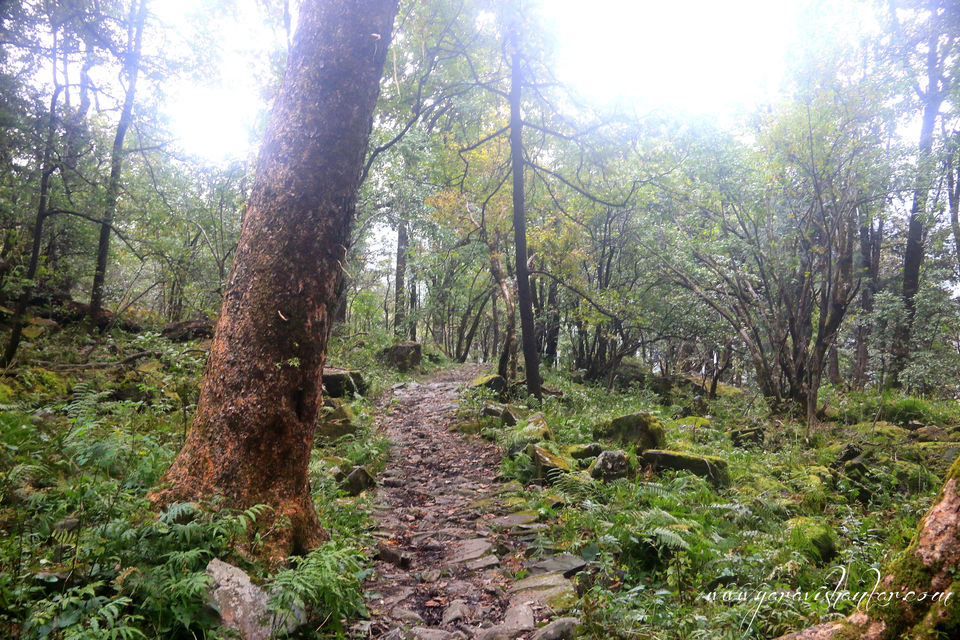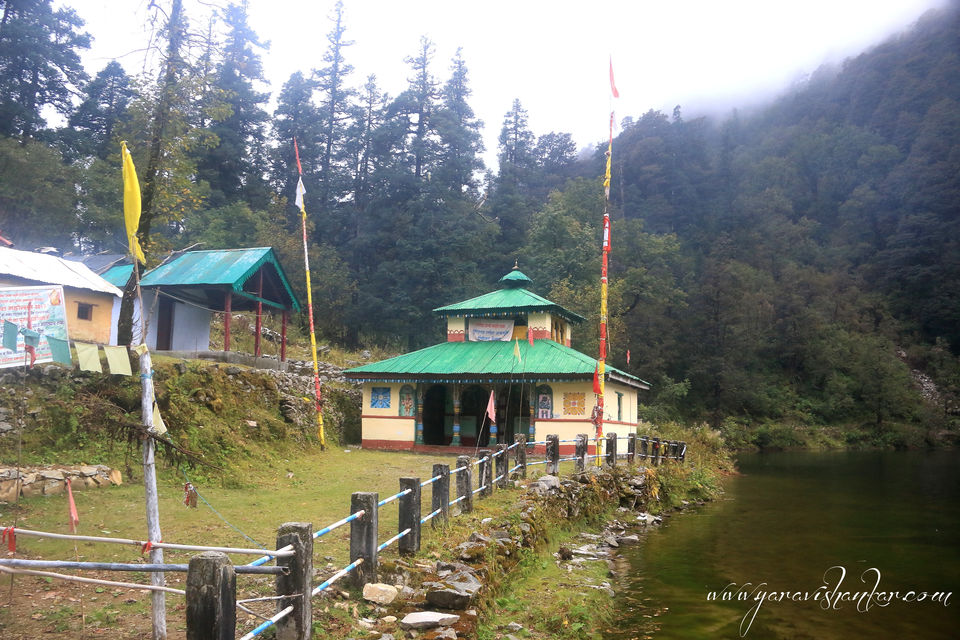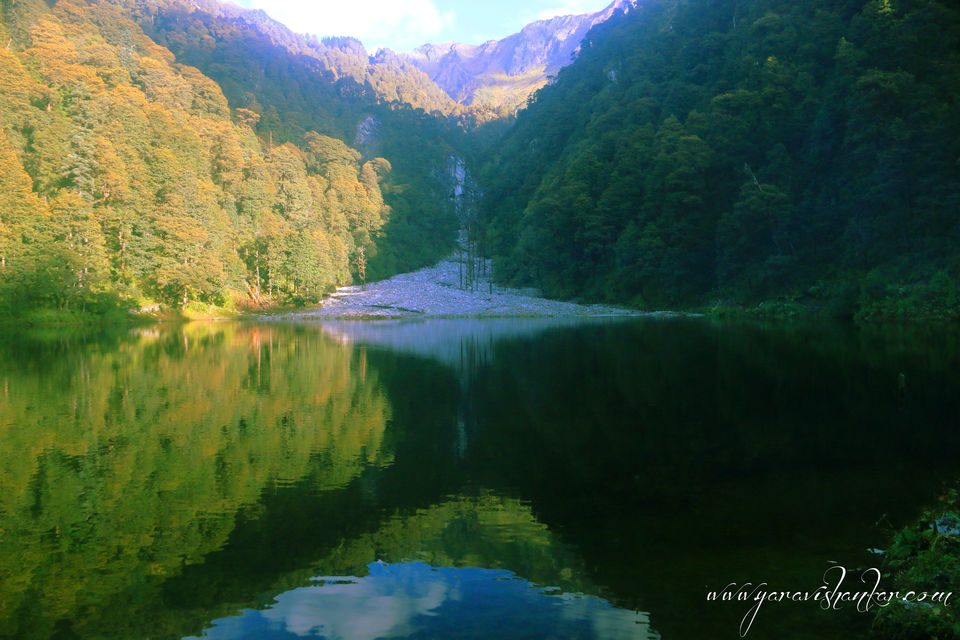 28-Sept-17: (6Km of Trek to Darwa pass (3885m or 12746.06ft)
We got up at 6PM. Had a visit to Ganesh temple. The priest was kind to do aarathi for us. KS Bhat and Gurji chanted some prayers. It was very emotional to me to be there. It was also spiritual to be there as it was birth place of Ganesha. Praying to Ganesha removes all your hurdles.
With prayers to Ganesha we started our trek to Darwa top (Darwa top: 12,937 feet or 3,885 meters height). The climb to Darwa top was steep. We took a lot of break while climbing Darwa top. When we reached Darwa top it was covered with mist and we couldn't see anything. We saw first glimpse of Bandarpunch range of mountains. The view was always covered with mist.
We descended down a bit to reach our base camp for that day. We collected some fire wood for camp fire. In the night the top was covered with mist. We couldn't see any stars.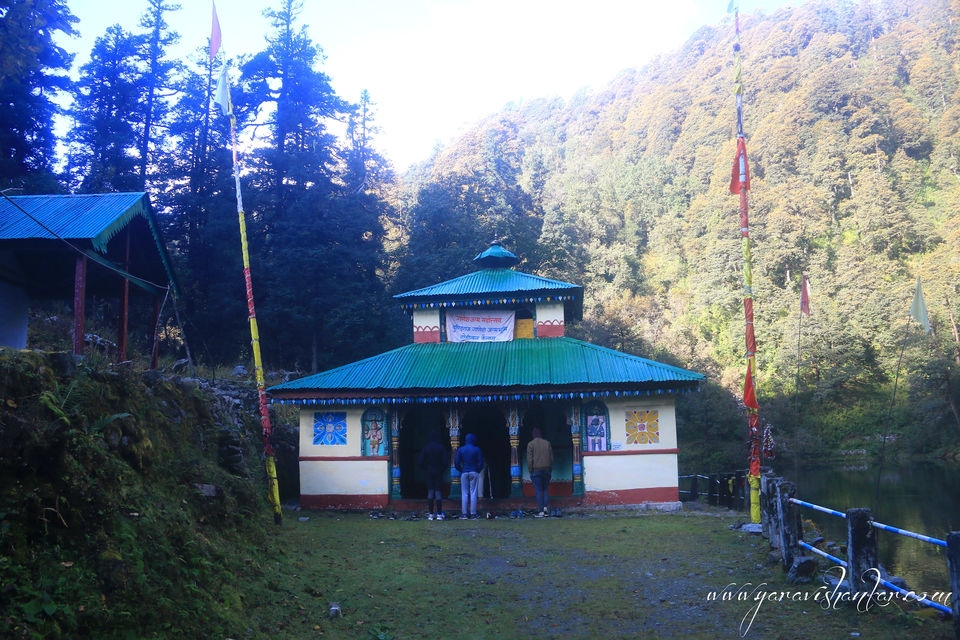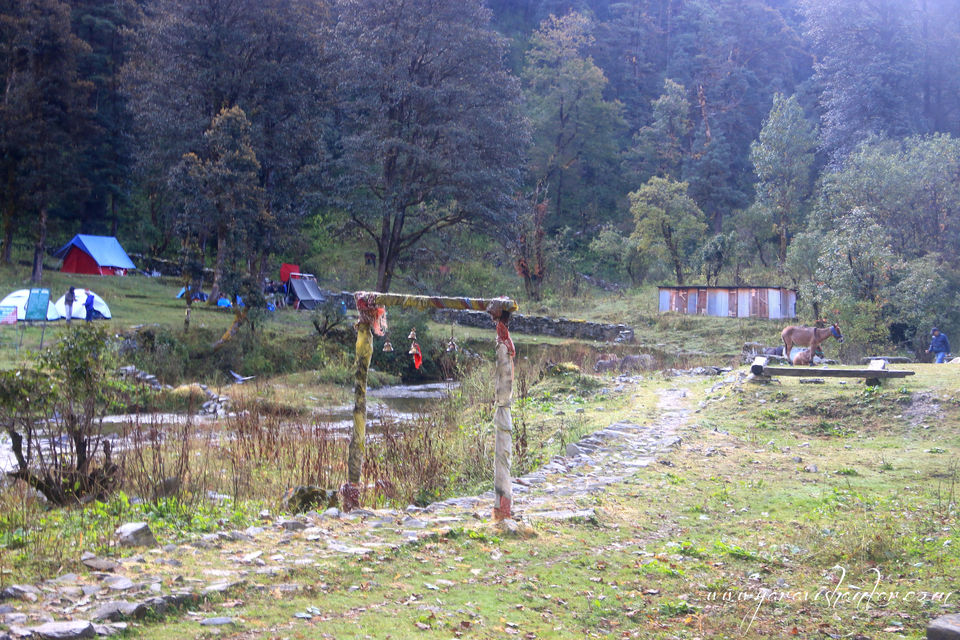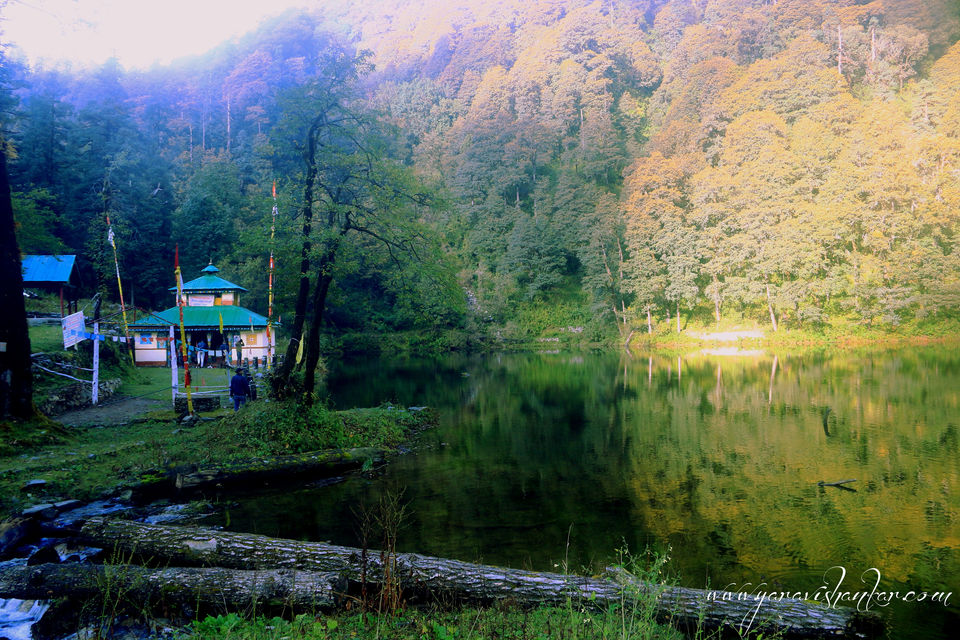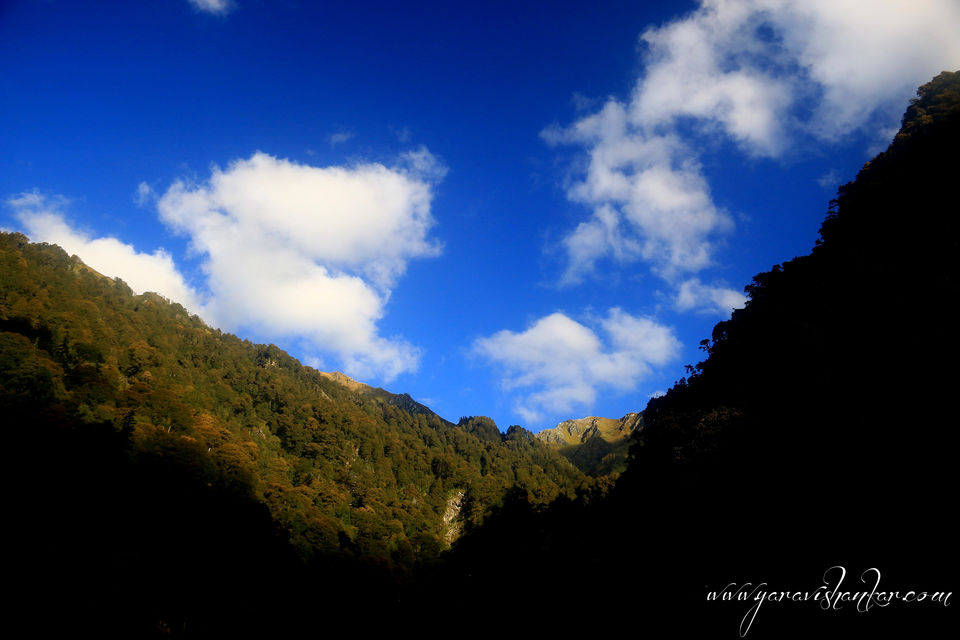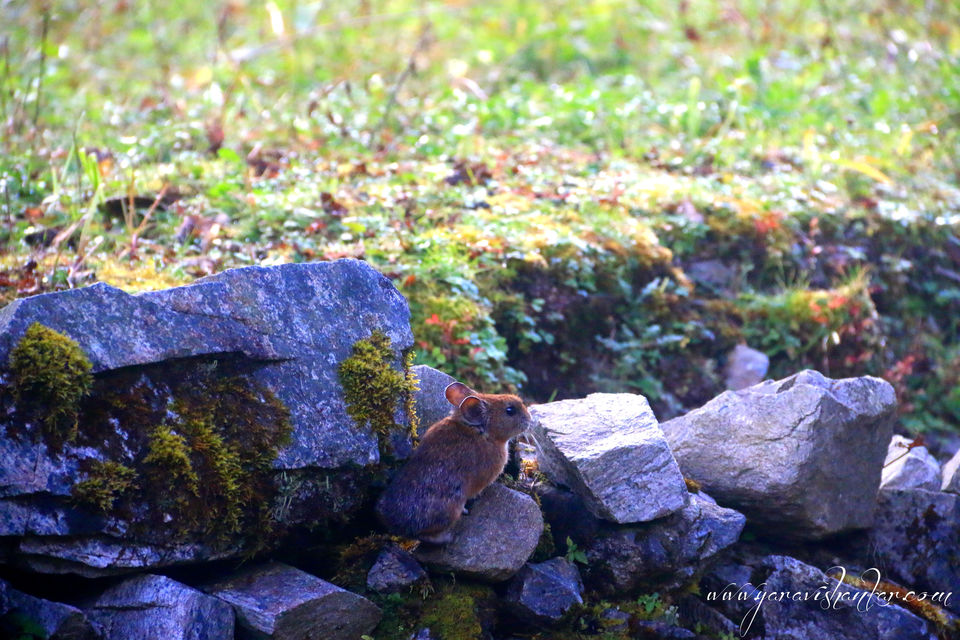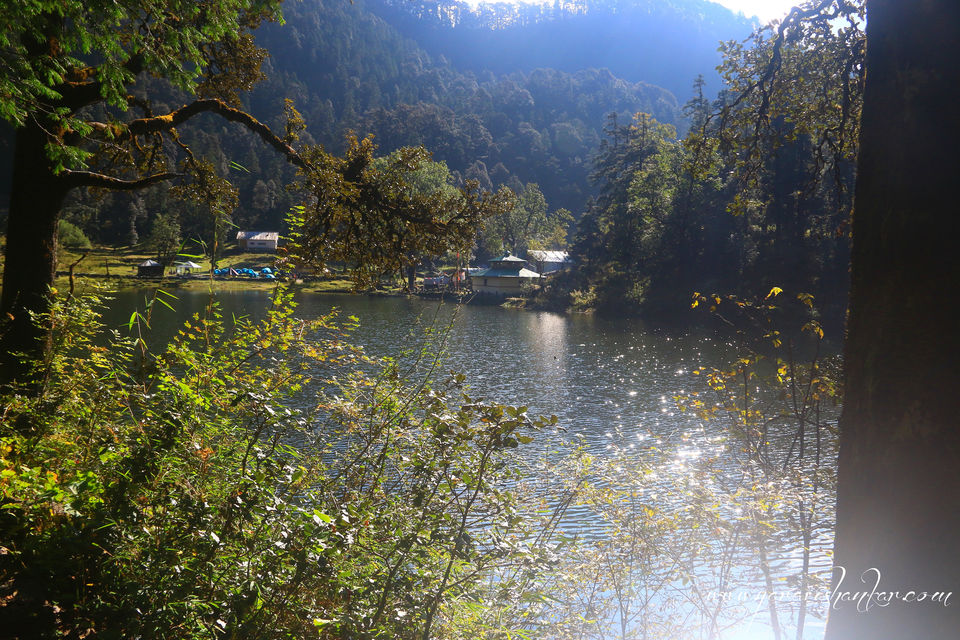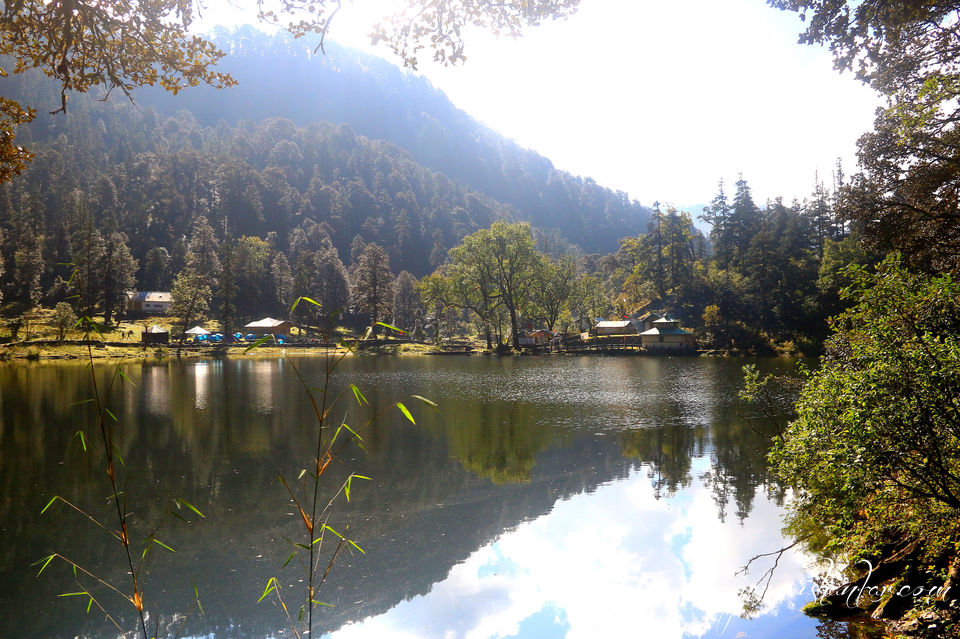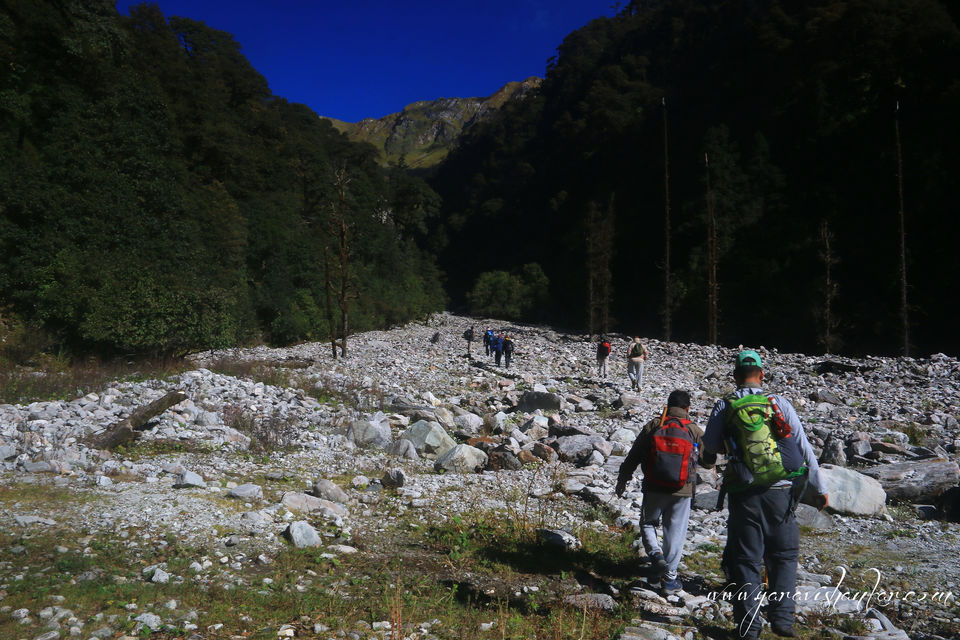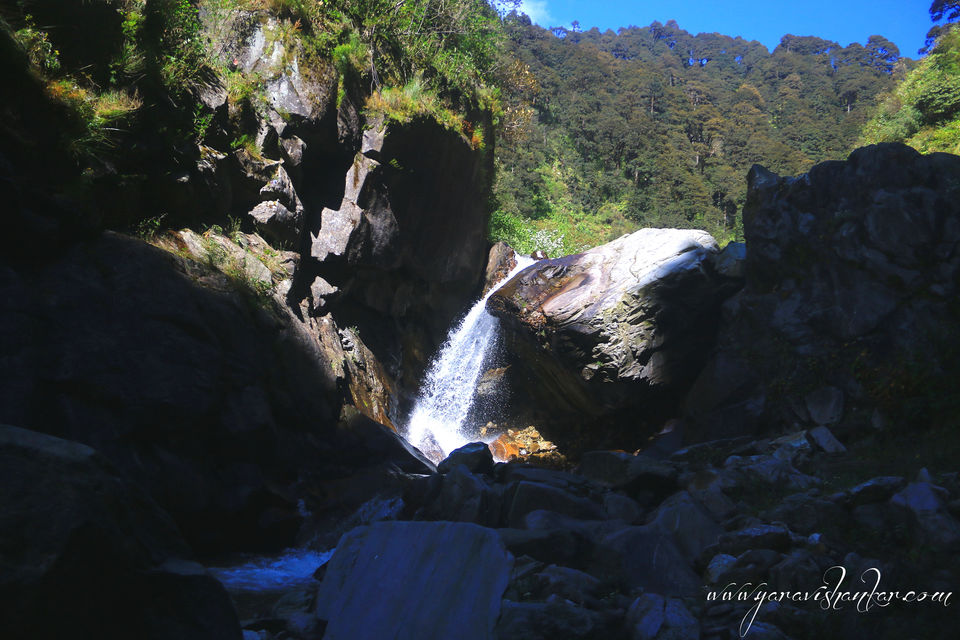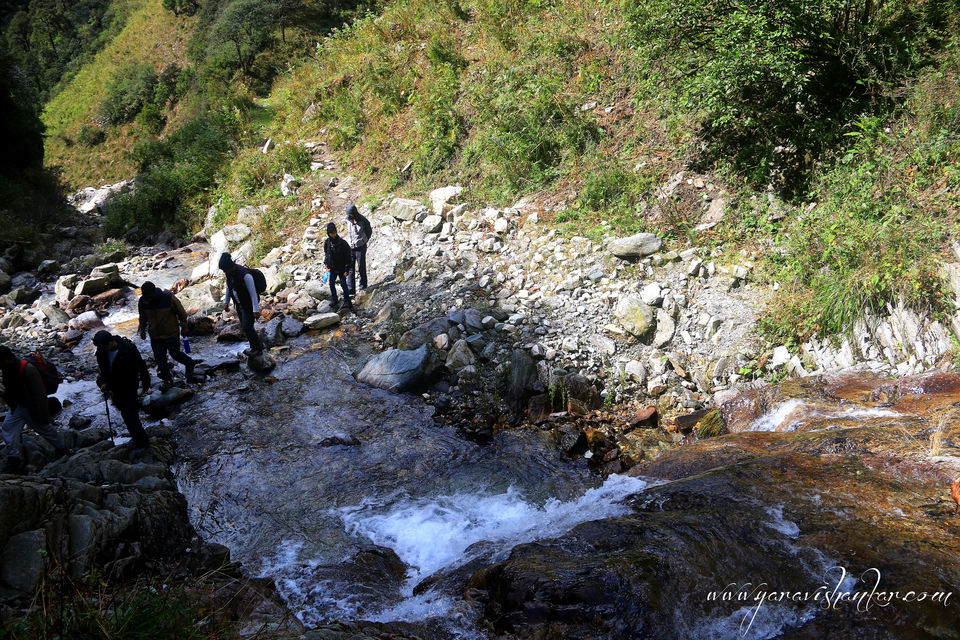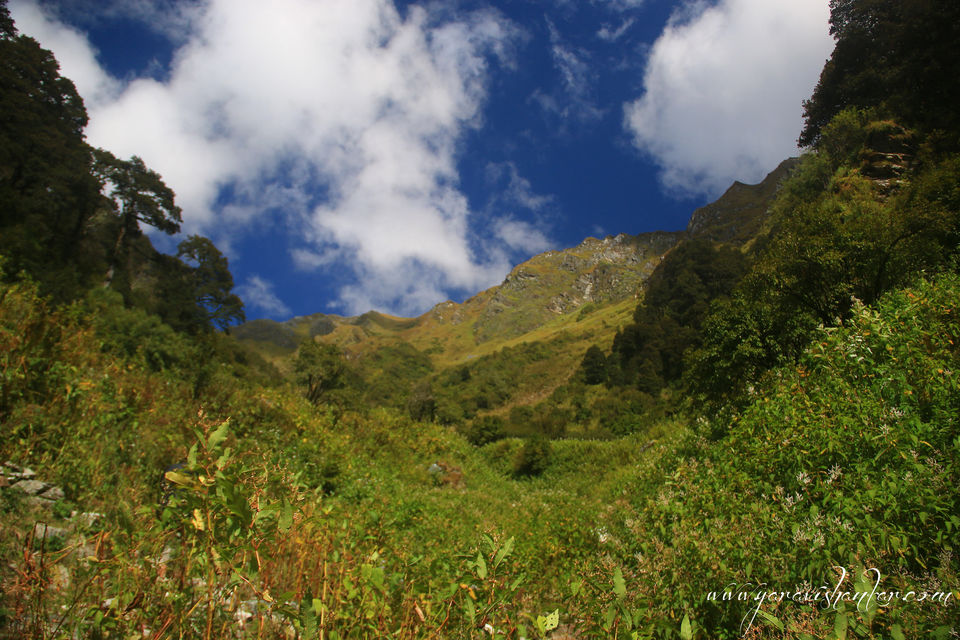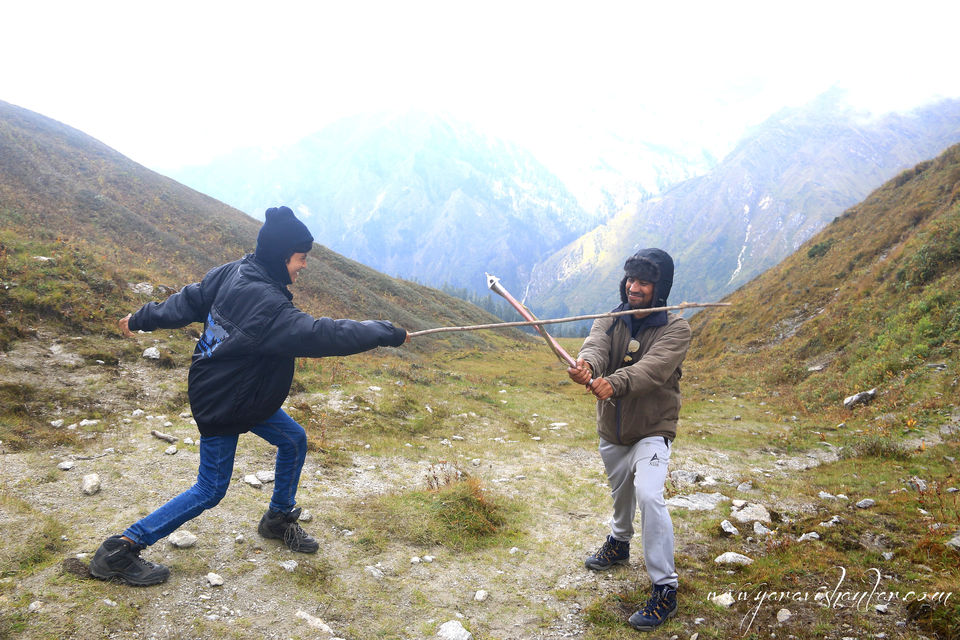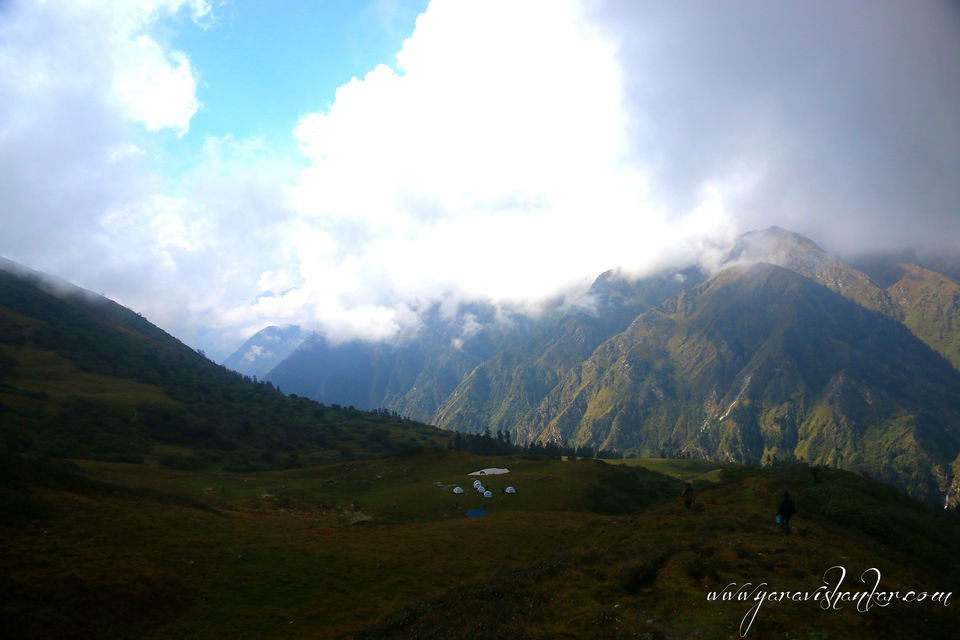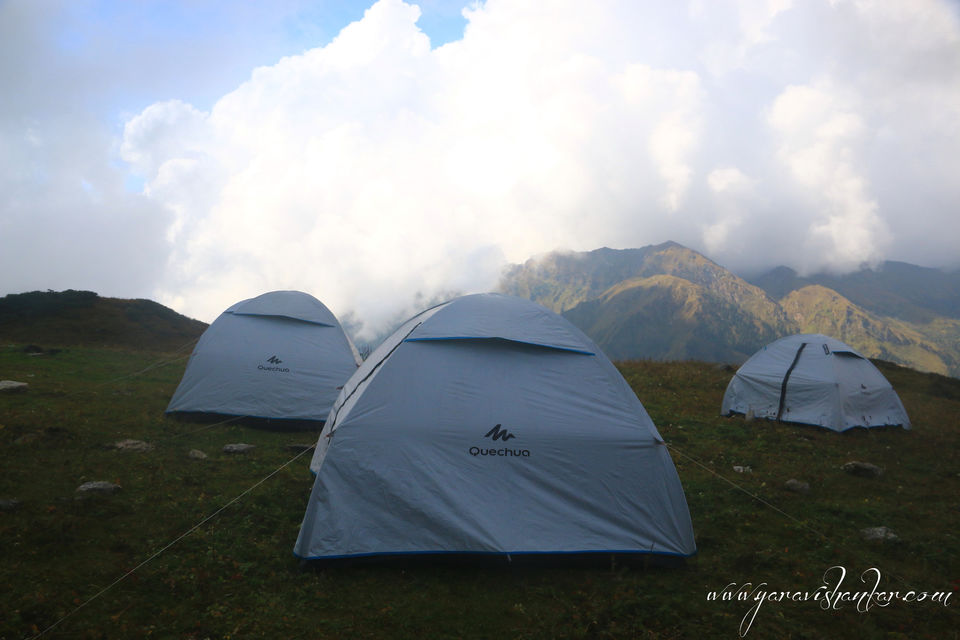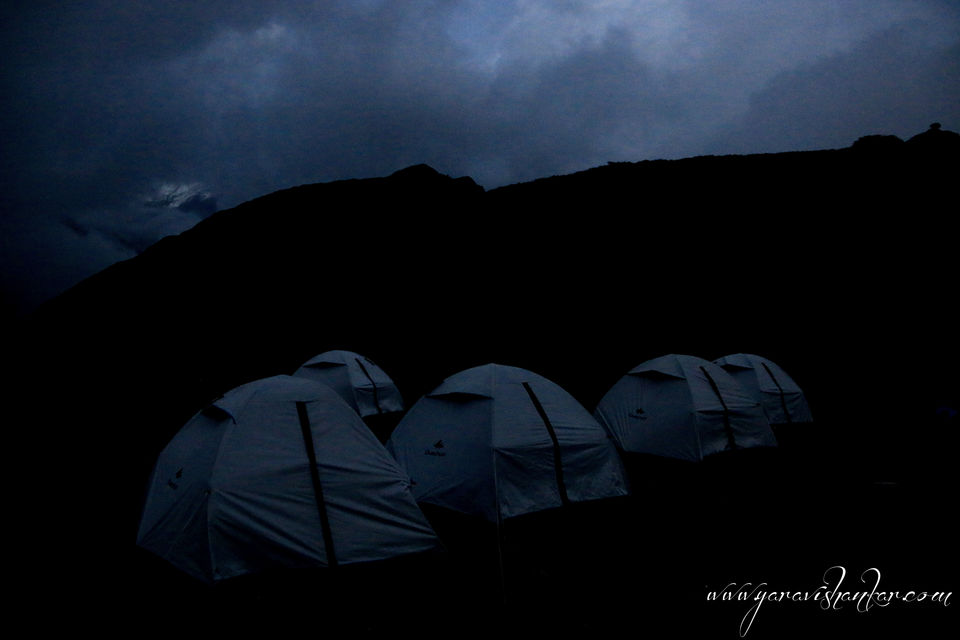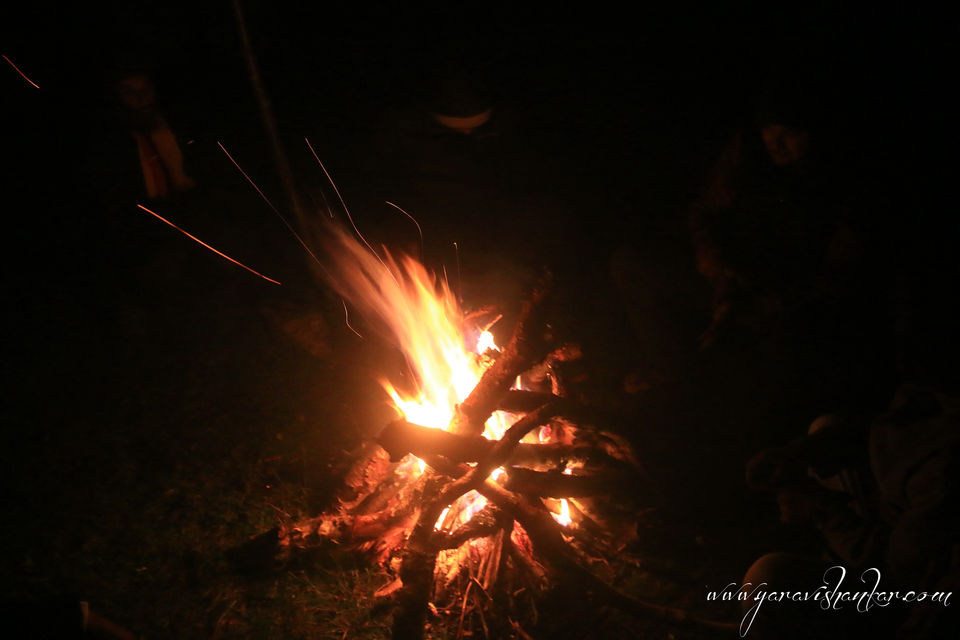 29-Sept-17 (12km trek to Shima at 3585m or 11761.81ft)
At 5AM I came out of freezing cold weather for some astronomical photography. As it was covered with mist. I couldn't take much photos. I was unhappy. I couldn't take long exposure shots. Since I had only another spare battery I didn't want to experiment much. Otherwise would have drained battery power. The early morning view of Bunderpunch range was beautiful. We saw very faint golden glow of Bandarpunch. After breakfast we descended down to Seem pass.
Descending down put a little pressure on our knees. We stopped for lunch mid-way for some yummy poori aloo. Trek down to Shima pass. At some point I was exhausted. Walking down to Shima pass on the dry water path was difficult and I was happy when I reached Shima.
We collected some firewood for camp fire. After dinner and some talk we went back to our tent. Night was cold and Phani got sick. With a good head massage from our guide Deepak he recovered. I kept peeping out of the warm tent to see the sky. The sky was clear with clear view of billion stars. I was too lazy to come out to take some astronomical photography. I had terrible headache from altitude sickness and cold weather.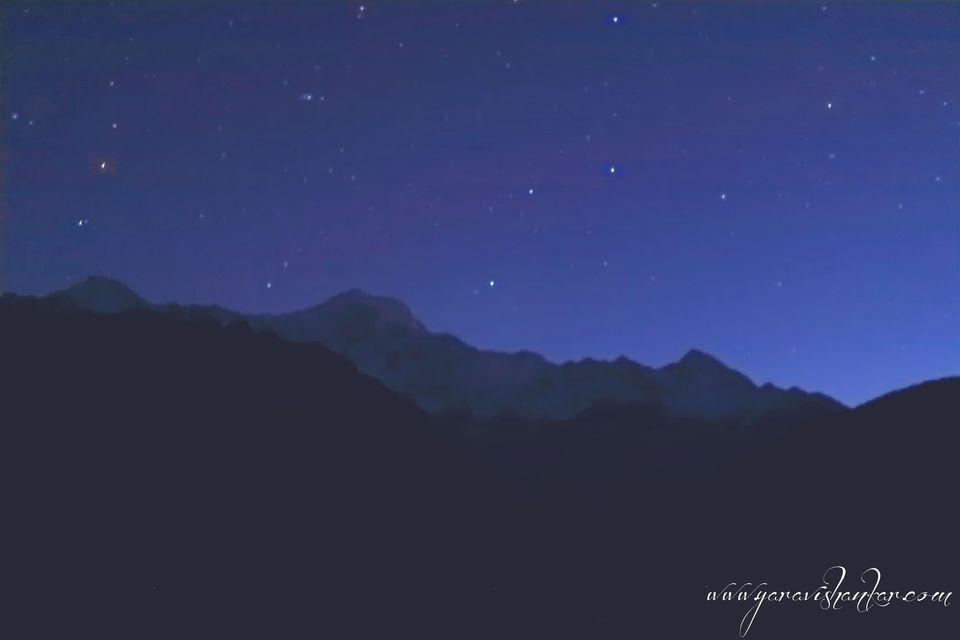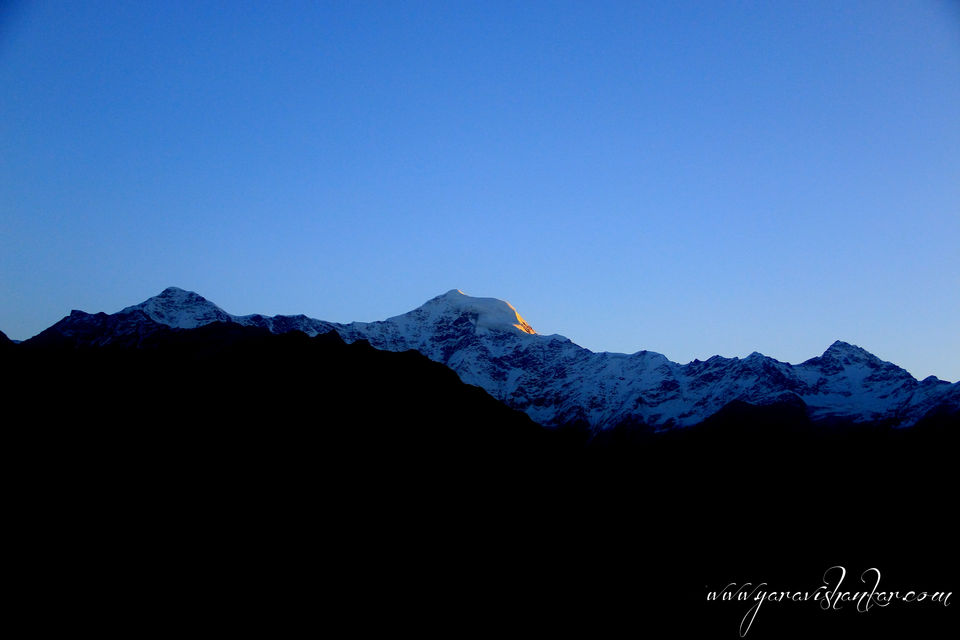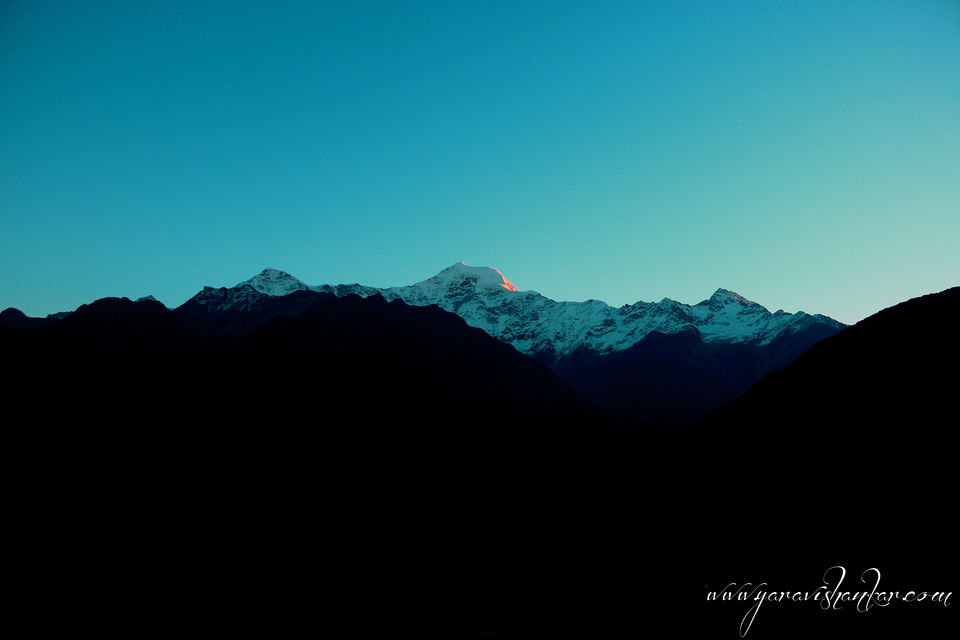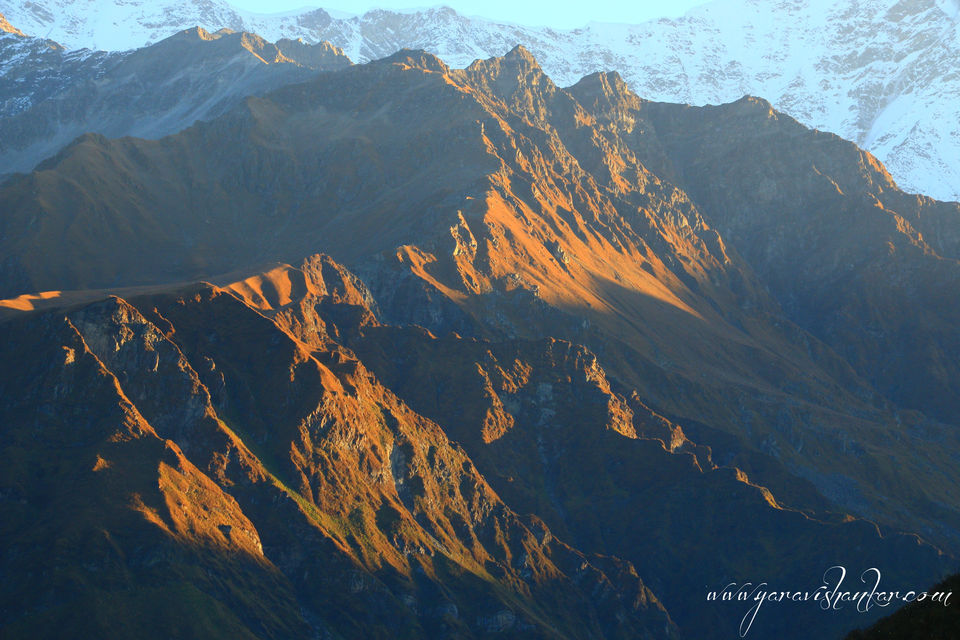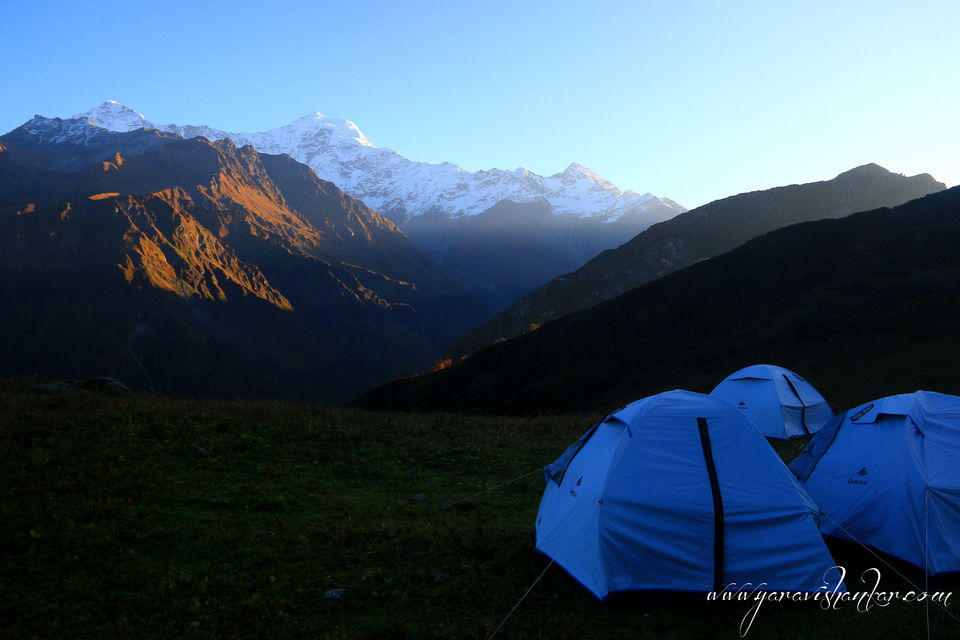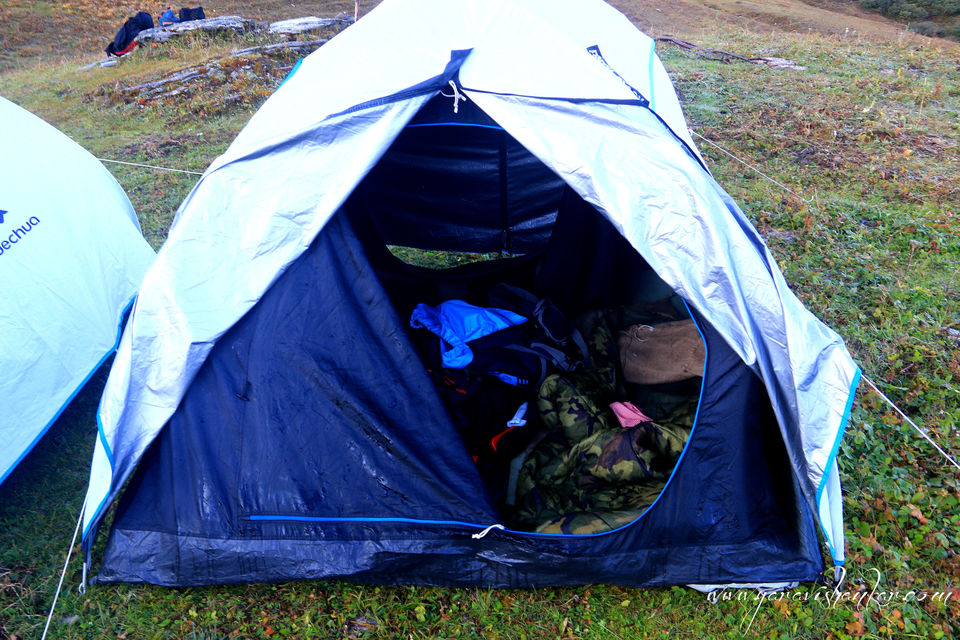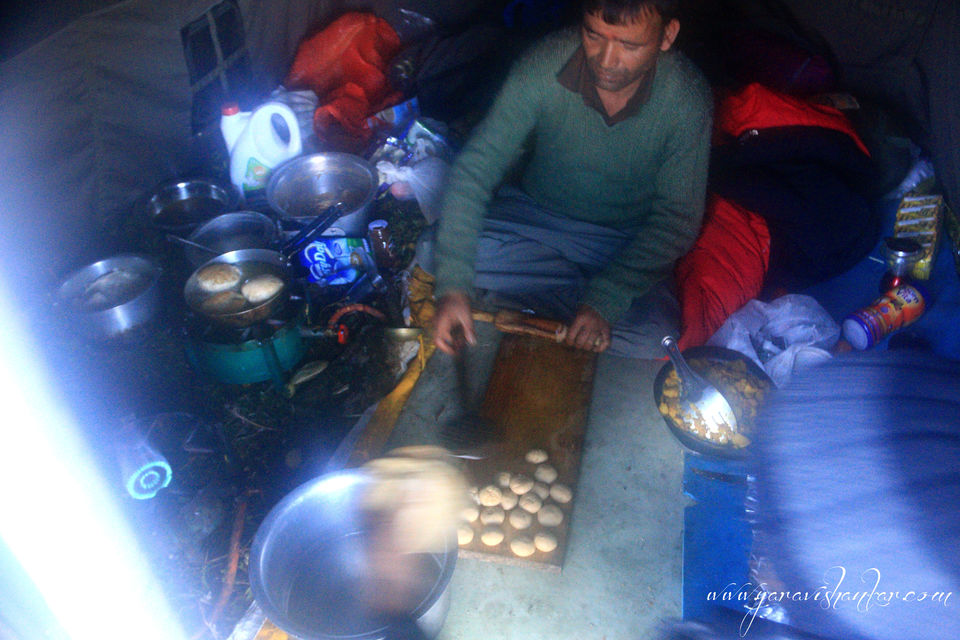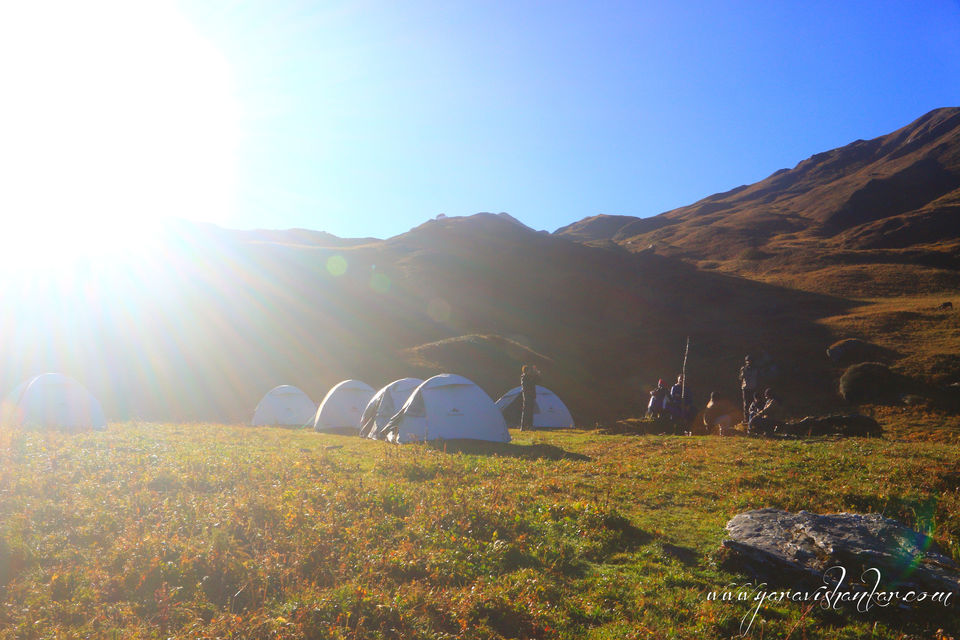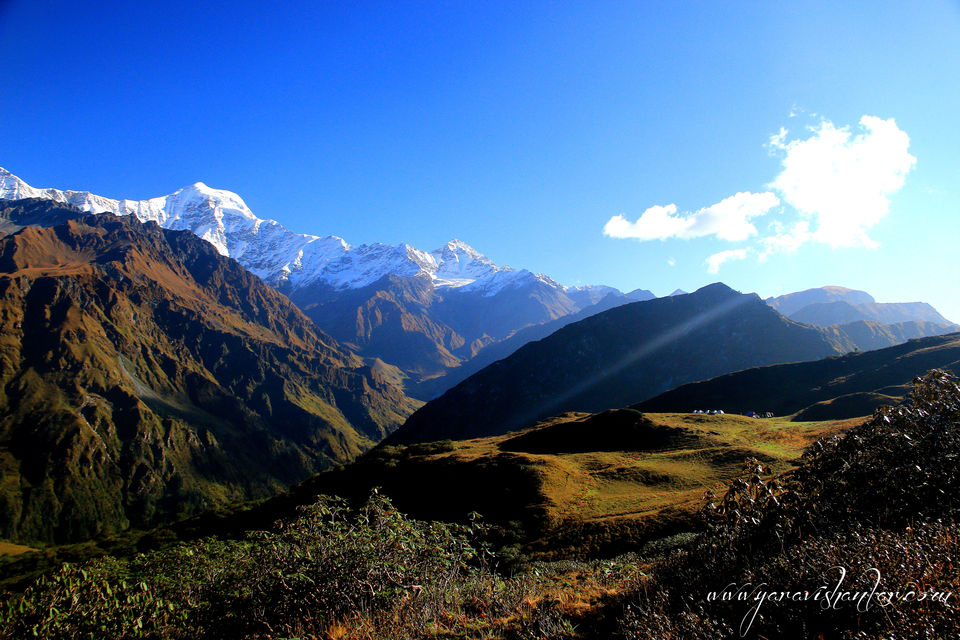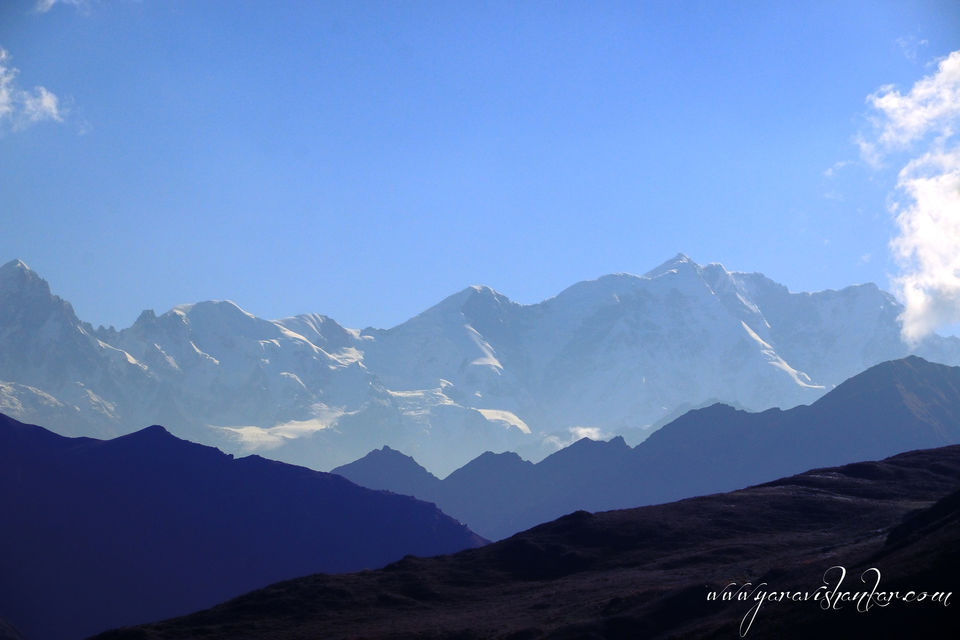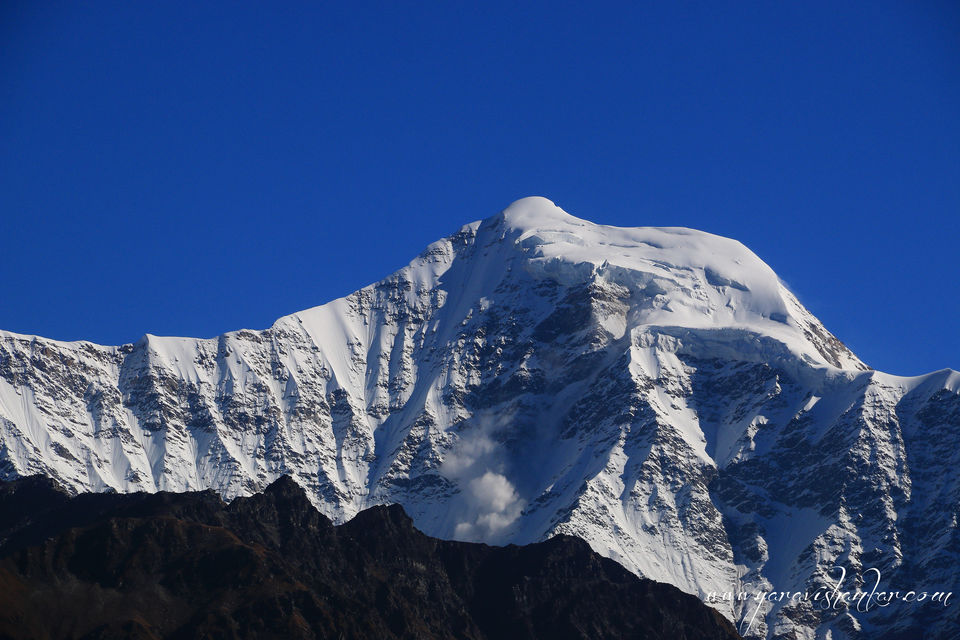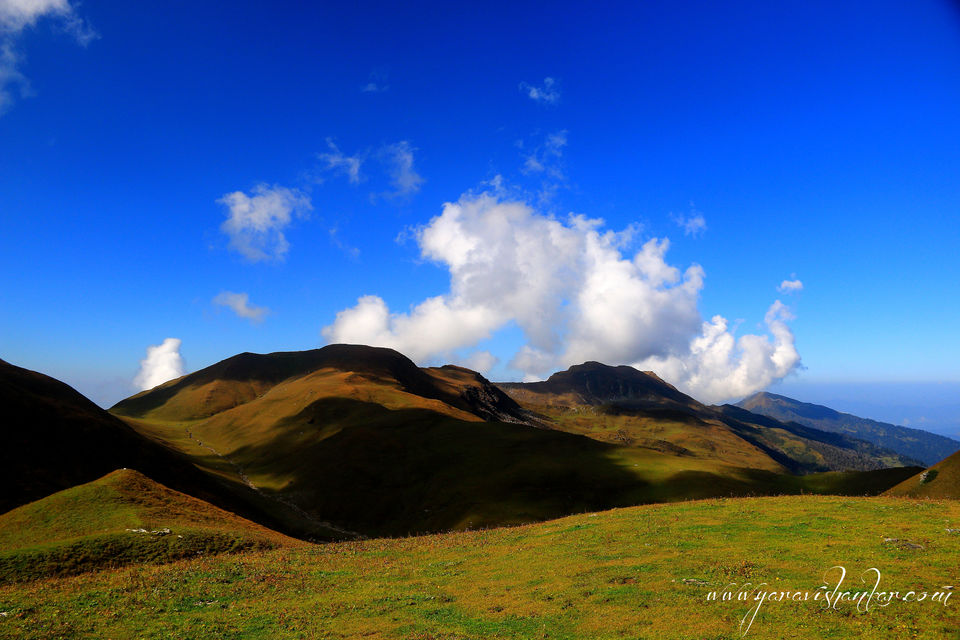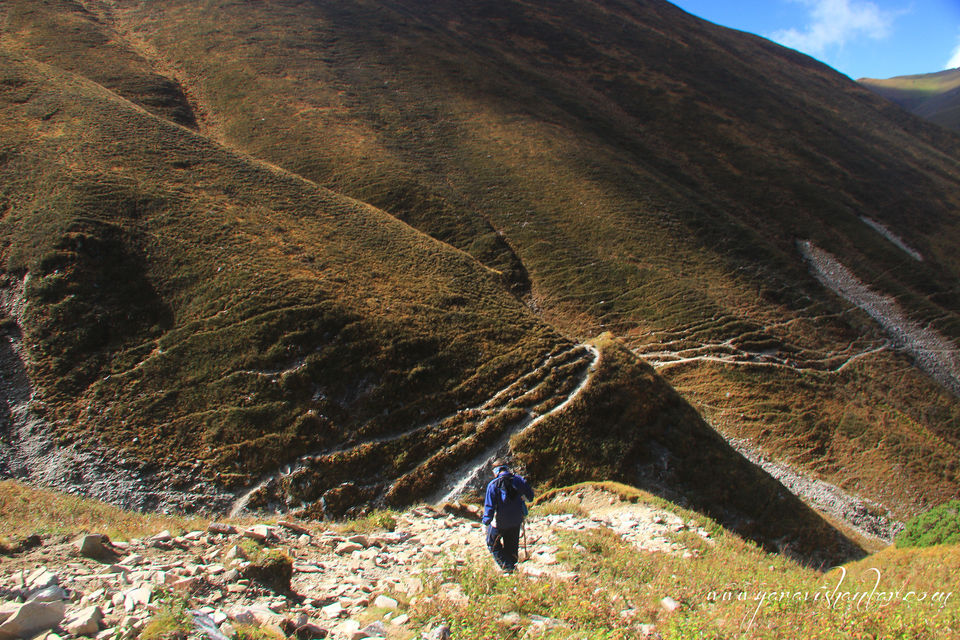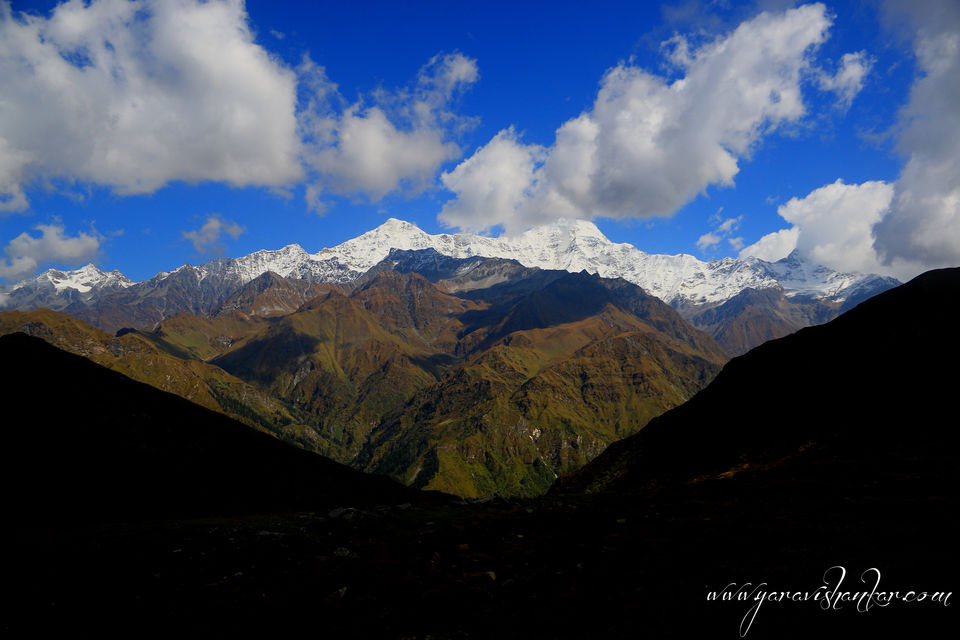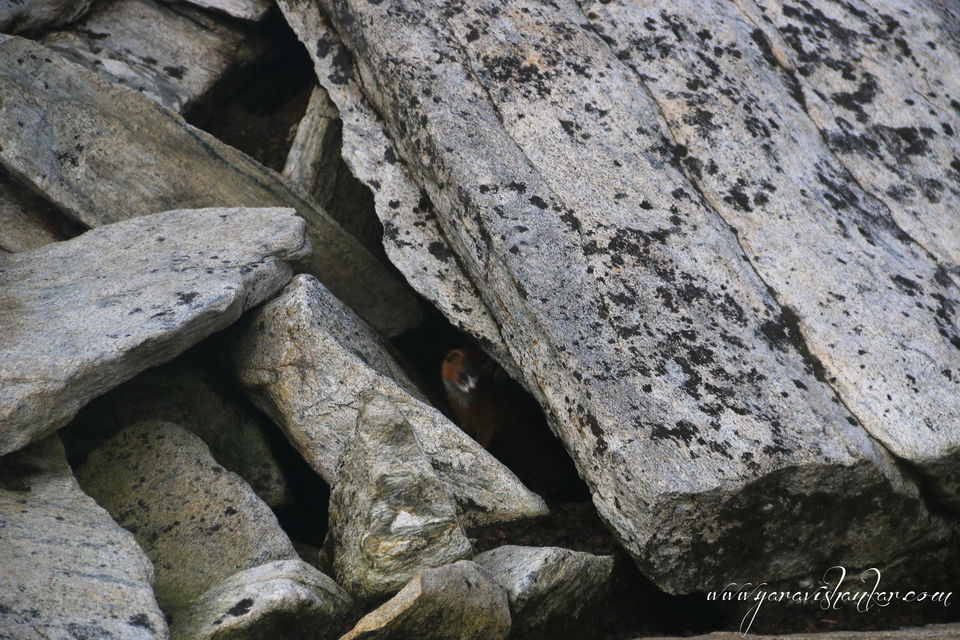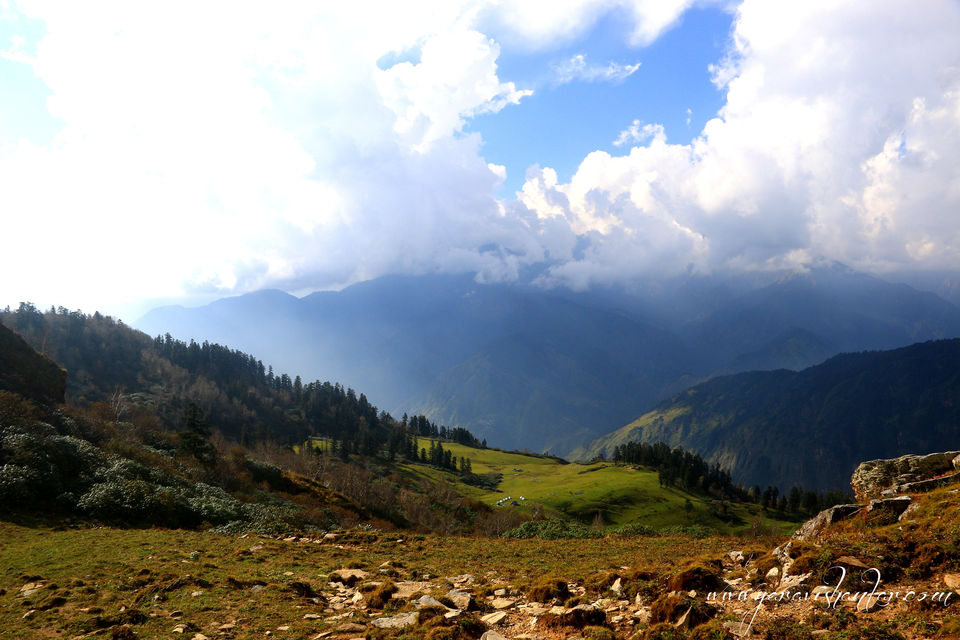 30-Sept-17 (11km trek to Hanuman chatti)
Morning it was freezing cold weather. My hands had become numb. Even after holding a hot cup of bornvita I couldn't feel my hands. We took some group photos. We had some jumping photos there. The view was picture perfect.
After breakfast we descended towards Hanuman chatti the road point. While descending we had another group along with us. They were fast. We some pony traffic jam. Unfortunately Sarmesh and a porter got bit by some honey bee. It was painful. We stopped near a village for some lunch. We saw first view of village after 3 days. Dangurong We could hear the musical sounds from the temple. It was a Vijaya Dashami and there was some program happening at the village temple. A girl offered for a tea. We politely said no. While other team members enjoyed a nice tea. We got some mobile network after 4 days. We called home and came to road point hanuman chatti. After hugging and bidding good bye to our porters. We took a bolero to Janaka chatti. I took a cold water bath after 5 days and it was refreshing. We were happy to have different food after getting bored of aloo and roti. I shaved my beard which had grown 2 inch long during 4.5 days of trek. We played some UNO.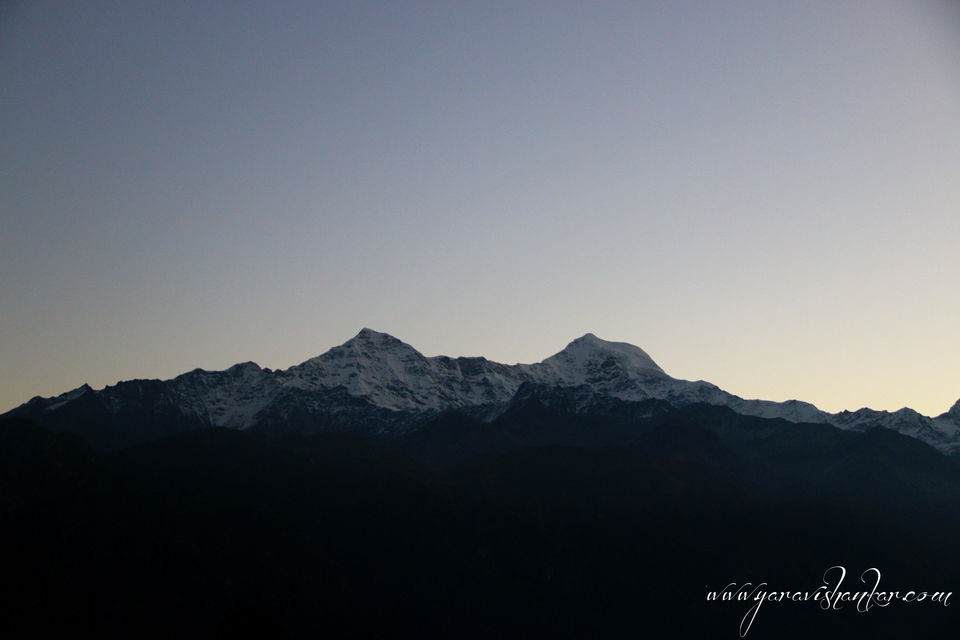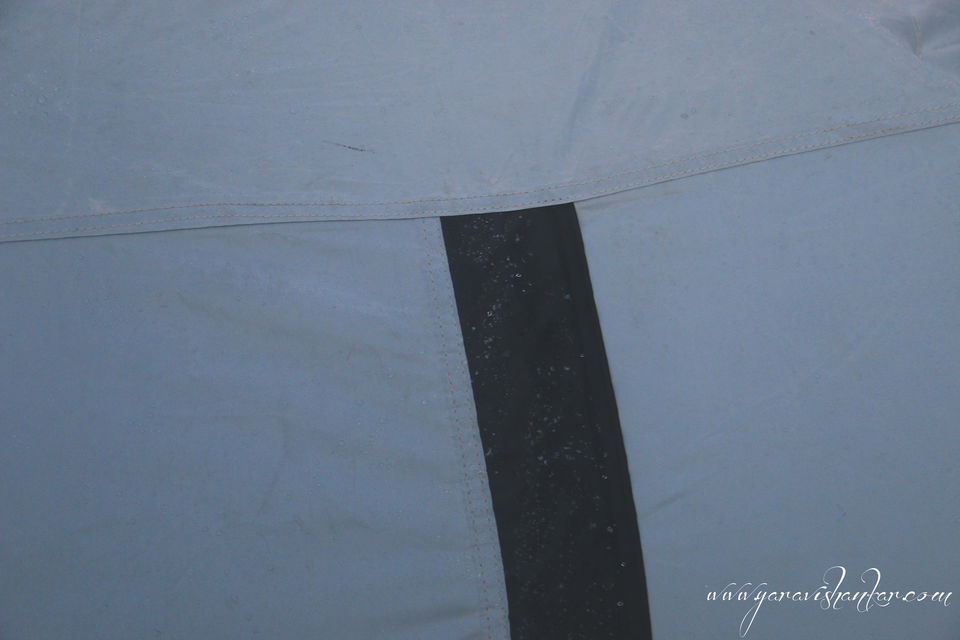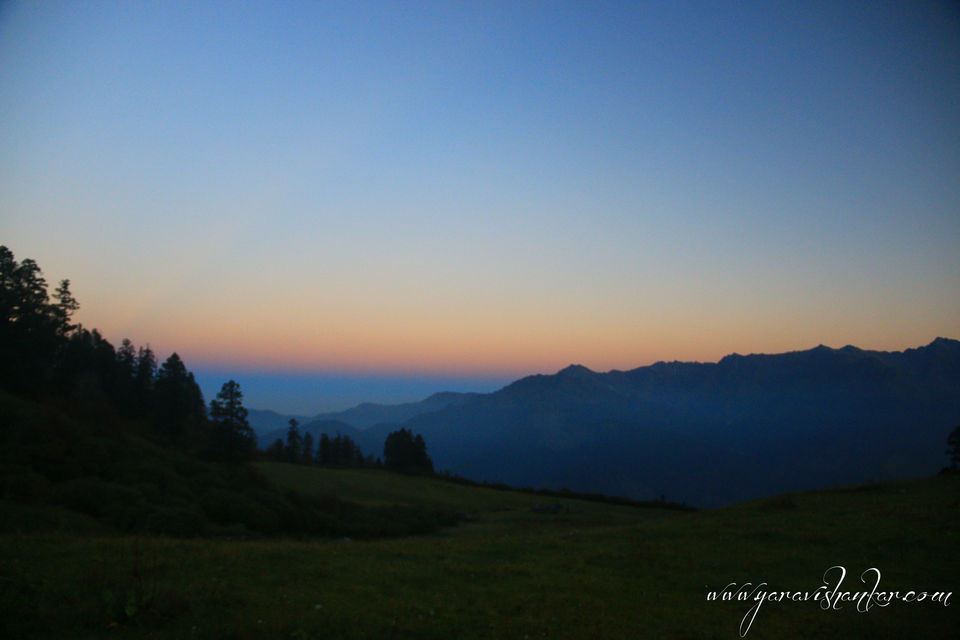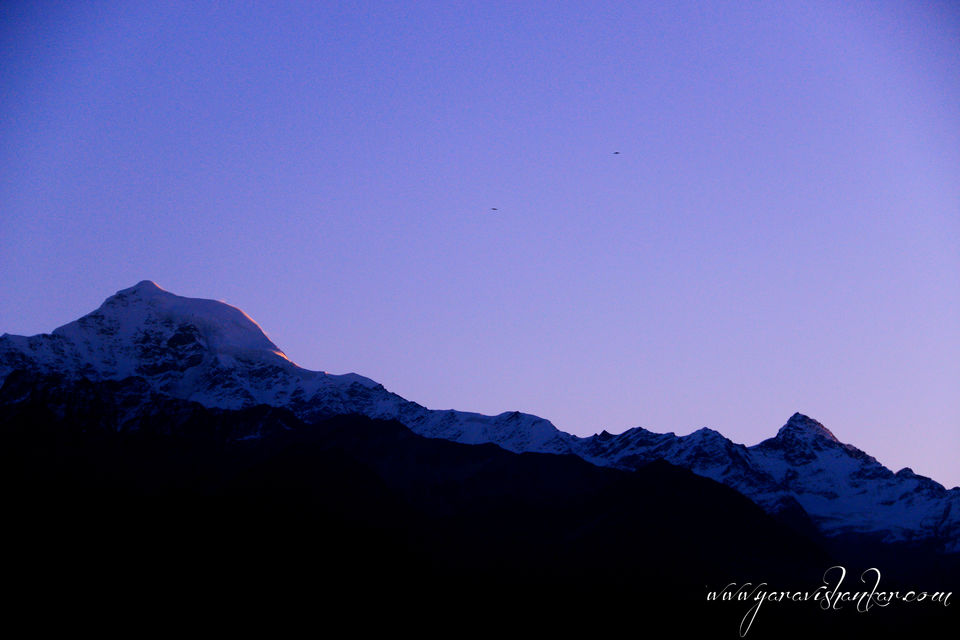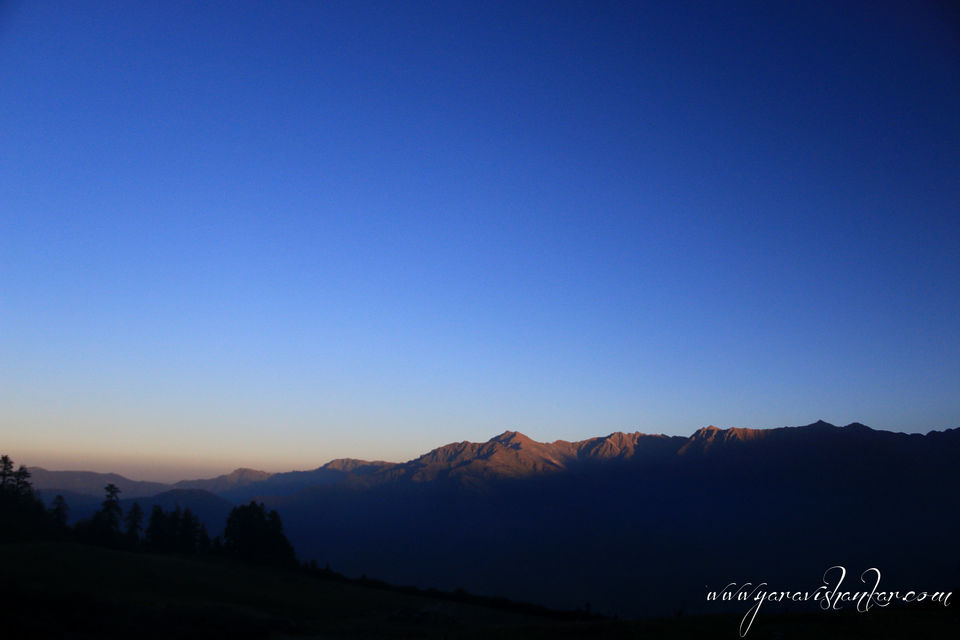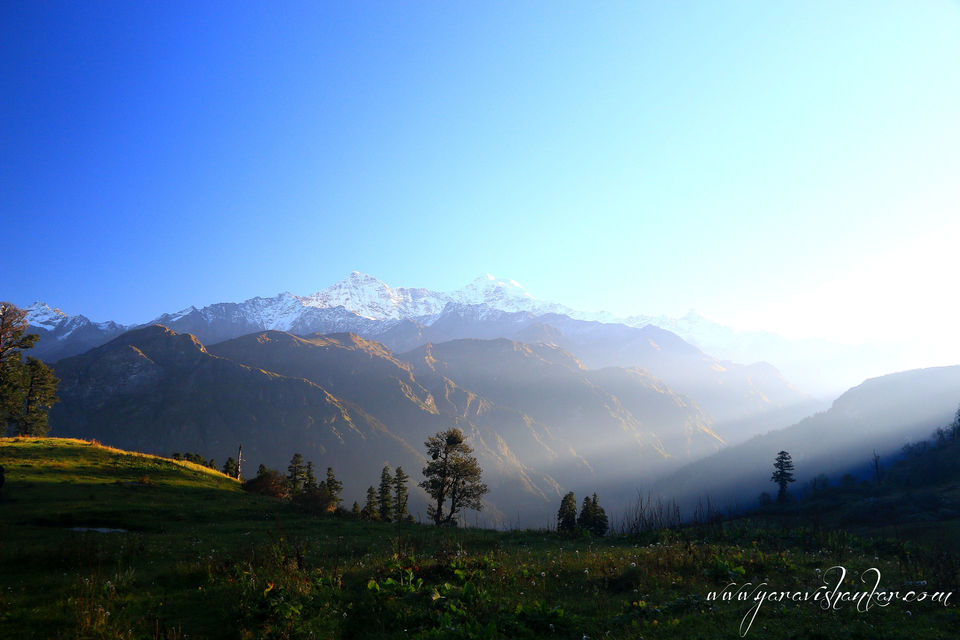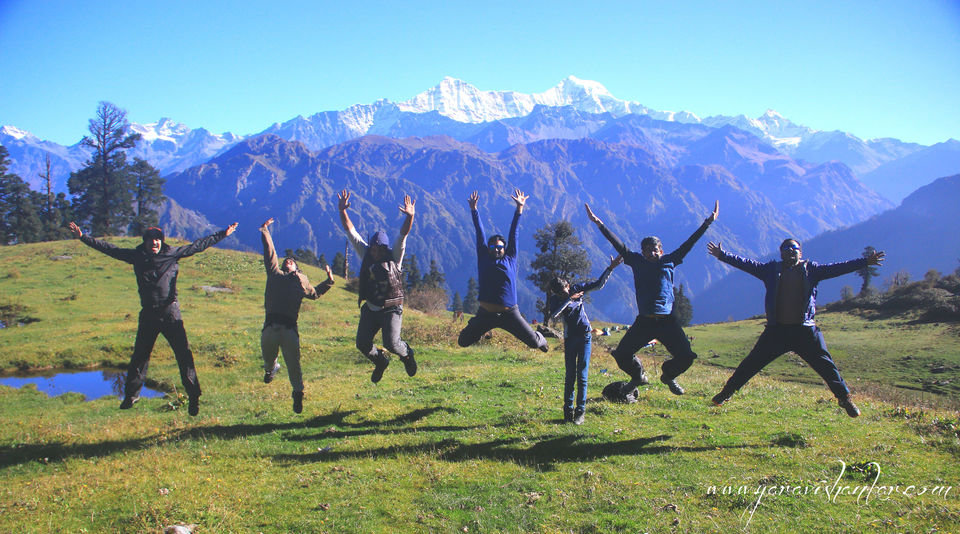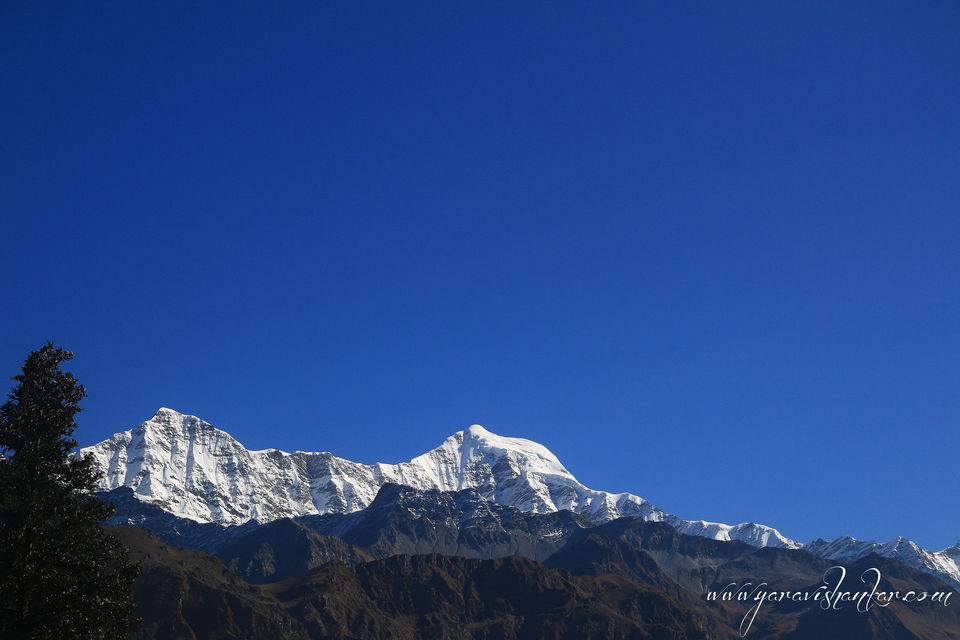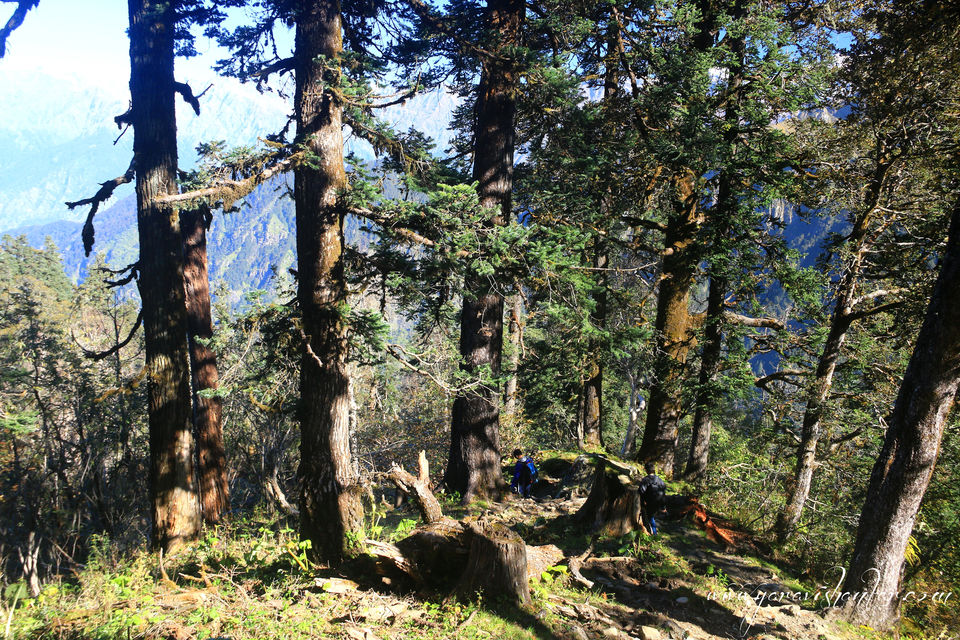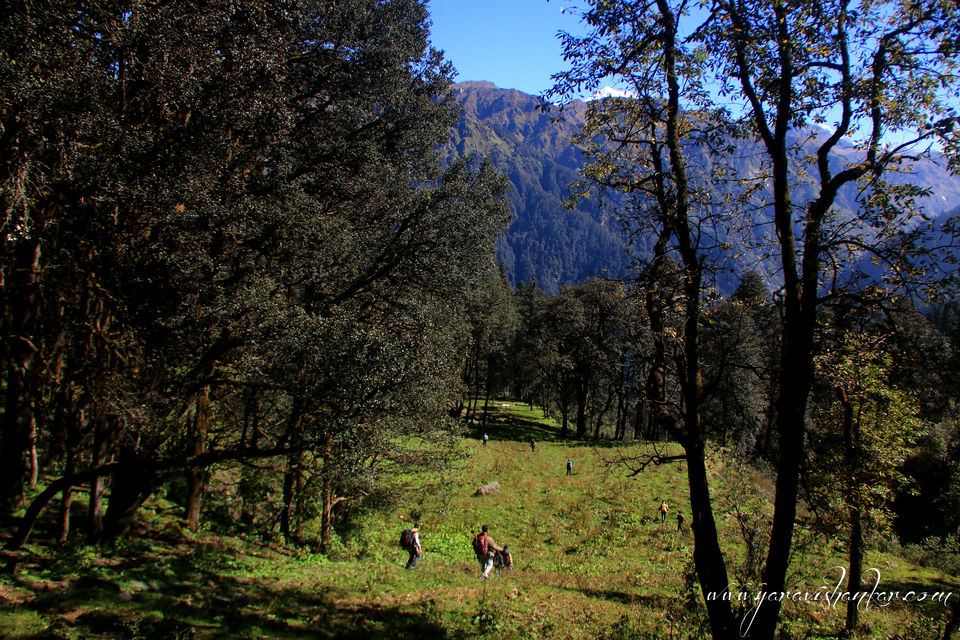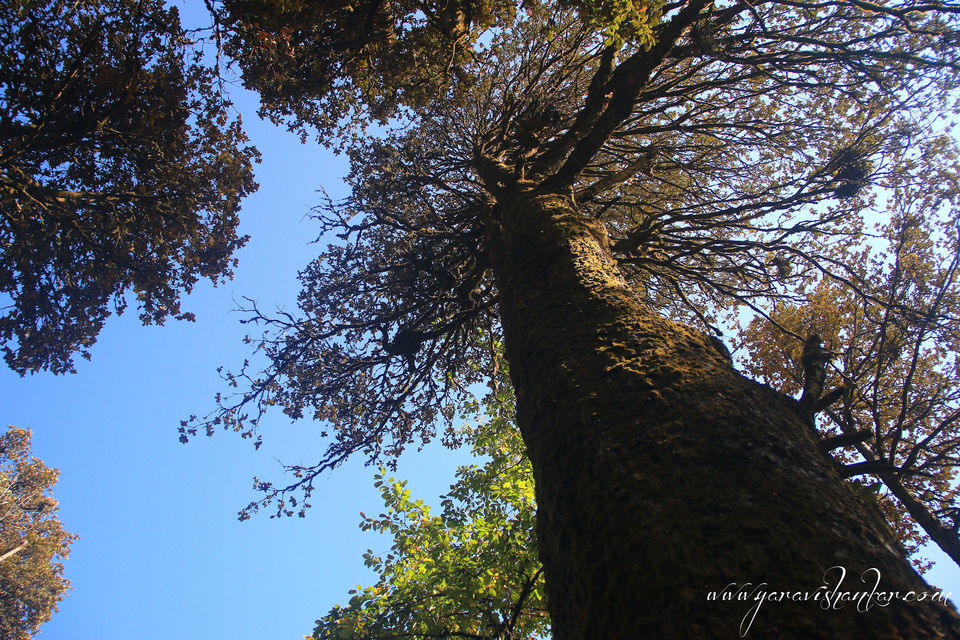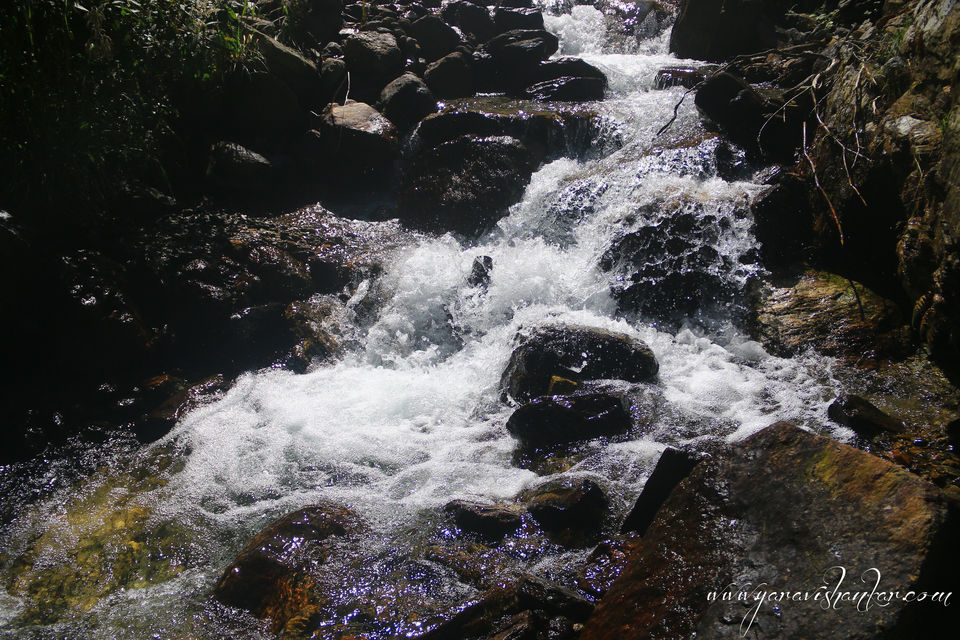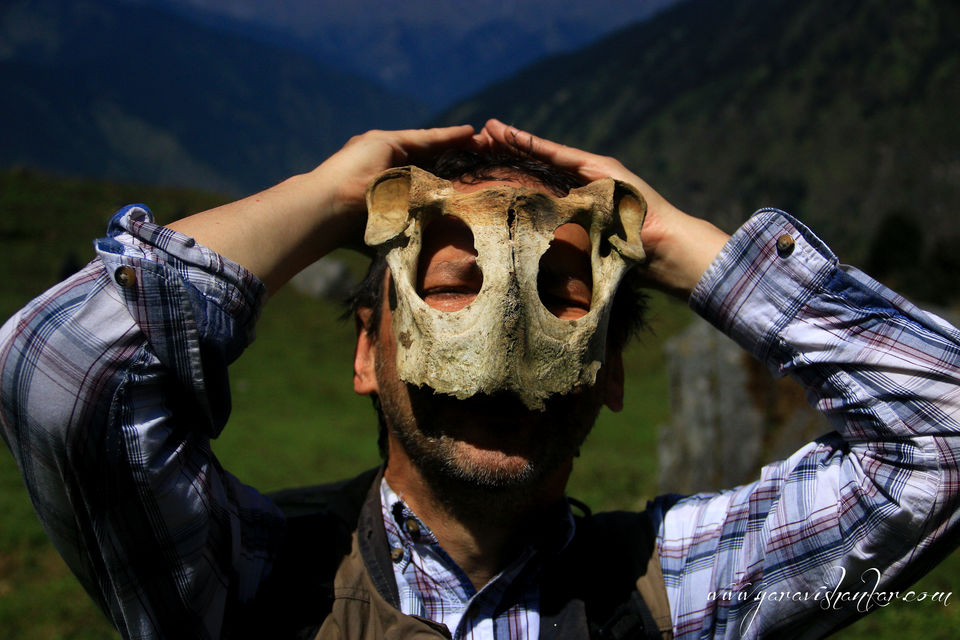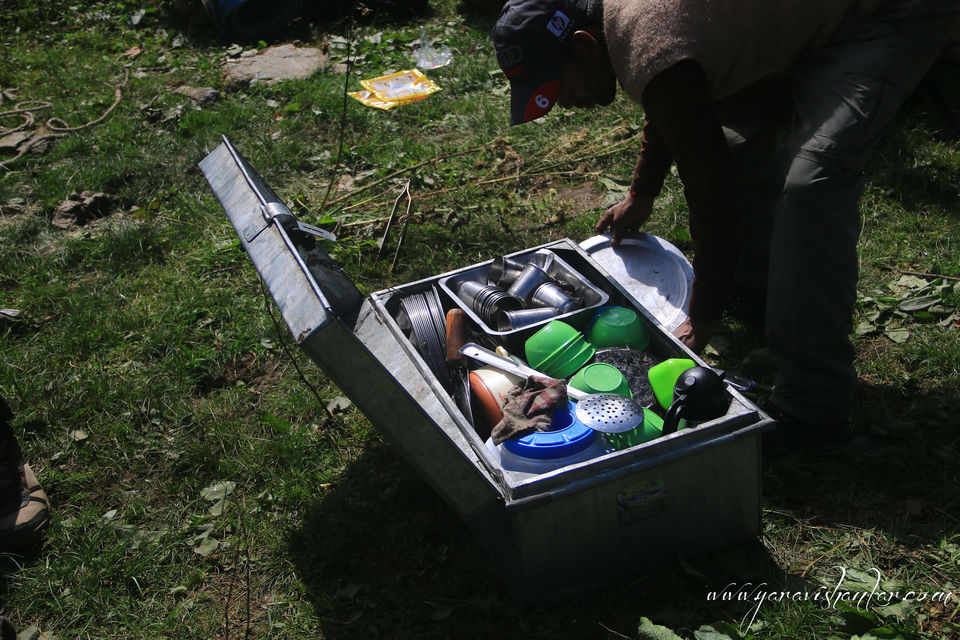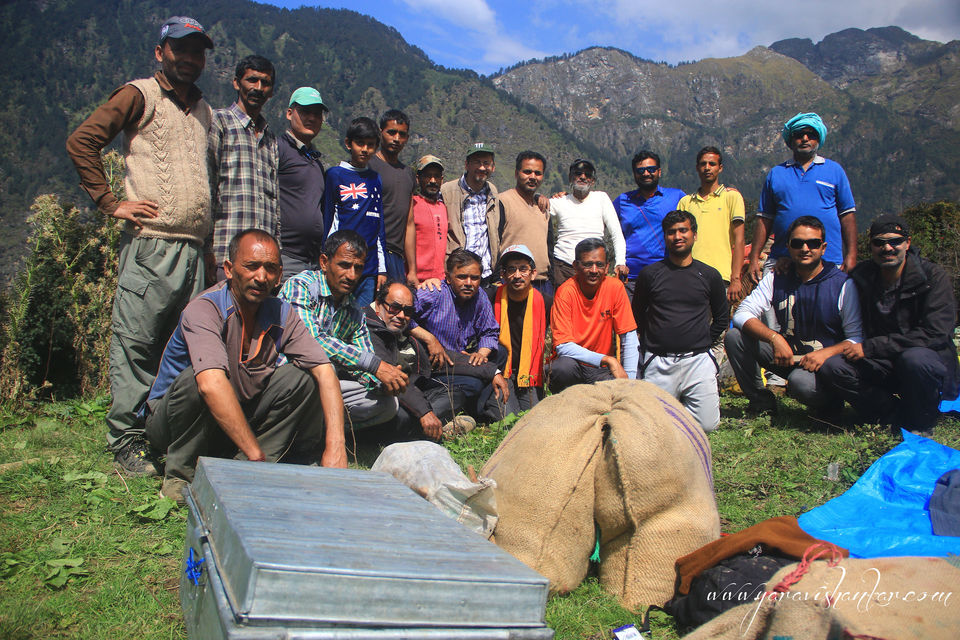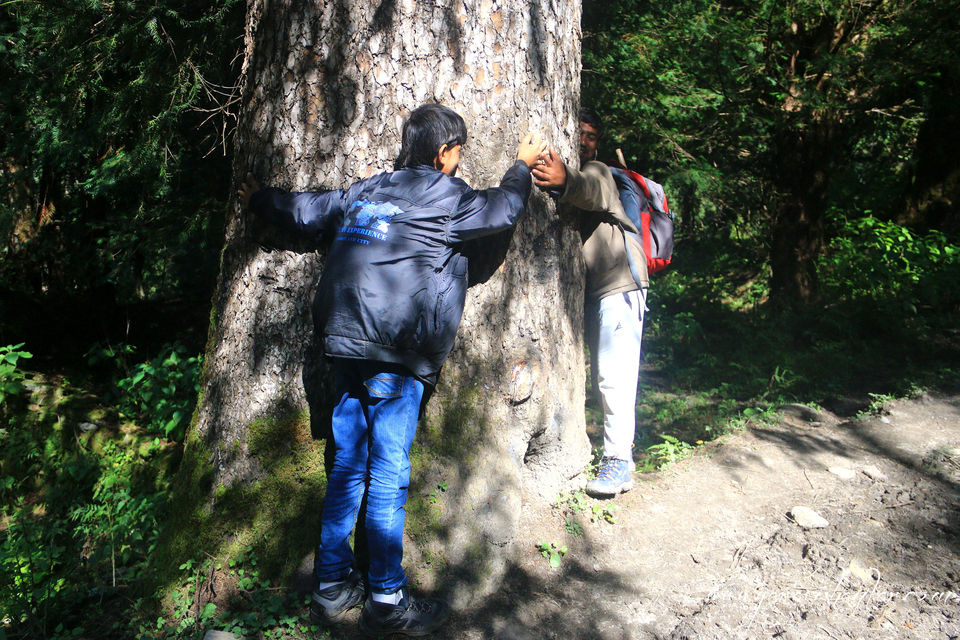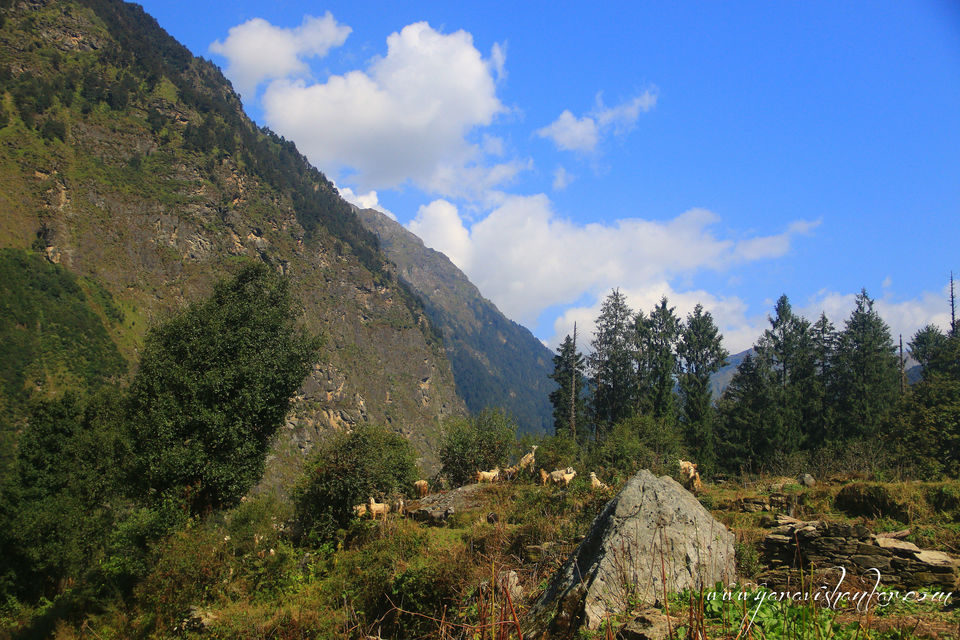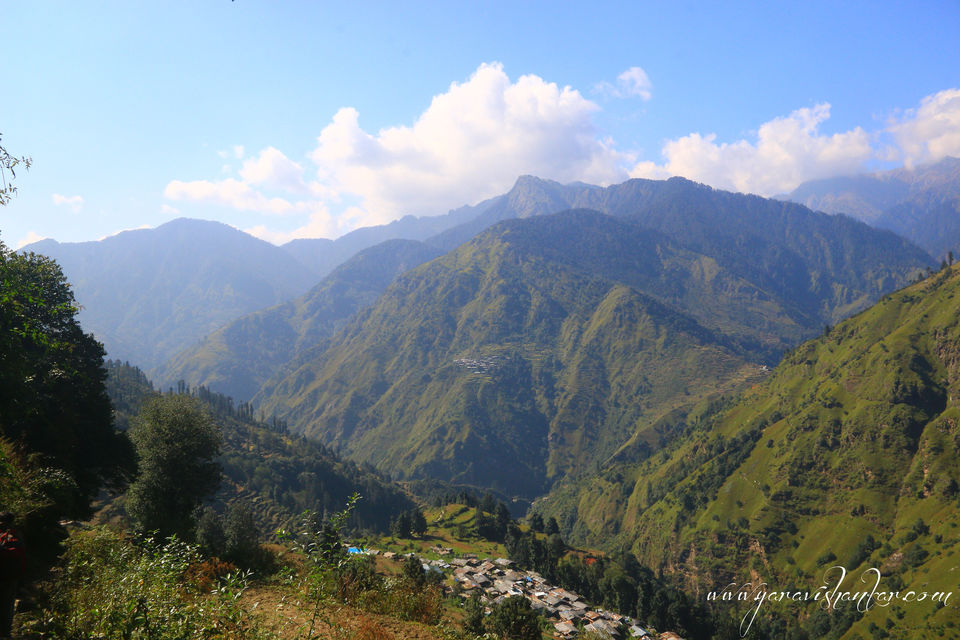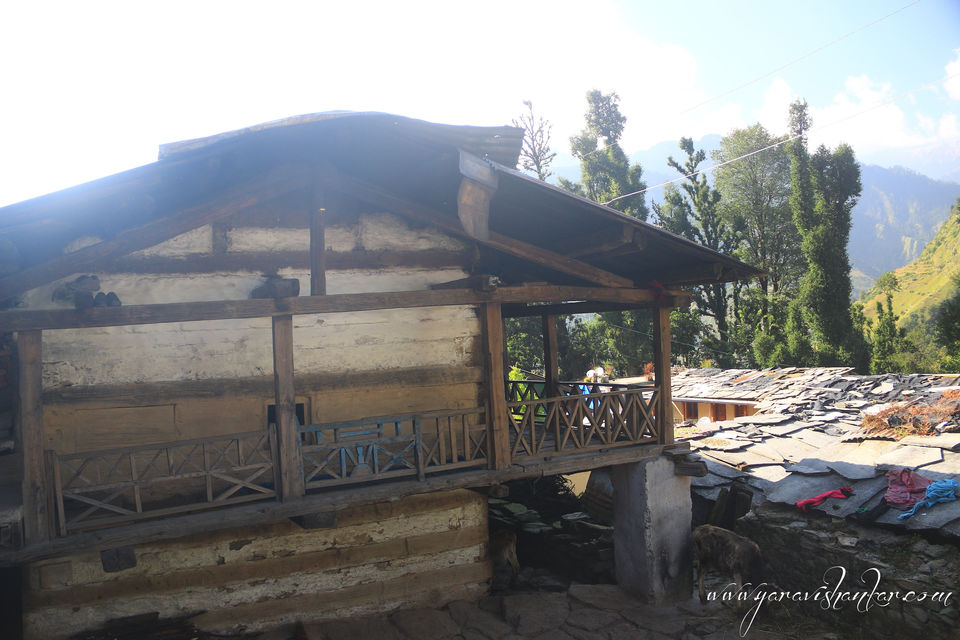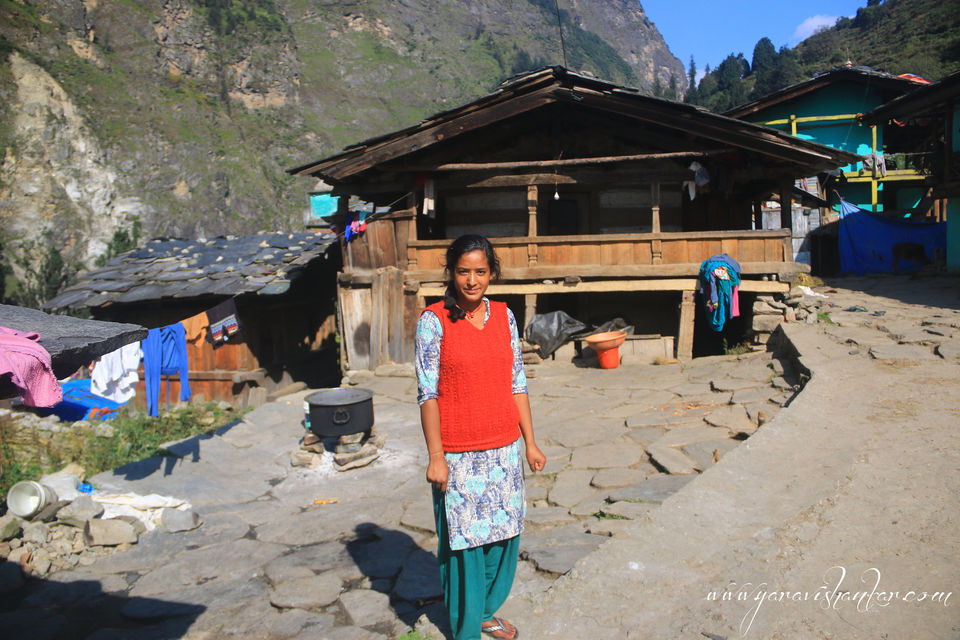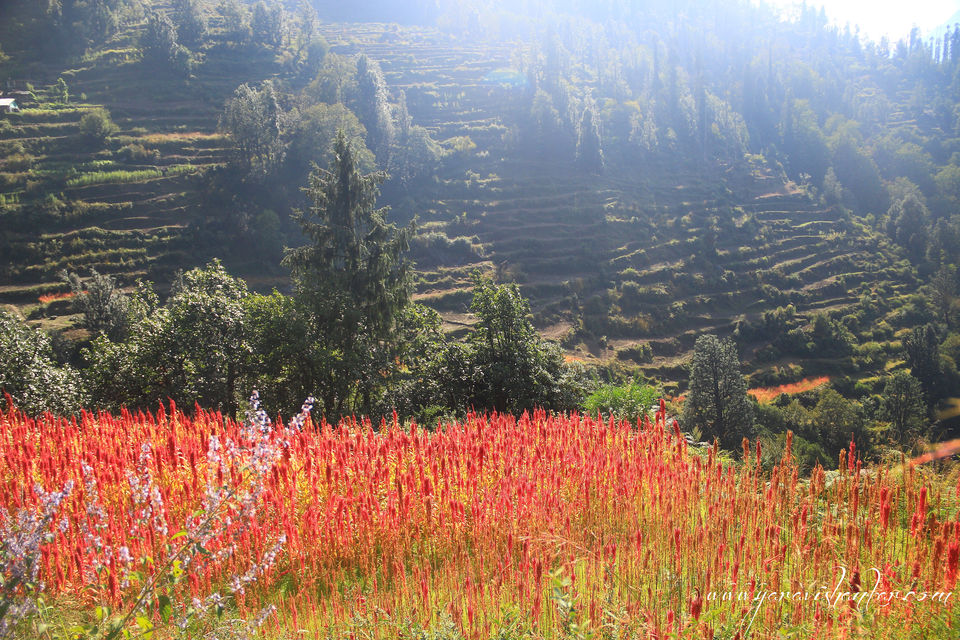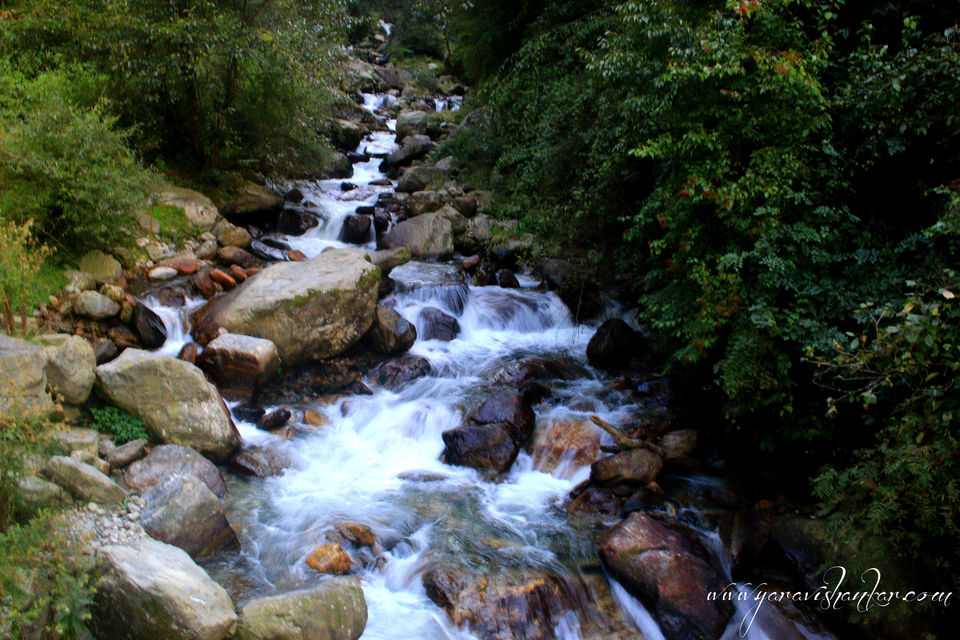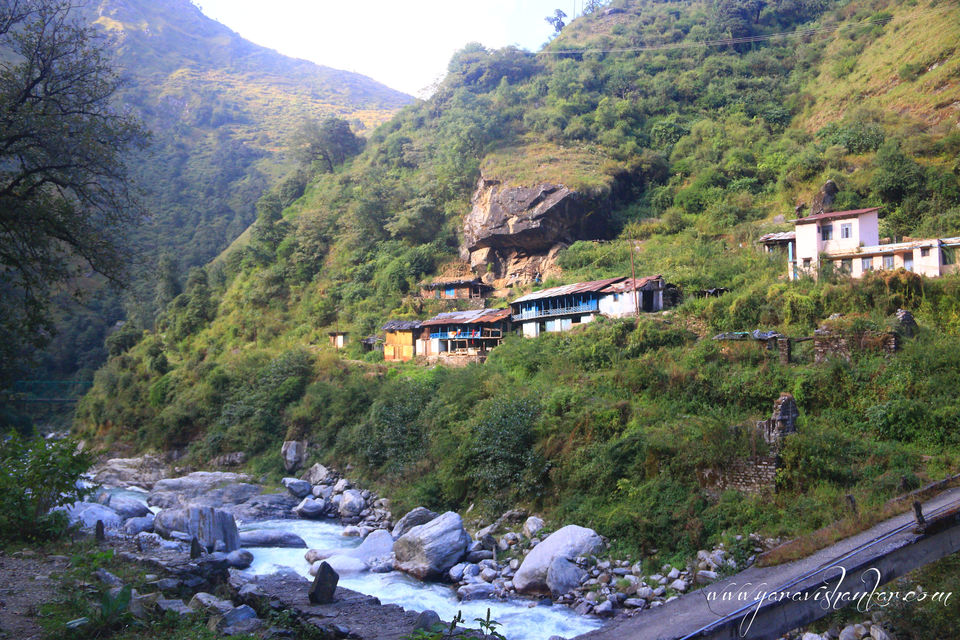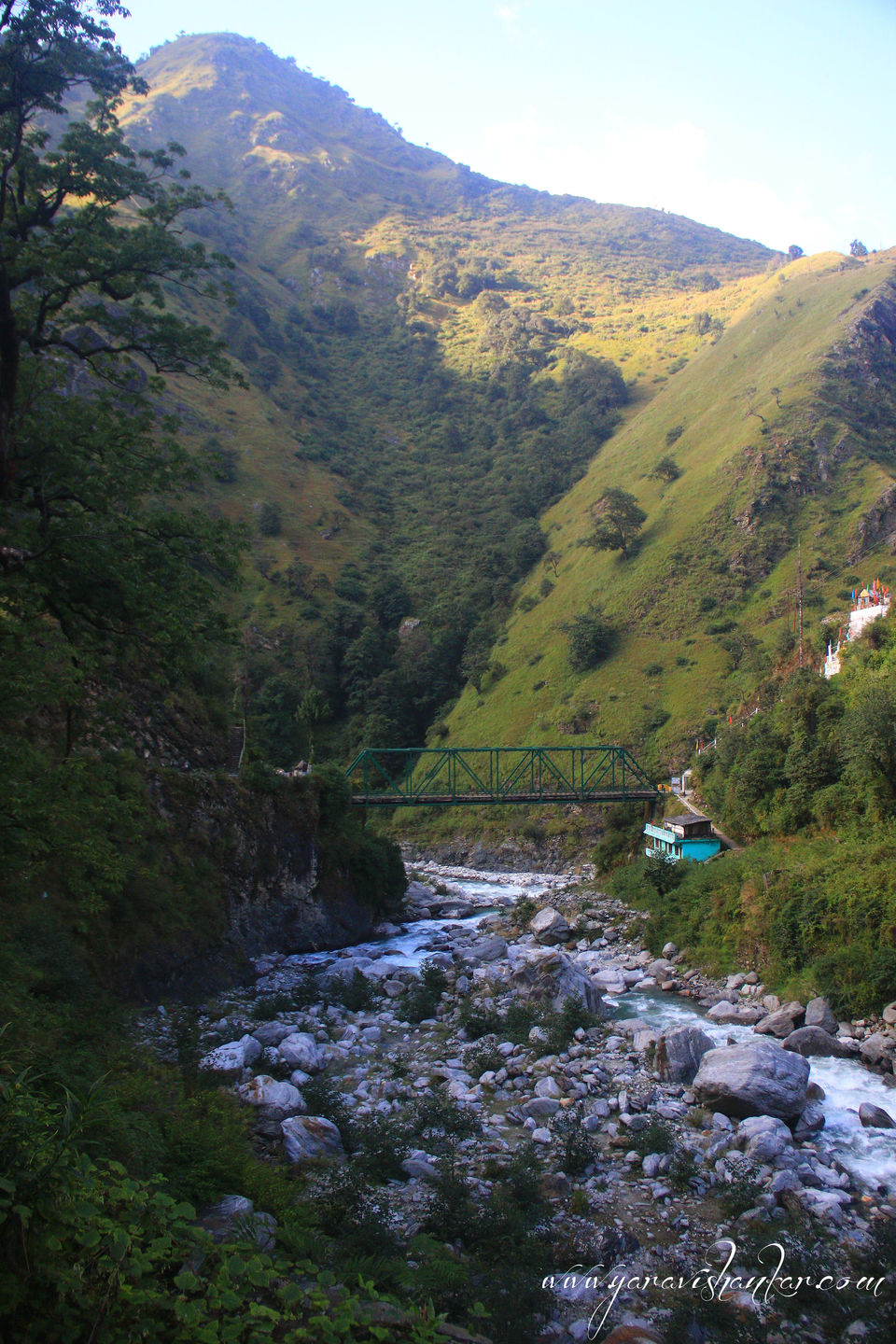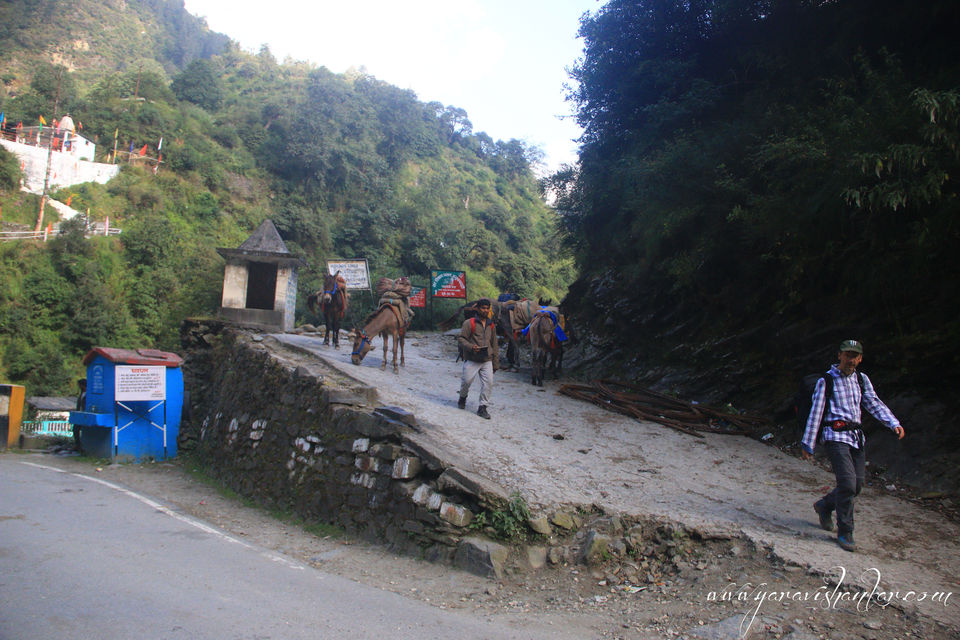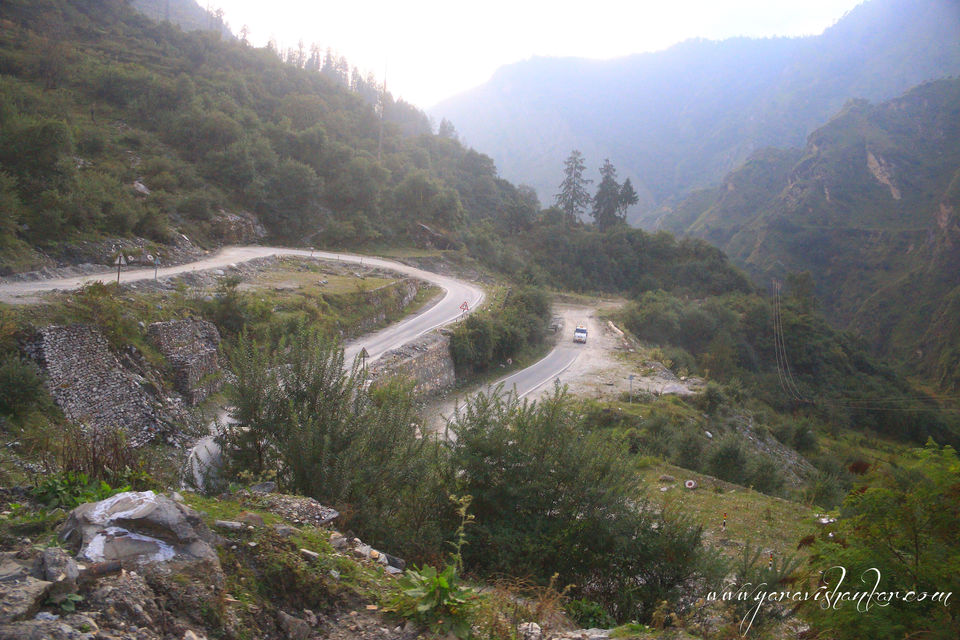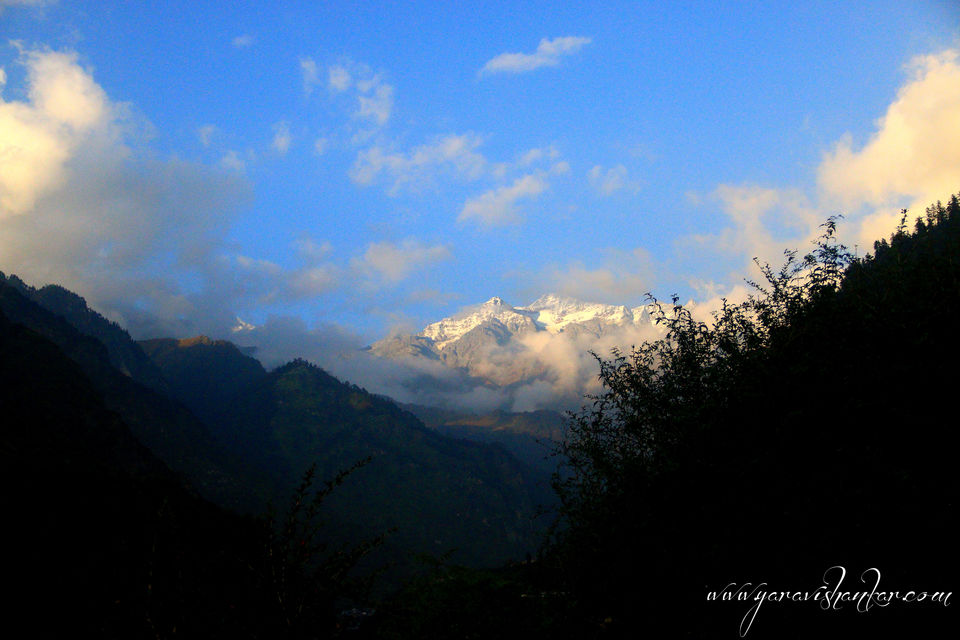 1-Oct-17 (15km of trek to Yamunothari and back : 11,154feet or 3400m height)
I got up early to take golden glow of Yamunothari snow covered mountains. I went inside to have breakfast. By then the golden glow was gone.
We had a relaxed walk to Yamunothari temple. We took lot of break with beautiful view of valley and walking path towards Yamunothari temple. We reached Yamunothri temple and some of us took very hot water bath. The view of Yamunothari glacier was good. We had some tea and sweets at a Dabha. We went to janaka chatti with a relaxed walk. In the evening I bought some pony belt with bells a souvenir. We had fried rice for dinner. I had a long conversation with Emanuel on spirituality , Germany , India etc.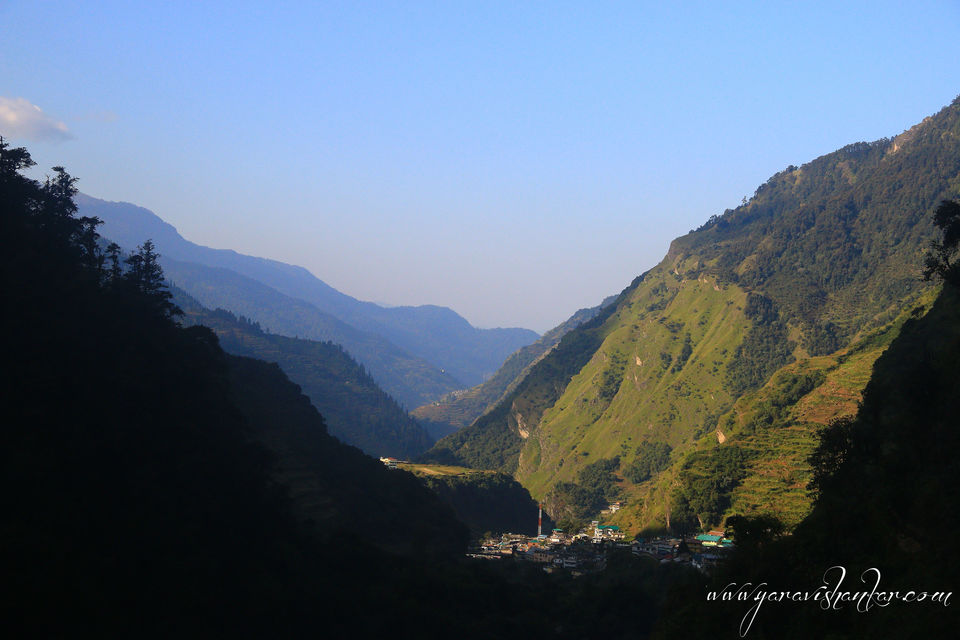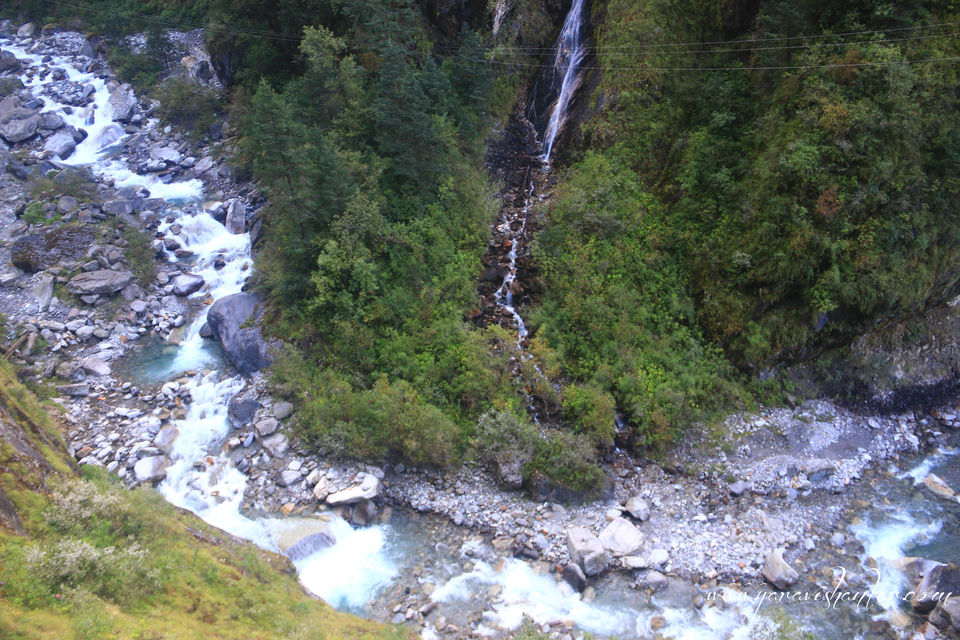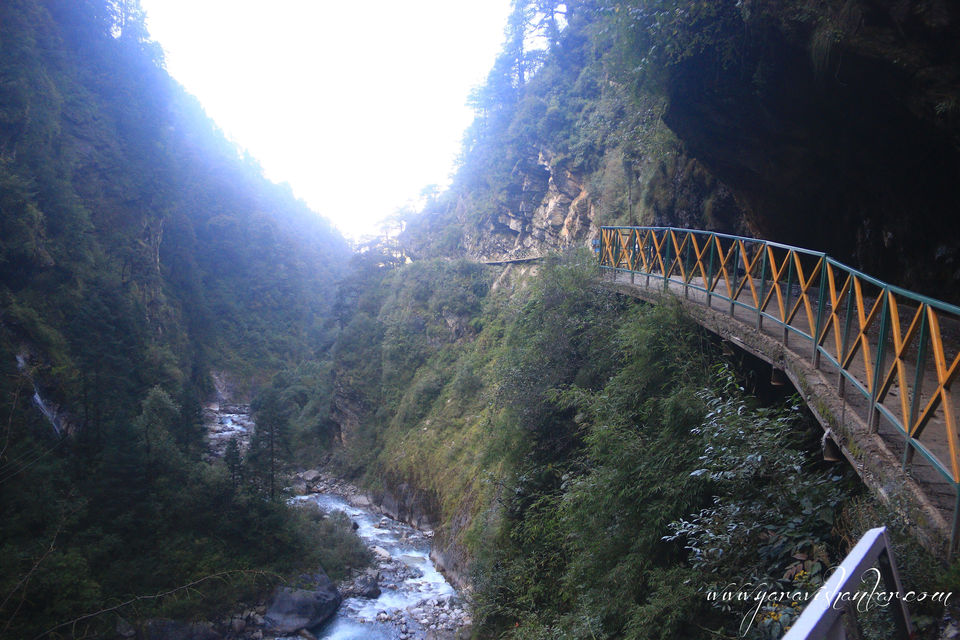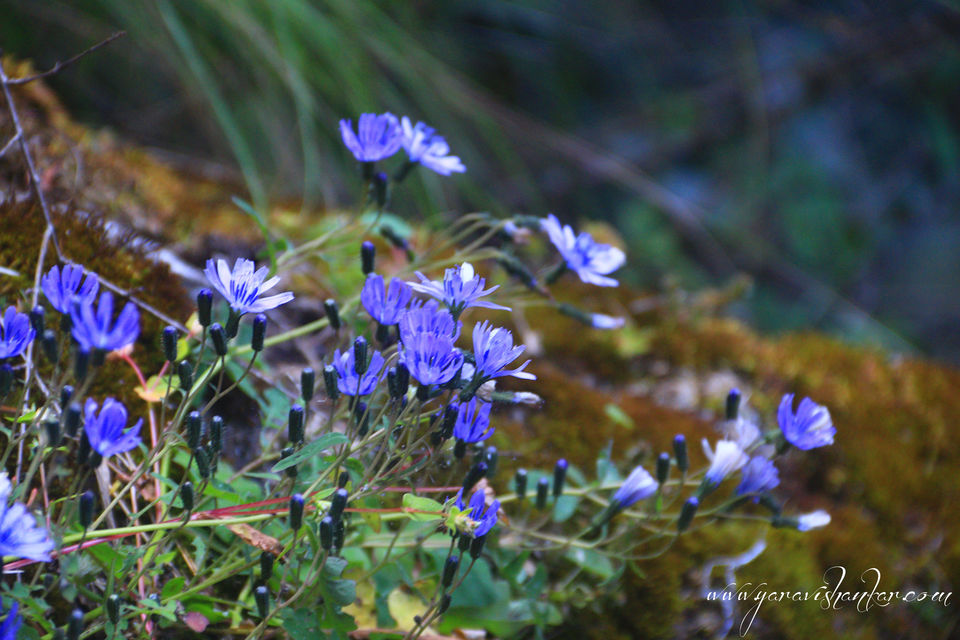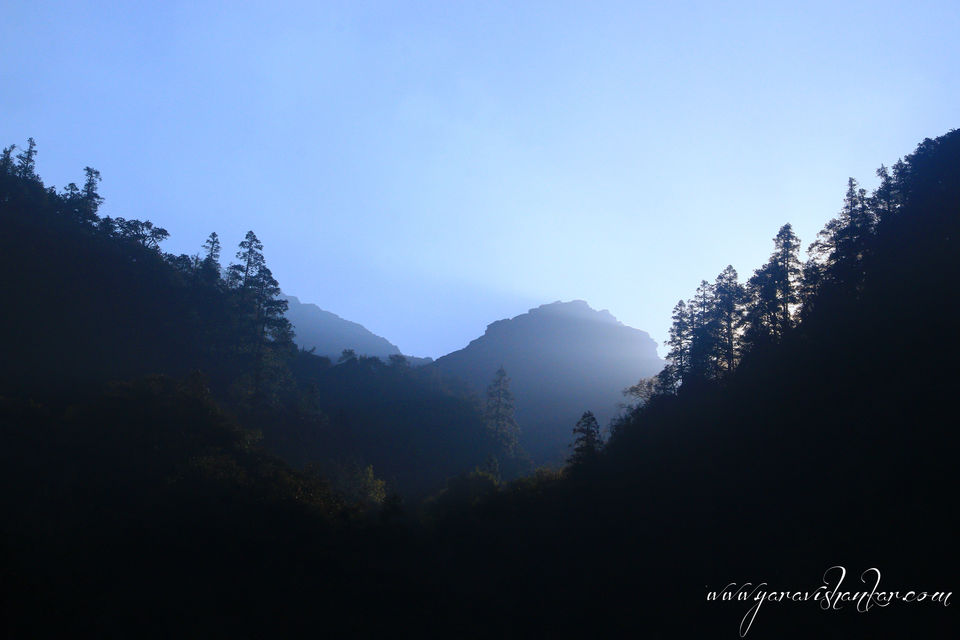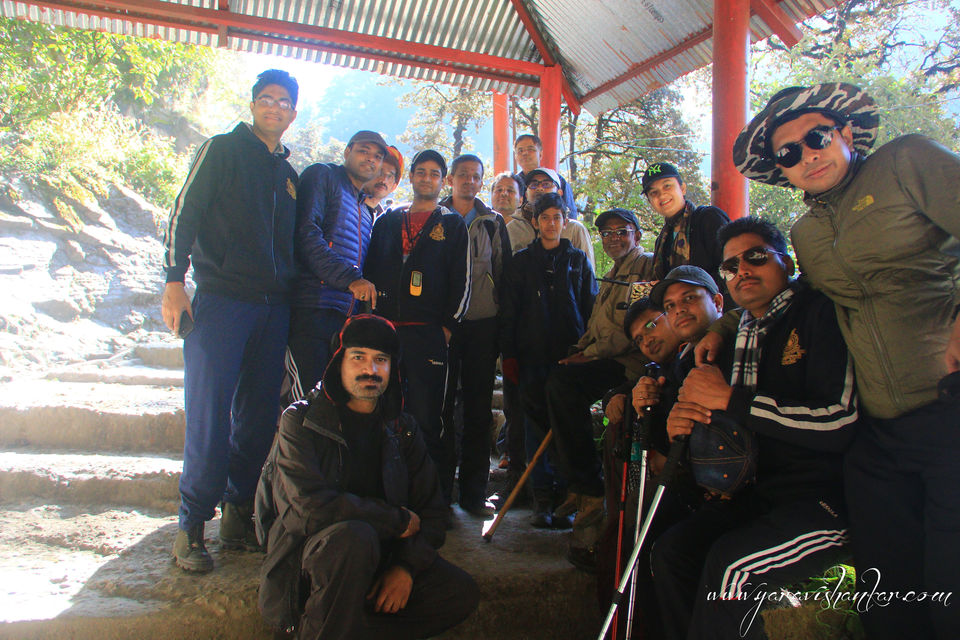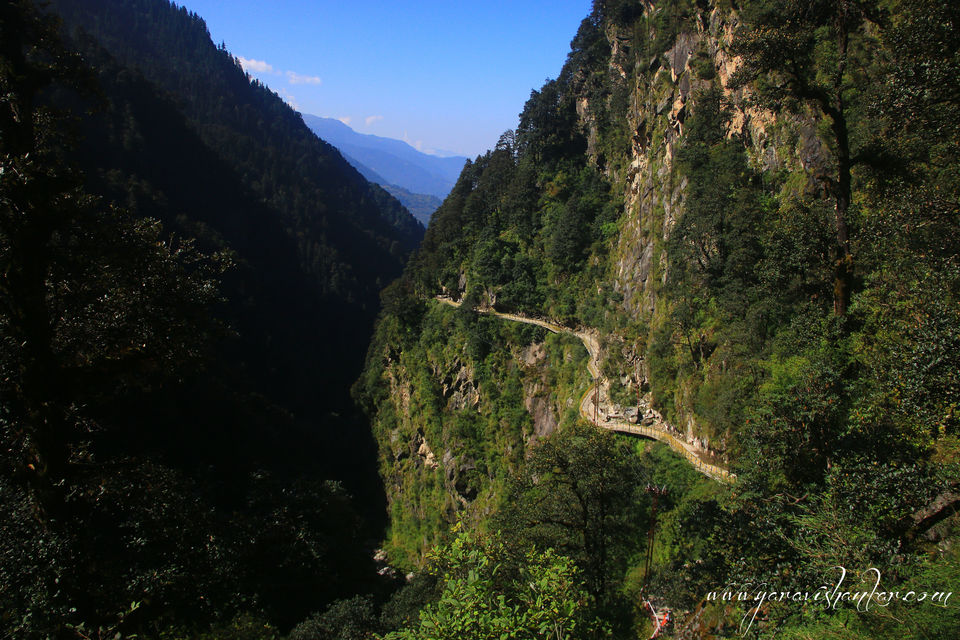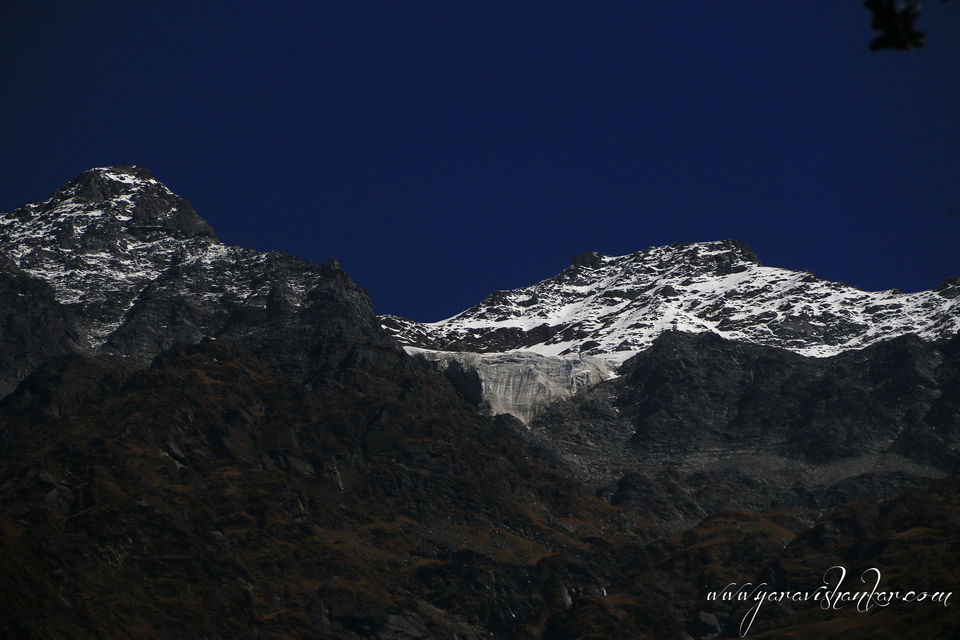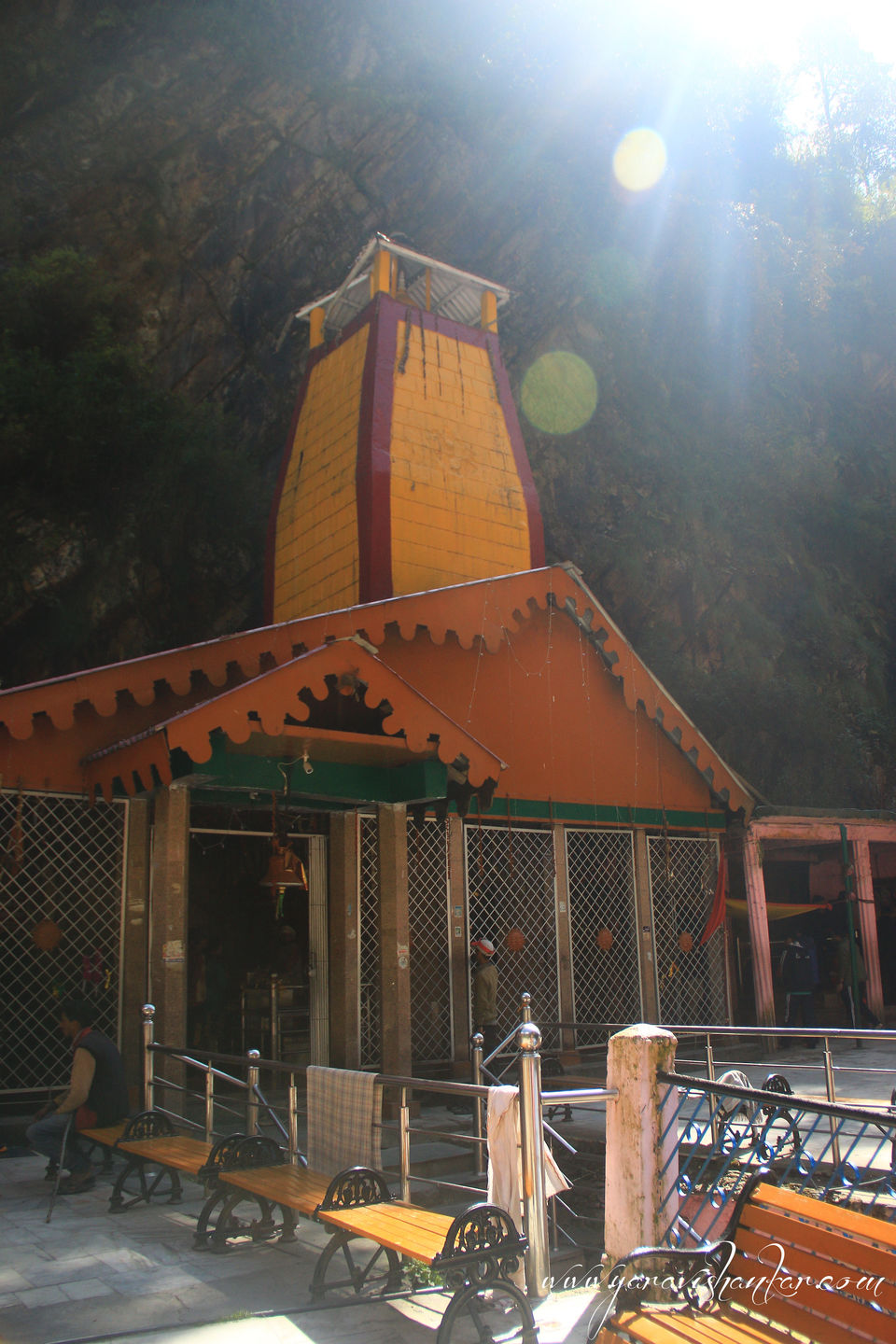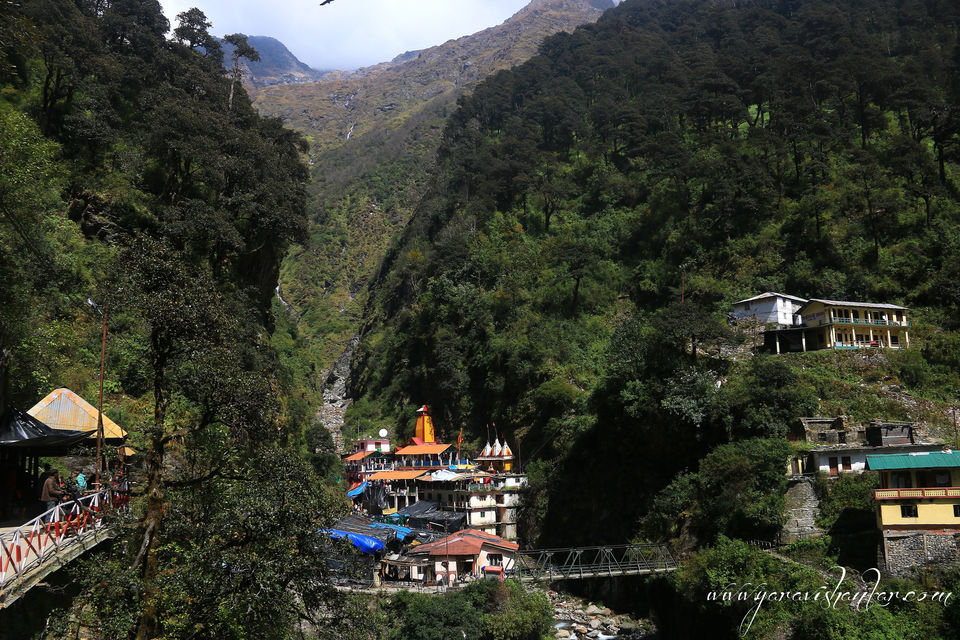 2-Oct-17
We took 2 bolero. To go down from Janaka chatti. There was huge landslide. However the road was fixed. Only vehicles from 1 side was allowed. We crossed the landslide area and got on a bus.
We stopped for breakfast. Bit bye to guide, organizer , our chef who cooked food for us for 6 days.
We went via Mussoorie, Uttarakhand and there was huge traffic jam. We reached Dehradun. All of us were eager to eat south Indian food. We stopped at South Indian vibes for some good Dosa, idly and Vada.
We reached Haridwar at 9PM. We went by some stuff at Haridwar market.
We let 11PM from Haridwar in cramped up car. Somehow reached Delhi at 5PM
3-Oct-17
We took 8AM flight to Bangalore from Delhi. The food in Air Vistara was good. It was very relaxed flight trip after 10 days hectic travel and trek.
I was happy to reach home. My son and wife were waiting at door steps. My 10month old son recognized me and I was so happy.
The trip was an amazing experience. There was no mobile network for days. We didn't have electricity during the trek. We drank glacier water/ spring water. There was conversation about spirituality, Aacharya, Dwaita , Adwaitha, Vishastadwaitha. There was talk on brahmapadesha. Veda and to follow darma. There was talk on Mahabharatha , Ramayana and the stories and stories with in.
Things to carry:
Sleeping bag : Capable to withstand upto -10 degree Centigrade
Carry aquagard botter water filter
Gloves
Thermals
Rain coat / jackets which can withstand up to -5 degree centigrade.
Day time temperature may be around 15-20 degree so a small jacket should be good.
Goggles / Cooling glass.
Muffler / cap to cover head and ears.
Good hiking shoes with ankle protection is recommended .
Hiking poles
High calorie food
Water bottle
GPS map. (Magnetic compass will not work since magnet gets attracted to magnetic hills)
Water proof trousher / rain coat
Sleeping tent
Gatarode / Energy drink
Glacier water is available every where. So no need to carry lot of water.
Torch light or lamp light is recommended as there are no electricity through the route.
Mobile network doesn't work. So please switch of your phone to conserve battery.
A good camera to take lots of photos and please keep at least 3-4 spare batteries.
A good trekking bag with water proof cover is recommended.
Carry weight not more than 5-7kg else it is difficult to trek. ( Do not carry more number of clothes as you cannot take bath anywhere using freezing cold water). However handsfree sanitizer can help, since water is freezing cold.
Oxygen mask / Diamox table is recommended but not necessary.
One can carry medicine and personal first aid kit since nothing else is available on the way.