#CoffeeWithTripoto
Somehow from my childhood, I had a dream to climb Mount Everest. I don't know how/why, but yes even at the age of 30 I have that thought somewhere at the back of my mind. I have this craze for travelling but somehow the circumstances are not allowing me to go with that.
Every second day of my life I make plans to travel, but the plans never get executed. I would say My Bad.
After completing my Btech, I got a job as software engineer. The only motive to get the degree was to get a job. I belong to low middle class family and my parents went beyond their limits to bear my study expenses. So after getting job there was no point in thinking about and spending money on travelling.
So next I got married in May 2011. Yes my husband understood my passion but yet my dream are still dreams and 6 years down the line I haven't achieved or moved to the path I want to.
But yes I manage to visit some of the places. But my heart is carving for more.
So today I thought let me take my step forward to achieve my dream and start writing my experiences for places I have added to my list so far.
Now, my heart says to follow the roadmap - travel and write
Lets start with my Ladakh journey. So Ladakh was always on my mind and even it is today also. I so wanted to go to that place and visiting it once had further urged me to travel there again and again.
So Yes, somehow I manage to convince my husband for this Ladakh trip, even though I failed to convenience him for road trip from Manali to Leh. I didn't want to miss chance, so even landing on Leh through flight was fine to me.
So one fine day on 15/08 we boarded a flight from Delhi to Leh.
The journey when you are on the top of Himalayas and looking down through the window fills your heart with excitement.
The Leh airport is a small one. Getting out of plane and landing on that barren land with a picturesque view all round gives you nerves.
Since it was our first trip to Ladakh, so the places covered were the more commercial ones. Next target is ofcourse the hidden ones.
In Leh we stayed at Hotel Mongol, I would say perfect within budget, nice and cozy rooms, excellent service, warm welcome and what else one needs.
That day we had a Complete rest and relaxation in order to acclimatize to rarefied air and to avoid high altitude sickness. And believe me this is needed for sure. In evening we had a walk in lanes of Leh.
I would say walking carelessly through the lanes of Leh is a charm itself, so quiet and so relaxed.
Next day we hired a taxi ( bike can also be hired) to visit places nearby the city - Hall of Fame (War Museum), Gurdwara Pathar Sahib, Magnetic Hill, Indus & Zanskar river confluence.
Magnet Hill is a "gravity hill". The layout of the area and surrounding slopes creates an optical illusion that the downhill road is actually an uphill road. Objects and cars on the hill may appear to roll "uphill" in defiance of gravity when they are, in fact, rolling downhill. Yes this experience is somewhat different.
Apart from this phenomena experienced, there are barren mountains on both sides of road and the beauty of the place will give your body a pinch to climb those.
Indus and Zanskar confluence - from the hill top the view of 2 rivers merging together is marvelous, one can see two different color waters.
Walk through the Leh bazar and get a feel of their heritage and culture.
Check out different Cafes and relax at few of them enjoying the feel of place itself and feeling of humanity with everyone greeting each other with Jule (Hello).
Next day - We drove to the famous Nubra valley with breath taking scenery via Khardungla Pass ( the highest motorable road 18380 feet). I must say this journey itself is an experience and hats off to Border Road Organization for maintaining the roads for us.
Enjoy the pleasure on Khardungla pass - have a coffee, momos, maggi and embrace the feel of the place.
The flag with Buddhist mantras flying in the air with snow all round make you feel in some other world.Descending down to reach Nubra - on the way there comes a place where there is a straight road and you alone are moving on that track with barren and barren lands on both side. Aww what a feeling!!.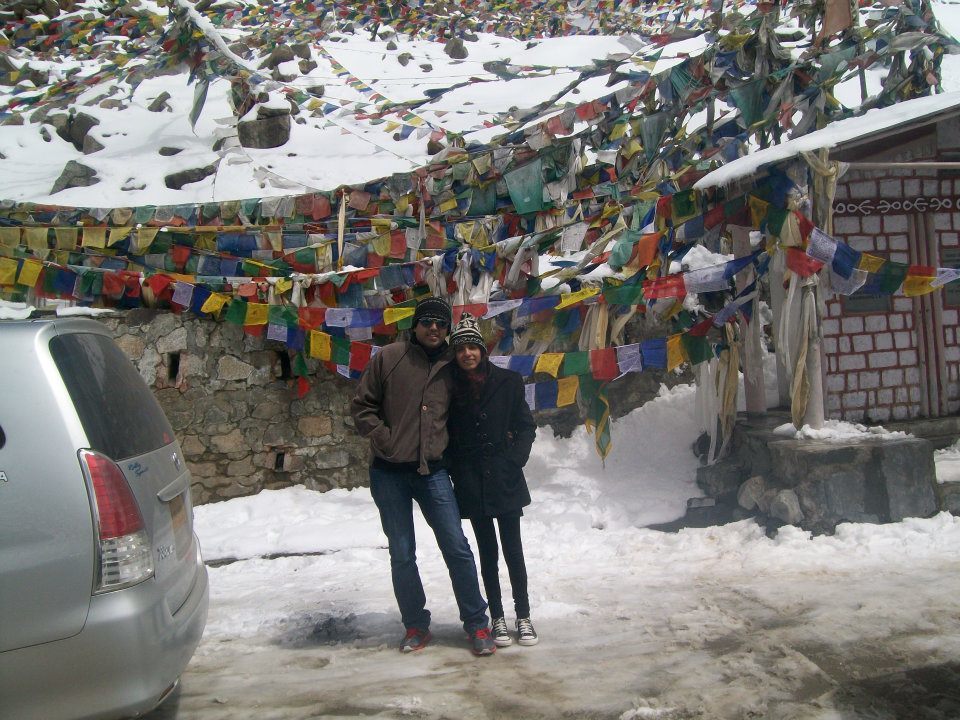 On reaching Nubra valley, experience the double hump camel ride and experience of vegetation, water, desert - the whole nature at the same place.
Experience the road journey with mountains on one side and the smooth white water river on the other side. Halt on your way and experience of feel of the nature.
Stay in camp, go on walk inside the nature with only you and you everywhere. Enjoy the quietness of the place.
Next day get ready to visit the surrounding - Enjoy the monasteries - Samstanling monastery, Diskit monastery. The monastery makes one so calm and adds to inner peace. So I tried to visit as many monasteries as possible during my stay. Maybe if time permits wake up early morning and attend the morning prayers. No pleasure in life can beat that pleasure. I can bet on that.
I would say - just enjoy the landscape
Next day - we drove to Pangong lake.. Aww again what a journey. this one is bit easier than Nubra I would say but nothing in less in comparison of beauty. A chance to see yak, mountain goat and marmot.. Enjoy the breeze at pangong lake in early morning. And I bet you wouldn't have experienced such cold breeze almost cutting your ears ever before. Take a cup of coffee and sit down to enjoy the nature the landscape different colors of lake. If possible drive along the lake towards the border. It keeps changing color as per the variation
We stayed at Dothguling guest house at Tangste village. The village is so beautiful, just sit by side of road and enjoy the nature. Talk to the locals.Visit the nearby monastery up on the hill, a bliss in itself.
Don't make mistake of coming back to Leh from Pangong on the same day. Stay in nearby village.
Next day - Don't miss the river rafting experience on ZANSKAR RIVER in Leh.
Drive to Skorpoche rafting point, enjoy the rafting on Zanskar and enjoy hot lunch at river side, later afternoon drive back to Leh. I would say a Must-do.
Also visit Japanese peace Pagoda, from top you can have a great views of complete Leh valley and also visit Leh Palace.
Its already been 6 years I visited that place, but my memories are still fresh. Planning to visit the place again and share my experience.