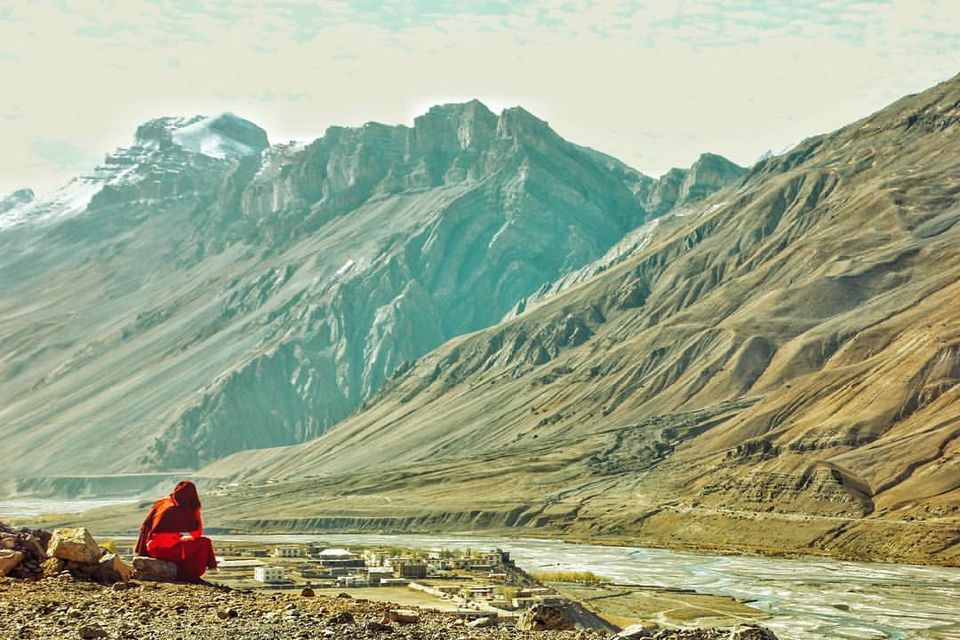 Before i get into the details, I would like to point out that this whole article is based on my personal account of three trips to the valley. And I'm assuming that you've already researched about Spiti, therefore i'm keeping it concise and only focusing on the non-obvious facts.
---------------------------------
So, Spiti Valley huh?
You must be planning/thinking about a short trip there with your friends/family, or even colleagues. Pretty odd choice I must say, because Spiti is situated among many well connected giant tourist destinations like Kasol, Manali and Leh which most folk would rather prefer.
The kind of traffic that hits Spiti are the ones who are stuck in a very short schedule to reach till Leh. Or of course, travelers. The kind of travelers who have realized that smoking pot is a hobby and not a lifestyle (i'm looking at you Kasol-dwellers). Kidding, Kasol is beautiful too, im not downplaying Kasol(or pot) in any way but c'mon, most of us know why the new-age-om-nama-shivaya t-shirt clad younglings flock there. If you ask me, both Kasol and Manali, and in some aspects, even Leh is taken over by massive tourist influx as observed in past couple seasons, giving each place its own USP. Kasol being the hippie haven, Manali being the honeymoon place and Leh, naturally, every biker dude's wet dream.
If you still chose to focus on Spiti despite all these distractions, my dear, you made the right choice.
You're welcome to Spiti Valley, where people come for a purpose, not with a purpose. Here are a few things I promised in the title.
1. For bus taking citizen : If traveling by tourist buses, you'll reach Manali early morning from Delhi/Chandigarh. Buses usually arrive Manali by 9AM, so you have plenty of time to ignore the packed up Mall road and run to old Manali and find a cheap stay. Do check out Cafe 1947 in old Manali, they host live performances too, pretty chill place. Now, its best to leave from Manali early morning if you're driving/riding. But if you're taking the classic daredevil HPSRTC bus to Spiti, you have no choice but to be at the bus stand in Mall Road by 6 AM. You'll reach Spiti by 4-6PM, depending on the pace. It'll cost you Rs. 350 and directly buy the ticket as the bus stand. And if you are as clumsy as I am and miss the bus, take a taxi, they'll charge you Rs. 1000 for a seat, but they wont be available after 8AM or so as they leave early as well.
2. For self-drive dudes/riders : Leave in the morning, also, you'll have to get permission for Rohtang Pass a day prior to your travel. You can either do it online (google it, it's 21st century) or you can go to a small facility near Mall Road to manually pay the nominal fee and get the papers. Also, Rohtang Pass is usually closed on all Tuesdays for maintenance purposes. Assuming you have done long trips before, you'd know how important carrying plenty of water, waterproof boots, trekking grade clothing and necessary medicine/first aid kit is. Especially the medicine for altitude sickness.
3. Roads are shit. : Okay. You'd already know this if you had researched a bit. The roads are absolutely horrible due to political reasons that I'd rather not get into. Let me categorize it this way; Manali to Gulaban - Good tarmac >>> Gulaban to Rohtang Pass - Narrow, scary and sudden climb, but mostly smooth road, watch out for army trucks >>> Rohtang Pass to Gramphoo - Under construction and loose gravel patches >>> Gramphoo to Chhatru - You'd be exhausted by now. Have a tea and try to forget how you almost slipped on the loose mud and fell a hundred feet into oblivion. >>> Chhatru to Batal - A shitload of water crossings, knee length water at maximum but has enough current to carry you away if not careful. >>> Batal to Kunzum Pass - If your back still exists, make sure you go around the Kunzum shrine there, it's sacred to do that. >>> Kunzum Pass to Lossar - Official entry to Spiti Valley, you'll see a huge gate and a checkpost once you reach Lossar, roads will get better soon. >>> Lossar to Kaza - A few kms of battery and voila! Smooth tarmac until Kaza.
4. 1 Network, 2 ATMs - Your fancy mobile operator would not work in Spiti. The place is still old skool and therefore BSNL is your only option, and 2G is the only speed you'll get for your Facebook Live shenanigans. There are two ATMs in the Kaza and its the only one for over a hundred miles. Both work once in a blue moon, so, keep your wads ready and tucked in your rucksack.
5. Kaza - Spiti Valley offers you everything from stunning views, costly old monk, a beautiful lake and many adventurous water crossings. Until you reach Kaza, the main hub of Spiti Valley, which will offer you a taste of the most important thing. The open culture. The locals here are friendly and would treat you like a superstar, as long as you don't become an annoying tourist. No one wants an annoying tourist. Go sit in the main market at least once, its near Zomsa Cafe(Say hi to Bhavesh if he is around, he runs the cafe and is a good musician as well). The main market is the main artery and you'll find all kinds of people mingling about. A great place for a great start. Also, find a good homestay, like Mahabaudha, for a homely and pocket-friendly stay instead of a hotel if traveling as a couple or alone. And if traveling with family or in large groups, head to hotels like Delek that are relatively cheaper.
6. Places - Spiti Valley has an array of beautiful places lined up for you. Starting from Lossar, the gateway to Spiti, till Komic, the Highest Village in the World Connected to a Motor-able Road. Apart from Key and Khibber monastery, which are famous now, thanks to some movie starry some guy, you'll also, find the Highest Retail Outlet in the world in Kaza, it is a Petrol pump, the only one in the radius of over a 100 miles. The most interesting place out of all in Spiti is Hikkim. It is tucked right in between Komic and Langza(the fossil town) and has the Highest Post Office in the World. You can go there and write a postcard addressed to you, your friends or family. So keep addresses handy.
7. Additional things - Respect buddhism, don't teach the locals about your self-nirvana situation while getting drunk. Don't piss off the dogs at night. And most importantly, don't forget to use the word "Julley" whenever you see someone. Julley is the equivalent of namaste in Spiti. Use it and you'll get it back with a smile.
And in case of any help/queries regarding anything, drop me a message starting with Julley!
Or follow me on ig @Beardinand
Alright, I am done.