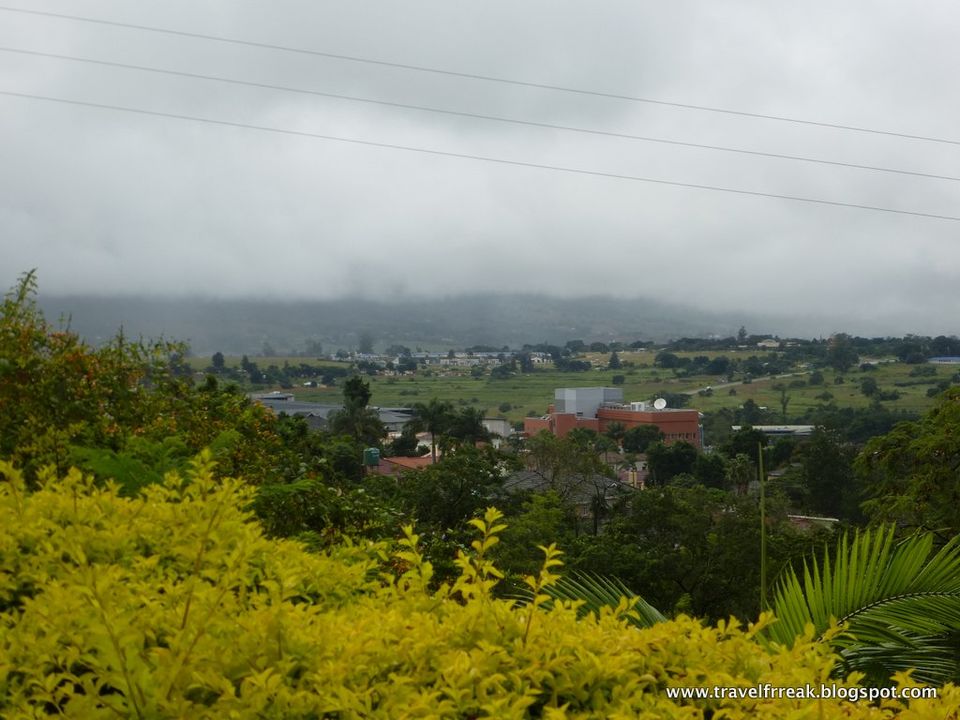 Detailed article along with photos, http://travelfrreak.blogspot.com/2017/05/swati-country.html
Swaziland is a small landlocked country surrounded by South Africa on all sides. It is not really known to most travellers as a tourist destination. I got interested in visiting it as one of my colleagues is from there and she offered to take me there to explore her country. This was on a long weekend in December, except we figured out later that I need a visa to go even to Swaziland!
To be honest, my colleague was laughing when I told her that. She thought that her country wouldn't even have computers to grant me a visa ????. Anyways it turned out to be true and so I finally was able to make the trip once I got my Swaziland visa in March.
Even getting the visa was interesting. I had applied for a single entry visa, but they refused to give me anything other than a multiple entry visa! And so I had to pay extra later to get it. Anyways, the trip was finally happening, so I was happy about it.
We planned to drive from Joburg to Swaziland on a Saturday morning and come back Sunday night, it was about 4-5 hours each way. Transport was the easy part; finding accommodation turned out to be a problem though. We first tried booking airbnbs but they all turned out to be full already. So we ended up booking the Mantenga lodge in Ezulwini as that was the only one available.
Our drive towards Swaziland was relatively event free. We left early at 5 am and drove most of the way on the same highway route as I had taken earlier to Kruger and Drakensberg. We saw the sunrise on the way which was a pretty sight. Right after the Alzu service station (a highway service station which also has a game park), we turned right on a single lane road towards the Oshoek entry gates to Swaziland.
After that, it was all a one way road through green and wild areas. There is a myth on this part of the road that a woman had lost her life once when she did not get a lift from any of the drivers. And that her ghost is seen sometimes asking for a lift. And if you don't stop, she appears on your rear seat! We did not come across her but were certainly looking for her as we drove ????.
And midway, the weather turned foggy. We had to slow our driving there, and to me it felt like all the drives we used to go on in my childhood days. It was green and picturesque all the way, with lakes, forests, fields and valleys giving us company. Given the time of the year, there were also white and pink flowers everywhere on the sides. It was quite a magical drive and a good introduction to what was soon to come.
At the border gate, you have to stop at both the South African (called the Oshoek gate) and Swazi immigration centres (Ngwenye gate). And surprisingly, the Swazi side was cleaner and better maintained than the SA one. There are multiple entries to Swaziland but looks like all the gates open only at 8am, and that is why we could not drive there Friday night. We got through in a breeze through the gates this time thanks to my multiple entry Swazi visa ????.
And then there we were, in Swaziland. Even though we had just crossed a gate, it felt like a different world together. A world of lush green hills dotted with small houses, and a feeling of paradise, very similar in my mind to the North-Eastern part of India (the states of Meghalaya, Nagaland, Manipur and so on). It was a very cloudy and rainy weekend, so even though it spoilt a lot of our other plans, the whole country felt a lot more heavenly than usual. And I fell in love with it the moment we entered through the gates...
I had heard that Swaziland is a very poor country. To be very honest, I did not feel so at least in the areas we drove. Its main cities are Mbabane, Manzini and Ezulwini. We drove through all three as they are all close to each other. Ezulwini is a tourist area where most of the big hotels as well as other touristy options are located. We spent almost all our time in this area and it felt suitably rich. As did most of the other places we crossed. But am sure, the real Swaziland is different.
Our hotel had a late check-in, so we stopped at a couple of places on the way there. First, as petrol is cheaper in Swaziland than SA, we bought petrol for the car for our weekend. Our next stop was the Ngwenye glass factory where they use recycled glass to create new pieces with it. The shop had some exquisite pieces which were worth buying but a tad expensive. We also stopped at some more shops nearby, all of which were selling local handicrafts though at a higher price. And last, we saw the workers making some of the glass items in the factory. It as quite mesmerising watching them take on such a risky and skillful job with so much ease.
Our next stop was our hotel, the Mantenga Lodge which was a sweet little place perched on top of a hill. It has quite a panoramic view of the valley below. It was so foggy all the time, the view may have looked prettier if sunny. The lodge had multiple types of accommodation options, I stayed in a wooden hut right in the middle of wild vegetation. I loved sitting outside my hut, listening to the voice of birds. We had lunch at the hotel balcony and then left for our excursions of the day.
There are loads of things to do in Ezulwini depending on your taste - game parks, horse riding, quad biking, trekking (especially up Execution Hill), white water rafting, water falls visits, cultural visits and so all. Given the weather though, we were limited in our options and spent the evening visiting a nearby crafts market and a local Swazi village.
The crafts market was located in a scenic location - with a hill view in front. And the stuff they were selling was amazing, good quality with a lot of variety. I bought so many things from there - African print clothes, bead necklaces, garden rock decoration, table mats with animal prints, straw baskets and so on. I loved shopping there and observing all the different handicrafts. The sellers don't hustle you much either, they just politely request you to come in for a view. Most of the sellers were out though when we went, they were all attending a wedding nearby and their neighbours were tending their shops for them.
The Swazi village trip started with a typical Swazi dance performance by a group of about 20 men, women and children. The dance was very active and happy, and included stamping your foot on the ground like the Zulu dance. And the crowd is supposed to cheer throughout with a loud "oo" sound (I realised that much later). The dance was interesting, though I did not understand a lot of what they were singing about and the context. After the Swazi dance, the group sang a few Christian gospel songs in Swati - it highlighted for me how deep Christianity is rooted in the area.
After the songs and dances, a guide took us on a tour of how Swazi villages and families used to live earlier. Each village is made up of one family, headed by the father and husband to all who live there. A village is made up of separate huts within an enclosure. The important people in the family - the mother, the head, his wives, the medicine person, the eldest son and the youngest son - have an individual hut. The youngest and eldest sons are the heir of the mother and father's property, hence important. And the younger sons and daughters share rooms with each other. The cattle also have their own separate area (which is the same as the ancestors's area).
There were lot of rules for everyone on how to live in this family village. The best part of the meat was always cooked by and for the man and the sons. The women could never eat the head (as they should not have more brains than the men) or the legs of the cows (so that women cannot run away). Men also regularly smoked weedat home (the Swazi weed is still exported and in demand for its good quality!)
The men could have multiple wives. To get married, the girl's family had to be given cows. And a new marriage would start with the woman first visiting the cattle area as that was an important place for the family (also the place where ancestors resided). Each wife had 3 huts - for cooking, sleeping and one for brewing beer ????. The grandmother always had the biggest hut, and her own brewery too. The daughters of the family could cook only in the grandmother's kitchen, not their mothers'. The grandmother was very important to the family and her hut was known as the House of peace as she would broker peace between different wives if needed. Grandmothers lived to a long age too, as typically the men would die first (men used to marry at 30, women at 18).
The reed huts in the village all had small doors as a safety measure. And had very good air-conditioning. A lot of these traditions are not followed anymore though. Now everyone has mud and brick houses. And the wives nowadays stay separately in different villages, not so close to each other ????. The guide who told us these stories had a good sense of humour and made it all very interesting for us. (I did not agree with some of the traditions as they were partial towards men, but it is what it was).
We then had a quick stop at a nearby waterfall which was quite average. Our next step was the Gables shopping mall nearby to take out cash (the mall apparently was a popular spot to hangout when it first opened). Everyone accepts South Africa Rands in Swaziland and even the ATMs dispense Rands, so that was convenient. After getting some cash, we went for dinner at a famous French restaurant, Calabash which though expensive was only about average. Our French colleague gave it a thumbs down, as it was not good French food as per him ????.
We had planned for a game drive the next morning but had to cancel it given the rains. So we first drove deeper into Swaziland towards Manzini to visit my colleagues' aunt. The drive was so picturesque, its tough to share what all I saw and felt. It was like driving through paradise. Green hills under the umbrella of fog. Small cute looking houses adding to the view. And a serenity and calmness everywhere. It is this serenity and calmness which was the most memorable part of Swaziland for me.
After the trip to Manzini, we came back to the Royal Swazi hotel and went for Quad biking. It was a two hour drive and we drove on dirt tracks, through townships and playgrounds; hills and forests; villages and huge palatious houses; valleys and lakes, past cows and horses and so on, exploring the countryside around. Most of the people around were just chilling and giving us high fives as we crossed them ????. It was 2 hours of bliss, of the cool breeze on your face and the adrenaline of racing ahead on paths difficult to tread otherwise. Quad biking here is a definite recommend from me for anyone visiting Swaziland.
And then we topped it all up with spa time at the Royal Swazi hotel. It was one of the better massages I have had and totally worth it. After a quick lunch at the restaurant (again with a beautiful view), we were off on the journey back. And already missing the serenity we were leaving behind ????.
I found the trip very interesting in more ways that one. Swaziland has maintained a lot of its traditions unlike the neighbouring country of South Africa. It was under the British rule for some time but never properly colonised. The Swazi shield is given a lot of credit for this, for fending off everyone:). If you want to buy a local memorabilia, the Swazi shield is definitely one for keeps.
Swaziland is still an absolute monarchy, and the King's photos are visible everywhere. The current king, King Mswati III has 16 wives. And if you research him a bit, you can read about a number of royal scandals, especially of two of his wives running away from the country! The previous king had 70 wives and 210 children!! Apparently, their surname is Dlamini and is the most common surname in Swaziland (given the number of children the kings have, am not surprised by it at all)!
The most famous aspect of Swaziland is its popular reed dance, where 1000s of young women dance for the Queen Mother and the King. And the King can pick his next wife from this group. There are also very strict traditional rules on who becomes the next King - he should be the only son of his mother and she has to be the youngest Queen of the King. Also once he becomes King, his mother becomes the Queen Mother and is as important as the king. Very important dynamics and politics, eh?
Swaziland ranks low in many social and health indices. Even though the roads we travelled on were of very good quality, it is still quite afflicted with poverty. And apparently there is lot of corruption everywhere too, like any developing country.
During our trip, we got no data signal the entire weekend. And the radio channels were all playing gospel music. And a random fact - Swaziland supported the South African struggle a lot (as did a lot of the African countries) but there is a feeling now that South Africa doesn't care anymore and wants to keep people from the other countries out. I also noted, there were no whites or Indians anywhere in Swaziland, quite unlike SA.
On the whole, I loved my stay in Swaziland. It was two days of relaxation and being in a country I would never have thought I would ever get to visit. There is a lot I don't know about the country. But what I know, I liked ????.