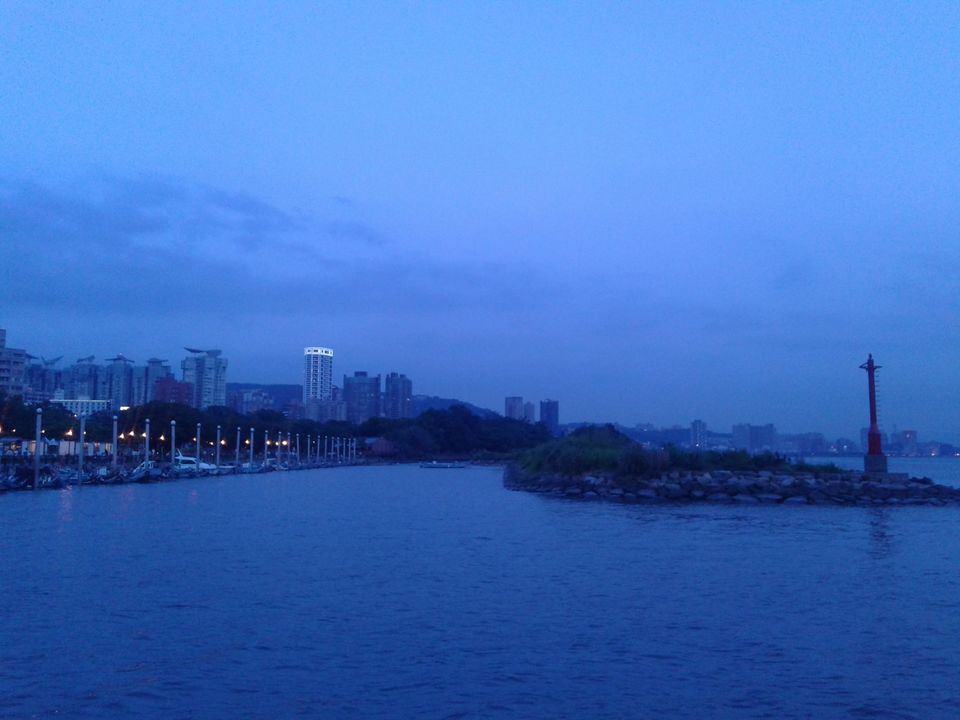 Confluence of River Tamsui & The Pacific
I was a student at Taiwan in Chung Yuan Christian University in Taoyuan district, Taiwan; pursuing my master degree. Taiwan is a peaceful country where warm welcoming, polite, smart & people with extremely good health (fitness freaks) exist. I made many friends there & I found that they were very helpful and goal oriented (very-very smart people).
We were six Indian girls pursuing the same degree together, we visited every single place in Taiwan all-together. It was a day, I still remember when we went to visit Yingge Ceramic Museum, though I didn't enjoy that much there because I'am more into mother nature but yes it was not that bad though. One of our Taiwanese friend Willson, took us to that place. We hardly had one and a half hour in that museum. Then Willson had to go, to visit her sister in the same district and we planned to go back to our appartment. We headed towards the metro-station, waiting for the metro to Taoyuan district. But one of my curious friend Srijita suggested to visit some other place to make much of this journey and then instead of going back to dorms we took metro to Tamsui. We knew nothing about the way to that place ... just googled and headed for that place in a completely unknown country. Though I don't remember much of that trip but sharing few fragments that I still remember because this trip happened in the year 2015. Yes so we some how reached by taking blue line , green line or yellow .... I have no idea about metro & this line system (I may sound dumb but yes it's true because I always relied upon Srijita for this line system & I'am a Himachal based girl so we don't have any metro-system to remember such thing). 
Finally at Tamsui... wow what a place clean and calm. We went to a convenient store to grab some snacks & juice (I'am a vegetarian so had hard time to decide whether what should I grab to eat and vegetarian food there tastes bad very bad if we compare to Indian food). Then we started to discover the actual place i.e. river Tamsui. Followed people and inquired about the actual place, we finally reached the at the confluence of Tamsui & The Pacific ocean. Extremely humid place and cool breeze from the ocean was striking over my face, finally took a deep breath and all the tiredness and stress faced in between the journey vanished in seconds. Explored the market, restaurants and some shops at the bank of this beautiful confluence, took some pictures & this is how our day ended at such beautiful but chaotic place sinsce it was an over crowded tourist spot and at 7 pm we left for metro to get back to Taoyuan, for our appartment.