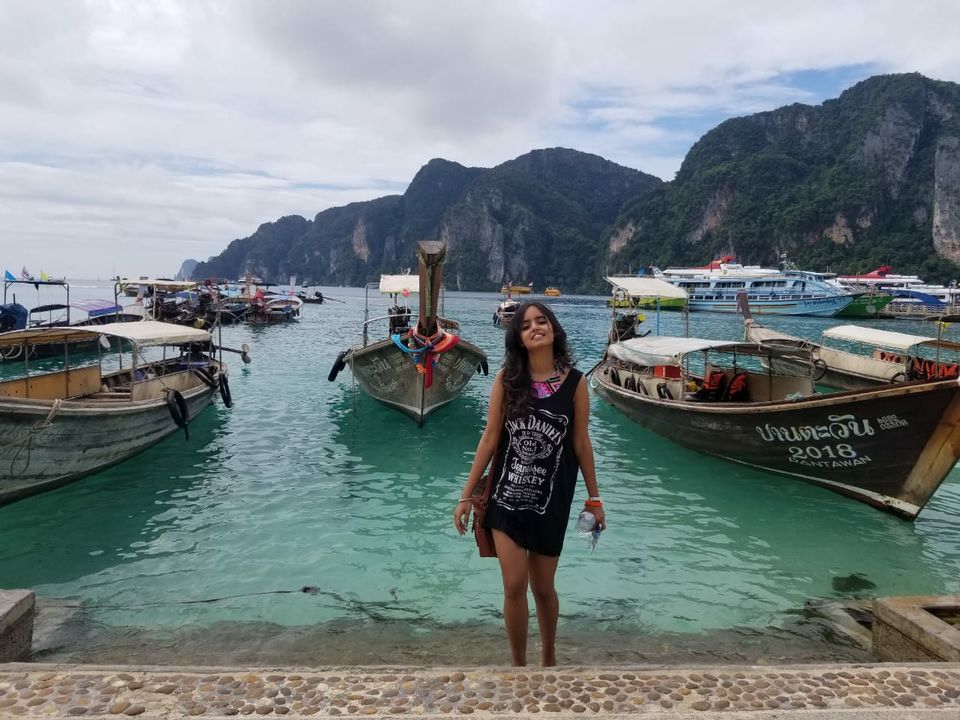 This was my first international trip without my family.
I left on 04 November 2018 and returned to India on 12th November 2018.
7 days... 8 nights ( mostly sleepless)  and I would die to do it all over again.
THAILAND,  a country known mostly for its shopping and nightlife has so much unexplored natural beauty. The beauty of beaches,  the smell of the city,  the authentic taste of the local food but most of all, beauty of the hearts of people filled with love.
We started our trip from New delhi - phuket - phi Phi islands - ao Nang - Krabi - Phuket - Bangkok - new delhi.
STAY : We stayed only in hostels.  For 2 reasons
            1. Budget of students.
            2. To meet more people.
Though I was a little inhibitious about the cleanliness and the comfort in these hostels. But to my utter surprise, the experience was amazing. The hosts were so friendly and so helpful. It was a pleasure waking up to their cute smiles.
We met so many people who were staying in the same hostel and each of them had a story to tell, though I travelled to one country but talking to people from all over the world helped me get a glimpse of over 15 countries. Those little conversations over breakfast and coffee still hold a special place in my heart.
When it came to hygiene, most of them hostels were better than 3/4 star hotels in India. Only the hostels which were right on the beach had a little sand in the rooms which was obvious and bearable.
They had all the utilities and most of the packages included breakfast also.
FOOD : Though you get Indian food in almost all the major cities and islands. But I would highly recommend everyone to try the local cuisine.  If not noodles and fried rice were always available. Fresh fruits were available at all the beaches, very tasty,  very cheap and healthy option.  Best way for mid meal hunger and to stay energetic through the day.
Do try the local desserts and the coconut ice cream.
SIGHTSEEING -
Phuket - has a lot of cute cafes all across the city, really nice for some nice and cozy coffee time.
Trickeye museum, and Tiger park were a brilliant and once in a lifetime experience.
Patong street for a super crazy nightlife.  (Completely safe for girls) 
Reclining Buddha (Wat phra) is again a must visit.
Phi Phi islands - My personal favorite.  If given a choice I would never leave that island. There was something in the air that was so Peaceful so positive.  Felt like heaven. The beaches were absolutely clean. Lots of water sports to try.
There are lots of hostels right on the beach. Ibixa hostel was one of the really good ones.
The best part were the beach parties at night.  I have never experienced a crazier night,  where I could literally dance the night out that too half inside the water. ❤❤❤❤
Ao Nang for the most reasonable and best Scuba Diving experience. For those who don't want to try scuba diving, take the 4 islands full day tour.  It's worth every penny. Hold the breath and jump into the water at the chicken islands and try the snorkelling session for an hour. The biodiversity and the kinds of fish one gets to see is not something one can experience everywhere.
Krabi had the most peaceful beaches where one can simply laze around, spend some quite time, relax and spend time with family and friends whole enjoying good music and yummy food. Reggae bar was one of them,  yummy food,  good music, even better vibes and view.
Bangkok... Well what's a girl trip without some shopping. Chatuchak market and Pratunam market are the best for shopping. Bargain!  Bargain!  Bargain!  The city even has some great malls like the MBK centre where one can get really good quality first copies of electronics, sunglasses etc.