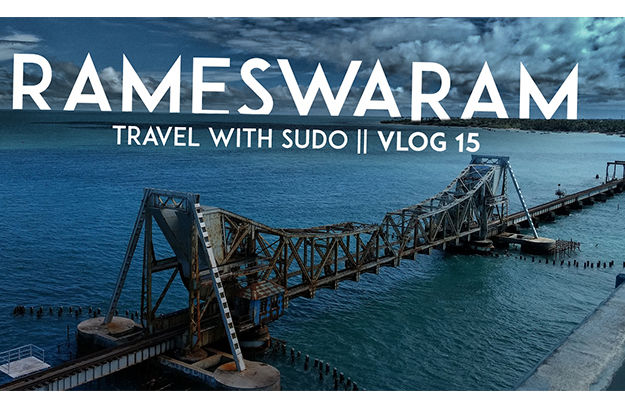 We started our trip from Chennai via bus you can go by train also and believe me the bus ride was also amazing as the road side views in this trip were amazing I will not talk much about that you can watch this video on how we reached Rameshwaram from Chennai and yes Pamban Bridge was really beautiful so must watch this video: https://www.youtube.com/watch?v=G3HyZnfcWQM
First thing first and that is Ramanathaswamy Temple which is a Hindu temple dedicated to the god Shiva located on Rameswaram island in the state of Tamil Nadu, India. It is also one of the twelve Jyotirlinga temples. check this video to know more:
I will not bore you as I am not that good in writing so you watch this video about our first day from Rameswaram to The Ghost Town - Dhanushkodi. The town was destroyed during the 1964 Rameswaram cyclone and remains uninhabited in the aftermath please watch it here:
There is so much to explore in Rameshwaram so we had two options first to book a guide and second to just go explore ourselves so we thaught to book a auto as the driver will be local and he will help us in exploring all places in Rameshwaram and yes we were right the Auto Driver was really very helpful.
Places to visit in Rameswaram:
1. Ramanathaswamy Temple as you saw in this video.
2. lakshmana Theertham
3. 16ft men's samadhi
4. Floating Stones
5. Five Faced Hanuman Temple
6. Rama Theertham
7. A. P. J Abdul Kalam's Home
8. Villoondi Teertham
Villoondi Teertham, where Lord Rama dipped his bow into the seawater to quench goddess Sita's thirst. It is said that before burying the bow here Lord Rama shot an arrow into earth from where a stream of sweet water emerged to quench Sita's thirst.
9. A. P. J. Abdul Kalam's Samadhi
Know More: https://en.wikipedia.org/wiki/Rameswaram
Ping me on Social Media @socialsudo to connect or if you need any other help regarding the trip.