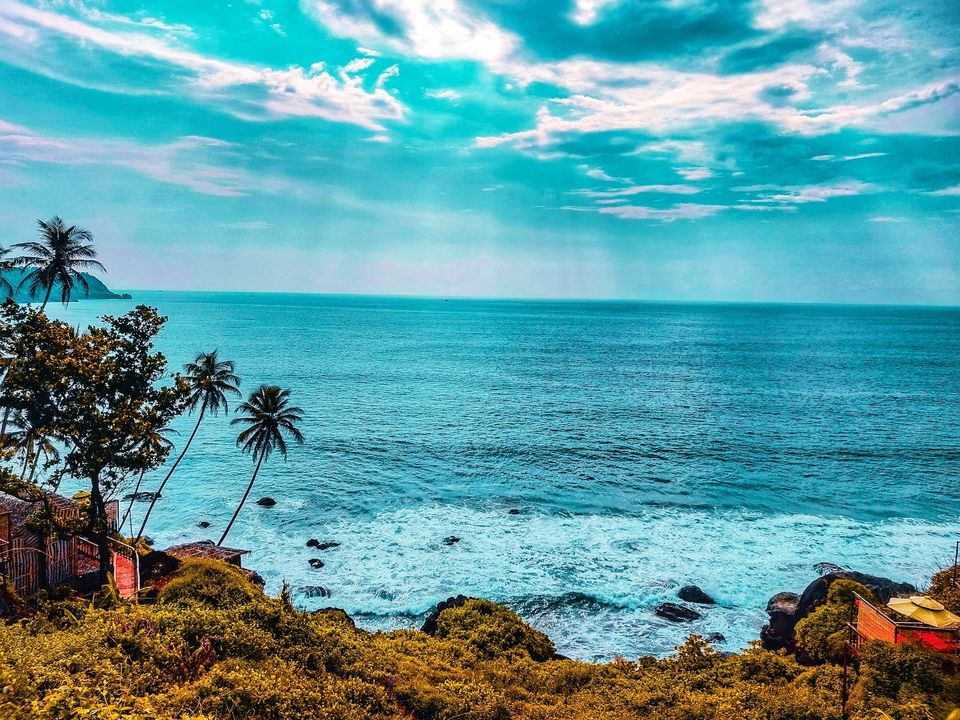 Hola everyone!
I just came back from a very refreshing tropical trip(Trip to the " Party capital") and would love to share my experience and encounters…
Now Tell me honestly, what does your mind anticipates when you think of GOA? 
Beaches?
Parties?
Beer?
Oh, yes! I know your mind just pondered of these and you already started fantasizing yourself partying hard somewhere in the beach of the sea.
So we the gang of 6 backpacking girls(Hena, Jyoti, Mridula, Vijju, Shweta and me) with all the zest and fire inside us, thinking of rocking the most buzzing capital of India. At 10 am 
we reached our hotel Blue Corner,Benaulim,Goa and got freshen up to start the day with few itineraries..
We decided to have the breakfast on the way. We booked a cab and got started..We stopped at a restaurant and....
we ordered fish fry and thalis which included half cooked rice, a fish fried with groundnut and coconut oil(seriously?), some daal in a microscopic bowl, pickle to mask the taste of that unappetizing fish fry.
What we learned within a span of 2 mins of being there that the food was definitely affordable but distasteful and bland.
Two rainbows fighting for their spaces.
On our way to our destination which was Palolem beach, we spotted a band of colors..spotted what? yes, a Rainbow(in simple words).
Also Endured that talkative driver who I think was over friendly with us, for 24 freaking km to Palolem beach.
Can you imagine he just asked us to stay at his place tonight to have drinks and fun?
Not entertaining dude..would you mind driving the car instead and take us to our destination? (i murmured)
At last, we reached the beach and we all were quite ecstatic.
 Shall we get in some knowledge about this one?-
Palolem beach is an island of the gods located in Canacona, South Goa. The beach is followed by some jam-packed streets selling almost everything possible(clothes, decors, gifts, food etc).
It is one of the most beautiful beaches in Goa which ends up trafficking thousands of international tourists every year
Things to do at Palolem Beach–
*One can go enjoy himself flamboyantly in the beach by soaking and breathing all the goodness of the nature inside the lungs-the white sand, the palm trees on either side of the arch-shaped bay and the spectacular sunset where the sun seems to merge with the sea.
*The beach can be a delight and fruitful in the mornings and post-sunset to have a good time. Also, the beach is very clean, so you can surely take dips in it along with your kids. Or just leave your kids and let them show their creativity on the sand.
*Wanna get more pampered by mother nature? Are you craving for more adventure and bliss? Then butterfly beach is where you should head to.
Butterfly beach is a hidden beach filled with an aura of complete divinity and blissfulness. Its an island steeped with romance and loaded with what an aquatic life is called and zillions of butterflies.
Also, you can spot dolphins, which makes this abode of heaven peculiar of all. To catch the sights of these virtuous mammals, you need to come in the early morning.
How to reach the butterfly beach?
You can take a ferry or a boat ride or a kayak to reach there, which will cost you around 1500 for two people. The ride can leave you little anxious, but don't worry its all worth it. Make sure you are wearing something comfortable, and yes do carry food and water with you.
What is the best time to visit Palolem?
Palolem beach can be the busiest as well as crowded in the month of November to march.
Crowd rabbling, vendors coaxing and running after you for the water sports activities is all you see in those specific months.
But hey,  let me tell you that Palolem is one of the kinds of beaches which raises its bars during the party months(November-march), so if you are a party animal, you should be booking your tickets right now if haven't yet.
If you wish to seek eternal privacy and peace, then monsoons (off-seasons) should be your choice.
There are few other famous and picturesque beaches in Goa that are absolutely magnificent. Baga beach and Calangute beach of North Goa are one of the finest beaches in Goa.
Eminent for having the authentic Goan cuisine, street shops, lip-smacking seafood and how can I forget the water sports which is the star attraction of the beach and done in abundance here. But let me aware you that a very few water activities are conducted in the monsoons.
While the sun was setting and the sky was pouring little rain, we spotted two rainbows juggling upon each other at once. It was our moment to capture and rejoice it, which we did simultaneously!
After glaring at the beauty of nature, well let me elaborate- its the tides smashing to the shoreline and making that Wooosshhhh sound, isn't that scintillating? And that damn sunset! drop dead gorgeous… We got back to our hotel Blue corner,benaulim
As we gave the order, it kept us waiting for a good 25 mins. And Oh Boy! Did I get lucky to have witnessed the view that I probably can not put up here?
Well let me put it this way- You are walking on the shore, there are no lights around as far as you know as the sea is infinite, except for a few lights in the restaurants being lit up.
Its 11 pm in the night and while you are putting small steps forward on the shoreline, you feel the splash of a wave and sometimes its a dead fish crashed on your feet.
Don't you think it was incredible and thrilling at the same time?
Food came, we ate till our stomach ached. It was our last night in Goa so we wanted to make most of it. We danced at the shore, collected as many shells, would close the crab's burrow and danced some more till our food got digested.
Hena  my friend,was sleepy after a good dosage of food and fun, she went to sleep but I along with other 4 other freaks wanted to glare at the sea more than I could.
I wanted that moment to freeze. But in a blink of a second, the watch ticked 2 am. Its when I realized I have to sleep. Took a last walk of the night at the shore with Jyoti, talking random dangerous facts about the sea(I don't know but facts as such fantasize me) where I came with bitter truth said below.
Relate this Irony of Nature if you can?-Ever happened you want to catch hold of the most beautiful thing yet the deadliest thing in the world, at the same time?
Think about it!!!
We came back to our mini cottages, fixed the alarm and got to sleep in a hope to see the sunrise the other day.
Next morning I woke up to harsh sunlight covering half of my face and realized I missed the sunrise or maybe the alarm. It was 9 pm.
I got up rubbing my eyes and stretching my stiff muscles to find out Azure skies, white sand, tropical palm trees all around and felt a sense of well being after hearing that Woooosshhh sound of the waves again. I was happy to be there.
As that was the last day of our trip and had our busses scheduled at 2 pm in the afternoon, we decided to chill here at our resort because there is no point in exploring other places now because-
A. we did not have bikes and cabs just looted us.
B. All the beaches will be pretty much same as the one like the Benaulim one.
So we got freshen up, had breakfast and lathered up some sunscreen and got into the sea.
We all were holding each other's hands and went a little deep in the sea where huge waves were surpassing over us, sometimes we would panic and hop because we could feel something squishy under our legs. (haha)
We took numerous pictures posing with the ultramarine sea and the sky.
What a scrumptious day it was!
Then finally the time came where we had to bid a goodbye to the resort and also Goa. By the way, Blue corner resort scores a full 10 on 10 for having the perfect aura, good staffs, affordable price, good food and of course cozy rooms.
Thank you!
Wanderuffles
#bestof2018