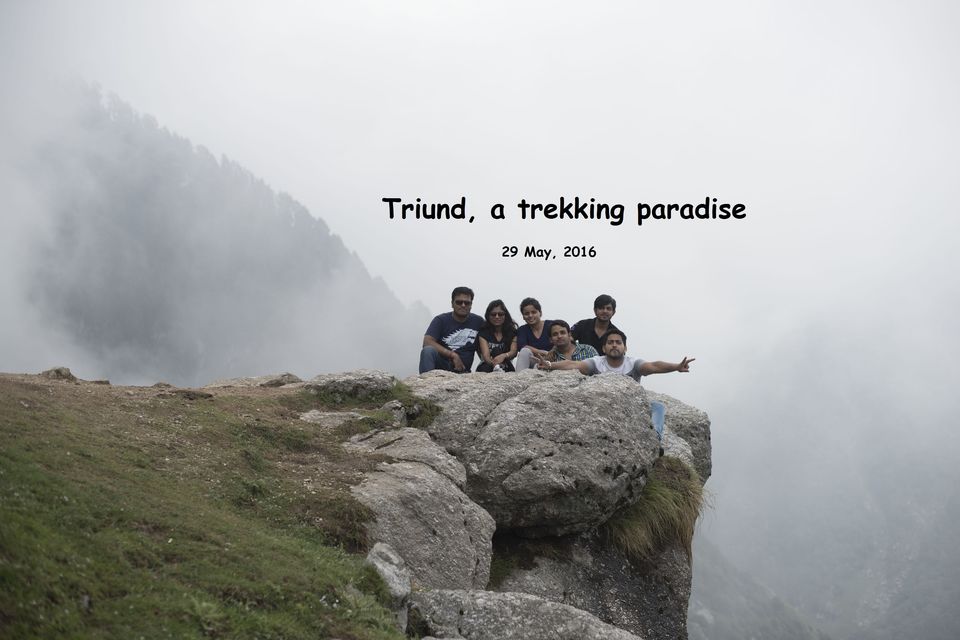 While wandering the streets of Mcloedganj, we enquired about all possible routes to Triund trek from locales. After having dinner and a hot chocolate brownie, we headed back to our hotel as Mcloedganj goes dead silent by 10:30 PM.
After reaching our hotel, the usual rounds of UNO started and we kept playing for around 2 hours and stopped only to realize that we were already late to get up in the morning that too at 6:00 am. So, in no time we dozed off to sleep in our cozy blankets. (zzZZ)
The next morning, we woke up to the news of "No water" in the washrooms. Off to a bad start but we managed, anyhow, to start the journey to Triund by 7:30 am. Already running late than planned, we hired a cab from the center square to Gallu Devi Temple.
This is the place where people are first asked to register their names with the army (to keep track). There was a cafeteria on the top, where we had breakfast and got some stuff like chips, water and chocolates packed for the trek and here we started our trek to Triund.
Brief about Triund
Triund is made up of two words : Tri, which means three and Und, which mean mountains. On reaching the top, one can see these three mountains usually snow-capped the year round.
This trek is small and easy - primarily for first-time hikers. One can start from Mcloedganj (9 km) or Dharamkot (7 km ) or Gallu Devi temple (6 km).
It usually takes 4 hours (leisurely trek) or 3 hours (fast trek) to reach the Triund top.
Trekking
The start of the trek was pretty simple, a plain road of stones. After walking for a few minutes, there was a sudden increase in the steepness of the incline.
Yet we kept on walking at our individual paces, with me taking frequent selfie-breaks in between. The first stretch of the trek passed through a mixed forest of oaks, deodars, and rhododendrons on one side and a green valley on the another.
Initially what seemed easy, had started to drain our energies by now and everyone felt tired after 2 hours of continuous walking. But, the fresh crisp air of the place filled our spirit with enthusiasm again to reach the top. More frequent breaks and target setting (like - no rest for next 30 minutes) become common with the passing time.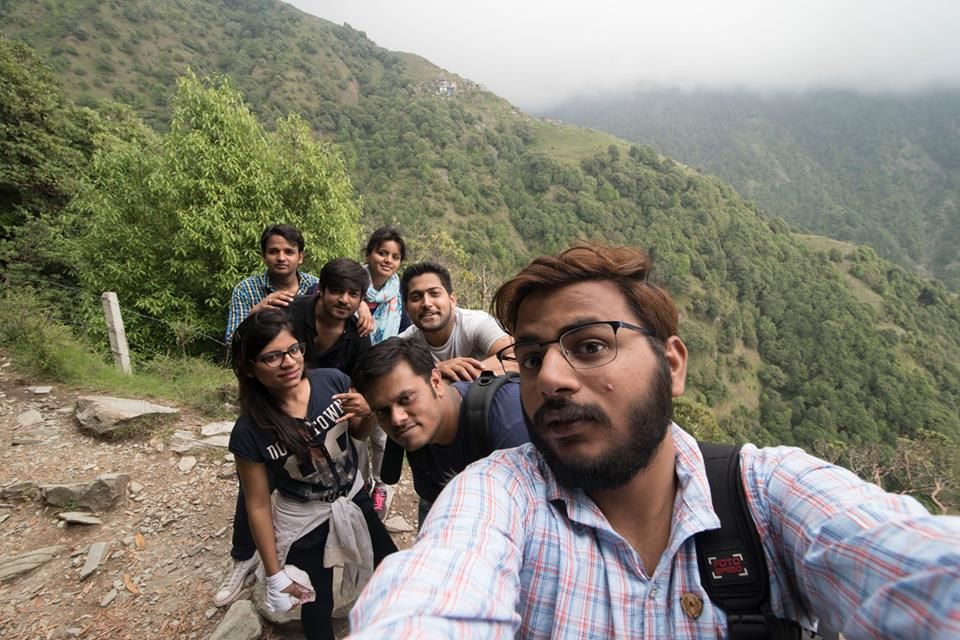 The Magic View Café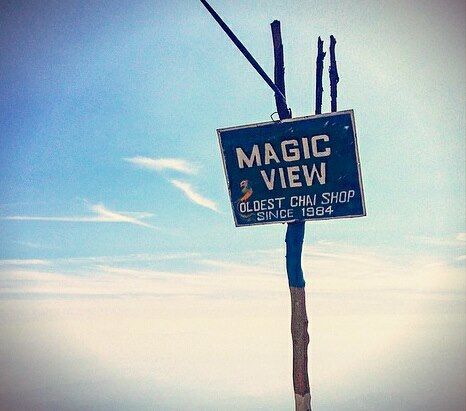 After a series of photo sessions, trekking and chocolate break, here we reached our first stop (2.5 km) - The Magic View Café, amidst a lot of laughter and fun. This place stands true to its name, the view was truly magical. Bird's eye view of the entire Dharamshala from this point is something to soak in. One can even spot the cricket stadium which can stump anyone with its beautiful location. While we are enjoying the view, something was brewing in the air.
Nature's unpredictability
Suddenly there were clouds everywhere and it started raining cats and dogs, accompanied by hailstorms and loud booms of lightning. This sudden change in weather made us a tad disappointed after high expectations. Sad! we started planning for the outcomes either we will stay here for 1 hour and continue if the rain stops, or we will return back as we had to board our bus in the evening back to Delhi.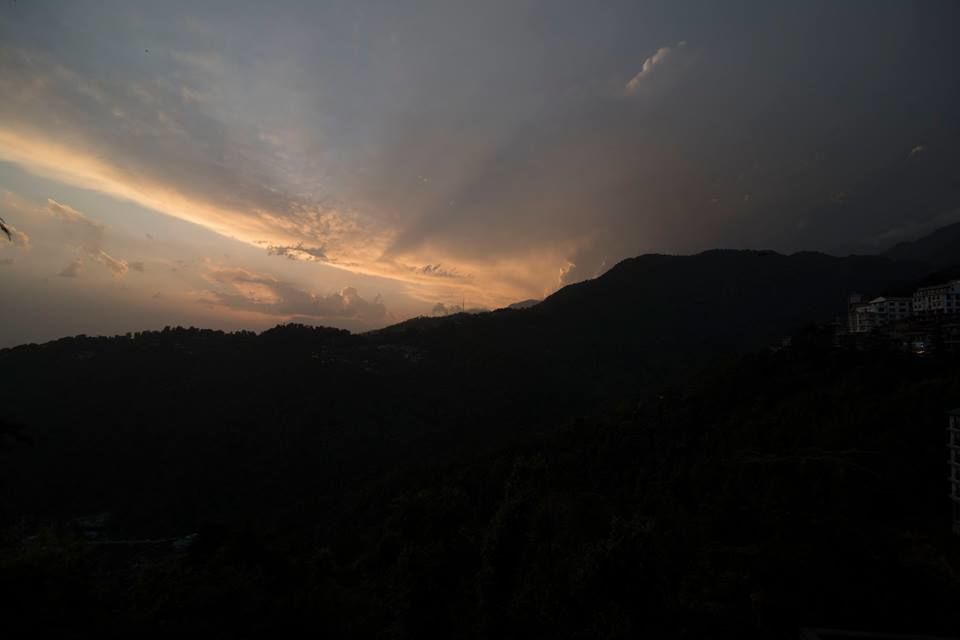 After 30 minutes, we decided to continue our trek and buy raincoats for each one of us as the weather was not clear yet. Shopkeeper charged us 150 for new and 100 for used raincoats, which were merely a piece of plastic in the shape of an over-sized poncho.
Although things seem impossible at times, determination always finds a way. The sky was clear exactly after an hour and our defender - Mr. Sun shone even brighter than before.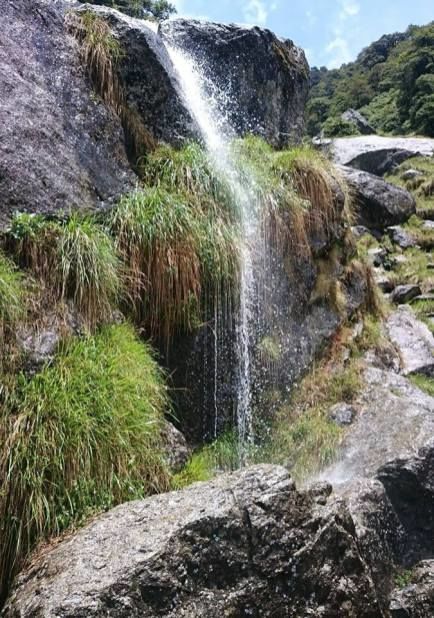 There were small waterfalls as well on the way. And the line from the song Luka Chupi "Maine Jharne Se Paani Maa Tod Ke Piya" stood completely true for me. Initially, I was reluctant but after having a sip, I realized that mountain water is far better than our RO water!!
We started our trek again, this time with more energy but the last 2 km were the steepest to climb all the way to the Triund top. Everyone was exhausted but as we stood on the Triund top and saw the snow-capped Dhauladhar range, only words that I could utter were -it's gonna be legen... wait for it... dary! (hi5)
Triund Top
What a view!! It felt like I was dancing on the green carpet with floating clouds, among the snow-capped mountains, cheering and clapping on our achievement. I was too awestruck to do anything but to sink in the moment and wish for the time to stop."If there was heaven on the earth, then here it is! were the words echoing in my ear".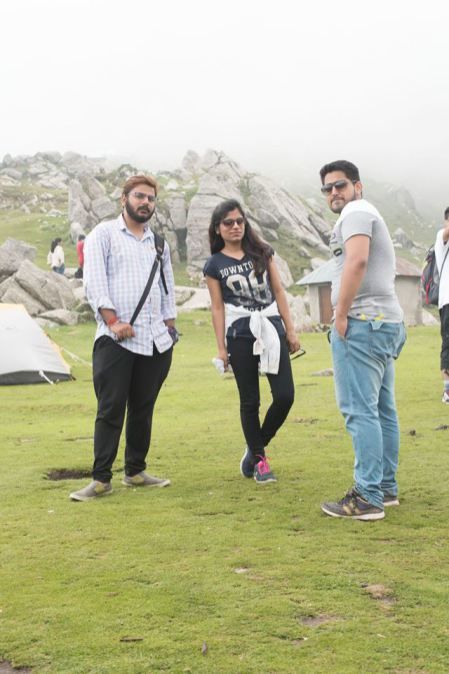 After some time, entire Triund was engulfed by the fog and mist and it became impossible to look around. Shortly, it was again crystal clear. Some decent frames and deadly selfies were taken before heading back downhill.
We started descending and reached Dharamkot within 2 hours and from there on, we hired a cab and went back to Mcleodganj. Everyone decided to attempt some new cuisine for supper before leaving- what better than (Vegetarian ) Japanese food? so we all chose to visit Lung Ta Japanese Restaurant. The place was curated in traditional Japanese style with an extended outdoor seating and the staff was extremely cordial. It usually opens at lunchtime and takes last order by 8:30 PM and they are closed on Sundays. Must try: .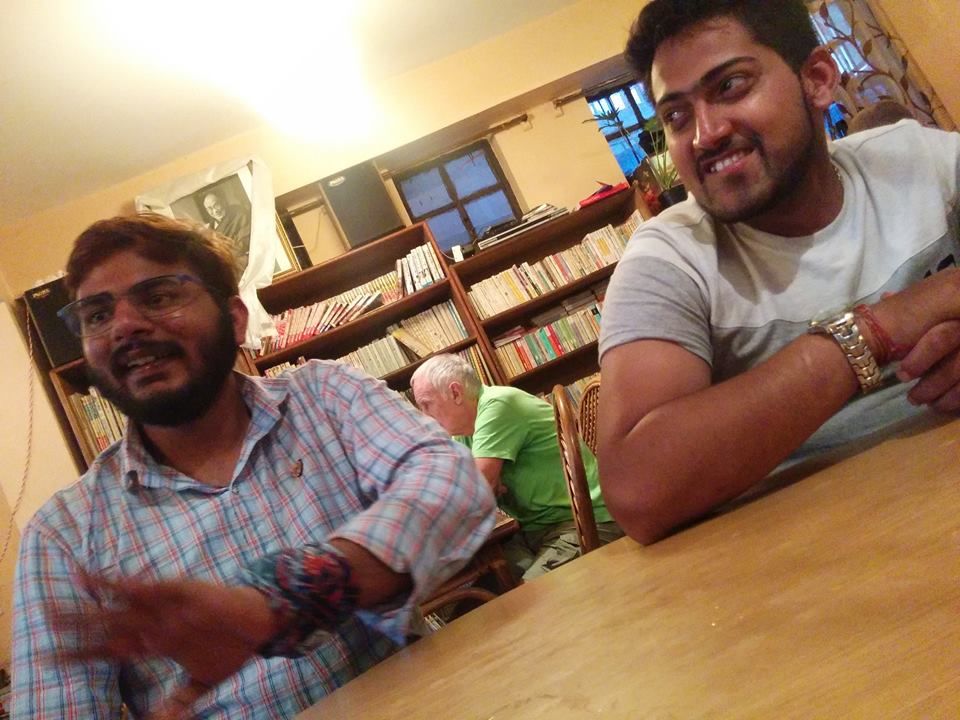 After having a very delicious and pocket-friendly supper, we took the 7 PM (Volvo) Bus back to Delhi and reached Delhi early morning.
For more details, follow my blog post here - Triund