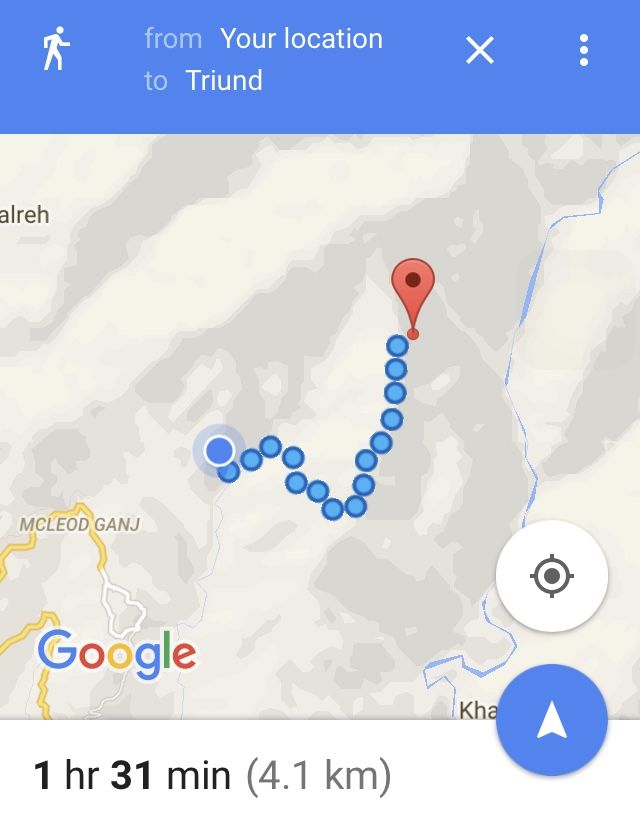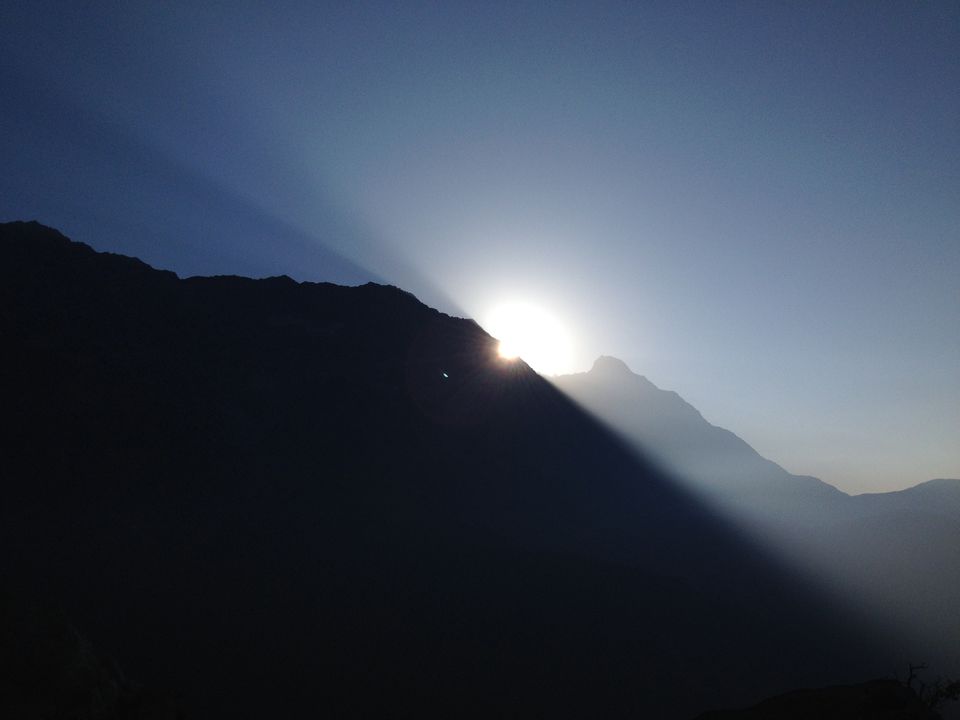 I found myself, when I got lost!!
Yes, thats how it works for me. As usual, I heard a lot about this hill top and was informed it is an easy trek for a person with okayish fitness. I did not read much about this place, just started from my place with no plan whatsoever. There has been a nagging thought of feeling gulty of not doing it despite of having the place so near by from Delhi. Little did I know, what was waiting for me there, in woods, few kilometers away from main/standard route for trek.
I started off, without any particular mindset to go Triund, I have this habit of choosing the place after I reach ISBT, Kashmere Gate, Delhi. I did the same this time too, earlier I have done this many times and have written about one of them so far here. It happened to be one of the most amazing experience till then. I digress. 
Coming back to this journey which later on turned out to be "not to Triund" but a different place and Triund became the side kick, I guess. The moment We ( Yes, this trip was done with one more friend ) started for the trek in morning, we met a shady fellow, right infront of the HRTC office in Mcloedgunj, We had time on our side and wanted to see, what kind "great" deal he was giving us. He identified himself as John and promised to cover the trek in 2500bucks which included coming and going. All the expenses on the way were to be made by me. Well, I laughed with guy and promised to come back in some time after taking a breakfast which was not to be. 
I had been informed by a friend about an alternate trail to hilltop which meet the standard trail half way but promised to be better in term of scenic beauty, difficulty level ( harder the better, for me) and overall experience. I took this advice and shot off to Upper Bhagsu where I was supposed to meet a local uncle who turned out to be nice experience again, but more on that later. I reached upper Bhagsu and met Uncle who indicated with his index fingure towards some huts and some poles in jungle, while identifying the trail. We started from there around 9:30am. I was about to have one of the greatest experience of my life and I did not even know it. 
I climbed up few stairs going into the jungle and looked for the "Said" trail and Voila! I found one. We started trekking in the mountain jungle enjoying every bit of it and hoping to find the main/standard trail to Triund in an hour and half at maximum. There were many time when there was no trail and we had to make diliberate attempt to find one. None the less we kept on the mission and with 15 mins in hands, realisation dawned upon me, we were still far from the mile stone ( sort of ), actually farther then we started and there was no way going in correct direction, no map, no network, little food & some water and one amateur first time trekker who was already getting tired & irritated, eventually soon going to hopeless ( if at all she knew, what was happening) , I was being reminded that about her being first time trekker already ( ahh, clear sign of fatigue and growing impatience )
I felt nice, rejuvenating and little unsure of what next I should do. Don't get me wrong, nice and rejuvenating because of the excursion and sense that I was heading towards a place nobody goes ( whoaa), unsure for the company I had with me. I decided to go further on the current trail and what were we upto as we had plenty of time in hand ( it was only 1200 noon), I later realised we were continuously trekking a medium trek for 2 and half hour and thats good for a new comer. It had to be. We continued, after some time fellow trekker suspected me to be upto something as she too knew we should have reached the main trail by now.
She put her foot down and asked, I said the truth. 
Disappointment hovered over her face but we agreed to go further and see if there is any chance of meeting main trail on this route, which we both knew had very thin probability. Not surrendering to this not-so-nice-feeling of mutual disappointment, I focused on getting further by the trail and by 1:30pm, I knew why I was coming all the way here---to this place---where no body goes. We found a great cliff which had kind of pyramid made there by hundreds of stones. This cliff was directly overlooking the BHAGSU water fall, I shouted and called my friend to come there but she in her momentum had gone further on the trail. I thrown my backpack weighing 25kgs to gain speed and rain towards her. I got to her with in few minutes and led her back to place I had found the cliff. Great!!
We sat there and had some thing to drink and eat enjoyed the view as much as we could. Out of the blues, I thought of checking the map on mobile phone and to my surprise I saw network, which in turned shown us an arbitrary/random path to the hill top. We started again and went further for 20 mins more and I realised weather was changing its colours now, it was become shady, shadowy, misty and with that mood of the my friend also following same trajectory, we decided to return for the day, to my own dismissal of self enthusiasm. Hence we start to descend toward origin, with in an hour we reached the starting point though returning route was far more difficult and covered with dense bushes and a dead snake. 
We decided to start again next day and stayed with the local uncle who was, as surprised to know we got lost, as I was relieved to know the same. We spent the night with our host uncle who shown us great hospitality and we truly thankful for that gesture. It was great night as we slept like dead and woke up fresh like dew. We met few wonderful other member of uncle's family and had sumptuous breakfast with them which ended with a photo session. 
Today, we had to reach Triund and there was no scope for getting lost, I knew somehow we will be there tonight. 
We started with same point with a slight different strategy, my friend was entrusted with job of seeker. She was supposed to find the trail, she resisted it little bit but I had decided in my mind. We choose different trail to begin with and I kept following her for next an hour or so which again led me to denser mountain forest then we saw yesterday but I had gut feeling we were heading to right way. This trail was far more arduous and steep but we had our spirits high like we knew we were on right path. 
In further few more minutes, we were almost hanging by a mountain wall with the help of grass, yes you heard it right, grass. My friend started loosing hopes second time in this trek, now by this time, I took the lead and asked her stay put where we were. I went further and found a hut and asked her to come along. I went into the hut and met a monk to my pleasant surprise. I wanted to know if we had come wrong but I wanted to hear we had come right way. I wished the young old man and explained what we were looking for,he was surprised with our choice of the trek trail however he assured me about the path and told me it was most steep traill toward main trail there were others too, which we could see on the adjacent mountains where clear view of stares chided our faces.
The monk lead the path now, to guide us as he was sure we could not find it due to high grass density in that area, my friend was already scared to her wits, I asked her to be in between me and the monk which she refused, as monk was climbing at a speed which was unmatchable for her along with the fact she was working more on keeping herself together then climbing the mountain, I asked to follow as close as she could and I followed the monk in next 15 minutes we reached a point where monk shown me cement poles and barbed wires and way to go to them. We were hanging with a mountain wall inclined at almost 60 - 70 degrees, and my friend literally sticking herself like a lizard to the wall.I could not stop laughing. 
I thanked the monk several times as without his help we could loose our will, patience & resolve to reach. We could have lost this war but it was not to be. I asked my friend to follow the trail to barbed wire which she refused at once as in her opinion, there was no barbed wires and no trail and I was hallucinating. Aha!! that moment.
Not having any choice, I again took a lead and reached to the main trail, I felt I reached Triund. These last few meters proven to be most exciting during the whole journey.
We thrown our backpacks first time in that day and lied down on the main trial where many passer by looked at us ( lesser ones, as we were already almost done for the day). After resting for awhile and getting our dose for liquids and solids, we started to walk towards Triund, which was feeling to be a walk on nice paved roads now. We met an elderly Israel couple who has sailed half the world and exchanged notes with them wished them good luck. On the main trek trail, last couple kilometres are most arduous. We did them at leisurely pace as we were camping at Triund that night and hill top was already foggy. We hired a tent and after strolling around for some time and having the dinner. The view was breath taking again and it was spiritual experience to be there and breath in all the stars and cosmos.
Next morning was rather spectacular, as we waited for sunrise, taking pictures, looking all the colors around us and looking at the people around us. We started descending after some time and reached Mcloedgunj by early morning and bought our tickets  back to Delhi. Needless to say, we were hungry, We chose a restaurant at random and it was treat to go in and have breakfast there. Food was beyond delicious, chef herself came to us and asked if we wanted to say something or suggest. It was delightful moment. 
It was leisure time and we went to the same restaurant where we had great dinner first time in Mcloedgunj. We got our dinner packed from there and boarded the HIMSUTA bus thereafter to reach Delhi next morning.
It was an experience where I made a easy trek into a difficult one, got lost and found myself and God! I loved it.